Age Islam News Bureau
10 Nov 2012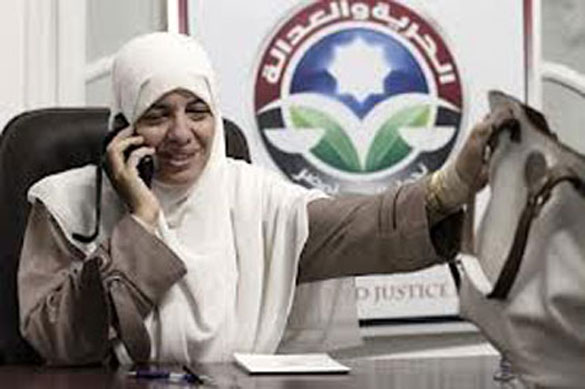 • Saudi Cleric Condemns Minor Girls' Marriage to Wealthy Older Men
• Fleeing Asian Housemaid of North Jeddah Creates a Ruckus
• Women Shut Out Of Syria's Opposition Leadership
• 4 Nigerian Girls Invent a Urine-Powered Generator
• Muslim Sisterhood: Women from Egypt's Brotherhood Taking on Prominent Roles
• Video Shows Woman Journalist Held By Syria Rebels
• UNESCO Report Places Pakistan in Bottom 10 in Female Education
• Harassment, Rejection and Poverty: Transgender Pakistanis Face Society's Scorn
• Rights of Afghan Women at Risk
• World Observes Malala Day Today
• Women above 40 in Abu Dhabi Told To Undergo Mammography
• Malala A Symbol of Girls' Education, Says Pak Prez on the occasion of 'Malala Day'
• Exhibition showcases creative skills of Girl Students in Jeddah
Compiled by New Age Islam News Bureau
Photo: Muslim Sisterhood: Women from Egypt's Brotherhood Taking on Prominent Roles
URL: https://www.newageislam.com/islam,-women-and-feminism/new-age-islam-news-bureau/muslim-woman-attacked-for-travelling-with-hindu-man-in-mangalore,-india/d/9258
---------------
Muslim Woman Attacked For Travelling With Hindu Man in Mangalore, India
Nov 10, 2012
MANGALORE: In a fresh vigilante group attack, a Muslim woman was assaulted at Karmar in Bajpe, near here, allegedly by a fringe mob.
Deeba Algani, 23, was attacked because she was travelling in a car with a person from another community. Her mother, Zubeida, is an independent member of the Padubidri gram panchayat. Deeba, who was admitted to Government Wenlock Hospital here, told TOI she was beaten up by a mob of 20 persons on Wednesday night.
"The mob waylaid our car, pushed us out and assaulted us. They asked me why I was travelling with a Hindu. I heard the miscreants talking over phone in the Beary language and referring to KFD (Karnataka Forum for Dignity). I can identify those who assaulted us," she added.
Her mother, Zubeida alleged that the group snatched her cellphone and robbed her of Rs 3.07 lakh. "I had taken a house on lease at Bajpe from realtor Dharma a week ago. I had given my daughter Rs 3 lakh to pay Dharma. Deeba had another Rs 7,000 in her purse," she said.
"We were in Mangalore city to purchase home appliances for our new house. Since there were a lot of appliances in my car, I asked Deeba to return with Dharma in his car. Both cars started together, but our car moved ahead. Miscreants waylaid their car and attacked them," Zubeida said.
Zubeida was elected to the gram panchayat with BJP's support. Dharma was admitted to a private hospital in the city. Bajpe police have registered a case.
Popular Front of India (PFI) denied any role in the incident. Its district secretary Abdul Majeed said: "The issue has been brought to our notice. We're inquiring into it."
http://timesofindia.indiatimes.com/city/mangalore/Muslim-woman-attacked-for-travelling-with-Hindu-man-in-Mangalore/articleshow/17164794.cms
----------------
Saudi cleric condemns minor girls' marriage to wealthy older men
08 November 2012
Former member of the Saudi Council of Senior Scholars Sheikh Abdullah al-Rakban admitted that the "sale" of minor girls to wealthy husbands takes place in rural and Bedouin communities and stressed the necessity of raising awareness about marriage age.
"If a girl is over 25 years old, she is considered mature and has the right to marry whoever she chooses," Rakban said in a seminar held at the Iman Mohamed bin Saud Islamic University under the title Marriage Age: A Religious and Social Perspective.
"But if she is under 20, this most probably means that her parents forced her to get married especially if the husband is a wealthy older man."
It is also important, Rakban noted, to make sure that the age difference between husband and wife is reasonable so that they can develop a healthy relationship.
Rakban said he differed with religious scholars who argue that it is not religiously permissible to set a minimum age for marriage.
"Marriage age is one of the matters a ruler can determine and people under the specified age should not be allowed to marry unless under exceptional circumstances."
Professor of sociology at the School of Social Sciences at the Imam Mohamed bin Saudi University Dr. Ali bin Abdul Rahman al-Rumi revealed that 5,622 Saudi girls got married under the age of 14, that is not more than 1% of the population.
Rumi explained that Saudi Arabia is signatory to the Convention on the Elimination of All Forms of Discrimination Against Women (CEDAW) provided that none of the terms that violate Islamic laws is applied.
"Islam does not prohibit the marriage of minor girls, but international organizations keep putting pressure on countries that signed with reservations and raise hell if one minor girl gets married in any of them," he said.
Rumi, however, admitted to the drawbacks of early marriages.
"Girls at this young age are more fertile and this leads to a remarkable rise in the population."
According to Dr. Abdullah bin Saleh al-Hudaithi, member of the Saudi Consultative Council, the Ministry of Justice is currently studying the possibility of setting a minimum marriage age, but the issue was not discussed at the council.
"There was a recommendation to determine the minimum age for a girl to have a marriage contract, but it was withdrawn later," he said.
Hudaithi pointed out the difference between the marriage contract and the consummation of the marriage.
"I believe the minimum age should apply to consummation, but a marriage contract can be signed before that age is reached."
According to this regulation, he explained, the girl can ask for divorce if after reaching the legal she does not want to consummate the marriage.
Dr. Kais bin Mohamed Al al-Sheikh argued that marrying girls at a young age is sometimes better for them.
"Parents may see that it is in the girl's best interest to marry at this age and sometimes a girl would keep postponing marriage until she becomes a spinster or make the wrong choice."
Member of the Saudi Human Rights Association Dr. Abdul Aziz al-Faleh stressed the necessity of referring the matter to the Council of Senior Scholars.
"International organizations are putting a lot of pressure on Saudi Arabia to regulate marriage age," he said.
http://english.alarabiya.net/articles/2012/11/08/248411.html
------------
Fleeing Asian Housemaid of North Jeddah Creates a Ruckus
November 09, 2012
JEDDAH — People of a north Jeddah neighbourhood witnessed dramatic scenes last Tuesday after they spotted a barefoot Asian domestic helper crying and shivering with fear in the street.
People soon gathered around the woman, who was dressed in a shabby uniform. She had escaped from the house of her employer in Al-Safa district alleging maltreatment.
The woman said her employer was a violent person and she wanted to go back to her country. She spoke only broken Arabic, and people who gathered around her could not make much out of what she was saying because of the language barrier.
Soon the Saudi employer arrived at the scene in his car and the housemaid started crying again.
Angry at her escape, the man charged at the woman, who was hiding behind the crowd. The bystanders managed to prevent him from attacking her.
The man continued to shout at her. He said he could not understand why she fled his home and embarrassed him by creating such a scene.
The woman insisted that she did not want to return to her employer's house and pleaded for help. The man then forced his way through the crowd, grabbed her hand and dragged her into the back of his car, and then drove away before police arrived at the scene.
http://www.saudigazette.com.sa/index.cfm?method=home.regcon&contentid=201211091422
------------
Women shut out of Syria's opposition leadership
10 November 2012
DOHA: The leadership of Syria's main opposition group in exile is an all-male affair after elections failed to promote a single woman to the decision-making group of 41 members.
Some of the female delegates at the Syrian National Council conference in the Qatari capital of Doha rushed the podium in protest after the results were announced. They said the new leadership fails to reflect the key role of women in the push to topple Syrian President Bashar Assad.
On at least this point, the SNC appeared to fall short in its attempt to showcase a new diversity in the face of international criticism that it is not representative enough of the whole spectrum of the opposition. After the vote by more than 400 members of the SNC's general assembly, the group tried to redress the lack of women in its new leadership. SNC chief Abdelbaset Sieda said he was "so sad" and would try to add four women to the general secretariat by decree.
"The bottom line is that there is a recognition that the women got shafted, and that it has to be fixed," said delegate Muna Jondy, 37, an immigration lawyer from Flint, Michigan. It's "not going to cure the underlying problem, which I think was the lack of recognition of the importance of the voice of women at the decision-making table," she added.
The SNC, formed a year ago from a pool of long-term Syrian exiles and academics, has faced mounting criticism from within Syria and the international community that it is out of touch with those inside risking their lives on the front lines.
The group's Doha conference was largely intended to deflect such claims and present a more broad-based membership. SNC member Khalid Saleh claimed some success, saying that 15 representatives of local activist groups inside Syria won representation.
The women's marginal role in the SNC is in marked contrast to their active participation in the 19-month-old conflict.
In the early days of the uprising, women organized mass rallies and featured prominently in local grass roots organizations, risking arrest and torture just like their male counterparts. As the uprising became militarized, their role receded somewhat, but the civil war, fought in populated areas, is hitting them just as hard as the men.
The SNC, trying to boost its image, had set a 15 percent women's quota for its new, expanded general assembly of some 420 delegates attending the Doha conference that began on Sunday. Jondy, the Michigan lawyer, said she had been hastily recruited as a delegate in what she believes was an attempt to meet the quota.
Still, women seemed to have been largely relegated to the sidelines of the conference. The convention hotel lobby was full of male SNC members engulfed by clouds of cigarette smoke huddled over coffee to strike deals and talk strategy.
SNC spokesman George Sabra said that in previous gatherings of the group, women only made up about 5 percent and that the new quota was needed to help women get a foot in the door.
"Otherwise, men will do everything by themselves forever," Sabra said before the results were announced.
In the early morning hours of Thursday, SNC delegates gathered in a hotel ballroom to hear the new leadership lineup. After it became apparent that women had been shut out, some rose from their seats in protest.
"Where are the women?" Fariza Jahjah, a math teacher from the southern Syrian town of Sweida, said in a raised voice across several rows of seats.
A heated discussion ensued, with many of the male delegates saying women needed to be represented in the leadership group. A few men argued the women should accept the results. "This is democracy," some kept saying.
Rima Fleihan, a Syrian playwright and women's activist, attributed the fact that men are firmly in control of the exile-based political opposition to the influence of the Islamic fundamentalist Muslim Brotherhood in the SNC. But, she said, women also lack political experience.
Fleihan, a prominent anti-regime activist who fled Syria a year ago, is a member of a grass roots organization, the Local Coordination Committees. She said she left the SNC because she believes the group has been ineffective.
Some of the women at the conference had been active in the uprising, and left Syria only recently to escape arrest.
Ranna Ibrahim, a delegate at the SNC conference, said she was detained for three days earlier this year for organizing anti-regime protests along with fellow lawyers in the northeastern Syrian city of Raqqa. Ibrahim, 31, fled Syria nine months ago after government threats against her intensified. Jahjah left four months ago, amid fears she might be arrested for her role in organizing protests.
Women were active in the uprising from the start.
Last year, human rights lawyer Razan Zaytouni, who went into hiding shortly after the revolt began, was awarded the Anna Politkovskaya Award for risking her life by breaking through the government's media blackout to report on the brutal crackdown in Syria. The award, named after the slain Russian journalist, is given annually to a woman human rights defender standing up for victims in a conflict zone.
Fadwa Suleiman, a Syrian actress who hails from Assad's minority sect, took center stage at anti-government protests in the central city of Homs, often giving speeches to inspire the crowds. She fled to Paris earlier this year. Women in the coastal city of Banias often blocked the highway to keep security forces and pro-Assad militiamen away.
Even under four decades of dictatorship by the Assad clan, Syrian women have been more active in public life than many of their sisters in other countries in the Arab world. Assad has a female vice president, and a number of women are Cabinet ministers and lawmakers.
At the start of the SNC conference, Jahjah still had high hopes, encouraged by the 15 percent quota. She said she expected representation to be increase to 30 percent soon.
Fleihan, the writer, said women must become more assertive and claim a bigger share.
"Women do many great jobs in the revolution, so they must get their rights, next to the men, in the fight against the regime," she said.
http://www.arabnews.com/women-shut-out-syria%E2%80%99s-opposition-leadership
------------
4 Nigerian Girls Invent a Urine-Powered Generator
09 November 2012
Lagos - Four teenage girls, Duro-Aina Adebola , Akindele Abiola , Faleke Oluwatoyin and Bello Eniola have developed a urine powered generator, Linda Ikeji reports.
The teenagers' invention was one of the most remarkable exhibitions at this year's Maker Faire Africa fair.
The event which showcases various innovations and inventions took place from 5th November to 6th November in Lagos.
http://nigeria.news24.com/National/News/4-Nigerian-girls-invent-a-urine-powered-generator-20121109
------------
Muslim Sisterhood: Women from Egypt's Brotherhood Taking on Prominent Roles
November 10, 2012
CAIRO — The rise of the Muslim Brotherhood to power in Egypt has brought with it a new group of female politicians who say they are determined to bring more women into leadership roles — and at the same time want to consecrate a deeply conservative Islamic vision for women in Egypt.
Women's rights have sprung to the forefront of the debate in Egypt as members of an Islamist-dominated assembly wrestle over the writing of a new constitution for the country. The power of Islamists, who dominated parliament elections last winter and who seized the presidency with the election this year of the Brotherhood's Mohammed Morsi, has worried secular and liberal Egyptians who fear they will restrict rights of women and minorities.
Full report at:
http://www.washingtonpost.com/world/middle_east/muslim-sisterhood-women-from-egypts-
------------
Video shows woman journalist held by Syria rebels
08 November 2012
Ukrainian journalist Ankhar Kochneva, captured by Syrian rebels on October 9, requested in a video posted online by activists that the Syrian, Ukrainian and Russian authorities meet the demands of her captors.
"I'm Ankhar and I am currently in the city of Homs. I ask the Ukrainian embassy, the Russian embassy and the Syrian government to meet the kidnapper'' demands," said the reporter, who appeared to be in good health.
Full report at:
http://english.alarabiya.net/articles/2012/11/08/248425.html
------------
UNESCO Report Places Pakistan in Bottom 10 in Female Education
Muslim woman attacked for travelling with Hindu man in Mangalore
Nov 10, 2012
MANGALORE: In a fresh vigilante group attack, a Muslim woman was assaulted at Karmar in Bajpe, near here, allegedly by a fringe mob.
Deeba Algani, 23, was attacked because she was travelling in a car with a person from another community. Her mother, Zubeida, is an independent member of the Padubidri gram panchayat. Deeba, who was admitted to Government Wenlock Hospital here, told TOI she was beaten up by a mob of 20 persons on Wednesday night.
Full report at:
http://timesofindia.indiatimes.com/city/mangalore/Muslim-woman-attacked-for-travelling-with-Hindu-man-in-Mangalore/articleshow/17164794.cms
----------
Harassment, rejection and poverty: Transgender Pakistanis face society's scorn
Anjum Naveed, Associated Press | Nov 9, 2012
RAWALPINDI, Pakistan — Dressed up in elaborate, feminine outfits and artfully applied makeup, they are showered with money while dancing at all-male wedding parties. But the lives of transgender people in Pakistan are also marked by harassment, rejection and poverty.
Transgender people live in a tenuous position in conservative Pakistan, where the roles of the sexes are traditionally starkly drawn. Families often push them out of the home when they're young, forcing many to prostitute themselves to earn a living.
Full report at:
http://news.nationalpost.com/2012/11/09/harassment-rejection-and-poverty-transgender-pakistanis-face-societys-scorn/
------------
Rights of Afghan women at risk
Equality remains far from inevitable and the modest gains are likely to be lost if the US completely disengages from Afghanistan
By Afghani Barakzai
November 9, 2012
Share on facebookShare on twitterShare on emailShare on printMore Sharing Services1
A full withdrawal of US and coalition forces from Afghanistan appears inevitable. Reading and watching news in Washington, I can appreciate the intense focus on the military mission and on the men and women who have sacrificed to help my country. I worry, however, what will happen to Afghanistan after the US military departs. I have found little discussion of Afghanistan's future or of what will become of US civilian and military efforts to help make the country a better place to live. Like many Afghans, I fear that Afghanistan will once again fall prey to civil and political discord, through either an expansion of the insurgency or a return to warlordism and widespread criminality.
Full report at:
http://gulfnews.com/opinions/columnists/rights-of-afghan-women-at-risk-1.1102145
------------
World observes Malala Day today
November 10, 2012
UNITED NATIONS: The United Nations has announced to observe 'Malala Day' today (Saturday) under its supervision across the world in the honour of child activist from Swat, Malala Yousafzai, who was shot in the head by the Taliban.
UN Secretary General Ban Ki-moon has extended his support to the young girl and her fight for education, describing her as the "global symbol" of every girl's right to an education.
Ban Ki-moon's Special Envoy for Global Education, former British Prime Minister Gordon Brown has said November 10, a month after Malala was shot at by the Taliban for campaigning for girls' education in Pakistan, has been declared Malala Day.
Full report at:
http://www.thenews.com.pk/article-74896-Malala-Day-being-observed-across-the-world-today
------------
Women above 40 in Abu Dhabi Told To Undergo Mammography
Staff Reporter / 10 November 2012
The Health Authority - Abu Dhabi (HAAD) is urging all women aged 40 and above to undergo mammogram screening during the annual Pink Polo event at 2pm today at the Ghantoot Racing and Polo Club.
The collaboration between HAAD and Pink Polo is part of the on-going efforts related to the recent launch of the 'Cancer Wave Heath Promotion Project', under the slogan 'Live Healthy & Simply Check' by HAAD.
The public are also invited to attend an exciting game of the distinguished sport polo, in addition to various other entertainment programmes running throughout the day. The fun-filled family day will hold numerous activities that include pony rides, falcon shows, golf lessons, camel polo, photo sessions with polo players and reserved picnic areas, all provided free-of-charge.
Full report at:
http://www.khaleejtimes.com/nation/inside.asp?xfile=/data/nationhealth/2012/November/
------------
Malala A Symbol of Girls' Education, Says Pak Prez on the occasion of 'Malala Day'
10 November 2012
ISLAMABAD: President Asif Ali Zardari said on Friday Malala Yousufzai stands tall as a symbol of girls' education and defiance against those who wish to impose their obscurantist agenda behind the facade of religion.
In his message on the occasion of 'Malala Day' that is being observed worldwide today (November 10), the president said, "Malala Day is being observed today all over the world to show solidarity with the brave daughter of Pakistan Malala Yousufzai who stood defiantly to militants to pursue her education and refused to bow to their threats and faced the bullets instead of giving up."
Full report at:
http://www.dailytimes.com.pk/default.asp?page=2012\11\10\story_10-11-2012_pg7_10
------------
Exhibition showcases creative skills of Girl Students in Jeddah
10 November 2012
The two days Educational Exhibition (EDEX) organized by International Indian School, Jeddah (IISJ) Girls Section from Nov. 8-9 was a feast for the eyes. Students showcased various models with their innovative and creative skills covering all major subject areas- science and technology, mathematics, IT and computer science, humanities and social science, languages and literatures, commerce and management, biology and bio-technology, home science and arts, etc.
The event displayed models and shows in around 59 classes with over 500 students participating in the fair. It was inaugurated by Kausar Kidwai, wife of the Indian consul general accompanied by the Principal of IISJ, Syed Masood Ahmad along with other officials in Jeddah.
Full report at:
http://www.arabnews.com/iisj-educational-exhibition-showcases-creative-skills
------------
URL: https://www.newageislam.com/islam,-women-and-feminism/new-age-islam-news-bureau/muslim-woman-attacked-for-travelling-with-hindu-man-in-mangalore,-india/d/9258