New Age Islam News Bureau
13 May 2013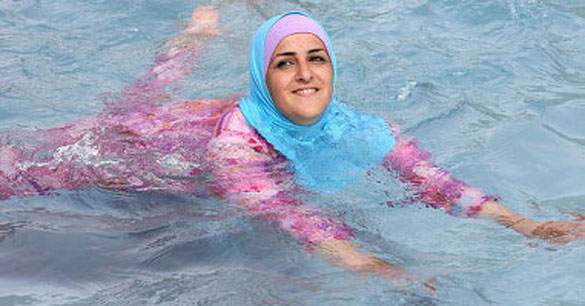 Wearing a Burkini is an option for Muslim girls (Keystone)
-----------
• Muslim Teens Not Exempt from Swim Lessons: Switzerland's Highest Court
• Assam's First Muslim IAS Woman Fardina Felicitated
• Indian Women Entering Bahrain on Forged Visas
• Indonesian Woman Accused of Selling Illegitimate Baby for Dh4, 000
• Women Felicitate PML – (Nawaz) and Urge the Leaders to Comply With Manifesto
• Women Make Up 72% of Kuwait Teachers
• State Train Operator Scraps Women-Only Train
• Islamic Woman Boxer Takes Fight into the Ring
• Women Participate Enthusiastically In Pakistan Elections
• Gunmen Kidnap Wife, Daughter of Judge in Nigeria
Compiled by New Age Islam News Bureau
URL: https://newageislam.com/islam-women-feminism/muslim-teens-exempt-swim-lessons/d/11553
------------
Muslim Teens Not Exempt From Swim Lessons: Switzerland's Highest Court
May 10, 2013
Integration of foreigners is more important than their religious beliefs, Switzerland's highest court ruled on Friday. The court denied a 14-year-old girl from a strict Muslim family in Aargau the right to dispensation from school swim class.
The family argued that their strict religion prevented the girl from taking part in swimming lessons, where she would be seen by her male teacher and possibly other men. The girl already knew how to swim, having attended a private class strictly for Muslim girls, they added.
However, the court ruled that the girl must attend the swimming lessons offered at the high school: lessons were offered separately for girls and boys; wearing of a Burkini – a full-body swimsuit – was allowed; and the girl would not have bodily contact with her male swimming teacher, since she already knew how to swim.
The court also stated that attendance at a Muslim-only swim course did not further integration, one of the goals of school swimming.
Allowing the dispensation would have contributed to "parallel societies", the court found. Instead, the girl and her parents could reasonably be expected to take steps toward acceptance of local social and societal norms.
Muslims' right to practice their religion was the subject of a huge controversy in 2009 in connection with a popular vote to ban the construction of minarets in Switzerland. In contrast, a government report conducted in the wake of the ban found that "most Muslims in Switzerland are well-integrated and don't generally experience problems related to their religious faith in everyday life".
http://www.swissinfo.ch/eng/swiss_news/Muslim_teens_not_exempt_from_swim_lessons.html?cid=35793484
------------


Assam's first Muslim IAS woman Fardina felicitated
May 13, 2013
Guwahati, May 13: Umme Fardina Adil, a resident of Hatigaon in Guwahati, was felicitated by ERD Foundation and other organisations for her success in the Civil Services exam 2012 whose results were announced on 3rd May. She is the first Muslim woman from Assam to crack India's most coveted exam. She got 319 rank in the list of 998 successful candidates this year.
Speaking at the function organised at Regional College of Higher Education (RCHE) in the city on Sunday, Mahbubul Hoque, Chairman ERD Foundation said, "Assam gave the only President of India from the North East – Fakhruddin Ali Ahmed. Assam also gave the first and only Muslim woman Chief Minister of the country – Anwara Timur. But it took Assam 66 years to produce the first Muslim woman IAS officer – Umme Fardina Adil."
Hoque also informed the audience that the entrance test and interview of minority candidates opting for coaching for the IAS exam of 2014 was conducted at the same venue in the morning. It was organised by Zakat Foundation of India (ZFI) and coordinated by ERDF. The felicitation for Fardina was arranged in the afternoon to facilitate her interaction with all the aspiring minority community IAS candidates of 2014 from Assam who were also present at the venue.
Dr Ikramul Haque, Atiqur rahman Siddiqui and Mohammed Aleem from the Zakat Foundation of India, New Delhi were also present on the occasion.
Speaking during the felicitation programme, HN Das, former Chief Secretary of Assam & Director, Fakhruddin Ali Ahmed Coaching Centre for Civil Services Examinations Guwahati said, "Financial hardship should not be a reason for not being able to sit for IAS examination. Now there are many organisations to support meritorious students to prepare for competitive examinations."
Prof PK Abdul Azis, Vice Chancellor, University of Science & Technology Meghalaya, who was also a member of the IAS interview board for several years congratulated Fardina and offered her flowers and gifts on behalf of the University. Sabur Tapader and Ahmad Hussain offered gifts to Fardina on behalf of Unity Education Foundation and Pragjyotish Group of Institutions respectively.
Fardina, a former student of Disneyland School and Cotton College of Guwahati, informed the audience that she cleared the IAS in her first attempt and with about 8 months of preparation putting in about six hours every day. She said, she depended on newspapers and Wikipedia for gathering knowledge about new topics and never referred to any guide books.
Fardina encouraged the aspiring candidates for developing a politically neutral view and showing an aptitude for analytical dissection of the subject in question. She also asked the young generation to be socially committed, stressing that this attitude would see them through in any interview.
http://muslimmirror.com/eng/assams-first-muslim-ias-woman-fardina-felicitated/
------------
Indian Women Entering Bahrain on Forged Visas
May 11, 2013
Dubai, May 11: Hundreds of Indian women, mainly from the southern state of Andhra Pradesh, are entering Bahrain on forged visit visas to work as domestic helps, a media report said Saturday.
Unscrupulous recruitment agents are helping these women, who mainly come from poor backgrounds and are willing to pay a large amount of money to work in the Gulf nation, which is causing a major problem for Bahraini families, the Gulf Daily News reported. "These housemaids, mainly from Andhra Pradesh, are leaving India based on a photocopy of a forged visit visa," an official of the Indian embassy in Bahrain was quoted as saying.
"This is not a valid visit visa issued by Bahraini authorities."
The official said unscrupulous agents in India make sure that these domestic workers clear the immigration process.
Once they enter Bahrain, agents there give them legitimate working visas.
The official said these women mainly come to Bahrain to work for a short time.
"Based on all the cases we have dealt with so far, these women start working in Bahraini households initially and after three months run away and come to us saying they want to go back," he said, adding that many Bahraini families have suffered because of this.
According to Indian law, only women aged 30 years and above are eligible to work as housemaids abroad and they require a $2,500 refundable deposit.
According to the Migrant Workers Protection Society (MWPS), which runs a shelter for distressed women in Bahrain, the problem was complex and escalating.
"I cannot even tell you at this point how many cases related to women from Andhra Pradesh we have dealt since last year, who sneak out of the country illegally using forged visit visas," MWPS chairperson Marietta Dias said.
"We dealt with about 80 cases last year, of which 60 were related to women from Andhra Pradesh," she said.
Bahrain is home to around 300,000 expatriate Indians.—IANS.
http://muslimmirror.com/eng/indian-women-entering-bahrain-on-forged-visas/
------------
Indonesian Woman Accused of Selling Illegitimate Baby for Dh4, 000
By Bassam Za'za'
May 12, 2013
Dubai: A woman has been accused of selling her six-month-old illegitimate daughter, whom she had with a man she met while working as a prostitute.
The 22-year-old Indonesian woman, S.M., was said to have ended up earning a monthly salary of Dh2, 500 as a prostitute after absconding from her sponsor's residence in Ras Al Khaimah.
S.M. is believed to have worked in prostitution in Dubai for nearly four months until she fell in love with a Pakistani client, T.K.
The baby, whom she is accused of selling to an undercover policewoman as part of a sting operation, has been handed over to the Dubai Foundation for Women and Children.
Prosecutors accused S.M. of child trafficking and prostitution between September 2011 and February 2013.
"Yes, I am guilty. I did sell her for Dh4, 000 because I need the money. I am guilty of working in prostitution," said the defendant before the Dubai Court of First Instance.
She said before Presiding Judge Maher Salama Al Mahdi that she regrets what she did and she would do anything to see her baby.
Senior Chief Prosecutor Esmail Ali has asked for S.M. to be given a life sentence.
According to the charge sheet, prosecutors said the defendant abused the fact that she was the baby's mother and offered her for sale for Dh6, 000, as if she were selling a product.
S.M. was cited confessing before prosecutors that she absconded from her sponsor's residence in September 2011.
She claimed that she took refuge at her friend's, R., place in Dubai where she worked as a prostitute for Dh2, 500 a month.
"I had sex with clients from different nationalities until I fell in love with a Pakistani man, T.K. He asked me to stop working in prostitution and I moved into his flat. He got me pregnant… he asked me to abort the baby as soon as I informed him that I had conceived. Thereafter, he said that he would leave me and head to Oman. His mobile phone remained switched off and he never answered my calls or SMSes.
"I moved back to R.'s flat and resumed working in prostitution. I worked as a prostitute until my seventh month of pregnancy. A midwife named L. helped me deliver on August 16. I needed Dh6, 000 to pay my expenses and leave the country. I asked my friend to assist me to find someone willing to buy the baby for Dh6, 000," S.M. said.
Records said the woman who bought the baby turned out to be an undercover policewoman.
The policewoman testified that she and her partner at Dubai Police's anti-human trafficking department arranged to buy the baby for Dh4, 000. The defendant was arrested in a sting operation near Al Bustan Centre on February 4. Presiding judge Al Mahdi said the court will appoint a lawyer to defend the suspect when it reconvenes on May 26.
Meanwhile court records showed that S.M. and T.K. are being tried before the Dubai Misdemeanour Court for having consensual sex outside of marriage.
T.K. is being tried in absentia.
http://gulfnews.com/news/gulf/uae/crime/woman-accused-of-selling-illegitimate-baby-for-dh4-000-1.1182430
------------
Women Felicitate PML – (Nawaz) and Urge the Leaders to Comply With Manifesto
12 May 2013
By Shoaib-ur-Rehman Siddiqui
KARACHI: Women felicitating Pakistan Muslim League (Nawaz) over its victory in May 11 polls have urged the party leaders not to forget the commitments made in their election manifesto 2013.
There have been a series of promises made by PML, most prominent being improvement in pro-women legislation and new laws to put an end to discrimination against women including violence against women and children.
The PML- N manifesto claimed that it would strive to promote women rights and equality and also pledges to protect their rights to inheritance.
"Provision of day care facility to facilitate women in employment sector and formation of anti sexual harassment committee at work place," are among the most relevant commitments," said Surraiya Khatoon associated with a local media house.
Nighat Shah, a college teacher hoped that the party has been chosen by masses to form government in the largest province of the country and also in the centre would honour its commitments in letter and spirit.
Rashda Baig hoped that as per PML - N's pledge the women of the country would not only be included in socio-political and economic spheres but also granted the needed space to exercise their rights with optimum independence.
"This has been guaranteed under PML N's 2013 election manifesto," reiterated the lady.
Sarah Bangash, a banker said the party often believed to have conservative leanings has also committed to ensure effective representation and role of women in policy and decision making procedure.
Full report at:
http://www.brecorder.com/elections-2013/top-news/119268.html
------------
Women make up 72% of Kuwait teachers
By Habib Toumi
May 12, 2013
Manama: Women make up close to three quarters of all teachers in Kuwait, an education official has said.
"Women have been making great strides in the field and, today, 72 per cent of all teachers in public schools, including kindergartens, are women," Mariam Al Wateed, the education ministry undersecretary, said.
"At the same time, 72 per cent of the ministry staff are women. We have also reduced the percentage of illiteracy among women in the country to 4.2 per cent," she said in remarks published by local daily Al Watan on Sunday.
The illiteracy rate among women was 6.2 in 2007, 5.9 in 2008 and 5.7 in 2009, she said. "We have been pressing for higher education opportunities for girls for decades. We had the first formal school for girls in 1937 and we had to recruit female teachers from Palestine and Egypt before Kuwaiti women started joining the teaching staff. The presence of Kuwaiti teachers helped us open new schools for girls in all areas of the country," she said.
Education for girls and boys under the current laws in Kuwait is compulsory between the age of six and 16. "All students, regardless of their gender, have to attend elementary and middle school," she said.
Full report at:
http://gulfnews.com/news/gulf/kuwait/women-make-up-72-of-kuwait-teachers-1.1182236
------------
State Train Operator Scraps Women-Only Train
By Dessy Sagita
May 13, 201
State train company KAI Commuter Jabodetabek (KCJ) announced on Monday that it has done away with Indonesia's first women-only train to accommodate more regular passengers.
"After conducting an evaluation [of the train] and listening to public opinion, we decided that, starting today [May 13], the women-only train will no longer operate. It will return to its original function as a regular commuter train," Eva Chairunnisa, KCJ's communications manager, told the Jakarta Globe on Monday.
KCJ is a subsidiary of state-owned train firm Kereta Api Indonesia (KAI). It currently operates 531 daily train routes, connecting Jakarta with its satellite cities of Bogor, Depok, Tangerang and Bekasi.
Eva said that KCJ needed more trains to accommodate the increasing number of commuters.
"We don't have enough commuters trains right now, and the women's train was relatively empty most of the time. We need it to accommodate the increasing amount of passengers," she said.
The women-only train was launched last October in an effort to thwart the rampant sexual harassment that takes place on some locomotives.
Previously, in August 2010, KCJ launched women-only train cars. The carriages are located at the front and back of commuter trains, and are also intended to protect female passengers from unwanted sexual encounters.
Outfitted with pink seats, the special cars are so far only available on the route running from Jakarta to Depok.
Full report at:
http://www.thejakartaglobe.com/news/jakarta/state-train-operator-scraps-women-only-train/
------------
Islamic Woman Boxer Takes Fight into the Ring
May 13, 2013
''Elbows up, knuckles up'' are the orders being fired out to young Muslim women in a gym tucked away in a Footscray industrial estate as they work on their boxing technique.
Amid the punching bags, champion flyweight boxer Bianca Elmir is demanding fancy footwork at Mischa's Boxing Central gym on Sunday. ''Now straight, straight, upper cut, upper cut, hook, hook and again,'' Elmir yells to rouse the women aged between 16 and 22, but there are more giggles, with a touch of concentration, than faces of aggression.
''Do not give up, you only stop when the bell goes,'' she shouts.
The enthusiasm of Elmir, about to return to competition after a 12-month ban, leaves the women keen to pursue boxing. Their common bond is Fitzroy's Moroccan Soup Bar. The Canberran boxer ate there last weekend when she met the employees. By the end of their shifts, Elmir had told her story and what it means to be an Islamic woman and boxer.
So impressed was the restaurant's owners that they flew Elmir back to Melbourne for a training session with their staff.
Elmir, 30, left kickboxing three years ago for boxing when it became an Olympic event.
''I love to fight, I don't do it for fitness reasons,'' she said.
''I've had to fight for a lot of things in my life … so for me to transfer that into a ring into a two-to-three-minute round represents who I am in a very small area.
''I've never felt persecuted, but the political discourse that has unfolded around me - I've felt very empathetic for people from my community. I don't always enter [the ring] as an individual all the time, I enter for the people who don't have the opportunity.''
Elmir failed a test for diuretics at the Australian championships in Hobart last year.
Full report at:
http://www.theage.com.au/victoria/islamic-woman-boxer-takes-fight-into-the-ring-20130512-2jg8a.html
------------
Women Participate Enthusiastically In Pakistan Elections
May 13, 2013
Islamabad - 62 year old Kausar Parveen awoke at 5 am, completed her domestic chores and left her house at 7 am to vote for her favorite political party in Chakwal on Saturday.
"I cannot walk properly and my knees were aching but I walked for 15 minutes to the polling station to vote for the Pakistan People's Party (PPP) whom I have supported since 1988," said Kausar.
When asked why she supported the PPP, she said that the PPP deserved her vote as it was the only party that sacrificed many leaders for the nation including former Prime Minister Benazir Bhutto and her father former Prime Minister Zulfiqar Ali Bhutto.
Like Kausar, millions of women voted at their respective polling stations in the four provinces, according to the Election Commission of Pakistan (ECP).
27 year old Taliha said at a political rally that she would vote for Imran Khan of Pakistan Tekrik e Insaf (PTI) because of his ideology of change.
"Our country is rich in natural resources, our people are hardworking and talented but we lack good governance. Imran Khan would bring positive change in the country if he came into power," said Taliha.
Many women have also contested the 2013 elections from various political parties. This year many young women have entered politics due to the rise of the PTI.
On the whole, 161 women contested for 60 reserve positions out of 342 seats in the National Assembly, while in the Punjab provincial assembly there are 355 women contenders, compared to 116 in the 2008 elections.
Like the PTI, the Pakistan Muslim League Nawaz (PML-N) also awarded many party tickets to women including PML-N Chairman Nawaz Sharif's daughter Marium Nawaz.
54 year old Shehnaz is an active PML-N member. She said that she would vote for Nawaz Sharif as he is the only man who can bring prosperity to Pakistan.
"PML-N has always worked for the poor. They launched many mega projects when they were in power and they would do more if elected again," said Shehnaz.
According to the ECP, the gap between male and female voters is over 10 million. Most female unregistered voters are from villages and are dependent upon male family members to accompany them to the polling station.
According to the National Data Base Registration Authority (NADRA)'s records, over 6 million women in the country have no National Identity Cards (NICs) due to which they cannot register their votes.
According to the ECP's report, not even a single female vote was cast in 564 polling stations in 2008 because they were barred from doing so by local Muslim clerics in northwestern Pakistan.
Full report at:
http://www.pakistantoday.com.pk/2013/05/12/city/islamabad/women-participate-enthusiastically-in-elections/
------------
Gunmen Kidnap Wife, Daughter of Judge in Nigeria
AGENCE FRANCE PRESSE
13 May 2013
LAGOS: Gunmen have kidnapped the wife, daughter and driver of a Supreme Court judge on a road in southern Nigeria apparently hoping for a ransom payment, police said yesterday.
"Three people were seized from their car at a point on the Sagamu-Benin expressway on Friday," a senior police officer in southern Edo State who did not want to be named said.
"We understand the victims are the wife, daughter and driver of Justice Bode Rhodes-Vivour of the Supreme Court," he said.
He said the kidnappers also went away with the car in which the trio were traveling to Benin for a wedding.
Lagos lawyer Festus Keyamo appealed to the kidnappers to release the hostages.
"By the nature of their job, justices of the Supreme Court, and indeed all judges, always live a spartan life, not given to ostentation and primitive acquisition of wealth," he said.
"Therefore, the kidnappers should know that Justice Bode Rhodes-Vivour is the wrong target Full report at:
http://www.arabnews.com/news/451399
------------
URL: https://newageislam.com/islam-women-feminism/muslim-teens-exempt-swim-lessons/d/11553