New Age Islam News Bureau
19 Apr 2014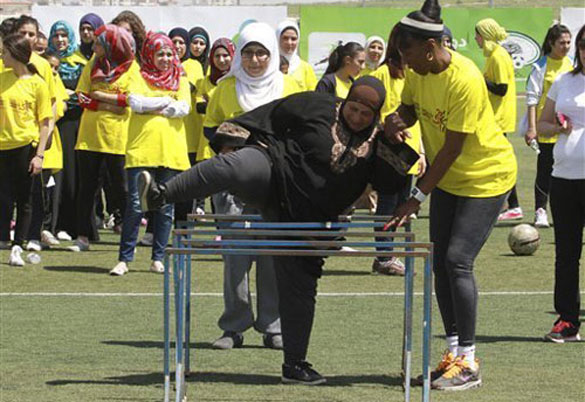 American track and field great Jackie Joyner-Kersee helps a Palestinian woman over a hurdle in the West Bank city of Ramallah, Thursday, April 17, 2014. NASSER SHIYOUKHI — AP Photo
------------
• Nigeria Islamists Still Holding 85 Schoolgirls after Raid -State
• Women Social Workers Can Be Mahrams for Orphans
• Olympic Medallist Trains with Palestinian Women
• Courts Tackle 576 'Khula' Cases in 5 Months
• Official Reiterates Rights of Expats with Saudi Mothers
• No Passport for Saudi Women without IDs
• Racy Egyptian Belly Dancer Slams Potential Presidential Candidate
• Daughter of Jailed Academic Says China Deaf to Uyghur Grievances
• Christian Girls Kidnapped and Islamised, Schools Targeted By Boko Haram
• Jihad Poster Girls: Interpol Searches for Two Teens 'Who Went To Syria to Fight for Islamic Rebels'
Compiled by New Age Islam News Bureau
URL: https://newageislam.com/islam-women-feminism/muslim-scholar-urges-women-take/d/66640
-----------
Muslim scholar urges women to take centre stage in Islam
April 19, 2014
DUBAI // Women need to once again lead the Islamic community, or Ummah, and produce thinkers and leaders, a leading Muslim scholar said at this year's Dubai International Peace Convention.
Sheikh Said Rageah, a Somalia-born academic who live in Toronto, Canada, said: "Understand that Allah has given you your freedom, dignity and authority before anyone else."
In his lecture at Dubai World Trade Centre, he talked of how the first person to convert to Islam was a woman and how, in the past, women were the leaders of the Islamic community. Therefore, he said, women are what make Islam the religion it is.
"If we want brothers and sisters to regain their legacy, we have to put women in their rightful place," Sheikh Rageah said.
He asked the women in the audience to retake their role as leaders of the community.
"Today, what I'm requesting from my sisters is to rise once again, to stand up once again, to assume the responsibility to take care of the children and men of the ummah," he said.
When it comes to wearing the veil and covering the face, Sheikh Rageah said that Allah knows what is best for men and women, therefore he commanded women to wear the hijab and for men to lower their gaze. This gives women the protection and respect they want.
Sheikh Rageah has a master's degree in Sharia and a BA in Islamic studies. He is the founder of the Masjid Huda mosque in Montreal, Canada, and the Masjid Aya in Maryland, US, among others.
The third annual peace convention will end on Saturday after receiving more than 100,000 visitors.
It is held in association with Al Manar Quran Study Centre and the Mohammed bin Rashid Al Maktoum Award For World Peace will be announced during the convention in a few years. It is the largest prize of its kind, and reflects Vice President and Ruler of Dubai, Sheikh Mohammed's, faith to spread peace.
Other prominent scholars lecturing at the event included Dr Zakir Naik, Yusef Ustes, Nouman Ali Khan and Sheikh Mishary Al Afasy.
During the question and answer session of some lectures, people have declared their desire to convert to Islam and eight people did just that during the three-day convention.
http://www.thenational.ae/uae/women-in-the-uae/muslim-scholar-urges-women-to-take-centre-stage-in-islam#ixzz2zHjOKEqO
-----------
Nigeria Islamists still holding 85 schoolgirls after raid -state
April 19, 2014
(Reuters) - Nigerian Islamist militant group Boko Haram is still holding 85 girls it abducted from a raid on a secondary school in northeastern Borno state this week, although the other 44 were free, the state government said on Saturday.
Monday's mass abduction of schoolgirls aged 15 to 18 by Boko Haram, who are fighting for a breakaway Islamic state in northern Nigeria, shocked Africa's most populous country.
It also underscored just how powerless Nigeria's military is at protecting civilians despite a year-long state of emergency meant to flush the rebels out of three states in the northeast.
The Islamists attacked Chibok school, in remote Borno state, which had 129 girls staying in it, on Monday. Most of them were abducted, although the precise numbers were not clear.
Borno state education commissioner Inuwa Kubo said in a statement late on Saturday that 16 students had managed to flee back home during the night of the attack, while another 28 had escaped after being abducted. The other 85 were still missing.
"We continually pray that all our students return in good health," Kubo said.
The armed forces said on Wednesday that the military had freed all but eight of the schoolgirls in a rescue operation, but it retracted that statement a day later.
Boko Haram's five-year-old struggle is now seen as the main security threat to Africa's leading energy producer.
Kidnapping girls is a tactic Boko Haram, whose name means "Western education is forbidden", began using early last year. It is eerily reminiscent of Uganda's Lord's Resistance Army, which abducted thousands of school-aged girls across central Africa to use as forced "wives" for their commanders.
The kidnapping occurred the same day a bomb blast, also blamed on Boko Haram, killed 75 people on the edge of the capital Abuja, the first attack on the capital in two years. (Reporting by Lanre Ola; Writing by Tim Cocks; Editing by Eric Walsh)
http://uk.reuters.com/article/2014/04/18/nigeria-violence-idUKL6N0NA1XK20140418
-----------
Women social workers can be mahrams for orphans
April 19, 2014
AL-KHOBAR — The assistant deputy minister of social affairs said women social workers at the protection home could act as a mahram (a man whom the woman cannot marry) for orphaned women if they are sent abroad on scholarships.
During the first symposium of women university students at protection homes, Lateefah Abunyan said the Ministry of Social Affairs treats orphans as families in society and whatever applies to families also applies to orphans.
This comes as many orphaned women complained that they are deprived of the opportunity to be sent on scholarships abroad because they do not have mahrams to accompany them.
Abunyan added this condition is according to regulations that aim to protect women and there are many orphaned women who have traveled abroad with their families or husbands.
She stressed that any violence or abuse of women is considered a "protection case" and all rules and regulations come into effect.
The head of the women social supervision department in Riyadh said orphans are provided with financial support for daily and school expenses.
http://www.saudigazette.com.sa/index.cfm?method=home.regcon&contentid=20140417202245
-----------
Olympic medallist trains with Palestinian women
April 19, 2014
Dozens of Palestinian girls and women, most of them newcomers to the world of running, got a lesson in the basics Thursday from a track and field great - three-time Olympic gold medalist Jackie Joyner-Kersee.
The American, considered one of the greatest athletes of the 20th century, came to the West Bank to encourage women to be physically active despite cultural restrictions and lack of opportunities.
In her workshop, women jumped over low hurdles, did sit-ups and then competed in a good-natured race. Most wore long pants and yellow T-shirts with the slogan "Run for Health, Run for Hope," while a few participated in their traditional long robes over sneakers.
Eager
Many girls wore headscarves common in the Palestinian territories. Two women hiked up their robes to get over the hurdles.
"The impression I got from them is it's nothing they won't try," the 52-year-old Joyner-Kersee said. "They were eager, they were very respectful and they gave their all, from parents down to the daughters."
Joyner-Kersee won gold in the heptathlon and long jump at the 1988 Seoul Olympics and gold in the heptathlon at the 1992 Barcelona Games. She also won a silver medal and two bronzes in a career spanning four Olympics.
Joyner-Kersee came to the West Bank as part of the U.S. State Department's "sports envoy" program and is wrapping up a weeklong visit Friday. She is among more than 220 U.S. athletes who have visited more than 50 countries since 2003 as part of the program, the U.S. Consulate said.
Sedentary
"It's been really awesome for me," she said. "I loved all the girls and all the people I have come in contact with."
Underlying Thursday's playful session was a serious problem - a rise of obesity among Palestinians due to changes in lifestyle and nutrition. Palestinian society once engaged mostly in farming or manual labor, but has become increasingly sedentary, with young people - like their contemporaries elsewhere - spending hours in front of computer and TV screens.
At the same time, nutrition has changed over the last generation, with some healthier traditional foods being replaced by processed goods.
"We are a flabby society," said Alaa Abu al-Rub, director of the nutrition department in the Palestinian Health Ministry in Ramallah. "Fifty-seven percent of adult Palestinians are overweight or obese. This is due to little physical activity and the improper food."
In part, he blamed lack of spaces for physical activity, including parks, tracks and gyms. The problem is more severe for women; in most of the culturally conservative Palestinian territories, it would not be considered acceptable for women to jog in the streets.
Over the past three years, a Palestinian women's group, Juzoor, has tried to open up new opportunities with funding from the U.S. Consulate in Jerusalem. The group has set up five gyms for women in communities where there were none before, including the town of Qalqiliya and four villages.
"Today, we brought Jackie as a model to inspire women," said Majd Hardan of Juzoor.
Nutritional advice
Among Thursday's participants were 25 women who now train others in the five gyms and also give nutritional advice. Joyner-Kersee met separately with the trainers.
Dina Abu Rajab, a university student, said 50 women regularly attend a gym in the village of Zaatara in the southern West Bank. Abu Rajab, 22, said she lost 12 kilograms (26 pounds) after she began working out and now works as a trainer. "Our women have become much more fit," she said.
Manal Hassan, 50, a mother of eight, said she joined a gym in her village of Bitin two years ago and lost weight, but regained it when she had to take a break because of her husband's health problems.
She struggled as she tried to follow the drills led by Joyner-Kersee, but said she was determined to get fit. "The club is great," she said. "I can lose weight and learn new things about healthy life."
http://english.alarabiya.net/en/sports/2014/04/17/Olympic-medalist-trains-with-Palestinian-women.html
-----------
Courts tackle 576 'khula' cases in 5 months
April 19, 2014
A total of 576 "khula" cases (where a wife asks her husband for divorce) have been reviewed by the courts in the Kingdom during the past five months of the current year.
The Makkah region recorded the highest numbers of "khula" cases at 175, followed by the Eastern Province and Riyadh Region at 91 and 86 cases respectively, the media said.
The numbers of "khula" cases reported in different parts of the Kingdom are Jouf with 56, Jizan 50, Qasim 24, Asir 22, Madinah 19, Tabuk and Baha 14 each, Najran and Hail 9 each.
Lawyer and legal counselor Umar Ishag identified "khula" as a request submitted by a wife to obtain divorce from her husband in which she gives up the advance payment of her dowry.
This procedure is considered to be the first step to officially view the case in a court, the lawyer said.
http://www.arabnews.com/news/557941
-----------
Official reiterates rights of expats with Saudi mothers
April 19, 2014
Children born to expats married to Saudi women will be treated as Saudis for work, education and medical purposes, said Maj. Gen. Sulaiman Al-Yahya, director-general of the Passports Department.
They can also reside in the country at the state's expense and will be allowed to work in the private sector without transferring their residency permits, he said.
The statement was issued after several half-Saudis, especially girls on their mother's sponsorship, expressed fear of deportation following the death of their mother.
Many explicitly marry Saudis whether they like them or not just to be able to stay in the country, while others resort to marrying Saudi men with several wives and children. Some even marry in secret.
"These privileges are contingent upon the approval of the original marriage contract and the children being in possession of IDs," he said.
"This decision comes in accordance with a decree issued by the Council of Ministers in 2012," he said.
"Expat children who had transferred their sponsorships onto their mothers following this decision and prior to their mother's death will be treated as Saudis," he said. "Expats who had not transferred their sponsorships prior to their mother's death will, however, remain under the sponsorship of their companies until a decision is issued by a jurisdictive body."
Half-Saudis are also included in nationalization quotas in the private sector. Expats married to Saudi women can also reside in the Kingdom on their wives' sponsorship provided the original marriage contract had been approved by local authorities.
http://www.arabnews.com/news/556906
-----------
No passport for Saudi women without IDs
April 19, 2014
JEDDAH — Saudi women who do not have national identity cards will no longer issued with new passports, the Directorate General of Passports announced. It also said their passports will not be renewed. The directorate asked all Saudi men and women to register their fingerprints electronically with the Interior Ministry or they will not be allowed to use its services. Director General of Passports Maj. Gen. Solaiman Al-Yahya said starting May 1, no passports will be issued or renewed for Saudi men or women if they are not fingerprinted.
http://www.saudigazette.com.sa/index.cfm?method=home.regcon&contentid=20140419202391
-----------
Racy Egyptian belly dancer slams potential presidential candidate
April 19, 2014
A controversial Egyptian belly dancer and singer has berated a potential presidential candidate - Murtada Mansour - after he accused her of displaying excessive sexuality and threatened to shut down her TV channel.
In early 2014, Sama al-Masri launched a TV channel called Flolol to stand against Muslim Brotherhood members in Egypt.
In Flolol, the sultry Masri lampoons politicians including Mansour, who has not officially applied to run in the country's upcoming elections but has announced his desire.
Through Flolol, Masri, who is originally a belly dancer, directed a message to Mansour on Thursday, after his public accusations.
"I am more of a man than you are," she told Mansour, a lawyer and currently heads the al-Zamalek football club.
If he was brave enough, "he would confront the Muslim Brotherhood members when they were in charge," she added.
"I stayed in the front [during Brotherhood days], I was not afraid."
She also said that nobody was above the law and no one can threaten to shut down a TV channel.
"The law is above you and me."
While she does not intend to enter the presidential race, she said: "I received signatures even without trying."
"If you are a man, come and debate with me on air!"
In a previous song aired last week, Masri performed a parody on Mansour and his desire to run for office.
In the song, she sung "where are your DVDs Murtadha?" referring to Mansour's claim that she had been recorded performing inappropriate acts then released on DVDs.
"Maybe I should elect you, so you can get my DVDs?" she sung.
In the song, she also criticized Mansour's friendship with the leftist Hamdeen Sabahi, who collected the required signatures to officially run for presidency, rivaling Egypt's most popular candidate former army chief Abdel Fattah al-Sisi.
"You meeting with Hamdeen in Meydan (a square in Cairo) for women and alcohol?" she sang.
Mansour also alleged that Masri had previously worked as a maid but had been fired for flirting with the household's son, a claim she denies.
http://english.alarabiya.net/en/life-style/entertainment/2014/04/18/Racy-Egyptian-singer-berates-potential-presidential-candidate.html
-----------
Daughter of Jailed Academic Says China Deaf to Uyghur Grievances
April 19, 2014
The daughter of detained Uyghur academic Ilham Tohti told U.S. lawmakers Tuesday that Beijing has alienated itself from the minority group by arresting her father despite his peaceful promotion of equal rights and greater autonomy.
Tohti, an outspoken professor at Beijing's Central University for Nationalities, was detained on separatism charges in January and has been held incommunicado since.
His daughter Jewher Ilham, 19, who lives in the U.S. as a student, told members of Congress at a hearing in Washington that the charges against him were "utterly false."
"In fact, he is exactly the sort of person a rational Chinese political structure would seek to engage with in order to address the conditions of the Uyghur people," she said.
"Instead, by arresting my father and threatening him with charges that carry the severest of penalties, it has driven many Uyghurs to a point at which they can't even imagine that their wholly justified grievances can get any sort of a hearing under Chinese rule."
Ilham said that her family had been dealt a "collective punishment" by Chinese authorities who have frozen the assets of her stepmother Guzelnur and deployed as many as eight people at a time to monitor the family home at all hours of the day.
She said that her seven-year-old brother suffers from nightmares after having seen his father taken away by the police, and had become withdrawn and introverted.
Several of Tohti's former students have also been arrested and imprisoned, with little known about their whereabouts or well-being, she said.
"I mention these last facts to give you an idea of the kind of collective punishment that the arrest of dissidents entails," she told the Congressional-Executive Commission on China.
"But the core matter here is that China has imprisoned a dissident intellectual whose sole 'crime,' in spite of the trumped up charges that are being thrown around, was simply advocating human rights and equitable treatment for the Uyghur people."
In February last year, Ilham planned to travel with her father to the U.S. and stay with him for one month while he took a one-year position at Indiana University, but Tohti was detained by authorities at the airport in Beijing and insisted his daughter continue on to the U.S. alone. She has been studying English at the university since.
Family harassed
In an interview one day ahead of the hearing, Tohti's wife Guzelnur told RFA's Uyghur Service that she had been the subject of near-constant harassment by authorities since his arrest.
Now my situation is very bad with police stationed outside my home, taking down the information of people who want to visit me," she said.
"One police officer is sleeping outside my door in the building's corridor every night. He is checking to see who is coming to see me and when, so none of my friends can visit me anymore."
She said that the family has heard nothing about Tohti's situation from the authorities, despite his detention taking place nearly three months ago.
"They will not allow us to visit him in jail, so I am very sad and really worried about his well-being," she said.
"The children miss their father tremendously and really want to see him, which makes me feel even worse."
She said that her family was "facing a bad situation" and was in financial trouble as a result of Xinjiang authorities putting a hold on Tohti's bank account.
In an interview last month, she said that she is now reliant on her modest monthly salary from her job in the library of Beijing's Central University for Nationalities to feed the couple's two sons and pay their school fees.
Guzelnur said that her spirits had lifted when she was informed about Tuesday's hearing in Washington.
"I am very happy about this because I believe that he has done nothing wrong—he simply used his pen and his voice to speak for the Uyghur community—and I hope he will be released soon," she said.
"I want people around the world to know about Ilham Tohti and to understand the situation our family is in these days."
Charged as 'separatist'
Tohti, who has spoken out for greater autonomy for the Xinjiang Uyghur Autonomous Region (XUAR), was dragged away from his home in Beijing by dozens of police on Jan. 15.
He was formally arrested on Feb. 20 by the Xinjiang capital Urumqi municipal police department on separatism charges.
It remains unclear whether the government intends to prosecute Tohti for the state security crime of "separatism," which can result in the death penalty, or for the lesser crime of "inciting separatism."
The New York-based Human Rights Watch has said that there is no publicly-available evidence of Tohti having engaged in any form of speech or behavior that could be construed by any objective standard as inciting violence or unlawful action.
Uyghur human rights groups have said that Tohti's detention is part of Beijing's broad strategy to drown the voices of the minority Uyghurs and underscores its increasing hard-line stance on dissent surrounding Xinjiang, where a sweeping security crackdown may have led to about 100 killings since April 2013—many of them Uyghurs accused by the authorities of terrorism and separatism.
He has spoken out for better implementation of China's regional autonomy laws in Xinjiang, where Uyghurs say they have long suffered ethnic discrimination, oppressive religious controls, and continued poverty and joblessness.
http://www.rfa.org/english/news/uyghur/daughter-04082014203455.html
-----------
Christian girls kidnapped and Islamized, schools targeted by Boko Haram
April 19, 2014
Maiduguri - The Christian community in northern Nigeria is alarmed by a phenomenon that is spreading: Christian girls under 18 are abducted and forced to convert to Islam. The girls are kidnapped and kept in the homes of emirs or radical religious leaders, sometimes linked to the "Boko haram" group. This is the complaint sent to Fides by the "Northern Christian Association of Nigeria" , concerned about the rapid growth of the phenomenon. The Association reports that it is following five cases, on behalf of the families of the kidnapped girls. But "when we report a case to the police, the officers respond that they can not do anything. Sometimes we believe they are complicit", explains Daniel Babayi, secretary of CAN.
Christians in northern Nigeria are victims of the militant Islamist group "Boko Haram" which aims to establish an Islamic state. In a terrorist campaign that has been lasting for months, many churches have been attacked and Christians killed. According to some public statements, Boko Haram said that "kidnapping Christian women is part of the new efforts to attack Christians and force them to leave the North".One of the primary goals of the group are schools. At the beginning of July, more than 40 people, mostly students, were killed in an attack against a college in the state of Yobe. In another recent attack, the dormitory of an institute was set on fire while the children were sleeping and those who tried to escape the fire were gunned down. Boko Haram means "Western education is a sin", and its leader, Abubakar Shekau has publicly asked to multiply attacks against schools "that teach Western education". In response to the war launched by Boko Haram against the nation, for two months in the Nigerian states of Borno, Yobe and Adamawa, where militants are the strongest threat, there is in effect a state of emergency.
http://www.news.va/en/news/africanigeria-christian-girls-kidnapped-and-islami
-----------
Jihad Poster Girls: Interpol Searches for Two Teens 'Who Went To Syria to Fight for Islamic Rebels'
April 19, 2014
But the parents say that they don't believe the messages are being written by the girls. Authorities suspect they have been tricked into leaving the country.
Samra and Sabina come from Bosnian refugee families who settled in Austria after the ethnic wars of the 1990s, and were born in the country.
The fighting in Syria continues to be fierce - just today a bomb was detonated in the northern city of Aleppo, destroying buildings and injuring children.
New photos on their Facebook pages show them brandishing Kalashnikov rifles - and in some cases surrounded by armed men.
In the latest posting they announced plans to marry so that they could become 'holy warriors' and in the messages they say: 'Death is our goal'.
However, their families doubt that the messages were written by them.
Austrian officials believe that the pair, judging by the scenes around them, are in a training camp and are not only already married, but also already living in the homes of their new husbands.
In Vienna the family admitted that the two had recently started going to a local mosque run by a radical Imam, Ebu Tejma.
The girls' fathers are reportedly already abroad looking for their daughters, who have not contacted their parents.
It is thought that they have been sending online messages to their friends speaking of their new lives and boasting that 'nobody will ever find us'.
Austrian media said the two teenagers had become the public face for the call to jihad in Syria, and alleged that they had been tricked into going to the country in order to publicise the call to arms.
The latest case of young people getting caught up in the Syrian conflict comes after an 18-year-old British man died in Syria - only for his father to reveal he had no idea his son had gone there.
Abdullah Deghayes, 18, from Brighton, East Sussex, was caught up in fighting in Syria. But his father Abubaker said today: 'At the moment we do not have details of his death. All that we know is that he was killed in Syria. The family is mourning.'
Abdullah was the nephew of former Guantanamo Bay detainee Omar Deghayes.
http://www.dailymail.co.uk/news/article-2607735/The-poster-girls-jihad-Interpol-searches-two-Austrian-teens-Syria-fighting-Islamic-rebels.html
-----------
URL: https://newageislam.com/islam-women-feminism/muslim-scholar-urges-women-take/d/66640