New Age Islam News Bureau
21 March 2017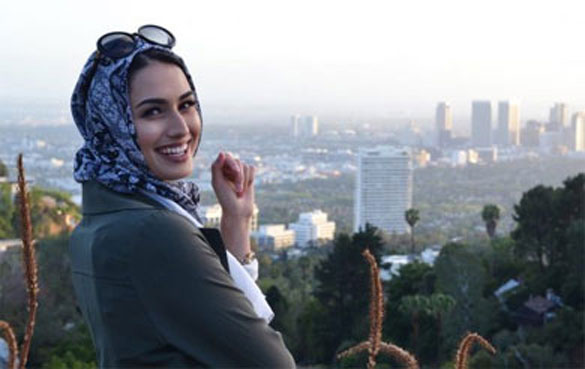 Marya Ayloush. (Photo: Cehara Omar) Muslim College Women Find Acceptance and 'Love' With Hijab Celebrations
---------
• Muslim Personal Law Conflicts with POCSO, Says Delhi Court, Allows Marriage of Minor Girl
• Turkish Reporter Proposes at Mecca's Ka'aba
• Israeli Arab Woman Sentenced To 50 Months for Joining IS
• California: Muslim College Women Find Acceptance and 'Love' With Hijab Celebrations
• Actress Mayim Bialik Blasts Feminists for 'Disgusting' Silence on Muslim Countries' Treatment
• Of Women
• Islamic Singer, Ruqoyaah Gawat Sings For Women
Compiled by New Age Islam News Bureau
URL: https://www.newageislam.com/islam-women-feminism/muslim-personal-law-conflicts-with/d/110476
--------
Muslim Personal Law Conflicts with POCSO, Says Delhi Court, Allows Marriage of Minor Girl
Written by Kaunain Sheriff M
March 21, 2017
IF a Muslim youth "elopes" with a minor girl and marries her under the Muslim personal law and the minor "resides with him as his wife," can he be treated as an "offender" of having committed sexual assault under the Protection of Children from Sexual Offences Act (POCSO)? Raising this question, a special court in Delhi observed last week that there is "clear conflict" between Muslim personal law and provisions of POCSO. Additional Sessions Judge Vinod Yadav, acquitting an 18-year-old man who was married to a 15-year-old minor – both Muslims — and faced charges of rape, kidnapping and under sections of POCSO Act, said that as per POCSO, the minor girl was a "child not capable of giving consent for her marriage and consummation thereof" but "her personal law clearly authorises her to go ahead and get married at that age". The youth was also accused under Section 6 of POCSO — punishment for aggravated penetrative sexual assault.
Clear Conflict Between Muslim Personal Law & Provisions Of Pocso, Observes Delhi Court
"Therefore, a clear conflict is apparent between the Muslim Personal Law and the provisions of the Act with regard to the marriage of a Muslim girl. The Act treats her as a child not capable of giving consent for her marriage and consummation thereof whereas her personal law clearly authorises her to go ahead and get married at that age. The Parliament probably did not foresee the aforesaid issue," ASJ Yadav said.
In the present case, an FIR was filed under sections of POCSO Act based on a complaint by the girl's mother who said that the boy had enticed her daughter and taken her away.
The police then slapped charges of rape, kidnapping and sexual assault under the POCSO Act. After the victim recorded her statement before the magistrate, the victim did not go with the parent and was, instead, sent to Nirmal Chhaya, a children's home in Delhi.
"Before proceeding to analyze the rival contentions, it has to be borne in mind that the accused as well as the prosecutrix are Muslims. It is a fact that under the Muslim Personal law with which the accused and prosecutrix are governed permits them to contract a valid marriage provided the prosecutrix had attained the age of puberty. The prosecutrix had definitely attained puberty, as is evident from her MLC which shows that she had her last menstrual period 20-25 days back," the court stated.
The court further said that POCSO Act was enacted "with the objective that the children of tender age are not abused and their childhood and youth are protected against exploitation" and that they are "given facilities to develop in a healthy manner and in condition of freedom and dignity".
The court said that "at no point of time the accused had ever used any kind of force against the prosecutrix."
"If, everything had happened with the sweet will of the prosecutrix then can the accused be held guilty of committing sexual assault upon her in the teeth of the admission made by the prosecutrix as well as the accused?"
"In the present case also, the element of 'taking away' or 'enticement' is found to be lacking. In view of the material on record, it appears that prosecutrix was willing and consenting party and it seems that everything had happened with her sweet will. In these circumstances, the factum of kidnapping of prosecutrix does not stand proved. If the law laid down in the aforesaid authorities is applied to the facts of the present case, then it would be absolutely clear that the accused is not on the wrong side of law in the matter," the court added.
http://indianexpress.com/article/india/muslim-personal-law-conflicts-with-pocso-says-delhi-court-allows-marriage-of-minor-girl-4578053/
------
Turkish Reporter Proposes at Mecca's Ka'aba
March/20/2017
A Turkish reporter for the state-run Turkish Radio and Television Channel (TRT) has proposed to a young woman at Mecca's Kaaba, the holiest mosque in Islam, in Saudi Arabia.
Yusuf Akyön, the son of Turkish press attaché to Jeddah Bahattin Akyön, recorded a video while proposing to a girl at the holy site during an Umrah visit.
The video showed Akyön getting down on one knee upon the woman's request who had said otherwise she would refuse the proposal.
"We have our holy Ka'aba and holy mothers here. I am a little bit nervous in their presence, but I think it is a good deed," he said in the video.
Meanwhile, the couple's relatives at the scene applauded his proposal.
However, Akyön's proposal at the mosque immediately drew reaction on social media, prompting him to subsequently deactivate his social media accounts.
Some users claimed the act was impious, while others described it as "an insult to the sacred place."
http://www.hurriyetdailynews.com/turkish-reporter-proposes-at-meccas-Ka'aba.aspx?pageID=238&nID=111014&NewsCatID=393
------
Israeli Arab Woman Sentenced To 50 Months for Joining IS
MARCH 21, 2017
The Associated Press
An Israeli court has sentenced an Arab woman to 50 months in prison for joining the extremist Islamic State group.
A district court in Haifa sentenced 30-year-old Sabrine Zbeidat of the Arab city Sakhnin on Tuesday for slipping into Syria via Turkey with her husband and three young children while on a family vacation in Romania in 2015.
The verdict says IS militants brought the new recruits to the Iraqi IS stronghold of Mosul. Zbeidat worked at a hospital there while her husband, Wissam, received military training and fought for IS.
The family eventually tried to leave because of the danger in Mosul and the lack of schools. They repeatedly attempted to cross into Turkey, and were arrested there after they succeeded.
Turkish authorities sent them to Israel last September.
star-telegram.com/news/nation-world/world/article139792918.html#storylink=cpy
-----
California: Muslim College Women Find Acceptance and 'Love' With Hijab Celebrations
By Toni Airaksinen
March 20, 2017
Muslim students across America have been passing out headscarves, buttons and information sheets to their non-Muslim peers to promote understanding — in defiance of fears that their activism could invite hostility or harassment.
While World Hijab Day is officially celebrated on February 1, many Muslim student groups chose to celebrate it later in February or in early March.
The aim, as numerous students told USA TODAY College, is to raise awareness of Muslim culture and bolster solidarity.
Marya Ayloush, a junior at UCLA and member of her school's Muslim Student Association, was the primary organizer of Hijab Day at UCLA. She said she was motivated to organize the event because she wanted to give students an opportunity to "stand in solidarity" with their Muslim peers.
"It's no doubt that Muslim women are the most targeted among Muslims because we are outwardly representing the religion," Ayloush told USA TODAY College. "Unless we are able to educate people about it, and give the an opportunity to stand in solidarity, then we're on our own."
She expressed concerns over the lack of representation of Muslims. Much Islamophobia happens, she said, because "because just don't know" what Islam is, not because they're bad people.
"It's not ill-will," said Ayloush. "Many people think Islam is a religion of violence. But when you actually change their mind, they're so happy. We know that most people are open-minded, accepting, tolerant."
Changing people's minds about Islam was one of the motivating forces for this event, Ayloush said.
During Hijab Day at UCLA, Ayloush and her team of 20 volunteers wrapped headscarves onto their fellow peers. "All 200 scarves flew out in less than two hours," she said.
Further, she didn't want to leave men out, she said, so they received solidarity pins. "Right now, we're taking all the allies we can get," she said. "We wanted to include brothers in this too."
Mona Fouladi, a senior psychobiology major at UCLA, told USA TODAY College she really enjoyed the Hijab Day Ayloush organized. Born into a Muslim family, Fouladi didn't wear the Hijab until she turned 17. It was her own choice, she said.
"Hijab day was one of my happiest days as a UCLA student," said Fouladi. "To be able to share my religion and be honest about my love for both Hijab and Islam as a whole was truly a relief."
While Fouladi believes that "life for Muslims is certainly getting worse under Trump's administration," and she has experienced a rise in "bigoted comments," she says there's a silver lining to it all.
Notwithstanding the uptick in harassment Muslims have faced, support from her peers and fellow Americans has surged in recent months. "The solidarity from my fellow Americans in response to the Muslim ban was amazing. As an American-Iranian, I really hope that this support will continue," she said.
Danya Mohammed, a Palestinian Muslim and senior at the University of California-Riverside, told USA TODAY College that as the organizer of Hijab Day at her school, at first she feared backlash. Before Hijab Day, she was very worried that her peers would be "too afraid" to wear the Hijab for a day due to current events.
But those concerns, and the "current political climate that we are living in," also motivated her, she said, adding that she wanted to "prove otherwise" the claims that Muslim people don't belong in America.
Mohammed's fears were dashed as soon as she and her friends started passing out Hijabs on campus, ultimately handing out 170 of them. "We were pleasantly surprised to see the outpour in solidarity," said Mohammed. "We are blessed."
Hijab Day has been celebrated by numerous other colleges across America, including the University of New Mexico, Simpson College in Iowa, Fairfield University in Iowa, and California State-Long Beach.
Hager Rawag, a senior at California State-Long Beach who helped organize her school's event, told USA TODAY College that she was hopeful and optimistic for the future, especially as over 150 women participated in Hijab Day at her school.
"Hijab Day is a great way to teach people about Muslim women and who we really are," said Rawag, noting that the educational aspect of the event is paramount. Educating people, she said, "creates a domino effect of love and tolerance for each other."
"Especially in this political climate it is important to educate the public on Muslim women and why they wear Hijab," she said.
During Hijab Day, many of Rawag's peers asked her if Muslim women are oppressed. "No," she told them. "Hijab is very liberating, and it is our choice to wear it."
Rawag says that she "will always wear the Hijab," and that she's proud of being Muslim, despite the potential for pushback and judgment from other people. "I am a strong believer of what the Hijab stands for: empowerment, women's rights and acceptance."
http://college.usatoday.com/2017/03/20/muslim-college-women-find-acceptance-and-love-with-Hijab-celebrations/
------
Actress Mayim Bialik Blasts Feminists for 'Disgusting' Silence on Muslim Countries' Treatment of Women
By JEROME HUDSON
20 Mar 2017129
Actress Mayim Bialik slammed the Left and feminists in a blog post this week, explaining that feminist activists often ignore the suffering that many women in majority Muslim countries endure on a regular basis.
Writing in a post on her website GrokNation, the Big Bang Theory star responded to Palestinian activist Linda Sarsour's recent claim that a person cannot be both a Zionist and a feminist.
"Zionism is the belief in the right of the Jewish people to have an autonomous state in Israel," Bialik, an Orthodox Jew, wrote. "I am a Zionist. Feminism is the belief that a woman-driven movement can bring about race, class and gender equality and that women deserve all of the rights and privileges afforded to men. I am a feminist."
The actress specifically called out "the left," who she says "needs to reexamine the microscope they use to look at Israel, and we all need to take a step back and remember we are stronger together: women, men, lovers of peace, and lovers of freedom and justice."
Bialik saved her most harsh criticism for feminists who ignore "atrocities against women" in majority Muslim countries.
"The question is this: Many countries – many Muslim countries, in fact – perpetrate atrocities against women which include: female genital mutilation, forced marriages, child brides, systematic abuse of women by the justice system, revenge rape and honor killing," she writes. "Why is Israel held to a standard none of these other countries – whose offenses are, arguably more extreme – are held to? And why is belief in the State of Israel something that should exclude women – or men, for that matter – from identifying as feminists?"
"Ultimately, for a feminist activist – or any activist – to place the blame for policies made by a few people on the entire entity of Zionism and all who are committed to the idea of a Jewish state is irresponsible," Bialik argues. "It's disgusting, it's insulting, and it's wrong. It creates fragmentation in a movement that needs cohesion, needs to stand together for equality, domestically and internationally."
CBS just renewed The Big Bang Theory for two more seasons, which will carry the long-running sitcom to its 12th season through 2019.
http://www.breitbart.com/big-hollywood/2017/03/20/big-bang-theory-star-mayim-bialik-feminists-silent-on-islams-abuse-of-women/
------
Islamic Singer, Ruqoyaah Gawat Sings for Women
March 19, 2017
Velvet-voiced Islamic singer, Alhaja Ruqoyaah Gawat-Oyefeso has called on Nigerian women to insist on their rights in order to make contributions to nation building. In collaboration with like-minded friends Alhaja Tawakalitu Adunni Olorire, Hajia Monsurat Ojonla, Hajia Aishat Umuh Niyass, they produced put an album entitled 'Eto Obinrin' (Rights of Women).
The album dwells on the inalienable rights of women and the girl child. This is in consonance with the demands of different groups and NGOs during the last International Women's Day.
'Eto Obinrin' further celebrates women as the pillar of the home front and articulates why they should not be relegated to the background. The album will be released on March 13 under stable of Okiki Films & Music Productions.
Recently, Ruqoyaah was crowned the 'Sheikha of Music' at the Maolid Nabiyy and Award Presentation of Morkaz Ogombo in Ajah, Eti-Osa Local Government area of Lagos.
Alhaja Ruqoyaah, a graduate of Mass Communication from the Olabisi Onabanjo University, Ago Iwoye Ogun State, has distinguished herself in impacting good morals to women through her music. She is the daughter of popular NTA presenter, Alh. Rasaq Aremu Gawat. She won the 2016 Best Female Islamic Artiste of the Year at City People Entertainment Awards and also clinched the 2016 Best Female Islamic Musician of the year at the IMAN Awards.
https://www.thisdaylive.com/index.php/2017/03/19/islamic-singer-ruqoyaah-gawat-sings-for-women/
------
URL: https://www.newageislam.com/islam-women-feminism/muslim-personal-law-conflicts-with/d/110476
New Age Islam, Islam Online, Islamic Website, African Muslim News, Arab World News, South Asia News, Indian Muslim News, World Muslim News, Women in Islam, Islamic Feminism, Arab Women, Women In Arab, Islamophobia in America, Muslim Women in West, Islam Women and Feminism