New Age Islam News Bureau
26 Apr 2017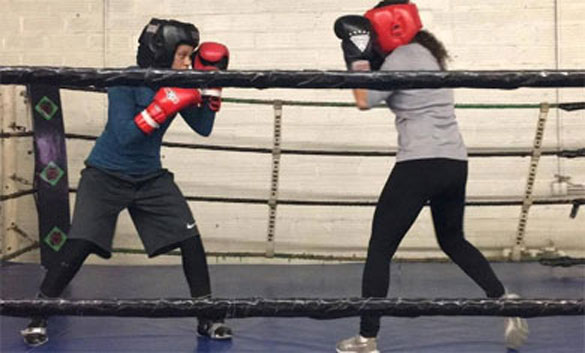 Amaiya Zafar, left, trains with Aliyah Charbonier in Minnesota.
----
• A Muslim Woman's Open Letter To Sadhvi Prachi On The Nikah-Nama
• Islamic Romance Novels Set Hearts Aflutter In Bangladesh
• Israel Appoints Country's First Female Sharia Judge
• Women Make Up Less Than 2pc Of Pakistan's Police Force: Report
• Minnesota Muslim Teen Boxer Inspires Others To Never Give Up
• Migrant Domestics In Lebanon Deported For Having Children
• 250 Policewomen Graduate From Kabul Police Academy
• London Mayor Khan Urged To Lead Campaign On Female Genital Mutilation
• Newly Crowned Miss Indonesia Not Acknowledged By "Home" Province Of NTB Because She's Not Actually From There
• Saudi Arabia's Election To UN Women's Commission Draws Ire
• Indian Woman Sold, Tortured After Entering Saudi Arabia on Housemaid Visa
Compiled by New Age Islam News Bureau
URL: https://www.newageislam.com/islam-women-feminism/muslim-minor-elopes-with-hindu/d/110918
--------
Muslim Minor Elopes With Hindu Boy, Girl's Family Seeks Help Of Clerics
Apr 25, 2017
The family of a 16-year-old Muslim girl of Hajiyapur locality of Bareilly, who is believed to have eloped with her 20-year-old Hindu neighbour on April 17, has approached local clerics after the police failed to find the couple.
Tired of running from pillar to post in search of their daughter, the family decided to take the help of clerics. "We wanted to keep it in the family but were forced to approach clerics after the police failed to take any action in our case," said the girl's father.
The clerics have termed the girl's disappearance an attempt at religious conversion and are now planning to take up the matter with administrative officials.
The girl's family said they were away on the day she went missing. Her aunt, who lives right across the narrow ally leading up to their house, was the last person to see her.
Alleging discrimination due to their religion, the girl's mother said, "My family has not been at peace ever since she left home. We have approached every one from the police to the administration for help but no one is taking any action. Is this because we are from a different community?"
The girl's kin lodged a police complaint against the youth, Avdesh, and his family. Based on the complaint, an FIR was registered against him under sections 363 (kidnapping) and 366 (kidnapping woman to compel her for marriage) of the Indian Penal code.
The police said they were investigating the matter and will soon arrest the youth. "We are working on a couple of good leads and the couple will be detained soon," said Rajendra Singh Siddhu, the investigating officer (IO) of the case.
But even after eight days, the police is yet to trace the missing duo. Police sources also said that couple was romantically involved and thus decided to elope with each other.
Meanwhile, the incident has divided the Hindus and Muslims of the neighbourhood. "Had it been a Muslim boy and a Hindu girl, the entire police force would have been searching for them but in our case, no one seems to care," lamented Yasin Khan, a resident of the locality.
Just a stone's throw away from their ally, is the now vacant house of the youth's family. The narrow metal front door is locked. "They left a day after their son went missing. The family was under pressure from a lot of people who were angered by the incident," said a close relative, Ravindra Singh.
http://www.hindustantimes.com/india-news/muslim-minor-elopes-with-hindu-boy-girl-s-kin-approach-clerics/story-9MsnT50qhIZ5JHyLDBKEPK.html
--------
A Muslim Woman's Open Letter to Sadhvi Prachi on the Nikah-nama
April 25, 2017
Dear Sadhvi Prachi,
Whoever we say I love you to, we, the Indian Muslim women, will still prefer an Islamic Nikah. I will tell you why if you care to listen beyond your rhetorical hate of 'leave your religion'.
In Islam, the marriage is a simple social contract between a man and a woman. The terms of that contract is stated in a 'Nikah-Nama'. While divorce is discouraged in Islam, but not made into a difficult binary that would tie you down for all your life. It recognises that adults often fall out of love, might face incompatibility and possibly want to go their separate ways in life. No, the Islamic marriage is not a sacrament for 'saat janam'.
The nikah-nama like any contract starts with stating who are the two sides entering the agreement. It requires consent from both the bride and groom. That much I am sure Bollywood has educated you with its 'qubool hai' scenes. It also requires two witnesses for the same. What most people do not know, is that like any other modern contract, the nikah-nama can be customised according to the bride and the groom. Hyderabad's Asiya Shervani has been a successful corporate professional. She had the clause inserted for Haq-e-talaq in her nikah-nama. This clause grants her equal rights as a man in taking forward a divorce proceeding in three easy sittings. "It is totally aligned with my feminist principles. I was only 21 years old and my feminist identity was only beginning to take shape at that stage of my life. I love my nikah-nama, not for sentimental or romantic reasons, but because it is a symbol of my equal relationship with my partner. I would not have it any other way. It has facilitated my self-definition and my self-identity," says Asiya. By the way, she also had a clause for equal respect for each other's career ambitions inserted. Don't all we women, irrespective of our religions, wish we had this clause signed by our life partners?
Let's next take the case of author Arif Mohammed Khan. Keeping in view two points: One that sunnah of Prophet Mohammed (PBUH) had put the condition of a monogamous relationship at the time of the marriage of his daughter. So it's a sunnat to do so. And second that the Quran says 'marry those among you who are single'. Considering both these points, Arif saheb inserted the clause in his son's nikah-nama that he shall never take on a second wife while being married to the first. Did I hear you say polygamy again?
There are innumerable other examples if you care to listen, Sadhvi ji. One can add custody of kids, Mehr or any other mutually decided clause that is not in violation of the Quranic principals. The nikah-nama clauses can effectively put an end to instant triple talaq, halala, polygamy and any other religious misconception that you have that paints the Indian Muslim women as "oppressed" or "victims".
It is lovely that you are vocal with a strong voice, but how about using that in the line of service to the nation's daughters by educating Muslim women on their own rights instead of instigating them? Not that there are no social problems faced by people of all faiths? Am sure you wouldn't want a debate on the much higher incidence of abandoned wives in your faith. Because it is not about your faith or my faith. This is about Indian daughters. We are all together in this.
Indian Muslim women can easily reclaim their equal spaces in the polity if they are not kept in the dark by the all-boys club that acts as guardians of our faith. Only through exercising her powers through a nikah-nama can women demand and contractually obligate their husband for equal rights in both spirit and legality. I for one, wouldn't have it any other way.
Warmly,
Nazia
(Nazia Erum is a TEDx speaker and author of forthcoming book, 'Mothering a Muslim' by Juggernaut Books. Her views are personal and not that of News18. She can be reached on twitter at nazia_e)
http://www.news18.com/news/india/a-muslim-womans-open-letter-to-sadhvi-prachi-on-the-nikah-nama-1383395.html
--------
Islamic romance novels set hearts aflutter in Bangladesh
26 April 2017
DHAKA: Kasem bin Abubakar was told nobody would buy his chaste romance novels about devout young Muslims finding love within the strict moral confines of Bangladeshi society.
And yet his tales of lovers whispering sweet nothings between calls to prayer sold millions in the 1980s and proved a huge hit among young girls from Bangladesh's rural, conservative heartland.
Now his work is undergoing something of a renaissance as Bangladesh slides from the moderate Islam worshipped for generations to a more conservative interpretation of the scriptures.
"Girls write me love letters with ink dipped in their own blood. Some were desperate to marry me" Abubakar told AFP, recounting his surprise at young women making a traditional gesture of intense devotion to a greying author.
His debut novel "Futonto Golap" (Blossomed Rose), written more than three decades ago, has spawned an entire genre of fiction tinged with Islamic values.
Abubakar was inspired to take up the pen in the late 1970s, when as a bookseller he lamented that most novels obsessed with the cosmopolitan lifestyles of modern, elite Bangladeshis.
These secular tales were a world removed from the largely rural and pious village existence lived by the majority of Bangladesh's 160 million people, and Abubakar sensed a gap in the market ripe for his fiction.
"He tapped into a new readership that nobody thought existed before," said Bangladeshi journalist Qadaruddin Shishir.
"In rural villages, Abubakar's novels are the best gift a young lover can give to his fiancee."
Abubakar wrote "The Blossomed Rose" — a story about two mismatched young Muslims seeking consent for marriage from their families — by hand in 1978, but it took almost a decade for a publisher to even look at it.
"They told me 'mullah novels' don't sell," he said.
Eventually he sold the copyright to a publisher for a mere 1,000 Taka (USD$12.50), and became an overnight sensation.
Since his breakthrough, Abubakar has written dozens of works, most revolving around the mosque, veiled women and wayward youth abandoning so-called corrupt lifestyles after finding religion.
Secular activists fear creeping conservatism could unwind many of the gains made by the impoverished nation in improving school attendance and gender equality.
An ever-increasing number of students attend madrassas, or religious boarding schools, in Bangladesh, where Abubakar's books have found "become a favorite," said fellow author Syed Mazharul Parvez.
"They can relate to these stories and are comfortable with the settings and language their protagonists speak," he said.
Abubakar has inspired a new generation of Bangladeshi writers who are finding success with their own contemporary brand of Islamic fiction.
Popular writers like Abdus Salam Mitul, Kawser Ahmed and Abdul Alim ecohed Abubakar in their own tales of "piety, conservative attitudes and decency," said Abubakar's son Mohammad Saifullah, a Dhaka-based publisher.
Mitul in particular shot to fame in the 2000s with his own story about a burqa-clad girl reminiscent of Abubakar's breakthrough "The Blossomed Rose."
"I think a lot of people still think it was written by my father. But it was Mitul's work and it sold tens of thousands of copies," Saifullah joked.
Aspiring author Abdul Alim said Abubakar's works had motivated his own plotlines — moral tales that in the end showed "Islam has answers" for society's ills.
"He is such a talented story teller. He showed us the way," Alim said of Abubakar.
For Abubakar, his fans keep him busy even two years into retirement. At a bookstore recently the octogenarian signed autographs for his readers, many women in full-face veils clutching his titles.
The fan mail keeps the postman busy, too. Apart from the marriage proposals and overtures of love, Abubakar has received confessions from corrupt bureaucrats thanking him for steering them down the honest path, he said.
"Everyday the postman would arrive with hundreds of letters. He became a permanent member of our family," Abubakar said.
http://www.arabnews.com/node/1090456/art-culture
--------
Israel appoints country's first female sharia judge
25 April 2017
JERUSALEM: Israel appointed its first female judge in its Muslim sharia court system on Tuesday, officials said, a move hailed as historic.
Hana Khatib, an attorney from the northern town of Tamra, was selected by an Israeli justice committee alongside three men to become a religious judge, or qadi, in the courts ruling on personal law for Muslims inside Israel.
Justice Minister Ayelet Shaked, from the far-right Jewish Home party and head of the committee that selected Khatib, said the appointment of a female religious judge "should have happened a long time ago."
"This is great news for Arab women and the Arab society," she said in a statement.
"I'm excited over the choice, and hope this is the bellwether for further appointments of women."
Aida Touma-Sliman, a female Arab lawmaker from the Joint List coalition, called Khatib's appointment "a historic move" that was the result of a long legal struggle, adding it would benefit all Arabs in Israel.
"It's time to believe in the power of Arab women in filling any role, making decisions and being in positions of influence in society and state, and removing the obstacles from the way," she said in a statement.
In Israel, family law — divorce, marriage, endowments — falls under the jurisdiction of religious courts, and separate systems exist for the country's different creeds.
Khatib is the first woman not only for the Muslim sharia courts but for all the religious courts in Israel, as no women serve as judges in the Jewish or Druze courts.
There are not many women qadis around the world. Two women serve as sharia judges in the neighboring Palestinian Authority.
Khatib will be sworn in by Israeli President Reuven Rivlin in a few weeks.
There are nine regional sharia courts in Israel as well as an appeal courts, with today's appointments bringing the number of qadis in the Muslim system to 18.
http://www.arabnews.com/node/1090226/middle-east
--------
Women Make Up Less Than 2pc Of Pakistan's Police Force: Report
April 26, 2017
KARACHI: Although the country's legislatures have in recent years adopted several laws that aim to protect women's rights, the percentage of women in police remains below two per cent.
According to officials quoting data compiled by the National Police Bureau (NPB), there are a total of 391,364 police personnel across the country, of which only 5,731 are women.
The data shows that at 3.4pc, Gilgit-Baltistan boasts the highest percentage of policewomen when compared to the other regions and provinces. In one of the provinces the percentage of women in the police force is as low as 0.48pc.
The officials admitted that apart from cultural norms and traditions, a lack of encouragement "from within the government institutions" contributed to the low ratio of women in the force, adding that it should at least be 10pc.
"The situation in Balochistan is disappointing," said an official citing the NPB data. "Only 156 policewomen are working in the largest province, where the strength of the force stands at 32,850. The situation is so grim that there is only one inspector, one sub-inspector and one female assistant sub-inspector in the force as a majority of the women are serving as constables," he regretted.
In Islamabad, the situation was comparatively better but hardly satisfactory, said the official, as 278 women personnel were working there, which came to only 2.8pc of the force.
In Punjab there are 2,804 policewomen — 1.8 pc of the force — and in Sindh female participation stands at 1.5pc with 1,498 women in the force.
"In Azad Kashmir, 1.6pc of the personnel are women, as there are only 129 women serving in the 8,325-strong force. In Khyber Pakhtunkhwa, the percentage is as low as 1pc, with 683 policewomen working in a force of 68,106 personnel," added the official.
The officials, however, pointed out that the number of policewomen was improving as their percentage had increased to 1.46pc across the country from 0.94pc a year ago.
"It's not satisfactory but it's improving, I must say," said NPB's Director General Iqbal Mahmood.
"Before blaming any individual or institution for the current situation, young female graduates have to take an initiative to opt for policing as a profession."
Erum Awan, currently serving as superintendent of police (SP) in Karachi traffic police, agreed that there was a lack of interest among educated women towards the profession. However, she said, there were several other reasons as well behind the negative perceptions about the police force.
"First, the girl's family advises her not to join the profession," said SP Awan. "Even if one dares to join the profession, she doesn't encourage others to follow suit. That's because even in this era, women personnel are not awarded key postings or regular policing jobs. They are always considered as a secondary part of the force in comparison to men," she added.
Published in Dawn, April 26th, 2017
https://www.dawn.com/news/1329292/women-make-up-less-than-2pc-of-countrys-police-force-report
--------
Migrant domestics in Lebanon deported for having children
26 April 2017
BEIRUT: Dozens of migrant domestic workers who have given birth in Lebanon are being detained, deported and denied residency renewals, a human rights charity said on Tuesday.
Lebanon has deported at least 21 domestic workers with children, many of them Sri Lankan, since the summer of 2016, Human Rights Watch (HRW) said.
The deportation figures come from Insan, a local human rights organization, that said none of the deported women had violated their visas by, for example, working with multiple employers.
"There is no rule that bans domestic workers from having children in Lebanon," Roula Hamati, research and advocacy officer at Insan told the Thomson Reuters Foundation.
Some of the women, who also include Ethiopians and Filipinos, are detained for two to three weeks before being deported, according to Hamati. In many cases both parents are migrant workers in Lebanon.
The General Directorate of General Security, Lebanon's agency in charge of immigration, was not immediately available for comment.
In a statement to HRW on April 19, the agency said it "did not deport or send away any domestic worker with a child that she wanted to bring with her." Some women told HRW by phone the deportations had interrupted their ability to work and their children's schooling.
"I worked for people (in Lebanon) all my life, for 32 years. We worked, worked, me and my husband, to put our children through school, to pay money to educate them there, and they treat us like that?" Kumaria, whose name was changed by HRW for her protection, told the organization.
http://www.arabnews.com/node/1090351/middle-east
--------
250 policewomen graduate from Kabul police academy
Apr 25 2017
At least two hundred and fifty policewomen graduated from the police academy in Kabul after completing their courses over a period of two months.
A ceremony was organized in Kabul police academy to celebrate the graduation of the policewomen.
Several key government officials, including the chief of the Independent Human Rights Commission of Afghanistan Dr. Seema Samar attended the graduation ceremony of the policewomen.
Dr. Samar emphasized on the critical need of policewomen in maintaining security and stability and added that the addition of the newly graduated policewomen into the framework of the Ministry of Interior will play a vital role.
She said the policewomen have a great resolve to eliminate the threats posed by the internal and external terrorist groups, insisting that the Afghan people as always hail their role as they stand should to should with their brothers to serve the country. The general commander of Kabul police academy Gen. Abdul Jabar Pardeli pointed towards the growing professionalism adopted by the Afghan National Police and said the academy has stepped up efforts more than any other time to provide professional training to the police cadets.
Gen. Pardeli further added that the newly graduates have already been trained for a period of six months in Turkey and the two months courses will further help to improve their grading.
According to Gen. Pardeli, the Ministry of Interior has considered promotion to those policewomen who are having Bachelors degree.
http://www.khaama.com/250-policewomen-graduate-from-kabul-police-academy-02650
--------
London mayor Khan urged to lead campaign on female genital mutilation
25 April 2017
London's mayor, Sadiq Khan, should lead a high profile campaign to end "the hidden crime" of female genital mutilation (FGM) in the capital, the city's assembly said on Tuesday.
An estimated 170,000 women and girls in Britain have undergone FGM and 65,000 pre-teen girls are thought to be at risk, the London Assembly said in a report.
Half of FGM cases recorded in the country are in London, where affected communities include Somalis, Sierra Leoneans, Eritreans and Sudanese.
The ritual, done for cultural, traditional or religious reasons, involves the partial or total removal of the external genitalia. In some cases the vaginal opening is also sewn up.
"FGM remains a hidden crime - still taking place behind closed doors, with many girls still at risk," Jennette Arnold, deputy chairwoman of the elected assembly, said in a statement.
The report said many professionals, such as police, teachers health and social workers, were not confident about how to respond to cases of FGM, which can cause serious physical and emotional problems.
It called for the mayor to help improve coordination between frontline services and highlighted the need for better training.
"We need to be bold, strong and ambitious," Arnold said. "I am more determined than ever that London becomes a 'zero cutting city'."
National efforts to eradicate FGM have gained momentum in recent years with the once taboo subject making the headlines.
Health workers and teachers are now required to report cases of FGM in under 18s.
Britain has also strengthened the law on FGM which was outlawed in 1985, although there has never been a successful prosecution.
But the London Assembly report said many believed the emphasis should be on preventing FGM and supporting those at risk rather than pursuing prosecutions.
It also called for increased efforts to engage boys and men in combating the ancient ritual which some families believe prevents promiscuity.
FGM activist Hibo Wardere said having Khan spearhead a London-wide campaign would make "a massive difference".
https://english.alarabiya.net/en/News/world/2017/04/25/London-mayor-Khan-urged-to-lead-campaign-on-female-genital-mutilation.html
--------
Newly crowned Miss Indonesia not acknowledged by "home" province of NTB because she's not actually from there
By Coconuts Jakarta
Apr. 26, 2017
On Saturday, West Nusa Tenggara (NTB) province representative Achintya Holte Nielsen was crowned the winner at the Miss Indonesia 2017 beauty pageant in Jakarta. "Representative" is the key word here, because Achintya is not actually from NTB.
Regional officials from NTB are refusing to acknowledge Achintya's victory on that basis. Even though her victory could serve as free publicity for the province, officials believe that her representation of NTB goes against their principles.
"As a pioneer of Halal tourism in Indonesia, they should've been careful not to include NTB's name at a competition like this (beauty pageant)," said NTB provincial government spokesman Yusron Hadi, as quoted by Tempo yesterday.
According to Yusron, Achintya does not reside in NTB nor was she born there. Furthermore, the Miss Indonesia pageant organizers didn't even inform NTB's provincial government that there was going to be a representative from the island province at this year's Miss Indonesia pageant.
Achintya, who is of Indonesian and Norwegian descent, was born in Denpasar, Bali, on January 1, 1999. After earning her Miss Indonesia crown, she is going to compete at the 2017 Miss World pageant.
It's not actually that rare for pageant contestants in Indonesia to represent provinces other than their own, since some provinces either don't have enough women interested in competing or their governments are officially against beauty pageants based upon religious or social principles. For example, last year, Miss Indonesia contestant Flavia Celly Jatmiko, a Surabaya native, caused an uproar for representing Aceh, the only province in Indonesia that has been permitted by the national government to enforce their own version of Islamic Sharia law.
https://coconuts.co/jakarta/lifestyle/newly-crowned-miss-indonesia-not-acknowledged-home-province-ntb-shes-not-actually/
--------
Saudi Arabia's election to UN women's commission draws ire
April 25, 2017
New York (CNN)The principal UN commission charged with promoting gender equality and the empowerment of women has picked 13 new members by secret vote. One selection is raising eyebrows: Saudi Arabia.
"Electing Saudi Arabia to protect women's rights is like making an arsonist into the town fire chief," said Hillel Neuer, executive director of UN Watch, a human rights group that acts as a UN watchdog.
The World Economic Forum's Global Gender Gap ranks Saudi Arabia 141 out of 144 countries.
All Saudi Arabian women have legal male guardians. Those guardians have the power to make critical decisions on their behalf -- including the ability to travel abroad, to marry, to work and to access health care.
Women are unable to drive in Saudi Arabia despite recent efforts to change the ban.
"It is absurd that Saudi Arabia is to sit on the UN Commission on the Status of Women as a state member," said Rothna Begum, a Middle East women's rights researcher for Human Rights Watch.
"How can Saudi Arabia seek to promote women's rights globally, when at home they continue to severely discriminate against women, treating them as permanent legal minors?"
Saudi Arabia has made small advancements in freedom for women.
Licenses for female-only gyms were approved in February but only for the purpose of motivating Saudi women to get fit; but licenses for competitive sports like soccer, volleyball or tennis remain unavailable.
The country sent its first female athletes to the Summer Olympics in 2012.
KSA 2030, the country's ambitious vision for the future, aims to "increase women's participation in the workforce" to 30%.
The Saudi Arabian Embassy to the United States referred CNN's inquiries back to the Saudi Arabia Mission to the United Nations. Multiple requests for comment were left with Saudi Arabia's Mission to the United Nations. CNN also reached out for comment from officials sources within the KSA but have yet to receive a response.
UN spokesperson Stephane Dujarric said, "This is an election by member states and one in which the secretary-general has no authority or involvement."
The United Kingdom's Mission to the United Nations also declined to comment on its vote and the Saudi's election to the commission.
The United States' Mission to the United Nations did not respond to repeated inquires but a State Department official told CNN's Laura Koran, "As is common practice, the United States does not disclose its candidate preference in secret ballot elections either before or afterwards. The United States continues to work with the CSW and other UN organizations (such as UN Women) to promote gender equality and women's empowerment."
It's not the first time a country with a repressive human rights record toward women has been elected to the commission.
http://edition.cnn.com/2017/04/25/world/saudi-arabia-un-womens-commission-trnd/
--------
Indian Woman Sold, Tortured After Entering Saudi Arabia on Housemaid Visa
25 Apr 2017
A woman from India was sold to her immigration sponsor for an estimated $4,700 after she entered Saudi Arabia on a housemaid visa and is being tortured by her captor, her daughter tells the Times of India (TOI).
"My mother is in trouble in Saudi. She wants to return home, but her Kafeel [visa sponsor] is not allowing her to get back here," Sameena Begum, the victim's daughter, told TOI.
Her daughter revealed that the victim "is facing mental and physical harassment at the hands of her kafeel (sponsor) in Saudi Arabia," points the Indian news outlet.
"The torture started when she denied to a contract marriage with her Kafeel in Saudi Arabia. She, however, informed me sending a message that she was sold by agents. So the Kafeel does not want to send her back," added the daughter, noting that her mother told her she was sold for 3 lakh, or 300,000 rupees (about $4,700).
Sameena's mother has been identified as Salma Begum, 39, a resident of Babanagar, a suburb of Hyderabad in India's Telangana state.
"I am trying all efforts to bring my mother back home. I kindly request Telangana and central governments to bring my mother back to India," implored Sameena, noting that her Salma is asking New Delhi to intervene on her behalf.
In January, Salma was reportedly taken to Saudi Arabia on a housemaid visa by two local Indian agents identified only as Akram and Shafi.
"I even met Akram requesting him to get my mother back, but he did nothing so far. We went to [the local] Kanchanbagh police station, but the police appear to be unmoved by the matter and have not taken any action so far,'' noted the daughter.
Although Indian authorities are aware of Akram and Shafi's involvement, they have failed to take action against them.
Salma traveled to Saudi Arabia in search of greater financial security
Salma is reportedly the second woman to be deceived into going into the Sunni Saudi kingdom ruled by strict Islamic rules where authorities are known to broadly infringe women's rights.
"The GCC [Gulf Cooperation Council] countries -Bahrain, Kuwait, Oman, Qatar, Saudi Arabia and UAE – manage its 'temporary' migrant workforce through the sponsorship or Kafala system," explains TOI. "Under this system, a local citizen or local company (the kafeel) must sponsor foreign workers in order for their work visas and residency to be valid."
"This means that an individual's right to work and legal presence in the host country is dependent on his or her employer, rendering him or her vulnerable to exploitation," it adds.
http://www.breitbart.com/national-security/2017/04/25/indian-woman-sold-facing-torture-after-entering-saudi-on-housemaid-visa/
--------
URL: https://www.newageislam.com/islam-women-feminism/muslim-minor-elopes-with-hindu/d/110918
New Age Islam, Islam Online, Islamic Website, African Muslim News, Arab World News, South Asia News, Indian Muslim News, World Muslim News, Women in Islam, Islamic Feminism, Arab Women, Women In Arab, Islamophobia in America, Muslim Women in West, Islam Women and Feminism