New Age Islam News Bureau
9 May 2017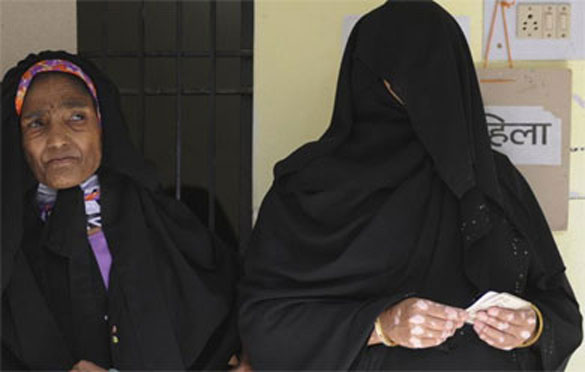 The government has opposed triple Talaq in SC and said it was unconstitutional because it was gender discriminatory.(Representative image)
-----
• Indian Girl in Pakistan Moves Court against 'Forced Marriage'
• Woman Tells Muslim Shopper in US: 'Wish They Didn't Let You in the Country'
• KP Minister Apologises For Remarks against Women
• Father, With the Help of His Son, Killed His Daughter for 'Honour' in Pakistan
• How a selfie landed 3 women in trouble in UAE
Compiled by New Age Islam News Bureau
URL: https://www.newageislam.com/islam-women-feminism/muslim-marriages-contracts-cant-be/d/111082
--------
Muslim marriages are contracts, can't be ended by husband alone: Allahabad HC
May 09, 2017
The Islamic practice of triple talaq is unsustainable and bad in law because Muslim marriages are contracts that cannot be unilaterally rescinded by the husband, the Allahabad high court has said.
The court's observation came while hearing a petition filed by a man whose wife is pursuing criminal charges against him for allegedly torturing her for dowry and then divorcing her when she refused to pay.
Hearing in the case ended on April 19 and details of the judgment were made public on Tuesday. The court dismissed the man's plea to scrap criminal proceedings against him.
The Islamic practice under which a man can divorce his wife by saying "talaq" (divorce) thrice has grabbed national headlines after a bunch of women approached the Supreme Court against the custom. The government has opposed triple talaq in SC and said it was unconstitutional because it was gender discriminatory.
A five-judge bench of the top court will start hearing the petitions demanding scrapping of triple talaq, nikah halala and polygamy from May 11, the first time the SC is giving up its two-month summer break.
http://www.hindustantimes.com/india-news/allahabad-hc-on-triple-talaq-muslim-marriages-are-contracts-that-cannot-be-cancelled-by-husband-alone/story-bzOR3ETFwB8OdoWsTYwiyK.html
--------
Indian Girl in Pakistan Moves Court against 'Forced Marriage'
May 09, 2017
ISLAMABAD - An Indian girl, who is currently in Pakistan, moved a local court Monday, claiming that she was forced to marry a Pakistani citizen at gunpoint.
Judicial Magistrate Syed Haider Shah conducted the hearing on her complaint filed under the section 200 of Criminal Procedure Code (CrPC).
Indian Dr Uzma alleged in her plea that Pakistani Tahir Ali harassed and abused her after she came to Pakistan. She expressed her resolve not to leave the Indian High Commission in Islamabad till her safe repatriation.
She told the court that she met Tahir in Malaysia and they became friends. She said Tahir 'forced her to get a Pakistani visa and visit him'.
"As I crossed the Wagah border into Pakistan, Tahir picked me up in a car and, after travelling a short distance, I was drugged and fell unconscious," she alleged, adding that when she woke up at 10pm, she found herself in Tahir's home in a strange village with strange people.
She went on to say: "That night, Tahir sexually assaulted and tortured me and threatened to kill me if I did not sign the Nikahnama (marriage contract) next day. The next day, they brought me to a dirty and strange house, forced me to sign the marriage contract at gunpoint. They made me marry forcefully for which I was not mentally ready as soon as marriage was done. Then, they started torturing me mentally, beating me and made me do all the household work."
INP adds: Tahir accused the Indian mission of 'detaining' his wife as she went there to apply for visa – a claim rejected by the Indian officials.
Tahir reported to the Islamabad's Secretariat Police Station that his wife hails from New Delhi and the pair first met in Malaysia. "Uzma travelled to Pakistan on May 1 via the Wagha border, and we got married in Buner on May 3," Tahir stated.
According to Tahir, after the couple tied the knot, Uzma called her brother in New Delhi to relay the news to him. Her brother asked her to visit India on her honeymoon and told her she could find a man, named Adnan, at the Indian embassy who would be able to sort out their visas for the trip, Tahir alleged.
"At the Indian embassy window, she asked about Adnan. A while later, a man came out and took her inside through gate number six. I waited and waited, and then at 7pm I asked at the embassy gate if my wife was inside. They told me no one was inside," Tahir claimed.
He added that he then returned to the main gate on a shuttle bus, and noted that none of the three phones surrendered to the embassy by the couple at the time of entrance were returned to him.
After waiting for quite long, Tahir inquired about his wife but the commission refused to return her back.
He added: "Two days after we got married, we visited the Indian High Commission in Islamabad to obtain an Indian visa, following which I lost contact with my wife."
The Indian High Commission told Pakistan Foreign Office that Uzma had approached them with the request to be repatriated to India after learning about Tahir's first marriage and his four children.
The Pakistani authorities declared that the Indian citizen did not disclose her plans to marry in Pakistan when she applied for the visa and instead expressed her intent to visit her relatives in Pakistan.
The Indian mission arranged an attorney for Uzma and provided her with transportation and security to appear before the court for hearing. The court issued notices to respondents, including her husband, and put off the hearing until May 11.
http://nation.com.pk/national/09-May-2017/indian-in-pakistan-moves-court-against-forced-marriage
--------
Woman tells Muslim shopper in US: 'Wish they didn't let you in the country'
May 8, 2017
WASHINGTON: A Muslim woman in the US has alleged that she was harassed in a store by a blonde lady who shouted "I wish they didn't let you in the country" and that Barack Obama was no longer in the Oval Office, a media report said.
The incident occurred after the Muslim woman allowed her fellow shopper to cut ahead of her when they were both in line for the cash register at the store in Virginia.
In a video gone viral on Facebook, an unidentified woman appears to tell a Muslim shopper who allegedly let her go ahead in line, "I wish they didn't let you in the country," local WJLA TV, an affiliate of ABC News reported.
Comedian Jeremy McLellan posted the video on Facebook on Saturday. The Muslim woman involved in the incident is his friend.
As the video begins, the confrontation is already underway. A blonde woman accused the Muslim woman of "playing dumb" and said, "I've got it."
"I shouldn't have let you in front of me," said the Muslim woman.
"I wish they didn't let you in the country," snapped the harasser.
"Excuse me? I was born here," replied the Muslim woman.
"Oh, you were?" the blonde woman said. "Obama's not in office anymore. We don't have a Muslim in there anymore".
"Yeah, I wish he was," the Muslim woman was quoted as saying by the report.
"He's gone. He's gone," the woman says, smiling. "He may be in jail, too, in the future," she adds as she glances down in the direction of the camera briefly.
"You look a little crazy," the woman filming said. "Maybe you need to get some help."
"Oh, I'm fine," the other woman replied as the woman filming explained that it's not normal to strike up hateful conversations with strangers in line at the grocery store.
There has been increase in instances of Trump-supporters caught on video being aggressively rude and confrontational with a Muslim person or a person of colour.
Hate crimes and acts of violence against Americans of colour and immigrants have spiked since the election of Donald Trump as US President, including the murder of an Indian engineer+ Srinivas Kuchibhotla in Kansas city.
http://timesofindia.indiatimes.com/world/us/woman-tells-muslim-shopper-in-us-wish-they-didnt-let-you-in-the-country/articleshow/58579103.cms
--------
KP minister apologises for remarks against women
May 09, 2017
PESHAWAR - Khyber-Pakhtunkhwa Minister for Public Health Engineering Shah Farman on Monday apologised for his controversial remarks against fellow women lawmakers.
"I apologise for my words if the same have hurt anybody's feelings", Shah Farman said during the ongoing session of the Khyber-Pakhtunkhwa (KP) Assembly, adding, that he had respect for all members of the House.
On May 3, Shah Farman, affiliated with the coalition leader Pakistan Tehreek-e-Insaf (PTI), had passed unparliamentarily remarks against women lawmakers from Opposition benches as they protested against alleged discrimination in distribution of development funds.
His remarks had resulted in an uproar in the House and at one stage PPP MPA Nighat Orakzai and Shah Farman exchanged hot words.
However, the chair later expunged the controversial remarks from Shah Farman's speech.
Soon after recitation of the Holy Quran, the Parliamentary leader of PPP Syed Muhammad Ali Shah Bacha took the floor to talk about clash between the PPP woman legislator Nighat Orakzai and Shah Farman.
The PPP legislator said that KP Assembly had good traditions of brotherhood and political harmony. He said that in light of that brotherhood and friendly environment in the House, the respect of the fellow women legislators was binding on all of them.
He said that Shah Farman was not only a Minister, but also an important office- bearer of PTI.
He said that whatever happened in the House that day was not good. He asked Shah Farman to withdraw his remarks.
In response to questions raised by the PPP legislator, Shah Farman tendered apology over the use of derogatory remarks.
Meanwhile, Speaker KP Assembly Asad Qaiser with the consent of Minister for Health Shahram Khan Tarakai and the House referred the privilege motion of Maulana Fazal-e-Ghafoor against the District Health Officer, Buner to the Privilege Committee of the House while the calling attention notice of Fakhar-e-Azam Wazir of PPP regarding restoration of 480 male mobilises and 560 project employees of the Population Welfare Department was disposed of as the matter is pending before the court.
On behalf of the Chief Minister, the Minister for Law and Parliamentary Affairs Imtiaz Shahid Qureshi introduced Khyber Pakhtunkhwa Consumer Protection (Amendment) Bill, 2017 in the House while the KP Societies Registration (Amendment) Bill, 2017 was referred to Select Committee of the House.
Later, the Speaker adjourned the proceedings till 3 pm on Wednesday.
http://nation.com.pk/national/09-May-2017/kp-minister-apologises-for-remarks-against-women
--------
Father, With the Help of His Son, Killed His Daughter for 'Honour' in Pakistan
May 09, 2017
KARACHI - A man, with the help of his son, allegedly killed his daughter for 'honour' in the limits of Jackson Police Station here on Monday.
Police said that 22 years old "F", daughter of Ghulam Nabi, resident of Bhatta Village, Kimari, was strangled. The family of the girl initially said that she committed suicide. The girl's relatives informed police about her death. Police reached the scene, took the girl's body into custody and sent it for an autopsy. During the medical examination at the Civil Hospital, the medico legal officer said the girl was strangled.
Police arrested her father Ghulam Nabi and brother Nabeel. During the investigation, the accused "confessed to" have killed the girl for 'honour'. Police registered an FIR against the accused. Further investigation is under way.
http://nation.com.pk/karachi/09-May-2017/girl-killed-for-honour
--------
How a selfie landed 3 women in trouble in UAE
May 8, 2017
Dubai: A woman in Sharjah was left with a broken thumb and bruises after a fight broke out over a selfie.
According to Sharjah Police, the recent incident occurred at a salon when three Arab women took a selfie.
The three women were attending a friend's wedding later that night, and visited the salon to get their make-up done. The customers were so happy with the results that at the end, they took a selfie with the three of them in the picture.
However, little did they know that unwittingly, a GCC national woman had also been captured in the selfie.
The GCC national asked the women to delete the photo but her requests were denied.
The argument soon escalated into a brawl, which left the GCC national with a fractured thumb on her right hand, in addition to minor cuts and bruises on her body.
Police were finally called in after the salon's owner was unable resolve the dispute, and the injured woman was transferred to Al Qasimi Hospital for treatment.
The law
Taking a photograph of someone without their permission is regarded by the law as an invasion of privacy.
A person can take you to court for breaching his or her privacy and taking their picture without consent.
Punishment for being found guilty in such a crime can be severe.
According Federal Law No 5 for 2012, on social media, states that a person found guilty can be jailed for a period no fewer than six months, be fined between Dh150,000 and Dh500,000, or both.
Expatriates are also deported, according to article no 42 of the law.
The law states: "That who commits an act which breaches the privacy of other people's lives by listening to a conversation, recording or sharing a clip, or taking a picture of a person without their consent, faces jail or a fine."
http://m.gulfnews.com/news/uae/crime/how-a-selfie-landed-3-women-in-trouble-in-uae-1.2023545
--------
URL: https://www.newageislam.com/islam-women-feminism/muslim-marriages-contracts-cant-be/d/111082
New Age Islam, Islam Online, Islamic Website, African Muslim News, Arab World News, South Asia News, Indian Muslim News, World Muslim News, Women in Islam, Islamic Feminism, Arab Women, Women In Arab, Islamophobia in America, Muslim Women in West, Islam Women and Feminism