12 December 2021
• Muslim Girl Free To Marry On Attaining Puberty: Punjab and Haryana HC
• No Trips For Afghan Women Unless Escorted By Close Male Relative: Taliban
• New Services Introduced For Kuwaiti Women Married To Expats
• Women Players Get Raise For 2022 Bangladesh Ropes In Siddons As Batting Consultant
• Syrian Women And Girls In Aleppo Find New Outlet In Sports
• Three Women Convicted Of Abortion Finally Freed In El Salvador
Compiled by New Age Islam News Bureau
URL: https://www.newageislam.com/islam-women-feminism/muslim-girls-marry-attaining-puberty/d/126032
--------
Muslim Girls Free To Marry On Attaining Puberty: Punjab and Haryana HC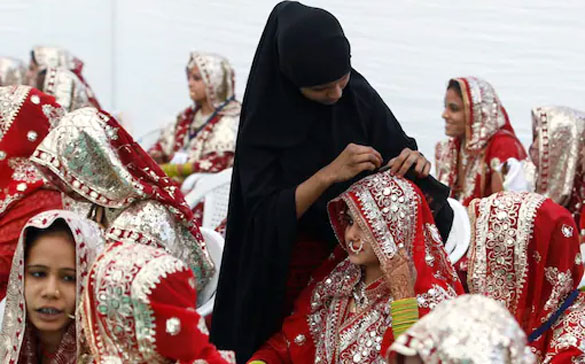 A bride is helped with her wedding dress, before the start of a mass marriage ceremony in Ahmedabad. (Representative image/Reuters)
-----
Dec 26, 2021
CHANDIGARH: Accepting the plea of a 17-year-old Muslim girl who got married to a Hindu boy against the wishes of her family and relatives, the Punjab and Haryana HC ordered the police to protect the couple. The court also made it clear that a Muslim girl on attaining puberty is at liberty to marry anyone she likes and the guardian has no right to interfere if the match is equal.
"The law is clear that the marriage of a Muslim girl is governed by the Muslim Personal Law. As per Article 195 from the book, 'Principles of Mohammedan Law by Sir Dinshah Fardunji Mulla', Petitioner No.1 (girl) being 17 years of age, is competent to enter into a contract of marriage with a person of her choice. Petitioner No. 2 (her partner) is stated to be about 33 years old. Thus, Petitioner No. 1 is of marriageable age as envisaged by Muslim Personal Law," observed Justice Harnaresh Singh Gill.
Justice Gill observed, "The court cannot shut its eyes to the fact that the apprehension of the petitioners needs to be addressed. Merely because the petitioners have got married against the wishes of their family members, they cannot possibly be deprived of the fundamental rights as envisaged in the Constitution."
The counsel for the petitioner contended that under Muslim law puberty and majority are one and the same, and that there is a presumption that a person attains majority at the age of 15 years. The counsel also contended that a Muslim boy or Muslim girl who attains puberty is at liberty to marry anyone he or she likes and their guardian has no right to interfere.
He said Article 195 from the book 'Principles of Mohammedan Law by Sir Dinshah Fardunji Mulla' defines capacity for marriage — every Mahomedan of sound mind, who has attained puberty, may enter into a contract of marriage.
Source: times Of India
https://timesofindia.indiatimes.com/india/muslim-girl-free-to-marry-on-attaining-puberty-hc/articleshow/88499122.cms
-----
No Trips For Afghan Women Unless Escorted By Close Male Relative: Taliban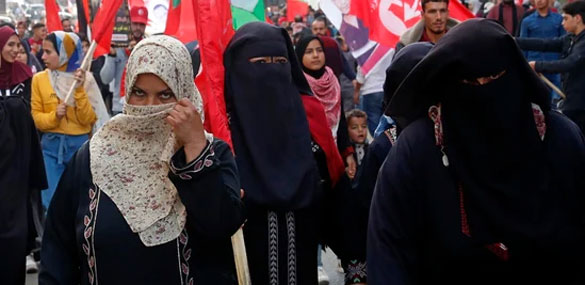 Afghanistan's Taliban authorities said that women seeking to travel anything other than short distances should not be offered transport unless they are accompanied by a close male relative.(AP)
------
AFP, December 26, 2021
KABUL: Afghanistan's Taliban authorities said Sunday that women seeking to travel anything other than short distances should not be offered transport unless they are accompanied by a close male relative.
The guidance, issued by the Ministry for the Promotion of Virtue and Prevention of Vice, also called on all vehicle owners to offer rides only to those women wearing hijabs.
"Women traveling for more than 45 miles (72 kilometers) should not be offered a ride if they are not accompanied by a close family member," ministry spokesman Sadeq Akif MuHajjir told AFP on Sunday, specifying that it must be a close male relative.
The guidance, circulated on social media networks, comes weeks after the ministry asked Afghanistan's television channels to stop showing dramas and soap operas featuring female actors.
MuHajjir said Sunday that the hijab would also be required for women seeking transport. The ministry's directive also asked people to stop playing music in their vehicles.
The Taliban's interpretation of the hijab — which can range from a hair covering to a face veil or full-body covering — is unclear, and the majority of Afghan women already wear headscarves.
Since taking power in August, the Taliban have imposed various restrictions on women and girls, despite pledging a softer rule compared with their first stint in power in the 1990s.
In several provinces, local Taliban authorities have been persuaded to reopen schools — but many girls still remain cut off from secondary education.
Early this month, the Islamist group issued a decree in the name of their supreme leader instructing the government to enforce women's rights.
Activists hope that the Taliban's battle to gain international recognition and get aid flowing back into one of the poorest countries in the world will lead to them making concessions to women.
They were then forced to wear the all-covering burqa, only allowed to leave home with a male chaperone and banned from work and education.
Source: Arab News
https://www.arabnews.com/node/1993011/world
-----
New services introduced for Kuwaiti women married to expats
26-12-2021
KUWAIT CITY, Dec 25: The Assistant Undersecretary for Residency Affairs at the Ministry of Interior Major General Anwar Al-Barjas stated that a Kuwaiti woman, who is married to a non-Kuwaiti man, can complete all the transactions of her husband and children at the citizen service centers, reports Al-Rai daily. However, he highlighted the ministry's endeavors to promote electronic transformation and gradually reduce and even avoid in-person visits by clients.
Al-Barjas, in the presence of the Director of CItizen Service Centers Brigadier Abdul-Qader Shaaban, inaugurated the citizen service center at Al-Salaam area following its renovation to become one of the model service centers in the country. In a press statement on the sidelines of the inauguration event, Al-Barjas said, "This step will not be the last in opening service centers and equipping them with the best advanced services. There are instructions from the Minister of Interior Sheikh Thamer Al-Ali and the Undersecretary of the ministry Lieutenant General Sheikh Faisal Al-Nawaf to rehabilitate all dilapidated citizen service centers and address any negatives issues first-hand, as well as qualify workers with courses and skills with all available means to complete citizens' transactions".
Source: Arab Times Online
https://www.arabtimesonline.com/news/new-services-introduced-for-kuwaiti-women-married-to-expats/
-----
Women players get raise for 2022 Bangladesh ropes in Siddons as batting consultant
DECEMBER 26, 2021
DHAKA : The Bangladesh Cricket Board (BCB) has brought back former Australia batter Jamie Siddons to Bangladesh cricket — this time as batting consultant — over ten years after he served as the senior men's team's head coach from 2007 to 2011. It is unclear though which part of the system he will join when he takes up his role early next year. "We have appointed him as the batting consultant," BCB president Nazmul Hassan said following a board meeting in Dhaka on Friday. "It is not yet finalised in which area he will work in, whether it is the High Performance, Under-19s or the senior team. We are hopeful that he will join in February 2022."
Bangladesh women cricketers get pay hike: The BCB has raised the salary of the contracted female cricketers by "around 33%" for the calendar year 2022. The increase was due to their good performance on the recent tour of Zimbabwe and their qualification for the 2022 ODI World Cup, according to BCB president Nazmul Hassan. The women players' salary structure will be divided into two or three categories, according to their experience, performances and quality of each player. Ashwell Prince, the former South Africa captain, is currently the batting coach of the senior team. He is contracted till the 2022 T20 World Cup in Australia, having being roped in earlier this year, pipping Siddons to the position. Siddons was Bangladesh's head coach from October 2007 to April 2011. He is credited for bringing a culture of professionalism in the team and developing Shakib Al Hasan and Tamim Iqbal, notably, as batters. He was in charge when Bangladesh beat New Zealand 4-0 in the 2010-11 ODI series, marked as the first top-tier team Bangladesh beat in a full series.
Among other new appointments in the BCB's standing committees for the 2021 elected body, the board named Jalal Yunus as chairman of the cricket operations committee after Akram Khan announced last week that he no longer wanted to stay in the post. New director Tanvir Ahmed replaced Yunus as the media and communications manager. The veteran Ahmed Sajjadul Alam Bobby has been given charge of the tournament committee, while Akram was made chairman of the facilities management committee. Kazi Inam Ahmed was named chairman of the Bangla Tigers committee.
Source: Daily Times
https://dailytimes.com.pk/859601/women-players-get-raise-for-2022-bangladesh-ropes-in-siddons-as-batting-consultant/
-----
Syrian women and girls in Aleppo find new outlet in sports
Khaled al-Khateb
December 25, 2021
ALEPPO, Syria — Girls and women in the city of Afrin, which is controlled by the Turkish-backed Free Syrian Army (FSA) factions in northern Aleppo, are showing great interest in sports, such as basketball, badminton, taekwondo, and football.
The Afrin local council, whose sports office is promoting sports for men and women alike, offers five basketball teams for girls under 18, and the teams train in the gymnasium of the local council's sports office. A basketball tournament for girls was previously held in February, and another is scheduled for the beginning of 2022.
Mazen Mahrous, the coach of Al-Sham Basketball Club for women, who resides in Afrin, told Al-Monitor, "The team is made up of 20 female basketball players, and we plan on expanding in the future."
He added, "Many young women are interested in playing basketball, especially girls between the ages of 14 and 18," although they cannot accept all applicants.
Mahrous noted, "Female sports such as taekwondo, karate, football, and badminton, have become very popular in Afrin, but basketball is the most popular." But he added, "Women's sports activities in Afrin need more support, such as hiring highly experienced and qualified trainers, and creating more sports facilities."
One drawback, Mahrous said, is the conservative Islamic countryside, "women's sports need time to be more accepted by society." But, he noted, "The Turkish coordinator in the Afrin area, Mohammed Arshik, is making great efforts to develop sports in the area in general, and there are several teams that have traveled and played in Turkey. I think that women's basketball is a top priority for Arshik and it is expected to receive great attention in 2022."
The sports situation in Afrin is on the right track, Mahmous said, but "sports in general in northern Syria lack coordination in terms of player transfers and such. This is due to the lack of specialized federations to coordinate between all sports clubs."
Evin Sheikho, 17, a player in the Falcons basketball club in Afrin, told Al-Monitor, "We train two days a week, and our training includes fitness exercises as well. I have been a basketball fan since I was young, and I aspire to be a professional player in the future, but for now, I am happy that I have the opportunity to enjoy myself and stay fit."
Many girls and women in Afrin encourage sports in general, and basketball teams in particular. "Women's sports, in general, are subject to criticism given the society we live in and the customs that prohibit women from engaging in many activities," Abeer al-Halabi, a schoolteacher in Afrin, told Al-Monitor. "I believe such restrictions have begun to fade away in opposition areas, with the support of local institutions, such as the local council in Afrin."
Halabi pointed out, "Women in the northern and eastern countryside of Aleppo were able to overcome society's inherited customs and traditions, and they began to participate with men in all aspects of life, not just in sports."
Nawras Dibeen, an official in the sports office at Afrin's local council, told Al-Monitor that the office gives great importance to female athletes of all ages, noting that they participate in different tournaments, under the supervision of coaches and specialists.
Women's sports, and basketball, in particular, need to hold tournaments to strengthen the teams, he said, especially since teams are in dire need of friendly matches to improve their skills.
Women's basketball teams receive no financial support. "Support is limited to securing the appropriate court to play all the games," Dibeen said, "and so far no team has gone to Turkey to attend training camps there."
Source: Al-monitor
https://www.al-monitor.com/originals/2021/12/syrian-women-and-girls-aleppo-find-new-outlet-sports
-----
Three women convicted of abortion finally freed in El Salvador
Dec 26, 2021
Three women from El Salvador who were sentenced to 30 years in prison have now been freed. The women were sentenced under the nation's strict anti-abortion laws. This comes a few days after Zeid Ra'ad Al Hussein, the United Nations High Commissioner for Human Rights, in a statement said that he spent part of his two-day trip meeting with women imprisoned for the crime of "aggravated homicide."
Also, celebrities including actors América Ferrera, Milla Jovovich and Kathryn Hahn asked President Nayib Bukele's government to let the women return home for Christmas.
Zeid Ra'ad Al Hussein said, "I am appalled that as a result of El Salvador's absolute prohibition on abortion, women are being punished for apparent miscarriages and other obstetric emergencies, accused and convicted of having induced termination of pregnancy."
Morena Herrera of the Citizen's group for the depenalisation of abortion said that the group was initially told that one woman would be freed at presidential order. However, when they went to prison, a total of three women were released.
In a report by the Associated Press, Herrera said, "We presented ourselves at the prison in Zacatecoluca and Karen, Kathy and Evelyn left. They are free and in their homes."
El Salvador has one of the world's strictest bans on abortion. It does not permit exceptions. Even for rape or if the mother's life is at risk, there is no right to abortion. Also, the prison sentences can stretch up to 40 years.
In recent years, some rulings have been reversed, with several women released from jail after serving parts of their long sentences.
Still, women are often prosecuted for stillbirths and abortions induced because of medical emergencies.
Source: Wionews
https://www.wionews.com/world/three-women-convicted-of-abortion-finally-freed-in-el-salvador-440011
-----
URL: https://www.newageislam.com/islam-women-feminism/muslim-girls-marry-attaining-puberty/d/126032
New Age Islam, Islam Online, Islamic Website, African Muslim News, Arab World News, South Asia News, Indian Muslim News, World Muslim News, Women in Islam, Islamic Feminism, Arab Women, Women In Arab, Islamophobia in America, Muslim Women in West, Islam Women and Feminism