New Age Islam News Bureau
18 July 2022
• Muslim Civic Head Builds Bathrooms for Women Kanwarias in Just Seven Days in UP
• 1,700 Women Summoned for Improper Veiling to Kermanshah's Police In Iran
• Wife of Kuwaiti UK Ambassador Dalal Yaqoub Al-Humaidhi Awarded Honorary Freedom by City Of London
• Supreme Court of India to Hear Plea Challenging Talaq-e-Hasan on July 22
• Khaled Hosseini's Support for His Trans Daughter Haris Wins Hearts in India
• How The Population Growth Law Strips Iranian Women Of Their Rights?
Compiled by New Age Islam News Bureau
URL: https://newageislam.com/islam-women-feminism/muslim-girls-neet-kota-washim-hijab/d/127509
--------
Muslim Girls Face Trouble at NEET Examination Centres in Rajasthan's Kota and Maharashtra's Washim for Wearing Hijabs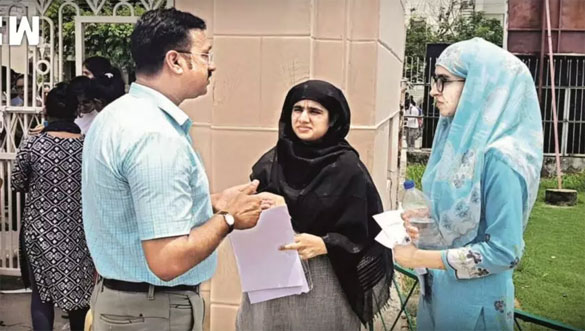 NEET aspirants from Rajasthan were stopped at the entrance of the examination center for wearing a hijab, students from Maharashtra claimed that their hijabs were removed outside the examination hall.
----
July 18, 2022
Several Muslim students, who went to appear for the National Eligibility Entrance Test (NEET) 2022 examinations in Rajasthan's Kota and Maharashtra's Washim on Sunday, faced trouble for wearing hijab.
In Kota, Muslim students were stopped at the entrance of the Modi College and asked to remove their hijabs. This created a dispute between the students and the police outside the centre.
The observer was called and the students were allowed to enter the premises after they signed a written application that if any kind of misconduct will be recorded during the examination, it would be his responsibility.
While students from Kota were allowed to give the examinations in their hijabs after a ruckus, several students from Washim were forced to remove their hijabs before giving the tests.
Nearly six students, including Iram Mohammad Zakir and Ariba Saman Azhar Hussain, complained about administrative officers and exam centre officials misbehaving and forcing them to remove their hijabs.
The students were called out of the examination hall at Matoshri Shantabai Gote College Mahavidyalaya and their hijabs were forcibly removed.
This irked the Muslim community and a large crowd gathered outside the campus. The police superintendent appointed a force outside the college for the safety of other students.
NEET DRESS CODE
As per the official guidelines of the National Testing Agency, candidates are advised to wear casual and weather-appropriate clothing. However, avoid light-coloured clothes with full sleeves during the NEET examination.
The aspirants are not allowed to wear shoes. While students can wear customary or culturally appropriate outfits, they must report to the NEET exam centre a minimum of two hours prior to the reporting time to allow proper checking.
Source: India Today
https://www.indiatoday.in/india/story/muslim-girls-face-trouble-at-neet-examination-for-wearing-hijabs-1976859-2022-07-18
--------
Muslim Civic Head Builds Bathrooms for Women Kanwarias in Just Seven Days in UP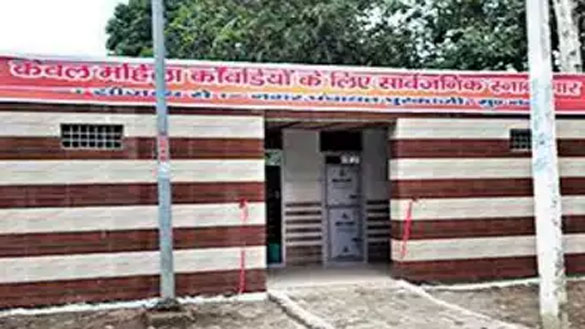 The idea came after he observed women faced problems a year ago
----
Jul 18, 2022
MUZAFFARNAGAR: Keeping in mind the need for privacy of women Kanwarias, Purkazi Nagar Panchayat chairman, a Muslim, has built a permanent washroom with seven bathrooms in just seven days only for women devotees.
The idea behind his laudable move came after he observed that last year women had faced problems and were anxious in using temporary toilets set up along the roadside. There were no proper and permanent facilities for women.
"The new facility has seven cabins with separate showers that will give the much-needed privacy to women devotees," said Chairman Zaheer Farooqui. Purkazi town in Muzaffarnagar district is on the UP-Uttarakhand border. "During the last Kanwar Yatra, we observed that many women visited the Nagar Panchayat office to use the bathroom. Then I realised that separate bathrooms are needed for women devotees," he said.
500 CCTVs installed, cops deployed along Kanwar route
On Sunday, former BJP MLA Parmod Untwal inaugurated these bathrooms. Additional district magistrate Narendra Bahadur Singh said, "His (Farooqui) initiative is appreciable. The administration has also built temporary bathrooms for women. Moreover, mobile bathrooms have been placed in many places."
Meanwhile, keeping in mind the increasing numbers of devotees passing through Muzaffarnagar, SSP Vineet Jaiswal led a heavy police force and conducted a foot march in various parts of the city.
"Foot patrolling in every police station area is being conducted to ensure a peaceful yatra. Adequate police force has been deployed in the district. As many as 500 CCTVs were installed along the "Kanwar Marg". We have also set up a control room at Shiv Chowk from where police personnel are monitoring the Kanwar Yatra," the SSP said.
Source: Times Of India
https://timesofindia.indiatimes.com/city/meerut/uttar-pradesh-muslim-civic-head-builds-bathrooms-for-kanwarias/articleshow/92943974.cms
--------
1,700 Women Summoned for Improper Veiling to Kermanshah's Police In Iran
July 15, 2022
Some 1,700 women have been called to the province's police stations for improper veiling since March 2022. The police chief of Kermanshah Province, western Iran, announced during a news conference.
Ali Akbar Javidan said more than 22,000 public notices had been given concerning moral security, failing to observe the mandatory Hijab, improper veiling, or falling back on the regime's dress code in three months and 20 days. Furthermore, 230 vehicles were seized and sent to the parking lot in the province during the same period.
Javidan said, "The police will not allow for a few people to promote improper veiling with any sort of excuse or pretext."
He also pointed out numerous public sites have been under surveillance since October. These sites include leisure, historical, tourism, commercial, civic service centers, and even travel agencies and tourist tours (The state-run tabnak.ir – July 12, 2022)
Nevertheless, the police chief admitted that the regime's 26 agencies enforcing the mandatory Hijab had failed to do their job.
Javidan said, "26 organizations are directly involved, and six others are working indirectly to impose the mandatory Hijab. Undoubtedly, we would have witnessed better conditions if they all had fulfilled their duties. However, the police know they must fulfill their duties regarding the Hijab and chastity, which today has become a popular demand. The police will act as a custodian to establish order and security in society."
Javidan emphasized the regime's repressive plans against Iranian women.
"In this path, the police will also coordinate with the province's Judiciary and authorities responsible for cultural affairs to implement the plans to promote moral security with greater significance and power."
About implementing the Nazer1 Plan in Kermanshah Province, Javidan explained, "This plan seeks to deal with those who take off their Hijab inside the car or have improper veiling. In such cases, our colleagues will first give a notice. If the owner of the car repeats, the moral security police will invite the owner to sign a commitment. Suppose the person summoned to the Moral Security Police, does not refer within ten days. In that case, the owner's car will be seized and taken to the parking lot." (The state-run tabnak.ir – July 12, 2022)
Dealing with women's Hijab in Iran is a political issue
Nasser Ghavami, former head of the Judiciary Commission in the 6th parliament, commented on the regime's latest escalation of the crackdown on women.
"The guidance patrol officers who deal with women are in no way acting according to Islamic standards. Journalists have observed that the guidance patrol officers violate women's privacy when touching their bodies to detain them. I do not understand how some of these agents, who are women themselves, can pull another woman's hair and start beating her. Whether it be to find an opportunity or feed their mouths, there is no justification! I saw a female officer who forcibly grabbed a woman by her hair while male officers grabbed her body and started beating her to push her into the patrol van.
What the officials are doing to women for being improperly veiled is a political matter. Do not ever think that these groups care about people's religion or beliefs." (The state-run baharnews.ir – July 13, 2022)
Thousands of women are arrested in Iran every day for improper veiling and defying the mandatory Hijab. Enforcing the veil on Iranian women is state-sponsored violence carried out systematically against Iranian women.
Source: Women NCR
https://women.ncr-iran.org/2022/07/15/improper-veiling-1700-women/
--------
Wife of Kuwaiti UK Ambassador Dalal Yaqoub Al-Humaidhi Awarded Honorary Freedom by City Of London
July 17, 2022
LONDON: Mrs. Dalal Yaqoub Al-Humaidhi, wife of the Kuwaiti ambassador to the United Kingdom, was awarded Honorary Freedom by the City of London on Saturday for her volunteer work in a number of British charitable societies, Kuwait News Agency (KUNA) reported.
Lord Mayor of London's financial district, Vincent Keaveny, told KUNA that Al-Humaidhi played an integral role in supporting her husband's diplomatic career, Ambassador Khaled Al-Duwaisan, for 30 years, and that this is in recognition of the Al-Duwaisan family's generous efforts across various fields.
Lord Keaveny added that the award, which dates back to 1237 and is given to those who have made significant achievements in their chosen fields, exemplifies the nature of the special relations that exist between Kuwait and the United Kingdom.
The late Prime Minister Margaret Thatcher and South Africa's late President Nelson Mandela were among those honored with the Honorary Freedom of the City of London.
In addition, the Children and Families Across Borders Society presented Mrs. Al-Humaidhi with a memorial shield in recognition of her contributions to the organization.
According to Caroline Hausmann, CEO of the Society, Mrs. Al-Humaidhi was given honorary presidency of the Society for her work in helping children all over the world.
Mrs. Al-Humaidhi also worked on the annual charity fundraiser held in the backyard of Kensington Municipality for 30 years, and she was also a point of reference for new diplomats as she helped them adapt and assimilate to life in London.
Mrs. Al- Humaidhi's work also extended to the International Red Cross, Alzheimer's Society, Royal Academy of Arts, and many other organizations.
Source: Arab News
https://www.arabnews.com/node/2123996/world
--------
Supreme Court of India to Hear Plea Challenging Talaq-e-Hasan on July 22
18th July 2022
New Delhi: The Supreme Court on Monday said that the plea challenging the practice of Talaq-e-Hasan will be listed on July 22.
Senior Advocate Pinky Anand, appearing for the petitioner, apprised the court that the woman has received a third notice of talaq and she has a minor child.
A bench headed by Chief Justice of India NV Ramana said to list the matter after four days.
A plea was moved in the Supreme Court by a Muslim woman seeking to declare "Talaq-E-Hasan and all other forms of Unilateral Extra-Judicial Talaq" as unconstitutional and sought to issue direction to the Centre to frame guidelines for gender neutral – religion neutral uniform grounds of divorce and uniform procedure of divorce for all.
"The practice of Talaq-E-Hasan and other forms of unilateral extra-judicial talaq is neither harmonious with the modern principles of human rights and gender equality, nor an integral part of the Islamic faith. Many Islamic nations have restricted such practices, while it continues to vex the Indian society in general and Muslim women like the petitioner in particular," the petitioner submitted.
The petitioner further submitted that the practice also wreaks havoc on the lives of many women and their children, especially those belonging to the weaker economic sections of society.
The petition has sought to declare that "Talaq-E-Hasan and all other forms of Unilateral Extra-Judicial Talaq" are void and unconstitutional.
The petition has been filed by one Muslim woman, who claimed to be a journalist as well as a victim of Unilateral Extra-Judicial Talaq-E-Hasan.
The petitioner was married to a man as per Muslim rites on 25 December 2020 and has a son from wedlock. The petitioner claimed that her parents were compelled to give dowry and later she was tortured for not getting a big dowry.
The petitioner also claimed that her husband and his family members tortured her physically-mentally not only after the marriage but also during the pregnancy which made her seriously ill. When the petitioner's father refused to give dowry, her husband gave her Unilateral Extra-Judicial Talaq-E-Hasan through a lawyer, which is totally against the Articles 14, 15, 21, 25 and UN Conventions, the petitioner's lawyer said.
The petitioner has urged to direct and declare the practice of "Talaq-E-Hasan and all other forms of unilateral extra-judicial talaq" void and unconstitutional for being arbitrary, irrational and violative of Articles 14, 15, 21, and 25.
The petitioner also sought to direct and declare Section 2 of the Muslim Personal Law (Shariat) Application Act, 1937 void and unconstitutional for being violative of Articles 14, 15, 21, 25, in so far as it validates the practice of "Talaq-E-Hasan and other forms of unilateral extra-judicial talaq".
It also sought to declare the Dissolution of Muslim Marriages Act, 1939 as void and unconstitutional for being violative of the aforesaid Articles 14, 15, 21, 25 in so far as it fails to secure for Muslim women the protection from "Talaq-E-Hasan and other forms of unilateral extra-judicial talaq".
Source: Siasat Daily
https://www.siasat.com/sc-to-hear-plea-challenging-talaq-e-hasan-on-july-22-2372091/
--------
Khaled Hosseini's support for his trans daughter Haris wins hearts in India
Chintan Girish Modi
July 18, 2022
Afghan-American novelist Khaled Hosseini, known for writing books such as The Kite Runner (2003), A Thousand Splendid Suns (2007), And the Mountains Echoed (2013), and Sea Prayer (2018), won a new legion of LGBTQIA+ fans on July 13. His public declaration of unflinching support for his transgender daughter, Haris, went viral on Instagram.
He wrote, "Yesterday, my 21-year-old daughter Haris came out to the world as transgender. I have known about Haris' journey since last year and I've watched her navigate some very trying personal times. Transitioning is such a complicated undertaking – emotionally, physically, socially, psychologically – but Haris has met each challenge with grace, patience, and wisdom." The note was accompanied by photographs featuring Haris and himself.
Hosseini added, "As a father, I have never been prouder of her. I am delighted to now have not one but two beautiful daughters. Most of all, I am inspired by Haris' fearlessness, her courage to share with the world her true self. She has taught me and our family so much about bravery, about truth. About what it means to live authentically. I know this process was painful for her, fraught with grief and anxiety. She is sober to the cruelty trans people are subjected to daily. But she is strong and undaunted." Hosseini's other daughter is Farah.
In a befitting conclusion to this heart-warming note, the author wrote, "I love my daughter. I will be by her side every step of the way, as will our family. We stand behind her. It's a privilege to watch her enter the world as the beautiful, wise, and brilliant woman that she is. May God bless her." Hosseini also posted an abridged version of this note on Twitter.
Dr. Aqsa Shaikh, a trans woman who serves as Associate Professor of Community Medicine at the Hamdard Institute of Medical Sciences and Research in Delhi, pointed out that Hosseini's statement of solidarity is a significant development for "young trans persons who practise the Muslim faith, not only in the US but also in South Asia and the Middle East".
She said, "The parents of trans and non-binary individuals are constantly looking for acceptance and validation of their children. When they see celebrities welcoming trans and non-binary children with open arms, it gives them courage. They feel less alone. In Islamic societies, trans persons tend to be more accepted than lesbian, gay and bisexual people."
Drawing attention to the fact that Hosseini "was a practising physician for almost a decade", she added, "In the US, there has been much debate and controversy around trans rights. With Hosseini's background in science, especially medicine, I hope families with young trans people will take him seriously." Hosseini's website mentions that he got a medical degree at the University of California, San Diego, and completed his residency in Los Angeles.
Nilakshi Roy, a retired college professor from Mumbai, and active member of Sweekar – a support group for parents of LGBTQIA+ people in India – welcomed Hosseini's statement. As the mother of a queer daughter, she could empathize with Hosseini's feelings. In the past, she has initiated a Change.org petition urging the National Council of Educational Research and Training to reinstate its training manual on inclusion of trans and non-binary children.
Roy said, "When I read Hosseini's statement, I was moved by his intention to be there for his trans daughter in the face of every difficulty that life throws at them. In fact, I remembered a line from his novel The Kite Runner – 'For you, a thousand times over!' His words will serve as an example to many other parents, regardless of their religion, nationality and gender. As a writer of international repute, he is a person beyond borders. His message will travel widely."
Ritushree Panigrahi, a Mumbai-based trans woman who is a stand-up comic and also a diversity and inclusion professional in the corporate sector, said, "To know that you have the backing of your family is a deep source of confidence and encouragement. Unfortunately, family support is rare for people in the trans community." She was of the opinion that Hosseini's act of allyship on social media "will have a broader reach than many advocacy and sensitization programmes" because "our society pays attention when celebrities speak."
Panigrahi said that Hosseini's statement about Haris is "a ray of hope, a positive contribution to the conversation around trans rights not only in the US but in countries across the globe." Striking a note of caution, she added that "visibility can bring forth a backlash in terms of deadnaming and misgendering by trolls." Deadnaming means using a birth name that a trans person has stopped using because it is associated with their identity prior to transitioning. Misgendering means referring to a trans person by the gender identity assigned at birth.
Tashi Choedup, a Hyderabad-based transfeminine Buddhist monastic and queer-trans rights activist, said, "We have many legislations, judicial interventions and official statements from the United Nations supporting trans rights but oppression continues to hurt trans people in their own families. For me, every parent who refuses to participate in violence is worth celebrating. It does not matter whether they are influential or not. Their support counts."
She emphasized that Hosseini could have kept his solidarity a private affair but his choice to make it public "with the consent of his daughter" is "an act of courage" especially given the current political environment in the US where "trans people face discrimination on various fronts including housing, bathroom access, gender affirming healthcare, and employment".
A gay Muslim doctor based in India, who prefers to be identified by his Twitter handle, @udhan_khatola, said, "Hosseini is an influential public figure for Muslim households. His decision to accept the truth of his courageous daughter will have a trailblazing effect. It is possible to overcome stigma and embrace different lived realities. His words will help Afghan parents understand their queer kids. They will motivate other Muslim parents too."
Chintan Girish Modi is a Mumbai-based journalist who tweets @chintanwriting
Source: Firstpost
https://www.firstpost.com/art-and-culture/khaled-hosseinis-support-for-his-trans-daughter-haris-wins-hearts-in-india-10923571.html
--------
How the Population Growth Law strips Iranian women of their rights?
July 15, 2022
SDG 5.6 of the United Nations Sustainable Development Goals wants to ensure universal access to sexual and reproductive health and reproductive rights as agreed in the Program of Action of the International Conference on Population and Development and the Beijing Platform for Action.
In this podcast, the NCRI Women's Committee will get into the details of how the Iranian regime has failed to give the minimum response to this SDG and even adopted a law that cripples women's rights in this regard.
We're going to discuss the Iranian regime's Population Growth Law which has in practice had many grave consequences for women in Iran, the dangers posed to women by this plan and its impact on social ills, also the UN Experts reaction to the plan.
The Population Growth Law was adopted in December 2020 upon the order of the mullahs' supreme leader Ali Khamenei and turned into law
Its official name of the Population Growth Law is the Youthful Population and Protection of the Family law.
Like other measures, plans, and laws concerning women in Iran, the population growth plan aims to marginalize women and isolate them at home, deny their fundamental human rights, and suppress them because they are the most dissatisfied with the mullahs' regime and are seen at the forefront of all protests.
By cracking down on women, the regime seeks to create an atmosphere of fear and terror in the entire society. This's been the regime's plan from the outset. By forcing women to wear the mandatory Hijab against their will, the regime expelled many women from their jobs and dared to attack them on the streets with clubs, pushing thumbtacks on their foreheads and splashing acid on their faces.
The Iranian regime doesn't care about a youthful population because without any exaggeration, it is killing and jailing hundreds of young people every day. The only goal of its Population Growth Plan is to preoccupy people with secondary issues and the crackdowns in this regard, while the society is simmering with discontent and in a terribly volatile state due to the bankrupt economy, inflation, unemployment, poverty, and most of all, lack of freedom of speech and other fundamental freedoms.
They want to force this on women and the entire Iranian society. Let me read to you from the statement issued by UN experts in November 2021.
The UN rights experts called on the Iranian regime to repeal the new law that "severely restricts access to abortion, contraception, voluntary sterilization services and related information in direct violation of women's human rights under international law." They also said the consequences of this law will be crippling for women and girls' right to health and represents an alarming and regressive U-turn" for the Iranian regime.
I really want to highlight this part of the statement which says, "This law violates the rights to life and health, the right to non-discrimination and equality, and the right to freedom of expression by making it illegal to access a range of reproductive health services and share information on reproductive rights, which amounts to the instrumentalization of women's bodies and their reproductive capacity."
The fact is that fertility rate in Iran has dropped nine folds in the past 36 years. In 1986, every Iranian woman gave birth to an average of 5.6 children. But now this rate has dropped to 0.6 children per woman. This is mainly due to poverty and repression. Young people are poor and they cannot buy a house or even rent an apartment and pay the expenses of a married life. Married couples are poor, and they cannot afford to feed their children, so they'd rather not have any children. Add to this the repressive conditions in society that discourage people from having children born into such heavily repressive society.
Therefore, the Population Growth law wants to force women to do what they really don't want to. They don't want and do not afford to have more children.
The regime also plays a dirty trick. They provide incentives to men to put pressure on their wives to have children. For example, they give exemption from conscription service to young men who have two children.
Source: Women NCR
https://women.ncr-iran.org/2022/07/15/population-growth-law/
--------
URL: https://newageislam.com/islam-women-feminism/muslim-girls-neet-kota-washim-hijab/d/127509
New Age Islam Islam Online, Islamic Website, African Muslim News, Arab World News, South Asia News, Indian Muslim News, World Muslim News, Women in Islam, Islamic Feminism, Arab Women, Women In Arab, Islamophobia in America, Muslim Women in West, Islam Women and Feminism