New Age Islam News Bureau
8 March 2017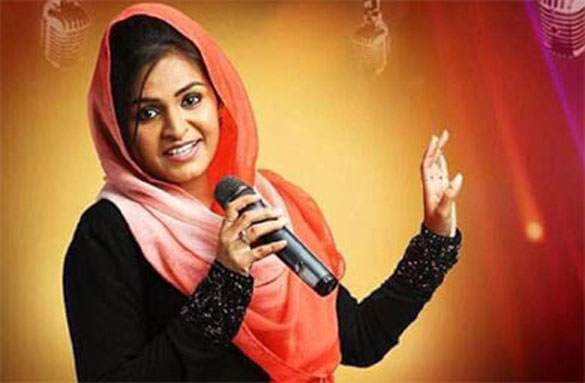 Suhana Sayed (Image: Nagarjun Dwarakanath/News18 )
------
• Nike Unveils Hijab for Muslim Athletes
• Islam Guarantees Women Rights: Pak Minister
• 'Parties Never Resisted Clerics Opposing Pro-Women Laws'
• Malaysia Has Least Women in Senior Business Roles in ASEAN
• UN, British HC Vow to Support Pak Women Journalists
• Celebrating Disability: Pakistan's Inspiring Disabled Women
• On Women's Day, Malaysian Sports and Youth Minister Dreams of a Female PM By 2050
• Feminism in Indonesia under Siege By Muslim Conservatives
Compiled by New Age Islam News Bureau
URL: https://newageislam.com/islam-women-feminism/muslim-girl-trolled-singing-hindu/d/110333
-------
Muslim Girl Trolled For Singing Hindu Devotional Song in Singing Reality Show
March 8, 2017
A singing sensation from Shimoga in Karnataka is being trolled online for singing a Hindu devotional song despite being a Muslim.
Suhana Sayeed sang the song in a Kannada singing reality show and her performance was much appreciated by the judges.
Sahana's talent was appreciated across all platforms and one of the judges, Kannada music director Arjun Janya said she stood as a symbol of unity and showed to the world how all religions can remain in peace and harmony through music.
However, a Facebook page called Mangalore Muslims began trolling her calling her a disgrace to the community. They said that she has tarnished the Muslim community by singing before men.
"You have not achieved a great feat. People who learn the Quran in 6 months are the real achievers. Your parents will not go to heaven (Jannat) as you have exposed your beauty to other men. Stop wearing the pardah as you don't how to respect it," read a comment on the page.
There are many people who have come out in support of Suhana and have shunned the trollers but there has been no contact with her as yet. People supporting Suhana are now looking at filing a case against those who have trolled her by not just inciting hatred amongst communities but also threatening a law abiding citizen.
How Indian Twitterati trolled Pakistan after Sushma's rebuttal at UNGA
http://indiatoday.intoday.in/story/muslim-girl-sings-hindu-devotional-song-singing-reality-show-trolled-in-social-media-facebook/1/899295.html
-------
Nike unveils hijab for Muslim athletes
Mar 8, 2017
The Nike Pro Hijab has been in development for a year, the company said. Athletes contributed input into the product, and figure skater Zahra Lari was among those who tested it.
The pull-on hijab is made of light, stretchy fabric that includes tiny holes for breathability and an elongated back so it will not come untucked. It will come in three colors: black, vast grey and obsidian. Beaverton-based Nike says the hijab will be available for sale next year.
Lari, a hopeful for the Winter Olympics next year in Pyeongchang, South Korea, posted photos of herself wearing the hijab on her Instagram page. Lari is from Abu Dhabi and represents the United Arab Emirates.
"Can't believe this is finally here!!" she wrote.
Last summer, fencer Ibtihaj Muhammad of New York became the first Muslim American woman to compete for the United States wearing a hijab at the Olympics. She earned a bronze medal at the Rio Games.
The U-17 Women's World Cup last October in Jordan marked the first time Muslim players wore headscarves during a FIFA event. Soccer's international governing body formally lifted a ban on head coverings in 2014, recognizing Muslim and Sikh players.
Meanwhile, the governing body for basketball, FIBA, has come under fire for banning headscarves during international competition.
http://timesofindia.indiatimes.com/sports/more-sports/others/nike-unveils-hijab-for-muslim-athletes/articleshow/57529820.cms
-------
Islam Guarantees Women Rights: Pak Minister
March 8, 2017
Bashir Ahmad Rehmani
Hafizabad
Minister of State for National Health Services Regulations and Coordination, Saira Afzal Tarar has said that Islam and our constitution provides guaranty of women rights and Islam bestowed golden principals of protection of women rights, respect and honour 14 centuries ago.
Addressing a ceremony held at Hafizabad in connection with observing International Women's Rights Day, she said that Pakistani women were playing their pivotal role in progress and prosperity of the country and serving in different fields of life including politics, civil services, social welfare, education, health, business, engineering, defense and police department.
She said that our women were working equally to women of developed countries and showing their worth in various fields of life but regretfully some elements were presenting negative image of Pakistani women in abroad.
She said that character and dress of women better and lower their respect in the society. She particularly stressed upon the women to focus on the character building of their children to create healthy atmosphere and to brighten their talents.
Women have to follow teaching of Islam for presenting herself as role model in domestic and external life for constituting real Islamic society as well as for making ideal domestic life, she said.
http://pakobserver.net/islam-guarantees-women-rights-saira/
-------
'Parties never resisted clerics opposing pro-women laws'
IKRAM JUNAIDI
March 8, 2017
ISLAMABAD: Pakistan has deviated from the vision of Quaid-i-Azam Mohammad Ali Jinnah as political parties never dared to stand against so-called religious scholars who have been opposing pro-women laws in the country.
This was stated by rights activist Sarwar Bari while speaking at a consultation workshop, 'Making workplace safe for women', at a local hotel on Tuesday. The event was organised by Woman Counsellors Network, Pattan and the Free and Fair Election Network in connection with the International Women's Day.
Mr Bari said in 1928 women of the subcontinent held a demonstration against early marriages. The Quaid reached the spot to express solidarity with the protesters.
Rights activist says Pakistan has deviated from vision of Quaid-i-Azam who stood for women's rights
"Today religious scholars resist all kinds of legislation in favour of women which is a deviation from the vision of the Quaid. Last year, the Punjab government passed a women protection bill but the religious parties did not accept it," he said.
"On an average, 5,000 women are murdered every year compared to 1,442 men. While the male casualties are primarily related to terrorism, the women's killings are mostly linked to social issues of honour and harassment. Access to decent employment empowers women as it offers them financial independence," Mr Bari added.
"I wanted to ensure that my daughters spend their lives without any problem so I taught them driving, made them independent and encouraged them to take decisions," he said.
Pakistan Tehreek-i-Insaf (PTI) Information Secretary Andleeb Abbas said being a woman in Pakistan was an advantage.
"When I started a marketing job, no one took me seriously but after a year people started respecting me because of my performance. Here women can achieve more because people do not expect them of showing extraordinary performance," she said.
"In USA not a single woman has become the president. Hillary Clinton did her best but failed. On the other hand, in our region we have a number of examples in which women excelled such as Benazir Bhutto, Indira Gandhi, Khaleda Zia and Bandaranaike," she said.
Rights activist Dilshad Begum said women even did not have basic rights.
"A dictator (Pervez Musharraf) gave 33pc representation to women in assemblies but did not motivate them to get their rights. Unfortunately, prominent Pakistani women such as a Sharmeen Obaid-Chinoy, Malala Yousafzai and athlete Naseem Hameed are being criticised by a segment of society," she said.
Counsellor Tayyaba Nasir said the day a woman was elected she became responsible for addressing the issues of other women. She said women can bring a change in society.
The workshop focused on consolidating recommendations for safer workplaces and steps to combating sexual harassment. An 11-point charter of demands was formulated for further action.
Major points of the charter of demands included 33pc quota for women in all assemblies through direct elections and allocation of 33pc party positions for women by all political parties.
The participants asked the government to implement all the pro-women laws. They pushed for the counting of every woman and girl in the upcoming census.
They proposed that 5pc of the income generated through export of goods to the European Union countries under the Generalised System of Preferences (GSP)-plus should be spent on women-specific projects.
They also said the federal and provincial governments should take measures to combat workplace harassment by launching participatory gender audits and installing CCTV cameras at workplaces.
Book launched
The White Ribbon Pakistan arranged a workshop and book launching ceremony on pro-women laws and legal awareness.
Ambassador of Germany Ina Lepel on the occasion said the book was a much needed addition to the publications on women issues.
"This can be a resource for those women who are eager to become aware of their rights," she said.
CEO White Ribbon Omer Aftab said every fifth women in Pakistan was a victim of violence and the ratio was even higher among married women. He said the book, Law, Discrimination and Women in Pakistan, was the result of an in-depth study of all laws relating to women of the country.
Published in Dawn, March 8th, 2017
https://www.dawn.com/news/1319092/parties-never-resisted-clerics-opposing-pro-women-laws
-------
Malaysia Has Least Women in Senior Business Roles In ASEAN
March 8, 2017
KUALA LUMPUR: Malaysia has the lowest proportion of senior business roles held by women in ASEAN, according to a latest report by Grant Thornton.
The 2017 International Business Report (IBR), a survey conducted between October-December in 2016, revealed that only 24% of senior business roles were held by women in Malaysia, down from 26% recorded in the 2016 IBR.
Meanwhile, 34% of businesses here have no women in senior management, up from 31% previously.
The annual survey highlighted that Indonesia had the highest proportion of senior business roles held by women (46%) followed by the Philippines (40%), Thailand (31%) and Singapore (30%).
Grant Thornton Malaysia Country Managing Partner NK Jasani said while businesses across ASEAN have increased the proportion of senior roles held by women, Malaysia was still only half-way there.
"This is a real concern for business growth as it suggests we are not maximising the potential out there.
"Diversity will be key to their success and those that remain closed are putting themselves at risk of not tapping their full potential and losing access to diversity of thinking," he added.
http://www.freemalaysiatoday.com/category/nation/2017/03/08/malaysia-has-least-women-in-senior-business-roles-in-ASEAN/
-------
UN, British HC vow to support Pak women journalists
March 08, 2017
Islamabad - The United Nations and the British High Commission Tuesday vowed to support women journalists in Pakistan, a statement of British High Commission said.
Press clubs across Pakistan committed to support women in journalism, at a United Nations Information Centre event to mark International Women's Day supported by the British High Commission and the National Press Club here.
The UN offered to host a working group of female journalists in Pakistan, to help tackle issues around harassment, discrimination and lack of opportunities for female journalists.
At the event, the British High Commission also announced a commitment by national and regional press clubs to organise minimum quotas for female journalists.
These commitments were made at a training session and conference on the difficulties faced by female journalists. The training session brought together print and broadcast journalists from across Pakistan, to discuss the changing media landscape and steps to be taken to improve the working conditions of female journalists.
Participants discussed labour laws and inspirational examples of leadership by female journalists.
Speaking at the event, the Director of the UN Information Centre, Vittorio Cammarota said, "We are committed to promoting and facilitating the empowerment of female Pakistani journalists and I am very proud to announce today the establishment of a working group for women from the media industry. It will be hosted by the UN Information Centre and will provide a platform for exchange, dialogue, learning, advocacy and support. We'll work in partnership with the press clubs, with the federal and provincial government stakeholders and with member states."
Vittorio Cammarota added, "We will also seek the contribution of the many well experienced men working in the media industry: it's very important to stress that the advancement of women's rights cannot happen without the full engagement of all of us."
"I am grateful to the British High Commission and the National Press Club for their strong commitment in making this event happen; only by joining hands we can effectively contribute to the full empowerment of female journalists in Pakistan," Director UNIC said.
Samuel Heath, the Head of Communications at the British High Commission, said, "There are few more important professions than journalism. Journalists hold politicians, business leaders and even diplomats to account, and they hold a mirror back to society. Any women in journalism that are harassed in their work, or discriminated against, or don't have their work recognised, is a waste of talent and a poor reflection on the profession of journalism.
I am delighted that press clubs have committed to working with women journalists to tackle discrimination and harassment, and to bring real gender equality to journalism."
"Our support for this excellent UN initiative is just a very small element of the work the UK is doing for gender equality. Whether building classrooms in girls' schools, improving maternal health or providing stipends to keep older girls in school longer, the UK is committed to supporting women and girls in Pakistan," he added.
The event marked International Women's Day which is a worldwide celebration of progress made towards achieving gender equality and women's empowerment. It was organised by the British High Commission, the UN Information Centre and the National Press Club. The event was also attended by diplomats, government officials and civil society.
http://nation.com.pk/islamabad/08-Mar-2017/un-british-hc-vow-to-support-pak-women-journalists
-------
Celebrating disability: Pakistan's inspiring disabled women
March 07, 2017
Islamabad-In Pakistan, where government is even not ready for the headcount of persons with disabilities in 2017 census, the challenges faced by disabled women are immense. History always overlooked disability, writes Finlo Rohrer for BBC News Magazine. And of course there was always an incentive for disabled people to downplay or even hide their disability. Paralysed from the waist down for more than a decade before becoming the US president, Roosevelt also made great efforts to hide his disability.
"The concept of disabled people as one identity is a 20th century thing," says Sociologist Tom Shakespeare, author of Disability Rights and Wrongs. But in Pakistan, there were three blind women who not only celebrated their disability but also made remarkable contribution in the lives of thousands of visually impaired persons.
The history of women activism in Pakistan and welfare of Persons with disabilities will remain incomplete if the names of three blind women late, Dr Fatima Shah, Dr Salma Maqbool and Saima Ammar will not be mentioned. Being women and special persons, the milestones they achieved are enough to raise all praise for them. The names and services of these women are well-known to the people who have any concern for welfare of Pakistan and its people. All of them really deserve the highest civil awards of Pakistan for their services for humanity in general and for special persons in particular.
But, unfortunately, no official recognition for their services for the persons with disabilities has been made so far. The government authorities must consider for conferring these women with the awards they deserved in their lifetime.
Specially, the visually impaired persons of the country would never forget the services of Saima Ammar (late) among these iconic ladies. Saima did not even herself lead an exemplary life despite being blind, but she also became the main source of lighting the vigil for the education of thousands of other visually impaired persons. Under her leadership, Pakistan Foundation Fighting Blindness (PFFB) recorded the text books' course of all the Education Boards and affiliated universities of the country, in the form of audio cassettes. It is only because of her that these audio cassettes are available to the blind students at very nominal prices. For instance, the BA course of Punjab University, in the form of 200 recorded cassettes, is available to a candidate, on the application of financial assistance, for Rs100 only. Around 4500 visually impaired students got benefited through this programme of PFFB during her life.
Top government officials including presidents, Prime Ministers and Chief Ministers were well aware of her contributions for this country.
But, unfortunately, no official recognition for her services for the persons with disabilities has been made so far. If we will continue to forget remarkable disable persons like Saima Ammar, we cannot overcome prevalent negative perception regarding Disable people in our society. Therefore, it is very important to keep them alive in our history through honoring them with national awards and adding their biographical stories in our educational curriculum.
Besides her services in formal education for the special persons, Saima Ammar also devoted her time to relish the appetite of visually impaired persons for literature. She got several poetry, novel, fiction, biography and other publications recorded on audio cassettes. These cassettes are further dispatched to the thousands of blind persons in the country, by the registered post service, for free.
Saima did not only highlight the issues and the problems faced by the special persons in the country, but even going one step ahead, she put all her efforts for the solution of these problems. Her father, Brigadier (R) Niaz was an old associate of General (R) Pervez Musharraf. Saima made a positive and healthy use of this relationship, and got succeeded in getting the doors of government jobs open for the persons with disabilities. It is only because of her efforts that today the disabled aspirants can also appear in the competition exams like CSS, and some of them have even secured top positions in these exams.
With the help of her husband, Ammar Masood, TV anchor, and her father-in-law, famous poet Anwar Masood, Saima also represented the special persons in media and created awareness regarding their rights in the society.
Saima Ammar, Chief Executive Officer of PFFB, lost her eyesight at the age of two-and-a-half. Her optic nerve was totally damaged following a severe attack of typhoid in 1971. Saima's started her education in Pakistan at the Al-Maktoum Special Education Centre, did her matric from Station School, and graduated from F G College for Women. Her biggest dream was to get a Masters degree in International Relations from Quaid-i-Azam University which she achieved with distinction.
Saima was an inspiration for visually-impaired people across the globe since her education programme will benefit millions of visually-impaired people in years to come. Saima Ammar passed away on 22 December 2011, but she left a success story for the persons with disabilities to follow in Pakistan.
–The writer is PhD scholar at Quaid-i-Azam University Islamabad
http://nation.com.pk/islamabad/07-Mar-2017/celebrating-disability-pakistan-s-inspiring-disabled-women
-------
On Women's Day, Malaysian Sports and Youth Minister Dreams of a Female PM By 2050
March 8, 2017
KUALA LUMPUR, March 8 — Youth and Sports Minister Khairy Jamaluddin expressed today his wish for a female prime minister by the year 2050, which is the Najib adminisration's target date for Malaysia to achieve developed nationhood.
He also wished that Malaysian society would move on from being "patriarchal" and "misogynistic" in objectifying women.
"For women to be hungry for success and excellence, to not hold back and try to please, to go after what they want, including becoming Prime Minister!" he wrote on his official Facebook page to mark International Women's Day today.
Currently, only 23 out of 222 Malaysian MPs are women, or just 10 per cent, a far cry from the 20 per cent world average.
The highest proportion of female MPs come from Selangor at 27 per cent, while Terengganu has not one female legislator, even at the state level.
In a scathing attack against a misogynic society that blames women for sexual harassments and crimes, Khairy said women should be judged on their character.
"By 2050, no one should think that it's fine to make crude, suggestive remarks about women completely violating their dignity. No one should be stupid enough to suggest that sexual harassment or crimes are the fault of the woman for what they wear.
"By 2050, I want a Malaysia where women feel confident and secure enough to pursue their dreams and be ambitious. And that ambition is something that is not used against them," he wrote.
Khairy said he wanted to see these aspirations come true through the National Transformation 2050 plan, or TN50, including calling for prison sentence against men who refuse to pay child support.
The Umno Youth chief called on the society and legislation to oppose domestic and sexual violence against women, regardless whether they are physical or psychological.
"This value would be reflected in everything from public attitudes to authorities' emergency response procedures to sentencing," he wrote.
He said the government acknowledged that the role of women was complex, pointing that some who had careers had to double up as mothers, wives, but also homemakers.
"By 2050 for there to be no more need for discussions on the challenges women are having today — at school, at work, in society.
"So what if you are a woman — you can just do whatever you feel passionate about and whatever you believe in. No need for quotas. Gender is irrelevant," he wrote.
http://www.themalaymailonline.com/malaysia/article/on-womens-day-kj-dreams-of-a-female-pm-by-2050
-------
Feminism in Indonesia under siege by Muslim conservatives
March 8, 2017
Author and activist Intan Paramaditha's striking appearance — a bright red dress matching her lipstick — might be the first thing noticed by the dozens of people who came to hear her speak about the state of feminism in Indonesia.
However, it did not take long before her words transported the audience at Perdu, a cultural venue in the heart of Amsterdam, far across the ocean to contemplate the challenges and triumphs of the feminist movement in the world's largest Muslimmajority country.
"In the past few years, the direction of women's activism in Indonesia has been largely shaped by emergency cases, such as rising conservatism and growing pressure on feminists and others such as the LGBT community," says Intan, who wears many hats: academic, fiction writer and activist.
"These conservative groups have not only launched street protests against what they call deviant groups, but have also taken legal actions against them."
Intan, a lecturer in media and film studies at Sydney's Macquarie University, is in the Netherlands on a short fellowship provided by the Royal Netherlands Institute of Southeast Asian and Caribbean Studies (KITLV) to write about Indonesian cinema.
In her talk, titled "Womens Resistance through Arts and the Media in Indonesia," she spoke about her country's women's movement in the past two decades.
During Soeharto's New Order period, Intan described the situation in Indonesia as "state ibu-ism" (state motherhood), a term coined by seasoned feminist and writer Julia Suryakusuma.
"In state ibu-ism, women were discouraged from participating in politics, and their appearances in public were limited as mothers and supporters of their husbands," Intan explained.
The period following the end of Soehartos dictatorial rule in 1998, called the Reformasi (reform) era, "opened trajectories previously closed in society, including in the area of gender and sexualism".
Starting in the late 1990s, a number of women broke through into previously male-dominated arts sectors like literature and cinema. "Writers such as Ayu Utami, Fira Basuki and Djenar Maesa Ayu were known for their exploration of the themes related to sex, bodies and sexuality," she said.
In Indonesian cinema, Intan pointed out, women had been practically non-existent: between the 1920s and 1998, only four female directors were documented. However, since the advent of the Reformasi era, dozens of women directors and producers have begun to "make mainstream, independent and documentary films."
"Shanty Harmayn, who was the co-founder and director of JIFFEST [Jakarta International Film Festival], incorporated a women's section in the festival," said Intan, who holds a PhD in cinema studies from New York University.
She also praised director Nia Dinata, whose films touch on sensitive subjects such as polygamy and homosexuality. Her 2002 film Arisan (The Gathering) was regarded as the first Indonesian film that showed a realistic portrayal of gay characters. "It generated a lot of public discussions about homosexuality," she says.
At the same time, however, religious conservatism has also surged in the Reformasi era.
Soeharto's regime, Intan explains, "carefully contained Islam, limiting it to the realm of personal piety." In the Reformasi era, the rise of Muslim political parties "constantly promote the roles of Islam in public." The post-1998 landscape has also seen the rise of religious vigilante groups, most notably the Islam Defenders Front (FPI).
A stark example of the clash between the feminist and the religious camps was the formation of the Pornography Law, which was hotly debated for years prior to its ratification in 2008.
While organizations such as the FPI, who do not shy away from violence, are known as grassroots groups, "they do influence law-making. Their voice is taken into account by policymakers," Intan points out.
In the past few years, the influence of the religious conservatives has continued to grow. "Many women increasingly feel family and peer pressure to wear a hijab [headscarf ]," she says.
Intan says she was particularly dismayed when a minister last year called on universities to bar LGBT students from entering, "and not one single university countered the statement."
Arguably the most formidable challenger for secular feminists are religious conservative women. Intan points to groups such as the Family Love Alliance (AILA), "which easily attracts the middle class with their message of family, religion and morality." AILA has been calling for a review of the laws on homosexuality and non-marital sex, "and demand the criminalization of non-normative sexualities in the name of family values."
The feminists, on the other hand, have certainly not just stood on the sidelines in the past decade.
In the arts, books, plays and movies have continued to push the boundaries of gender and sexuality, like the transgender superhero movie Madame X. A younger generation of female artists have been using digital media to spread their message — such as on the Bersama (together) Project — through music, videos and blogs.
On the religious side of the feminist camp, organizations such as Rahima, an Islamic information and training center headed by Farha Ciciek, an advocate of women's rights in Islam.
Intan admits, however, that the conservative side has been better organized. "They are politically astute, and savvy in using social media." The aim of the secular feminist movement, therefore, is to increase its voice in the mainstream, including in government. "We cannot be the voice of opposition forever."
Another key step, Intan continues, is to increase dialogue between different women's groups, including the religious ones. "Even though there are many Muslim women involved in the movement, dialogue with Islamic feminism — the Islamic movement which is anchored in Islamic texts and discourse — remain limited."
Willemijn Lamp, who organized the talk, points out the importance of a Western audience getting a multi-dimensional perspective on Indonesia.
"The general view the Dutch have on Indonesia is fairly superficial: it's either considered as a backpackers paradise, or we read in the newspapers about mass demonstrations of radical Islamists," says Lamp, who is co-founder of international annual literature festival Read My World.
"Intan compels people to contemplate the complexities of Indonesia, and introduced us to important voices that are not so visible in the mainstream media instead of merely thinking in slogans and stereotypes."
She adds that many in the audience stayed on for further discussions after the talk, "and they have become curious to know more about the groups of activists and artists that Intan had mentioned."
Among those in the audience were university students Ecesu Erol from Turkey and RuthMarie Henckes from Belgium, both of whom knew "practically nothing about Indonesia."
Ecesu was fascinated to find so many similarities between her country and Indonesia. "Both seem to struggle with secularism and Islam," she says. Ruth-Marie, who has traveled extensively in East Africa, noted how "relatively open and tolerant Indonesia seems to be. In countries like Tanzania and Uganda, persecution of gays is much worse."
http://www.thejakartapost.com/life/2017/03/08/feminism-in-indonesia-under-siege-by-muslim-conservatives.html
-------
URL: https://newageislam.com/islam-women-feminism/muslim-girl-trolled-singing-hindu/d/110333
New Age Islam, Islam Online, Islamic Website, African Muslim News, Arab World News, South Asia News, Indian Muslim News, World Muslim News, Women in Islam, Islamic Feminism, Arab Women, Women In Arab, Islamophobia in America, Muslim Women in West, Islam Women and Feminism