Age Islam News Bureau
25 May 2017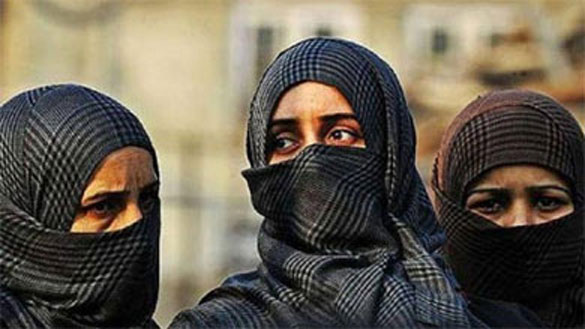 AIIMS regulation allegedly prohibited the students from wearing headgear and scarves.(File Photo)
----
• Muslim Women Welcome Guidelines on Triple Talaq
• Qal'bu Maryam, a Women-Led Mosque Opens in California
• Kerala High Court Nullifies Woman's Marriage with Muslim Man after Bride's Father Raises Islamic State Angle
• Pakistan Court Allows Indian Woman to Return Home
• Child Marriage Stopped in Abhaynagar, Bangladesh
• British Police Says Woman Linked To Manchester Attack Is Released Without Charge
• I Am an American: Shakila Ahmad Pushes For Understanding on National Muslim-Jewish Council
• Hardline Sydney Preacher Slams Muslim Women Who Don't Cover Their Ears or Necks with Hijabs Saying They Are 'Sinful'
• French police arrest two women on links with terrorism
Compiled by New Age Islam News Bureau
URL: https://www.newageislam.com/islam-women-feminism/muslim-girl-students-hijab-take/d/111283
--------
Muslim girl students in hijab can take AIIMS entrance test, Centre tells Kerala HC
May 24, 2017
The Centre on Wednesday told the Kerala High Court that Muslim girl students wearing 'hijab,' a customary religious dress, will be allowed to write the AIIMS' entrance test for MBBS on May 28, if they undergo mandatory checks.
The counsel for the Union government and the AIIMS told the bench that the girl students wearing 'hijab,' however, will have to report an hour before the beginning of the examination to undergo the mandatory physical verification in time.
The submission was made to a bench of Justice PB Suresh Kumar during the hearing of a plea by Muslim girl students and various Islamic organisations, challenging an AIIMS regulation which allegedly prohibited the students from wearing headgear and scarves.
The petitioners alleged this instruction, prohibiting students from wearing the headgear and scarves, was printed on the admit cards for the AIIMS' MBBS test.
They said prohibiting headgear and scarves for candidates appearing for the entrance was unconstitutional and violative of their right to religious freedom guaranteed by Article 25.
The court had earlier sought the Centre's stand on the pleas by the Muslim girl students and organisations.
But with the counsel for the Centre and AIIMS, clarifying its stand, the judge recorded his submission and disposed of the petition.
http://www.hindustantimes.com/india-news/muslim-girl-students-in-hijab-can-take-aiims-entrance-test-centre-tells-kerala-hc/story-b9p4PxfWmaiH9sSaZPZfPM.html
--------
Muslim women welcome guidelines on triple talaq
May 25, 2017
CHENNAI: While Muslim women, activists and leaders in Tamil Nadu welcome the new guidelines issued by the All India Muslim Personal Law Board (AIMPLB) for married couples on triple talaq and ways to settle marital disputes, many feel it is imperative to ensure the message reaches women across the state.
Triple talaq is a Shariat law (Islamic law) practice which allows men to end a marriage by uttering the word 'talaq' to their wives three times in succession. It can be communicated orally or in written format, and more recently, through text messages and social media.
A five-judge Constitution bench of the Supreme Court is examining the case against triple talaq. On Monday, the AIMPLB told the Supreme Court that it has issued guidelines for the husband and wife at the time of dispute - these included "social boycott" of Muslims who resort to triple talaq, appointment of an arbitrator to settle marital disputes and an advisory issued to the qazi (priest) that they should advice grooms against resorting to triple talaq to end the marriage.
In its affidavit, AIMPLB said it has decided to issue a public advisory through its website, publications and social media platforms asking qazis to advise the bridegroom against pronouncing triple talaq in case of a marital dispute.
Lawyer, activist and former legislator Bader Sayeed, who moved the Supreme Court last year challenging triple talaq, says the AIMPLB's guidelines are an attempt to "join the bandwagon". However, she added, it is still a "climbdown" from their earlier stand on the issue.
True reform, she added, is to "ban the triple talaq". "The court will have to frame guidelines. The court must validate every divorce, and the final decree has to come from court," she said. She added women should be made aware of the reforms, through NGOs and women's groups.
Writer-activist Salma says she welcomes the fact that the Board has started thinking about it and is taking steps to implement reforms, but added that these guidelines have to find acceptance within the community. They also have to think about what the next steps are, she said.
"We have to think about how to ensure the message reaches Muslim women across the country. NGOs, women's groups should take it forward to women in cities and villages," she said. She added that there should be strict rules against misuse.
Indian Union Muslim League (IUML) MLA K A M Muhammed Abubacker said, "Shariat law sets forth several guidelines on these issues, but there are practical difficulties in following them". He said the new guidelines should be communicated through jamaat (congregation) committees in various parts of state.
http://timesofindia.indiatimes.com/city/chennai/muslim-women-welcome-guidelines-on-triple-talaq/articleshow/58835115.cms
--------
Qal'bu Maryam, a Women-Led Mosque Opens in California
By Chloe Koura
May 24, 2017
Qal'bu Maryam Women's Mosque is run by women for women. Located in Berkeley, California, men are warmly received in praying alongside the women, but women are the primary audience.
Opened in April 2017, the mosque does not have a male Imam. Instead, the Jumu'ah prayer on Fridays is led by a variety of women.
The name of the mosque, Qal'bu Maryam, translates from Arabic to mean "Maryam's Heart", and this refers to Mary, the mother of Jesus. Such a name highlights the mosque's inclusive aims, one of which is to recognise "the sistership between us and our Christian and Jewish allies".
Rabi'a Keeble, the Muslim convert who founded the mosque, opened it as an inclusive space to learn, a place where both Muslim and non-Muslim women could "get the truth of Islam minus the patriarchy and male agendas that so often cloud it."
There are other women-led mosques…
In the Kaifeng region of China, a nation with over 20 million Muslims, there are 16 women's mosques and numerous female Imams. These are generations-old concepts, with its oldest surviving female mosque, Wangjia Hutong Women's Mosque, being opened in 1820.
As well as being home to Qal'bu Maryam, California is also home to the Women's Mosque of America, which is in Los Angles. Apart from boys under the age of 12, prayer services are exclusive to females.
Outside of the US and China, women-led mosques are cropping up around the world, and they currently exist in countries including South Africa, India and Denmark. There are plans for a women-led mosque to be opened in Bradford, the UK by 2020, but here male imams will lead prayers to mixed-gender congregations.
Controversy of women-led mosques and prayers
In 2005, Dr Amina Wadud caused controversy across the world when she led the Friday Jumu'ah prayers to a mixed-gender audience in New York.
Even though many Islamic scholars say the Koran never confronts whether or not women can lead prayers, most traditionalist Muslims think men should not hear female voices in prayer. Keeble states that "men are conditioned to believe that women's voices are seducing and if they hear her voice they are pushed into an adulteress area."
One point many are keen to make is that there is a difference between culture and religion. Yao Baoxia is an ahong (female Imam) in Kaifeng, and she says the status between female and male Imams is equal in her region, "maybe because we are a socialist country".
Morocco is the first country in the Arab world to officially allow the training of female religious leaders. In 2005, Mohammed VI launched an initiative that included training morchidate, female spiritual guides. More recently in 2015, the King opened the Mohammed VI Institute of Imams, Morchidines and Morchidates, with the aim of the Morchidates being to elevate the status of women in Moroccan society and to fight against extremist thought.
The practicality of female-run mosques
In most mosques, women are contained to limited upper sections or a small area at the back of the mosque.
In Muslim feminist Hind Makki's photography project Side Entrance, she charts female prayer spaces in mixed gender mosques around the world. Inspired after a friend was harshly condemned for using an empty male space to pray instead of the women's area in a "hot, loud and mouldy" basement, Makki's aim is to explore both successes and failures regarding equality in the Muslim world.
The development of female-run and female-only mosques is important because it gives females a welcoming space to pray, instead of being confined to a small space or staying at home.
In conversation with The Telegraph, Qari Asim, a senior Imam at the UK's Model Mosque, Leeds Makkah Mosque, says that idea of women-led mosques is "fantastic". He also notes that women-led mosques are a natural response, because "if you deny women and young people access to the mosque, or access to the decision-making process then eventually the reaction is going to be they're going to start something of their own."
https://www.moroccoworldnews.com/2017/05/217502/qalbu-maryam-women-led-mosque-opens-california/
--------
Kerala High Court nullifies woman's marriage with Muslim man after bride's father raises Islamic State angle
May 25, 2017
Jeemon Jacob
The case took a curious turn with allegations that the woman was forcibly converted to Islam by people or group having affiliation to the Islamic State.
The Kerala High Court directed the police to conduct a detailed probe into the suspected forced conversions of Hindu women by groups having links with Islamic State.
The Kerala High Court bench of Justices Surendra Mohan and Mary Joseph ordered the girl to return to her parent's home. The Kerala High Court declared marriage of Akhila alias Hadia with Shafeen Jahan, a native of Kollam "null and void" on the grounds that bride's parents were "not present or given consent" for the marriage.
WHAT KERALA HIGH COURT SAID
The court considered two habeas corpus writs filed by Ashokan Mani of Vaikom and another parent from Cherpulassery in Palakad district.
"Marriage being the most important decision in her (Akhila)'s life can only be taken with the active involvement of her parents," the Kerala High Court observed.
"The marriage, which is alleged to have taken place, is a sham and is of no consequence in the eye of law. Her husband has no authority to act as the guardian,'' the court further remarked.
The Kerala High Court also directed the State Police Chief to conduct departmental inquiry against Perinthalmanna Deputy Superintendent of Police for not investigating the case properly and take appropriate action.
THE MISSING COMPLAINT
Ashokan Mani, an ex-serviceman filed Habeas Corpus petition before the Kerala High Court on January 25 last year, when he found that his daughter Akhila was missing from the campus she studied. Akhila was a student of the Bachelor of Homeopathic Medicine and Surgery course in Salem.
In his petition, Ashokan alleged that his daughter was forcibly converted to Islam and sought the help of the court to find her. Ashokan named two of Akhila's classmates Jaseena Aboobaker and her sister Faseena - residents of Perinthalmanna - as the persons behind her disappearance from the campus under mysterious circumstances.
Ashokan said in his petition that Akhila and eight other friends including Jaseena and Faseena were staying in a rented house near their college in Salem. They used to visit her friends' home in Perinthalmanna during holidays.
SUSPICION OF A FATHER
Ashokan mentioned in his petition that he noticed some behavioural changes in her daughter when came home to attend her grandfather's funeral in December 2015. Ashokan said that Akhila was not ready to perform Hindu rituals.
On January 6 next year, Ashokan received a phone call from the father of one of Akhila's classmate informing him that his daughter was seen wearing veil and that she was converted to Islam.
The news was a shock to Ashokan, who suffered a mild heart attack. Akhila was informed about the health condition of her father, but she was allegedly not willing to visit him at that time.
Later, Jaseena told Ashokan's wife that she would bring Akhila home on a pre-decided date. But, they did not reach home. Ashokan's family, somehow, managed to contact Akhila, who reportedly told them that she was being forcibly held by people including Jaseena and Aboobacker. Ashokan claimed in his petition that those people were engaged in forcible conversion of vulnerable youths of other faiths.
WHAT AKHILA TOLD POLICE, COURT
On the complaint by Ashokan, police began probe. Akhila was found but she submitted an affidavit before Perinthalmanna police that she was following Islam since 2012 and had willingly left her home.
Akhila told the police officials that she joined a course run by Tharbiathul Islam Sabha, Kottackal in Malappuram to learn Islam and shifted her residence to Satyasarani in Manjery - an Islamic Institution, which allegedly promotes conversion in Kerala and is reported to have close connection with Popular Front of India.
According to her affidavit, Akhila stayed in Aboobacker's home for a brief period. Akhila later shifted to Satyasarani's hostel for girls and completed her course. Satyasarani introduced her to Sainaba from Ernakulam and started staying with her after her father filed Habeas Corpus petition.
FIRST ORDER OF KERALA HIGH COURT
Akhila told the court that she was not under any illegal confinement against her free will. Akhila also told the court that she was not willing to go to her father's house. She insisted that she wanted to pursue her Islamic studies at Satyasarani.
In June last year, the Kerala High Court allowed Akhila to stay with Sainaba.
Later Akhila informed the court that she had taken admission in Satyasarani and produced records of her admission in the religious institution.
Consequently, Kerala High Court dismissed the Habeas Corpus petition filed by Ashokan Mani.
ANOTHER HABEAS CORPUS PETITION
The June 2016 order of the Kerala High Court should have been the end of the matter. But, ex-soldier Ashokan Mani was not convinced with his daughter's reply. He sensed something fishy.
Ashokan Mani would keep track of his daughter's movement and developments in her life. As a result, he filed another Habeas Corpus writ two months later.
This time, Ashokan Mani alleged that her daughter was converted to Islam at the behest of the Islamic State. He feared that Akhila might be taken out of India to join the ranks of Islamic State in Afghanistan.
Ashokan mentioned about two separate cases of women vanishing from Kerala to join the Islamic State jihadis in Afghanistan after they were converted to Islam and married to Muslim men.
TWISTS AND TURNS IN KERALA HIGH COURT
The Kerala High Court, at first, was not impressed with the reference to the Islamic State. The court asked Ashokan's lawyer CK Mohanan to delete the reference to the Islamic State in his petition as it was irrelevant.
But, Mohanan was insistent and argued that Kerala police were investigating a case of missing 21 persons from the state. They are suspected to have been taken to Afghanistan. A heated exchange took place in the open court between the lawyers and the bench.
Justices PN Ravindran and Justice Dama Seshadri Naidu slapped ordered contempt proceedings against lawyer Mohanan in 2016. The court pronounced him guilty in the case and sentenced him to three months imprisonment and also imposed a fine of Rs 1,000.
Ashokan assured the court that he would not engage Mohanan in future. The high court shifted Akhila from the custody of Sainaba to SNV Sadanam, Ernakulam - a ladies' hostel.
Meanwhile, Akhila alias Hadia got married to Shafeen Jahan of Kollam in December last year. The matter came up in January this year before the Kerala High Court, which was hearing the second Habeas Corpus writ filed by Ahokan.
Akhila produced marriage certificate issued by Puthur Juma Masjid in Malappuram and marriage registration certificate by local panchayat authorities. But, the Kerala High Court has declared both the marriage and the certificates as invalid.
http://indiatoday.intoday.in/story/kerala-high-court-hindu-muslim-islamic-state/1/962622.html
--------
Pakistan court allows Indian woman to return home
May 24, 2017
NEW DELHI: Islamabad High Court on Wednesday granted permission to Indian woman Uzma, who accused a Pakistani man of forcibly marrying her, to return to her country, Pakistan-based Geo TV reported.
An Islamabad High Court bench, headed by Justice Mohsin Akhtar Kayani, returned Uzma her original immigration form, which her husband Tahir Ali had submitted to the court.
The court also ordered that police provide security to the Indian woman till the Wagah Border Crossing.
Later, Tahir expressed his desire to meet Uzma in private to which Justice Kayani said that they can hold a meeting in his chamber. However, Uzma refused to meet him.
On May 19, Uzma had submitted a six-page reply to the high court and reiterated her claims and said that she was forced to sign the Nikkahnama with Tahir.
The reply also claimed that Tahir's affidavit was based on lies, and requested that Uzma be allowed to travel to India as her visa will expire on May 30.
20-year-old Uzma, earlier, had approached the Indian High Commission in Pakistan with a request to repatriate her and had also alleged that she was forced to marry a Pakistani citizen at gunpoint.
Following which she filed a plea with an Islamabad court against her husband Tahir Ali alleging that she was being harassed and intimidated by him.
The case came to the forefront after her husband claimed that Indian High Commission has stopped her wife from leaving the premises during their visit to apply for visa on May 7.
Uzma, who belongs to New Delhi, and Tahir 'fell in love' in Malaysia, after which she travelled to Pakistan on May 1 via Wagah border, and got married to him on May 3, according to Tahir.
http://timesofindia.indiatimes.com/world/pakistan/pakistan-court-allows-indian-woman-to-return-home/articleshow/58820080.cms
--------
Child Marriage Stopped in Abhaynagar, Bangladesh
May 25, 2017
Bangladesh has one of the highest child marriage rates in the world
A grade-X student, who was about to be married off, can now focus on her upcoming SSC exams thanks to the efforts of her classmates and prompt action by Abhaynagar's acting Upzila Nirbahi Officer Mondip Gharai.
The parents of Ratna Khatun, 16, from Chalishia union's Kota village had hastily arranged her marriage with one Chanchal Mahmud from Fultola area for money.
Both parties planned to hold the marriage ceremony at the dead of the night to evade intervention by Jessore's local administration.
One of Ratna's classmates informed acting UNO Mondip about the planned the marriage, who rushed to the village with police around Wednesday midnight.
Chanchal, the groom-to-be, his parents and the parents of the bride signed bonds promising not to hold child marriage.
Local Chalishia Union Parishad's chairman was given custody of Ratna.
"Parents should boycott child marriages considering the future of their children," acting UNO Mondip told the Dhaka Tribune.
"We were able to stop Ratna's marriage thanks to her classmate's phone call," he said. "Everyone should be alert and contact the local administration to root out child marriage."
Bangladesh has one of the highest child marriage rates in the world and the highest among Asian countries.
More than half (52%) of Bangladeshi girls are married off before they turn 18 and almost one-fifth (18%) are married off before the age of 15.
The Parliament in February passed the Child Marriage Restraint Act 2017, with a provision for underage marriages in "special circumstances", raising fears that the loophole could be manipulated to force girls marry rapists.
http://www.dhakatribune.com/bangladesh/nation/2017/05/25/child-marriage-stopped-abhaynagar/
--------
British police says woman linked to Manchester attack is released without charge
25 May 2017
Greater Manchester Police said a woman arrested in Blackley in connection with the Manchester attack has been released without charge, according to their official Twitter account.
British police arrested a sixth person, a woman, in connection with Monday's suicide bombing in Manchester, following searches in the north of the city on Wednesday.
"These searches are connected to Monday's horrific attack on the Manchester Arena, but this is a fast moving investigation and we are keeping an open mind at this stage," police said in a statement at the time. "A woman has been arrested at an address in connection with the investigation."
Earlier, the BBC report that armed police had made the arrest during a raid on a block of flats.
https://english.alarabiya.net/en/News/world/2017/05/25/British-polices-say-woman-linked-to-Manchester-attack-is-released-without-charge.html
--------
I am an American: Shakila Ahmad pushes for understanding on national Muslim-Jewish council
May 24, 2017
President and chair of the Islamic Center of Greater Cincinnati board, Ahmad is one of 31 members of a new national interfaith group to fight Islamophobia and anti-Semitism.
As Americans, we are a diverse population. Historically, we have embraced that diversity as what brings us together and truly makes us one nation encouraging all to seek life, liberty and happiness. By sharing our individual differences and finding commonalities, we can work to unify the nation. One thing unites us: We are all Americans. Each week, this series will introduce you to an exceptional American who is making a difference to unite, rather than divide, our communities. Read more of their stories here.
Shakila Ahmad doesn't really shake your hand, she embraces it.
Hers is the kind of greeting where she shakes with one hand, while placing her other hand on top of your hand as a kind of hand-hug.
It's the kind of greeting that puts strangers immediately at ease. Perhaps even without them realizing it.
That's who Ahmad is at her core: A Muslim-American woman who has spent much of her life drawing people in from various communities, religions and political persuasions to help educate others about Islam and its teachings that define her life.
And that is exactly why Bob Silverman, the U.S. director of Muslim-Jewish Relations for the American Jewish Committee (AJC) invited her to join the national Muslim-Jewish Advisory Council late last year.
The council, a first of its kind, was launched by the AJC and the Islamic Society of North America (ISNA) in November to advocate on shared national issues and concerns, even though the two groups have not historically always been on the same side of debates.
Ahmad is one of 31 prominent Muslim and Jewish leaders who will serve on the bipartisan council designed to fight Islamophobia and anti-Semitism. The idea dates before the November election, Silverman said, but the need for such a council has escalated with the uptick in hate crimes against both groups.
Her local education and advocacy work at the Islamic Center of Greater Cincinnati for more than 20 years made her a natural for inclusion to the council, which is in the throes of establishing its policy agenda. It will take on hate crime as its most urgent issue, he added.
"She's a sparkling individual,'' Silverman said. "She's been a real force for good."
Ahmad said she was both honored and a bit reluctant to take on the role given her local commitments,
In addition to her ongoing work as the president and board chair of the Islamic Center in West Chester, Ohio.
"If Jewish Americans are reaching out and I have the opportunity to make a positive impact, then I'm being selfish for saying I don't have time,'' she said. "I'm a just a little pea in the pod from middle America, but I feel like our region needs to be represented."
Ahmad was the first woman and the youngest to serve on the Islamic Center of Greater Cincinnati's board. She created its Tours and Talks program to educate law enforcement officers, business leaders, nonprofit groups, schools and communities about Islam and Muslims. She was also the founding member of the center's Muslim Mothers Against Violence initiative and is often called on to educate groups on being a Muslim to battle against Islamophobia.
"I do this because it makes the region better and at the same time I feel like I must do this for my children, for your children and their children,'' said Ahmad, sitting in the Islamic Center's artifacts and library room.
She has always, she said, made an effort to answer questions about her faith and correct misunderstandings. Yes, she tells people, she's an American. Yes, she tells people, she was educated in America. No, she corrects folks, being Islamic does not equate to terrorism. The occasional calls and letters filled with hate trouble her, but reinforce her commitment to her work.
Explaining Islam's rich culture and long history can be exhausting work. Sometimes, too, it is met with resistance. But she's learned through her work that most of us – regardless of fear or anger – want to learn about what binds us and not focus on the differences that divide us.
There are, she says, far more commonalities between Americans who are also Jewish, Muslim or Christian.
"I say what the YWCA says: 'Lift as you climb,' '' she added. "It's part of my faith. I do it because it is part of my obligation.
"Whatever I can do to make a difference,'' she said. "I try and do."
Shakila T. Ahmad
Profession: President and chair of the Islamic Center of Greater Cincinnati board. Director of business management at Allergy & Asthma Specialty Center in West Chester Township, Middletown and Georgetown.
Age: 56
Home: Evendale, Ohio
Mission: Bringing people together, educating and learning to build a strong community that relies on all of us.
Q and A with Shakila T. Ahmad
What does it mean to you to be an American?
Being an American is an incredible privilege. The freedoms this country affords are incredible: freedom of religion, freedom of expression, education. The opportunities are tremendous.
What moment touched and motivated you to become involved in this effort?
I have been committed to interfaith work for two decades. We did a women of interfaith program on Fountain Square (in Cincinnati) in 2016 and there were 300 women who came forward to stand together, to establish relationships. It was moving. And so when the national coalition asked me to be involved -- to stand up again discrimination, to speak up and to speak out for each other and to look at domestic policy issues -- I had to say yes. I believe in this work. The possibility of positive impact and positive change is the number one reason I said yes.
It's not easy work. I have incredible respect for the people who are on the council. They do incredible work on behalf of this country.
What gives you hope and what concerns you?
What gives me hope is the Muslim-Jewish Advocacy Council and the work we will do to serve our country. What gives me hope is the women's interfaith community and that people show up in the hundreds to get to know their neighbors. What gives me hope is that all fellow Americans are able to stand shoulder to shoulder regardless if we are Muslim-Americans or Jewish Americans or Christian Americans. We are all Americans.
What concerns me is when we don't take time to understand our similarities and our differences. When we chastise each other, we are cut off from one another. That is deeply, deeply concerning to me and deeply un-American. In every era of our history, there have been different people, but the public square belongs to all of us.
What do you hope to accomplish through your efforts?
I hope to really empower one another with our diverse voice. As a nation and as a people, we have tremendous values and I hope to celebrate that and contribute to that work. I am hopeful we can build relationships with each other and our political leaders so the message is: We are your constituents, the voters, and we are the people you want to help make our government, listen to us. I also hope we will advocate in order to decrease these unfounded fears and the disenfranchisement and bigotry that we have seen across the country and in our own region. This is extremely dangerous to all of us. We need to make strong statements against these actions. The golden rule is in each of our faith communities.
Nominate an American
Who are your American heroes? Share stories and nominees at onenation.usatoday.com or via email to onenation@usatoday.com or post a video submission to Twitter, Facebook or Instagram (no longer than 2 minutes, please) with the hashtags #IAmAnAmerican #WeAreOneNation.
Or, click here for an online nomination form and to read more of the stories. You can also subscribe to a weekly newsletter to read their stories.
https://www.usatoday.com/story/news/2017/05/24/am-american-shakila-ahmad-advocates-on-national-muslim-jewish-advisory-council/99867070/
--------
Hardline Sydney Preacher Slams Muslim Women Who Don't Cover Their Ears or Necks with Hijabs Saying They Are 'Sinful'
24 May 2017
A hardline Muslim preacher from Sydney's west has told hijab-wearing Muslim women it's sinful for them to reveal their ears or their neck in public.
Nassim Abdi, a fundamentalist Sunni, has castigated Muslim women for trying to copy the fashion styles of other Muslim women.
'The sister, why are you wearing it like this? Because other women are wearing it like this?,' he asked this week.
'You show only your face and your hands. Not your neck and your ears.'
He also said 'following a trend' was haram, the Arabic word for sinful.
His advice would appear to have fallen on deaf ears with high-profile Australian Muslim women who reveal their ears under their hijabs, including Susan Carland, the wife of The Project's Waleed Aly and axed ABC presenter Yassmin Abdel-Magied.
The opinionated fashion expert, from the hardline Ahlus Sunnah Wal Jamaah Association, even had a word for Muslim women who liked to exercise outside.
'What we see with sisters walking down the street in skin-tight pants or in runners or in leggings or yoga pants,' Mr Abdi said.
His words on appropriate attire were delivered in Auburn, the same suburb in Sydney's west which has erected a curtain around the Ruth Everuss Aquatic Centre to shield Muslim women.
Men weren't spared either in his lecture, with Mr Abdi concerned about Muslim men choosing un-Islamic hairstyles.
'His haircut starts up here and it comes down this way. Or another haircut comes out here and he's left something down from here,' he said.
He was also upset with Muslim men wear tight shorts, which may be news to Muslim-convert New Zealand rugby union international Sonny Bill Williams.
'Brothers wearing short shorts ... and he's walking down the street showing this particular part of his body or that particular part of his body and the clothes are so tight, I don't know how he fits into his clothes,' he said.
'All because of what? Because of fashion.'
http://www.dailymail.co.uk/news/article-4538124/Islamist-says-Muslim-women-don-t-cover-ears-hijab-sinful.html
--------
French police arrest two women on links with terrorism
May 25, 2017
The two women who reportedly gloated over Manchester bombing that killed 22 people, were placed into custody
French anti-terrorism units arrested two women in northern France on alledged suspicions of planning terrorist plot, local media reported.
The two women in their 20s, who were "ready to take action", were arrested earlier on Wednesday in northern cities of Lille and Haubourdin, state-run France 3 Hauts-de-France television reported.
The two suspects have been on police radar a week ago after they used social media to have frequent contacts with Syria, the report said, citing a source close to the investigation.
The two women who reportedly gloated over Manchester bombing that killed 22 people, were placed into custody, according to the report.
Paris prosecutor's office has opened a terrorism probe on charges of criminal terrorist association, Xinhua news agency reported.
After a defence council held earlier on Wednesday, French President Emmanuel Macron said seeking to prolong emergency security rules for three months more until November 1 as part of the government's plan to tackle terrorism forces operating on French soil.
Macron also decided to create a coordination center for services engaged in the fight against terrorism at a defence council on June 7.
"The terrorist threat carried by Daesh remains at a very high level in France," Prime Minister Edouard Philippe warned after the security meeting at the Elysee Palace.
"The threat is based on the Daesh incitement of its affiliates living in each country to commit isolated actions and on the infiltration into France or Europe of operational individuals to form terrorist cells," he told reporters.
http://www.khaleejtimes.com/international/europe/french-police-arrest-two-women-on-links-with-terrorism
--------
URL: https://www.newageislam.com/islam-women-feminism/muslim-girl-students-hijab-take/d/111283
New Age Islam, Islam Online, Islamic Website, African Muslim News, Arab World News, South Asia News, Indian Muslim News, World Muslim News, Women in Islam, Islamic Feminism, Arab Women, Women In Arab, Islamophobia in America, Muslim Women in West, Islam Women and Feminism