New Age Islam News Bureau
19 Dec 2016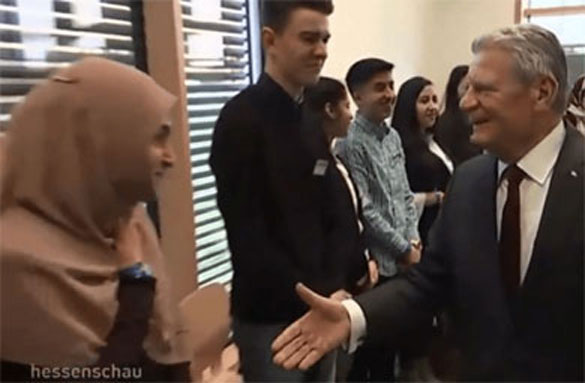 A Muslim girl wearing a Hijab drew her hand away and placed it on her chest as the German President tried to shake it
---------
• Muslim Woman Attacked With Broken Bottle after Saying 'Happy Holidays' Instead Of 'Merry Christmas'
• 84% of Women Commuters Experience Sexual Harassment in Bangladesh
• Majority of UAE Women Happy With Workplace Equality
• Voices from the Diversity of Muslim Women in Canada
• 'Why Should I Be Ashamed?' Muslim Woman Stands Up To Christmas Bully
• Homeless Man Throws Coffee at Muslim Woman, Calls Her 'Terrorist' In Manhattan Dunkin' Donuts
• Younger Indian women too at risk of heart attacks
• Saudi-Based Woman's Post on Arranged Marriage Goes Viral
• Saudi Officials Say More Professions Should Be Open to Women -Newspapers
• Meet Nigar Nazar: Pakistan's first professional female cartoonist
Compiled by New Age Islam News Bureau
URL: https://newageislam.com/islam-women-feminism/muslim-girl-refuses-shake-german/d/109420
-------
Muslim Girl Refuses to Shake German President's Hand
18 Dec 2016
An attempt by the German President to praise a school for integrating migrant students went embarrassingly wrong after a Muslim student refused to shake his hand.
Joachim Gauck visited the city of Offenbach at the end of November to see a school that has been commended for its attempts to integrate migrants into German society.
Media reports at the time focused on how the politician received a "Rockstar" welcome from students; with news site focus describing how children said things such as "Wow, it's so cool" and "he's so human", while holding signs in German, Arabic and Russian welcoming their head-of-state.
The President, whose role is largely ceremonial, visited the Theodor Heuss School to praise its work on helping migrant children learn the German language and culture.
However, TV cameras captured the moment when he was shaking the hands of some of the students and a girl wearing a Hijab drew her hand away and placed it on her chest as he tried to shake it.
President Gauck seemed momentarily confused before quickly moving on to the next person.
The moment was largely ignored by Germany's mainstream media, which preferred to focus on the otherwise enthusiastic response the President received and the work the school was doing.
Any physical contact between men and women who are not married is strongly frowned upon in radical Islam. Breitbart London reported in September how the number of Muslims in Germany turning to Salafism, a particularly extreme version of the faith, had almost doubled in the past three years.
Despite concerns over radicalism, however, some have questioned whether migrants should integrate at all.
In October, Breitbart London reported how one sociologist said that instead of migrants integrating themselves into German culture, Germans should integrate themselves into the migrant cultures.
Annette Treibel said Germany was an "immigration country" with no overarching dominant culture, and that every asylum seeker, immigrant and refugee has the right to claim that they are "indigenous" to Germany.
Several educators have also called on Germans to learn Arabic to help migrants who are unwilling to learn German, while others have called for European nations to put up signs in Arabic to help newly-arrived migrants.
http://www.breitbart.com/london/2016/12/18/muslim-girl-refuses-shake-german-presidents-hand/
-------
Muslim woman attacked with broken bottle after saying 'happy holidays' instead of 'merry Christmas'
19-Dec-16
A Muslim woman was reportedly subjected to a brutal verbal and physicial attack after her alleged attacker said "merry Christmas" but she replied "happy holidays".
Polie are investigating reports the man stole the woman's headscarf after the incident at the Beeliar Village shopping complex in Perth, Australia.
According to the Islamophobia Register Australia, the assailant smashed the 33-year-old woman over the back with a beer bottle after the exchange.
Her headscarf came off during the scuffle and the man ran off with it before dumping it nearby.
Officers say they are looking for a light-skinned man aged between 25 and 35, around 5ft 9ins tall, of slim build and with short blond hair. He was reportedly wearing blue shorts and a white TOP.
The woman, who wanted to remain anonymous, told WAtoday: "He yelled, 'no merry Christmas', so I said 'OK', then he called me a "f****** Muslim c***.
"I asked him what he said and I saw him grab a bottle so I quickly turned away and he threw it at me and it smashed on my shoulder and neck.
"Imagine if I didn't turn around, it could have cut my face open."
She also said he hurled sticks and rocks at her.
"I was screaming on the PHONE to triple-zero because I thought this guy could kill me," she said.
"I was running into oncoming traffic to get away from this guy because he was threatening to punch me in the face. I have been racially abused in the past because of my religion but this is by far worse".
Islamaphobia Register Australia president Mariam Veiszadeh said: "I spoke to the victim last night and it's obviously been very traumatic for her.
"Unfortunately after incidents it injects a lot of fear into people, so we want the perpetrator caught as quickly as possible."
A Muslim woman was also dragged along the pavement by her hijab in north-east London last week.
Also this month, a Muslim woman was attacked by three men who yelled "Donald Trump" in Manhattan, and another who was pushed down stairs and called a terrorist.
Hate crimes soared by 41 per cent after the Brexit vote, according to Home Office figures, and after Mr Trump's election victory.
http://www.independent.co.uk/news/world/muslim-woman-attack-smashed-bottle-happy-holidays-merry-christmas-perth-australia-a7483881.html
-------
84% of women commuters experience sexual harassment in Bangladesh
December 19, 2016
Women commuters in Bangladesh face consistent sexual harassment when in public, severely limiting their movement, a right enshrined in the constitution.
A recent study called "Freedom to Move: Women's experience of urban public transport in Bangladesh" conducted by ActionAid Bangladesh revealed that 84% of all women commuters surveyed said they were subjected to verbal and physical sexual harassment.
The findings of this study were presented at a meeting titled "Safe Cities and Public Space for Women's Empowerment" at the Spectra Convention Center in Dhaka, yesterday.
Experts commented that safe public transportation system is a necessary prerequisite for women to be able to exercise their right to freedom of movement and their right to enjoying and using services without the threat of sexual violence or harassment.
However, the practical or strategic gender needs of women and girls are nor catered for, leaving them vulnerable to violence and less able to fully access their rights, they said.
Farah Kabir, country director of ActionAid Bangladesh, said: "Women have terrible experiences while travelling on a public bus. She has to listen vulgar comments from male passengers which restricts her from availing public bus services."
Men need to sop seeing women as sexual objects and start seeing them as human beings, said rights activist Khushi Kabir.
"When a girl is harassed she is being morally policed by patriarchal values that aim to restrict and control her human rights based on her gender and then when she tries to report such harassment, society blames the victim with a bias that stems from internalised patriarchal values.
"Everything from her attire to her character is blamed to explain the violence that is being inflicted upon her," Khushi added.
The study found 88% of women reported some kind of verbal and physical harassment when they were out running errands; 62% of them said they limit their movement and have strict timings when they are moving about alone.
Unfortunately 81% of them felt they would not report to law enforcement as they were unhelpful and did not have any respect towards women.
http://www.dhakatribune.com/bangladesh/2016/12/19/84-women-commuters-experience-sexual-harassment-bangladesh/
-------
Majority of UAE women happy with workplace equality
December 18, 2016
More than half of women respondents in the UAE feel that they are offered jobs based on their experience, and that gender plays no role in the decision of a manager when hiring them, a recent survey by Bayt.com and YouGov has found.
The survey measures the perceptions of women in the region, when it comes to equality at work, motivations for employment, challenges faced at work, as well as career and life ambitions. It also found that four in 10 respondents have never been asked questions that made them feel discriminated against as women during an interview.
Interestingly, the survey also revealed that 65 per cent of female respondents in the UAE report that women in their country have reached the same level of workplace equality as compared to working women in western countries.
Although 65 per cent of women surveyed in the UAE believe that all employees work equal hours, only 26 per cent believe they receive the same salaries. In addition, 43 per cent of women believe that their chance of being promoted depends entirely on job performance and that gender plays no role.
According to the survey, the TOP three challenges that women in the region face in their work environment are less opportunity for job promotions, stressful and demanding work environment, and a lack of sufficient job training and coaching.
In the UAE, 25 per cent of respondents believe that their future marriage plans will affect their career to some extent. Similarly, across the region, 33 per cent of respondents believe that their marital life has been affected positively by their career choices.
Several women pointed out that equality in their workplace depended on the type of field that they were pursuing a career in. Rana Ashour, a structural engineer living in Dubai, told Khaleej Times that good maternity leave, flexible hours, and working from home are all things that are not available in the east, which makes it very hard for females to continue pursuing their engineering careers.
"In the west, they work from 9am to 5pm, but here [in the UAE] we work from 8am to 6pm. These two hours don't make a huge difference for the men, but it makes a huge difference for women especially if you're starting a family," she said.
"Over here, work on construction sites isn't very suitable for females, unlike in the west where you find more females on site. Engineering in the east is very male dominated which makes it very challenging for a woman to prove herself. It will usually take a woman three years more than a man to reach the same position."
According to respondents in the Mena region, the top five drivers of happiness in their life are having a successful career, maintaining good health, traveling and visiting other countries, spending time with their family, and MAKING MONEY. The top three reasons women seek employment in the Mena region are to become financially independent, to broaden their perspectives on life, and to be able to support their household.
- rohma@khaleejtimes.com
http://www.khaleejtimes.com/majority-of-uae-women-happy-with-workplace-equality
-------
Voices from the diversity of Muslim women in Canada
DECEMBER 18, 2016
If there's one thing Canadian Muslim women have in common, it's — well, not really anything, other than being Canadian Muslim women. There's a vast diversity, as evident in The Muslimah Who Fell to Earth: Personal Stories by Canadian Muslim Women. This anthology, edited by Saima S. Hussain of Mississauga, includes 21 first-person accounts of experiences as a Muslimah, or Muslim woman. The contributors are variously brown, white and black, born in the Middle East, Indonesia, England, Brazil, East Africa and Canada, wives and singles, mothers and childless, straight and gay, devout and indifferent and conflicted. One of the most delightful chapters is "Muslim Me" by the jeans-and-buzz-cut-wearing Maria Cruz, who is blind and uses a wheelchair. "Sometimes I'm glad people don't know I'm Muslim," she writes. "I cuss way too much."Equally enlightening is "No Suitable Boy," in which Ashi Munir's parents parade one potential suitor after another for her approval, each woefully unsuitable. Now in her 30s, she's still single. "Standing My Ground" is by Muslim convert and feminist Kirstin Sabrina Dane of Toronto, who went from trying to be "the perfect Muslimah" to challenging the mosque's practice of segregating male and female worshippers. Article Continued BelowIn "For Better or For Worse," York University student Ghazia Sirtaj tells a WRENCHING tale of violent abuse from her ex-husband.Several women write about the strength they draw from their faith, despite sectarian divisions. Kenyan-born Azmina Kassam, a Shia Ismaili who doesn't cover her head, tells of her discomfort working with fully veiled Afghan women.Near the book's end we finally hear from Zunera Ishaq, the woman who successfully challenged Canada's niqab ban while taking the citizenship oath. When Ishaq started wearing the face covering in Grade 11 in Pakistan, her large family, appalled, tried to talk her out of it. "As a niqab-wearing woman, I have found more acceptance in Canada than in my country of origin," she writes. A telling observation indeed.
http://info-europa.com/entertainment/voices-from-the-diversity-of-muslim-women-in-canada/92871
-------
'Why Should I Be Ashamed?' Muslim Woman Stands Up To Christmas Bully
December 19, 2016
The 33-year-old woman, who asked not to be named, was at the Beeliar Village in Perth's south on Friday evening when a stranger urged his children to wish her a Merry Christmas.
"I said 'you too, Merry Christmas' and that's when he said 'that's right you **** Muslim ****," the mother-of-four said.
The woman said she confronted the man about his actions, and that's when he threw a beer bottle towards her face.
The bottle hit her back and a scuffle broke out.
Another woman separated the pair, but not before the mother-of-four's headscarf fell to the ground.
The man then grabbed the 33-year-old's headscarf and took off, dropping it in nearby bushland.
As the man made his getaway, he hurled abuse and threw rocks at the mother-of-four as she called 000.
"He goes: 'if I see you again, I'm going to kill you'," she said.
"I'm just sick of the abuse.
"This isn't the first time it's happened."
The mother-of-four said she's been left shaken by the incident and is calling for her daughters, other Muslim women and all Australians to stand up against abuse that she said was becoming all too common.
"It's disgusting because we're just normal people," the woman said.
"We've got a religion we want to follow.
"I choose to wear the scarf. It's my identity as a Muslim and I'm proud of it.
"Why the hell should I be ashamed of who I am?"
WA Police are investigating the incident.
https://au.news.yahoo.com/a/33611900/why-should-i-be-ashamed-muslim-woman-stands-up-to-christmas-bully/#page1
-------
Homeless man throws coffee at Muslim woman, calls her 'terrorist' in Manhattan Dunkin' Donuts
December 19, 2016
A rampaging homeless man chucked hot coffee at a Muslim woman, hit her and accused her of being a "terrorist" in a Midtown Dunkin Donuts Sunday, according to police sources and the store's employees.
Nathan Gray, 34, told the 21-year-old victim he "hated Muslims" and that he was going to kill her, cops said Sunday. He's been charged with assault as a hate crime, cops said.
Gray walked into the W. 35th. St. shop near Seventh Ave. at about 2:45 p.m. and asked for a cup of coffee, said one employee, who wouldn't provide her name.
"I gave him coffee and he said something to me about terrorists, but I couldn't hear what he was saying. He walked away from me and sat next to a group of Muslim women," the store employee said. "He started talking to them and I could hear him saying, 'Terrorists!'"
The women sat and ate, trying to ignore him, but he continued shouting, the employee said.
One woman called him 'stupid.' So he threw his hot coffee in her face," the employee said. "It was hot, hot coffee. She could have been burned! Then he swung his bag at her and it hit her in the face."
The woman ran outside, and Gray put her in a headlock, cops said.
A 911 call brought police to the scene, and cops arrested Gray.
The victim refused medical attention, cops said.
http://www.nydailynews.com/new-york/manhattan/homeless-man-throws-coffee-muslim-woman-nyc-dunkin-donuts-article-1.2915553
-------
Younger Indian women too at risk of heart attacks
December 18, 2016
Abu Dhabi: "Strokes and hearts attacks among women [from the subcontinent] under 40 are very rare, except for patients with diabetes and blood pressure," said Dr Dinesh Babu, Consultant of Cardio-vascular disease at Medeor Hospital in Abu Dhabi. However, such cases have started emerging in recent years among working women owing to stress and unhealthy lifestyles.
Dr Paul S Thoppil, Interventional Cardiologist at NMC Hospital in Abu Dhabi, said that such cases among females [from the subcontinent] are increasing. "The ratio is 4:1 which means for every four male cases, there is a female case," he said.
The protective effect of estrogen against heart attacks before menopuase is common to all women, but the increasing stress and unhealthy lifestyles, along with genetic factors, can trigger diabetes, blood pressure and obesity in younger women leading to stroke- and heart attacks.
The incidences of diabetes, hypertension and cholesterol are on the rise in Indian working women under 40, Dr Thoppil said.
His youngest patient is a 29-year-old Indian working woman who had a heart attack after delivering her baby. "We don't see such cases post-delivery. This was out of the blue." The woman who underwent an angioplasty had a family history - her father had died of a heart attack.
Another 40-year old Indian working woman survived a major heart attack. Though she was thin and healthy, she too had a family history. Her mother had a heart attack at the age of 45, Dr Thoppil said.
Working women from the subcontinent have to take precautions, Dr Thoppil said. They should avoid stress and lifestyle diseases such as diabetes, blood pressure and obesity.
Preventive cardiac check-ups at an early age are also recommended, Dr Thoppil said.
Any studies that throw more LIGHT on this trend, he said, would be highly revealing. "We need demographic studies in this region (on this issue)."
— Binsal Abdul Kader, Senior Reporter
http://gulfnews.com/news/uae/health/younger-indian-women-too-at-risk-of-heart-attacks-1.1947466
-------
Saudi-based woman's post on arranged marriage goes viral
December 19, 2016
Writer Nazreen Fazal, who lives in Riyadh with her husband wrote her opinion on Facebook and it went viral.
Which is the best way of marriage? Arranged one or love affair? There could be several takes, depending upon the thought process of people.
Recently writer Nazreen Fazal, who now lives in Riyadh with Ameen, her husband of over a year, wrote her opinion on Facebook and the post went viral on social media, with over 2,000 shares.
Fazal exchanged almost 80 emails with him within a week of receiving his proposal, before finalising that he was the one. She said there was no flirting but she asked him certain specific questions, including:
. What do you think about women working?
. What do you think abuse means?
. When would you like to have children?
Nazreen Fazal, who hails from Kerala and is a graduate from London School of Economics, writes about her experience about arranged marriage.
When I was first introduced to my husband, I sent him a two page profile of myself by email. On one page was 'who I am' and on the next was what I am looking for in a partner. In return he sent me three points about himself and asked me three straightforward questions.
In the first week of knowing each other we had exchanged about 80 emails. Yes, you read it right. EIGHTY. We weren't flirting or indulging in small talk. These were serious back and forth discussions about our priorities in life, where we see ourselves in a few years, our expectations of a partner etc. I don't have to say this, but obviously I was the one asking most of the questions- 'What do you think about women working? 'What do you think abuse means?' ( I actually asked that) 'When do you want to have children (if at all)?'-I bombarded him with question after question and he patiently answered each one of them. It took us both two months, Skype calls, and a meeting to 'seal the deal'. He tells me now that my first two page "autobiography" told him that I was who he was looking for.
This introduction sets the tone of our relationship. I am the crazy one all over the place, and he is my rock, without whom I'd be adrift. On my part, I ensure we have a bit of fun too in the series of chores and bills that is life. He jokes that I am the PRO of our marriage, the one who is the face of our marriage and ensures we are maintaining the ties. In our marriage I find that we perfectly complement each other's flaws and goodnesses. Most of it is because we both fervently prayed that Allah blesses us with a spouse who is 'coolness to our eyes' but a part of it is also because we did our homework BEFORE we got married.
Ours is a funny culture, this desi one. We spend ages ordering off a menu in a restaurant (butter chicken and garlic naan in the end), but when it comes to selecting a partner FOR THE ENTIRE FRIKKIN' LIFE we expect a man and a woman to meet for a few hours (some times less than an hour) and finalise it then and there. In some cases it's worse, the people who are supposed to get married never meet before the wedding day! The parents meet the prospective son/daughter in law and decide on behalf of their child. What sense does this make? You are going to live with your husband/wife NOT your mother in law. Imagine finding out after getting married that your partner doesn't want kids or wants one in the first year itself? How can you live with someone without knowing if you are on the same page when it comes to religion/finances/children/rights and responsibilities?
One of my favourite metaphors in the Qur'an is that God has made spouses as garments for each other. A garment is supposed to shield you, hide your flaws, accentuate your good features, and, above all- protect you from external elements. Outside of your own body, the garment you wear is the closest thing to you. Your spouse is supposed to be like that. But how can they be a garment you love to don if someone else chose it for you? And really, who here likes their parents' questionable fashion choices? 90s sleeve puffs and bell bottom PANTS anyone? Take their input, yes, but don't just blindly accept their preferences and make it your own.
For those who are currently in the phase of looking for a partner. Please take this seriously. Forget about a deadline or what people will say. The very same people who taunt you for being single will turn their backs on you when you have a problem in your marriage. So ignore the 'wedding' and think about the 'marriage'.Remember that the partner you choose will affect every sphere of your life, emotional, spiritual, professional, and even physical. While no two people can have the exact same tastes and outlook, it is ABSOLUTELY VITAL that you are on the same page when it comes to the BIG THINGS- Career/Finance/Children. The whole point of deal breakers is that they should be known before the deal is fixed, not after it is broken. Don't tie your own noose because you have people breathing down your neck.
http://www.khaleejtimes.com/region/saudi-arabia/saudi-based-womans-post-on-arranged-marriage-goes-viral
-------
Saudi officials say more professions should be open to women -newspapers
19 December 2016
RIYADH, Dec 19 (Reuters) - A senior Saudi cleric and a health ministry official said women should be allowed to work as paramedics and opticians, Saudi newspapers reported on Monday, part of a push to relax strict labour codes in the ultra-conservative kingdom.
The government announced an economic reform plan in June that aims to increase the number of women as a proportion of the workforce to 28 percent from 23 percent by 2020 and to quadruple the number of women in senior civil service roles to 5 percent.
Saudi Arabia is the only country where women are forbidden to drive, making it harder for them to get to work. Regulations also bar them from certain professions, while rules on gender mixing in shops and businesses further limit job opportunities.
Saudi prince calls for ban on women drivers to be lifted
"It's fine (for a woman) to work as a paramedic, provided she's decent and in the lawful attire," a senior member of the state-appointed body of clerics, the Ulama, Sheikh Abdullah al-Manea told the Okaz daily.
Women are already allowed to work as doctors and have volunteered as medics in Mecca during the haj pilgrimage for the past few years, with similar requirements for modest DRESS.
Mohammad Bajbair, a senior health official in the Red Sea commercial hub of Jeddah, told the Saudi Gazette that women could work in opticians' shops as long as they do not mix with men.
"If a complaint is received by the health affairs department about the mixed environment then the shop might be closed down," said Bajbair.
Out of 144 nations, only Iran, Yemen and Syria place lower than Saudi Arabia in a gender equality ranking compiled by the World Economic Forum.
Saudi Arabia's economic plan envisages weaning the economy off its high dependence on oil and increasing the range of jobs available to citizens.
It does not specifically mandate more open social mores in Saudi Arabia, the land where Islam was born, but it challenges decades of ultra-conservative practice by seeking to open theme parks and cinemas to boost the entertainment sector.
The plan provided few concrete details on how to boost female employment but said the government aims to spend 2.78 billion riyals ($741.19 million) to improve transport options for working women.
The government's newly refashioned sovereign wealth fund has also invested $3.5 billion in U.S. ride-hailing service Uber, a popular TOOL for transportation among Saudi women.
http://news.trust.org/item/20161219105029-k880b/?source=hpbreaking
-------
Meet Nigar Nazar: Pakistan's first professional female cartoonist
Dec 19, 2016
Nigar Nazar is a bright, shining star in the man's world of cartoon strips and animation in Pakistan. A talented artist she owns an art studio Gogi Studios, based on her most popular character Gogi. In her early days she experimented with comic strips and animation, and today she offers workshops on live cartooning in educational institutions.
Nazar's works have specifically highlighted the issues of women's rights, domestic and religious violence, environment, anti-corruption and religious tolerance. Her comic books deal with a range of issues from extremism to girls' education. She uses her art as a platform for educating and creating awareness for the grassroot level of Pakistan.
Her comic character Gogi is a SHORT bob, polka dotted, bubbly girl who breaks all stereotypes of how women should conduct themselves in private and public. It received a huge traction and popularity at the time of its launch, as women shied away from talking of women's issues let alone writing or drawing about them. When she started appearing in newspapers she became a source of amusement to the readers and taught them to smile in the most cornered situations of life.
The idea with cartoons and comic strips is to express the most complex of issues in simplest of ways. Gogi had a huge impact as she discussed many different issues and reached a large amount of people. Nazar's audience spans from older women to children as she has worked on a lot of children's books as well:
"Even though my kids are always telling me that cartoons should be pure entertainment. I tell them I'd love to do that from time to time, but look, issues are always cropping up that need to be commented on."
Nazar has earned an international reputation because of how she presents social issues. She has had many opportunities to attend international conferences. When asked in an interview with Newsline Magazine, whether she faced any problems or issues due to her nationality, she said:
"No, in fact, I feel proud to represent Pakistan as a woman for two reasons. Firstly, people overseas have a stereotypical image of Pakistani women. I would like to think that my being a female cartoonist dispels that image to a certain extent. Secondly, whether as a member of the international jury of cartoonists in Turkey, or as a founding member of APPACA (Asian Pacific Animators and Cartoonists Association). I almost always found myself to be the only woman cartoonist present. Interestingly, even the western countries were not represented by any women cartoonists. Yes, I have been singled out many times, but only in a positive sense. As the first woman cartoonist from the Muslim world. Perhaps, I would not have attracted as much attention if I had not been from Pakistan."
Nazar is bent hard on creating a space for women in the creative industry and she uses her cartoons to educate, entertain and inspire women in Pakistan and all male regressive societies to pursue their dreams.
http://www.inuth.com/beyond-the-headlines/human-interest/meet-nigar-nazar-pakistans-first-professional-female-cartoonist/
How secret Facebook groups are changing female friendship in Pakistan
Around December last year, 20-something Karachiite Zara* felt desolate as though she had no one in her life she could talk to.
She felt uncomfortable seeking advice from her mother regarding her love life. She wasn't getting the answers she wanted from her friends, and the concept of talking to a professional would have mortified her conservative family.
"I'd open up to my parents and they'd dismiss me and say it was all in my head," she recalls. "Or they'd give me generic advice that you'd find on a cheesy Tumblr page, like 'You can't live a positive life with a negative mind' or 'Life's too SHORT to be sad.' They just didn't get it."
So in May, when a girl she had attended school with invited her to join Soul Bitches (SB), a private Facebook group claiming to be a haven for like-minded women and those who have been given the short end of the stick in the public realm for far too long, she thought she'd found her safe space online – as a spectator of course.
Women in Pakistan certainly have a presence on general social networks, but sites specifically for women are increasingly gaining women members, creating platforms for them to connect and to share advice.
Women use these closed groups to support one another through careers, marriage, motherhood, parenting and everyday lives, inspiring each other or finding others who share an interest. Through conversation and compassion, these like-minded communities of women are empowering each other.
Within a couple of weeks, over 3,000 women had joined the group, from all walks of life, mostly from all over Pakistan but a lot from other parts of the world as well.
Secret groups such as SB are one of several ways technology has changed the way we interact with each other in a highly urbanised, impersonal environment. Working and residing in a city can easily get stressful and lonely, and metropolitan life has a way of eroding the community ties that buoyed our parents and their GENERATION.
Finding support through online groups, where one is likely to stumble upon people who share one's values, is becoming increasingly popular. Social media has become, for the Pakistani millennial GENERATION, what neighbourhood friends were for the previous one – it's where one can find a shoulder to cry on and get some advice from one's peers.
Many would argue that some of these groups are exclusive domains only for certain socio-economic groups. But as more and more Pakistanis get access to and use the internet, more diversity is likely to be seen.
Why Facebook groups might be the future of friendship
If at some point you were beginning to feel like Facebook was becoming pointless, you're not alone. Turns out, one just didn't know how the cool kids were using it.
You know how when you're on the fence about buying a certain DRESSyou just whip out your phone and Snapchat your best friend a selfie from the changing room? Well, rather than turning to one or two really good friends for advice, the women of these groups consult a carefully curated crowd of hundreds or thousands, constantly.
Posts on these secret Facebook groups range from questions about morality ("Should I tell my mother I smoke?"), to those seeking practical advice ("Where should I go for higher education: England or America?") to just plain funny ("My parents have been dropping me to my boyfriend's house for years thinking that's where my bff lives, I want to marry him now... what do I do?").
"Sometimes, the people in our lives are so immersed in the situation that it makes it difficult for them to give you unbiased advice," says one 26-year-old member of her affinity for Facebook groups. "People who are practically strangers can be more objective because they're not on anyone's side."
Another, much larger secret group is called Soul Sisters. Kanwal Ahmed, the brains behind the group, claims that these online groups bring women together not just online, but offline too. "There are hundreds of people who have become close friends through this group," she says.
Kanwal adds: "Girls have had baby and bridal showers thrown by friends they made on the group. Plus, the meet-ups that happen through this group are also a source of networking and meeting new, compatible people."
Rabiyah Tungekar, the woman behind Pakistan Beauty Society (PBS), a group for FASHION and beauty enthusiasts concurs: "Most of the girls including myself made real life friends from both the same and different fields of work. I've made some amazing friends who I meet and talk to, share my everyday life with through PBS. So have others, as I'm sure they'd tell you!"
Some would argue, however, that PBS is only a space for only the elite. Most postings revolve around beauty tips and which high-end MAKEUPbrands to buy. The group members post photos of their makeup tests and trials for feedback.
Of course, conversations on these groups are monitored by 'moderators' – most often the people who started these groups. The groups then tend to reflect opinions of their administrators, which some take issue with – proving that even on Facebook, friend-groups are not without drama.
Kanwal shrugs off criticism that Soul Sisters, which is conservative in its ethos, plays a part in moral policing or cyber bullying. "I feel like rules are IMPORTANT," she says. "Without rules, there would be chaos. And just the fact that Soul Sisters is doing so well – it has been the source of inspiration for many other women-oriented groups on Facebook, as well as a household name in urban Pakistan – speaks volumes about the fact that good administration got it to a good place."
The success of Soul Sisters led to the creation of a public website called the Soul Sisters Pakistan blog that Kanwal set up, creating real employment opportunities for aspiring writers.
http://scroll.in/article/823395/how-secret-facebook-groups-are-changing-female-friendship-in-pakistan
-------
URL: https://newageislam.com/islam-women-feminism/muslim-girl-refuses-shake-german/d/109420
New Age Islam, Islam Online, Islamic Website, African Muslim News, Arab World News, South Asia News, Indian Muslim News, World Muslim News, Womens in Islam, Islamic Feminism, Arab Women, Womens In Arab, Islamphobia in America, Muslim Women in West, Islam Women and Feminism, Moderate Islam, Moderate Muslims, Progressive Islam, Progressive Muslims, Liberal Islam