New Age Islam News Bureau
14 February 2022
• Over 25,000 Muslim Women Gather In Maharashtra, To Defend the Hijab
• Ambar Masjid in Lucknow to Get Separate Wing for Women to Offer Namaz
• L'Oréal-UNESCO Celebrates Arab Female Scientists
• Afrah Alothman: First Arab Woman to Command A Deep-Sea Submarine
• Saudi Arabia Shops Are a Sea Of Red - But Don't Say "Valentine's"
• Honour Killing Cases Up In Pak as Balochistan Reports 5 Killings In A Day
Compiled by New Age Islam News Bureau
URL: https://www.newageislam.com/islam-women-feminism/muslim-girl-khushbu-bhagvad-gita/d/126367
--------
Muslim Girl, Khushbu Khan, Tops All-India Quiz Competition on Bhagvad Gita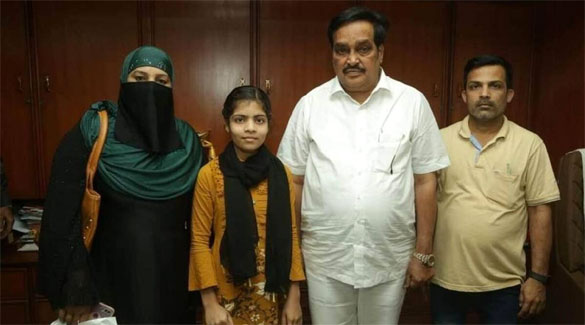 Khushbu with her parents and state BJP chief CR Paatil. (Express Photo)
-----
February 13, 2022
A Class 7 student of Valsad district, from Muslim community, topped the all-India quiz competition on Bhagvad Gita, held by Edutor mobile application, as part of Azadi Ka Amrut Mahotsav last week. The girl, Khushbu Khan, 14, studies in Uttar Buniyadi Girls School (Gujarati medium) in Umargam town in Valsad district.
The school principal Maltiben Ahire said, "Around 20 students from our school participated in the online quiz competition of Bhagvad Gita… Khushbu gave correct answers of around 428 questions and topped in the country…"
She added, "We have also got an intimation from the state education department that Education Minister Jitu Vaghani will felicitate her in a program soon."
Talking to the Sunday Express Khushbu Khan said, "I think that my memory power is good compared to other students. I know that Bhagavad Gita is holy book of Hindus, but I learned many things related to humanity, while reading it…"
Khushbu, who wants to become a doctor, lives with her father, mother and two siblings at a rented premise comprising one room and a kitchen. "I am proud of my daughter… She likes to know more about history and science." said Khushbu's father Mehbub Khan, who works at a private factory in Umargam GIDC .
On Thursday, state BJP president C R Paatil, felicitated Khusbu in Surat inpresence of Gujarat state BJP minority wing president Dr Mohsin Lokhandwala accompanied by Valsad BJP minority president Farukbhai Penwala.
Penwala said, "The girl's family is poor and we have planned to help them financially for her higher education. Through donors, we are planning to make a fixed deposit in her name."
Source: Indian Express
https://indianexpress.com/article/cities/surat/muslim-girl-from-valsad-tops-bhagvad-gita-quiz-7769878/
--------
Over 25,000 Muslim Women Gather In Maharashtra, To Defend the Hijab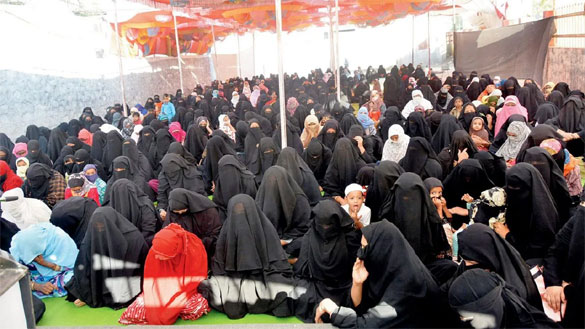 Women in hijab led a rally at the Kallu stadium in Malegaon on Friday. Pic/Sayyed Sameer Abedi
-----
13 February, 2022
With the hijab becoming a raging debate across the country, Muslim women in Malegaon, who wear the head covering as part of their religious identity and cultural beliefs, said they felt targeted. On Friday evening, around 25,000 Muslim women gathered at the Kallu stadium in Malegaon to show their solidarity with the hijab-clad students, who were allegedly harassed in Karnataka for wearing the hijab.
The pro-Hijab rally in Malegaon was organised by Jamiat Ulama-i-Hind, a leading organisation of Islamic scholars. Speaking on condition of anonymity, a woman from Malegaon said, "This issue should not even be up for discussion, as wearing the hijab is our fundamental right. Denying it means that people are opposed to our religious values and ideals."
Mohammed Haroon Mohammed Ismail, 50, who runs a general items store opposite the stadium said, "I have been in Malegaon for over four decades, but never witnessed such a huge movement led by women."
Meanwhile, the Malegaon police said that no permission was obtained for the rally. Additional SP of Malegaon Chandrakant Khandvi said, "An FIR has been filed under Sections 188, 269, 270 of the IPC and relevant sections of the Epidemic Diseases Act will also be added. No one has been arrested, but they have been served a notice and given a warning."
Bibi Khan becomes face of Urdu Ghar
Bibi Muskan Khan, the student who had raised the 'Allahu-Akbar' slogan in response to the 'Jai Shree Ram' slogan by a few other students, is being hailed in Malegaon. To honour her brave act, the Urdu Ghar, a study centre, in Malegaon will be renamed after her. The Jamiat Ulama-i-Hind had earlier announced a reward of Rs 5 lakh for her.
Source: Mid-Day
https://www.mid-day.com/mumbai/mumbai-news/article/over-25000-muslim-women-gather-in-malegaon-to-defend-the-hijab-23214035
--------
Ambar Masjid in Lucknow to Get Separate Wing for Women to Offer Namaz
Yusra Husain
Feb 14, 2022
LUCKNOW: A separate wing for women to offer prayers will be built at the Ambar Masjid in Lucknow.
All India Muslim Women Personal Law Board (AIMWPLB) president Shaista Ambar laid the foundation stone for it on Sunday. The mosque was established by Ambar in 1997.
Till now, women had to offer prayers at temporary arrangements under canopy and behind the tents on the premises.
The proposed separate hall for women will be a single-storey structure to be built at a cost of over Rs 3 lakh, for which funds are also being sought.
Placing the first brick, Ambar took Allah's name and remembered Swami Vivekananda, Netaji Subhas Chandra Bose and Mahatma Gandhi. She also unfurled the national flag on this occasion. "I built a three-storey mosque in SGPGI but female 'Namazis' had to pray outside, under temporary cover in the rain and sun," she said. "I hope that by Ramzan, which is in April, we will have a proper hall for women where they will not just offer namaz but also take part in Taraweeh, Hadith, sermons, Juma Khutbah and other religious programmes," said Ambar.
Apart from Namaz, special women-oriented programmes are also proposed to be held at the site.
Ambar is seeking funds from donors for the construction of the hall. The initial push will come from Ambar's pension from her late husband, and the earnings of her daughter and son.
Speaking on the Karnataka 'hijab' row, she said headscarf was not an obstacle in Muslim women's success.
"A piece of cloth is seen as an obstacle in the success of women. However, if the college has a dress code which has to be followed by all students, Muslim students should cooperate. If not, then it is all planned and part of a political conspiracy where students have been provoked for political gains," she said.
Source: Times Of India
https://timesofindia.indiatimes.com/city/lucknow/lucknow-mosque-to-get-separate-wing-for-women-to-offer-namaz/articleshow/89553949.cms
--------
L'Oréal-UNESCO celebrates Arab female scientists
February 13, 2022
To mark the International Day of Women and Girls in Science on Feb. 11, the Fondation L'Oréal and UNESCO hosted the first "For Women in Science Young Talents Awards Ceremony" for MENA. The event took place in the Dubai Exhibition Centre at Expo 2020 Dubai to honor and recognize 14 Arab female scientists from the MENA region for their groundbreaking research in the fields of life and environmental sciences, physical sciences, mathematics and computer sciences. This program is part of the L'Oréal-UNESCO's global "For Women in Science" initiative that has recognized more than 3,900 phenomenal researchers and 122 laureates from more than 110 countries and regions since its inception in 1998.
The ceremony awarded a total of 14 young talents — five from various countries in the GCC, three from Egypt and six from Levant — in the PhD students and post-doctorate researchers categories, underscoring their role in solving today's challenges as well as inspiring the future generation of females.
Since its inception in the region in 2010, the L'Oréal-UNESCO For Women in Science Young Talents program has awarded more than 160 female scientists and 11 laureates from MENA. Among them, 16 Arab female scientists have also won an additional international recognition through the "International Rising Talent" program.
The event also welcomed a group of panelists to discuss how Arab women scientists are breaking through barriers and inspiring the next generation of leaders and changemakers. The panelists included Dr. Nawal Al-Hosany, the permanent representative of the UAE to the International Renewable Energy Agency; Dr. Anna Paolini, director of UNESCO office in Doha and representative for the Gulf and Yemen; and Rana El-Chemaitelly, founder and CEO of "The Little Engineer." The panel was moderated by Alexandra Palt, chief corporate responsibility officer and CEO of the Fondation L'Oréal.
According to the latest UNESCO Science Report published in June 2021, although the number of women in scientific careers is increasing, reaching just over 33 percent of researchers worldwide, this evolution is still too slow.
In the various MENA countries, while gender parity is almost reached at the PhD level or at the start of a scientific career, there are still strong disparities to be observed depending on the countries and the disciplines. The glass ceiling remains a reality in research: The number of female researchers decreases as they access higher levels in their careers due to tremendous obstacles and barriers.
"L'Oréal and UNESCO have been great advocates for the contributions women are making to the STEM sector," said Sarah bint Yousef Al-Amiri. "The 14 exceptional scientists being honored at this year's event, the first to be held in our region, are drawn from a wide array of disciplines, from life and environmental sciences to mathematics and computer sciences. This is a reflection of both the breadth of talent in the Middle East and the increasing opportunities for women here to apply it."
Source: Arab News
https://www.arabnews.com/node/2024071/corporate-news
--------
Afrah Alothman: First Arab woman to command a deep-sea submarine
February 14, 2022
JEDDAH — The National Center for Wildlife (NCW) highlighted the achievements of Saudi citizen Afrah Alothman, who is the first Arab female to lead an unmanned submarine in deep water, on the International Day for Women and Girls in Science.
The center explained that Ph.D student in marine sciences from King Abdullah University of Science and Technology (KAUST) has led the submarine during the 19-week expedition to explore the Red Sea launched by the center on Feb. 4.
Afrah was orphaned from a young age, and she has begun her study journey in Al-Ahsa where she obtained her BA in biology with distinction from King Faisal University, after which she decided to complete her postgraduate studies at Dalhousie University in Halifax, Canada, where she completed her master's degree in biology, as part of King Abdullah's Custodian of the Two Holy Mosques Program for External Scholarship.
According to the KAUST website, Afrah had expressed her goal was to seek more experiences in the Red Sea, and to be an effective member who contributes to the transfer of experiences not only to her generation but future generations as well.
"I always dreamed of being influential among the girls in my community," she stated. "My decision to specialize in biology was the first step toward my bigger goal, but the scholarship was the real journey that shaped my personality. When I finished [my studies], I came back home with a master's degree and a wealth of knowledge and experiences gained from living abroad for several years," Afrah said.
Alothman prepared her first scientific research paper for publication one year after joining KAUST and the Red Sea Research Center. She is pleased with her accomplishment because it signifies that she has begun to contribute to serious research and scientific accomplishments.
In Alothman's Biological Oceanography Lab biography, she elaborated on her research focus. "I have been working before on diatoms response to the presence of organic matter such as urea in iron deficiency. I am now interested in both diatoms and bacteria interaction in different environmental conditions such as high temperature.
The International Day for Women and Girls in Science is a UN-designated day that aims to accelerate gender equity and improve access to and participation in science for women and girls.
Source: Saudi Gazette
https://saudigazette.com.sa/article/617077
--------
Saudi Arabia Shops Are A Sea Of Red - But Don't Say "Valentine's"
February 13, 2022
Riyadh: Red clothing and underwear are displayed in Saudi shopfronts, but the increasingly popular Valentine's Day promotions are missing one thing: the festival's name.
While sales surge and Valentine's gifts become more common among the youthful Saudi population, the word "Valentine's" is nowhere to be seen.
"Management has asked us to decorate the window display with red lingerie... but without mentioning anywhere Valentine's Day," said one salesperson at a Riyadh mall, who did not want to be named as she was not authorised to speak to media.
The displays represent change in Saudi Arabia, where stick-toting religious police once cracked down on sales of Valentine's Day paraphernalia and even on people wearing red during the February 14 festival.
Valentine's Day has vague origins dating back to Roman times, when several Christian martyrs were named Valentine. The celebration for lovers, marked widely around the world, was firmly off-limits in the ultraconservative kingdom which would only mark Muslim holidays and its September national day.
But Saudi Arabia has been undergoing social change as it attempts to present a more appealing image and diversify its oil-dependent economy.
It has curbed the feared religious police and given women more freedoms. Among these, they now have the right to drive, and can add colour to their dress beyond the traditional plain black abaya robe. These changes, however, have come alongside a crackdown on dissent which has seen clerics and women's rights activists detained.
A jarring site
"We can now put red clothes on view comfortably and even put them on the window display," said a saleswoman at Grenada Mall in east Riyadh, who also spoke anonymously.
"There are many customers requesting red lingerie during Valentine's Day," she added. "We have discounts during this time, but we don't call them Valentine's Day offers."
Not everyone is comfortable with the underwear being on show, finding it a jarring sight after decades when such items were kept strictly behind closed doors.
"I don't want to see these things," said one woman, fully veiled in black except for her eyes. She did not want to give her name.
"They bother me, but there are people who like it and this is their freedom of choice."
Times are changing, though, and many in Saudi Arabia -- where more than half the population is under the age of 35 -- are embracing Valentine's Day, whether they call it that or not.
"People did not celebrate Valentine's Day, but now many Saudis do," said Khuloud, 36, a Saudi saleswoman who did not want to give her last name.
"There is a huge demand on clothes during this time, and customers are often asking for the colour red and profits have also been huge."
The saleswomen said red lingerie is most in demand during the Valentine's Day period.
Shops also offered discounts on perfume and makeup, while gift stores put red hearts in their windows, also without mentioning Valentine's.
One shopper, Reem al-Qahtani, 22, said Saudi society is "gradually" starting to accept Valentine's Day, even if it remains nameless for now.
PromotedListen to the latest songs, only on JioSaavn.com
"Right now, we celebrate quietly in cafes and restaurants, but we hope that it gains traction in the coming years," she said.
Source: ND TV
https://www.ndtv.com/world-news/saudi-arabia-shops-are-a-sea-of-red-but-dont-say-valentines-2765568
--------
Honour Killing Cases Up In Pak As Balochistan Reports 5 Killings In A Day
February 13, 2022
The cases of honour killing are on a surge in Pakistan as five people were killed for honour in Balochistan province on Saturday, reported local media.
Three women and two men were killed in the name of honour in Jaffarabad, Mastung and Hub areas during the past one day, reported Dawn citing police.
In the Goth Faqir Mohammad area of the Jaffarabad district, a man gunned down his young wife a nephew on Friday evening.
While on the outskirts of Mastung town, a man and his wife were slaughtered.
And in the Hub area, a woman, Mah Jan, was allegedly gunned down by her second husband on Saturday. It is the recent rise in the cases of honour killings in Pakistan. Despite the assurances by the authorities, such violence are on the rise in many regions of the country.
With such cases, Pakistan is witnessing an alarming rise in the number of honour killings as it claimed 176 lives last year, mostly including women, according to the Sindh Suhai Sath, a non-governmental organisation.
Last week, Dr Ayesha Hassan Dharejo and Advocate Farzana Khoso, the chairperson and co-chairperson, respectively, of the organisation, said that 93 people were killed in such incidents in Kandhkot-Kashmore, Jacobabad, Shikarpur and Ghotki districts alone. According to the statistics compiled by the organisation, 27 people (23 women and four men) were killed in Kandhkot-Kashmore district, 26 people (14 women and 12 men) in Jacobabad district, 23 people (18 women and five men) in Shikarpur district and 17 people (14 women and three men) were killed in Ghotki district in 2021, according to Dawn.
They pointed out that charge sheets were filed in 649 honour killing cases but only 19 of the accused were convicted. Those nominated in 136 cases were acquitted while 494 cases were pending a trial. They noted with concern that the conviction rate appeared to be around two per cent, and attributed the position to weak prosecution, slackness on the part of police and anomalies in the law and justice system.
Source: Business Standard
https://www.business-standard.com/article/international/honour-killing-cases-up-in-pak-as-balochistan-reports-5-killings-in-a-day-122021300715_1.html
--------
URL: https://www.newageislam.com/islam-women-feminism/muslim-girl-khushbu-bhagvad-gita/d/126367
New Age Islam, Islam Online, Islamic Website, African Muslim News, Arab World News, South Asia News, Indian Muslim News, World Muslim News, Women in Islam, Islamic Feminism, Arab Women, Women In Arab, Islamophobia in America, Muslim Women in West, Islam Women and Feminism