New Age Islam News Bureau
5 Jun 2012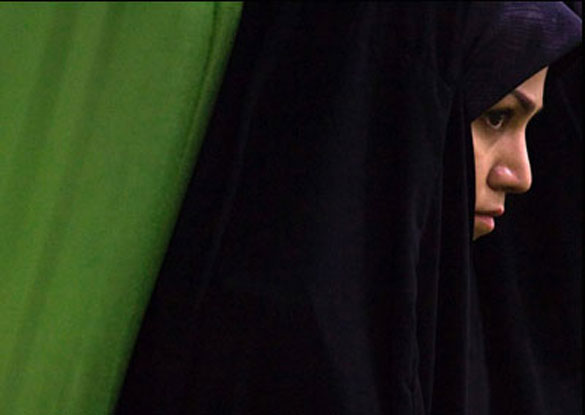 • Forced Marriages Replace Rape as Worst Crime against Women
• Ex-wife of Saudi Crown Prince, Princess Al-Sudairi tries to dodge £5 mn bill
• Campaign to defend Aasia Bibi, Accused of Blasphemy and sentenced to Death
• Emirati women launch 'dress code' campaign to 'save culture'
• Training Afghan women, to assist expectant mothers
• Brain drain of bright Afghan women taking place amid fear of Taliban return
• Pak security establishment planning to kill me: Rights activist Asma Jahangir
• Egyptian women: 'They were doing better under Mubarak'
• India women migrants vulnerable to exploitation in Gulf: UN
• New fields to conquer for Muslim sportswomen
• Tunisian Women Turn Revolution into Opportunity
• Christians and Muslims Campaign against Muslim Women's Soccer Headdress
• Arab, Muslim and Western Women: Why we need to talk NOW
• ISAF highlights Afghan women leaders at gender integration discussion
• How Both Republicans and Democrats Exploit Women
• Using 'women's rights' to wage war Capitalism exists to dominate, not liberate
• Pakistan's Women's Interfaith Initiative in a Time of Turmoil
Complied by New Age Islam News Bureau
Photo: Forced Marriages Replace Rape as Worst Crime against Women
URL: https://www.newageislam.com/islam,-women-and-feminism/new-age-islam-news-bureau/muslim-girl-can-marry-at-15-if-she-attains-puberty--delhi-high-court/d/7538
----------
Muslim Girl Can Marry At 15 If She Attains Puberty: Delhi High Court
Tue Jun 05 2012
New Delhi : Ruling that a Muslim girl can marry as per her choice at the age of 15 years if she has attained puberty, the Delhi High Court has held the marriage of a minor girl valid and allowed her to stay in her matrimonial house.
"This Court notes that according to Mohammedan Law a girl can marry without the consent of her parents once she attains the age of puberty and she has the right to reside with her husband even if she is below the age of 18....," a bench of justices S Ravindra Bhat and S P Garg said.
Citing various Supreme Court judgements on the issue of minor Muslim girls' marriage, the bench said "In view of the above judgments, it is clear that a Muslim girl who has attained puberty i.e. 15 years can marry and such a marriage would not be a void marriage. However, she has the option of treating the marriage as voidable, at the time of her attaining the age of majority, i.e 18 years."
Accepting the 16-year-old girl's plea to allow her to stay in her matrimonial home, the bench has disposed of a habeas corpus petition filed by the girl's mother alleging that her daughter was kidnapped by a youth and forced into marriage in April last year.
The bench accepted the girl's statement she had left her parental home of her own will to marry the man of her choice and her husband should not be booked on the charge of kidnapping.
Meanwhile, to ascertain the girl's well being, the court has directed the couple and in-laws to appear before the Child Welfare Committee once in every six months till the girl attains majority.
"The Committee shall take necessary steps, including obtaining the necessary undertaking from the man(husband) in this regard. Subject to completion of these steps, the girl be allowed to live in her matrimonial home," the bench said.
The girl has been currently residing in Nirmal Chhaya, a government sponsored home for rehabilitation of poor and elderly women.
http://www.indianexpress.com/news/muslim-girl-can-marry-at-15-if-she-attains-puberty-hc/958171/
----------
Forced Marriages Replace Rape as Worst Crime Against Women
Jun 05 2012
ISLAMABAD: Reportage of crime against women registered an increase in March with an average 17 First Information Reports (FIRs) lodged per district as compared to the preceding month when 10 FIRs were filed. The report released Monday said that although rise in such cases is a cause for concern, it also indicates increased awareness to report these crimes when they occur.
According to Free and Fair Election Network (FAFEN), monitors visited 77 offices of District Police Officers (DPOs) to gather information on FIRs registered for 27 offences falling under the Pakistan Penal Code (PPC). Of the monitored districts, 27 were in Punjab, 21 in Sindh, 19 in KP, nine in Balochistan and one in Islamabad Capital Territory (ICT).
In the observed month, there was a significant increase in reported cases of forced marriages that rose from 314 in 35 districts in February to 653 in 40 districts. Lahore (222), Okara (69) and Vehari (47) were the top reporting districts in March. Moreover, 108 cases of offences relating to marriage were also registered in 10 districts.
Rape was also widespread - 220 FIRs being filed in 43 districts in March compared to 147 registered in 33 districts the preceding month. In February, 193 cases of attack on modesty were reported in 33 districts while March saw the number rise to 270 in 38 districts. There were also 37 cases of honour killings reported in March in 16 districts. The highest number of cases was recorded in Ghotki (6), Kamber Shahdadkot (4) and Rajanpur (4). In February, 24 FIRs were filed for honour killings in 16 districts. Some 41,671 cases were reported in these districts. Eighteen percent of these were crimes pertaining to property, followed by those involving physical harm to people (9%), threat and fraud (7%) and crimes against women (3%).
Moreover, 64% were cases of other crimes. A region-wise breakup shows that 65% of the total crimes were reported in Punjab. KP (23%), Sindh (10%) and Balochistan (1%) followed. There were also 148 cases recorded in ICT.
A better outreach, lack of parallel judicial systems and a higher confidence level between the police and the people are said to be the probable reasons for better crime reportage in Punjab than other regions. During the monitored month, 7,388 FIRs were filed for crimes pertaining to property. Thirty five percent of these were lodged for theft, followed by motor vehicle lifting (23%) and robbery and dacoity (18%).There were 16% cases of motor vehicle snatching and 7% those of criminal trespass.
Of the 3,647 FIRs for crimes ensuing physical harm to people, hurt constituted 41% of the FIRs attempted murder (29%), murder (22%), accidental death (qatl-i-khata 5%), illegal confinement (2%), accidental death (qatl-bis-sabab 1%) and terrorism-related incidents (1%). Furthermore, of the 2,778 FIRs lodged for threat and fraud, 57% were of counterfeiting currency.
Cheating and criminal breach of trust followed with 15% cases each, criminal intimidation (7%), offences against public tranquility (6%), and fraudulent deeds and dispossession of property (1%). Ten out of 77 districts reported more than half (52%) of the total crimes. Of these, eight districts were in Punjab and two in KP. Lahore, Faisalabad and Peshawar were the top reporting districts.
http://www.dailytimes.com.pk/default.asp?page=2012\06\05\story_5-6-2012_pg7_21
----------
Ex-wife of Saudi Crown Prince, Princess Al-Sudairi tries to dodge £5 mn bill
Jun 04 2012
London: A Saudi princess's attempt to flee a five-star hotel in Paris and dodge a £5 million bill was foiled with her large entourage of servants and luggage being just a bit too noticeable.
Princess Maha Al-Sudairi, the wayward ex-wife of Saudi Crown Prince and deputy Prime Minister Prince Nayef bin Abdulaziz, who is second-in-line to the Saudi throne, tried to to dodge paying a hotel bill of £5 million pounds by escaping at night from the Shangri-La hotel.
She and her retinue of 60 servants in tow with a mountain of suitcases were instantly spotted by the hotel staff when filing out at 3.30am (local time) last Friday.
They called the police and she was stopped as her extensive luggage was being bundled into a fleet of limousines, a media report said.
Most offenders in her position would have been arrested on the spot, charged and perhaps would already be behind bars.
But because the princess is protected by diplomatic immunity, police were unable to arrest or even charge her with an offence.
Instead the French authorities can only approach the Saudi Embassy in a bid to get them to help.
In the meantime the princess and her 'small army of servants' have been offered refuge from their troubles at another luxury hotel, the Royal Monceau, near the Champs-Elysees.
The five-star hotel is owned by "family friend", the Emir of Qatar, who has offered to put her up while the matter is resolved.
The princess arrived in Paris with her entourage on December 23 last year and booked out an entire 41-room floor of the Shangri-La.
Up until then she had been confined to a palace in the middle eastern state by Saudi King Abdullah after leaving behind a trail of unpaid bills with luxury firms across Europe, reportedly including Dior, jewellery outlets Chaumet and Victoria Casal, and at least one hotel.
Her global over-spending has been well-documented in the past.
http://www.indianexpress.com/news/saudi-princess-tries-to-dodge-5-mn-bill/957741/
----------
Campaign to defend Aasia Bibi, Accused of Blasphemy and sentenced to Death
Jun 05 2012
LONDON: Electo-pop band, Ooberfuse, announced for an all-out media blitz to raise awareness for Aasia Bibi. Aasia is a Pakistani Christian mother with five children who has been sentenced to death by hanging on alleged blasphemy charges.
The "Free Aasia Bibi" media-awareness campaign includes the release of a song titled Free Aasia Bibi, a music video and an informational website, www.FreeAsiaBibi.co.uk.
The music video features a disturbing visual portrayal of the squalid prison conditions where Aasia Bibi is being held. She is the first woman in Pakistan's modern history to be sentenced to death by hanging.
Hal, a member of the band Ooberfuse, said, "When we were invited to be involved in this project we knew very little about the life and significance of Aasia Bibi. We started reading all of the press accounts of her trial and condemnation to death."
Ooberfuse stumbled across Aasia Bibi's autobiography, which had been written in French with the help of a journalist. They set out to translate it to English and were horrified by the profound injustice of her situation. In the last paragraph of the autobiography, Aasia says, "Now that you know me, tell those around you what is happening; let them know about it. This is the only chance I have of being freed from this dungeon."
Cherrie, the front-woman of Ooberfuse stated, "We want the world to not just hear her story, but to do something about it! If you're based in the UK, please join us outside the Pakistan Embassy on June 14." To learn more about Aasia Bibi, please visit www.FreeAasiaBibi.co.uk. Watch the video at http://youtu.be/oe8_Pjaedes.
http://www.dailytimes.com.pk/default.asp?page=2012\06\05\story_5-6-2012_pg7_14
----------
Emirati women launch 'dress code' campaign to 'save culture'
03 June 2012
By DINA AL-SHIBEEB
A campaign launched in the United Arab Emirates by local women on how to dress "decently" in malls has captured media attention and spurred discussion in the Gulf nation among Emiratis and foreigners alike.
While some brushed off the UAE Dress Code campaign as an attack on personal freedoms, others have welcomed it, saying that some women in the country have "taken [their style of dressing] too far."
"We respect personal freedoms, but this is our culture and an existing policy in the UAE needs to be applied," Hanan Al-Rayes, one of the founders of the campaign, told Al Arabiya.
Although malls have posted signs asking visitors to dress appropriately, there are no penalty guidelines for violators.
Police in the UAE can take action against a person who is wearing no more than a swimming suit at a public place, in accordance to the law.
Rayes who is working hard with her friend Asma al-Muhairi to raise awareness on how to dress in malls, likened her social media campaign – which builds on the respect of the Arab and Islamic cultural values – to that of France, which preserved its secular culture by banning the face veil worn by Muslim women.
Full report at:
http://english.alarabiya.net/articles/2012/06/03/218302.html
----------
Training Afghan women, to assist expectant mothers
By Staff Sgt. Frank Inman, 7th Mobile Public Affairs Detachment
May 23, 2012
KAPISA PROVINCE, Afghanistan — Women from Panjshir, Parwan, and Kapisa provinces are currently enrolled in a midwife program at the Kapisa Midwife Education Centre designed to teach Afghan women the skills needed to assist expectant mothers and provide women's healthcare education.
Fifty-six students are currently in month five of the 24-month Kapisa Community Midwife Education Program. Upon completion of the course they will begin work in their local villages.
"Besides funding, the [Kapisa] PRT has worked with the Provincial Director of Health, Dr. Mirza on many issues involving health care, to include, identifying areas he needs help in and then assisting him in connecting the province with the national level to fulfill the province's needs," said Air Force Lt. Col. Eric Shafa, commander of the Kapisa PRT and native of San Francisco. "One example of this is his work with the Ministry of Public Health to attempt to standardize the midwife training program curriculum nationwide."
Right now, only female traditional practitioners, older women who have had no formal training, help mothers during delivery at home in villages where a midwife isn't available. These practitioners' only education is the experience they have developed over the years.
"All our facilities will have a midwife, and at the community level, we will offer the qualified midwife to help pregnant mothers during pregnancy, during delivery, and after delivery," said Mirza.
Full report at:
http://www.blackanthem.com/News/Military_News_1/Training-Afghan-women-to-train-their-own24366.shtml
----------
Brain drain of bright Afghan women taking place amid fear of Taliban return
27 May, 2012
Kabul, May 27 (ANI): A brain drain of bright young women is taking place in Afghanistan before the 2014 handover, as most of them fear that Taliban-style rule would return to the country after of NATO forces withdraw.
The lack of commitment by the Afghan Government to promote equality and to tackle the high rate of ill-treatment of women, is raising fears they will be at the bottom of the political agenda in the push for power after foreign troops leave the country.
A recent survey by the charity ActionAid suggests that 86 percent of Afghan women fear a return of Taliban-style rule.
One in five is worried about the education of their daughters, but 72 percent said their lives were better now than it was a decade ago.
Guhramaana Kakar, a gender adviser to Afghan President Hamid Karzai, pointed out that negotiations between the government, the Taliban and other insurgent groups were ignoring women's rights.
Full report at:
http://in.news.yahoo.com/brain-drain-bright-afghan-women-taking-place-amid-080241393.html
----------
Pak security establishment planning to kill me: Rights activist Asma Jahangir
Jun 5, 2012
LAHORE: Leading rights activist Asma Jahangir has said she has received information that Pakistan's powerful security establishment is planning to carry out a "murderous attack" on her, prompting civil society groups to condemn the threat to her life.
Jahangir, who is also a leading lawyer and campaigner for democracy, told TV news channels about the threats to her life late on Monday night.
She said a credible source had informed her about a "murderous attack" planned on her by state agencies, following which she had restricted her movements and decided to remain at home.
She contended that the plan to kill her had been hatched at the "highest level" of state agencies, which were apparently angered by her efforts to highlight human rights violation by security forces in the restive province of Balochistan.
Jahangir also provided details of what she said were steps taken against her by Pakistan's intelligence agencies.
Full report at:
http://timesofindia.indiatimes.com/world/pakistan/Pak-security-establishment-planning-to-kill-me-Rights-activist-Asma-Jahangir/articleshow/13846640.cms
---------
Egyptian women: 'They were doing better under Mubarak'
Nabila Ramdani
4 June 2012
In Egypt, women were at the forefront of the Arab spring, but in the new regime their rights are being eroded
If you were to read a first draft of last year's Egyptian revolution, it would probably be written by a woman. The uprisings that spread across the country from late January were originally chronicled by prolific female writers such as Nawara Negm, who used everything from internet blogs to appearances on Al Jazeera to spread information to the outside world. "Freedom is only for those who are ready to die," was her mantra, although the protesters' tactics proved less extreme. Civil disobedience, marches and strikes were preferred to violence, with the number of women in Cairo's Tahrir ("liberation") Square peaking at around 50%.
How dispiriting, then, a year and a half on, to see a highly politicised female population relegated to near-onlookers during Egypt's first bona fide presidential election race.
In Cairo today, there is no longer a sense of a traditionally patriarchal society yielding to the democratic spirit of the Arab Spring. Instead, the hundreds of thousands of women who contributed so much to the downfall of President Hosni Mubarak find themselves marginalised, if not ignored.
Full report at:
http://www.guardian.co.uk/world/2012/jun/04/egyptian-women-better-under-mubarak?newsfeed=true
----------
India women migrants vulnerable to exploitation in Gulf: UN
Jun 04 2012
New Delhi : Indian women form the third largest female migrant workforce from South Asia in the Gulf but often end up in vulnerable situations while working for employers there as justice is out of their reach, a latest U N report has said.
Titled 'Migration of Women Workers from South Asia to the Gulf', the report which was released today, said that the migration of women from South Asia to Gulf was likely to increase despite conditions that could lead to exploitation.
"It is also likely that women migrants will continue to encounter discrimination and exploitation at different phases of the migration cycle, in both sending and receiving countries," the report said.
The report was also critical of provision that made it mandatory for female emigrants from India to have completed matriculation or be of 30 years of age.
"Though it was initiated with the objective to protect the rights of workers, anecdotal evidence indicates that the provision not only restricts the rights of women to work but also promotes unregulated migration, where female workers end up in more vulnerable situations", the report said.
Full report at:
http://www.indianexpress.com/story-print/957800/
----------
New fields to conquer for Muslim sportswomen
May 30, 2012
By Marium Sattar
At the first ceremony of its kind, fencer and Olympic hopeful Ibtihaj Muhammad was recognized for her achievements as a Muslim sportswoman at the Ambassador Awards. The awards were hosted by the Muslim Women's Sport Foundation the first week of May to recognize Muslim women in this field. They are a reminder that Muslim sportswomen have broken new ground in the world of sports and helped change perceptions in society at large.Although there are more Muslim women competing in sports today than there have been in the past, they have an overlooked legacy. For example, Halet Cambel was the first Muslim woman who competed in the Olympics – and did so in 1936, representing Turkey. Many athletes like her were honored at the awards where Muhammad won the International Sportswoman of the Year. However, women's sports participation in some countries is still limited.
One challenge some Muslim sportswomen have contended with is regulations about athletic dress codes – but they have also paved the way for other players who want to dress modestly while competing in the games they love.
In 2007, for example, the International Federation of Association Football placed a ban on wearing the hijab, or headscarf, during matches due to fears that it could lead to choking. The ban even led to the Iranian women's football team being deemed ineligible from a qualifying match to play in the Olympics. But this year, FIFA plans to overturn that rule in light of new hijabs designed for athletes. The decision will be announced on July 2 after further testing of the new hijabs to ensure their safety.
Full report at:
http://www.dailystar.com.lb/Opinion/Commentary/2012/May-30/175062-new-fields-to-conquer-for-muslim-sportswomen.ashx#ixzz1wu6afDzb
----------
Tunisian Women Turn Revolution Into Opportunity
STEVE INSKEEP
June 5, 2012
Over the next couple weeks, NPR Morning Edition host Steve Inskeep is taking a Revolutionary Road Trip across North Africa to see how the countries that staged revolutions last year are remaking themselves as they write new social rules, rebuild their economies and establish new political systems. Steve and his team will be traveling some 2,000 miles from Tunisia's ancient city of Carthage, across the deserts of Libya and on to Egypt's megacity of Cairo. In this story, he looks at the changing role of women in the new Tunisia.
A year after the Arab Spring revolution, Tunisia's future is still being written, and it will be authored in part, quite literally, by Ferida Lebidi.
Two decades ago, Lebidi was in law school, but she was blocked for years from taking her exams and was even imprisoned because of her political activity.
"I know the meaning of being stripped of my freedom," she said after welcoming us into her law offices in Tunis.
Full report at:
http://www.npr.org/2012/06/05/154282351/tunisian-women-turn-revolution-into-opportunity
----------
Christians and Muslims Campaign Against Muslim Women's Soccer Headdress
29 May 2012
Proponents of allowing observant Muslim female soccer players to wear a head dress and anti-autocratic protesters in the Middle East and North Africa are running up against similar conservative attempts to roll back their achievements. Ironically, they are both confronting alliances that at times cut across confessional boundaries.
While the battle to secure the goals of successful protests in post-revolt Egypt, Tunisia and Libya has largely moved from the street to the polling station and backroom horse trading, the campaign for a woman's head dress on the pitch that meets security and safety standards is being waged in the secretive board rooms of authorities that govern association soccer.
While protesters in the Middle East and North Africa have learnt the hard way that toppling an autocrat is but the first step to ensuring greater freedom and social justice, pro-head dress campaigners are discovering that tentative board decisions are no more than tentative and open to challenge. That is even truer given world soccer body FIFA's lack of transparency and accountability and its failure at times to avoid conflicts of interest.
FIFA Executive Committee member, medical doctor and head of the soccer body's medical committee Michel D'Hooghe, in the latest twist in the campaign for observant Muslim female soccer player's rights, has thrown into doubt a decision last March by the International Football Association Board (IFAB) that sets the rules for association soccer to temporarily allow the wearing of a head dress that meets safety and security criteria while various designs and models are tested. IFAB decided at the meeting that it would take its final decision in July based on the testing results.
Full report at:
http://aslanmedia.com/media-portal-reposts/74-in-other-news-arts-culture/3333-conservative-christians-and-muslims-campaign-against-muslim-women-s-soccer-headdress
----------
Arab, Muslim and Western Women: Why we need to talk NOW
Yasmina Mrabet
May 24, 2012
"My personal background is Arab-American…and the divisions between my two identities are so strong that sometimes I feel like I need to talk to myself."
I am writing today to advocate for the increased participation of women in conflict resolution and peacebuilding work, to encourage women to address and rise above stereotypes and misperceptions that persist in mainstream media news bytes, and to make a contribution, however small, to building a global community of trust, and an awareness of a rich world culture.
Arab, Muslim, and Western women need to sit down and talk to one another – now. Persistent misunderstanding about the 'other' – cultural, religious, political, and otherwise – is only contributing to an increasingly tense relationship between the 'West' and the Arab and Muslim 'world.' There is a lack of mutual respect on both sides, and a strong need for cross-cultural exchange to address this issue. My personal background is Arab American (Morocco and Plymouth, Massachusetts!), and the divisions between my two identities are so strong that sometimes I feel like I need to talk to myself.
In both Western and predominantly Arab and Muslim societies the international political arena is dominated by men, and our social structures characterized by insidious patriarchy. Our problems do not lie in our differences, which are not as stark as we believe them to be. Rather, our problems are rooted in a lack of direct communication and interaction. We must own up to the role we have played in maintaining a contentious relationship between our societies – through our complacency, through our unwillingness to consider and appreciate the circumstances of the 'other,' and through our strong aversion to self-reflection.
Full report at:
http://www.moroccoworldnews.com/2012/05/41064/arab-muslim-and-western-women-why-we-need-to-talk-now-2/
----------
ISAF highlights Afghan women leaders at gender integration discussion
Master Sgt. Kap Kim
06.04.2012
KABUL, Afghanistan – International Security Assistance Force Commander U.S. Marine Gen. John R. Allen and NATO's senior civilian representative to Afghanistan Simon Gass hosted a roundtable discussion at ISAF Headquarters, June 3, inviting female members of the Afghan Parliament, members of the High Peace Council, and prominent members of civil society.
"As we look a decade into the future, we should remember that just a decade in the past a meeting like this would've been unimaginable," Allen said. "Now it is the return to the darkness of the Taliban regime that is unimaginable."
During the last 10 years, called the "Decade of Transformation," more Afghan women have re-emerged as prominent members of government, but Allen says that's only the beginning.
"The women of Afghanistan serve as a bulwark against the return to the darkness of the nineties. This esteemed group of leaders, and your sisters who couldn't be here today, willing to step forward, speak out, and stand firmly in defence of your nation, its security, and the possibility of a brighter future for all Afghans – you are role models with an impact felt both in your country and beyond."
Full report at:
http://www.dvidshub.net/news/89372/isaf-highlights-afghan-women-leaders-gender-integration-discussion#.T823HbDrqTk#ixzz1wu1MetAY
----------
How Both Republicans and Democrats Exploit Women
Jun 1, 2012
By Pat Taub
Both the Republicans and Democrats are exploiting women towards a November win. Let's start with the Republicans. They need an issue to distract their base from focusing on economic inequality and job losses; otherwise they'd hardly support Romney, the darling of corporate America. A focus on controlling women's wombs by rolling back the clock on abortion rights has proved an effective way to channel the anger and hatred of the right wing.
Obama is more subtle. As Campbell Brown pointed out in an op-ed piece for the May 20th edition of the New York Times, Obama patronizes women, addressing Barnard's graduating class saying, "It's a tough economy. . . but you are tougher." Hollow words. What those graduates needed to hear were presidential words empathetic to their concerns: a commitment to reducing student loans; a commitment to a job creation program for college educated grads along with a promise female grads will receive pay equal to their male counterparts.
Full report at:
http://www.opposingviews.com/i/politics/how-both-republicans-and-democrats-are-using-women-win#
----------
Using 'women's rights' to wage war Capitalism exists to dominate, not liberate
JUNE 3, 2012
One of the big challenges facing an imperialist ruling class when it comes to fighting a war is justifying that war to the population. This is especially so when there is no clear national security threat posed by the targeted nation. To meet the challenge, the war-makers have advanced the slogan of, "humanitarian intervention" and insisted on their "responsibility to protect" the human rights of victimized peoples. This false presentation has been utilized repeatedly either to win public support or muffle opposition to wars against countries that have had the audacity to stand in the way of U.S. geopolitical designs.
While the stated justifications for intervention may vary, the latest U.S. wars on Afghanistan and Iraq both used women's rights as a slogan and justification for intervention and regime change. Hillary Clinton said, regarding Afghanistan, "Women's rights are a central part of the foreign policy of the Obama administration."
When the U.S. first invaded Afghanistan, there was a great deal of attention on the reactionary anti-woman laws and policies of the Taliban, which had been ruling the country since 1996. Some feminist organizations even came out in support of the war because it was ostensibly being fought to "liberate Afghan women."
Full report at:
http://www.pslweb.org/liberationnews/news/using-womens-rights-to.html
----------
Pakistan's Women's Interfaith Initiative in a Time of Turmoil
By Amineh Ahmed Hoti
Jun 4, 2012
The image of Pakistan is dominated by negative news: extremism, terrorism, corruption, poor governance and the breakdown of law and order. This pervasive negative image is held not just by people in the West but also threatens the attitude of Pakistanis towards themselves in their own home country. Women and minorities suffer the most and it is not, of course, a healthy attitude as it provides little impetus or motivation to change for better.
In this atmosphere, a first-ever event of its kind on interfaith by women for women arranged by Dr Marilyn Wyatt, wife of the American Ambassador, and her team was a breath of fresh air and the platform for an array of women to give voice and shape to their unity as Pakistani women from many faiths.
A Pakistani by birth, brought up in a convent and later educated at the University of Cambridge, UK, where I spent 22 years being educated and educating in Islam and interfaith harmony and fortunate to work with wonderful people of different faiths in setting up two education interfaith Centres in Cambridge I suggested holding women's interfaith events which would include visits to a mosque, church and other places of worship (as I had arranged for women in Cambridge). Dr Wyatt loved the idea and took it on with gracious enthusiasm. After 9/11, there have been many notable interfaith initiatives but in Pakistan there have been very few such moves and there are yet fewer such initiatives led by women which focus on women, although there are many good NGOs led by women. Interfaith dialogue among women is crucial for the healing of a country like Pakistan.
Full report at:
http://theamericanmuslim.org/tam.php/features/articles/pakistans-womens-interfaith-initiative-in-a-time-of-turmoil/0019163
----------
URL: https://www.newageislam.com/islam,-women-and-feminism/new-age-islam-news-bureau/muslim-girl-can-marry-at-15-if-she-attains-puberty--delhi-high-court/d/7538