New Age Islam News Bureau
15 Jan 2017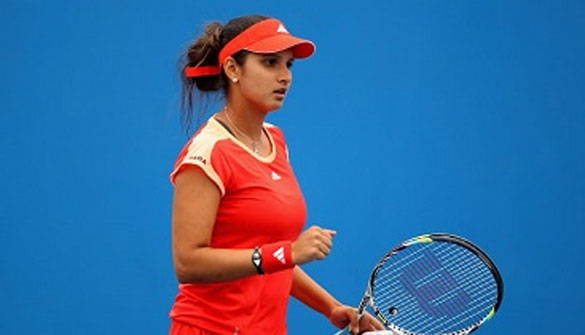 Photo: Muslim cleric Sajid Rashid jumped the wagon, slamming the the Indian tennis star's clothing as un-Islamic.
----------
• Sania Mirza's Tennis Attire Branded Un-Islamic By Religious Cleric
• Muslim Woman Assaulted In An Islamophobic Attack In London
• In Northern Afghanistan, Bereaved Women Join Fight Against Islamic State
• Lindsay Lohan's 'Alaikum Salam' Greeting On Instagram Prompts Islam Conversion Speculations
• Woman Fighting Triple Talaq: 'Muslim Board Member Asked Me To Withdraw Petition'
• Somali-American Teen Makes Semifinals At Miss Minnesota USA Pageant
Compiled by New Age Islam News Bureau
URL: https://newageislam.com/islam,-women-and-feminism/new-age-islam-news-bureau/muslim-girl-booted-from-school-bus-for-hijab-in-us/d/109728
------------
Muslim girl booted from school bus for hijab in US
January 15, 2017
A 15-year-old Muslim girl in the United States has claimed she was evicted from a school bus by a driver twice because of her hijab, prompting her family to demand an apology from the school district.
Janna Bakeer, a girl who attends Timpview High School in Provo City, Utah, tried to ride a bus home when the bus driver used the bus's intercom system and said, "Hey you with the blue hair thingie, get off the bus, you don't belong here," according Randall Spencer, the family's lawyer.
"It's a (hijab) a part of who I am and where I come from and a part of my religion. Every day, I match my hijab with my outfits," Bakeer was quoted as saying by ABC News affiliate WBND-LD.
"The bus driver, she got her speaker and I was wearing a blue scarf. And she's like, 'Hey, you with that blue thing, you don't ride this bus and I've never seen you ride it so get off'," Bakeer said of the incident that took place last month.
She said she felt humiliated and started to cry as she got off the bus. "I was just really embarrassed how everybody was staring."
The family said they talked with the school to get things worked out for the next time she needed to ride the bus, which happened last Friday.
"I asked her politely, 'Can I please ride the bus today?' and she (driver) just put her arm and blocked the walkway to the bus," Bakeer said.
"I absolutely believe that it was discrimination," said the family's attorney Spencer.
"The bus driver didn't even know Janna's name, we don't think, and could not have checked or known she was not on the list to ride the bus," Spencer was quoted as saying the Daily Herald.
"All the bus driver knew is that she didn't know her before and she is a Muslim wearing a hijab," he said.
Caleb Price, spokesman for the Provo City School District, said students can only ride their assigned buses and that the girl was assigned to a different one from the one she boarded.
"From what we can see in our investigation, there was nothing discriminatory about the school bus driver's behaviour," he said.
However, Spencer said Janna's been riding the same bus route since she was in middle school, with different bus drivers.
In addition to an apology, Spencer said the Bakeer family would like the district to do sensitivity training.
The incident comes amid a series of such cases of intimidation and assault that have been reported across the country targeting hijab-clad women following Trump's win.
© Copyright 2017 PTI. All rights reserved. Republication or redistribution of PTI content, including by framing or similar means, is expressly prohibited without the prior written consent.
rediff.com/news/report/muslim-girl-booted-from-school-bus-for-hijab-in-us/20170115.htm
--------
Sania Mirza's Tennis Attire Branded Un-Islamic By Religious Cleric
January 15, 2017
New Delhi: Though it might not be the first instance when Sania Mirza has come under criticism for her on-court dressing, a Muslim cleric – in Zee News show Fatah ka Fatwa, branded the Indian star's on-court attire is un-Islamic.
Sania has often been at the centre of religious extremism - especially on social media – facing criticism for not wearing burqa.
This time, Muslim cleric Sajid Rashid jumped the wagon, slamming the tennis star's clothing as un-Islamic.
"If a sport requires women to drop their burqas, then women should not take part in the sport, they are not even meant to wrestle" said the cleric on Zee News show 'Fatah ka Fatwa'.
"Do you think Sania Mirza's attire is legal? Is it legal? It is sexual and hence, un-Islamic," ranted Rashid on the show, where the main point of the debate was "Is the Burqa a must for all Muslim women?"
Indian fast bowler Mohammed Shami's wife was also a subject similar criticism after social media witnessed a picture of the cricketer with his wife dressed in a sleeveless attire.
Shami received the backing of entire cricketing community after the social media outburst, with Mohammad Kaif being one hit back at those criticizing Shami.
Here is the video of entire episode in two parts:-
Sania Mirza recently made it to the finals of the Sydney international with Barbara Styrcova.
zeenews.india.com/tennis/sania-mirzas-tennis-attire-branded-un-islamic-by-religious-cleric-videos-inside_1967338.html
--------
Muslim woman assaulted in an Islamophobic attack in London
Foreign3 HOURS AGO BY INP
hijab
Naheela Ashraf, a British-born Muslim woman has informed the press that a man spat at her and assaulted her in an apparent Islamophobic attack in London`s area of Hammersmith on Friday.
The 46-year-old, who lives in Manchester was speaking at a protest and vigil held on Wednesday (January 11) evening in Lyric Square Hammersmith, which was organised by Stand Up To Racism in the aftermath of her attack.
She claimed that while she was having dinner with friends in a fish and chips takeaway in King Street, a man screamed abuse at her, grabbed hold of her and tried to rip off her hijab.
The London metropolitan police confirmed that the attack is being considered as a racially motivated hate crime. "There was a guy sitting behind us and I hadn't really noticed him.
"But as he went to leave the takeaway he grabbed me and started shouting about the fact that I had no right to be here and that he wouldn't tolerate people like me. It was all very fast."
Shocked staff and other customers pushed her attacker away, but Ashraf said: "He just carried on talking about how people like me were killing people.
"Then he spat on me as he was pushed out of the takeaway."
According to the organisation, Stand Up To Racism, the man also attempted to pull off the victim's hijab.
She said nothing like this had happened to her before and added: "I think what's really shocking is that it would happen in a place like Hammersmith when I'm surrounded by other people.
pakistantoday.com.pk/2017/01/15/muslim-woman-assaulted-in-an-islamophobic-attack-in-london/
--------
In northern Afghanistan, bereaved women join fight against Islamic State
By Zabihullah Noori
LONDON (Thomson Reuters Foundation) - Gul Bibi, an Afghan grandmother well into her eighties, never expected to become a fighter.
But now she is one of more than a hundred women in Afghanistan's northern Jawzjan province who have taken up arms against Islamist militants.
Nearly all of the women have lost a husband, son or brother to the Taliban or the newly active Islamic State in the province bordering Turkmenistan.
"I lost nine members of my family. The Taliban and Daesh (Islamic State) killed my five sons and four nephews," Bibi said by phone from Jawzjan. "I have taken up arms to defeat the terrorists so other people's sons won't get killed."
Determined to protect their families, the women approached a local police commander, Sher Ali, in December and asked him for guns and ammunition.
"They came to me and said that if I didn't provide them with weapons they would kill themselves - before Daesh or the Taliban could," Ali told the Thomson Reuters Foundation, using the Arabic acronym for Islamic State.
The women are not a properly structured group, he said; they have no uniform and have not received any military training other than how to point a gun at the enemy and shoot.
The Taliban has carried out attacks in Jawzjan for the last decade, part of a country-wide insurgency to topple the Afghan government and drive out foreign troops.
Islamic State became active in the province - a gateway to Central Asia - in early 2016, when a Taliban commander and 50 of his fighters declared allegiance to the ultra-hardline group, said Mohammad Reza Ghafoori, spokesman for Jawzjan governor.
On Dec. 25, Islamic State fighters attacked Garmjar village and killed five civilians, burned down about 60 houses and forced 150 families to flee, he said by instant messenger.
A woman in her twenties, who did not want to give her name, said her husband and many other family members had been killed by the Taliban. Now she is fighting back, she said.
"I hit the Taliban with this PK (machine gun), and the Taliban fled. Most of the their men died. I will stand against Daesh and will hit them too," she said by phone from Jawzjan.
'FIGHT TO THE DEATH'
The women fighters are not registered with the army or police and the government has not licensed their weapons, Abdul Hafiz Khashi, head of the security department of Jawzjan police, was reported as saying in the Afghan media last week.
Although local police have cautiously welcomed the new defence force, he said, the rag-tag women's unit has raised concerns among higher authorities.
"We do not support any armed group, unless they come under one of our forces," Najib Danish, the deputy spokesman for the Afghan Interior Ministry, said from Kabul.
"We hope they join the Afghan security forces, so we can help them as part of our troops," he said.
But the women accuse the Afghan army of failing to protect their families from the militants.
"First they killed my brother, then they killed my cousin, my uncle and my brother-in-law," said Zarmina, another woman fighter. "Now that I have taken up arms, I am going to fight to the death."
Thousands of civilians have been killed in Afghanistan in violence since the Taliban government was brought down in the U.S.-led campaign of 2001.
Afghan armed forces control no more than two thirds of national territory, and have struggled to contain the Taliban insurgency since the bulk of NATO soldiers withdrew at the end of 2014.
The United States has announced plans to send 300 Marines to the volatile southern province of Helmand, large parts of which are under Taliban control, as part of a regular rotation of troops helping train and advise Afghan forces.
Russia, China and Pakistan warned month last that the influence of Islamic State was growing in Afghanistan and that the security situation there was deteriorating.
Mariam lost three members of her family in the Islamic State attack on Garmjar village in December. She fled to Qush Tepa and joined the women fighters.
"Daesh came, hit us, abused us, killed our people and burned about a hundred houses. They didn't leave anything for us. They killed three members of my family. They wanted to burn us, but we fled and came here," she said by phone.
"When you have nothing left in your life, you will take up weapons and fight to the death."
(Editing by Ros Russell @ros__russell; Please credit the Thomson Reuters Foundation, the charitable arm of Thomson Reuters, that covers humanitarian news, women's rights, trafficking, property rights, climate change and resilience. Visit news.trust.org)
in.reuters.com/article/afghanistan-security-women-idINKBN14Z03I?rpc=401&
--------
Lindsay Lohan's 'Alaikum Salam' Greeting On Instagram Prompts Islam Conversion Speculations
BY MEL ROSE MATULAC ON 01/14/17 AT 9:42 PM
Lindsay Lohan Arrested in NYC for Fleeing Scene of Hit and Run Accident
Last week, Lindsay Lohan shocked her millions of followers and fans when she deleted all her posts on Instagram and Twitter. This weekend, the "Mean Girls" star is sparking rumors that she may have already converted to Islam due to her Arabic greeting on the photo-sharing platform.
Though Lohan has wiped her Instagram account clean, she noticeably left "Alaikum saam" as her shoutout to her followers on the platform. The Arabic words are the usual response to "As-salam alaikum," which means "Peace be unto you" — the standard salutation used by people of the Nation of Islam.
Due to the greeting, many are speculating that the 30-year-old actress has switched to Islam. It's also worth noting that she previously shared with her fans that she's excited for the next chapter in her life.
While Lohan has yet to deny or confirm the rumors, many Muslims from all over the world are sending their congratulations to the former Disney child star via social media. Most of them are also asking Allah to guide Lohan in her journey with the religion. View image on Twitter
Follow
Protein Shaykh @ProteinShaykh
Lindsay Lohan remove all her instagram photos and left Salam in her bio. May Allah Guide Her.
6:18 AM - 13 Jan 2017
21,937 21,937 Retweets 12,371 12,371 likes
Late last year, Lohan moved to Dubai. At the time, the "Parent Trap" actress revealed her intention to volunteer at refugee camps in Turkey this year. Her management also revealed to the media that Lohan is apparently in "a period of renewal," as first reported by Hindustan Times.
Lohan has been very vocal about her interest in Islam ever since she was photographed walking the streets of New York with a Quran in her hands. She revealed while she was staying in London that she received a lot of hate from her fellow Americans because of this. However, she still maintained that the Quran has helped her learn more about herself.
"It opened doors for me to experience spiritually, to find another true meaning. This is who I am," Lohan said during a Turkish TV channel interview. "Islam is something that I want to learn, this is my own will."
ibtimes.com/lindsay-lohans-alaikum-salam-greeting-instagram-prompts-islam-conversion-speculations-2475694
--------
Woman fighting triple talaq: 'Muslim board member asked me to withdraw petition'
Harish V Nair | Posted by Dev Goswami
New Delhi, January 15, 2017
'When you are not going to gain anything from it personally, why are you maligning the community?' someone from the All India Muslim Personal Board asked Shayara Bano, a 35-year-old divorcee.
Shayara Bano, a 35-year-old woman whose husband divorced her under the triple talaq practice
1A woman fighting the triple talaq was allegedly asked by a AIMPLB member to withdraw her SC petition.
2The husband of the 35-year-old Muslim woman divorced her under the triple talaq custom.
3A AIMLB source said a local member may have contacted her, but there was no such official move by the board.
A Muslim woman from Uttarakhand, who is spearheading a legal battle against "triple talaq" divorce, says the All India Muslim Personal Board (AIMPLB) and some clerics requested her to withdraw her Supreme Court petition.
Shayara Bano, a 35-year-old mother of two, said she promptly rejected their appeal and firmly expressed her determination to carry on with her fight in the interest of lakhs of Muslim women suffering due to the "discriminatory" practice.
The triple talaq is a Sharia law custom that allows men to end a marriage, simply by saying "talaq" - or divorce - to their wives, three times in succession.
The apex court is hearing a lawsuit seeking a ban on three specific practices permitted under Muslim personal law: triple talaq, polygamy and nikah halala (a woman wishing to wed a man from whom she is divorced must first marry someone else).
"A month ago some people talking to me on behalf of the board asked me to withdraw the petition from Supreme Court", Bano told Mail Today. "They told me 'when you are not going to gain anything from it personally why are you maligning the Muslim community?' I said to them I may have lost everything but I'm fighting for other women who are going to face such a situation."
Muslims are India's largest minority community with a population of 155 million and their marriages and divorces are governed by the Muslim personal law, ostensibly based on the sharia.
The AIMPLB, a non-governmental body which oversees the application of Muslim personal law, opposes any ban on triple talaq and polygamy.
BOARD: UNAWARE ABOUT THE INCIDENT
The board, however, said it has no information about the incident narrated by Bano. A source said some local member in Uttarakhand's Kashipur area where the woman stays may have tried to contact her but there was no such move officially from AIMPLB.
There is no need for that when we are legally challenging her petition, which is pending in the Supreme Court," the source said.
The story of Bano, a postgraduate in Sociology, is shocking. She endured a bad marriage, an abusive husband, and physical and mental agony for over a decade. She was allegedly made to undergo as many as six abortions by her husband who forcibly administered her pills which ruined her health.
On October 10, 2015, her husband sent a letter to her parents' home where she was staying for almost a year. Inscribed on that piece of paper were three words: "Talaq, Talaq, Talaq".
Also read: Supreme Court issues notice to Centre challenging constitutional validity of triple talaq
CENTRE: DIGNITY OF WOMEN NON-NEGOTIABLE
However, the Centre's support to at least seven Muslim women led by Bano who have moved the SC is a shot in the arm for the petitioners.
While defending the validity of triple talaq before the apex court, the AIMPLB took the ground that if the practice is discontinued, a man could even murder or burn his wife alive to get rid of her.
The board also contended that the Constitution does not touch upon personal laws and therefore, the SC cannot examine the question of constitutional validity of the practices of marriage, divorce and maintenance in Muslim personal law.
The government argued that there is no reason that women in India should be denied their constitutional rights when "Muslim countries where Islam is the state religion have undergone extensive reform" in this sphere.
"Gender equality and dignity of woman are non-negotiable, overarching constitutional values can brook no compromise," the Centre said in its affidavit. "These rights are necessary in letter and in spirit to realise aspirations of every individual woman."
indiatoday.intoday.in/story/woman-fighting-triple-talaq-all-india-muslim-personal-board-withdraw-supreme-court-petition/1/857632.html
--------
Somali-American teen makes semifinals at Miss Minnesota USA pageant
Jan 14, 2017
MINNEAPOLIS — It seemed only fitting that Halima Aden was the first contestant to introduce herself to the audience. Many of the cameras were there for her, after all.
The 19-year-old Somali-American sauntered on stage during the Miss Minnesota USA pageant Saturday night in a "burkini," a bathing suit covering her from neck to wrist to ankle. She was the first fully covered Muslim to compete in the state pageant, where she made it to the semifinal round of 15 Sunday, but didn't advance to the final five.
"Halima is bilingual. She speaks fluent English and Somali, and history is her favorite subject," Denise Wallace, pageant executive co-director, announced to huge applause as Aden strutted for the judges. "She's making history tonight."
Aden's swimsuit stood in sharp contrast with the other 44 women, most of whom donned revealing bikinis during the pageant's signature swimwear segment.
Aden, who wore a headscarf with the suit, said she entered the competition at Burnsville's Ames Center to break barriers for Muslim women and counter the prevalent notion that they are oppressed. She hoped to be a role model for girls who felt that wearing the hijab might hold them back.
"I just want to go on as myself," said Aden, a freshman at St. Cloud State University. "When you have a lot of women in our state that do wear the hijab, we should be able to see that everywhere."
Before the contest she reassured Somali community members, some of whom were anxious about the idea of her modeling, that she would not compromise her religious principles to compete. Organizers quickly approved Aden's decision to wear the burkini.
A fan club of friends and family cheered both nights, beaming with pride for how Aden represented her community. "We're so proud of her," said Aden's cousin, Khaled Said. "She's helping connect other generations."
The group included Aden's biggest inspiration, her mother, Rukia — who moved the family to Minnesota from a Kenyan refugee camp 12 years ago, when Aden was 7.
Rukia Aden previously declined to comment on Halima's participation. She hadn't originally planned to attend the pageant, but relatives said they convinced her to go after explaining what the scholarship contest was all about.
"I support my daughter," said Rukia Aden. "This was something new to me. I'm very happy to live in the United States where people are free and can wear what they want."
"It was her choice and I'm happy with what she chose," Rukia Aden said.
After the pageant, Halima Aden said she's gotten thank-yous from parents and young girls who have been bullied.
"That's made me so proud to be a part of this," she said. "Just give it a try. You might not win, but maybe the fifth, sixth girl will win. Don't let anything get in the way."
Meridith Gould, 22, of Minneapolis, was crowned 2017 Miss Minnesota USA. She will compete at the televised Miss USA pageant in 2017.
thegazette.com/subject/news/nation-and-world/somali-american-teen-makes-semifinals-at-miss-minnesota-usa-pageant-20170114
URL: https://newageislam.com/islam,-women-and-feminism/new-age-islam-news-bureau/muslim-girl-booted-from-school-bus-for-hijab-in-us/d/109728