New Age Islam News Bureau
30 Sept 2012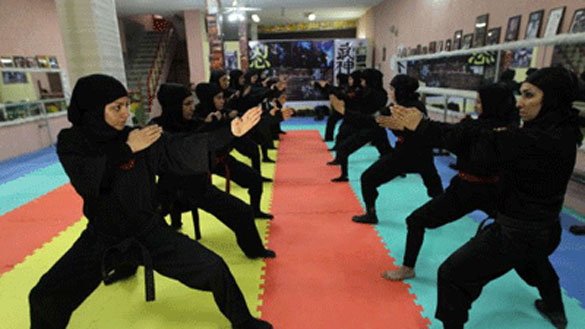 • Men Can Beat Wives on Conditions, Says Salafist Leader
• Fighting Egypt's Sexual Harassment Epidemic, One Step at A Time
• Violence Stalks Women Workers in Afghanistan
• Tehran Court Finds Reuters Guilty Over Describing Female Martial Artists as "Assassins
• Statement by FJP Women's Committee in Support of the Syrian People
• UAE Mother of Nation Awarded Honorary Doctorate from a South Korea University
• Bahraini Women's Achievements
Compiled by New Age Islam News Bureau
Photo: Tehran Court Finds Reuters Guilty Over Describing Female Martial Artists as "Assassins
URL: https://www.newageislam.com/islam,-women-and-feminism/new-age-islam-news-bureau/muslim-girl,-19,--brutally-stabbed-in-neck-by-mother-for-staying-out-too-late-/d/8834
------------
Muslim Girl, 19, 'Brutally Stabbed In Neck by Mother for Staying Out Too Late'
By BETH STEBNER
30 September 2012
Mother Johra Kaleki confessed to police that she stabbed her 19-year-old daughter in the neck in 2010
Said she did it to teach Bahar Ebrahimi a lesson after she stayed out late two nights in a row
Daughter survived attack but is heavily scarred
Currently on trial for attempted murder
A mother in Montreal confessed to repeatedly stabbing her teenaged daughter in the head and neck and said she did not regret what she did.
Johra Kaleki, who lives in the Dorval neighbourhood of the city, told police after the alleged crime that her daughter, then 19-year-old Bahar Ebrahimi, was rebellious and had stayed out all night.
She is accused of attacking Ms Ebrahimi in their home in June 2010. Her daughter survived, but suffered serious knife cuts to her face, neck, shoulder, and arms.
The trial, which is taking place in Montreal, began earlier this week. Police officers testified that when they responded to the scene at the family's two-story suburban home, Kaleki was screaming, 'I want to kill her! I want to kill her!'
She added: 'She's my daughter, I can do whatever I want,' police said.
According to the National Post, Ms Ebrahimi stayed out late two nights in a row against her parents' wishes.
Her father, Ebrahim Ebrahimi, had been downstairs in the basement, attempting to talk to her.
Ms Keleki, 40, told the police that she then went upstairs to fetch a kitchen knife, then telling her husband that she needed time alone with Bahar and not to interrupt them.
The Post reported that Kaleki, who was born in Afghanistan, then asked her daughter to lay face-down so she could give her a back massage. When Ms Ebrahimi was lying on her stomach, her mother allegedly began stabbing her neck.
She told investigators during her confession that her eldest child pleaded with her to stop, but she said, 'It's for your good. Let me finish.'
Hearing screams from the basement, Kaleki's husband rushed down. Ms Ebrahimi managed to run upstairs and barricade herself in a bedroom. She then called 911.
According to Global Montreal, Kaleki's defence lawyer Isabel Schurman said that her client was 'mentally distraught' when she confessed to the crime.
She is requesting a voir-dire so that the statements Kaleki made to police would be rendered inadmissible.
However, those in the courtroom heard that Kaleki had indeed been informed of her Miranda rights.
Furthermore, the blood on Kaleki's clothing counted as evidence to her crime, according to the Montreal Gazette. Police consider the alleged attempted murder to be an 'honour-crime.'
The full four-hour police interrogation video, shot hours after the alleged stabbing, was shown to the court during the trial.
Near the end of it, she can be heard saying that her daughter would live with her neck wound for the rest of her life. She said that the experience 'will make her strong and give her wisdom… it means she will give up her ways of living.'
Kaleki posted bail and has been granted permission to see her three other daughters, but only under supervision.
The trial will continue next Thursday.
http://www.dailymail.co.uk/news/article-2210688/Its-good-Let-finish-Mother-confesses-stabbing-daughter-19-neck-stayed-late.html#ixzz27x1VZQ2t
------------
Men Can Beat Wives on Conditions, Says Salafist Leader
Saturday 29 Sep 2012
Salafist cleric Yasser Borhamy denies accusations of a deal with former military candidate Ahmed Shafiq, argues against constitutional articles forbidding men from beating their wives
Popular Salafist preacher Yasser Borhamy confirmed in a media statement Friday that the meeting which he was blamed for attending, with former presidential candidate Ahmed Shafiq, was part of an initiative made by El-Nour Party to mediate between different groups.
Borhamy said the meeting was arranged because of the rising fear at the time that Shafiq might win. He confirmed that discussions tackled only very specific points, including that violence should not be used against protesters, that the Muslim Brotherhood should not be again isolated, that Copts should not be given any "special position" in society and that Quranic verses should not be removed from school curriculums.
According to Borhamy, El-Nour Party member Ashraf Thabet, who had earlier also come under attack for meeting with Shafiq, was also present during the talks, which were only part of an initiative that also included several other meetings with various concerned parties, like the Supreme Council of the Armed Forces (SCAF) and the Muslim Brotherhood.
Borhamy underlined that no deal had been struck with Shafiq, although he had requested that the Salafists support him in the second round presidential elections. "Everyone knows the Salafist Call supported Morsi," stated Borhamy.
The Salafist El-Nour Party, of whom Borhamy is known as its "godfather," has been experiencing deep internal divisions of late. After the party's Supreme Committee withdrew confidence from Chairman Emad Abdel-Ghafour last Wednesday, Abdel-Ghafour claimed that several committee members, including Thabet, had been negotiating with Shafiq. Borhami also faced similar accusations.
The controversial preacher went on to warn the media Friday in Kafr El-Dawwar that liberals were attempting to remove from the constitution restrictions on gender equality established by Islamic jurisprudence.
"We do not support violence against women, but God allowed a certain form of beating," said Borhamy, arguing that in Islam the husband is permitted to beat his wife as long as no physical damage or scar would result.
Borhami is known for his controversial statements, including one in which he reiterated his stance on Jews and Christians, describing both as infidels.
"I hold on to my stance that Jews and Christians are infidels, but they do have rights that Allah has given them," he once stated during a press conference in Dakahliah, north east of Cairo.
Borhamy, the deputy leader of the Salafist Call (Al-Dawaa Al-Salafiyya), was instrumental in forming El-Nour Party in 2011, commonly viewed today as Al-Daawa's political arm.
El-Nour Party was the second biggest winner in parliamentary elections in November 2011, behind the Muslim Brotherhood's Freedom and Justice Party (FJP).
Borhamy is a professional surgeon who began his preaching activities in the 1970s. He contributed to the establishment of the Salafist Call in Egypt and is a member of the movement's six-man Trustees Council.
http://english.ahram.org.eg/NewsContent/1/64/54254/Egypt/Politics-/No-deal-with-Shafiq;-men-can-beat-wives-on-conditi.aspx
------------
Fighting Egypt's Sexual Harassment Epidemic, One Step At A Time
By DALLIA MONIEM
September 29 2012
It has already been labelled as an "epidemic" by rights groups, but it seems in post-revolution Egypt sexual harassment has become worse rather than better. The harassment of women continues on the streets, at times escalating to mob levels, and it has now reached the point where taking steps to eradicate this social malaise has become an absolute necessity.
The cases of CBS reporter Lara Logan and British journalist Natasha Smith are such examples of women getting attacked by a mob and while they attracted international media attention, for many Egyptian women is has been the norm rather than the exception, though not always to the horrendous levels the two faced.
A 2008 study by the Egyptian Centre for Women's Rights (ECWR) revealed shocking figures that 83 per cent of Egyptian and 98 per cent of foreign women in the country have been subjected to some form of sexual harassment. The report came in the wake of the case of Noha Roshdy who was the first person to ever file a sexual harassment case in the country, resulting in her abuser being imprisoned.
At the time Ms Roshdy said: "If women continue to silently put up with the daily sexual harassment in the Egyptian streets, the society will witness new crimes as a result of the mounting oppression women feel when they get harassed."
Back then her words were not heeded but four years later, steps are now being taken to highlight the issue and raise awareness in a society which has almost tacitly accepted what occurs with many choosing to turn a blind eye to the problem.
In an interview with the BBC, Said Sadek, a sociologist from the American University in Cairo, believes the problem is deeply rooted in Egyptian society; a mixture of what he calls increasing Islamic conservatism on the rise since the late 1960s, and old patriarchal attitudes.
"Religious fundamentalism arose, and they began to target women. They want women to go back to the home and not work. Male patriarchal culture does not accept that women are higher than men, because some women had education and got to work, and some men lagged behind and so one way to equalise status is to shock women and force a sexual situation on them anywhere."
Police apathy
Right groups also believe that the distinct lack of police enforcement is an issue and that more effort on their part is needed if the blaze of sexual harassment is to be put out.
However, it appears actions undertaken by the authorities in the past have had a hand in the sudden explosion of sexual harassment incidents in Egypt. The Arabic daily Al Akhbar reports: "In May 2005, the police recruited paid gangs to sexually harass women taking part in marches in downtown Cairo. The protests were called by the opposition to encourage people to boycott a referendum on constitutional amendments.
"Back then, five human rights groups said that the testimonies they took directly from victims and eyewitnesses had established that 'the assaults perpetrated by the security personnel and the gangs of the National Democratic Party (the ruling party at the time), were not random incidents, but were carried out on specific orders aimed at humiliating women'...After this incident, sexual harassment spread across the country like wildfire."
A number of other studies have also shown that various other factors have had a significant say as the "vast majority of Egyptians believe sexual harassment against women is on the rise in Egypt, because of economic conditions, the lack of awareness and the lack of religious values". Not reporting harassment has also been cited as a reason for its continuation and increase as only 2.4 per cent of victims file a case with the police while 96.7 per cent of Egyptian women do not seek police assistance. Many believe increased citations would force the hand of the authorities into taking action.
In regards to legislature, there is not one article in the constitution that directly addresses nor explicitly defines sexual harassment but there are some that are applicable.
Taken initiative
Article 306 relates to "insulting" which "can be applied to cat-calling and other verbal harassments". The punishment ranges from a fine to a one-month stint in prison. Article 278 is about 'indecent behaviour' – cases of "indecent exposure, trailing and stalking with punishment ranging from a fine to three years in prison." Article 268 covers 'sexual assault' and applies to "cases of touching and other physical harassment with punishment ranging from three to 15 years in prison."
Whether such similar articles or even more clear cut ones will be addressed in the new constitution remains doubtful as already various women and rights groups have raised their objections and fears over the fact the new legislative document allegedly includes in Article 36 of the 'Rights and Duties' section which reads: "The state is committed to taking all constitutional and executive measures to ensure equality of women with men in all walks of political, cultural, economic and social life, without contradicting the precepts of Islamic Law."
What that particular wording "without contradicting the precepts of Islamic Law", its interpretation and how it will be applied remains to be seen, but for many it does not bode well.
But rather than wait for legislation to be stepped up and comply with facing the ever worsening issue of sexual harassment, various groups and initiatives have decided to take matters into their own hands and initiate steps to counteract and eradicate this social ill.
The Sexual Harass map is one such initiative started by Rebecca Chiao after she moved to Egypt to work in a women's NGO. The source map idea is simple: when a sexual harassment incident is reported a red dot appears on the map and it grows in proportion to the number of incidents reported in that particular area complete with personal case reports pertaining to the issue in the areas harassment cases were reported.
Platform
The women can use their mobile phone to report all incidents either via text message or email, where they're listed by type: touching, catcalling, ogling, stalking and/or following, indecent exposure and rape or sexual assault. The harassment map was the first of such initiatives that tackled the problem head on, giving women the platform to report these incidents.
Fast-forward to post-revolution Egypt and many have taken the matter into their hands rather then wait for the authorities to deal with the problem. Banat Masr Khat A7mar (Egypt's Women are a Red Line -meaning they cannot be crossed), Welad El Balad (The Sons of the Country), Imprint Movement, Al Fouada Initiative and Estargel (Behave Like a Man/Man Up) are just some of the groups set up to combat the problem by working from the grassroots level up.
From holding workshops to raise public awareness and setting up 24 hour hotlines to talking directly to male youths amongst whom the number of perpetrators is significant; the groups and NGOs are starting to make a difference. Volunteers are trained on the legal aspects and the constitutional articles that deal with harassment in order to inform women of their rights and what they can and should do when faced with sexual aggressors.
They're also trained to approach harassers from a number of different levels; on some the religious angle can prove to be very effective while for others values especially those of "chivalry" and "male machismo", which are very important to most Arab men, is very effective.
Cultural barriers
Cultural barriers have also been one of the bigger obstacles campaigners and volunteers face when talking to others about sexual harassment. What is viewed as a "respectable" dress code in comparison to what isn't most often becomes blurred as it comes down to an individual's perception and belief, especially as ECWR reports that the majority of women harassed wear the head veil.
Dina Farid the founder of Banat Masr states "One of the most popular delusions among men in Egypt, which we hear a lot is that 'respectable' women do not get harassed." The common belief that wearing provocative clothing is cause enough for men to harass women has always been thrown up as a reason and one many believe.
Not so says Farid, "Not only is this unjust against women who have the right to walk down streets without getting harassed, regardless of what they wear, but it also implies that men are helpless people who cannot control their sexual desires, which is very insulting to men," she insists.
The establishment of these action groups indicates there is a change in attitude amongst people, that remaining silent on sexual harassment is no longer option and that there some willing to take the initiative in light of the governments lack of action.
As Sherine Badr the founder of Estergel says "I am optimistic that our efforts would make a change. At least now the problem of sexual harassment is unveiled, which is the first step to solving it; and we are not going to give up on the fight."
http://www.africareview.com/Special+Reports/Combating+Egypts+sexual+harassment+epidemic/-/979182/1521030/-/pfe0k5/-/index.html
------------
Violence Stalks Women Workers in Afghanistan
September 30, 2012
Kabul: Muzhgan Masoomi's attacker stabbed her 14 times with a thick blade used to slaughter animals, tearing wide gashes in her flesh before leaving the government worker for dead on the outskirts of the Afghan capital.
With a severe limp and no control over her bladder - caused by the blade scraping her spinal cord - the 22-year-old can no longer work at the Ministry of Public Works, where she was a financial assistant before the assault.
Women who pursue careers in ultra-conservative Afghanistan often face opposition in a society where often they are ostracised - or worse, brutalised - for mixing with men other than husbands or relatives.
Despite commitments to better the rights of women 11 years into the NATO-led war, some say the authorities need to do more to prevent violence against women who work, particularly in government roles.
Full report at:
http://www.ndtv.com/article/world/violence-stalks-women-workers-in-afghanistan-273808
--------------
Tehran Court Finds Reuters Guilty Over Describing Female Martial Artists As "Assassins
Sep 30, 2012
A court in Tehran finds London-based Reuter's news agency guilty over a report describing a group of female Iranian martial artists as "assassins," Press TV reports.
A jury member at a Tehran penal court told Press TV on Sunday that the news agency was found guilty of propagating against the Islamic Republic and disseminating false information to disturb public opinion.
The court is supposed to issue its ruling early next month. Reuters can appeal the verdict.
Reuters appeared in a court hearing in Tehran on Sunday after young Iranian girls training in Ninjutsu filed defamation charges against Reuters in February for describing them as killers-for-hire.
Full report at:
http://presstv.com/detail/2012/09/30/264259/tehran-court-finds-reuters-guilty/
--------------
Statement by FJP Women's Committee in Support of the Syrian People
September 29,2012
We, the Women's Committee of the Freedom and Justice Party (FJP) in Cairo, reiterate our full support for all the Syrian people's efforts to defend their right to freedom and dignity. We also announce our complete solidarity with Syrian women, who set a wonderful example in defense of their cause, for which they made great sacrifices in order to give future generations a new path to freedom and independence, away from the evils of dictatorship and tyranny and repression.
We stress that the suffering of the Syrian people can no longer be tolerated. The bloody regime that declared war against freedom, dignity and humanity must no longer be allowed to persist in its systematic killing – bordering on genocide.
Full report at:
http://www.ikhwanweb.com/article.php?id=30304
--------------
UAE Mother of Nation Awarded Honorary Doctorate from a South Korea University
27 September 2012
Dankook University of South Korea has awarded honorary doctorate degree in education to His Highness Shaikha Fatima bint Mubarak, Chairwoman of General Women's Union, and of the Family Development Foundation and Chairwoman of Supreme Council for Motherhood and Childhood.
The degree was awarded to Shaikha Fatima in recognition of her distinguished role in supporting women's progress in particular and also for supporting social work and education in general.
Full report at:
http://www.khaleejtimes.com/kt-article-display-
--------------
Bahraini Women's Achievements
29/09/2012
(MENAFN - Arab News) Visitors to Bahrain will instantly notice the participation of Bahraini women in all affairs. They are everywhere; working at shopping malls, supermarkets and bookstores. They are also seen driving cars when they go to work at government and private sectors, to their universities, taking their children to school and back to home or running their errands.
However, seeing them doing all these in their traditional attire, which is the dress of Gulf women, some visitors from neighbouring Gulf countries and the West, are surprised at the level of involvement of Bahraini women in all activities. Some even wonder how, in an Islamic Gulf country, women can be so active.
Full report at:
http://www.menafn.com/menafn/1093564048/Bahraini-womens-achievements
--------------
URL: https://www.newageislam.com/islam,-women-and-feminism/new-age-islam-news-bureau/muslim-girl,-19,--brutally-stabbed-in-neck-by-mother-for-staying-out-too-late-/d/8834