New Age Islam News Bureau
20 Dec 2019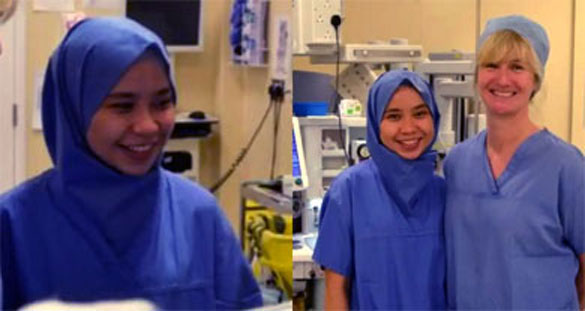 Dr. Farah Roslan has invented and introduced the world's first disposable hijabs.
------
• Muslim Doctor Invents 'Disposable Hijab' For Religion and Passion in UK
• Scrap CAA-NRC Forthwith, Muslim Women's Association Tells PM Modi
• Ex-Islamic State Fighters, Women and Children Return To Bosnia from Syria
• Moradabad: Muslim Women Protest against CAA, Appeal Govt for Roll Back Of New Law
• Irish Woman Facing Islamic State Charges Granted Bail
• PA Passes Law to Provide Rights to Sindh's Women Agriculture Workers
• Man Charged With Battery of 3 Muslim Women in Little Italy Heads to Trial
• All Muslim, All Women Comedy Show Makes Stop in Culver City
• Judge: No More Jail Time for Man Who Intimidated Iraqi-American Woman
• Muslim Woman Attacked in Alleged Little Italy Hate Crime Testifies at Suspect's Hearing
Compiled By New Age Islam News Bureau
URL: https://www.newageislam.com/islam-women-feminism/muslim-doctor-invents-disposable-hijab/d/120581
------
Muslim Doctor Invents 'Disposable Hijab' For Religion and Passion in UK
By Hannah Frishberg
December 19, 2019
A Derby, England hospital has become the first in the UK to make sterile hijabs available to employees.
The disposable headscarves were introduced by a medical resident who came up with the idea while in training.
"I'd been using [the same headscarf] all day, which obviously wasn't clean and ideal," Farah Roslan, who is Muslim, tells BBC Radio. "I didn't feel comfortable taking it off and I was pulled out from the theater, respectfully, due to infection control."
At the time, Roslan was a medical student with University Hospitals of Derby and Burton NHS Foundation Trust, and she looked to her native Malaysia to think up a solution to keep her faith and pursue her medical "passion." So she tested fabrics and designed the prototype of both a functional hijab and an inexpensive, disposable, hospital-grade scrub.
"I am so happy my vision has become a reality and that these headscarves are now available for all of the staff," she says in a press release from the hospital.
The one UK hospital that now offers the disposable hijabs is very pleased with the innovation as well.
"We are proud to be national leaders of good practice and inclusivity," the hospital writes in the release.
Now Roslan hopes more hospitals across the country will adopt the doctor-approved headwear.
"I'm really happy and looking forward to seeing if we can endorse this nationally," she says.
Dr. Gill Tierney, a consultant surgeon and Roslan's mentor when she was a medical student, said the dilemma had flown under the radar until her fix. "We know it's a quiet, silent issue around theaters around the country and I don't think it has been formally addressed," she says. "It hasn't cost much and hopefully the effect will be enormous."
The headscarves became available to the hospital's staff earlier this month.
https://nypost.com/2019/12/19/muslim-doctor-invents-disposable-headscarves-for-uk-hospital/
------
Scrap CAA-NRC forthwith, Muslim women's association tells PM Modi
December 19, 2019
Asserting their right to peaceful protest, the Bharatiya Muslim Mahila Andolan (BMAA) on Thursday demanded that Prime Minister Narendra Modi must immediately announce scrapping of the Citizenship (Amendment) Act (CAA) and the National Register of Citizens (NRC), and slammed the imposition of Section 144 in Delhi and several Indian states to block protests, a spokesperson said.
BMMA chief Zakia Soman urged Modi to assure citizens that the CAA-NRC will never be implemented in the country, and condemned the police atrocities against students in the national capital's Jamia Milia and Aligarh Muslim University.She called upon the Prime Minister to unequivocally announce that the CAA and NRC will not be implemented now or in future with an assurance to all citizens, especially Muslims, that they will not be subjected to an NRC witch-hunt as witnessed in Assam.
"Muslim women members of BMMA have joined the nationwide protests. However, our right to peaceful and democratic protest has been violated by imposing Section 144 in Delhi, Gujarat, Karnataka, Uttar Pradesh, Telangana and Tamil Nadu," Zoman said.
She accused the police of refusing permissions for peaceful protests at various locations, besides imposing restrictions, which "is a gross violation of our democratic right to speak out our minds".
"We condemn this high-handedness of various governments in an attempt to suppress the voices of dissent. Ordinary people, women and men are being coerced into silence with the help of police and by undemocratic methods," Soman said.
The BMMA has demanded that the CAA must be revoked with immediate effect and all sections of Indian citizenry must be reassured that that there will be no tinkering in any manner with their citizenship.
Soman also urged the National Human Rights Commission, National Commission of Minorities, National Commission of Women and their state counterparts, to intervene for upholding the citizens' right to peaceful democratic protest.
https://www.indiatvnews.com/news/india/scrap-caa-nrc-muslim-women-s-association-pm-modi-citizenship-law-protest-delhi-bengaluru-572426
------
Ex-Islamic State fighters, women and children return to Bosnia from Syria
DECEMBER 20, 2019
SARAJEVO (Reuters) - A group of 25 former Islamic State fighters, women and children, some of them orphaned, returned to Bosnia on Thursday, the prosecutor's office and the security ministry said.
Seven men have been handed over to the state prosecutor while six women and 12 children were taken to a reception center for further examination and medical assistance, the security ministry said.
Some had been sought on international arrest warrants and the suspects were under investigation for the offences of organizing a terrorist group, joining foreign paramilitary groups, and terrorism, the prosecutor's office said in a statement.
Bosnia's state court has tried and convicted 46 people who returned from Syria or Iraq over the past few years.
Islamic State lost its last territorial foothold in Syria in March this year and many of its militants are now believed to be in Kurdish-run prisons in northern Syria.
https://www.reuters.com/article/us-syria-security-bosnia/ex-islamic-state-fighters-women-and-children-return-to-bosnia-from-syria-idUSKBN1YN2JC?feedType=RSS&feedName=worldNews&utm_source=feedburner&utm_medium=feed&utm_campaign=Feed%3A+Reuters%2FworldNews+%28Reuters+World+News%29&&rpc=401
------
Moradabad: Muslim women protest against CAA, appeal govt for roll back of new law
December 19, 2019
A group of Muslim women on Thursday protested against the Citizenship Amendment Act (CAA) in Uttar Pradesh's Moradabad and demanded that the government must take back the law as it is "against their community."
Holding a peaceful protest against the act, the women carried placards which read, "I reject CAA", "Withdraw NRC and CAB", among others.
Speaking to ANI, one of the women protestors, Iqra Hyder hit out at the Central government and said: "We (Muslims) are not getting the right to equality. We are Muslims but they are dominating us. We have an equal right as other people."
"Why CAA does not include Muslims," she asked.
Condemning the police action over students of Jamia and other universities, another woman protestor said: "Why the government is suppressing the voice of students. Why are they beating them? It is right of students to question the government on each and every issue."
Keeping in mind the scheduled protests against the CAA, the administration has placed 62 people from across Uttar Pradesh under arrest and had urged close to three thousand others not to take part in demonstrations and rallies, according to officials from the police department.
(This story has not been edited by Business Standard staff and is auto-generated from a syndicated feed.)
https://www.business-standard.com/article/news-ani/moradabad-muslim-women-protest-against-caa-appeal-govt-for-roll-back-of-new-law-119121901361_1.html
------
Irish woman facing Islamic State charges granted bail
By Aoife Moore, PA
December 19 2019
An Irish woman who is an alleged member of the so-called Islamic State group has been granted bail.
Lisa Smith, 37, a former member of the Irish Defence Forces, was granted bail following an appeal hearing at Cloverhill District Court in Dublin on Thursday afternoon.
She was arrested at Dublin Airport on suspicion of terrorist offences after returning from Turkey last month.
She was charged with membership of an unlawful organisation, under 2005 terror legislation, before Mr Justice Colin Daly. She had previously been refused bail on the grounds that she could be a flight risk.
Smith, who was being held in Limerick Prison, was granted bail on appeal after evidence was obtained from Professor Anne Speckhard.
Prof Speckhard, director of the International Centre for the Study of Violent Extremism (ICSVE), had examined Smith in Syria and confirmed the accused did not strike her as a dangerous person, and appeared to have "no interest in rejoining or returning to the Islamic State".
"As a child development expert, I should also say that it would be in the best interest of her child to be reunited with her mother as quickly as possible and not interrupt their bonds of attachment, if at all possible," Prof Speckhard wrote.
"(The child) has been living in very dangerous circumstances with her mother for a long time and separating her from her mother, who obviously loves her, is just one more psychological trauma in her young life.
"I would also note that Lisa appeared to be a most attentive and kind mother during the time I observed her and she appeared very protective of her child."
Smith was represented by Michael O'Higgins and David Leonard, instructed by Darragh Mackin and Peter Corrigan of Phoenix Law.
Mr Mackin said: "Our client has continuously denied her involvement in the alleged crimes.
"It is clear from the uncontradicted report by the internationally renowned Professor Speckhard, who advises governments and state agencies across the world, that Lisa does not strike her as a dangerous person, nor somebody who would abscond or commit further offences.
"For all of those reasons, Lisa should, as the court rightly concluded today, be admitted to bail to return to her family."
https://www.belfasttelegraph.co.uk/news/republic-of-ireland/irish-woman-facing-islamic-state-charges-granted-bail-38800053.html
------
PA passes law to provide rights to Sindh's women agriculture workers
Hasan Mansoor
December 20, 2019
KARACHI: The Sindh Assembly on Thursday passed the Sindh Women Agriculture Workers Bill, 2019, providing rights to women who carry out agriculture and livestock activities. The law concerns their pay and minimum wages, gives them recognition and ensures measures for promotion and protection of their rights.
The bill was presented by the chairman of the standing committee on labour and human resources, Shahid Thaheem, after detailed scrutiny of the original draft that had earlier been presented by the government in the house.
Parliamentary Affairs Minister Mukesh Chawla presented the bill clause by clause in the house with Deputy Speaker Rehana Leghari in the chair and got it passed unanimously.
The bill offers a law to provide for the recognition of women's work in agriculture sector, including farming, livestock and fisheries and related sectors and promotes and protects their rights to ensure their participation in decision-making and foster empowerment.
Law says women farm workers cannot be paid less than minimum wage
It ensures various long-denied rights to the women agriculture workers.
"A woman agriculture worker shall receive pay in cash or in kind, for any agriculture work undertaken individually, or as part of a family unit, on land and livestock belonging to her or her own family, or to someone else which shall be an equal to pay received by male workers for same work," said the bill.
The pay of a woman agriculture worker shall not be less than the minimum wages fixed by the government, it said.
"The working day of a woman agriculture worker shall not exceed eight working hours, and shall not commence until one hour after daybreak, or continue beyond one hour prior to sunset."
It said these workers shall take time off work due to sickness or for antenatal and postnatal care and routine check-ups.
A woman agriculture worker is entitled to 120 days of maternity leave.
Every woman agriculture worker is entitled to iddat leave.
The law says female agriculture workers having children of up to two years of age may breastfeed their children in safe and hygienic conditions and in the first six months of a child's life a worker should receive the necessary support to exclusively breastfeed her child.
They should have the right "to access government agricultural, livestock, fisheries and other services, credit, social security, subsidies and asset transfers in their own individual rights, or in association with other women agriculture workers".
Each of these workers should perform work free from all forms of harassment or abuse.
A woman agriculture worker shall receive a written contract of employment if she so demands.
The law sanctions these workers the right to form unions or associations or to associate themselves with an association.
The new law makes it clear that these workers should not be discriminated against with respect to employment opportunities, wages and working conditions on grounds of sex, land ownership, caste, religion, ethnicity and residential status.
These rights are applicable to all women agriculture workers.
The new law makes the provincial labour and human resources department bound to maintain a register of women agriculture workers at every union council.
Every woman agriculture worker could apply for registration to a union council she resides in.
The registered woman agriculture worker would be issued a Benazir Woman Agriculture Worker Card.
A union of women agriculture workers should consist of at least five Benazir card holders for registration.
The ministries of health, population welfare, local government, women development and labour have been asked to prepare and implement a two-year plan to ensure that their outreach and services are appropriate and accessible to the needs and rights of women agriculture workers.
The house also unanimously passed The Sindh Institute of Physical Medicine and Rehabilitation Bill, 2019 to establish the Institute of Physical Medicine and Rehabilitation keeping in view the increasing number of congenital and acquired disabilities and limited services available in society.
The Sir Cowasjee Jahangir Institute of Psychiatry and Behavioural Sciences, Hyderabad Bill, 2019 was introduced in the house and the draft was referred to the relevant standing committee for consideration.
Faryal welcomed
Earlier, several members, mostly belonging to the ruling PPP, made congratulatory speeches after Faryal Talpur, who has recently been released on bail, entered the house.
During his speech, MQM-P's Mohammad Hussain said the government should make arrangements to ensure that no undertrial woman prisoner should be jailed and instead be held under house arrest.
Minister Chawla requested Speaker Siraj Durrani to form a committee to consider the suggestion about female prisoners.
Health Minister Azra Pechuho told Pakistan Tehreek-i-Insaf's Shahnawaz Jadoon that her ministry was already taking measures against quacks and unlicensed medical stores.
Faryal Talpur thanked the court that granted her bail "on merit".
She narrated her ordeal in Adiala jail, where, she said, she endured worst days of her life.
She said she was charged for misappropriating Rs30 million, while the amount she paid in tax was more than this sum.
https://www.dawn.com/news/1523257/pa-passes-law-to-provide-rights-to-sindhs-women-agriculture-workers
------
Man charged with battery of 3 Muslim women in Little Italy heads to trial
By PAULINE REPARD
DEC. 19, 2019
SAN DIEGO — A 50-year-old man deliberately battered three Muslim women and made anti-immigrant comments in an encounter in Little Italy, according to a prosecutor in court on Thursday, but a defense lawyer called it all "an unfortunate accident."
A San Diego judge presiding over a preliminary hearing heard testimony from one of the women and decided that Kyle Allen should be held for trial on three felony counts of battery with hate crime allegations.
The battery to the first victim "was completely unprovoked," Deputy District Attorney Leonard Trinh told the judge. "The motive, in whole or in part, was bias."
Allen, who is out of custody on bail, faces up to four years and four months in prison if convicted of all charges and allegations.
The confrontation occurred on Oct. 6 along a sidewalk on Columbia Street that was constricted by construction scaffolding.
Najma Mohamed, 29, testified that Allen was walking toward her and her relatives and she moved aside to make room for him to pass. She said, though, that he increased his pace and forcefully "shoulder-checked" her.
The impact caused her to step back and she shoved him on the chest, she said. She said she backed up about 15 feet, then Allen came at her and grabbed her wrists. Her sisters-in-law each grabbed Allen's shirt collar to pull him away from her, Mohamed said.
Mohamed said Allen yanked off a hijab from Safiya Abdirahman's head and struck Halima Abdirahman in the face before some bystanders stepped in. She said Allen then yelled something like "go back to where you came from" before police were called.
Trinh said one of the bystanders who tackled Allen is a firefighter. Mohamed said she recorded part of that scuffle on her cellphone and sent the video to a San Diego police detective.
Defense attorney Kerry Armstrong asked Mohamed if she cursed Allen after shoving him. She denied that, but said she made a comment like, "Yo, what happened?"
She said Allen was looking right at her when he raised his right hand to strike her, but his hand hit her sister-in-law's face.
Armstrong told Superior Court Judge Margie Woods that Allen has no criminal history, but he was intoxicated the afternoon of the Little Italy encounter. The lawyer said Allen hasn't used alcohol since then.
Armstrong asked the judge to reduce the felony charges to misdemeanors, but the judge declined. She set Jan. 6 as Allen's next court date.
https://www.sandiegouniontribune.com/news/courts/story/2019-12-19/little-italy-hate-crime-case-heads-to-trial-in-battery-of-3-muslim-women
------
All Muslim, All Women comedy show makes stop in Culver City
By Gary Luster
12/19/2019
Culver City will play host to "Wallah She's Funny," an all-female Muslim comedy tour Saturday, Dec. 21 at the Robert Frost Auditorium, 4401 Elenda Ave., at 7 p.m.
"Wallah She's Funny" is the latest installment of the hilarious series sponsored by all Muslims and Penny Appeal USA.
The featured comediennes are Zainab Johnson, Hoodo Hersi, Yasmin ElHady, Atheer Yacoub, and Sabeen Sadiq.
The featured comediennes are meant to shed some light on the entire spectrum of the experience of Muslim women as they interact with their communities and the American society at large. "Wallah She's Funny" comedically celebrates contributions of Muslim women in a family-friendly exchange that is timely, and relevant.
Zainab Johnson, a stand-up comedian, and actress bases her comedy on the unique point of view of someone who grew up in Harlem as one of 13 siblings in a Muslim family. Zainab can most recently be seen in her breakout appearance on HBO's All Def Comedy, and has made appearances on NBC's Last Comic Standing, Arsenio, BET's Comic View, MTV's Acting Out, AXSTV's Gotham Comedy Live! and just recently starred in a new web series titled Avant-Guardians, which premiered Nov. 19.
Yasmin Elhady, the daughter of Libyan and Egyptian immigrants, is an attorney, comedian, philanthropist, and relationship expert. After completing a graduate fellowship at the American University in Cairo focusing on Arabic, she attended law school at the UCLA School of Law where she became president of her law class, as well as president of the Muslim Law Students Association. Her roles as mother, daughter, wife, and sister help inform her perspective and relate to other people's joy and pain with humor. You can catch her comedy at her @YasLaughs YouTube page.
Atheer Yacoub is a New York-based comedian, writer, and podcaster. Her comedy is inspired by her Palestinian-Muslim upbringing in Alabama. Atheer recently released her half-hour special for Comedy Central Arabia and has appeared on Gotham Comedy Live on AXSTV.
Yacoub co-hosts The No Fly List Podcast which features funny conversations with other comedians, artists, and interesting people of color. Atheer is also the co-creator of Muslim Girls DTF: Discuss Their Faith, a comedic web series discussing topics that affect brown and Muslim women.
Sabeen Sadiq is an actor/comedian/writer based in Chicago. She developed her comedy chops in San Francisco, performing all over the Bay area at popular venues including Cobbs Comedy Club and the San Jose Improv.
In Chicago, Sadiq played lead roles in the web series' Codeswitched and The Girl Deep Down Below. When she's not acting, you can catch her on her comedy tour "Outcasted", which has already had sold-out shows in NYC, Washington DC, Boston, Philadelphia, San Francisco, and most recently it was featured in Steppenwolf Theater's "Look Out" series, selling out both nights.
All proceeds of the "Wallah She's Funny" show will be donated to Penny Appeal USA, a nonprofit development organization working to alleviate poverty through sustainable programs. Their mission is to bring about an equitable world by tackling the root causes of poverty while bridging the gap between funders and poor communities in order to work together on long-term solutions that can help end intergenerational poverty.
The regular ticket price for the event is $35 however, a limited number of online early discount tickets can be had for $25.
The comedy show is rated PG-13, meaning that the subject matter, which includes dating and gender relations, is not suitable for children under 13.
For more information on the "Wallah She's Funny" comedy tour including the dates for future shows, please visit www.wallahshesfunny.com.
https://www.culvercitynews.org/all-muslim-all-women-comedy-show-makes-stop-in-culver-city/
------
Judge: No more jail time for man who intimidated Iraqi-American woman
By Dan Sullivan
TAMPA — A federal judge said Thursday that a man who harassed and intimidated an Iraqi-American woman in her Pasco County neighborhood — accusing her of being a terrorist, entering her home without permission and threatening her — should serve no more jail time.
U.S. District Judge James Moody sentenced David Bouileau to time served for what prosecutors said amounted to a hate crime. He also gave Boileau a year of supervised release and ordered that he is not to come within 150 feet of Rana Al-Hakeem, her family, or her home.
The sentence stunned both her and a group of supporters who were visibly flummoxed after the sentencing hearing at the downtown Tampa courthouse. In tearful testimony, they spoke of the ever-present fear that Boileau brought to the neighborhood and their concerns that he might come back.
"We're extremely disappointed with the judge's use of discretion in this case," said Thania Clevenger, a civil rights director with the Council on American-Islamic Relations in Florida. "It did not provide the safety that this family and the entire neighborhood need."
The judge, while not discounting statements from the witnesses, explained that even if he imposed the maximum one-year sentence, it would only mean Boileau would remain incarcerated for a few more months. Moody also agreed with a defense attorney's argument that the crime was not born of racism but of mental illness.
"I think it's his mental illness that was instrumental in causing these problems," Moody said. "Keeping him in jail another 5 1/2 months does nothing to solve the situation we're in."
Doctors have diagnosed Boileau with bipolar disorder, Assistant Federal Public Defender Adam Allen said. His behavior was the result of delusions that his neighbors were terrorists. He no longer has a home in Pasco County and has received mental health treatment.
When prosecutor Francis Murray asked that Boileau be subject to electronic GPS monitoring, the judge declined.
Boileau, 58, pleaded guilty in September to a federal charge of interfering with housing rights related to various acts he committed while living on Pinehurst Drive in Holiday.
Al-Hakeem lived in a house nearby. She is Muslim and was born in Iraq. She is a widow and the mother of two boys and two girls. She was a university professor in her native country with a Ph.D. in information analysis. Her sister provided translation services to the U.S. military, which made the family a target of death threats. The family had to move frequently.
She came to the U.S. in 2015 on a refugee visa. She didn't speak English well, she said, and took any job she could find. She studied computer science at Pasco-Hernando State College.
"I tried my best to be a good mom, a good citizen," she said.
Her neighbors were welcoming, she said. But after Boileau moved nearby, she became afraid to be in her own home.
When Boileau learned she was a Muslim of Middle Eastern heritage, he began to tell people he suspected she was a member of the ISIS terrorist organization. He also began what federal officials said was a series of acts aimed at intimidating her and her family.
Over the course of two days in January, he tossed metal screws onto a car parked on her property. He peered into her yard through a privacy fence and into her house. He opened her mailbox and read through her mail. He knocked on her front window and yelled, "Hey!" He later walked inside the house without permission, looked through each of the rooms and took pictures.
https://www.tampabay.com/news/2019/12/19/judge-no-more-jail-time-for-man-who-intimidated-iraqi-american-woman/
-----
Muslim Woman Attacked in Alleged Little Italy Hate Crime Testifies at Suspect's Hearing
December 19, 2019
One of three Muslim women who police say were targeted in a hate-crime attack for wearing hijabs in the heart of Little Italy testified in court against their alleged attacker on Thursday.
At Kyle Allen's, 50, preliminary hearing on Thursday, Najma Mohamed described the events on Oct. 3 as a "violent and aggressive" attack on her and her two sisters-in-law.
After her testimony, a judge ordered Allen to stand trial on three counts of battery with an additional hate crime charge in connection with the attack. Allen pleaded not guilty to the charges.
Mohamed and her family were all wearing hijabs as they walked along Columbia Street in the heart of Little Italy after brunch at Morning Glory.
She saw Allen coming towards her and tried to move out of the way to make room for him. That's when he lowered his shoulder and rammed it into her, Mohamed testified.
He then grabbed one sister-in-law's hijab and pulled it off her head before punching her other sister-in-law in the face, she testified.
More than a dozen passersby jumped in to help the women, Mohamed said.
Police said during this confrontation, Allen allegedly made a racist remark, which Allen's lawyer, Kelly Armstrong, rebutted.
"He was yelling 'Go back to your country," Mohamed said. "At one point, he pointed to the three of us, 'F you this, F you that. Go Back to where you came from.'"
A passersby followed Allen to his apartment and directed police to the area. When police knocked on Allen's door, he answered the door holding a hand gun, police said. About 10 guns were found in his apartment.
Allen complied with police and was taken to jail.
That hate crime addition allows the three counts of battery to be classified as felonies instead of misdemeanors.
Allen is currently out on bond. If convicted, he could face a maximum sentence of 4 years and 4 months in prison.
https://www.nbcsandiego.com/news/local/muslim-woman-attacked-in-alleged-little-italy-hate-crime-testifies-at-suspects-trial/2232780/
------
URL: https://www.newageislam.com/islam-women-feminism/muslim-doctor-invents-disposable-hijab/d/120581
New Age Islam, Islam Online, Islamic Website, African Muslim News, Arab World News, South Asia News, Indian Muslim News, World Muslim News, Women in Islam, Islamic Feminism, Arab Women, Women In Arab, Islamophobia in America, Muslim Women in West, Islam Women and Feminism