New Age Islam News Bureau
18 Feb 2020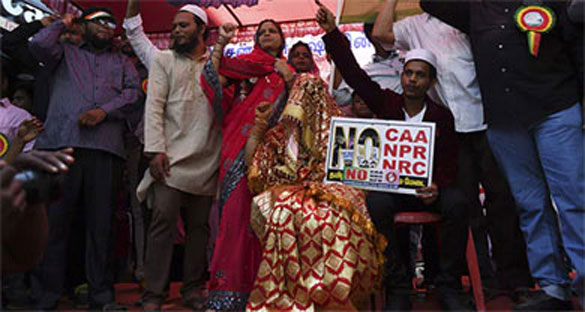 The couple held a "No CAA" placard during their marriage ceremony. (AFP)
-----
• Muslim Couple Conducts Wedding Of Adopted Hindu Girl in Hindu Temple
• Muslims Perform Last Rites of Sikh Woman as Per Sikh Tenets in Malerkotla, Pakistan
• Muslim Woman Ensures Dignity Indeath for Unclaimed Bodies in Chikkamagaluru
• Israel Police Set to Get First Hijab-Wearing Muslim Lieutenant
• Shaheen Bagh's Women Have Transformed Who Speaks For India's Muslims, Says NYU Anthropologist
• Women, Children Injured In Police Lathi-Charge Against Anti-CAA Protesters In North Chennai
• Good to See Muslim Women at Anti-CAA Dharnas and Protests, Says Sumitra Mahajan
• Imprisoned Iranian Women Call For Boycott Of Upcoming Elections In Iran
• Women Set On Azaadi March In Pakistan
• FIFA Demands Iran Allow Women To Attend All Football Matches
• I Loosened My Hijab At A Chess Championship. Now I'm Afraid To Return To Iran.
• Beaten During Arrest Prominent Iranian Female Activist on Hunger Strike
• Women in Decision-Making Roles Inspire Future Generations, Dubai Forum Told
• 'Be Yourself' Ex-British PM May Advises Women in Politics
• World Must Fight Anti-Vaccine Drive, Says Women In Science Winner From Bangladesh
• 'No One Is Listening': Pakistani Mothers Jailed In Saudi Arabia Call For Help
• Passion Grips Baloot Championship As Women Face Off Men For The First Time
• Israeli Soldiers' Phones Hacked By Hamas 'Women'
Compiled By New Age Islam News Bureau
URL: https://www.newageislam.com/islam-women-feminism/muslim-couple-gets-married-anti/d/121093
--------
Muslim Couple Gets Married At Anti-CAA Protest In Chennai
February 17, 2020
Chennai: A Muslim couple, holding an anti-Citizenship Amendment Act placard, got married at the venue of a protest in Chennai on Monday.
The couple, Sumayya and Shahin Shah, got married at a protest venue in North Chennai.
The Imam introduced the couple to the gathering and community elders blessed them. After a brief ceremony during which the tricolour fluttered in the background, the couple was showered with gifts.
The newly weds have been actively taking part in anti-CAA protests and decided to tie the knot at the venue, with elders agreeing to it.
The bride was dressed in a bright red saree with zari work, while the groom wore maroon.
The protest has been on at Old Washermanpet in north Chennai since February 24 and has been dubbed as "Chennai's Shaheen Bagh" on social media.
Muslims form a sizeable chunk of the population in the area. Two streets serve as a protest venue and volunteers have put up a lengthy pandal to provide shade
https://www.ndtv.com/chennai-news/caa-muslim-couple-gets-married-at-protest-in-tamil-nadu-2181614
--------
Muslim Couple Conducts Wedding Of Adopted Hindu Girl in Hindu Temple
February 17, 2020
Kerala: A Kerala Muslim couple conducted the wedding of their Hindu foster daughter at a Bhagavathi temple in Kerala, scripting another tale of communal harmony at Kasaragod.
The wedding ceremony was held on Sunday.
The woman Rajeshwari tied the knot with Vishnu Prasad in the presence of family and friends belonging to both Hindu and Muslim communities.
Abdulla and Khadeeja adopted Rajeshwari after her father who worked at Abdulla's farm died. Rajeshwari's mother also passed away when she was a child.
Rajeshwari grew up alongside Abdulla and Khadeeja's three sons- Shameem, Najeeb and Shereef.
Earlier in January this year, cutting across the lines of religion, a mosque in Kerala's Kayamkulam hosted a Hindu marriage ceremony.
https://gulfnews.com/world/asia/india/muslim-couple-conducts-wedding-of-adopted-hindu-girl-in-hindu-temple-1.1581943311823
--------
Muslims Perform Last Rites of Sikh Woman as Per Sikh Tenets in Malerkotla, Pakistan
February 17, 2020
Muslim families of tubewell colony in Malerkotla performed the last rites of Sikh woman Rani (55), a divorcee who died on Saturday, as per Sikh tenets. After her death, when none turned up from her family, her neighbours — all Muslims — pooled in money for the cremation.
The body was cremated on Sunday and the ashes were immersed in a canal the next day. An "akhand path" will be organised in a local gurdwara and the "bhog" ceremony will be on Sunday.
"Rani got divorced 15 years ago. Since then, she had been staying in tubewell colony here in a rented accommodation owned by a Muslim family. She used to work as a maid. For the past some days, she was unwell and passed away on Saturday," said Aslam, a resident of ward no 9.
Since her neighbours did not know of the Sikh tenets, they informed the police and expressed their willingness to perform the last rites. On Saturday evening, the police placed the body in a Malerkotla mortuary. When none turned up, Muslims pooled in money and requested the police for permission to cremate the body.
Some neighbours of the deceased told The Tribune that Rani was famous as "Rani aunty".
SI Nirbhay Singh from the Malerkotla-1 police station said, "The police followed the legal procedure. The body was kept in a local hospital. When no one turned up to claim the body, she was cremated as per Sikh tenets."
https://www.tribuneindia.com/news/muslims-perform-last-rites-of-sikh-woman-43068
--------
Muslim Woman Ensures Dignity Indeath for Unclaimed Bodies in Chikkamagaluru
Feb 18, 2020
Chikkamagaluru: Women are not usually allowed into burial grounds. But in NR Pura of Chikkamagaluru district, a Muslim woman has broken the barrier and won the hearts of locals.
Jubeda Akbar Ali, a 45-year-old Muslim widow, is member of the local town panchayat performs the last rites of unidentified bodies.
This mother of two girls also works as an ambulance driver. She graduated from Koppa First Grade College.
On Saturday, she transported the body of an unidentified person in his fifties in her ambulance and arranged the burial. "He had been ill for many days. After his death, the body was kept in the mortuary for many days. As no one came forward to claim it, we decided to bury it as per rules. As no relative was present, I offered prayers and did the burial," she said.
She said her father wanted her to be involved in social service. She said: "I did my first burial in 2003. A woman's body was being transported in a tractor used to dump garbage. That made me take up this service and provide dignified last rites. Now, if I come across an unidentified body, I organise the funeral and so far, I've buried 10 persons. I learnt driving when I was young and started driving the ambulance two years ago. Some persons donated an ambulance and I ferry patients, the destitute, among others, in it."
For locals, she is a familiar face. "What makes her special is her decision to take up a challenging task like organising a burial for unclaimed bodies," said Raju, a local resident.
https://timesofindia.indiatimes.com/city/mysuru/woman-ensures-dignity-indeath-for-unclaimed-bodies/articleshow/74181065.cms
--------
Israel Police Set to Get First Hijab-Wearing Muslim Lieutenant
FEBRUARY 17, 2020
by Karys Rhea
Sabreen Saadi is set become the first hijab-wearing Muslim woman to attain the rank of lieutenant in the Israel Police.
"I always love to share stories about Arab Israelis since their stories are seldom heard in int'l media," Israeli Prime Minister Benjamin Netanyahu's Arab media spokesperson, Ofir Gendelman, tweeted on Monday. "Congrats to Master Sgt. Sabreen Saadi, a Hijab wearing muslim police officer, who will soon become a lieutenant with the Israeli police!
Ofir Gendelman
✔
@ofirgendelman
I always love to share stories about Arab Israelis since their stories are seldom heard in int'l media.
Congrats to Master Sgt. Sabreen Saadi, a Hijab wearing muslim police officer, who will soon become a lieutenant with the Israeli police!
View image on Twitter
21
7:00 PM - Feb 17, 2020
Twitter Ads info and privacy
See Ofir Gendelman's other Tweets
Saadi comes from a traditional Muslim family in a Bedouin town in northern Israel. She told Yediot Ahronot she had received some threats from others in her community over her choice of career path, but said she was not deterred, stating, "I fear only God."
Since 2016, when the Israeli government established a special unit aimed at improving policing and security in the country's Arab communities, more than 600 Arab men and 55 Arab women have enlisted in the Israel Police. Eight new police stations have been established in the Arab sector, with the intention of adding ten more.
https://www.algemeiner.com/2020/02/17/israel-police-set-to-get-first-hijab-wearing-muslim-lieutenant/
--------
Shaheen Bagh's Women Have Transformed Who Speaks For India's Muslims, Says NYU Anthropologist
18/02/2020
NEW DELHI — For Dina M. Siddiqi, a professor of anthropology at New York University, the women of Shaheen Bagh have changed who speaks for Muslims in India.
"What has really been undermined is going to the usual guys about what Muslims think in India and what they prioritise," said Siddiqi, an expert in gender and feminism in South Asia. "I think that has really gone. These women are very eloquent about what they think should be done and what they want."
The women of Shaheen Bagh — Muslim women who challenged the Narendra Modi government and Parliament over a problematic citizenship law — have passed into folklore for galvanising lakhs of people who oppose the Citizenship Amendment Act (CAA).
Hundreds of women have sat on a public road in a locality called Shaheen Bagh in south Delhi, demanding lawmakers to repeal the CAA, which critics say makes religion the basis of granting Indian citizenship. When combined with the National Register of Citizens (NRC), an exercise to identify people living without documents, critics say, the CAA discriminates against Indian Muslims. Women of all ages have sat, sang, spoken and sloganeered, day and night since December, even on nights when the temperature dropped to 2 degrees Celsius. They have moved thousands, and, on some days, lakhs of people into making their way to the vibrant protest site in the nation's capital. They have inspired other Muslim women to lead the anti-CAA protests in cities across the country.
This unprecedented sit-in has also triggered commentary about the empowerment of Muslim women in India. What that means and will these two months on the frontline wrought any change for them were among the questions that HuffPost India asked Professor Siddiqi, who has family roots in Bangladesh, and who visited Shaheen Bagh in January.
While pointing out that there cannot be one voice that speaks for a community as diverse as Indian Muslims, and there is "no one Muslim woman's voice in India," she said that future voices will no longer be the monopoly of religious men and politicians, who, more often than not, are picked by their political masters to do their bidding.
"That is an enormous step forward for women who are Muslim in India. That is terrific. Nobody is going to go back to those men who were not necessarily representative at all," she said.
Here in India, we are talking a lot about how the women leading the Shaheen Bagh movement is unprecedented in terms of Muslim women exercising agency.
This is an interesting moment. But there are all kinds of things that Muslim women in India have been doing that somehow don't get counted as Muslim women exercising agency. In the controversial teen talaq movement, there were Muslim women who went to the courts. Even when you think about Shah Bano, Muslim women have been using courts to change laws for a while now. They are trying to change nikah halala. There is a lot happening.
But this is a moment of hope for Muslim women movements as well as other movements. When I was at Shaheen Bagh, I heard a speaker say that we did not come out on the streets when the teen talaq thing happened, we did not come out on the streets when the Babri Masjid judgment happened, but we could stand back no longer. And the assumption seems to be that this time it is because of the Constitution and because the Constitution is so sacred. My reading would be that this is a particular moment in India in which Muslims simply cannot stay quiet because their very existence and subjectivity is at stake in the CAA. I heard one woman say that I'm doing this for our children's future. I don't even think they are thinking of this as a great feminist thing. It's about the children, the sons and the daughters. I think they are thinking that if they don't speak out as Muslims now then they will never speak out.
What did you think of Shaheen Bagh?
I saw three speakers. One was a young Muslim man from JNU (Jawaharlal Nehru University), who was very outspoken. There was lawyer from Patna and there was a Muslim woman community leader. I had never seen such an Islamised way of talking in India. The way that mubarak was being offered to these women was very openly Muslim. I think a lot of Muslims in India have realised that it is now or never to create a space where you can be a citizen and not be apologetic about being a Muslim citizen. I think the Shaheen Bagh movement feeds into that. There is an emerging Islamophobia which makes it hard for Muslims to be heard. This is a moment where Muslim hopefully can confront those issues of Islamophobia while standing as Muslim citizens of India. I see people calling out Islamophobia without having to apologise for being Muslim.
Muslim women, at least in Lucknow, are leading the sit-in protest as a matter of strategy. They feel the police will pause before resorting to violence when faced with women.
I've only been to Shaheen Bagh, but I've read a lot about the other places. Knowing what is happening in India, and knowing the long and dangerous history of being young, male and Muslim in India, it makes total sense. I don't think it's just about minimising the violence that comes down on bodies that resist the state, I think it's also about the realisation that young Muslim men are particularly vulnerable. Muslim men would be the first to be labelled as terrorists, to be picked to up some kind of mob, and to be disappeared. I think the strategy is one that one sees elsewhere. When young men are vulnerable in a particular kind of way, the women come forward. A friend of mine, who was talking about former Yugoslavia and Argentina as well, said that when the men were being disappeared, the women would come in front. It is a strategy. It is a protective strategy of the young men.
There is a lot of talk in India about how Muslim women have been politically empowered. What does that mean?
That's a good question. What does it mean? It is true that women who are out there would have never imagined leaving their homes and husbands and sitting out in the open for days. These are not working women for the most part. Leaving their identities as wives and mothers — that experience will change anybody. In that way, it has got to be transformative for the consciousness of these women. And maybe other women of the same background will perhaps find a voice that they have not had before. It's probably quite a coming into the consciousness for a group of women who are Muslim, in a way that they wouldn't have otherwise. Will this mobilise into a classical definition of political empowerment — what does it mean — more women in education, in the political sector. If you've read the Sachar Committee report, there has got to be more structural changes to make those things happen. When we think Muslim women, we only think religious issues. And that's just not true. Muslim women don't just think about Muslim issues.
(According to the Sachar Committee report published in 2007, the literacy rate among Muslims was 59.1%, lower than the national average of 65.1%, but Muslim women were at 50%, at par with women from other communities).
(While overall about 44% of women are engaged in economic activity, the figure for Muslim women is 25% overall and as low as 18% in urban areas, according to the report).
(Muslim women are 6.9% of India's 1.2 billion people. There are three Muslim women in the current Lok Sabha, 0.5% of the lower house, and zero in Rajya Sabha, the upper house).
What will be the impact of the Shaheen Bagh movement?
One really good thing that has happened, which is about women's empowerment, is that the usual people who used to be representatives of the so called Muslim community — which is really really diverse, of course — people like (Syed) Shahabuddin — I think, that time has gone. That's really really important.
These women just speaking with so much confidence and eloquence and clear headed analysis. I think that is a huge shift. Politicians using Muslims as a vote bank, and then putting their cherry-picked people as spokespersons, and then deciding what are the women's questions, I think those days are gone. That is an enormous step forward for women who are Muslim in India. That is terrific. Nobody is going to go back to those men who were not necessarily representative at all. They are just men with a particular kind of political capital. I think this is a huge step forward for a Muslim women's movement or any kind of women's movement.
(Syed Shahabuddin, an Indian Foreign Service officer turned politician, had sided with the orthodox Muslims cleric who opposed giving maintenance to a divorced woman named Shah Bano beyond the three-month long iddat period).
Has the voice for the Indian Muslims changed because of this movement, perhaps forever?
Well, I don't know perhaps forever. But what has really been undermined is going to the usual guys about what Muslims think in India and what they prioritise. I think that has really gone. These women are very eloquent about what they think should be done and what they want. I think it will be much harder to go back to a former time when journalists and politicians would rush to particular faces and ask what do Muslims want.
What about Shaheen Bagh stood out for you?
I saw some posters at the back, the last poster was Rokeya Sakawat Hossain, a Bengali Muslim. She is a real icon for us (in Bangladesh).
When I went and spoke to the women, in my semi broken Hindi and Urdu, I said that I bring solidarity from Bangladesh. They were so warm and welcoming. I was so impressed by the general feel of it. I was trying to find a word for solidarity and the woman next to me said, 'you mean, himmat.' We feel these things across the border.
(Rokeya Sakhawat Hossain, born in 1880, is remembered by people as India's first Bengali feminist. The school she set up in Kolkata in 1911 remains one of the most popular schools for girls and is now run by the government of West Bengal).
Does this moment have to translate into something?
Well, what they want is to get rid of the CAA. I think that would be an incredible and most empowering achievement for Muslim women in India. That would give people a new kind of voice and hope. It would be incredibly empowering to individual women. It's really hard to do these things. But if they can keep a sustained pressure on the government and they can generate the protests that are coming up all over the country, that's an achievement. If they can get the government to respond in any kind of way, including the newly elected Aam Aadmi government, which has pretty much refused to acknowledge this, that would be a real achievement. Beyond that, how women choose to organise really depends on local issues. It was really clear that very few women thought that teen talaq was a huge issue, but then it became a national issue. The nikah halala is definitely an issue.
What if it does not translate into something CAA-related? The Supreme Court could ask the Shaheen Bagh protests to wrap up? Would this moment then be forgotten? What will be its legacy?
I think the moment will not only not be forgotten, but this moment will become a memory that galvanises, a memory that gives hope, a memory that shows you can leave certain domestic structures behind. These are women challenging the state, and it's an authoritarian state right now. Even if they don't get what they want, this will not be a failure. Even if nothing outstanding or iconoclastic comes out of it, the stories around Shaheen Bagh will be important as a mobilising force for whatever happens in the future. These women will be remembered for being the first people to take to the streets against the CAA. That's really a story of courage.
https://www.huffingtonpost.in/entry/shaheen-bagh-s-women-have-transformed-who-speaks-for-india-s-muslims-anthropologist_in_5e46197cc5b64433c613dfdc
--------
Women, Children Injured In Police Lathi-Charge Against Anti-CAA Protesters In North Chennai
ILANGOVAN RAJASEKARAN
February 15, 2020
Anti-Citizenship (Amendment) Act (CAA) protests erupted across Tamil Nadu on February 8, Saturday, after the Chennai City Police resorted to a lathi-charge on peaceful protesters, predominantly Muslim, at Old Washermanpet in Chennai on February 7, Friday, night. Many of the protesters, including women and children, sustained injuries in the police action. More than 100 protesters were arrested. On Saturday, protesters gathered at the same venue and demanded action against the police "for unleashing violence against women and children on Friday night".
Condemning the police action, widespread protests erupted across the State and in many places in Chennai city. Coimbatore, Madurai, Tiruchi, Salem and Tirunelveli saw protests and rallies in which large numbers of Muslims took part. Small towns and villages, too, recorded spontaneous protests. The agitating people urged the State government to punish the policemen and officials responsible for the violence in Chennai.
It all started when protesters, numbering around 5,000, including a large number of women and children, joined a sit-in protest, which was into its second day, at Washermanpet after their Friday prayers at the nearby mosque. They raised slogans against the CAA, the National Population Register (NPR) and the National Register of Citizens (NRC) and urged the State government to pass a resolution against the CAA in the Assembly, the Budget session of which is under way. They drew attention to the anti-CAA resolution passed by the Union Territory of Puducherry.
As time passed, the crowd of protestors swelled into a huge gathering. Those in the locality claimed that the protest remained peaceful and orderly. Many volunteered to distribute water bottles and food packets to the protesters. Traffic in thoroughfares like Waltax Road and Mint Road remained unaffected until around 8 p.m. when the police descended suddenly on the venue and asked the protesters to disperse. The police allegedly told them that prohibitory orders had been promulgated in the area, prohibiting meetings and processions for 15 days from February 13.
"As such, the police warned us, our assemblage and protest were unlawful since we had not got permission. But our people told them that it was a peaceful protest against an Act which is draconian and anti-democratic. We told them that we were not disturbing the public in any way since we had confined ourselves to the lanes and sublanes of our residential locality only," said one of the organisers to Frontline on Saturday.
But the police were not in a mood to listen to them. The protesters claimed that the police entered the area in large numbers and started beating the youths who had been organising protests against the CAA in the city. In the melee women and children were beaten.
Jannathul Pradesh, one of the women injured in the police violence said: "I told them [the police] not to beat us and the children. We were very peaceful and disciplined. But they were inhuman and resorted to indiscriminate beatings. Many women suffered injuries. We got treated in local hospitals here."
A number of women Frontline spoke to on Saturday said that men outnumbered women in the police force that arrived there. "It was to terrorise the people, especially women, to discourage them from joining such protests in future. We were manhandled and beaten. The State wants to serve a warning to us—not to come out of our houses to defend our rights," said Jannathul. Many women alleged that they were beaten inside the police vans by policemen and wanted the government to take action against the erring police personnel who unleashed violence against them.
As the police action threatened to grown into a major law and order problem with protests continuing across the State, Chief minister Edappadi K. Palaniswami summoned Chennai City Police Commissioner A.K. Viswanathan to his Camp office at Greenways Road on Saturday morning. At the more than 30-minute closed-door meeting, the Chief Minister, according to informed sources, discussed the law and order situation. The sources, however, claimed that the Chief Minister expressed his displeasure at the way the police handled the Chennai protest.
The Commissioner held talks on Friday night with representatives of Muslim political outfits and assured them that those who were arrested during the Washermanpet protest would be released. Opposition parties, including the Dravida Munnetra Kazhagam (DMK), the Congress, the Viduthalai Chiruthaigal Katchi (VCK), the Amma Makkal Munnetra Kazhagam (AMMK), the Communist Party of India (CPI), the Communist Party of India (Marxist), and various other outfits condemned the police violence on protesters. Manithaneya Makkal Katchi leader M.H. Jawaharullah, in a statement, called it "police brutality' against peaceful agitators. Senior Muslim leaders met the Tamil Nadu Director General of Police (DGP) on Saturday and submitted a memorandum.
Meanwhile, the police have registered cases against hundreds of protesters for taking part in anti-CAA agitations across Tamil Nadu.
https://frontline.thehindu.com/dispatches/article30829834.ece
--------
Good to See Muslim Women at Anti-CAA Dharnas and Protests, Says Sumitra Mahajan
February 17, 2020
Indore: Former Lok Sabha speaker and senior BJP leader Sumitra Mahajan on Monday said it was good to see a large number of Muslim women attending protests, but wondered if they completely understood the Citizenship Amendment Act.
The CAA is at the centre of protests across the country and many of them are led by Muslim women, like in Delhi's Shaheen Bagh, which has inspired similar 'women only' sit-ins across the country.
"One thing I liked very much was that Muslim women are joining a large number of dharna and protests, be it Delhi or Indore. It has created awareness and trust in the minds of Muslim women that if they face injustice in the future, they can come out on the roads and put forward their views," she told reporters here.
"I always like women to be vocal on different issues. I have to see whether Muslim women (involved in protests against CAA) have understood the right thing. But today they are raising zindabad-murdabad slogans by coming out of the houses. I thank the people of the community, because earlier these women did not get out of the house like this," she said.
"I pray to god that the participation of Muslim women brings good results for the country. I would like to say to all the politicians of the country to ensure that this awareness among them is maintained," the former Indore Lok Sabha MP said.
Queried on some Muslim leaders quitting the BJP due to CAA, she said, "May be they (BJP's Muslim leaders) will have to deal with a few things from their community. But I am sure they are sensible and will be able to gradually convince the people of their community that no right of any Indian citizen will be taken away by CAA".
She said she was ready to talk to anti-CAA protesters to explain them the nuances of the legislation.
https://www.news18.com/news/india/good-to-see-muslim-women-at-anti-caa-dharnas-and-protests-says-sumitra-mahajan-2504729.html
--------
Imprisoned Iranian Women Call For Boycott Of Upcoming Elections In Iran
17 February 2020
Iranian female political prisoners have called on their compatriots to boycott the parliamentary elections scheduled for later this week, saying that those who vote would be "endorsing the regime and its crimes."
Fearing a low turnout in the parliamentary elections scheduled for Friday, President Hassan Rouhani urged Iranians once more on Sunday to vote.
"Anyone who goes to the polls will be complicit in the regime's killing of the revolutionary youth and would be endorsing the regime and its crimes," said 12 female activists, imprisoned in Tehran's notorious Evin prison, in a joint statement published on Monday.
"For 41 years, they have tried to portray their totalitarian regime as a democratic one by repeating the word elections," reads the statement.
"The Iranian parliament is not a democratic institution and has no use other than serving the regime," added the statement.
Masih Alinejad 🏳️
✔
@AlinejadMasih
Voting in Iran's elections means legitimising the morality police against women. It means legitimising repression.
More Iranians are sending us their videos where they say they won't vote in the upcoming unfair elections.#ElectionBoycott2020#RedInkBoycott
Embedded video
755
12:06 AM - Feb 10, 2020
Twitter Ads info and privacy
204 people are talking about this
The statement's signatories are Yasaman Aryani, Neda Ashtiani, Raheleh Ahmadi, Maryam Akbari Monfared, Leila Hosseinzadeh, Soheila Hejab, Atena Daemi, Sepideh Farhan, Monireh Arabshahi, Saba Kord Afshari, Neda Naji, and Samaneh Norouz Moradi.
Earlier this month, imprisoned activist Narges Mohammadi also called on Iranians to boycott elections to honor those killed by the regime during the anti-government protests last November.
Heshmat Alavi
@HeshmatAlavi
Saqqez, #Iran
Locals are torching posters of candidates participating in the regime's upcoming Majlis (parliament) elections farce scheduled for Friday, February 21.
Iranians are calling for a national boycott.#BoycottIranShamElections #MyVoteRegimeChange
Embedded video
147
2:03 PM - Feb 17, 2020
Twitter Ads info and privacy
96 people are talking about this
https://english.alarabiya.net/en/News/middle-east/2020/02/17/Imprisoned-Iranian-women-call-for-boycott-of-upcoming-elections-in-Iran.html
--------
Women set on azaadi march in Pakistan
Nazarul Islam
Feb 18,2020
A FEW days ago, something unusual happened in Pakistan which I construe being a directional change in the conservative moral compass. Pakistanis live in a country charged with patriarchy. Recently, a court in Pakistan summoned the creators of a wildly popular television series after a petition had been filed demanding from all involved in the drama to apologise for portraying Pakistani women as 'greedy, selfish and non-professional'.
In a petition filed at the Sindh High Court in January, lawyer Sana Saleem alleged that the television series 'Meray Pass Tum Ho' (I have you) had but 'ridiculed a woman who makes the same decision as every other man in society.'
The drama series followed the story of a married couple whose relationship fell apart when the 'unfaithful woman' promoted an 'affair' with another wealthy man. Pakistani television dramas routinely show women forgiving their cheating husbands, but this series presented a fresh direction and a question: should a (macho) man forgive his unfaithful wife?
The television episodes have mesmerised the audience; the shows also polarised the weaker nation. Women turned over to Facebook to strike out the drama series from being aired further. Because of the sensitivities involved in such a controversial theme, viewers felt that the writer, Khalilur ur Rehman Qamar, had perhaps lost both his balance and sense of direction in the musings of his misogynistic, story telling.
As the show gained in momentum, Qamar courted even greater controversy after he had appeared on talk shows to justify that his script had made sense in the real world. This only inflamed the situation, by suggesting that 'women should gang rape men if they want equality' and that 'women are able to resist temptation while men are unable to do so.' Twenty-three episodes had run successfully from August 2019 to January on a private channel to become the most watched show and drama serial in Pakistan.
The climax and the final episode was watched by nearly 80 million viewers as the last episode was also screened in cinemas, raking in a record-breaking 38 million rupees on the first day in ticket sales. This drama series had a huge impact that obviously hurt women. Now the courts felt that it had a duty to redress a new public 'grievance' which had adversely impacted the Pakistani society.
Pakistan's most popular television critic and journalist Mahwash Ajaz has placed her views on record: 'These characters are unrealistic: overtly beautiful and modern, but also astoundingly stupid.' Perhaps, only a (chauvinist) man could write such a script'.
However, many viewers were swayed with the character of the male lead, the 'unfortunate' victim of infidelity, and praised him for one particularly controversial scene in which he tells his wife's lover that she is 'barely worth spare change' and not the 50 million rupees the businessman rival in love had offered him for a divorce.
A court in Pakistan has summoned the producer, Humayun Saeed, who also plays the lead role, to appear along with the lawyers of the Pakistan Electronic Media Regulatory Authority. Justice Muhammad Ali Mansha made his famous remark: 'If the bench would determine that the show features immoral discourse, action will be taken against the producers.'
For the students of law, this case is significant. Although it is not uncommon in Pakistan for people to ask the courts to mediate this way, it is unusual for a petitioner to demand justice for women. A separate petition to stop the airing of the final episode of the show had earlier been tossed out by the court.
Sana Saleem, Pakistan's women's right activist and attorney, stated: 'The show had a huge impact which hurt women… therefore, courts have a duty to correct something that had adversely affected the social fabric of the country.'
In her petition, she also objected to the storylines of an unmarried couple living together and a six-year-old child playing Cupid to set up his father and schoolteacher. However, lawyer Reema Omer opined that by prohibiting content, regardless of the offensive nature of the series, it will still be deemed as 'pariah' to the freedom of expression. And… 'it is not the business of the state to decide what people should or should not watch on television unless the content violates certain clearly defined limitations set by law, such as incitement to violence, for example.'
Going back, Omer the attorney further voiced that critiquing the show in the media was a 'far more potent way' to respond to sexism than draconian censorship and court directives to make the actors apologise. Salman Iqbal, the founder and CEO of ARY Digital, the private Pakistani channel that aired the episodes, defended the show. 'Pakistani dramas for years have shown men abusing and cheating on women, yet no petitions were filed by men against such content. So why must this be accomplished now?'
He also furthered the justification: 'If Tom kills Jerry in the cartoon, should we feel compelled to launch a campaign for animal rights? No, we should just enjoy it. And [we need to] forget about the nitty-gritty for a while and experiment to see what the audience responds to.'
In the historical context, Pakistani women have shared a history of taking to the streets. They demonstrated this very bravely in pre-partition days of the subcontinent when the Pakistan movement was in the fullest swing. Thirty years after the independence, women loudly demonstrated again during a deranged military leader's rule. General Zia-ul-Haq patronised greater fundamental views to appease clergy in the country.
And this led to the rise of extremism and violence against women in Pakistan. Beyond any doubt, in the past, they have lived by examples. There is a tradition of women in Pakistan not being politically aggressive, bit being quite progressive in their outlook.
While Pakistan has made major strides towards gender equality, achieving greater workforce participation, reserved seats in the parliament and anti-discrimination laws for women, poorer, marginalised women and transgender citizens have continued to struggle in the margin.
The time for change is now on. I believe that the Pakistani mentality has always tended to be Victorian in character. A system like this has frequently granted mothers lawful custody of minor children but, in the process, has also made 'life' a living hell for them, with little or no support for raising their children.
Another paradox in the social paradigm within the country has existed where male and female students are afforded different levels of freedom in institutions of higher learning. Most university hostels have a relationship of mistrust, triggering steps designed for constant surveillance of women. This is a genuine complaint in universities and needs to be addressed. And then, it goes on further to the over-policing of dress and behaviour codes, followed by early curfews for women.
Quite recently, a Pakistani university caused a furore on social media by prohibiting women from wearing skinny jeans and sleeveless shirts. Given these issues which the average Pakistani women face every day, sometimes with nowhere to go, has created a space that recognises a woman's right to be there being in good faith, genuine and integral.
All this was pointed out by women march leader Kanwal Ahmed, the founder behind women-only Facebook group called the 'soul sisters'. Unbelievably so, this page has attracted nearly 150,000 followers who like to adopt the life style of 'liberated' Pakistani women.
https://www.newagebd.net/article/99867/women-set-on-azaadi-march-in-pakistan
--------
FIFA Demands Iran Allow Women To Attend All Football Matches
February 17, 2020
In a new letter addressed to the Islamic Republic authorities the international soccer body FIFA says Iranian women have to be allowed to enter all football stadiums across the country to watch men's matches.
According to the local news websites, "House of Football" and "Mashreq News," in the letter FIFA has stressed that the Football Federation of the Islamic Republic of Iran (FFIRI) should provide relevant facilities for women to attend three forthcoming major soccer events in the country.
During the past two years, a limited number of Iranian women were allowed to watch only three football matches in their country. The clergy-dominated government has banned women from watching men's sport since the 1979 Iranian revolution. FIFA's efforts to break the ban have been only partially successful recently.
Now, FIFA has officially demanded Iran to allow women to watch "all matches" and allocate more seats to them in stadiums.
From next June onwards, Iranian women should also be allowed to attend all local football league matches across the country, and watch their favorite teams in action, FIFA has affirmed in its new letter.
The death of 29-year-old Sahar Khodayari, nicknamed as the "Blue Girl" after the main color of her favorite team last March, reignited the debate over the ban barring Iranian women from attending men's sports matches.
Khodayari was arrested in March for attempting to enter a stadium to watch her favorite team play and was told by court officials she faced a six-month sentence behind bars. Desperate and devastated, she poured gasoline over her body and set it on fire, dying a few days later in hospital.
Many Iranian and non-Iranian social media users, as well as public figures, mourned her death and urged FIFA to act, pressing the Islamic Republic to allow Iranian women to attend soccer matches freely.
Under FIFA pressure and a month ahead of Iran hosting Cambodia in Tehran, the spokesman of President Hassan Rouhani's Administration, Ali Rabieie, said on September 11 that, generally the Islamic Republic government is in favor of letting Iranian women enter the sports arenas.
In the coming months, Iran will host national teams of Bahrain, Iraq, and Hong Kong in the preliminary round of the World Cup qualification matches.
Football-starved Iranian women hope to get clearance to attend the national side matches against Hong Kong on March 28, Bahrain June 5, and Iraq June 10.
Meanwhile, in the AFC Championship games two Tehran clubs, Esteqlal (Esteghlal) and Perspolis, are set to host their counterparts in the capital city of Iran. Another Iranian club still in the AFC competition, Shahr Khodro FC, represents the city of Mashhad ruled by ultraconservative clerics not likely to allow women to attend any matches.
Reuters reported two months ago that the Football Federation of the Islamic Republic had committed itself in writing to make it possible for women to enter stadiums and watch local league championship games.
The Islamic Republic authorities have not yet responded to FIFA's new letter.
https://en.radiofarda.com/a/fifa-demands-iran-to-allow-women-attend-all-football-matches/30441274.html
--------
I Loosened My Hijab At A Chess Championship. Now I'm Afraid To Return To Iran.
By Shohreh Bayat
Feb. 18, 2020
Shohreh Bayat is an arbiter for the International Chess Federation.
Religious indoctrination starts early in Iran, when you are forced at school to learn the Koran. I was a dutiful student, praying assiduously while wearing a loose, ugly school uniform, with my hair hidden under a big scarf. At age 8, I even won a prize for fasting.
At 9, I was introduced by my father to the beautiful game of chess, beloved by ancient Persian poets. Chess requires logic and critical thinking — not faith. Slowly, in my teens, I began to question why, if God is fair, is there so much pain and suffering in the world?
Even if my faith was fading, as a woman in Iran I had no choice but to tolerate the hijab — the Islamic emblem of constant, misogynistic oppression. I avoided looking at myself in mirrors. Wearing the head-covering was torment enough. When traveling abroad for chess tournaments, I admired the young women from other countries who wore nice clothes, their hair beautifully styled. I gradually began to spend more time in front of the mirror, trying to find ways, within the confines of my fabric prison, to appear normal.
Whenever I went abroad, I would make small changes in my appearance, perhaps by showing more hair than previously, even if I was careful to keep a portion of it concealed. Eventually, I gained a degree of renown as an international chess arbiter, working at tournaments around the world. I slowly became braver in loosening my hijab on those trips.
In 2017, I was honored to be the first woman ever appointed general secretary of a sports federation in Iran. But holding the position meant also enduring continual harassment by Iranian Chess Federation officials about the hijab. The next year, I resigned in frustration.
That didn't end the conflicts over the hijab. I continued to travel as an arbiter for the International Chess Federation and was pleased to be chosen for the Women's World Chess Championship 2020. When packing to travel to Shanghai for the first leg of the championship last month, I included several colorful scarves, which was the most daring I could be within the confines of Iranian law.
After the first round in Shanghai, I received a message from the Iranian Chess Federation asking me to send a "good" photograph from the competition. Translation: Photos that I appeared in on foreign websites were not hijabi enough for the federation to post on the messaging app Telegram in Iran. The loose scarf I wore was actually quite acceptable by Iranian standards, but more is demanded of public figures. Infuriated, like millions of Iranian women who hate the hijab, I said it was the best I could do.
I resolved to wear a "worse" hijab the next day, suspecting that the officials would decide that the first-round photo was "good" enough. I had no idea how this decision would change my life.
As anticipated, the photo from the first day appeared belatedly on Telegram. I had no idea anything was amiss until after the third round, when I went back to the hotel, turned on my smartphone and was stunned to see that it was teeming with messages. Some had stark warnings: "Don't come back, they will arrest you." Others included screenshots of Iranian media alleging that I hadn't worn a hijab at all — the photo failed to convey that I did indeed wear one, albeit loosely — and, worse, had committed the outrage on the anniversary of some protest (the date of which I was unaware).
Publicly, the president of the Iranian Chess Federation said that my participation in the event had nothing to do with him. Privately, he sent messages telling me to write an open letter supporting the hijab. Meanwhile, my harmless photo from the first round was purged from Telegram, which in Iran is heavily monitored by the government.
How could I write a letter proclaiming what I don't believe? Was it not humiliating enough that I had had to endure this detestable scarf on my head every day? The pain was enormous, the tears endless.
The next day, condemned already, I left the scarf behind and entered the world with determination and satisfaction. The Iranian media reported, without evidence, that I had applied for asylum. (No country was named.) I was still at the tournament, with weeks to go, and had a return ticket to Tehran. I wanted to go home, but by now it was too dangerous.
As I write to you, I am in Britain — a lovely country, where I have received much kindness and generosity from the chess community. I don't know what the future holds.
I have seen many words of support from U.S. embassies around the world. That is touching, but also poignant, given that most Iranians can no longer enter the United States. Is it really against the law to be born Iranian? We are also humans, you know.
https://www.washingtonpost.com/opinions/i-loosened-my-hijab-at-a-chess-championship-now-im-afraid-to-return-to-iran/2020/02/17/1a670f66-5194-11ea-9e47-59804be1dcfb_story.html
--------
Beaten During Arrest Prominent Iranian Female Activist on Hunger Strike
February 17, 2020
An Iranian human rights organization on Monday reported that student and women's rights activist Bahareh Hedayat who was arrested a week ago is on hunger strike and her health is deteriorating.
The website of Human Rights Activists in Iran (HRANA) on Monday reported that Hedayat who was transferred from Vozara Detention Center to the notorious Qarchak Prison in the south of Tehran on Sunday.
According to other student and women's rights activists, Hedayat refused any food and drink for three days but is now taking liquids.
Thirty-eight-year-old Hedayat was arrest on February 10 by Security Police at the Security Office of Tehran University. She had been called in to the university security office to answer some questions. Chief of the university's security has denied any role in Hedayat's arrest.
Human rights activists say the police beat her, pulled her hair and dragged her to their vehicle when she demanded to be shown an arrest warrant. Hedayat has been on hunger strike in protest to being beaten since her arrest.
In a brief phone call on February 11 Hedayat informed her family that she had been detained and was being questioned. The charges brought against her have not been announced.
Bahareh Hedayat who is a former Secretary of the Office to Foster Unity (Daftar-e Tahkim Vahdat), Iran's largest pro-reform student group has been arbitrarily arrested and imprisoned several times since 2007 for "propaganda against the regime" and similar charges. In total, she has served more than six years in prison.
She was known for her work on the One Million Signatures Campaign aiming to change discriminatory laws against women. In 2012 she was awarded Sweden's Edelstam Prize for "outstanding contributions and exceptional courage in standing up for one's beliefs in defense of human rights".
On Sunday a group of students who held a protest rally at Amir Kabir University of Tehran demanded that Hedayat be released.
https://en.radiofarda.com/a/beaten-during-arrest-prominent-iranian-female-activist-on-hunger-strike/30439913.html
--------
Women in Decision-Making Roles Inspire Future Generations, Dubai Forum Told
February 17, 2020
DUBAI: Female participation in politics and decision-making is not only essential for effective democratic governance but is also a symbol of hope and inspiration for women of the next generation, the Global Women's Forum in Dubai heard on Monday.
Among the prominent speakers who drove home this message on the second and final day of the conference at Dubai's Madinat Jumeirah was Theresa May, who served as the UK's prime minister from 2016 to 2019.
She called on all women in government to support one another and to lead by example.
"I would ask every woman in a leadership role, when they leave here, to actively encourage other women to come through and share their experiences," she said, adding: "When you meet a woman who has aspirations, encourage her."
Drawing on over two decades of experience in British politics, May reflected on the ideal characteristics of female politicians today, advising others in senior roles to be themselves.
"I wouldn't say being yourself is a liability or advantage," she said. "I think it's important for your own self-esteem and for interactions with others to be yourself and to be true to yourself."
She urged women to "have an open-minded attitude," and to recognize that they "shouldn't be pigeonholed into particular stereotypes."
"I did politics in a different way from the men," she said, adding that while some women felt they had to socialize more with men, she did not.
May said: "I did it my way. I was myself — and hey, I became prime minister."
Besides being only the second woman to hold the post of UK prime minister, May made history in 2002 when she was appointed the first female chair of the Conservative Party.
Discussing her time in British politics, she referred to an "unconscious bias" in the processes by which women in government are selected.
"Sometimes" a process can, while "not intentionally, play to a man's strengths rather than a woman's strengths," she said.
During "our political terms, one of the key things was to ensure that within individual parties, there was no inadvertent bias in the process we used to select women."
In May's opinion, if young women do not see females in government, politics and senior business positions: "They are less likely to think that these are roles they can aspire too."
She said that, with the launch of her Women2Win network, she has encouraged more women to put their names forward for elected office.
"Getting more women into politics and senior positions in business is an issue for society as a whole," May said, adding that society would benefit from involving leaders from a wider range of backgrounds and experience in the decision-making process.
May said she was focused at present on drawing up new legislation in the UK to tackle the issue of domestic violence. In addition, she said she was building on the efforts that began with the Modern Slavery Act in 2018 to "support the 40 million men, women and children in slavery."
Asked about the legacy she would like to leave behind, May was clear: "I would hope it would encourage young girls to aspire, to feel that there's no limit to what they can do.
"I hope (my legacy) will encapsulate a sense of public service and a sense of wanting to improve the lives of other people. And, also perhaps, a sense of somebody who would champion those who have no voice and need somebody to stand up and speak up for them."
Earlier in the day, a panel of female government leaders, dubbed the "four powerhouses," took center stage at the forum to share their experiences and efforts to close the gender gap in the Middle East and around the world.
Data shows it will take 52 years to achieve gender parity in parliament globally, but the four women, who spoke on "Women leaders in government," looked at ways to achieve the goal at a much faster pace.
"Women's participation is macro-critical today," said Rania Al-Mashat, minister of international cooperation of Egypt.
"In all institutions, the women element has progressed and added a lot of importance in policy work and the private sector," she said.
Al-Mashat held up her country's progress in female empowerment, pointing out that 48 million (out of 98 million Egyptians) are women and that 23 million (23 percent of the total population) are supported financially by women.
On the political front, women constitute 25 percent of the Egyptian Cabinet and 19 percent of its parliament, she said.
Citing a rise in political and economic empowerment in Egypt, Al-Mashat advised all women in governmental positions in the Arab world to continue their work on changing social perceptions around females in leadership roles by achieving two tasks.
"You have to prove yourself in whatever portfolio you are leading, (and) you have to open the door for other women to join," she said.
According to Al-Mashat, women will be among the most "vulnerable" groups during a time where rapid advancements in technology and automation will lead to job displacement and creation of new high-tech roles.
As a result, there will be a need to equip women with skill sets and vocational training with a focus on STEM education, she said, referring to the Science, Technology, Engineering and Mathematics disciplines.
Governments need to be "mindful and create that space" for the female population, Al-Mashat said.
She also encouraged the use of social media as a modern-day tool that provides women with the means to effectively "communicate," "inspire" and "lead" others.
Mariam Al-Mheiri, the UAE minister of state for food security, described women in leadership positions as "trend-setters," each with their own unique story on how they had once struggled to prove their capabilities and possibility of achievements.
"We have started a trend and, in continuing down this path, it is really important for all of us to discuss and share these ideas and also to inspire," she said.
For good measure, Al-Mheiri highlighted the importance of debunking misconceptions about women's role in the workplace.
Discussing the role of women in politics, Lana Nusseibah, UAE ambassador and permanent representative to the UN, pointed out that today, less than 10 percent of women are negotiators and mediators in peace and conflict situations.
Women bring a "full-spectrum of considerations" when negotiating a peace settlement, she said.
"Peace agreements could last 35 years or more by simply adding women during negotiations on the (negotiating) table, and it's likely to fail in five years or less if you don't," Nusseibah said.
Mimoza Kusari Lilsa, a member of parliament from the Republic of Kosovo, underscored the importance of discourse on the success of women at events such as the Global Women's Forum.
Along with "education and accessibility," these discussions tell girls "there is nothing they can't do," she said.
Female politicians had "double the responsibility," according to Lilsa, as they are considered a source of inspiration by many young girls aspiring to go into politics.
https://www.arabnews.com/node/1629206/middle-east
--------
'Be Yourself' Ex-British PM May Advises Women in Politics
February 17, 2020
DUBAI, UNITED ARAB EMIRATES - "Be yourself" is the advice former British prime minister Theresa May gave to the Global Women's Forum in Dubai on Monday, explaining how she had risen to the top job despite refusing to conform to masculine traditions in politics.
"I did my politics a different way from the men," she told the mostly female audience of her entrance to parliament in 1997.
"There was still a huge emphasis on men drinking together, getting together into groups and some of the women felt they had to join that and I didn't," she said.
"I felt I wanted to do it the way I wanted to do it so I did it my way, I was myself and hey, I became prime minister," she said, provoking laughs from the audience.
May served as Britain's second female prime minister, after the late Margaret Thatcher, and home secretary as well as minister for women and equalities — a role that remains necessary in May's view.
She resigned as premier in July 2019 after three years in the post amid mounting pressure over her inability to carry out Brexit, a topic notably absent from her speech in the United Arab Emirates.
At the end of September, during her first major public appearance since leaving Downing Street, May announced she would not rush to write her memoirs.
That remains the case, said May, despite the encouragement of many people, including former foreign secretary William Hague.
"He thought it was very important that people at the center of events write about them, so that historians can look at what it was like for the individuals involved," she said.
"So maybe, maybe one day, but I am not doing it at the moment," she added.
She advised the women in the audience to persevere in the face of failure and highlighted the causes she continues working on, including domestic violence, modern slavery and mental health.
https://www.voanews.com/europe/be-yourself-ex-british-pm-may-advises-women-politics
--------
World Must Fight Anti-Vaccine Drive, Says Women In Science Winner From Bangladesh
February 18, 2020
DHAKA: People around the world need to fight against misinformation campaigns that hamper vaccination efforts, Bangladeshi immunologist Dr. Firdausi Qadri told Arab News in an exclusive interview, as her efforts were honored during the 22nd edition of the L'Oreal-UNESCO for Women in Science Awards last week.
"In many countries — not only in developing countries, in developed ones too — there is a new sentiment that vaccination will cause some diseases in children," Qadri said at her office at the International Center for Diarrheal Disease Research, Bangladesh in Dhaka.
These misinformation campaigns result in "vaccine hesitancy," which leads to outbreaks of otherwise preventable diseases.
The 22nd L'Oreal-UNESCO for Women in Science Awards recognized five female scientists from different regions of the world in the field of life sciences.
Qadri's award is for her outstanding work to understand and prevent infectious diseases affecting children in developing countries and promote early diagnosis and vaccination.
"Before launching any vaccine, we do trials in different phases to detect their adverse effects, if there are any. Even after the vaccine is launched, we monitor its impacts," she said, stressing that raising awareness on the importance of immunization is essential and should be directed by governments.
In different countries, misinformation campaigns have different shapes and consequences. In developed nations, they can lead to outbreaks of diseases such as measles and mumps, which the World Health Organization identified as one of the top 10 global health threats in 2019.
In countries like Pakistan, vaccine hesitancy in certain areas is related to cultural norms. "Sometimes doctors are not allowed into homes because they are males," Qadri said. "There are only few countries in the world which are not polio-free, Pakistan is one of them … many people in Pakistan are not very aware about the benefits of vaccinations."
In Bangladesh, which is also a developing country, immunization awareness is much higher, but self-sufficiency is still lacking and can affect the country's efforts to eradicate diseases such as cholera.
"We need to concentrate on cholera vaccines. According to the national cholera control plan, we will require almost 180 million doses of oral cholera vaccine in the next five years to eliminate it. Nobody can give us that vaccine if it's not produced locally," she said.
While Bangladesh has obtained the cholera vaccine license and is expected to start producing it soon, Bangladeshi scientists have no equipment to develop the country's biological preparations.
"When we want to do very high-quality research, the problem is not lack of knowledge but of equipment and reagents which must arrive in the right condition. Their cold chain must be maintained and they need to come quickly," Qadri said.
"When people don't have the facilities, they don't feel the urge to do good research," she said, explaining that scientific culture needs to be promoted and financially supported in developing countries.
Qadri has dedicated her award to 500 young researchers who work with her, hoping that the recognition will encourage more Bangladeshi women to choose scientific careers.
"It sets an example for women. We are lacking in the field of science, technology, electronics and mathematics. There is a gender imbalance. I hope with my achievement, the situation will improve to some extent," she said.
The award, she added, will also people make realize that research is being done in Bangladesh.
Regarding her ongoing research, Qadri explained she is working on the problem of malnourishment in immunization effectiveness.
Malnourished children react differently to vaccines. "They don't respond like a child in a developed country like in the UK, US or Sweden.
"The burden of pathogens in our system is so high and there are so many infections one after another, which gives rise to enteropathy, making it difficult for a child to respond to a vaccine properly," she explained.
She is working on it. "Children should grow up to be healthy adults," the mother of three said, revealing what guides her work and efforts.
https://www.arabnews.com/node/1629426/world
--------
'No One Is Listening': Pakistani Mothers Jailed In Saudi Arabia Call For Help
By Suddaf Chaudry
17 February 2020
Mohamed Saeed sits on a bed, looking at pictures of his mother who has been held in a Saudi jail for the past three years.
For years Saeed's mother Zohra Naveen, a housewife, had been desperate to perform umrah, a Muslim pilgrimage to the holy city of Mecca, but was unable to afford the trip.
So when Naveen met a woman named Pomi at a local clothing store who said she could cover the entire cost of the journey, Saeed and Naveen's friends say she jumped at the chance.
"Zohra is a sweet-natured woman. She only saw the good in people," Riffat, a neighbour, tells Middle East Eye. "She was duped."
It was only when Naveen was en route to Saudi Arabia that someone travelling with her revealed that she had drugs in her bag and that her son, Salim, was being held by Pomi's associates back in Pakistan.
Speak up when they landed, she was told, and put Salim's life at risk.
"I was not screened or questioned in Islamabad, but I suspected something was wrong. I knew that if I spoke, my son would be harmed," she told MEE from Dhahban Central Prison in Jeddah where she is permitted to make regular calls home.
Naveen is among 3,240 Pakistani prisoners currently being held in Saudi jails, according to the latest figures released by Pakistan's Ministry of Foreign Affairs.
Many of those, say human rights campaigners, are people like Naveen who went to the kingdom to fulfil religious duties or pursue jobs, but instead ended up in prison, often as a result of serving as unwitting drug mules.
One year later
These prisoners are clearly on the radar of both Saudi and Pakistani officials. During a visit by Saudi Crown Prince Mohammed bin Salman to Islamabad a year ago this week, Pakistani Prime Minister Imran Khan raised the plight of the prisoners and, while still in the country, the crown prince ordered the release of 2,100 prisoners.
But so far, it is unclear exactly how many have come back.
Pakistan's Foreign Ministry says that 2,080 have returned while the Ministry of Overseas Pakistanis puts the figure at 1,790. Both ministries say their totals are based on lists shared by the Saudi government.
MEE repeatedly asked officials in both ministries why their figures are different, but could not get clear answers.
Frustrated by the confusion and what they describe as the government's hands-off approach, relatives and rights campaigners are pushing for greater action and more transparency.
Sarah Belal is the executive director of the Lahore-based Justice Project Pakistan, a non-profit which has taken legal action to force the government to do more and has been attempting to verify the figures released by the ministries.
"Less than 5 percent of Pakistanis have been repatriated since the crown prince's royal pardon," Belal says her organisation has established. "It is unclear what the hold up is."
Billions at stake
For decades, Pakistanis have been heading to Saudi Arabia in search of employment opportunities. Currently, 2.7 million Pakistanis live in the kingdom and reportedly sent back more than $3.7bn in remittances last year.
In addition to remittances, the kingdom has become increasingly important to Pakistan's economy after offering $6bn in loans in late 2018 to avert a balance of payments crisis.
Three months later, during the Saudi crown prince's visit to Pakistan, the kingdom signed another $20bn in investment deals.
Caught in the middle of all this are Pakistani prisoners in the kingdom who fall into a no-man's land of bureaucracy and language barriers once behind bars, say campaigners.
"If you are a foreign national in any jail, you are at a huge disadvantage because they do not understand the legal system," said Belal.
Under an international treaty signed in the 1960s, there are a specific set of obligations required of a host state and a state with visiting citizens in these kinds of situations. But reality works out a bit differently than what's on paper, she said.
"The constraints on resources to engage lawyers or legal aid means the entire process itself is stacked against inmates because the detainee does not have a network of support. Therefore, they are inherently at a disadvantage," she said.
According to a 2018 Human Rights Watch report, Saudi officials frequently failed to inform Pakistani consular officials when Pakistani citizens were arrested, leaving the burden on detainees and their family members.
Zohra and 18 other Pakistani inmates with whom she is being held told MEE that they have not been contacted by any Pakistani government officials since they entered prison. They have been working with Justice Project Pakistan to initiate a dialogue with the government, but so far to no avail.
Swallowing stones
In rural Kasur on the outskirts of Lahore, Babar, who declined to give his last name, tells MEE about his mother, Bilqis, who was arrested in Jeddah in 2017 after customs officials found drugs in her system.
Babar didn't speak for long: soon Bilqis rang for her weekly call to her family from prison. Her ordeal, she said, started at the factory where she worked and befriended a woman named Shagufta.
Shagufta, in turn, introduced Bilqis to her friend, Wassim, and the two offered her a free pilgrimage to the holy land. The only catch? She would just need to swallow some capsules ahead of her flight which would be given to a contact in Saudi Arabia once they were passed.
"She claimed the capsules contained precious stones. I had to swallow them in order to avoid excise duty," Bilqis said.
"I know what you think. I'm not crazy. I honestly believed this woman and her husband were helping me fulfil my wish as a Muslim to go to Mecca."
Barbar jumps in. "Why was my mother not screened at the airport in Lahore? She has been in jail for two years after falling victim to this criminal couple," he said.
If his mother had been questioned in Pakistan, he said, she would not be in the mess she is in today. "We have no access to legal aid or a lawyer. I don't know what will happen. I'm terrified for her future," he said.
Bilqis was arrested along with two young boys and another couple, all Pakistanis who were on the same flight. The young boys, Abdul Nohman and Abdul Oman, were returned to Pakistan in 2018.
When they came back, the boys now aged nine and five years old, couldn't explain what had happened in Saudi Arabia easily because they only spoke Arabic.
"The boys were very traumatised. They received no after care from authorities," said Sohail Yafat, a Justice Project Pakistan investigator.
"Many families, once they receive loved ones back, do not want to discuss the issue any further due to threats and concern that the situation may repeat itself."
Fuzzy figures
Even now, a year after Imran Khan raised his concerns for prisoners with Mohammed bin Salman, there is a lingering discrepancy among Pakistani officials over just how many of the country's citizens remain in Saudi prisons.
MEE asked Sayed Zulfiqar Bukhari, minister of overseas Pakistanis, why his ministry – which says that 1,790 Pakistanis have been released – has different figures than the foreign ministry claims that 2,080 have come home.
He insisted that it was a complex situation, and that the delay and confusion had been caused by Saudi Arabia.
"I do agree with the NGOs that the Saudi authorities were slow at the beginning. They needed a mechanism in place," Bukhari said.
MEE asked Foreign Minister Shah Mehmood Qureshi to comment on the discrepancy in figures, but he declined to comment.
MEE also repeatedly asked the Saudi embassy in Islamabad to answer a series of questions, including why there is confusion over the official number of Pakistanis in Saudi jails and why so many are being held, but embassy officials declined to comment.
Belal says that after a JPP investigation, her organisation believes that 500 prisoners who are being counted by both ministries had actually already returned before the Saudi crown prince's pardon. JPP has filed a petition in court to further investigate the government's list.
"Now the ball is in the Pakistani government court to approach the Saudi authorities to get some clarity on the issue. There was no sustained follow up by the government to verify the list that was shared by the Saudi authorities," she said.
"I think given the fact the Saudis released a list of 500 and the Pakistanis accepted, neither the prime minister or the crown prince understand or know the real details on this issue. I think that if they did, they would be incredibly embarrassed on both sides."
The upper hand
Pakistan is currently awaiting approval from the Saudi government for officials with the Ministry of Overseas Pakistanis to visit prisons in the kingdom, but officials have said they expect to make their trip this month.
As time passes, analysts say it is becoming clear that Islamabad lacks the power to effect real change in the situation.
Talat Masood, a retired three-star Pakistani general and political commentator, told MEE that the stalled efforts cast the country's leadership in a poor light.
"It is not a good reflection on Pakistan that so many prisoners are languishing in the jail of a friendly nation. The Saudis would be concerned that this move to return Pakistani prisoners does not set a precedent that rules can be broken."
Michael Kugelman, deputy director of the Asia program and senior associate for South Asia at the Washington, DC-based Wilson Center, said Saudi Arabia has the upper hand.
"I don't think Islamabad is in a position to complain about any perceived delay, given that Saudi Arabia is still releasing prisoners, albeit not at the pace that Islamabad would prefer," Kugelman said.
The Saudis are also, he added, "providing extensive financial support to Islamabad as Pakistan struggles through economic distress. So there is a leverage factor that works in Saudi Arabia's favour".
These points, however, are moot for prisoners like Bilqis and her family, left in limbo. At the end of her weekly call, she begins to cry.
"I am neither alive or dead in this jail. There are women from all over the world. Some have been sentenced to over 15 years. I will only be released if someone pardons me," she said.
"The Saudi embassy sends an adviser, but he does not document my case or listen. I tell him, 'I am not a smuggler'. I ask him, 'Please, tell the Pakistani authorities', but I worry that no one is listening."
https://www.middleeasteye.net/news/no-one-listening-pakistani-mothers-jailed-saudi-arabia-call-authorities-help
--------
Passion Grips Baloot Championship As Women Face Off Men For The First Time
February 17, 2020
By Amal Al-Said
RIYADH – Eagerness, passion and joy gripped the Riyadh Winter Baloot Championship as women faced off men for the first time in one of the most popular games in the Kingdom.
The championship is being held at the Riyadh Front from Feb. 13 – 22, 2020, with gamers competing for prizes worth a total of over SR2 million.
Baloot, a card game, which presumably originated in France, is popular in Saudi Arabia and other Gulf countries. The game is played with four players divided into two teams.
Twenty women teams are competing against their male counterparts in the championship, which is being supervised by the General Entertainment Authority (GEA) and organized by the Saudi Arabian Federation of Electronic and Intellectual Sports (SAFEIS).
Commenting on the event, female competitor Farah Bint Fahd expressed her eagerness to take part in the Baloot Championship for the first time in the Kingdom, despite the fact that she has been playing the game for the past four years.
Farah added that the atmosphere of stiff competition, enthusiasm and passion was predominant during the match between her in partnership with a close friend and a men's team.
Farah lauded the magnificent organization of the championship and the role of the General Entertainment Authority (GEA) in giving ladies a chance to participate.
Meanwhile, Jawaher Al-Mansour said: "Thanks to Allah Almighty, our participation in the championship today was very successful, as my close friend and I defeated the men's team in the first stage."
She added: "I have been playing the game for six years with my female colleagues, as we learned the game together. We found in this game a lot of entertainment, enjoyment and a way to sharpen our intelligence."
Expressing her enthusiasm, Nawwarah Al-Abdali said that she was eagerly waiting for the championship with patience to prove to those around her that she was capable of taking part in the Baloot Championship, the game she has been practicing for the last four years.
She added that everything in the championship was fantastic in terms of organization, polite conduct of the organizers and fair competition. She commended the support the GEA is providing to such events and ensuring women's participation in them.
Another participant Deema Al-Mutairi said: "I have been playing "Baloot" for the past six years with my friends during our gatherings. My deep interest in the game emanates from the necessity to think carefully before taking any step and to create steps leading to a win. I've chosen my teammate in the game, who understands me fully and knows how to play the game. I hope we continue to win till we reach the finals."
Meanwhile, Alaa Al-Thaqafi said: "The championship has fulfilled its promises. The organization was superb and women's participation in the championship for the first time is a positive change for the championship." She also expressed her gratitude toward the GEA for putting in great efforts to make such events successful.
http://saudigazette.com.sa/article/589148
--------
Israeli Soldiers' Phones Hacked By Hamas 'Women'
February 17, 2020
London: Dozens of Israeli soldiers have had their smartphones hacked by Hamas' hackers posing as women, the Israeli military admitted but asserted that there had not been any "significant breach of information", reports said on Monday.
The Israeli soldiers were sent fake photos of young females and lured into downloading an app without knowing it could access their handsets, a military spokesman said, the BBC reported.
There was no "significant breach of information" before the scam was foiled, he insisted.
The spokesman said this was the third attempt in recent years by Hamas to infiltrate Israeli soldiers' phones, but was the most sophisticated yet.
He said that the hackers had masqueraded as young women with imperfect Hebrew, claiming to be immigrants or to have visual or hearing impairments, in order to appear convincing.
After striking up friendships, the "women" would send links which they said would enable them to exchange photos, but which in reality caused the soldiers to download malware - programmes that can attack smartphones or computer devices.
Once the link was opened, the programme would install a virus which would give the hacker access to the phone's data, including location, pictures and contacts, as well as remotely manipulate the phone to take photos and make recordings without the owner's knowledge.
The spokesman said the Israel Defense Forces (IDF) had uncovered the plot several months ago but had let it continue under surveillance until they shut it down.
The IDF has previously warned soldiers about the need for vigilance when using smartphones and issued guidelines to try to prevent hacking attempts.
https://gulfnews.com/world/mena/israeli-soldiers-phones-hacked-by-hamas-women-1.69768920
--------
URL: https://www.newageislam.com/islam-women-feminism/muslim-couple-gets-married-anti/d/121093
New Age Islam, Islam Online, Islamic Website, African Muslim News, Arab World News, South Asia News, Indian Muslim News, World Muslim News, Women in Islam, Islamic Feminism, Arab Women, Women In Arab, Islamophobia in America, Muslim Women in West, Islam Women and Feminism