New Age Islam News Bureau
30 September 2020
• Portland Woman, Zehra Abukar, Crowned Miss Muslimah USA
• Young Afghan Female Mountaineer Plans Next Summit To 'Show The World What We Can Do'
• Lebanon: Shia Woman Says She Will Be Targeted For Expressing Her 'Free Opinion'
• Uproar over suspension of Pakistani schoolteacher for bringing baby to work
Compiled by New Age Islam News Bureau
URL: https://www.newageislam.com/islam-women-feminism/muslim-club-canada-gives-women/d/122996
--------
Muslim Club in Canada Gives Women of Color Special Running Zone
September 29, 2020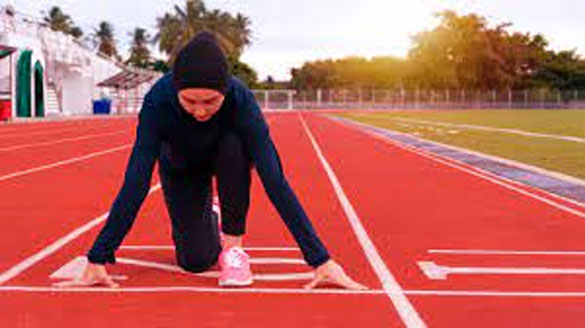 Islam promotes good health and fitness and encourages both men and women to engage in physical activity to maintain healthy lifestyles.
-----
SHAFAQNA- Islam promotes good health and fitness and encourages both men and women to engage in physical activity to maintain healthy lifestyles. But, for Muslim women, Islam is a fundamental aspect of their identity and their approach to sport is often determined by religious, cultural, and ethnic factors. For Muslim women, religious beliefs and values determine the ways they structure and approach their life.
Though Fatma Ramadan, a 24-year-old Muslim woman from Toronto, practiced different sports, running on the streets was always a challenge she could not overcome, The Canadian Press reported. She had participated in other sports such as horseback riding and volleyball. Her sister, also a Hijabi, has told her she had that same feeling going out for a run, saying it was difficult "to take that first step, in front of everyone."
This is why Ramadan created 'A Women's Run' club, providing a welcoming running space for women of color in 2019, About Islam reported. For example, Hijabi Ballers, a local organization that supports Muslim women in sport, stepped in to help with funding and promotion. Britt Hern, a trainer who Ramadan asked if she could write up a training plan for the group, also volunteered to train the women in person.
Around the world, Muslim women are defying stereotypes to compete and excel at the highest levels of sports. This includes football, fencing, weightlifting, basketball, ice hockey and more. In 2016, 14 Muslim women medaled in the Rio Olympics, including American fencer Ibtihaj Muhammad, the first Muslim woman to represent the United States on the podium.
https://en.shafaqna.com/172415/canada-muslim-club-in-toronto-gives-women-running-zone/
--------
Portland Woman, Zehra Abukir, Crowned Miss Muslimah USA
Sep 29, 2020
PORTLAND, Maine —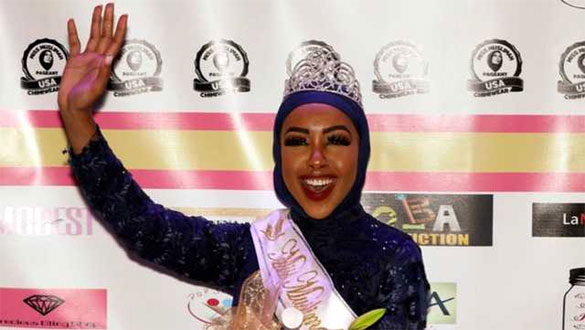 Zehra Abukar won the crown Sunday at the 2020 competition in Detroit, Michigan.
-----
Zehra Abukar won the crown Sunday at the 2020 competition in Detroit, Michigan. This was the fourth year for the pageant.
The Miss Muslimah Pageant USA was created to provide a pageant in which Muslim women can compete without foregoing their religious beliefs.
Abukar's talent for the competition was a dance.
Abukar grew up on Portland's East End and speaks several languages.
Portland Police, congratulating Abukar on Facebook, wrote that she has been instrumental in the life of one of its officers "as both an elder in Kennedy Park and as a translator for the many languages she speaks. Thank you for representing Maine and the City of Portland so well. Congratulations on your win!!"
https://www.wmtw.com/article/a-6-year-old-texas-boy-died-from-a-brain-eating-amoeba-his-mom-wants-others-to-know-the-symptoms/34213658
--------
Young Afghan Female Mountaineer Plans Next Summit To 'Show The World What We Can Do'
By Orooj Hakimi, Hameed Farzad
SEPTEMBER 30, 2020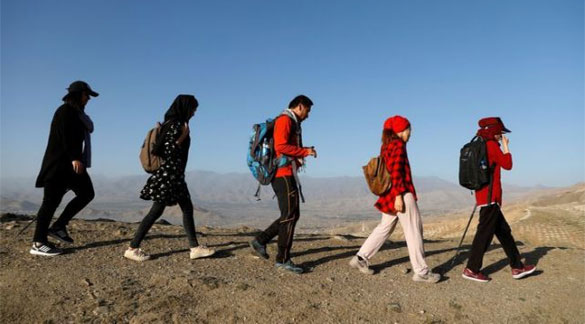 Members of Hikeventures mountaineering team, Adiba Juya 26, (L) and Fatima Sultani 18, (R) walk during an exercise in a mountain on the outskirts of Kabul, Afghanistan, on September 4, 2020. Reuters
-----
KABUL (Reuters) - Eighteen-year old Fatima Sultani gazes at the peak of a mountain near Afghanistan's capital Kabul after completing a morning climbing session, considering her next challenge.
She and her team of nine young Afghan mountaineers, including three women, are hoping to climb Afghanistan's Mir Samir Mountain and after that travel to Nepal to summit the world's highest peak, Mount Everest.
"My main goal is to show the world that Afghan women are strong and can do the most challenging work that men do," she told Reuters. "When I became aware that women from foreign countries come here to conquer high peaks I thought ... why can't we Afghan women conquer these peaks?"
Sultani has continued climbing throughout the coronavirus pandemic, in August making it to the summit of the 7,492 metre (24,580 feet) Noshakh Peak in the Hindu Kush mountain range in northern Afghanistan, becoming the youngest woman in the world to do so.
But as the Islamist Taliban hold peace talks with the Afghan government in Doha, many women in Afghanistan worry the militant group may exert its influence through formal political channels.
When the Taliban ruled the country between 1996 and 2001, they banned education for females and barred women from leaving the house without a male relative.
The group says it has changed but many women remain sceptical.
"When I got into sports, I knew that I would face some problems in the future, for example, one of the issues was that maybe the Taliban would hinder sport for women, but still I'm ready to face the challenge," Fatima said.
When she's not training in the mountains, Fatima lives in Kabul with her parents, younger sister and cat. Her father said he will continue to celebrate Fatima's achievements but has lingering concerns about her safety.
"I am worried about this, (the Taliban) oppose women's sports," Abdul Wahed Sultani said. "(But) I told Fatima that you are free to do whatever sport you want to, even mountaineering, and I will support her as much as I can."
https://www.reuters.com/article/afghanistan-women-mountaineering/young-afghan-female-mountaineer-plans-next-summit-to-show-the-world-what-we-can-do-idINKBN26L0DY
--------
Lebanon: Shia Woman Says She Will Be Targeted For Expressing Her 'Free Opinion'
Leen Alfaisal
23 September 2020
A video of a Shia Lebanese protester criticizing the government went viral on social media after she claimed that she will be targeted for what she said as soon as she returns to Dahieh, a predominantly Shia Muslim suburb south of Beirut.
"As soon as I arrive in Dahieh, I will be subjected to many things because of my free opinion – shame on them," the protester told Sawt Beirut International.
"You are Shia and you're protesting against us," the woman predicted she would be told. "I am Shia and I would protest against my mother if she usurps the rights of the people," she said as a preemptive reply.
For all the latest headlines follow our Google News channel online or via the app.
Lebanese across the country have raged at the country's sectarian leaders who have failed to form a government since the last cabinet stepped down in mid-August after the massive explosions at the Beirut port. The country is currently in the midst of its worst economic crisis since the 1975-1990 civil war, and around half of the population now lives below the poverty line.
Bringing her children with her to protest, the woman said that every politician in Lebanon is a "dictator" and a "war criminal," adding that the country doesn't need these parties, but rather needs one brave president.
Lebanon has been governed by the same ruling elite since the end of the civil war when former warlords turned in their arms, becoming politicians – Hezbollah refrained from turning in its weapons.
Emmanuel Macron, president of Lebanon's former colonial power France who has led international efforts to offer support, also rebuked politicians after his initiative faltered when Prime Minister-designate Mustapha Adib, a Sunni Muslim named on August 31, stood down amid sectarian squabbling for ministerial posts. The ruling elite have yet to signal how they will solve the crisis in a nation where politics relies on power-sharing between Christian and Muslim sects.
Adib's efforts to form a cabinet of non-partisan ministers ran into the sand after Lebanon's two main Shia groups, the Amal Movement and the heavily armed, Iran-backed Hezbollah, demanded that they name several ministers, including the finance post.
With politics deadlocked and the economy crushed by debt, Lebanon's pound took a further dive, adding to the pain of citizens, many of whom have struggled to make ends meet since the economic crisis erupted last year.
People are "dying of hunger" and "being tricked into staying silent," the woman said, referring to the people of Dahieh, in which Iran-backed Hezbollah has the biggest influence. "Some of them can't even afford a house," she added.
https://english.alarabiya.net/en/News/middle-east/2020/09/29/Lebanon-Shia-woman-says-she-will-be-targeted-for-expressing-her-free-opinion-
--------
Uproar over suspension of Pakistani schoolteacher for bringing baby to work
September 29, 2020
Sana Jamal
Islamabad: When a female schoolteacher in Mianwali city of Punjab lost her job allegedly for "bringing her baby at work" it caused a social media uproar and sparked a strong reaction from Pakistani educators after which the teacher was promptly restored.
Ms Ishrat Sattar, who teaches at Government Higher Secondary School (GHSS), in Harnoli, Mianwali, was suspended over "inefficiency and misconduct" after "she was found playing with her child" the notification read. Punjab Education Minister Murad Raas said on Twitter that the tutor was suspended for "not attending to the teaching activities" and not observing "COVID-19 regulations". He added that the school CEO has been asked "to restore her with a warning" but "If this happens again, action will be taken."
Debate on rights of teachers
The incident stirred up a debate on social media over the rights of teachers and inadequate facilities at schools under the hashtag #FemaleTeacherSuspension. Citizens as well as educators supported the schoolteacher and said that working parents should be allowed to bring infants to work. Pakistanis cited the examples of Pakistan's former premier Benazir Bhutto who was the first world leader to give birth while in office and New Zealand Prime Minister Jacinda Ardern who recently attended the United Nations General Assembly with her baby.
"Such teachers deserve appreciation not suspension who didn't take leave for her child and performed her duty of being a teacher as well as mother at the same time" wrote Syed Qasim Raza on Twitter. "Teachers are also human beings. Treat them with kindness and respect" said an account titled Punjab Educators that shared photos of Pakistani women legislators and bureaucrats who brought their kids to work.
Day care centres
Some teachers demanded to establish day care centres in every school and workplace to encourage women, who comprise of over half of Pakistan's population, to join the workforce. Many teachers who are parents need childcare options to take care of their new-borns and young children. Both public and private schools must offer day care centres to support new parents," Salma Khalid, an Islamabad-based junior class teacher, told Gulf News. "It will also ease the burden as teachers working in private schools cannot afford day care centres in paltry salaries."
Maternity benefits
Article 37(e) of Pakistan's Constitution directs the state to ensure "maternity benefits for women in employment" while Punjab Maternity Benefits Ordinance, 1958 mandates that "commercial and industrial establishments" provide their female employees 12 weeks of full-paid maternity leave. However, many organizations particularly in the private sector violate the rules. Most companies do not have day-care services for infants and do not allow flexible work hours or paid leave for mothers.
https://gulfnews.com/world/asia/pakistan/uproar-over-suspension-of-pakistani-schoolteacher-for-bringing-baby-to-work-1.74217108
--------
URL: https://www.newageislam.com/islam-women-feminism/muslim-club-canada-gives-women/d/122996
New Age Islam, Islam Online, Islamic Website, African Muslim News, Arab World News, South Asia News, Indian Muslim News, World Muslim News, Women in Islam, Islamic Feminism, Arab Women, Women In Arab, Islamophobia in America, Muslim Women in West, Islam Women and Feminism