New Age Islam News Bureau
17 May 2014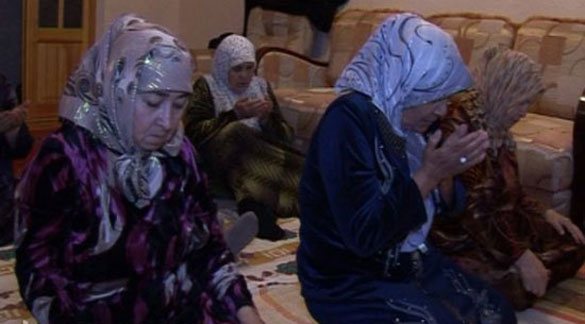 Women in Tashkent perform a Mohammedan prayer © Uznews.net
----------
• Syrian Girls Forced To Marry Islamic State of Iraq and Al-Sham Fighters
• Girls Punished For Helping Firms Evade Saudisation
• Uzbek Otins (Female Preachers) Preach Islam to Women
• Foreign Minister Says Italy Working To Save Sudanese Woman
• Egypt's New Sexual Assault Law Faces Major Obstacle in Police Who Still Blame the Victims
• Florida Mother Fights Court Order to Circumcise Son
• Probe into Murder of Woman in Suspected Terror Attack Hits Impasse
• Egypt: Deadly Risks, But Female Genital Mutilation Persists
• Egypt's Blind Women's Orchestra Struggles Post-Revolution
Compiled by New Age Islam News Bureau
URL: https://www.newageislam.com/islam,-women-and-feminism/new-age-islam-news-bureau/muslim-clerics-resist-pakistan's-efforts-to-end-child-marriage/d/77060
-----------
Muslim Clerics Resist Pakistan's Efforts to End Child Marriage
May 17, 2014
LAHORE, Pakistan — When police raided a marriage ceremony in Karachi on Wednesday (May 14) and found a 46-year-old groom about to marry his 14-year-old bride, the wedding didn't come as a shock to most here in this conservative Muslim country — the raid did.
The bride told police her marriage had been consensual, police officials said. Her age was listed as 18 on the marriage certificate.
Marrying off girls as young as 10 is still a widespread practice in Pakistan, Afghanistan and elsewhere in Asia and Africa, despite the prohibition of child marriage in some existing national and provincial laws. Between 2000 and 2010, about 24.4 million women between the ages of 20 and 24 were married before the age of 18, according to a report by the United Nations Population Fund.
Now some lawmakers in Pakistan are hoping to end the practice by introducing harsher punishments for clerics, guardians and spouses involved in arranging child marriages across the country. The province of Sindh, whose capital is Karachi, outlawed the practice in late April — hence the raid.
The Child Marriage Restraint Bill 2014 introduced in the National Assembly in March proposes amending a 1929 law by making involvement in a child marriage a recognizable offense and creating stricter punishments, including two-year prison sentences or fines of up to $1,000.
It's been a long time coming, say supporters.
"It's time that we stand up for our women," said Marvi Memon, a lawmaker and a sponsor of the bill. "I have seen child rights violated in my constituency and around the country — in every single province."
Still, Memon and other bill supporters are facing stiff resistance from opponents to the bill, such as the Council of Islamic Ideology, a body charged with advising the government on Islamic law.
In March, the council ruled that laws related to the minimum age of marriage were against the teachings of the Quran and that children of any age could get married if they had reached puberty. They argue that the Prophet Muhammad took underage wives.
"Parliament should not legislate laws which are against the teachings of the Quran and Sunnah," said Maulana Muhammad Khan Shirani, the council's chairman, referring to the Muslim holy book and oral traditions of the Prophet Muhammad.
But advocates of the law say it is necessary to set age limits because poorer families can't support all their children; in Muslim culture, the bride joins the groom's family and the husband becomes responsible for her.
"Persistent constraints and deprivations that prevent many of the world's women from achieving their potential have huge consequences for individuals, families, communities and nations," said Omer Aftab, chief executive officer of the Women's Empowerment Group, an independent organization in Lahore.
"Child marriage remains pervasive in developing economies like ours, with one in three girls wedded before 18 and one in nine before 15," he added.
The United Nations Human Rights Council estimates that more than 140 million girls will be married before their 18th birthdays over the next decade and that almost 50 percent of these child brides are in South Asia. Child marriage can have devastating consequences for these women.
"Research gives us reason to believe that early marriage comes with a 41 percent increased risk of mental disorder," said Aftab. "It is a major psychological trauma and should be considered as no less."
Copyright: For copyright information, please check with the distributor of this item, Religion News Service LLC.
http://www.washingtonpost.com/national/religion/muslim-clerics-resist-pakistans-efforts-to-end-child-marriage/2014/05/16/c48f9c04-dd25-11e3-a837-8835df6c12c4_story.html
-----------
Iran women's "stealthy freedom" dress code backlash
May 17, 2014
A poster of a stiletto shoe with a red strike-through the middle was held high above the crowd at a rally in Tehran on Friday. Hundreds were present at the protest to call on the government to enforce the country's strict Islamic dress code for women.
It appears to be a response to a Facebook page going by the name "My Stealthy Freedom", where young Iranian women share photos of themselves in public without the hijab or veil. It has racked up more than 243 thousand likes.
Hardline Islamists see the actions as evidence of creeping Westernisation. "The youth should be vigilant and be aware that the same enemy that has blocked our access to nuclear science is trying to drive us towards abandoning the hijab and towards corruption," said one young protester, adding, "It is the same enemy. I ask all my good friends to do a little bit more thinking first, and then do whatever they want."
Holding posters appealing to the historic acts of soldiers killed who died in the eight-year war with Iraq in the 1980s, protesters appealed to emotions, with another placard stating "We will start another revolution if the Hijab situation doesn't change."
President Rohani has taken a less strict view of the dress code, allowing looser clothing to be worn in the hot summer months, saying the emphasis should be on virtue rather than fashion.
Copyright © 2014 euronews
http://www.euronews.com/2014/05/17/iran-women-s-stealthy-freedom-dress-code-backlash/
-----------
Girls punished for helping firms evade Saudization
May 17, 2014
The Ministry of Labor caught 500 Saudi girls involved in fake Saudization efforts in the past year. The girls colluded with business owners and some businesses to falsely represent themselves as having achieved the required Saudization percentage for the companies that will prevent them from lapsing into the red category.
The human resources fund Hadaf came to know about the fraud and punished the girls by depriving them of its services.
An informed source told a local newspaper that the cases that have been discovered were punished by depriving the women of the fund's services for three years, in addition to imposing fines on the businesses involved in the fraud.
The fund said in a statement: "We are talking here about the fake number of Saudi females in establishments. The number of cases are much higher among the Saudi males."
A girl, who declined to be named, said that she had been deprived of the services of the fund for three years. She said that she only worked at the establishment for two years and then resigned. "However, the business decided to keep my name on the payroll so as not to lose its status and lapse into the red category. It's not my fault. I found out about this only after checking with the Social Insurance, when they asked me to get a clearance from the company in which I used to work," she said.
The General Organization for Social Insurance (GOSI) has launched a service on its website for persons who want to make sure if they are still part of the social insurance system. The reason for this is to expose those businesses that are involved in fake Saudization by keeping the names of Saudi employees on their payroll even after they have left the company.
The girl asked Hadaf to give Saudis the benefit of the doubt and check with them before imposing any penalties. "They should give us a chance to defend ourselves," she said.
http://www.arabnews.com/news/572171
-----------
Saudis adopt 6,691 babies
May 17, 2014
Saudi families have adopted 6,691 abandoned children, according to a report released by the Justice Ministry on Friday.
"Courts in the Kingdom have completed procedures for the adoption of 391 abandoned children in 2013," the report said.
Eid Al-Buqami, director of orphan care at the Ministry of Social Affairs, said there is a long list of Saudi families who intend to adopt children. "Our offices in different regions have received a large number of such applications."
He said abandoned children are taken to hospitals for medical check up before being handed over to families seeking to adopt them. Police conduct necessary investigations as part of the procedure.
The ministry receives the child on the instructions of the regional governorates, Al-Buqami said.
"Families who adopt the children must make arrangements for breastfeeding. This is a basic condition," he added.
http://www.arabnews.com/news/572211
-----------
Pakistani couple incurs SR128, 000 hospital bill in delivery of baby girl
May 17, 2014
A poor Pakistani farm worker in Taif is desperately trying to pay the mounting hospital bills which he incurred after his wife gave birth to a premature baby girl. He cannot take his baby home until he pays the money in full.
Mohammed Ishaq, a 26-year-old Pakistani, works as agriculture farm worker cum driver in Taif. His wife, Hasina Nader Mohammed had a premature delivery on Feb. 10 of this year giving birth to a baby girl weighing 1 kg and suffering from respiratory distress syndrome. Ishaq was billed a total of SR127,680 according to the medical records.
The Pakistani couple was unable to bear the huge cost as both are not covered by health insurance.
The baby was placed in an incubator at the hospital for 22 days where she was treated with antifungal medication and supplied oxygen. She also spent 43 days in the ICU for respiratory treatment and given artificial ventilation.
"The hospital is demanding the payment of a sum of SR127,680 as their service charges before they agree to discharge my daughter," Ishaq said.
He said that he worked on a farm and drove his sponsor's vehicle. "My wages are not sufficient to pay such a large amount of money," he said adding that he wouldn't be able to raise this amount even he worked for another ten years in the Kingdom.
When asked about the medical insurance cover, he replied, "Domestic employees such as house drivers, maids and farm workers are not covered in the mandatory medical insurance cover."
Ishaq said that he knew some Pakistani workers in Taif but that they were of the same social status as himself, and were unable to raise the sum. "My wife and I are grief stricken and at a loss as to where to go and whom to ask for help," he said sorrowfully.
http://www.arabnews.com/news/572121
-----------
UAE students focused on finding workable uses for drones
May 17, 2014
DUBAI// They're small, high-tech, and, if you're smart enough to build a really useful one that can be put to use in the UAE, it could bag you a cool Dh1 million.
The country's inventors are buzzing with ideas to create the next generation of unmanned aerial vehicles (UAVs), or remote-control drones, spurred on by advances in technology and the cash prize offered as part of Dubai government's Drones for Good Award.
The potential day-to-day civilian uses of drones are vast, with developers' ideas ranging from traffic surveillance, package deliveries and even walking the family dog, all controlled by a smartphone app. The competition's local judges, however, will be looking for more practical benefits for health, education, civil defence, transport and tourism that can be up and running within 12 months.
Civilian drone technology is still in its infancy but is expected to become a major manufacturing sector in the future. In the meantime, creating a UAV capable of delivering on inventors' promises means fulfilling several difficult criteria.
"Above all, it must be capable of handling different climate conditions equally effectively, like no wind, light wind, strong wind, heavy rain, etc," said Anton Gavrailov, co-founder of Flyver, a Bulgarian company that helps programmers to develop software for drones. "What will make a difference in the drones will be the software."
But the technology is there and is becoming cheaper and more accessible, said Mr Garailov, who added that drone apps are at the beginning of their development cycle and in time will become just as simple and as popular as smartphone apps to programme.
"From a software perspective, developers need to learn proprietary low-level development interfaces to control the drone. This trend can be observed in many areas of customer electronics and hardware," he said. "You need to be a real geek, a motivated geek, to overcome this barrier."
But that has not deterred students from entering the contest.
A team of five from the Birla Institute of Technology and Science Pilani, Dubai, have already developed remote-controlled aerial and land bots for previous contests.
"We plan to upgrade our bot to a completely autonomous drone for the contest," said Yashaan Cooper, a second-year electronics and communication-engineering student.
"Our bot now is pilot controlled. But we will upgrade it to make it completely based on artificial intelligence. We want to give something back to society. We want to take it to the next level and contribute to the Dubai government."
Mr Cooper, 20, said their new drone would cost at least Dh15,000 to develop and could be used for navigation, exploration, traffic updates and to deliver parcels.
"If the government wants to deliver a small parcel, it can be done securely and with the use of fingerprints. Ours will be an integrated drone that can store data and can be linked to Google Images."
He said the team were looking for sponsors to fund their project.
The remote-controlled drone weighs 1.8kg, costs Dh4,000 and took six weeks to develop.
As well as the local award, an international prize of US$1 million (Dh3.67m) is also up for grabs that will recognise the best ideas for using drones in the next one to three years, focusing on delivering government services in remote areas and even providing relief during disasters.
The finalists will present their UAVs in Dubai at the Government Summit 2015, in February. For details visit www.dronesforgood.ae.
http://www.thenational.ae/uae/technology/uae-students-focused-on-finding-workable-uses-for-drones#ixzz321A4Ohta
-----------
Gifted Gaza child artist finds inspiration despite hardship
May 17, 2014
GAZA CITY, Gaza Strip — Seven years ago, in the old Shujaiyya neighborhood in eastern Gaza City, the artistic talent of Mohammad Qureiqai, 12, was discovered as he was making pencil sketches in his notebook. His journey of being acknowledged as a creative artist began.
Mohammad's eldest brother, Malek, 23, could not believe his eyes when he saw a sketch drawn by Mohammad, who was only five years old at the time. He asked him to redo the sketch multiple times, to make sure that Mohammad had worked on it by himself. Then, Malek started to help him with the drawings, assisting him in coming up with new ideas for his paintings, which were initially produced using only pencil and charcoal.
Al-Monitor met Mohammad in his humble studio, a small room on the rooftop of his two-story house. After school, Mohammad spends long hours in the studio, where he has placed the oil and pencil paintings he produced over seven years ago.
Each painting has a story, and whenever the young artist is asked about a certain painting, he recounts how he came up with the idea and drew it, and the time it took him to make it ready for display. Mohammad was asked to produce some paintings to display in exhibitions about Palestinian causes, like prisoners in Israeli jails, the Nakba and other subjects. However, he is most interested in the paintings whose ideas he has come up with, and he enjoys talking about them at length.
"I go to sleep and wake up dreaming of new drawings. My life has now become my drawings and paintings. Everything you see around me are ideas for old or new paintings," Mohammad said with a shy smile, explaining the importance painting holds for him.
"A few days ago, I sat for official school exams. After I finished my test, the supervisor would not let me go until the time was up, so I drew on the answer sheet to pass time. This angered the teacher, who asked me to erase the drawing before submitting it," he said.
Mohammad hails from a middle-class family and has three sisters and five brothers. His eldest brother Malek describes Mohammad, saying, "Mohammad's talent as an artist is already excellent, but for a 12-year-old boy, it is extraordinary."
Mohammad participated in nine exhibitions in the Gaza Strip, collectively or individually, the majority of which were organized by local and governmental institutions. He also participated in an exhibition in Beirut organized by the Palestinian Embassy in Lebanon. He was also supposed to participate in an exhibition in South Africa, but he could not travel or send his paintings, so his works were photographed and scanned and then put on display.
Israel refused to give Mohammad a permit to travel to Bethlehem to participate in painting the "peace mural through the eyes of children amid occupation" in 2012, which deprived him of the chance to work with both Palestinian and foreign children to create the mural.
The majority of Mohammad's paintings depict cartoon characters he watches on TV. He also tries to come up with short stories for children by drawing characters and writing dialogue.
He tries to develop his painting skills through self-learning on the Internet, examining the paintings of other artists and continuously watching videos on YouTube that explain the correct methods to paint objects in such a way that they appear three dimensional.
"With the help of my brother Malek, I try to learn new drawing methods by using the Internet, and find ideas to put on canvas," he said.
Mohammad is facing a problem by the lack of sponsorship from official and local institutions and the scarcity of financial resources, depriving him of the ability to afford painting equipment. This is why he has to wait until some institutions commission him to produce paintings before he can purchase supplies. Also, his studio lacks an easel, which means he has to draw while lying on the ground on his stomach.
Mohammad, despite his young age, knows the names of internationally renowned artists, and says that Dutch painter Vincent van Gogh is inspirational to him. "I, like [Pablo] Picasso, draw using the left hand," he lightheartedly said.
Local Palestinian artists complain about the lack of societal and official interest in art and painting, since — due to the difficult economic situation in Gaza — art is viewed as a luxury.
Mohammad said that those living near him and people he interacts with do not care about art and painting.
"My neighbors told me more than once: 'Drawing is useless. Work to make a living,'" he said.
Mohammad is determined to become an internationally renowned artist, saying, "I want to study fine arts after I finish school to develop my capacities and talent," adding, "I hope to live outside Palestine where art and drawing are valued, and where I can meet international and famous artists."
All photos of Mohammad Qureiqai, 12, with his paintings and sketches at his home in Gaza City, May 13, 2014. Taken by: Hazem Balousha
http://www.al-monitor.com/pulse/originals/2014/05/gaza-gifted-child-artist-painter.html#ixzz321ApKyMF
-----------
Florida mother fights court order to circumcise son
May 17, 2014
A mother in Florida is fighting a court order to have her 3-year old son circumcised, the local blog Broward Palm Beach Times reported. Heather Hironimus entered a parenting agreement with Dennis Nebus in 2010 when their son Chase was born that included a clause stating the father would be responsible for planning and paying the circumcision.
The circumcision hasn't happened and now that the boy is 3 years old, the mother objects to the procedure, which she says is not medically necessary and can only endanger the child. However, Judge Jeffrey Gillen has ruled that the agreement is still valid and the father can schedule the circumcision.
Hironimus' lawyer claims this is not in the best interest of the child, which should be the deciding factor, and that a pediatric urologist has testified that he would not recommend the procedure be done at this stage.
The appeal in the matter has drawn support from anti-circumcision activists around the country. Hironimus, a stay-at-home-mom, started a fundraising page to fight the matter.
A similar case is ongoing in Israel, where in an unprecedented ruling in an Israeli rabbinical court last November, a judge ruled that a mother must circumcise her son against her will or pay a fine of NIS 500 ($140) every day until it is done. The mother appealed to the High Court in the matter.
The debate over whether to circumcise has become more prevalent and open in recent years, due to various new medical studies, rulings in Europe, and individuals coming out and declaring their rejection of the practice.
For example, Haaretz columnist Uri Misgav wrote a blog post in January on why he did not circumcise his son. Also recently, American Jewish actress Alicia Silverstone announced she was not going to circumcise her son.
http://www.haaretz.com/jewish-world/jewish-world-news/1.591158
-----------
Probe into murder of woman in suspected terror attack hits impasse
May 17, 2014
The investigation by the police and Shin Bet security service into the murder of a 20-year-old woman two weeks ago has run into significant difficulties, sources say.
On May 1, Shelly Dadon was found stabbed to death in Migdal Ha'emek in the north after leaving her home in Afula for a job interview and never arriving.
A gag order has been imposed on the probe until the end of the month, and Judge Dalit Sharon-Green of the Nazareth Magistrate's Court rejected a request from Haaretz Thursday to lift the order at least partially.
Earlier this month Public Security Minister Yitzhak Aharonovitch said there had been a "dramatic development" in the investigation but gave no details.
The police and Shin Bet told Haaretz there is still no clear indication of a nationalist motive; both directions — criminal and nationalist — are being investigated equally.
"It is still possible that it will turn out to be a murder with a criminal motive," a police source said. Aharonovitch has said this too, but after a request from the Dadon family, the minister changed his tone slightly and stressed that "all directions are being investigated."
Police on a routine patrol found Dadon's body in an abandoned parking lot on the outskirts of the Ramat Gavriel industrial zone – but only a few dozen meters from busy Route 75.
About 2,000 people marched in Afula last Saturday night in Dadon's memory. According to an organizer, the rally was meant to urge the government to increase efforts to stop violence.
Many marchers wore red gloves and chanted "death to the murderers" and "Shelly's blood is my blood." Others, believing that the killing was politically motivated, attacked the Israeli-Palestinian peace process, calling on Jerusalem to "stop the release of terrorists."
After the demonstration, a few dozen marchers remained and chanted "Death to Arabs" – despite organizers' requests that they forgo such chants. Some protesters threw rocks in an attempt to damage cars belonging to Arab residents. The police arrested 11 people.
According to an Arab public figure from the north who is familiar with the details of the case, "Aharonovitch was too hasty. He needs to apologize to the entire Arab community after turning them all into murder suspects."
http://www.haaretz.com/news/national/.premium-1.590984
-----------
New Jersey men allegedly used stun gun to force Jewish divorce
May 17, 2014
Two New Jersey men have been charged with kidnapping a third man in an attempt to force him to grant his wife a get, or Jewish bill of divorce.
The U.S. attorney's office says David Aryeh Epstein and Chaim Baruch Rubin lured the victim from Brooklyn to Lakewood in November 2009 for a job opportunity. A few days later, several men allegedly tied him up, put him in a van and beat him and shocked him with a stun gun.
Epstein and Rubin made court appearances in Trenton Thursday afternoon and were released on $500,000 bail under home detention.
Epstein's attorney didn't return a message seeking comment. Rubin's attorney could be not be reached Thursday.
Ten people were charged last fall with similar crimes in an FBI sting. Four have since pleaded guilty.
http://www.haaretz.com/jewish-world/jewish-world-news/1.591061
-----------
Syrian girls forced to marry Islamic State of Iraq and al-Sham fighters
May 17, 2014
ISTANBUL — Following its establishment in Syria, the Islamic State of Iraq and al-Sham (ISIS), which has spread out over Raqqa, northern Aleppo and some of the border areas, has begun to attract young jihadists from around the world. The fighters have expropriated houses, land and cars to have the desired life in the "Islamic state." They have also married Syrian girls for various reasons.
Some parents are ready to give up everything they have to be close to the ISIS emirs, achieve material gains and have prestige and power. They offer their daughters to foreign fighters without asking the bride-to-be, according to prominent Raqqa activist Omar al-Huwaidi. Some girls — such as Fatima Abdulla al-Abou, 22, a university student from the al-Ojeil tribe in Salhabiya in Raqqa's countryside — categorically reject the practice. When her father tried to force her to marry a Tunisian immigrant on Feb. 2, she chose to die than to live with him. She committed suicide by poison, ending her life as a student who had worked halfway toward her degree.
Fatima escaped, in a way, the dark future that awaited her, but two other girls who married Tunisian jihadists did not. Huwaidi told Al-Monitor via a Skype interview that the two women were hospitalized in January after suffering barbaric physical abuse and maiming by their new husbands. Another activist in Raqqa, who wished to remain anonymous, told Al-Monitor, "We were shocked indeed when we heard about this inhuman behavior. We did not believe it at first, but we later found out that it really happened. We call for stopping this kind of marriage in any possible way."
Some ISIS emirs marry to further integrate into Syrian society and get closer to the clans in the areas they occupy, to acquire popular support. They ask to marry a girl and her parents often have no choice but to approve, without knowing the men's history and reputation, according to media reports. The ISIS fighters keep their identities and histories secret, and even their names are sometimes unclear or hidden under the pretext of security.
Activist Hammoud al-Moussa, from the city of Raqqa, told Al-Monitor that in some cases the groom asks for the permission of a father to marry his daughter without revealing his real name. Then the marriage takes place to avoid hostilities with the emirs. In most cases, the marriages are concluded using a pseudonym, and, according to Moussa, in 90% of the cases these marriages are secret affairs. Moussa added that the marriages involve nothing more than a verbal agreement.
There are no offices that document these cases, and there are no guarantees of the rights of women who marry foreign fighters. Should their husbands get killed, the women are left to their own devices.
Civil activists in Raqqa told Al-Monitor that the ISIS leadership also awarded houses to married emirs. It evacuated several displaced families from the scouts' camp and replaced them with the new couples. Sometimes, the married emirs do not consider marriage the start of a family, but rather an opportunity for sexual relations.
Abu Jihad al-Halabi, a pseudonym for an activist in the city of Aleppo, told Al-Monitor via Skype, "Most of the marriages that we learned about did not last for more than two months. The husband either abandons the wife under the pretext of moving to a new battlefront, or divorces her and marries another woman."
"When the Free Syrian Army arrested one of the ISIS emirs during the last battles in the countryside of Aleppo, they found a large number of marriage contracts in his car," he added.
In al-Dana in Idlib, Mohamed Hussein, an activist who conducted research on this subject, told Al-Monitor that a large proportion of these marriages end in divorce after two months, at which time the foreign fighters marry another woman. Sexual relations under the appropriately sanctioned institution of marriage is their main concern. "We found with one of the 'immigrants' who got caught, a notebook in which he had written military and first aid lessons, in addition to his reflections and prayers. He prayed to God to marry a good Syrian girl," Hussein said.
"All the 'immigrants' who come to the medical center in the countryside of Latakia insist that the female doctors marry them. These doctors say they are engaged, and the fighters insist on being introduced to other Syrian girls," he added.
Hussein recounted a wealthy Libyan who was kidnapped by jihadists seeking assistance in marriage. "He told us that he came to Syria with the intention to help out Syrian families by donating money. But upon his arrival, ISIS captured him and kept him hostage until he paid a sum of 5,000 euros [$6,928] to help a Libyan jihadist fighter get married. When he asked the jihadist about his wife residing in Libya, the latter answered, 'This is her punishment because she refused to come with me to wage jihad in Syria.'"
Until this date, Raqqa remains under ISIS control and out of the Syrian regime's hands. ISIS is currently the strongest faction in town and has taken upon itself to kill opposition forces and activists and fight the regime. Every day that passes witnesses another ISIS execution, the cutting off of hands or crucifixion of Raqqa residents.
http://www.al-monitor.com/pulse/originals/2014/05/syria-girls-marriage-isis-raqqa.html#ixzz321DgTxjL
-----------
Bounce back from this: Agency apologises for showing Malala being shot in mattress ad
May 17, 2014
The advertising agency responsible for using cartoon images of Malala Yousufzai for the promotion of an Indian mattress brand has apologised and launched an investigation of the matter, TheGuardian reported.
The poster which runs with the tagline 'Bounce Back', made by the Indian offices of WPP-owned network Ogilvy & Mather for bed firm Kurl-On, showed series of images of Malala being shot, falling backwards covered in blood, being put on a drip and then bouncing off a mattress and recovering to receive an award.
Ogilvy's press spokesperson for Asia Pacific, Greg Carton, apologising to Malala and her family said, "The recent Kurl-On ads from our India office are contrary to the beliefs and professional standards of Ogilvy & Mather and our clients."
"We deeply regret this incident and want to personally apologise to Malala Yousafzai and her family," said Carton.
While vowing to review the agency's approval system, he said the agency will investigate how the ads came to be made.
"We are investigating how our standards were compromised in this case and will take whatever corrective action is necessary," he said. "In addition, we have launched a thorough review of our approval and oversight processes across our global network to help ensure that our standards are never compromised again."
Besides Malala, the campaign also includes two other ads. One featured Gandhi leaving his career as a barrister to become a peace activist. The other featuring Steve Jobs making a comeback after he was kicked out of Apple.
The spokesperson said that only the Jobs ad had run in paid-for media, in a local newspaper in India, while the other two were featured on an advertising industry website.
http://tribune.com.pk/story/709313/bounce-back-from-this-agency-apologises-for-showing-malala-being-shot-in-mattress-ad/
-----------
Egypt: Deadly risks, but female genital mutilation persists
May 17, 2014
A doctor will stand trial for the first time in Egypt on charges of female genital mutilation after the death of a 13-year-old girl last year. The girl's father, who took her to the clinic, is also being tried in the landmark prosecution.
It was June 2013, and Suhair al Bataa was burdened by punishing heat, and a feeling of foreboding.
Friends say the youngster was frightened. They recall that when she went to repair her shoes, she said it would be for the last time. She told one of her sisters to look after the other.
The top student was facing a brutal summertime ritual - female genital mutilation (FGM). She did not survive it.
Widely practised
Suhair lived and died in a small farming community on the outskirts of the Nile Delta city of Mansoura.
Beneath the lush green landscape lies a bedrock of faith and tradition. Both play a role in perpetuating FGM.
It has been outlawed since 2008 but is still widely practised in Egypt, which has one of the highest prevalence rates in the world.
Over 90% of women under 50 have experienced it, according to government figures.
The removal of all or part of the external genitalia is done in the name of promoting chastity. Some parents see it as a religious duty in spite of a ruling against it by one of Egypt's leading Islamic authorities, the Grand Mufti.
Typically it is carried out on girls aged between nine and 13 but there are victims as young as six, according to campaigners against FGM.
They say there are even unconfirmed reports of newborns being subjected to it.
Outside Suhair's modest home, her relatives defended the practice, and insisted no-one was to blame for her death.
"It is God's will," said her grandfather Mohamed al Bataa, a gaunt-faced man wearing a brown gallabeya (traditional floor-length shirt). "We are not angry with the doctor. The doctor does not want to kill anyone. We are all sorry, and definitely we regret this."
But when asked if it was right to subject Suhair to FGM, her uncle Hassan's response was swift. "Yes of course," he said. "It has been done in the countryside for a long time. People here are used to it. Without circumcision, girls are full of lust."
Hidden death toll
Suhair's grandmother, after whom she was named, told us she herself was circumcised when she was about eight years old.
"We were four sisters, and we were circumcised in one day," she said. "Each of us was put in one corner of the room. Afterwards they gave us food and drinks."
Gypsies used to carry out the circumcisions, she told us, placing dust and salt on the wounds.
These days doctors carry out more than 70% of FGM procedures in Egypt. That is part of the problem, according to Philippe Duamelle, of the UN Children's agency, Unicef.
"It's perceived as being safer, but no-one learns how to do this at medical school. We should definitely assume more girls are dying as Suhair did," he said.
The number of girls killed by FGM in Egypt is unclear, according to Mr Duamelle, because deaths are recorded as haemorrhages or allergic reactions to penicillin.
That was the reason put forward by Suhair's doctor, Raslan Fadl Halawa, when we tracked him down at the private clinic in his home.
Suhair's neighbours say the clinic was well-known for FGM, with up to a dozen procedures carried out there every day.
Dr Halawa denied performing FGM on Suhair and said he had only treated her for genital warts.
The doctor, who was visibly agitated, said the penicillin was given to her by someone else. Prosecutors think otherwise. They are putting Dr Halawa on trial, together with Suhair's father, who brought her to his clinic.
Easily arranged
Campaigners warn that support for FGM is hard to quash - even in Suhair's village.
"The case has started a debate among the liberal-minded," said Mohamed Ismail, who works for a local women's rights organisation. "But for the dogmatic even the death of the girl hasn't changed their minds."
As we filmed in Suhair's village, we found evidence of that. "What's all the fuss about?" one old woman asked. "Why did you come here? A thousand or so girls were circumcised after she died."
Hanan, a fruit-seller, sat nearby with her infant daughter Farah on her lap. She told us she plans to have the curly-haired infant circumcised, by a doctor, when she reaches her teens.
"In the past there was ignorance," she said, "and people brought barbers to their homes to circumcise girls. Now we are more modern. We hear every now and then that girls die because of this. I'm afraid of that. But we are not scared of the authorities."
It seems those carrying out the banned procedure are not either.
Villagers told us it is still easy to arrange. They said there was no need to ring ahead for an appointment - they just turn up at the doctor's office with their daughters.
'Scarred for life'
While the prosecution of Suhair's father and her doctor is being hailed as a landmark case, it comes more than five years after FGM was outlawed.
Unicef is calling for a clear law-enforcement effort. "This is a form of violence against children," said Philippe Duamelle. "It's an irreversible act. There are mental and physical scars that stay with the girl for a lifetime."
We met only one opponent of FGM in Suhair's village - her best friend Amira Arafat, a spirited 13-year-old in a black abaya and patterned pink headscarf. She spoke out publicly against it, as locals crowded around.
"It's a very bad thing for girls," said Amira. "There's no need for it. It's wrong because it's dangerous."
But she told us most of her friends had undergone the procedure. "It's the custom of the area," she said. "The problem is the mentality of the farmers."
Suhair lies buried in a white-walled cemetery close to her home. Amira says she loved to joke, and dreamt of becoming a journalist.
Campaigners warn that it will take more than one prosecution to spare other girls.
http://www.bbc.com/news/world-middle-east-27322088
-----------
Egypt's blind women's orchestra struggles post-revolution
May 17, 2014
CAIRO — Described as "Egypt's miracle," Al Nour Wal Amal (Light and Hope), the blind female orchestra, is feeling the economic pangs of the revolution. Prior to the January 25 Revolution, the orchestra staged regular monthly concerts, traveled annually and had multiple donors supporting the organization and its initiatives. Today, the picture is somewhat bleak, shown by the infrequency of concerts, little or no international travel and dwindling funds.
"Since the revolution, the organization is really struggling. Most of our donors left the country and others can no longer afford to help," Amal Fikry, the organization's proud chairwoman, told Al-Monitor, detailing how even regular donors last year were today less forthcoming. Masr El Kheir, an Egyptian charity, is currently the main, stable funding source, according to Fikry.
The economic setbacks instigated by political instability have been multifaceted and deeply felt within the heart of the orchestra. Heba Rifat, a 22-year-old, talented, blind musician who plays the bass clarinet, linked the drop in concerts to the far-reaching economic tensions preventing people from donating or attending cultural events. The World Bank's findings support this premise: At the end of June 2013, Egypt's fiscal deficit and gross public debt — domestic and external — rose to nearly 100% of gross domestic product and unemployment reached over 13%, predominantly affecting youth.
The demand for concerts has diminished and people fear nighttime excursions because of the economic, security and political instability, said the young musician. The daily lives of many of the female musicians in the post-revolutionary period have also been influenced.
"The older girls who are independent of their families and those married with children have been badly affected by the revolution and the economic implications," Rifat told Al-Monitor, identifying herself as one of the fortunate, since her father is still supporting her.
Funding constraints during this period of political turmoil have also prevented the purchase of new orchestral instruments, minimized travel and stalled initiatives such as the development of a piece of land where Fikry hopes to establish a sports center for the blind. Ali Osman, the conductor of Al Nour Wal Amal since 2001, refers to the Ministry of Culture's failings before and after the revolution, which have denied the organization vital resources, media and international recognition.
Currently, the association has only a Facebook page created by Osman and the musicians to generate awareness about their phenomenal work. Such meek public exposure is disconcerting in light of the achievements of these gifted women, who have managed to overcome an enormous set of challenges. Not only are they struggling with their sight impairment, they are also struggling with social constraints, making their struggle all the more commendable, music critic Ati Metwally told Al-Monitor.
Al Nour Wal Amal orchestra consists of 44 blind female musicians between 20-40 years of age, of which five are visually impaired and can only see shadows. The orchestra has traveled around the world, visiting over 20 countries. There is also a junior orchestra of around 27 girls from 8-20 years of age.
The Egyptian Blind Girls Association was establish in 1954 by volunteers led by the late Istiklal Radi. It was the first organization in the region whose mission was to care, educate and provide vocational training and societal integration for blind women. In 1961, Radi and Samha el-Kholy, former president of the Academy of Arts and former dean of the Cairo Conservatory, expanded the association's activities to incorporate music education, establishing the Al Nour Wal Amal Music Institute.
There are currently five organizational branches in five cities, with a compound in Nasr City that includes a kindergarten for blind and visually impaired infants, a boarding school for blind women who live outside the capital and a call center that facilitates employment for the blind.
The musicians are from ordinary backgrounds and tend to join the institute at the primary stage. Upon passing the initial musical aptitude tests, an instrument is then selected by the student or teacher that it is compatible with the girl's physique. Each young woman learns musical notation in the braille system.
"It is a mere miracle, they learn everything by heart, they don't have the notes in front of them and cannot see the conductor," Fikry said, with a smile that radiated her sheer admiration for the girls, whom, observers remark, she treats as her own daughters.
Some of the musicians work full-time with the orchestra, while others have jobs and simply attend afternoon biweekly practice sessions. All the women musicians are educated, many with degrees and one at the doctoral level. Fikry recounts the remarkable story of Mahassan Mohamed, a woman in her 30s of Bedouin ancestry from Ismailia, who was illiterate until the age of 15 before joining the institute. Not only did Mohamed learn music, following the completion of her bachelor's degree, she traveled to the United States, where she obtained a master's and is currently pursuing her doctorate at Syracuse University.
Despite the countless obstacles further amplified by the revolution, the musicians and their support network exude unyielding optimism and hope regarding the organization's and Egypt's future. Aspirations expressed by the conductor Osman include Al Nour Wal Amal's elevation from a chamber orchestra to a symphony orchestra with the mandatory 60 musicians. International recognition is another goal at the top of the association's agenda.
"As a member of the only blind orchestra in the world, I want the world to know that Egypt is still making history and that women can succeed in spite of disabilities," Rifat said.
Political stability will afford such ambitions, if it is achieved.
http://www.al-monitor.com/pulse/originals/2014/05/egypt-blind-women-orchestra-nour-amal.html#ixzz321HFQsnl
-----------
Egypt's New Sexual Assault Law Faces Major Obstacle In Police Who Still Blame The Victims
May 17, 2014
CAIRO -- In Egypt, sexual harassment and assault can be seen everywhere: in a crowded market, where a man rubs his hand against a veiled woman's breasts; during a protest, when a horde of men rips the clothing off a female demonstrator; on a quiet residential street, where giggling boys follow a pregnant woman calling her names.
According to the United Nations, 99.3 percent of women in Egypt have been sexually harassed, assaulted or raped. Perpetrators are rarely even reprimanded, let alone brought to justice. And the police officials to whom women might turn often blame the victims and harass the women themselves.
Last week, Egypt's Cabinet approved a draft law that defines and criminalizes all forms of sexual violence. It's tougher than any preceding law, but activists say it's not enough.
"Amendments to the penal code are not enough to address the epidemic of sexual violence," a representative in Egypt with the International Federation for Human Rights, who asked to remain anonymous due to security concerns, told The WorldPost. "Comprehensive measures are required to reform the entire judicial system, including training of police officers, judges, prosecutors and forensics." The human rights federation recently released a report on sexual violence in Egypt.
The new law, which has not been implemented yet, is supposed to protect people -- predominantly women -- from anyone who "accosts others in a public or private place through following or stalking them, using gestures or words or through modern means of communication or in any other means through actions that carry sexual or pornographic hints." Perpetrators are supposed to face hefty fines and lengthy prison sentences if convicted.
But women's advocates raise questions about how effectively the law will be enforced.
Fatma Khafagy, director ombudswoman for gender equality at Egypt's National Council for Women, called the draft law an "important yet insufficient step." She specifically noted her concern that the victims have to provide two witnesses and, in some cases, bring the harasser to the police station themselves.
According to a comprehensive 2013 United Nations study on sexual harassment and violence in Egypt, 40 percent of women surveyed said nobody came to their aid when they were harassed or assaulted in public. In nearly 20 percent of cases in which security forces did intervene, they reportedly scolded, mocked or harassed the victim.
During and after the 2011 revolution, mob rapes by protesters and thugs made the headlines, but security officials were also fingered as perpetrators of sexual violence, including forced virginity tests and rapes in prison. In early May of this year, prominent Egyptian human rights advocate Heba Morayaf, formerly of Human Rights Watch, tweeted that an Egyptian police officer had told her that officers at Cairo's airport were threatening strikes after being disciplined for sexually harassing tourists.
In police stations in Cairo, many officers told WorldPost that they hadn't heard of the new anti-sexual harassment law, and Ministry of Interior officials overseeing anti-sexual harassment efforts did not respond to WorldPost inquiries on when the draft law would be formally implemented.
In the Bassatine police station in a working-class Cairo neighborhood, officers said that there was simply no sexual harassment in the area, just robbery and other violent crime, and that sexual violence was not a big problem in Egypt.
"There is a difference between sexual harassment and flirting," Capt. Ahmed Mahmoud said as his male colleagues, none of whom have been trained on issues of sexual harassment or assault, listened. "It's just an attempt to get to know you."
Mahmoud declared that women must help curb sexual violence by dressing more conservatively. "If a woman is wearing provocative clothing, the change needs to come from her," he said.
When asked how he would react if his wife were sexually targeted on the street, one officer simply dismissed it, saying it would never happen because she never leaves the house alone. "She can't go anywhere without me," he said.
But another police officer, Capt. Mohamed Sayed Ameen, held up his hand as if firing a gun at the thought of someone harming his wife. While he insisted the sexual harassment problem isn't as big as others say it is, he recalled how humiliated he has felt when men ogled at his wife, especially when she was pregnant.
In a police station just a 10-minute drive away in the wealthier neighborhood of Maadi, Lt. Col. Essam Ghaly applauded the government for passing the draft law, saying he had been waiting for harsher sentences against perpetrators of sexual misconduct. He said he looks forward to the law being implemented, though he has no idea when that will be.
"There has been a decline in morality," the middle-aged police officer said, remembering a time not so long ago when he said Egyptian women weren't afraid to walk outside. "Women used to wear miniskirts," he said.
In a culture where women are afraid to come forward after being sexually violated, Ghaly said, it doesn't help that most police stations have no female officers or staff.
"I remember a woman who was too shy to say how she was touched," he said. "We need this information. It's an issue that there aren't many women on the police force."
But at Ghaly's own police station, uniformed security officers wielding guns peer over the compound's walls to leer and hiss at the women walking past (including the two female reporters who wrote this article). However well-intentioned Ghaly may be, it's hard to see why any woman would feel comfortable reporting sexual violence to the very men who had just humiliated and intimidated her.
http://www.huffingtonpost.com/2014/05/12/egypt-sexual-assault_n_5309458.html
-----------
Foreign minister says Italy working to save Sudanese woman
May 17, 2014
New York: Italy is working to save the life of a pregnant Sudanese woman who was sentenced to death for refusing to recant her Christian faith, and is in contact with her lawyers as well as Sudanese authorities, the Italian foreign minister said on Friday.
Mariam Ebrahim, whose father was Muslim but mother was an Orthodox Christian from Ethiopia, was convicted of "apostasy" on Sunday and given four days to repent and escape death. She was sentenced after that grace period expired.
The United States, the United Nations and Amnesty International among others have condemned the sentence. Italian Foreign Minister Federica Mogherini said she has pressed the case with Secretary-General Ban Ki-moon in a meeting at UN headquarters in New York.
"We have been following the case through our embassy since before her sentence was made public," Mogherini said.
Italy is a strong opponent of the death penalty, much like other countries in Western Europe that abolished capital punishment a long time ago. Among other initiatives, it is pushing a General Assembly resolution calling for a worldwide moratorium on the death penalty.
Sudan's penal code criminalises the conversion of Muslims into other religions, which is punishable by death. As in many Muslim nations, Muslim women in Sudan are forbidden to marry non-Muslims, though Muslim men can marry outside their faith. By law, children must follow their father's religion.
Ebrahim, 26, and her Christian husband married in a formal church ceremony in 2011 and have a son, 18-month-old Martin, who is with her in jail outside Khartoum. She is eight months pregnant.
UN spokesman Stephane Dujarric said on Friday the organisation's human rights arm was deeply concerned about Ebrahim's physical and mental well-being, and that of her son, and urged Sudan "to meet its obligations under international law to protect the right to freedom of religion."
http://gulfnews.com/news/region/sudan/foreign-minister-says-italy-working-to-save-sudanese-woman-1.1333843
-----------
Uzbek Otins (Female Preachers) Preach Islam to Women
May 17, 2014
Female preachers "from the people" are gaining influence with women in Uzbekistan. Most family rituals nowadays have a preacher present.
There is a prevailing opinion that during Soviet times the Islamic tradition was preserved in Uzbekistan mainly thanks to the efforts of female preachers, known in the country as otins. Just as then, today they have a strong influence on women who are believers.
Public opinion on the role of Otins is divided. Some believe that the self-proclaimed preachers simply use Islamic traditions as an opportunity for self-expression and for making a living. Others believe them to represent a form of Islam for the people.
Whatever the case may be, most family rituals – births, weddings, or funerals – are not complete without an Otin present.
Muslim-style Thanksgiving
Majmura and her family and guests have gathered around a large dastarhan, a traditional space where food is eaten in Central Asia. She decided to organize a day of giving thanks according to Muslim traditions. Everybody is waiting for the Otin – the main guest. Without her the celebration is meaningless.
"I want for my children to be happy, for my grandchildren to be accepted at university, to marry successfully. That is why I invited my neighbours and friends and of course an Otin. She reads from the Koran and we all pray," says Majmura.
Otins explain the Koran
Otins preach and explain religious norms and traditions. They enjoy a special status and are well respected. Mukkadam Ibragimova, 65, spends most of the time reading the Koran to the gathered women, explaining certain parts and giving them guidance. Everybody is listening attentively.
Mukkadam-otin says that female preachers learn their skills in Islamic schools, called madrasas. They read the Koran, give guidance to people as to how to follow the path of the faith, and talk about the Prophet's life.
Mukkadam worked as a nurse in a children's hospital for thirty years. She got seriously ill after she retired and this is when she turned to religion. She is convinced that the Almighty saved her life. Her prayers have been heard and she decided to dedicate the rest of her life to serving God.
"Once upon a time there was a TV program teaching the Arabic alphabet, so I remembered it since then. So I took up the Koran and carefully read every single letter. Then I had instructions from a prominent preacher," says the Otin about her own religious education.
To invite an Otin is prestigious
In pre-revolutionary Turkestan all gatherings of women had an Otin present. As a rule they were daughters of hodjas and seids and received their religious education at home. During Soviet times religion was discouraged and people only started talking about Otins again in the late 1980s.
Marfua Tohtahajaeva, author and women's studies researcher of post-Soviet Uzbekistan, defines otins as bearers of tradition in her book "Between the slogans and Islamic law".
"Today there are a lot of Otins and they are not just young women who went to religious school. It is also those who say that they had something traumatic happen in their lives (illness or a family tragedy) after which they discovered their mission. These stories all resemble one another," says Tohtahajaeva.
The researcher says that social interactions and the publishing of books have been on the decline in Uzbekistan and women often invite an otin to their gatherings or parties so that they can help to carry on a conversation, and somehow bind people together, so of course religion becomes increasingly central.
"The freedom of religion in our country is guaranteed by the government so they use it. We are witnessing tendencies of society becoming more traditional and religious. These processes are in place and it is unlikely that we can somehow stop them," believes Tohtahajaeva.
Fortune-tellers, or folvinas, are otins' competitors
Otins have serious competitors in Uzbek society: folvinas or fortune-tellers. They too use the Koran in their rituals, so they are often confused with Otins. Mukkadam believes these women to be the servants of Satan.
"Otins guide to purity, honesty, and positivity. Folvinas are often connected to evil powers. Islam is against that," says Mukkadam.
The Thanksgiving celebration is coming to an end. Otin Mukkadam has completed her mission: the women have received their guidance and had their questions answered.
The organizers of the event are happy that they have participated in a godly gathering. Before saying good-bye, they participate in a Mohammedan prayer.
"Such is Allah's will," says the otin.
Uznews.net
http://www.uznews.net/en/analytics/1210-uzbek-otins-preach-islam-to-women
------------
URL: https://www.newageislam.com/islam,-women-and-feminism/new-age-islam-news-bureau/muslim-clerics-resist-pakistan's-efforts-to-end-child-marriage/d/77060