New Age Islam News Bureau
26 Apr 2019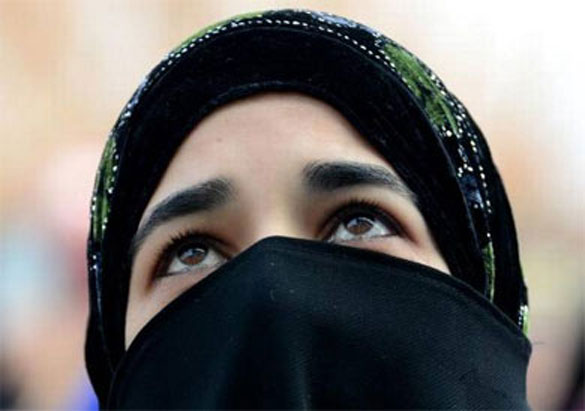 The woman's husband claims voluntary conversion, while her father alleges radicalisation.
Photo from representative purposes only. | Photo Credit: Nissar Ahmad
------
• Student Writes to Karnataka Govt. To Be Allowed To Wear Headscarf in College
• Indian Muslim Women Are 6.9% of Population; Have Just 0.7% Representation in LS
• After Islamic State Collapse, Serbian Women Trapped In Syria
• Women See Unemployment As Biggest Problem In Turkey
• Small Business Lending On The Rise For Egyptian Women
Compiled by New Age Islam News Bureau
URL: https://www.newageislam.com/islam-women-feminism/muslim-clerics-organization-sri-lanka/d/118434
--------
Muslim Clerics' Organization in Sri Lanka Requests Muslim Women Not To Hinder Security Forces By Wearing Niqab
Apr 26, 2019
Apr 26, Colombo: All Ceylon Jamiyyathul Ulama (ACJU), the organization of Muslim clerics in Sri Lanka has requested the Muslim women not to hinder the security forces maintaining national security amid the prevailing emergency situation in the country and cooperate with them to establish identity by not wearing the face cover (Niqab).
Issuing a statement Thursday, ACJU Secretary - fatwa division Ash sheikh M.L.M Ilyas said as Muslims, they are obliged to be responsible citizens and protect the motherland and maintain peace and order and appealed all the Muslims, especially Muslim women to cooperate with the security forces and law enforcement agencies for them to establish people's identities.
"In particular, we strongly appeal to our sisters to be mindful of the critical emergency situation now prevalent in our country and the difficulties faced by the security officers in performing their functions in situations where the identity of a person cannot be ascertained."
"Hence, we advise that in the prevailing situation our sisters should not hinder the security forces in their efforts to maintain national security by wearing the face cover (Niqab)."
The ACJU also recommend that all persons should carry their National identity card at all times to be produced when required by any public officer.
http://www.colombopage.com/archive_19A/Apr26_1556251863CH.php
--------
Student Writes to Karnataka Govt. To Be Allowed To Wear Headscarf in College
APRIL 25, 2019
A II PU student in Mangaluru has appealed to the State government to direct her college to allow her to wear a headscarf in the classroom.
In a memorandum submitted to Dakshina Kannada Additional Deputy Commissioner R. Venkatachalpathy on Wednesday, the student of St. Agnes Pre-University College, said the institution had allowed her to wear headscarf during the first year. She alleged that the college said she would not be allowed to attend class in the second year if she wore the headscarf. The college should respect religious sentiments and allow students to wear headscarf, she has written in the memorandum.
Mr. Venkatachalpathy said he has sought a report from Elvira Philomena, in-charge Deputy Director of Pre-University Department, Dakshina Kannada, on the issue.
M. Shamita, principal of the college, told The Hindu that the code of conduct of the college makes it mandatory for all students to follow the dress code strictly on campus. Students should wear college uniform on all working days.
Ms. Shamita said despite warning the student concerned, she continued to attend first-year classes wearing headscarf. When she approached for re-admission for the second year, the college told her to follow the dress code for acceptance of her application.
https://www.thehindu.com/news/national/karnataka/student-writes-to-state-govt-to-be-allowed-to-wear-headscarf-in-college/article26946520.ece?utm_source=email&utm_medium=Email&utm_campaign=Newsletter
--------

Indian Muslim Women Are 6.9% of Population; Have Just 0.7% Representation in LS
April 26, 2019
She may be the head of her village, but making Rotis for her extended family of 22 is still her responsibility.
Hunched over the small Chulha (earthen stove) in the family house at Hussainpur village in Haryana's Nuh district, her hands efficiently slapping a small piece of dough into a round Roti, Farhuna (she uses one name), smiled when she recalled the circumstances of her marriage--and election.
It was early in 2016. The Panchayat elections were around the corner and the Haryana government had recently introduced a new eligibility condition. To contest the elections, women needed to prove that they had cleared their eighth standard exams; men had to be matriculates.
That year, the seat at Hussainpur was reserved for women. The problem: No woman in her husband's family had ever been to school.
So Farhuna's father-in-law began looking for a bride for his son. His only condition: Education. "He didn't even take any dowry," grinned Farhuna, proud holder of a bachelor of arts degree.
The family has a gas stove over which the vegetables and dal are made. But rotis taste better when they come out of a mud stove, and that is how they are made--some 70 of them for the afternoon and an equal number for the night meal--said Farhuna.
Between the roti-making and taking care of her six-month-old daughter, there isn't much time for the sarpanch (village head) to attend panchayat meetings. Moreover, two sisters-in-law are to be married in a few weeks' time, so the two-storey house is being painted and there is no time to step out of the house. So, said Farhuna, her father-in-law by and large attends to panchayat matters.
But when she can make the time, Farhuna attends meetings. "I've got roads made and I alone look at the problems with the government school in the village. That is my area of interest," she said.
Low political representation is a problem at every level. Currently, only four of 543, or 0.7% members of the outgoing Lok Sabha are Muslim women, who comprise 6.9% of the general population.
Five Lok Sabhas since Independence had no Muslim women members
Five of the 16 Lok Sabhas since Independence have had no Muslim women members, and their number never crossed four in the 543-seat lower house of parliament.
India has 14 Muslim-majority Lok Sabha constituencies, according to this November 2018 report by Mayank Mishra in The Quint. In addition, there are 13 constituencies where Muslims comprise more than 40% of the population. There are a total of 101 seats where Muslims make up more than 20% of the population.
Muslims comprise 14.3% of the population, according to Census 2011, but only 22 of 543 members of parliament (MPs)--over 4%--in the outgoing Lok Sabha are Muslim.
Partly, this is because mainstream political parties are reluctant to filed Muslim candidates. In 2009, only 30 of 543 MPs (5.52%) were Muslim, according to an analysis by Christophe Jaffrelot, French scholar and columnist, published in Seminar, a monthly journal published out of New Delhi. That election saw only 832 Muslim candidates, of which nearly half or 47.12% contested as independents.
Things weren't much better in 2014 when 320 of 3,245 candidates (9.8%) who contested the general election were Muslim. The BJP fielded just seven Muslim candidates out of 428 (or 2%), Jaffrelot wrote in the March 2019 book Majoritarian State: How Hindu Nationalism is Changing India. None won. The Congress fielded 27 Muslim candidates out of 462--less than 6% of the total and fewer than the 31 it had endorsed in 2009.
Amongst non-Muslim parties, only the Samajwadi Party (SP), the Rashtriya Janata Dal (RJD) and the Communist Party of India (Marxist) fielded more than 15% Muslim candidates--at 18.4%, 20.7%, and 15%, respectively.
But Muslim women face a double bind--discriminated against both as women and as Muslims. "In terms of cumulative discrimination--being a Muslim and being a woman--there is a compounding effect for sure," said Gilles Verniers, a political science professor at Ashoka University and co-director of the Trivedi Centre for Political Data (TCPD). "The usual barriers to entry that apply to all women, apply even more strongly to Muslim women."
Despite evidence of an increasing number of women candidates, five of the 16 Lok Sabhas since Independence, including the first one, have had no Muslim women MPs, and at its best, the figure has never crossed four.
"The candidacy of Muslim women has been abysmal ever since Independence and over time, the problem has worsened," said Zoya Hasan, retired professor emerita at Jawaharlal Nehru University. "The dominant party, the right-wing, is determined to exclude Muslims from political representation and puts up very few candidates. Amongst these, Muslim women are even fewer in number."
Amongst the candidates announced so far, the BJP has fielded just one Muslim woman. Mafuja Khatoon is contesting from Jangipur, West Bengal and is the first-ever Muslim woman candidate fielded by the BJP for the Lok Sabha.
The outgoing Lok Sabha initially had only two women MPs: Mamtaz Sanghamita, a doctor and first-time MP of the All India Trinamool Congress (popularly abbreviated to TMC), and Mausam Noor of the Congress, a two-term MP from Maldaha. Two Muslim women became MPs only in 2018 in separate by-elections: Sajda Ahmed, from the TMC was elected in February 2018 while Tabassum Hasan, who had represented Kairana, Uttar Pradesh, as a Bahujan Samaj Party MP in 2009, won her second term in a May 2018 by-election from the seat on a Rashtriya Lok Dal ticket.
An early analysis by TCPD of candidates for the first phase of the 2019 general elections found 111 women amongst 1,279 candidates. Just two of these women are Muslim. In phase two, there were 156 women amongst 1,202 candidates analysed by TCPD. Of these, seven--two each from the TMC and the Congress, and one each from the RJD, BJP and SP--are Muslim.
'They are banning triple talaq but killing our men. How does that make any sense?'
The question of representation becomes significant at a time when Muslim women's issues, particularly on instant triple talaq, are seen as a red letter issue by political parties.
The Triple Talaq bill, which makes instant triple talaq a criminal offence with provisions for a three-year jail term and a fine, was passed by the Lok Sabha in December last year after debates: Prominent speakers for the bill included Ravi Shankar Prasad, Smriti Irani and Meenakshi Lekhi of the BJP, while Ranjeet Ranjan, Mallikarjun Kharge and Sushmita Dev from the Congress spoke opposing it. Conspicuous by its absence was the voice of the Muslim woman.
"I personally don't know a single woman who was divorced through instant triple talaq," said sarpanch Farhuna. "It does not happen in our village."
Are Muslim women likely to vote for the BJP because of its stand on triple talaq? "By banning triple talaq, the government has done a good thing," said Farhuna. "But instant triple talaq is anyway not permitted in Islam and the government should not interfere in our religion."
Women will vote according to their marzi, or choice, she added, but issues like mob lynching are likely to weigh on their minds.
The grave of Pehlu Khan in Jaisinghpur village in Haryana's Nuh district. In April 2017, Khan was beaten to death on the suspicion that he was smuggling cows. Issues like mob lynching are likely to weigh on the minds of Muslim women voters, Farhuna says.
In Nuh itself, the murders in cow-related violence of Pehlu Khan, Rakbar Khan and Umar Khan hang like a pall of gloom. In Uned village, Jameela, who said she is 75 or 80 years old and is completely illiterate, tends to the family's buffaloes. "We are dairy farmers but are scared to buy cows. We cannot even buy buffaloes from outside our own area," she said. "Anyone can stop you on the way back."
Will the ban on triple talaq by the Supreme Court in August 2017 work in the BJP's favour? Seated on her string charpoy, Jameela looked down and said, "They are banning triple talaq but killing our men.
How does that make any sense? How can we vote for them when our community is under threat from them?"
Jameela (right), who says she is 75 or 80 years old, tends to her family's buffaloes. "We are dairy farmers but are scared to buy cows. We cannot even buy buffaloes from outside our own area," she says. "Anyone can stop you on the way back."
Voters don't take electoral decisions on the basis of simple binaries, said Gilles Verniers. "Even if some Muslim women might have an improved opinion of the BJP, it does not erase everything else of the last couple of years." Moreover, an attempt by the BJP to present instant triple talaq, a marginal social practice, as a widespread malaise that applies to Muslims as a whole could also create resentment, he said.
"All talk of gender justice for Muslim women is offset by mob lynching and hate crime," said Mohd Arif, a journalist and social worker in the area. "Triple talaq will have no impact in Nuh."
The Bharatiya Muslim Mahila Andolan (BMMA) office in Mumbai's Bandra East keeps track of the number of instant triple talaq cases that come its way. The numbers plunged since 2017 onward when the Supreme Court declared the practice illegal.
"Those who claim to speak for us, have no idea about the rights given to women by Islam," said Zubaida Khatoon, a woman qazi (priest) trained by BMMA to officiate at marriages.
Zubaida Khatoon, a woman qazi, was trained by the Bharatiya Muslim Mahila Andolan to officiate at marriages. "Those who claim to speak for us, have no idea about the rights given to women by Islam," says Khatoon.
"Triple talaq was not the only issue we were fighting," said BMMA founder Noorjehan Safia Niaz. "In our application to the Supreme Court, we had asked for a ban on not just triple talaq, but also polygamy and halala (a practice under which a divorced wife who wishes to remarry her former husband must first consummate an intervening marriage). Unfortunately, the court only heard us on triple talaq and not the other two issues."
Yet, conceded Niaz, the ban has had a chilling effect on those who sought instant talaq, and the numbers have plummeted in recent years. "At least the [Narendra] Modi government brought in a law that has brought the practice down. But men can still bring in a second wife and Muslim women live in constant fear of this."
What is needed is a comprehensive law that covers all three--instant triple talaq, polygamy and halala, she said. But a uniform civil code (UCC), a promise of the BJP in its manifesto, is not a solution. "A UCC is applicable to the whole country. First you need to ask 80% of Hindus if they want it," Niaz said.
The BMMA has been at the forefront for social and legal reform guaranteed to Muslim women under both their religion and the Constitution. What it wants is for parliament to pass a comprehensive Muslim family law on the lines of the Hindu Marriage Act of 1955. This, said Niaz, would enable Muslim women to live a life of empowerment and dignity.
"It's a pity that in 72 years of Independence, no government has given any thought to needed reforms," said Niaz. "It's convenient for everyone to just leave this issue alone. But why should Muslim women continue to live in fear? Are we not entitled to constitutional rights?"
Last month, the BMMA released a charter of demands ahead of the 2019 election. It wants political parties to adhere to supporting constitutional nationalism rather than any divisive ideology in the name of nationalism. It wants action against hate speech and religious polarisation and a halt to "open hatred by many right-wing groups and individuals in the last four-five years". And it wants a "healing touch" and reassurance to minorities and Dalits "about their being equal citizens in a secular democracy". Nowhere in the seven-point charter is there any mention of the term 'triple talaq'.
'Peace. That is all we need.'
In the narrow lanes of Delhi's Jamia Nagar, a small group of women is talking about what it is like to live in fear. Ever since Junaid was stabbed to death on a Delhi-Mathura train in June 2017, Sareena Begum who has studied till the fifth standard and has four children--three boys and a girl--said she cannot sleep till her children return home safe.
"If you have a beard, wear a kurta-pyjama and look a certain way, then you are a target out on the street," said Sareena. "My husband has asked me to avoid wearing a burqa when I leave this locality. He doesn't want me to stand out."
Zubaira (she uses one name), a Delhi University graduate in political science who works as an assistant with a private company in Rohini, talked about what she expected from this election. "Peace. That is all we need," she said.
Ayesha (she uses one name), who lives in Ghaziabad in a village dominated by Jat neighbours, said even a few years ago, she never felt insecure. But now, even though nobody has actually said anything to her, she feels apprehensive when she leaves her house. "It's the way people look at you. We could be the next target," she said. Growing up, she said, her family kept a cow for milk. They had Hindu friends. "I'm not saying the Congress is great. But at least there was no hate then."
Wives of electricians and embroiderers, like voters everywhere, the women have a lot on their mind--from notebandi, the colloquial term for demonetisation, to unemployment. In the past, they said, they voted for whichever candidate they felt would be good for the area. "Arvind Kejriwal did a lot of work for us and improved schools and set up dispensaries. He got many of the roads here repaired and even the electricity bill came down," said Ayesha. "He left a good job to come into politics."
Now there is a new anxiety, fuelled by a combination of social media, nationalism, incidents of violence and the projection of candidates by the BJP such as Pragya Thakur, charged in a terrorist conspiracy case under the Unlawful Activities Prevention Act.
"It's not just one thing, it's a combination of things," said Dolly Siddiqui, a social worker active at Jamia Nagar. "Lynching incidents have not stopped and there is a continuing question on our desh bhakti (patriotism). Every day we are told to 'go to Pakistan'."
Social media has ripped the mask off civility maintained by neighbours. Zubaira talked of her husband's childhood friend, a Hindu. The two grew up together, celebrating each other's festivals. Now, the friend forwards hateful and often fake messages questioning the nationalism of Muslims. "My husband has not confronted him, but he has unfollowed him on Facebook," she said.
For this group of women, it seems like a fight for survival. "Once you cross the metro line, you are away from this Mohalla (area) and it is not safe for us over there," said Sareena. "Our only aim is to defeat the BJP."
https://www.business-standard.com/article/elections/muslim-women-are-6-9-of-population-have-just-0-7-representation-in-ls-119042600134_1.html
--------
After Islamic State Collapse, Serbian Women Trapped In Syria
April 26, 2019
Some 20 women who left Serbia for the Islamic State are now stuck in camps in Syria, with no apparent effort from the Serbian state to aid their return, BIRN has learned.
The last contact was a text message a month ago. The woman said she was in a Kurdish-run camp known as Camp Roj in Syria, near the Iraqi border. Her family, in Serbia, had approached the authorities for help in getting her back, "but they all remain silent," the woman's mother said.
According to BIRN findings, around 20 women from Serbia are trapped in refugee camps in Syria having left their homes in or around the southern, mainly Muslim town of Novi Pazar for the Islamic State.
The government in Belgrade appears to have undertaken no special measures to facilitate their return since the collapse of the caliphate that once took in parts of both Syria and Iraq.
"We want to help our child and we will do everything necessary for her to come back," the woman's mother said in a telephone conversation.
BIRN agreed not to reveal the identity of the family for security reasons.
"We are a normal family, like any other," the mother told BIRN, saying her daughter had left in December 2014.
"We addressed the local authorities [in Novi Pazar] but they all remain silent."
The 20 Serbian women are among hundreds of other Muslims from the Balkan region who have found themselves trapped since the Islamic State's demise, many wishing to return but struggling to get the support they need to do so from their home states.
No contact
With US support, Kosovo on Friday facilitated the return of 110 of its citizens from Syria, mainly family members of Islamic State fighters. Four were immediately arrested on suspicion of terrorism, while Kosovo Kosovo authorities have begun interviewing several women from the group under suspicion of being part of terrorist groups fighting in Syria.
A 24-year-old Bosnian citizen was also sent back to his home country from Syria in a separate deportation on March 20. He has been charged with organising a terrorist group, the illegal establishment of and association with foreign paramilitary or para-police formations, and terrorism, the Bosnian prosecution announced.
BIRN this month also identified at least 85 children born to ethnic Albanian women from Albania, Kosovo and North Macedonia under the Islamic State, now stuck in a Kurdish-run camp in Syria. Their families in the Balkans are pleading with authorities for their safe return.
BIRN has tried unsuccessfully for two weeks to get any information from the Serbian Interior Ministry regarding the Serbian women in Syria.
An official in the Serbian Foreign Ministry, who spoke on condition of anonymity, said the ministry knew of around 20 Serbian women in Syria, but said the camps were "under the competence" of the United Nations. "We haven't had any contact with them [the women]," the source said.
In Novi Pazar, Esad Kundakovic, whose son died fighting in Syria in 2013 and is in touch with the families of the women still stuck in Syria, said the families needed to join forces to bring pressure on the Serbian state to act.
"Now, every family is searching for a solution on its own, through personal contacts," said Kundakovic, who since his son's death has worked on preventing other Serbians from travelling to fight in Syria.
"The families are ready to accept them back, they only need support from the state and the community," he told BIRN.
"States from the Balkans are not ready to accept these people. We, as the community, are not ready."
The authorities, he said, must also think about the children of these women born in Syria.
"First, a system must be created, laws adopted. Someone needs to start acting."
Children 'must be saved'
Camp Roj hosts women from around 40 different countries and more than 1,000 children born to Islamic State fighters.
They are housed in tents, four people in each, and given only basic supplies.
Serbian authorities are yet to publicly address the issue.
The only politician to speak out, in March 2018, was Muamer Zukorlic, leader of a small Bosniak party and an MP in the Serbian parliament.
At the time, he told the Tanjug news agency that he knew of 11 Serbian citizens, mainly women and children, in a camp between Syria, Turkey and Iraq, all of them from the mainly Muslim Sandzak region in Serbia.
He urged the Serbian authorities to act. The children, in particular, he said, "must be saved".
In his statement to BIRN, Zukorlic explained that his appeal ended with no reaction by the authorities.
"In off the record contacts, I have been told that Serbian authorities can't reach them and that that is the main issue," he added.
Asked if he's informed about the current number of people in the camps, Zukorlic replied negatively: "It is hard to obtain that data, as the numbers vary."
Serbia, he added, shouldn't be silent and insecure on this issue and needs to tackle it not through consequences, but through education and prevention. He also underlined that people in these camps have Serbian citizenship and ignoring them can't be the solution.
BIRN also contacted the Islamic Community in Serbia, located in Novi Pazar, but a senior official said the families of the women had not approached the body for support.
In a report in September, the US State Department described levels of ISIS activity in Serbia as low.
"The main terrorism threats in Serbia remain the potential movement of money and weapons through its territory, returning foreign terrorist fighters, and [Islamist] radicalisation," it said.
In April 2018, a court in Belgrade found seven people guilty of terrorism and of cooperation with jihadist groups in Syria and Iraq.
It jailed Abid Podbicanin, Sead Plojovic and Tefik Mujovic for 11 years, Goran Pavlovic for ten, Iznudin Crnovrcanin and Rejhan Plojovic for nine and a half years, while Ferat Kasumovic was sentenced to seven and a half years. Podbicanin, Pavlovic and Plovic are believed to be still on the run and were tried in absentia.
In a separate case in January this year, police in Novi Pazar arrested a man suspected of planning terrorist attacks in the name of ISIS.
The Novi Pazar Higher Court told BIRN the case was still in the pre-investigation phase.
https://www.eurasiareview.com/26042019-after-islamic-state-collapse-serbian-women-trapped-in-syria/
--------
Women See Unemployment As Biggest Problem In Turkey
26.04.2019
Women in Turkey see unemployment as the biggest problem in the country, research revealed yesterday.
According to research conducted by the Center for Public Policy and Democracy Studies (PODEM) with the aim of understanding women's perception in politics, 59.8 percent of women think unemployment is the main issue of the country that needs to be addressed. Unemployment is followed by women's issues, poverty, the economy and terrorism.
The research, named "Turkey from women's eyes: Politics, economy and public matters," has been conducted through focus group work with 84 women and face-to-face interviews with 2,832 others from 12 provinces of the country, including Istanbul, Izmir, Diyarbakır and Samsun.
Women steer clear of politics
The results of the research have revealed that women try to keep a distance from politics to stay away from the tense environment of the political arena while seeing politics as a notion that is outside of their day-to-day lives.
The first things that came to the minds of the participants when it comes to politics are the notions of "democracy, voting" and "tension, unrest."
While only 21.5 percent of the participants expressed that they were interested in politics, 39.5 percent made it clear that they had no interest in the subject. Most of the ones who were interested in politics were middle-age women, while interest in politics decreases as the socioeconomic level increases.
Moreover, 39.7 percent of the participants said politics influence their lives; 37.4 percent said politics is beneficial for the society; and 37.6 percent expressed they feel outside of politics.
Only 24 percent of the women participate in political events, with the most-attended events being rallies for the political parties. The women who have visited a political party building, however, constitute only 20 percent. Yet, despite this low percentage, 28.1 percent of the participants said women's representation in politics is at an adequate level.
Still, 62.7 percent of the women said they agree women's participation in politics would have a positive influence over the political arena, while 70.8 percent expressed that they would support a female relative's participation in politics. Some 58.7 percent said they would choose a female candidate over a male candidate.
Female voters choose parties with policies for women
The participants also said their voting preference would be affected by the parties' policies specific to women.
According to figures released by the Turkish Statistical Institute (TurkStat) last month, women, who make up 49.8 percent of the population, do not fare better than other women in the world in terms of employment. Still, the proportion of women in upper and middle-level management positions was 17.3 percent, TurkStat reported, based on 2017 statistics. Unfortunately, the female employment rate was less than half of the male employment rate, according to figures from 2017, the latest year with available statistics. The employment rate for men was 65.6 percent, while it was only 28.9 percent for women.
Statistics show that the higher the educational status of a woman, the more likely she is to participate in the labor force. The labor force participation rate for women who graduated from universities was 72.7 percent, while it was only 27.7 percent for those who only completed high school. The highest female employment rate was in the service sector. It was lower in industry and agriculture compared to men. Other TurkStat figures show the proportion of female professors in higher education was 31.2 percent in the 2017-2018 educational year, and women constituted 22.1 percent of ambassadors who work in the Ministry of Foreign Affairs.
https://www.dailysabah.com/politics/2019/04/26/women-see-unemployment-as-biggest-problem-in-turkey
--------
Small Business Lending On The Rise For Egyptian Women
April 25, 2019
CAIRO — Small businesses continue to serve as a gateway into a better economic life for many Egyptian women, especially in the country's rural areas and Upper Egypt.
Nevein Gamea, the executive director of the state-owned Micro, Small and Medium Enterprise Development Agency (MSMEDA), said in an April 14 statement that rural women control 51% of the total MSMEDA-funded projects.
At a press conference on the sidelines of the 2019 Arab Forum for Sustainable Development held in Beirut April 10, Egyptian Minister of Planning, Follow-up and Administrative Reform Hala al-Saeed announced that small and medium enterprise (SME) lending for Egyptian women — either through MSMEDA or banks — had increased and reached in 2018 46% of the total funds and loans of the banks and MSMEDA. However, there are no statistics on previous years.
At an international conference held on March 19 on the occasion of International Women's Day at the Bibliotheca Alexandrina in Alexandria, Nahla Zeitoun, senior social protection specialist at the World Bank, announced the findings of a joint study carried out by the World Bank, Egypt's National Council for Women (NCW) as well as several local human rights organizations and experts on women's economic empowerment.
The study showed that in 2018, SME lending for women in Egypt increased to 69% of total general loans from banks, while microcredit for women stood at 51%.
Despite the disparity in the SME lending figures of the study and of the Egyptian minister of planning, these numbers reflect a clear fact that Egyptian women have become a major driver for small and medium-sized projects in the country. The pertinent question, however, is how did women reach this status and to what extent can they contribute to developing the Egyptian economy through such projects?
Gamea told Al-Monitor she believes that this boost in SME lending for women is due to the Egyptian state's interest in promoting women's rights as part of President Abdel Fattah al-Sisi's strategy to empower women, which he launched alongside the NCW in 2016.
She added that Sisi also declared 2017 the "Year of Women" on March 8, which marked International Women's Day, prompting many Egyptian banks to increase lending to female-run SMEs.
Magued Osman, director of the Egyptian Center for Public Opinion Research (Baseera) and co-author of the World Bank study on women's economic empowerment, told Al-Monitor that Sisi's strategy for empowering women served as an incentive for women to be strongly present at the SME level.
However, he explained that according to other studies on the economic empowerment of women — such as the one launched by Egyptian Minister of Investment and International Cooperation Sahar Nasr in March — there are many other factors for women's economic growth, namely their enthusiasm and drive after long years of marginalization and neglect. "One can say that women are now very eager to prove themselves and to show their potential in all areas, including the economic sphere," Osman said.
The NCW, in cooperation with the Sawiris Foundation for Social Development, an Egyptian charity, issues twice a year a publication titled Women's Catalogue, featuring success stories of female entrepreneurs who have proved to be pioneers in SME projects, especially in handicrafts.
Fatima Idris Mohammed, from Aswan governorate in Upper Egypt, is the owner of Al-Arjoun Handicrafts Workshop and Training Center. She told Al-Monitor, "I believe the obstacles facing women in Egypt — particularly in the rural areas — are at the very same time the driving force and impetus behind their success. The greater the challenge, the greater the success."
She said, "Because of customs, traditions and also the financial hardships in Upper Egypt, I had to drop out of middle school. But I made sure not to make the same mistake with my daughters, as my husband and I were adamant to send our daughters to school until they complete their studies no matter how difficult our financial situation. I also decided to invest in my skills in manufacturing palm extract, which is at the base of many handicrafts, and set up a small workshop."
Mohammed added, "What started out as a small workshop grew into a business with 30 female workers. I strongly believe in my role to help other women in Upper Egypt to overcome obstacles and complete their studies. In addition to the workshop, I also established a small vocational school to train young women on art skills — such as designing and drawing — that are necessary for them to get admitted into universities and faculties of art or education."
Magda Abdel Rahim of Sohag in Upper Egypt organizes a workshop called "Shegl Gadati" ("Handmade by Grandmother"), which is dedicated to reviving an almost lost Egyptian craft — the Talli embroidery, which is based on weaving gold and silver threads.
"I believe that social networking sites and access to the world through the internet have played a major role in helping women become pioneers and start their own SME projects. I am always motivated and inspired when I see on social media other women starting their own businesses and succeeding. It gives me an incentive to follow in their footsteps," Abdel Rahim told Al-Monitor.
Reem Salim, an economic researcher at Egyptian Visions periodical issued by Al-Ahram Center for Social and Historical Studies, believes women will play a prominent role in boosting Egypt's economy in the coming years through SMEs.
Salim told Al-Monitor that the Egyptian economy has taken many steps to improve its performance through economic reforms since 2016. "Any economy that seeks growth and reform must primarily rely on SMEs. Through these SMEs women will be able to assume a pioneering role."
Salim referred to one of her studies (not available online) that indicated that SMEs in general account for 51.5% of the gross domestic product (GDP) of developed countries. "SMEs currently represent in Egypt about 25% of the GDP," she said, hoping that the state support to SMEs and the high level of women's entrepreneurship would increase this GDP percentage up to that registered in developed countries.
https://www.al-monitor.com/pulse/originals/2019/04/egypt-smes-banks-loans-women-rural-economy.html
--------
URL: https://www.newageislam.com/islam-women-feminism/muslim-clerics-organization-sri-lanka/d/118434
New Age Islam, Islam Online, Islamic Website, African Muslim News, Arab World News, South Asia News, Indian Muslim News, World Muslim News, Women in Islam, Islamic Feminism, Arab Women, Women In Arab, Islamophobia in America, Muslim Women in West, Islam Women and Feminism