New Age Islam News Bureau
09 October 2020
• Dr. May Alobaidy, the First Saudi Woman To Be Appointed An Adviser To A Minister
• Fatima Hussein, the First Muslim Woman to Be Nominated In a Council Election in Brazil
• Princess Nouf bint Mohammed, chair of the Civil Society 20
• Threats by Friday Prayers Leaders To Iran's Women Shows Mullahs' Misogynous Nature
• 'UN Working Relentlessly to Advance Women, Peace and Security Agenda'
• Hull joins Hall in confirming her place for next month's Saudi Ladies International golf week
• Women Account For 54% of Diabetes Cases in Oman
• Fatima Bint Mubarak Ladies Sports Academy Marks 10th Anniversary
Compiled by New Age Islam News Bureau
URL: https://www.newageislam.com/islam-women-feminism/muslim-boxer-rehnuma-mikranai-punching/d/123091
--------
Muslim Boxer Rehnuma Mikranai Punching Stereotypes with Yoga
October 8, 2020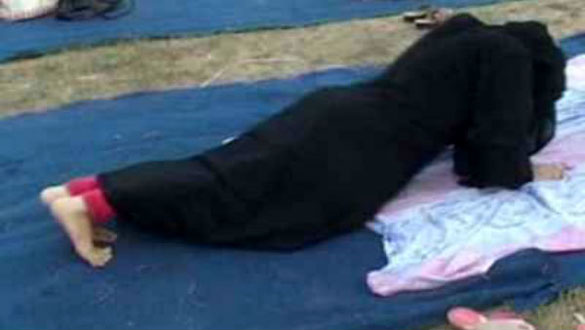 Representational Image
------
Haldwani, Oct 08: A group of Burqa clad women performing yoga in a public park is not something you behold every day, but 17-year-old Rehnuma Mikranai has made it a common sight for people in Nainital's Haldwani.
A class 12th boxer, Rehnuma was confined at her home in the Haldwani town of Nainital district during the Coronavirus lockdown, but as soon as things began opening up, the teenager was unstoppable. Rehnuma, who has been training at Sports Authority of India's day-boarding extension centre for boxing in Uttarakhand's Pithoragarh district, bounced back with her daily fitness routine at the park every day.
Living in a conservative Muslim society, she was well aware that many around her always frowned on her for not wearing a head veil, but she never surrendered. At the park, she was met with lewd comments and inappropriate stares. That made her uncomfortable, so Rehnuma's mother Shabnam, who is an anganwadi worker accompanied her to the park.
When Rehnuma observed that Burqa clad women come to the park for a walk every day, she decided to bring them together and do something productive. She planned to hold a Yoga class for all the women in her neighbourhood and she would train them. It was a challenging task to convince those women to step out of their house and perform yoga in the park with everyone, but Rehnuma was determined.
She and her mother created a whatsapp group. Initially many women were reluctant and declined the offer but then gradually they gained the confidence to step out and do something for themselves.
Rehnuma said, ''I wanted to show the Muslim women of my neighbourhood that they should feel free to take out time for themselves and do something. I have always been supported by my family but not every Muslim woman in our society is lucky enough to take an independent stand. I wanted these women to work towards their fitness and not be just confined to the four walls of their household.''
''Initially only a few women joined but once the word spread, more and more women joined, taking the overall strength to around 40. We usually start around 5:30 am and sometimes it continues till 7-7:30 everyday. Most women perform Yoga in burqa,'' said Rehnuma.
Rehnuma has never worn a burqa like the other women in her family and neighbourhood.
'I have always believed that it's a personal choice and no woman should be pressured into wearing a burqa or a hijab against her wishes. Some maulvis, without directly pointing out, made it apparent to them of their displeasure over performing Yoga in the park,''said Rehnuma.
''Men would stare at us for long. Two men at the park even tried to moral police and body shame us. They walked up to us and made us feel uncomfortable about performing yoga at the park. They said women shouldn't be allowed to come out without a burqa and they must stay at home. That infuriated me and I gave a piece of my mind. They left and never came back. It's extremely important for women to stand up against injustice. Men should have a veil in their eyes than on our bodies to protect our honour,''Rehnuma added.
Rehnuma's mother Shabnam is her pillar of strength. Shabnam has always supported her daughter's dreams and aspirations. Shabnam said, ''I want my daughter to win a gold medal in boxing and make the entire country proud. She is capable of achieving a lot in life and nothing should come in her way.''
''My daughter is an inspiration to all the other Muslim women in the society that are afraid to break barriers. I believe that women are the backbone of the society and they must be given the freedom to grow and scale all heights,'' she added.
Rehnuma's father, Mohammad Kadeer is an auto driver. He has always supported all of his daughter's endeavours. ''I am really proud of my daughter. People used to make fun of me initially because I supported my daughter's boxing aspirations, but I never paid heed to anything. I hope one day she brings laurels to the country,'' he said.
Rehnuma believes that women must be given absolute freedom to achieve their goals in life. She wants to win international and national medals in boxing. Her dream is to become an IPS officer and set an example for young women to live their dreams. Rehnuma has won praise from many social activists and social workers in Haldwani.
https://www.oneindia.com/india/17-year-old-boxer-Muslim-girl-punching-stereotypes-with-yoga-3160737.html
--------
Dr. May Alobaidy, the First Saudi Woman to Be Appointed an Adviser to A Minister
October 06, 2020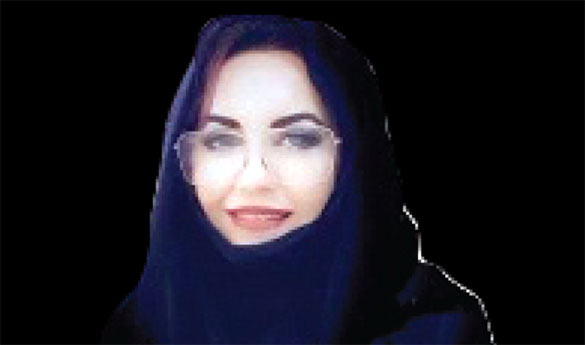 Dr. May Alobaidy
----
Dr. May Alobaidy is the first Saudi woman to be appointed an adviser to a minister. Over the years, she has worked as a senior adviser to three ministers in addition to her role as CEO of the Strategic and International Partnerships and Initiatives Center, which she established at the Ministry of Higher Education.
Alobaidy is a highly regarded expert with a plethora of international and local experience in strategies, management and leadership. Throughout her career, she worked in various leadership strategic roles and executive positions in many ministries and nongovernment organizations. She was appointed as adviser to vice ministers and governors where she provided consultations on many pivotal issues and projects.
Alobaidy is a co-founder of the Education and Training Evaluation Commission (ETEC) in the Kingdom, where she was appointed vice governor of planning and development.
She also served as the deputy governor for external relations and international cooperation and deputy governor for research and development, where she established both sectors, besides her role as the executive director of the female sector at ETEC.
Over the years, she collaborated and worked on several high-level projects and initiatives with various international organizations and universities such as the UNESCO, WHO, UNDP, UNICEF, World Bank, the OECD, and Harvard University.
Alobaidy is a Harvard alumnus and a UK graduate with a Ph.D. in business management and health care administration. She received a master's degree from the US and obtained a second master's degree from France in management and strategic planning.
Dr. Alobaidy is an expert strategist with a professional history in strategic planning, policies, research and development, education, and health care management. She served at many advisory boards and is a member of many committees including the G20. Her Twitter handle is @mayalobaidy.
https://www.arabnews.com/node/1744736/saudi-arabia
--------
Fatima Hussein, the First Muslim Woman to Be Nominated In a Council Election in Brazil
October 8, 2020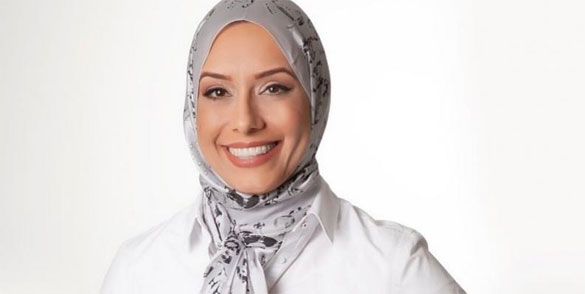 Fatima was born in Brazil to Palestinian migrant parents.
-------
Although it is quite normal in many places today, Fatima Hussein is the first Palestinian Muslim woman to be nominated as a candidate in a Brazilian municipal council election. She never set out to be the "new face" of the Democratic Party; she always saw herself simply as a Palestinian dentist who devotes her time serving her local community. In this election, though, she will be breaking new ground.
"I will be the only candidate who wears hijab," Hussein told me. "We suffer from fake news here in Brazil, a lot of which is harmful for Muslim women. However, I believe that my city council will be a real democratic space, where everyone feels represented, and symbols of Islam will be shown and respected."
She is confident that she will be able to demonstrate that Muslim women can study, have jobs, have their own income, make decisions, have a voice and give a voice to everyone else. If elected, she intends to fight against all types of discrimination, including race, gender, colour and religion.
With millions of Palestinians still living in exile from the land that their families had farmed for generations, Fatima Hussein's story is one of many which illustrate that Palestinian refugees are living examples of patience and, in many cases, success. Neither the trauma of exile nor the pain of their loss has broken their spirit. On the contrary, their collective experiences have made them stronger.
Being a woman in politics is a challenge in itself, but what about being a Muslim, a Palestinian, a dentist and a mother, all of them roles that Hussein fulfils in society? Brazil is the fifth largest country in the world, and has the largest Roman Catholic population. Hussein believes firmly that when a woman has faith in her heart and is determined, she can achieve whatever she aims for, despite all of the challenges and divisions in society. She is, after all, a Brazilian-born Palestinian.
Fatima Hussein's father worked in Brazil as part of an agricultural mission with help from the Jordanian government. He came from the village of Yalu, which was occupied by Israel during the 1967 Six Day War. All of the villagers were expelled and the village was destroyed. When this happened, her brothers sought refuge in Brazil and joined their father.
"I was born in Tubarao, a city the State of Santa Catarina in Brazil, where I lived throughout my childhood," Hussein explained. "In my teenage years, I moved to the state capital, Florianopolis, with my parents."
She studied dentistry at the Federal University of Santa Catarina, and also did her master's degree there. "Since 2000, I have worked in my private dental clinic. I believe that a smile is our most important means of expression, and the worst crime is to steal someone's smile. We can be happy if we make other people happy."
It is every Palestinian's destiny to carry his or her homeland with them in the diaspora. Fatima Hussein is no exception. "As a daughter of immigrants, I learned that success in a place that is not yours is one of life's greatest challenges. I know exactly what it is to overcome all obstacles and to win when life gave me only one option."
There has been a sizeable Palestinian community in Brazil since the end of the 19th century, and the country has hosted Palestinian migrants after the successive catastrophes that they have gone through in their homeland. It occupies a great place in the hearts of all Palestinians. Today, they play an important role in Brazilian society and help to build the country.
Palestinian influence can be found in Brazilian culture and society, especially in literature, street names and prominent politicians and businessmen. "Even as a proud Brazilian," insisted Hussein, "I will always defend Palestine, not only because I am of Palestinian descent, but also because we should shine a light on our Palestinian community and our presence here."
Florianopolis has a relatively small Palestinian community but not many people know much about Palestine and the continuous suffering of its people. Fatima Hussein hopes to be the voice of Palestinians there. "I want to be the first woman who will give visibility to the Palestinian story, history, people and their cause. I'm not just a candidate, but I am the one who represents resistance, struggle, courage and strength."
Not surprisingly, her husband is also a Palestinian. Khaled is a doctor working on the front line of the coronavirus pandemic in Brazil.
Fatima Hussein is one of a growing number of Palestinians who are successful in their chosen professions as well as in their local communities across Brazil, despite the challenges and difficulties they face. Every generation of Palestinians inherits the yearning for success where they will continue to seek a just peace that will provide future generations in their homeland with similar opportunities. That was always the certainty in their grandparents' hearts, and it remains the case in Fatima's today.
https://www.middleeastmonitor.com/20201008-fatima-hussein-the-first-Muslim-woman-to-be-nominated-in-a-council-election-in-brazil/
--------
Princess Nouf bint Mohammed, chair of the Civil Society 20
October 09, 2020
Princess Nouf bint Mohammed is the chair of the Civil Society 20 (C20), one of the eight independent engagement groups of the G20. According to the C20 website, the group "provides a platform of Civil Society Organizations around the world to bring forth a nongovernment and nonbusiness voice" and "provides a space through which CSOs can contribute in a structured and sustained manner to the G20."
Recently, the C20 virtual summit convened amid calls for world leaders to make bold reforms and commit to health, education and social protection investments, while taking ambitious steps toward climate action and biodiversity protection. More than 4,000 civil society leaders, representing 109 countries, discussed their concerns and demands ahead of the G20 Summit next month.
Princess Nouf has been the CEO of the King Khalid Foundation (KKF) since 2019 and is the chairperson of the Saudi ADHD Society and a member of the Al-Nahda Society for Women. She is a committed philanthropist and a strong supporter of Saudi civil society. She graduated from the University of Phoenix with a degree in business management. She has represented the KKF and the Saudi ADHD Society in several international civil society meetings. The Saudi ADHD Society is a nonprofit organization that supports and provides services to people with attention deficit hyperactivity disorder (ADHD).
Over her 24 years with the KKF, Princess Nouf has played an essential role in shaping the foundation's finances, activities, and its strategic direction, "focusing on creating equal opportunities and prosperity in Saudi Arabia as well as the Foundation's engagements and support for the nonprofit sector," according to the C20 site.
https://www.arabnews.com/node/1746256/saudi-arabia
--------
Threats by Friday Prayers Leaders To Iran's Women Shows Mullahs' Misogynous Nature
by Sedighe Shahrokhi
6th October 2020
In a meeting with the head of the regime's State Security Force (SSF) in Isfahan, central Iran, on Friday, Yousef Tabatabai, Isfahan's Friday prayers leader and supreme leader Ali Khamenei's representative, threatened women, paving the way for further oppression.
"We should make the society unsafe for the few (mal-veiling women) and not allow them to break the norms on the streets and parks easily… The SSF should be given more authority in dealing with those breaking the law and the norms. We should not be afraid of any hostile action in dealing with the violators," he said.
These remarks once again show the regime's misogynous nature. Earlier in 2014, Tabatabai's statement against so-called "mal-veiled" women resulted in the regime's thugs attacking young Iranian women and splashing acid on their faces.
In a similar development, Abolghasem Yaghoubi, the Friday prayers leader and Khamenei's representative in North Khorasan, northeast Iran, said: "Law enforcement forces must make the lives of rioters who have evil intentions unsafe… Mal-veiling or the refusal to wear a veil acts like a virus in society, and we must confront those who do that… In addition to the engagement of the SSF and the judiciary in combatting mal veiling, the people must also get involved and enjoin good and forbid evil. We must also be sensitive to other viruses and not just the Coronavirus."
Regarding these misogynous comments, which only pave the way for further harassment of the Iranian women and girls, the Women's Committee of the National Council of Resistance of Iran (NCRI) highlighted that it "views the threats by Khamenei's criminal representatives that have aroused popular outrage" as "another pretext to further repress Iranian women and girls."
"It urges the United Nations High Commissioner for Human Rights, and the Human Rights Council as well as all women's rights and human rights organizations to condemn these repressive measures and to support the struggle of Iranian women for freedom and equality."
Misogyny: An inseparable part of the mullahs' regime
Since the mullahs hijacked the 1979 revolution, they have always demonstrated their misogynous nature in different ways. Month after coming to power, Ruhollah Khomeini, then the regime's supreme leader, made wearing a hijab mandatory. Shortly after, the regime's thugs attacked and brutalized many Iranian women under the pretext of not being "properly veiled." The mullahs' regime has a special force, called the "Guidance Patrol," or "Morality police," tasked with arresting mostly women under the pretext of being "mal-veiled."
The regime's so-called "moderate" president, Hassan Rouhani, in his autobiography, has boasted about being the first person in the country that implemented the mandatory hijab.
The regime's misogynous constitution has paved the way for so-called "honor" killings. According to the regime's constitution, if a father or grandfathers kill his daughter or granddaughter, he will not be punished. The recent tragic beheading of 14-year-old Romina Ashrafi by her father is a testament to the regime's misogynous nature.
Iranian women's response
Despite the regime's systematic crackdown on women, the Iranian women have been on the front line of the struggle for freedom and equality. Many of the martyrs of the Iranian Resistance and the recent two major Iran protests were brave Iranian women. In fact, the Iranian opposition is being led by women, with Mrs. Maryam Rajavi, the NCRI's president-elect, as their symbol.
Regarding women's rights in the future of Iran, Mrs. Rajavi, has always advocated gender equality. In her speech on December 02, 2019, Mrs. Rajavi described women as "the force for change," who "are going to defeat the mullahs' reactionary religious dictatorship."
https://www.ncr-iran.org/en/news/women/threats-by-friday-prayers-leaders-to-irans-women-shows-mullahs-misogynous-nature/
--------
'UN Working Relentlessly to Advance Women, Peace and Security Agenda'
October 9, 2020
NEW YORK — Armed conflict has a disproportionate impact on women and girls — a key reason why women's "full, equal and meaningful participation" in United Nations peacekeeping is such a priority, US Secretary-General António Guterres said on Thursday.
At a virtual roundtable discussion on Women, Peace, and Security (WPS) in peacekeeping, the UN chief drew attention to "landmark" Security Council Resolution 1325, which he called "foundational" to international peace.
Noting that October marks the 20th anniversary of the "ground-breaking" resolution, he explained that "it underscored the link between gender inequality and fragility, and between women's security and international security".
"Since then, the United Nations has worked relentlessly to advance the women, peace and security agenda", upheld the top UN Official.
Although women have driven public health messaging throughout the COVID-19 pandemic, Guterres pointed out that they are "under siege", bearing the bulk of the care and economic burden in many societies, while also facing "an alarming surge of violence in the home".
And in conflict situations, while women often broker peace in communities, they continue to be sidelined at national and international levels.
Through the course of 2018, women constituted only 13 percent of negotiators, three percent of those involved in mediation, and just four percent of signatories, the secretary-general said, while "women continue to have to fight for their voices to be heard, despite the mountain of evidence on the correlation between women's participation and the sustainability of peace".
Before female leaders from the Central African Republic (CAR), Cyprus, Sudan, and Mali addressed the meeting, Guterres shared his own experiences in each of the countries, where he witnessed "the central role of women in alleviating suffering and forging peace".
"Darfuri women have consistently advocated and worked for peace and security and in the on-going national political transition", he highlighted, calling women signatories in recent Juba peace talks "a notable achievement".
And for the first time in the history of CAR, he noted that women participated in the Khartoum peace talks, with one woman signing the peace agreement last year.
In Mali, he continued, women are playing key political roles in the current transition and women were on both sides of the peace table during negotiations in Cyprus, from 2015 to 2017.
Yet, political setbacks, underinvestment in women's organizations, and the entrenched mindsets and dominance of men, slows down women's progress, the UN chief detailed, spelling out: "This must change".
"Gender equality is a question of power", he upheld. "We need a radical shift to reframe and redistribute the way power is held and exercised".
The UN official made a rallying call to governments, the UN system, regional and civil society organizations, among others, to "take bold actions" to fully implement the WPS agenda.
We all must "adopt feminist approaches to accelerate women's full, equal and meaningful participation", he stressed, explaining that to build a peaceful and equal future, women's leadership must be transformed from a cause, into "a norm". — UN news
https://saudigazette.com.sa/article/598927/World/America/UN-working-relentlessly-to-advance-women-peace-and-security-agenda
--------
Hull joins Hall in confirming her place for next month's Saudi Ladies International golf week
October 6, 2020
JEDDAH — English golfing sensation Charley Hull has on Tuesday confirmed her spot in Saudi Arabia's 'women's week of golf' – joining Major-winning Solheim Cup teammate Georgia Hall as one of the headline names competing in next month's "unprecedented" $1.5 million events.
The 24-year old will head to the Middle East seeking her second win in the region, having come out on top in Abu Dhabi's Fatima Bint Mubarak Open last year.
Hull will have two chances to do so, with the Ladies European Tour event last week announcing that Royal Greens Golf Club — in the coastal resort of King Abdullah Economic City — will be hosting two landmark world-ranking tournaments in just seven days: the $1million prize fund Aramco Saudi Ladies International presented by Public Investment Fund (Nov. 12-15), and the Saudi Ladies Team International, where professionals and amateurs will compete in teams (Nov. 17-19).
Both tournaments will be held within a safe bio-secure environment and will see more than 100 of the world's best golfers descend on the Kingdom for the first ever women's professional golf event held in Saudi Arabia.
It will also be only the second international professional women-only sports event to take place within the Kingdom, and the all-new team format promised for the Saudi Ladies Team International will be a Ladies European Tour first — a set-up that could make for a 2019 Solheim Cup reunion for Hull and her European counterpart Georgia Hall, who confirmed her place in the history-making event earlier in the year, alongside Golf Saudi ambassadors Amy Boulden and Camilla Lennarth.
Hull said: "To play golf around the world was always my dream growing up and now I have the opportunity to compete in another new country for the women's game.
"The course looks absolutely stunning so I can't wait to get out there and compete against some of the world's top female golfers. It is great to be competing in this inaugural tournament, which is unprecedented, as we play golf in Saudi Arabia for the first time."
Hall added: "It's been a long time coming, with March's original event postponed due to the pandemic but the prospect of getting out somewhere new and competing in not just one but two tournaments in the space of a week is incredibly exciting for the players – and shows incredible backing for the women's game.
"The golf course looks fantastic and I'm sure will bring out the best in us, so I'm really looking forward to it."
Both women played pivotal roles in Europe's thrilling 2019 Solheim Cup triumph over Team USA at Gleneagles, earning seven points between them.
2014 LET Player of the Year and Order of Merit winner Hull carried that form into the LPGA Tour's season-ending CME Group Tour Championship last November, where a second-placed finish earned her almost $500,000.
She has returned to post-lockdown golf in style, winning the Order of Merit in the inaugural Rose Ladies Series in August, as well as competing in major events in both the UK and US.
Best known for winning the 2018 Women's Open — the first English player to do so in 14 years — Georgia Hall's career has already seen her top the Ladies European Tour Order of Merit and be named Tour Player of the Year two years in succession.
She finished runner-up to Hull in the maiden Rose Ladies Series in August, before going onto claim her second LPGA Tour victory at the Cambia Portland Classic last month, where she held her nerve to defeat Ashleigh Buhai in a sudden-death playoff.
The events will be Saudi Arabia's third and fourth professional golf tournaments in less than two years, following the successful running of the Saudi International powered by SoftBank Investment Advisers in 2019 and 2020. Northern Ireland's Graeme McDowell won this year's January event.
November's consecutive Saudi tournaments will offer the LET season's biggest purse for a regular tour event after only the Scottish Open.
Majed Al Sorour, CEO Golf Saudi and the Saudi Golf Federation, said: "We're delighted to be able to host exciting new golf tournaments capable of attracting the game's biggest names — and Charley and Georgia are definitely two of those.
"With both tournaments being broadcast live across the country, it will be a watershed moment for young Saudis to watch these elite level golfers perform within the Kingdom that we hope will inspire many to come and give golf a try.
"We look forward to welcoming Charley, Georgia and all the other players we'll have competing in November to what we aim to make a world-class sporting occasion, held within a safe bubble environment and overlooking the turquoise waters off the Red Sea coast." — SG
https://saudigazette.com.sa/article/598832
--------
Women Account For 54% of Diabetes Cases in Oman
October 04, 2020
Tawfiq Nasrallah
Dubai: Women with diabetes accounted for 54 .3 per cent of a total of 6,430 new diabetes cases registered in 2019 in Oman, local media reported.
According to the Ministry of Health, about 31 per cent of the cases registered are in the age group between 45 and 49 years followed by those between 40 and 44 years.
The total diabetes cases on at the national level stood at 105,317 in 2019.
"Oman has witnessed an epidemiological transition to non-communicable diseases possible because of a number of factors including changes in lifestyle together with the demographic changes as is evident by aging of the population," the ministry said.
According to the ministry's report, cardiovascular diseases and cancer are the leading causes of death, while hypertension, hypercholesterolemia, obesity and diabetes mellitus are on the rise.
"Almost 75 per cent hypertensive patients and 52 per cent diabetics do not know that they have these diseases and 64 per cent of those who have it do not control it."
"The Ministry of Health has taken several steps to improve the health care provided to such patients including both preventive and curative measures at all levels of health care," said the report.
https://gulfnews.com/world/gulf/oman/women-account-for-54-of-diabetes-cases-in-oman-1.74330626
--------
Fatima Bint Mubarak Ladies Sports Academy Marks 10th Anniversary
October 09, 2020
Alaric Gomes
Dubai: The Fatima Bint Mubarak Ladies Sports Academy (FBMA) has laid out a three-stage process while vowing its commitment to further unlock the true potential and creativity of Emirati women in the country.
Addressing members on the completion of 10 years of FBMA, Sheikha Fatima Bint Hazaa Bin Zayed Al Nahyan, Chairperson of the Board of Directors of FBMA and Chairperson of the Abu Dhabi and Al Ain Ladies Clubs, reiterated the commitment of FBMA in bettering the sporting status of women in the UAE.
"The completion of 10 years is a good time to skim through the accomplishments achieved with the determination of our women in the UAE. There is no doubt that they always seek to take advantage of the opportunities they're given and establish their prestigious sporting status standing on all regional, continental and international podiums," Sheikha Fatima Bint Hazaa said.
"On this occasion of our tenth anniversary, we thank Sheikha Fatima Bint Mubarak for her unlimited support of women and we assure that the academy will always remain a platform for unlocking the true potential of Emirati women, revealing their creativity and giving them the opportunity to prove themselves and move forward towards a promising sporting future."
Sheikha Fatima Bint Mubarak, Chairwoman of the General Women's Union (GWU), Supreme Chairwoman of the Family Development Foundation (FDF) and Chairwoman of the Supreme Council for Motherhood and Childhood and also called the 'Mother of the Nation', has always believed in the abilities of Emirati women while supporting their exploits.
And to mark the 10th anniversary of the FBMA on October 10, of one of the largest women's sports organisation in the Middle East, the academy launched several initiatives spearheaded by the 'FBMA 10 Million Step Challenge'. Held from October 1 to 10, the FBMA 10 Million Step Challenge broke several records and was a welcome addition to the long list of achievements at the FBMA.
Participants and competitors exceeded the desired goal of the challenge by reaching almost 13 million steps by the third day itself. The challenge observed a vast diversity in participation from all segments of community.
Sheikha Fatima Bint Hazaa insisted that a new start has been ushered in a fresh look at sports for women at FBMA based on the three continuing principles of a foundation stage, followed by an empowerment stage and then a final goal achieving stage.
"October 10, 2010 was the start of a new beginning in the sports field for Emirati women after Sheikha Fatima Bint Mubarak's decision to set up a dedicated academy for women. Our focus is always to prepare girls and women from a sports perspective to achieve the desired results contributing to the future prosperity of our sport. The ultimate goal is to ensure the advancement of women in society," Sheikha Fatima Bint Hazaa said.
"The first step was to encourage women to exercise and improve their performance, be it on the individual or collective level. Once we had a large base of women athletes, things got better as our athletes started bringing in laurels for the UAE with their performances," she added.
"Over the past ten years we have worked tirelessly to provide the right environment to our girls. Consequently, women's sport has witnessed a paradigm shift that has brought Emirati girls to international podiums. This task was carried forward off the field while paying attention to sports research and education through conferences and seminars on various topics," Sheikha Fatima Bint Hazaa insisted.
The Empowerment Stage was a key pillar in the development of women's sport with Sheikha Fatima Bint Mubarak taking a personal interest in the direction and sponsorship matters for women in sport.
The first of sports competitions, that was held in early 2012 with the Fatima Bint Mubarak International Show Jumping Cup, has grown each year.
While a special eye was kept on emerging young talents, attention was also paid to hosting the annual 'International Conference of Sport for Women' that has over the years brought in some of the most famous sports personalities and specialists to address UAE sportswomen.
Since 2012, the academy has been organising three running events each year either in Abu Dhabi or Al Ain enabling women to easily participate along with family and friends in a safe and secure atmosphere.
The FBMA also organises an annual Summer Camp in which more than 250 girls between the ages of five and 15 participate. The summer camp is a distinctive addition to academy's activities in which they have put constant efforts to encourage girls to exercise from a young age.
"Such initiatives play an important role in filling the leisure time of female students while keeping them all occupied during summer vacations. The camp is also a chance to discover talent from a very young age through various activities like football, basketball, volleyball and even in the field of arts and craft," Sheikha Fatima Bint Hazaa said.
Over a period of time, the FBMA today boasts of basketball and volleyball teams with both sides hold regular trainings at the premises of the Abu Dhabi Ladies Club with an eye to participate in accredited competitions and tournaments.
The final stage of goal-achieving is based on the academy pushing forward various initiatives and events to provide direct support in making sport an essential element of daily life for Emirati women. At the same time, identified talent receive all the attention and guidance needed to reinforce the strengths of athletes.
After contributing to women's sports empowerment, the academy has now begun planning a long-term strategy through which it is looking at working on an integrated focus over the next four years.
Meanwhile, the academy has released its new logo to mark the occasion of its 10th anniversary. The logo reflects a new era of goals and a new chapter in their history of achievements. Depicting a woman in full gold, the arrows represent the series of events related with the academy along with the slogan 'Moving Forward' representing the various initiatives that have been implemented over the past decade.
https://gulfnews.com/sport/uae-sport/fatima-bint-mubarak-ladies-sports-academy-marks-10th-anniversary-1.74452765
--------
URL: https://www.newageislam.com/islam-women-feminism/muslim-boxer-rehnuma-mikranai-punching/d/123091
New Age Islam, Islam Online, Islamic Website, African Muslim News, Arab World News, South Asia News, Indian Muslim News, World Muslim News, Women in Islam, Islamic Feminism, Arab Women, Women In Arab, Islamophobia in America, Muslim Women in West, Islam Women and Feminism