New Age Islam News Bureau
31 March 2020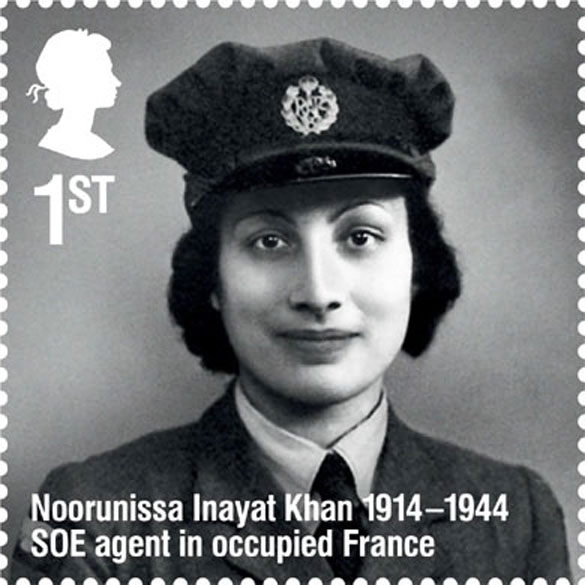 Indian princess Noor Inayat Khan
----
• Museum's Online Tribute to Muslim Princess, Noor Inayat Khan, A Direct Descendant of Tipu Sultan, Who Was WWII Secret Agent
• Bangladesh Women Storytellers Lift Virus-Hit Dhaka's Gloom
• 'Stop Nagging, Use Makeup': Malaysia Coronavirus Advice To Women
• Awal Women Society, Bahrain, Webinar Brings Together Regional Women Leaders
Coronavirus: I'm In Lockdown with My Abuser
• Vintage Photos Show How the Role of Women in The Workforce Has Evolved in The Last 100 Years
Compiled by New Age Islam News Bureau
URL: https://www.newageislam.com/islam-women-feminism/museum-online-tribute-muslim-princess/d/121448
-------
Museum's Online Tribute To Muslim Princess, Noor Inayat Khan, A Direct Descendant Of Tipu Sultan, Who Was WWII Secret Agent
March 30, 2020
The life of a British Muslim woman born to Indian royalty before becoming a secret agent in Nazi-occupied France is being celebrated in a new exhibition which can now be viewed online.
Noor Inayat Khan, a direct descendant of Tipu Sultan, the 18th-century Muslim ruler of Mysore, in India, was recruited to join the Special Operations Executive aiding the French resistance in the Second World War.
Developed by the Girlguiding Association to pass Ms Khan's inspirational story of heroism on to a new generation, the interactive exhibition comprises video footage, striking animations, evocative archive photographs and documents. Their account of how a young Muslim woman overcame significant prejudice to play a key role in supporting the French resistance aims to highlight the diverse nature of services and sacrifices made during the war effort.
An unlikely candidate for espionage, Ms Khan was educated in France and became an author of children's books as well as a musician. But, armed with a false identity and a pistol, the spy princess became the first female radio operator to be sent to occupied France during the war.
There, she posed as a children's nurse while sending coded messages from behind enemy lines, and was credited with holding together the Paris resistance through some of the darkest hours of the war.
She would eventually become known as "Madeleine of the Resistance" and prove wrong her training officers, some of whom believed she was unfit to work as a spy.
During her mission, she was captured by the Gestapo but, despite being tortured for information, gave nothing away. After numerous attempts to escape confinement, she was eventually transferred to the Dachau concentration camp, where she was executed aged 30 in 1944.
In 1949, she was posthumously awarded the George Cross, Britain's highest civilian award for bravery.
The digital exhibition at Runnymede Air Forces Memorial, produced by the Commonwealth War Graves Foundation, will allow the public to put their code-breaking skills to the test and discover the skills needed by a radio operator in the field.
The CWGF's director of international and community engagement, Julian Evans, said: "Noor's story is an inspirational one and we believed it important, as the custodians of the memorial on which her name is inscribed, to help give it greater prominence.
"We hope that the exhibition will encourage more people to visit the Air Forces Memorial to explore the story of Noor and the 20,000 other members of the Commonwealth Air Forces who are commemorated here."
https://www.thenational.ae/world/europe/museum-s-online-tribute-to-muslim-princess-who-was-wwii-secret-agent-1.999417
-----
Bangladesh Women Storytellers Lift Virus-Hit Dhaka's Gloom
SHEBAB SUMON
March 31, 2020
DHAKA: A smartly dressed woman wearing clothes in bright and beautiful colors fills the screen as Iqra Taznin logs on to Facebook for an interactive storytelling session.
For 30 minutes every Sunday and Tuesday, Taznin, a grade 7 student, forgets the fact that she hasn't been to school for days, or that Bangladesh is under lockdown, to deal with the global coronavirus outbreak.
"It's a very positive initiative which helps the children learn about many things even while they are confined at home in these days of quarantine," Noor-e-Tazmin Joya, Taznin's mother, told Arab News on Monday.
She reasons that the initiative, launched by HerStory Foundation (HSF), a Bangladeshi nonprofit organization, also educates the youths about iconic women from the country, by sharing their stories of trial and triumph.
"My daughter finds the stories very interesting as it's all about the legendary women of this country. She also dreams of being a trendsetter someday like many of these women," she added.
HSF began its initiative in 2016 by building an archive of stories about iconic Bangladeshi women and their role in the country's history.
The result was "The Adventures of Super Girls" illustrated books which contain the biographies of 41 inspirational women, and which are available in both Bengali and English in bookstores across the country.
Some of the stories narrated during the Facebook live session, which was launched on March 22, include one about acclaimed immunologist Dr. Firdausi Qadri who talks about the spread of viral diseases and the individuals that help fight them.
"On March 29, we read the story of Novera Ahmed, the sculptor and co-designer of one of Bangladesh's most important monuments, the Shaheed Minar, because it was her 90th birthday," Zareen Mahmud Hosein, executive director of HSF, told Arab News.
Since being released four years ago, the books have gained immense popularity, so much so that, today, they are used by parents and educators to discuss the history of the region, Hosein said.
"The stories are short and contain a moral lesson that children can incorporate into their lives," she added. Sahrin Ahmed, a mother of an eight-year-old boy, agrees.
"Since the sessions are live and interactive, they provide an opportunity for my son to ask any questions and he receives an instant reply," Ahmed told Arab News.
HSF launched its first reading session in September 2019, partnering with Dhaka University. Under the one-year program, it trained 17 people to read the stories out loud to students from different schools.
Today, the best of the lot read aloud the same stories to a broader audience online. It helps to make the most of the lockdown, Hosein said.
"Since the dramatic changes of the past few weeks, we have been working to adapt to new realities. Now, more than ever, we need stories of encouragement," she added.
Children and parents from anywhere in the world can join the live storytelling session, which is free of cost, by logging onto HSF's Facebook page.
It is essential to keep the conversation going, Hosein said. "We might be isolated, but we are not alone. We will continue to share stories of courage and resilience. So at 3 p.m. every Sunday and Tuesday, we read a story and start a conversation," she added.
https://www.arabnews.com/node/1650221/world
-----
'Stop nagging, use makeup': Malaysia coronavirus advice to women
31 MAR 2020
KUALA LUMPUR: Coronavirus lockdown advice issued by Malaysia that urges women to dress up at home and avoid nagging their husbands sparked a sexism row on Tuesday, with critics saying it promotes gender stereotypes.
In a series of online posters with the hashtag #WomenPreventCOVID19, Malaysia's women's affairs ministry issued advice on how to avoid domestic conflicts during the partial lockdown, which began on March 18.
One of the campaign posters depicted a man sitting on a sofa, and asked women to refrain from being "sarcastic" if they need help with household chores.
Avoid nagging your husband, another poster said, attempting to inject humour by using a voice similar to the anime character Doraemon - a blue robot cat popular across Asia.
"(It) is extremely condescending both to women and men," said Nisha Sabanayagam, a manager at All Women's Action Society, a Malaysian advocacy group.
"These posters promote the concept of gender inequality and perpetuate the concept of patriarchy," she told the Thomson Reuters Foundation by phone.
The posters, uploaded on Facebook and Instragram, drew widespread ridicule online with social media users urging the government to remove them.
Women's groups have warned lockdowns could see a rise in domestic violence, with women trapped with their abusers. Some governments have stepped up response, including in France which offers hotel rooms to victims.
Malaysia is ranked 104 out of 153 countries in the latest World Economic Forum's Global Gender Gap index, after scoring poorly on political empowerment and economic participation.
https://www.bangkokpost.com/world/1890220/stop-nagging-use-makeup-malaysia-coronavirus-advice-to-women
-----
Awal Women Society, Bahrain, Webinar Brings Together Regional Women Leaders
March 31, 2020
The Awal Women Society (AWS) celebrated its 50th anniversary by hosting a webinar — or virtual forum — bringing together women leaders from across the local and regional spectrum. Representatives of international civil society institutions, women's groups and non-governmental organizations (NGOs) also participated in the online event, which was sponsored by Finmark Communications and EMIC Training.
Necessitated by the global COVID-19 pandemic, while the AWS virtual forum falls in line with efforts mandated by the government of Bahrain to combat the spread of the coronavirus, it also highlights the leading role played by AWS in focusing on empowering women in the IT sector and using technology to further the cause of women's rights.
The keynote speakers at the AWS virtual forum included: Nasser Al-Qahtani, executive director at the Arab Gulf Program for Development (AGFUND); Jihan Almurbati, UNDP representative; Abeer Daham, head of Women Support Center at the Supreme Council of Women; Yasmeen Al-Sharaf, head of fintech and innovation unit at the Central Bank of Bahrain; Nusrat Alnajjar, AWS chairperson; Abdul Rahman Sindi, general manager, IT, Transworld; Ahmed Alhujairi, CEO, Gulf Future Business; Dr. Naeema Al-Gasseer, WHO representative in Sudan; and Zahraa Taher, managing director, Finmark Communications.
AWS chairperson Alnajjar said: "Our 50th anniversary virtual forum focuses on empowering women in a high-tech environment, which is the barometer for success in any society nowadays."
Al-Qahtani, executive director of AGFUND, added: "This unprecedented virtual forum showcased the role played by AWS over the past five decades and its great contributions in building sustainable partnerships that are paving the way for achieving the sustainable development goals outlined in Bahrain's Economic Vision 2030 program."
"AGFUND was one of the leading donors that recognized the significant role played by civil society entities such as AWS in Bahrain to empower women and serve our societies with the best developmental practices. Our long partnership with AWS consists of many projects that helped many Bahraini women to become successful entrepreneurs."
https://www.arabnews.com/node/1650286/corporate-news
----
Vintage photos show how the role of women in the workforce has evolved in the last 100 years
Erin McDowell
17 hours ago
Then, as men were sent off to war, more women got involved in the wartime effort in factories and other professions previously dominated by men.
Women's equality movements throughout the 1960s and 1970s gave even more opportunities to working women, and today, more women are in the US workforce than men.
Women held jobs as postal clerks, sorting letters and packages. While it wasn't uncommon for women to work in post offices, very few women actually delivered mail. According to USPS, in 1920, only 5% of the nation's 943 village carriers were women.
As village delivery was gradually phased out in favor of city delivery, a majority of the remaining women village carriers either resigned from their positions or were transferred to clerk positions.
In 1920, women made up about 20% of the labor force, and many of them were involved in the manufacturing of apparel, food, and tobacco products.
Women of color, on the other hand, were largely employed in agriculture and domestic service work for much of the early 20th century.
Many women learned to type in order to secure higher-paying jobs in an office as a secretary or a typist in a clerical office, rather than having to work in a factory. According to the Encyclopedia of Chicago, working conditions, wages, and hours in clerical work were seen as the best at the time.
Clerical work attracted young, literate, mostly white women who would work as typists until they were married, only to be replaced by another young unmarried woman.
Gertrude Olmstead from the MGM Studios checks the costume design with the dress being made by the costumer. Hulton-Deutsch/Hulton-Deutsch Collection/Corbis/Getty Images
As the popularity of silent films began to rise, women also found work creating movies for the silver screen.
In 1923, "Business Woman" published a list of 29 different jobs that women held in the film industry, apart from actresses. Job positions included that of a typist, secretary to the stars and executive secretary, costume designer, seamstress, telephone operator, hairdresser, script girl, film retoucher, title writer, publicity writer, musician, film editor, director, and producer, among others.
However, most occupations were seen solely as a precursor to marriage. Among married white women of both native and immigrant backgrounds, only around 10% held jobs. It was more common for married women of color to hold jobs, however, out of pure financial necessity.
Several women attend a work camp at Bear Mountain for unemployed, homeless, and single women during the Great Depression. Getty Images
Inspired by the Civilian Conservation Corps, which only allowed men to join in exchange for free room and board, Eleanor Roosevelt started "SheSheShe" camps as a way for women to gain employment in environmental conservation as well.
Women sewing clothes to be sold during the Great Depression, North Platte, Nebraska, November 1937. Hansel Mieth/The LIFE Picture Collection/Getty Images
According to History.com, many women during the Great Depression found work as secretaries, teachers, telephone operators, and nurses. Women also made an income by sewing clothes in Works Progress Administration (WPA) sewing rooms, which manufactured men's trousers, boys' coveralls, baby clothes, dresses, and diapers.
During World War II, women assisted in manufacturing wartime necessities like gas masks. By 1945, one in every four married women worked in jobs outside the home.
However, according to History.com, after Pearl Harbor, many women entered the armed forces at astonishing rates. In 1943, more than 310,000 women worked in the US aircraft industry, making up 65% of the industry's total workforce. Before the war began, women made up just 1% of the industry.
A nurse lighting the pipe of US pilot Harold Ingley, lying on a field hospital bed in Italy, September 1, 1944. Mondadori/Getty Images
In 1935, a law titled the National Recovery Act required women who held jobs within the government to receive 25% less pay than men in the same jobs, according to the National Committee on Pay Equity. During wartime in 1942, the War Labor Board ruled that women would be paid the same as male workers who were now away at war.
However, the war ended before the rule could be implemented. With no laws to protect female workers from pay inequality, female workers in the 1940s earned around 50% of what their male counterparts made, according to History.com.
Even though there were technically more women in the workforce in 1952 than during the war, women were not taken seriously in regards to their careers.
Many women were forced to give up the jobs they had worked in during wartime to male soldiers returning home, according to History.com. The most popular jobs for women during the 1950s were secretaries, bank tellers or clerical workers, sales clerks, private household workers, and teachers, according to The Week.
Female secretaries in the 1950s gained a reputation for being young and attractive. In fact, a 1959 quiz from a secretarial training program in Waco, Texas, asking women if they have what it takes to be a secretary includes "smiling readily and naturally" and being "usually cheerful" among its requirements.
Regular Delta C&S Stewardess Mary Lee Shultz, of Memphis, adjusts a colleague's cap as they both prepare for flight in the operations room, 1956. Getty Images
Flight attendants during the 195os became symbols of the golden age of flying — when traveling by air was seen as the height of sophistication and glamour. However, with this "glamorous" career also came a host of sexist protocols.
According to Conde Nast Traveler, women were not allowed to work as flight attendants after they reached the ages of 32 to 35, while male flight attendants could work well into their 60s. In 1957, Trans World Airlines dropped its no-marriage rule for female flight attendants. However, many airlines continued to only hire non-married female flight attendants.
After women returned home from their secretarial or office jobs, they had another job to do — caring for the children, doing the housekeeping, and, of course, putting a hot dinner in front of their husband.
This became known as the "second shift." If women didn't hold office or other jobs during the day, they were relegated to being "housewives."
American broadcast journalist Barbara Walters eats a sandwich as she works at her desk in New York in 1966. Rowland Scherman/Getty Images
In the 1960s, Barbara Walters was a broadcast journalist working in New York City. In 1976, she would become the first woman to anchor a nightly newscast. Many other women were also joining the journalism field as coverage of the Vietnam War became increasingly widespread.
Women weave hair-like wires and tiny metallic cores into memory at the Ampex computer products division circa 1960. Authenticated News/Archive Photos/Getty Images
According to Smithsonian Magazine, "computer girls" became a term for "savvy young women" pursuing careers in computer programming. Computer programming was seen as "easy work" similar to typing or filing, so many women ended up building the field that would come to be known as software development.
"Women were seen as an easy, tractable labor force for jobs that were critical and yet simultaneously devalued," technology historian Marie Hicks said in her book "Programmed Inequality," according to The Guardian.
Title VII was added to the Civil Rights Act of 1964, protecting workers from employment discrimination based on race, color, religion, sex, or national origin.
In 1963, the Equal Pay Act of 1963 was passed in order to protect men and women who perform "substantially equal work in the same establishment" from sex-based wage discrimination.
These measures were especially beneficial to women of color. Up until the 1970s, women of color could be openly discriminated against in the hiring process and were often relegated to providing domestic service work to white families.
According to The Guardian, female computer workers, or "computer girls," were gradually phased out and replaced with men, who received higher salaries and more prestigious job titles.
From 1972 to 1985, the number of women working "professional" jobs increased from 44% to 49%. The number of women working "management" jobs nearly doubled, rising from 20% to 36%.
However, in 1970, women still did not earn "equal" wages to men. According to the National Committee on Pay Equity, women earned 59.4% of what men earned.
After measures were passed that prevented universities and institutions from discriminating against students on the basis of sex, more women were admitted into medical school than in past generations.
According to The Atlantic, in 1985, half of all college graduates were women. However, only 41% of women between the ages of 25 and 44 held full-time year-round jobs.
Even in the mid-1980s, women themselves saw their own careers as inferior to their husbands'. According to The Atlantic, which cited a 1985 Roper survey, only 10% of women said that a husband should turn down a "very good job" in another city "so the wife can continue her job."
In 1984, at the Democratic National Convention held in San Francisco's Moscone Center, Geraldine Ferraro became the first woman nominated as vice president by a major political party.
Computers became more and more prevalent, reducing the need for secretaries, bank tellers, and retail workers. Women overwhelmingly began to be employed in offices and earned higher salaries.
According to the US Bureau of Labor Statistics, there are now 109,000 more women working than men, and women in the US make up 50.4% of the labor force.
While sectors that traditionally hire women, like healthcare and education, are growing, other industries previously dominated by men are also hiring more women than ever before.
According to Forbes, 13.8% of mining and logging jobs are currently held by women, and more women are employed in manufacturing and transportation than in years past as well.
https://www.businessinsider.com/vintage-photos-of-women-working-factories?IR=T#today-women-hold-more-jobs-than-men-in-the-us-workforce-27
-----
URL: https://www.newageislam.com/islam-women-feminism/museum-online-tribute-muslim-princess/d/121448
New Age Islam, Islam Online, Islamic Website, African Muslim News, Arab World News, South Asia News, Indian Muslim News, World Muslim News, Women in Islam, Islamic Feminism, Arab Women, Women In Arab, Islamophobia in America, Muslim Women in West, Islam Women and Feminism