New Age Islam News Bureau
28 Jan 2019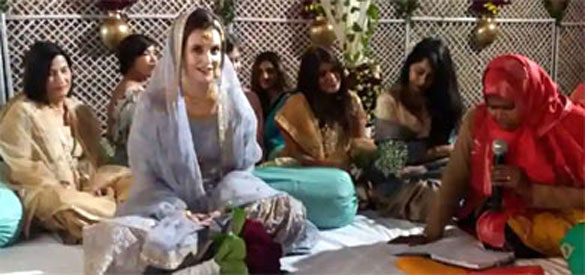 Maya Rachel McManus (bride) and her fiance had their marriage solemnised by a woman qazi or Muslim priest. (HT Photo)
------
• Suman Bodani Becomes Pakistan's First Woman Judge from Hindu Community
• Bangladeshi Woman's Viral Video Is Not Of Religious Conversion but Exorcism
• Wife of Former Nigerian VP Decries Harassment of Muslim Women Wearing Hijab
• Saudi Exile to Establish Group To Fight For Women's Rights
• Rahaf's 'Flight to Freedom' Puts Success of Saudi Women in Jeopardy
• In First, Woman to Head Bahrain Journalist Association
• Untying the Knot: Why More Women Are Seeking Divorce in West Africa
• Rapid rise in number of women drivers
• Hyundai Motor Park Offers Women In Jeddah Unique Driving Experience
Compiled by New Age Islam News Bureau
URL: https://www.newageislam.com/islam-women-feminism/mumbai-couple-gets-woman-qazi/d/117577
--------
Mumbai Couple Gets Woman Qazi to Solemnise Wedding
Jan 28, 2019
When Maya Rachel McManus, a British national who works as a communication consultant in Mumbai, and her fiancé, Shamaun Ahmed, an actor, got engaged last January, they had a clear idea of their dream wedding – the one that is solemnised by a woman qazi (Muslim priest). Fulfilling this dream, however, wasn't easy. An eight-month-long search and several dead-ends later, they found Hakima Khatoon, 40, a qazi from Howrah in West Bengal (WB) trained by Mumbai-based Bharatiya Muslim Mahila Andolan (BMMA) in 2016, who performed the ceremony on January 5, 2019.
Qazis, considered judges in Islam, handle counselling, weddings and divorces.
Just like Khatoon, 29 other women across the country underwent training in 2016, of which 15 were certified as qazis by Darul Uloom-e-Niswan, Centre for Islamic learning and Theology. This was the first wedding by the 2016 batch.
Currently, Mumbai has three women qazis, who settled the terms of divorce through mutual consent in 2018.
Tedious task
Talking about the difficulties they faced, McManus said, "A few years ago, I had read somewhere that women were being trained as qazis. When we decided to get married, it was our combined decision to find a woman qazi. The process, however, was long, as we had to find a way to get in touch with them. The communication, too, wasn't consistent, making us reconsider our decision. By then, getting a male qazi, too, was impossible, as I was being asked to change my name and forgo the British passport. That strengthened our resolve to find a woman qazi."
Khatoon said she started work a month prior to the date. "We had to decide on mehr (a security amount given by husband to wife at the time of wedding), check identity proofs, ensure the application form was in place and explain the procedure to the couple. We were a little anxious, but the support shown by the couple and their guests made our work easier," said Khatoon.
The battle ahead
The question of whether women can be qazis came up in 2008, when Muslim activist Naish Hasan asked Syeda Hameed, a scholar, to conduct her wedding rituals. The idea was rejected by some from the community. Eight years later, the All India Muslim Women's Personal Law Board appointed two women qazis, but their roles were limited to counselling.
"There were madrassas to train men, but there was no organisation for women," said Noorjehan Safia Naaz, co-founder of BMMA, who designed the course with Zakia Soman in 2015.
The transition was tough. Zubeda Khatoon, a qazi from Bandra, said, "Brides don't mind, but grooms are apprehensive."
Suriya Sheikh, a qazi from Behrampada, said that her son, who reads azaan at a mosque, used to tell her that women can't be qazis. "I asked him to read Quran," said Sheikh.
Heena Siddiqui, a qazi from Bandra, said her husband used to mock her earlier, but when she cleared the exams to become a qazi, he was the first person to congratulate her. The women claim their work has become a lot easier after the Triple Talaq Bill. "Men are now scared to give triple talaq to their wives, but instances of polygamy have increased, which is against the Sharia law," said Zubeda.
Despite the efforts, not everyone is convinced.
"There is no such thing as women qazis in Islam. It is just a new-age thing," said Maulana Syed Moinuddin Ashraf from Sunni Jama Masjid.
https://www.hindustantimes.com/mumbai-news/mumbai-couple-gets-woman-qazi-to-solemnise-wedding/story-QSMVR4m9xXkXbIvpGYAagN.html
--------
Suman Bodani Becomes Pakistan's First Woman Judge from Hindu Community
January 28, 2019
A woman from the minority Hindu community has been appointed as Pakistan's first female judge from her community.
Suman Pawan Bodani, daughter of Dr Pawan Podani, hails from Shahdadkot. She stood 54th in the merit list for the appointment of civil judge/judicial magistrate.
In March 2018, Krishna Kumari, a member of the Pakistan People's Party (PPP) was the first Hindu woman elected to the Senate. Kumari hailed from the so-called untouchables, the lowest rung of the caste system that still prevails in Pakistan and neighbouring India. "I will continue to work for the rights of the oppressed people, especially for the empowerment of women, their health and education," she said after winning the election. Kumari, who was born and raised in a remote district, attributed her success to her parents, who encouraged her to pursue her education and eventually helped her to earn a university degree.
Hindus make up nearly 2 per cent of Pakistan's total population and Hinduism remains the second largest religion in Pakistan after Islam.
https://www.pakistantoday.com.pk/2019/01/28/suman-bodani-becomes-pakitans-first-woman-judge-from-hindu-community/
--------
Bangladeshi Woman's Viral Video Is Not Of Religious Conversion but Exorcism
January 27, 2019
Netizens are shocked and have expressed their anger over a viral video which claims that a Hindu woman in Bangladesh is being forcibly converted to Islam.
The post is widely being shared on social media with concerns over the condition of Hindu minorities in Bangladesh.
India Today has confirmed that the video is not of forcible conversion but of exorcism. A Muslim exorcist is performing some ritual to expel "Hindu jinn" supposedly from a "possessed Muslim woman".
Twitter user Tyagraj Shekhawat posted this video tagging Aajtak on Saturday. He wrote in Hindi "Iss Bangladeshi Hindu Mahila ke dharmantakaran kay yeh video Sylhet ka bataya ja raha hai, jaha saare Hindu parivaaro ka safaya kar diya gaya, auraton ko chhorkar..." (It is being said this video of religious conversion of this Bangladeshi Hindu woman is from Sylhet, where Hindu families have been cleansed barring few women).
, ,
@aajtak pic.twitter.com/JgWLo10EGl
Tyagraj shekhawat (@TyagrajShekhawt) January 26, 2019
At the time of writing, this story more than 3,000 people have shared and over 2,500 people have liked this post on Twitter. This same post has been shared by many on Facebook believing the claim to be true.
This 2.20-minute long video is disturbing. A woman is seen held by a man from behind and being tortured and threatened by another man with a knife. Some other burqa-clad women are also present in the room. The entire conversation is in Bengali.
At one point the man asks the woman to repeat something in Arabic. Then in Bengali, she is forced to say, "I am now converted to Islam from Hinduism".
We found one user @haivri also shared this post on Twitter on January 25. In the comment section, some Twitterati raised doubt if it was the video of conversion.
One Twitter user @moinaksg commented that this seemed to be an exorcism-related video and claimed, "The woman is Muslim and supposedly attacked by a Hindu jinn". He mentioned a YouTube link which has a longer version of the incident with the viral claim.
We searched in Bengali with the combination of keywords "Hindu Jinn exorcism" and found quite a few videos related to it.
Bangladeshi YouTube channel EM Multimedia also posted the longer version of the video on January 19, 2019, with a Bengali caption, "This is the best video of exorcism. See how a Hindu Jinn is converted to Islam".
Another YouTube channel RH Bangla TV also posted this video with a caption In the name of exorcism, village women are sexually exploited.
In the video, it can be heard that the woman calls the man, Huzoor, which in local parlance in Bangladesh is referred to an exorcist. The Exorcist is seen shoving a knife into a bucket of sand and the woman cries in pain saying, "Huzoor I will leave this place forever, even the earth" in Bengali.
Our local correspondent in Bangladesh confirms that the Bangla accent spoken in this video is of some remote village of Noakhali district of Chittagong division in South-Eastern Bangladesh.
We found this practice of exorcism, particularly, the supposed expulsion of "jinn" of other religion is prevalent in almost all religions including Muslims in this subcontinent.
Other videos showing exorcism to evict Hindu Jinn can also be seen being practiced in Pakistan.
https://www.indiatoday.in/fact-check/story/fact-check-bangladeshi-woman-s-viral-video-is-not-of-religious-conversion-but-exorcism-1440545-2019-01-27
--------
Wife of Former Nigerian VP Decries Harassment of Muslim Women Wearing Hijab
January 28, 2019
Mrs Sambo said on Sunday in Kaduna during the commissioning of NASFAT Ultra Modern Mosque that every Nigerian must be allowed to practice their religion without any form of harassment.
Today our women are being harassed for wearing hijab, she noted, and urged NASFAT to take up the advocacy of protecting Muslim women from such harassment.
Mrs Sambo, who is the Patron of NASFAT Matrons Worldwide, said the group would continue to support the issue of women empowerment and health.
In his remarks, President General, Nigerian Supreme Council for Islamic Affairs, who is also the Sultan of Sokoto, Alhaji Saad Abubakar, enjoined Muslims to uphold the tenets of Islam at all times.
The Sultan, who was represented by the Emir of Birnin Gwari, Malam Zubairu Jibril Maigwari, said Muslims should always have the fear of God in their endeavours, and unite in keeping the flag of Islam flying.
The Sultan, however, noted that Muslims are weak, especially in the area of helping one another, adding that Islam was built on selflessness and compassion.
He commended NASFAT for building an ultra modern and multipurpose mosque that will not only be used for prayers but also serve other purposes that will be of benefit to humanity.
He applauded NASFAT efforts in propagating Islam, saying that the stride is worthy of emulation.
In his remarks, the Chief Missioner, NASFAT worldwide, Mahroof Onike, said the association is known for promoting unity among the Muslim community, assuring that NASFAT would continue to foster peaceful coexistence among the diverse people in the country. He emphasised that the division among Muslims is being hyped to give the religion negative colouration, but noted thatMuslims remain the most united group in the world.
As a Muslim, you can pray anywhere you wishes to pray around the world, and that is not applicable to other groups, he said.
He cautioned parents against allowing their wards to be used for thuggery in the forthcoming general elections, and said Muslims should conduct themselves peacefully before, during and after the elections.
The Chairman of NASFAT, Kaduna Branch, Muhyideen Alimi-Yusuf, said the branch has set up a N50 million education endowment fund that facilitated the setting up of a model school.
According to him, the NASFAT Model School is part of our charity services and is an on going project that ensures that all Muslims and members of the immediate communities have easy and affordable access to Western and Islamic Education.
https://www.pulse.ng/communities/religion/wife-of-former-vp-decries-harassment-of-muslim-women-wearing-hijab/ggswn6b
--------
Saudi Exile to Establish Group To Fight For Women's Rights
January 28, 2019
Saudi exile Reem Suleiman has told Al Jazeera she intends to start a new organisation advocating for women's rights in the kingdom.
In an interview with Al Jazeera Arabic, Suleiman, who is seeking asylum in the Netherlands, said she would only feel calm when other dissidents were freed from Saudi prisons and were able to express themselves without fear of government retribution.
Suleiman was a columnist for several government-controlled Saudi newspapers until she was ordered to stop writing by Saud al-Qahtani, a former key adviser to Saudi Crown Prince Mohammed bin Salman.
Qahtani is one of the 17 individuals sanctioned by the US State Department over the murder of Saudi columnist Jamal Khashoggi at the Saudi consulate in Istanbul.
While he was said to have been sacked after the killing, the Washington Post reported Qahtani remains in regular contact with Prince Mohammed, also known by his initials MBS.
Shortly after being ordered to stop writing by Qahtani's office, Suleiman's home was stormed by armed men and she was arrested.
During her detention, the columnist alleges torture and psychological abuse at the hands of Saudi security forces, which she says left her with permanent damage to her left hand.
The experience initially left her contemplating suicide. However, with time, it hardened Suleiman's resolve and made her more determined to bring about change in Saudi Arabia.
"My character has become stronger than ever before, and [now] I can fight injustice in front of a totalitarian regime, which does not hesitate to abuse," she said.
Eventually, Suleiman managed to escape Saudi Arabia and found her way to Bahrain. Since fleeing to her new home in the Netherlands, she continues to feel the reach of the kingdom, with Saudi trolls flooding the comments under her tweets with abusive messages.
Ostensible reforms
When MBS rose to power, he was lauded by many pundits in the Middle East and Western countries for his seeming liberalisation of the Saudi economy and society.
The prince ended a ban on women driving, opened cinemas, and reigned in the power of the country's religious police.
However, those reforms have come coupled with severe repression of political opposition, including women's rights activists.
Rights groups have repeatedly called for the release of detainees, including prominent activists such as Lujain al-Hathloul, Eman al-Nafjan, and Aziza al-Yousef.
https://www.aljazeera.com/news/2019/01/saudi-exile-establish-group-fight-women-rights-190128053021016.html
--------
Rahaf's 'Flight to Freedom' Puts Success of Saudi Women in Jeopardy
2019-01-27
By Joud Al-Amri
JEDDAH — The case of Rahaf Al-Qunun has been used by foreign politicians and media as a pretext to interfere in the Kingdom's internal affairs.
Her case no longer remains within the boundaries of her family, but has instead become the talk of the world.
Many of Rahaf's peers are worried today that their achievements might go to waste because of her case. They have demanded that strict laws should be enacted to combat all forms of violence or deprivation in order to deter others from taking the opportunity to seek asylum abroad or engage in disgraceful acts under the guise of freedom. Amani Muhammad, 23, a law student at King Abdulaziz University, called upon human rights organizations, the Ministry of Social Development and other pertinent bodies to impose strict punishments on those who perpetrate violence against women, persecute them or deprive them of their rights. Such measures should act as a deterrent to the likes of Rahaf from using Saudi traditions and social norms as a pretext to run away, she added.
"Rahaf's case escalated from an internal family affair into an international political conflict. The foreign media used Rahaf as a bait for political gains and ignored the pains this girl had caused her family. The media used her naivety to achieve their goals," Amani said
Although domestic violence can force some girls to run away, it is not a sufficient reason to do what Rahaf has done, Amani said, while calling upon the pertinent authorities to find drastic solutions to put an end to domestic violence and make sure that it does not become a reason for girls to run away from their families and flee abroad.
The Saudi government does all it can to make the social life of the citizens comfortable, she added.
Amal Al-Zahrani, 17, said Rahaf's action could destroy many of the achievements made by Saudi women. Her actions are disgraceful and against religious norms and Saudi values.
They might also have a negative influence on many Saudi girls, she added.
"I believe that the Saudi and Gulf women now enjoy a more luxurious lifestyle than women in many other societies. In the past, women did not have job opportunities and chances to complete their studies but today the situation has changed. Rahaf's running away might make the international community to believe that Saudi women are not qualified enough and cannot hold leadership roles and gain more freedom," she said.
Salwa Khalid, 20, said she was a victim of domestic violence in the past and but she reacted differently. Her parents got separated when she was three years old and she was subjected to violence at the hands of her aunt and cousins. Her father suffered health problems and her mother could not win her custody.
Salwa said she faced a lot of problems because of negligence and she thought of running away from home but she did not do it and decided to put up with the whole situation. Her patience paid off when she turned 17 years old and she was able to demand her rights and defend herself and make her own decisions.
"If I had run away back then, I would not have gotten any good opportunities to complete my studies. Many girls are not aware of the fact that running away is not the solution," said Salwa.
http://saudigazette.com.sa/article/557799
--------
In First, Woman to Head Bahrain Journalist Association
January 27, 2019
Manama: Ahdeya Ahmad, a seasoned media figure, was on Saturday elected the first woman president of the Bahrain Journalists Association (BJA).
Ahdeya, the deputy editor-in-chief of Daily Tribune, said she was pleased to make history in a country that has been actively elevating the status of women and motivating them to hold advanced positions.
She obtained 71 votes, only four more than her only rival, Yousuf Albinkhalil, the editor-in-Chief of Al Watan, one of the four dailies published in Arabic in Bahrain.
Acknowledging her victory, she told journalists that she would be seeking to improve the conditions of the profession.
Members of the association also elected the eight members of the board from the 12 contestants who had signed up their names.
Ahdeya started her career in the media in 1991 as one of the early female journalists in an English news, the Gulf Daily News.
In 1997, she joined Bahrain Tribune, the only other daily newspaper published in English in the kingdom. She oversaw the local news desk and contributed columns, mainly on the local developments at a time when Bahrain witnessed deep political and social changes. The newspaper was later renamed Daily Tribune.
Ahdeya also worked for Bahrain Television in English as a news reader and later as the head of the station.
She gained international media experience as she worked as correspondent and point of contact in Bahrain.
As member of the BJA board, she was the head of the women's section and of the international and cultural relations.
Albinkhalil is well known for his political columns and investigations and for the books he authored.
Prior to his current position in Al Watan, he was a senior public relations and media executive at Bahrain Institute of Public Administration.
Bahrain last month scored a first in the Arab world when Fawzia Zainal was elected Speaker of the Council of Representatives, the lower chamber of the bicameral parliament.
Her election was this week hailed as a breakthrough that should be emulated internationally by the President of the Inter-Parliamentary Union Gabriela Cuevas Barron during her visit to Bahrain.
The term of the board president and members is for two years. The association was set up in 2001 as an umbrella for Bahrain-based journalists despite attempts by some members to limit its membership to Bahraini journalists only.
https://gulfnews.com/world/gulf/bahrain/in-first-woman-to-head-bahrain-journalist-association-1.61701837
--------
Untying the Knot: Why More Women Are Seeking Divorce in West Africa
January 28, 2019
He didn't hit her. He didn't yell. He didn't cheat, as far as she knows. It was just that, less than two years into their marriage, Zalika Amadou's husband had changed. He'd become far too neglectful and indifferent for a young woman who expected, well, more. Her mother, who at 14 had married a stranger twice her age, couldn't understand the fuss. She'd stuck with her husband for five decades until he died.
But for Amadou, who married at 16, simply having a husband was not enough. So, on a busy morning in Maradi, Niger, she sits in front of a judge at a crowded Islamic court on the sidewalk and asks for what young women across the region are seeking like never before: a divorce.
For centuries, women have been expected to endure bad marriages in many conservative pockets of West Africa. Divorce happens, but most often the husbands were the ones casting off their partners. "It's the end of the world when a husband and wife don't stay together," says Amadou's mother, Halima Amadou.
But here in Niger, a place where women have less education, lower living standards and less equality with men than just about anywhere else in the world, a quiet revolution is playing out. Many women like Amadou come to this sidewalk court every month to push for a divorce, frustrated not only by their husbands' inability to earn a living during a time of economic hardship, but also because their basic views on relationships have changed.
They want to choose whom and when to marry, not be pushed into marriages. They demand respect and, better yet, love. And when their husbands fall short, women are the ones driving this new culture of breakups.
"Young women now go into marriages with certain expectations," says Alou Hama Maiga, secretary general of the Islamic Association of Niger. "If these expectations are not met at some point, then divorce is inevitable."
The Islamic judge who presides over the street-side religious court in Maradi, Niger's third-largest city, says that divorces initiated by women have doubled in the past three years, with nearly 50 women a month coming to end their marriages. "These young women don't want to suffer any more," says the judge, Alkali Laouali Ismaël. "There is a solution to their problems, and they know they can find it here."
Lawyers, women's associations, local officials and academics who study the region say the increase is happening across West Africa – in urban and rural, as well as Muslim and Christian, areas – as women assert more control over their relationships.
The total divorce rate is relatively stable or even declining slightly in some parts of West Africa, they note, but underneath that are huge changes in divorce patterns and society at large.
Women are more educated now and in some areas marry later in life, factors that academics say lead to more stable marriages. At the same time, more women are moving into cities and joining the workforce, empowering more of them to discard bad marriages.
Dakar's Association of Female Lawyers says it now helps three times as many female clients seeking divorce as it did even just four years ago.
"Many women in Dakar are independent and have jobs and have money," says Daouda Ka, a lawyer who handles divorce cases. "In the past, they were just tolerating bad marriages. Now, if it doesn't work out, they leave."
In Ghana, 73 per cent of divorce cases handled by the Legal Aid Scheme of Greater Accra were filed by women in 2016/17, a big shift from the past. Divorce, once considered taboo for conservative Christians, is being presented in some church sermons as a better option than ending up with domestic violence or adultery.
Amadou spent her childhood in Maradi, a busy city of small shops and open-air markets ringed by clusters of farming villages. It was at a wedding that a friend played matchmaker for Amadou, pointing out a man twice her age, Noura Issa. Amadou hadn't necessarily been looking for a husband. She was busy taking sewing classes that she had persuaded her family to pay for.
"I wanted to be able to support myself," she says. Still, when her friend called the next day to ask whether Issa could visit her, Amadou agreed. The couple married and moved into his home outside the city centre. Soon after they were settled, Issa told her the sewing classes were a waste of money. He didn't want her leaving the house. But his tailoring business was struggling. Nigeria's economic crisis had spread across the border to Maradi, a major trading centre between the two countries.
Already impoverished, Niger has been particularly hard hit by the spillover of problems from Nigeria, including nearly 10 years of war with Boko Haram, the radical Islamist group that has torn through the region.
A few years ago, Issa was earning the equivalent of nearly £11 a day, sewing and hemming clothes. Suddenly, he couldn't earn half that much. "Husbands can't support their wives the way they used to," says Ismaël, the religious judge.
The economic problems are compounded in Niger because polygamy is so common. Men in the mostly Muslim nation can have up to four wives. The country also has the highest birthrate in the world, with women in Niger giving birth to seven children on average. Ismaël says most of the women who come before his court seeking divorce cite financial problems. Despite the changing mores, child marriage rates are among the highest in the world, and teenagers in Niger have more children than anywhere in the world, according to the United Nations.
Driving the early marriages is a fear that girls will shame their families by becoming pregnant before they wed. "A girl must be married to avoid being in trouble," says Laouali Oubandawaki Iro, the village chief of Giratawa, a town on the outskirts of Maradi, explaining the area's traditions. He is in his early 60s. Two of his wives are teenagers. But the push to limit child marriage has helped shift attitudes. In recent years, aid groups have poured in to alleviate poverty and stem population growth by focusing on child and forced marriages. Local groups and Niger's government have joined in.
Amadou figured that her case was clear-cut when she went to the sidewalk court.
But the judge tells the couple to go home to try to work it out one more time. If they still want a divorce, he tells them, come back in two days. After the hearing, Issa drops his head, conceding that finances are tight and that he doesn't give Amadou all the little gifts she would like. "But that wasn't in the marriage contract, to give her presents," he says.
"I'm tired of coming here," he huffs. "I've decided."
Two days later, the couple arrive at court from opposite sides of the street. "You told us to come back if we couldn't work it out, so we're back," Issa says. "Now what do we do?"
The couple go about the tedious process of publicly divvying up their belongings – salt, spices, plates, a pitcher used for washing before prayers. The judge says Amadou will have sole custody of their son until he is seven, and that Issa will pay for the child's meals for the next two years.
"No problem," Issa says.
The couple sign the divorce papers. "Is this good for you?" says the judge, turning to Amadou. "I think this is a relief for you."
She nods, a wide smile spreading across her face.Amadou plans to marry again, to someone who loves her back.
https://www.independent.co.uk/world/africa-divorce-womens-rights-niger-marriage-a8729491.html
--------
Rapid rise in number of women drivers
2019-01-27
JEDDAH — Six months after the decision to allow women driving took effect in Saudi Arabia, the number of females obtaining driving licenses are increasing rapidly.
According to information provided by the General Department of Traffic, the total number of licenses issued reached more than 40,000.
Most of the women interviewed by Al-Madina newspaper expressed their happiness over their driving experience and thanked the community for all-out support. They said there were very minor and isolated incidents where women faced harassment while driving, but the overall success of the experience eliminated all their fears.
Iman Kanani said her experience in driving was excellent. She is happy that now she can run her own errand without relying on a driver. "I managed to save a lot of money in wages of drivers. I managed to save huge amounts that I used to pay for private taxi. It reached hundreds of riyals in peak hours. I no longer need to recruit a driver from abroad paying a large amount of money, and then pay for his monthly salary and housing," she said.
"Society accepted women driving but there are a few people who still do not accept the idea. I faced such situations where I was harassed on the road. But such people will not last in front of the very tough laws that are implemented to protect women," Kanani said.
Nouf Al-Muhammadi, another Saudi woman, said she never faced any difficulty after she began driving. She said she was in desperate need to drive. "We live in a village near Khulais. We lack many services and I needed a car so I can run my errands especially in the morning when men in the family are at work and they are not available. Now that I am driving, I can do it myself," she added.
Maha Abu Shaheen, a university student, said at first she was afraid of facing harassment on the street. But after she went through the experience, she found support on the street. "There are mothers who drive their children to school every day in the morning. I find people on the street who express their support when they see me driving. There are tough laws imposed to protect women drivers and they will leave no room for harassers," said Shaheen.
Reham Al-Talhawi said she heard that women will be taken advantage of because of their lack of experience when it comes to cars, whether in sales or in maintenance, but reality showed that it was not true. "Our husbands have experience and they guide us when it comes to such issues. I personally did not face any situation where I was harassed or taken advantage of," said Al-Talhawi.
Gen. Muhammad Al-Bassami, head of the traffic department, said more than 40,000 women received their driving licenses so far.
While speaking at a meeting of traffic department officials recently, he described women driving as a unique experience. He said there are 14 driving schools currently under construction.
Over 40,000 females obtained license in six months
http://saudigazette.com.sa/article/557800
--------
Hyundai Motor Park Offers Women In Jeddah Unique Driving Experience
2019-01-27
JEDDAH — Women in Saudi Arabia are being encouraged to get behind the wheel at a series of fun, informative events being to be held in Jeddah on Feb. 6 to 9, 2019.
Hyundai Motor Park will enable females with driving licenses to test-drive one of five models on a custom-built track complete with obstacles and props simulating real-life scenarios, from paying for petrol to watching drive-in movies. Non-drivers, husbands, and children will also provided with entertainment.
"We hope Hyundai Motor Park will boost women's confidence and enthusiasm about the prospect of being able to drive in Saudi Arabia," said Mike Song, head of Hyundai Middle East and Africa.
"The fun, informative sessions have been designed to address some of the most common concerns amongst new and infrequent drivers, such as a fear of involvement in accidents."
The motor park will provide education about road safety and highlight some of the technological advances that are making motoring safer. It will include a driving track featuring props that mimic real-life situations on the road, but in a secure environment. During the test-drive, motorists will navigate activities such as ordering food at a drive-through restaurant, refueling at a gas station, and finding a parking space at a mall while avoiding common hazards such as abandoned trolleys. At the end of the session, they will park in front of a 'drive-in' cinema and receive individual evaluation of their driving, plus friendly advice.
Five Hyundai models will be available to try out. A professional driving instructor will demonstrate the vehicles' key features, then accompany each participant on a 20-minute test-drive of the vehicle of her choice. Women who have yet to obtain their driving licenses need not miss out on the experience. They will be invited to ride in the vehicle of their choice while an instructor leads them around the course. Each participant will be introduced to pertinent road safety topics, such as hazard perception, parking, and basic defensive driving to avoid dangerous situations. Women who complete the test drive will receive Hyundai-branded giveaways to encourage them to continue their motoring journeys.
At the event, Hyundai will display a production model of its NEXO electric SUV. Equipped with revolutionary fuel-cell technology and intelligent advanced driver assistance systems (ADAS), the highly advanced car truly offers a glimpse of the future of mobility.
Hyundai Motor Park in Jeddah offers fun and prizes for all the family. In the "KIDS WORK @ SHOP" activity, youngsters will learn about how cars work by building their own model engines. Children will also be taught about road safety through an innovative game in which they 'dress up' in cardboard car costumes and simulate various hazardous scenarios. Other entertainment will include quizzes, and a session on Korean handicrafts held in collaboration with Korea Tourism Organization.
http://saudigazette.com.sa/article/557851/BUSINESS/Hyundai-Motor-Park-offers-women-in-Jeddah-unique-driving-experience
--------
URL: https://www.newageislam.com/islam-women-feminism/mumbai-couple-gets-woman-qazi/d/117577
New Age Islam, Islam Online, Islamic Website, African Muslim News, Arab World News, South Asia News, Indian Muslim News, World Muslim News, Women in Islam, Islamic Feminism, Arab Women, Women In Arab, Islamophobia in America, Muslim Women in West, Islam Women and Feminism