New Age Islam News Bureau
7 Dec 2018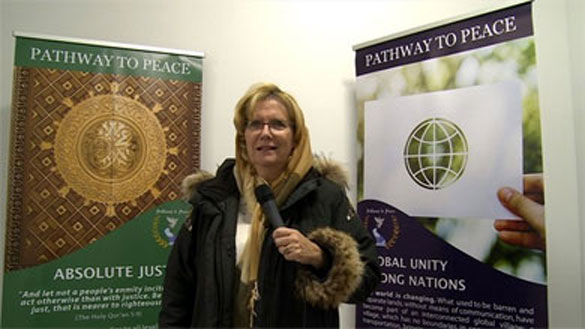 Then Brampton mayor Linda Jeffrey attended the opening of a new mosque in Brampton recently. - Supplied/MTA International Canad
------
• Bin Salman's Top Aide Personally Oversaw Torture of Saudi Woman Activist: Report
• Saudi Women Attend Special Abilities Event
• Dr Wan Azizah in London: Muslim Women Must Strive To Realise Full Potential
• Nadia Murad: From Jihadists' Captive to Nobel Laureate
• 'I Feel Powerful': Afghan Women Find Freedom in Running
• Asal Mohammadi, Medina Neasi Arbitrarily Arrested In Tehran and Ahvaz
• 16 Days Of Activism: Safe Digital Spaces For Women And Girls In Pakistan Shrinking
• Black Forest sanctuary for IS-abused Yazidi women
• Yemeni women demand seat at the table as peace talks begin in Stockholm
Compiled by New Age Islam News Bureau
URL: https://www.newageislam.com/islam-women-feminism/mps-visit-new-brampton-mosque/d/117094
--------
MPs Visit New Brampton Mosque Hosted By Muslim Women
Dec 06, 2018
A Muslim women's group opened the doors of a new mosque in Brampton recently to host the then-mayor and other dignitaries at an event celebrating the life of the Holy Prophet Muhammad (peace and blessings of Allah be upon him).
On Sunday, Nov. 25, the Ahmadiyya Muslim Women's Association of Brampton Flowertown hosted the event featuring poetry and presentations on the life and characteristics of the Holy Prophet of Islam.
Then-mayor of Brampton Linda Jeffrey and MPs Kamal Khera and Sonia Sidhu were among the 130 attendees at the event. Khera presented a certificate to the Ahmadiyya Muslim Jama'at Brampton to recognize the occasion and the group's contributions to the wider community.
After the event, the officials toured the mosque, which recently had its construction completed.
The Ahmadiyya Muslim Women's Association is an auxiliary of the Ahmadiyya Muslim Jama'at, a sect of Islam whose members believe that the second coming of the Messiah was fulfilled in the person of Mirza Ghulam Ahmad of Qadian, India. The Jama'at is known for its humanitarian efforts and the motto, "Love for all, hatred for none."
https://www.bramptonguardian.com/community-story/9066432-mps-visit-new-brampton-mosque-hosted-by-muslim-women/
--------
Bin Salman's Top Aide Personally Oversaw Torture of Saudi Woman Activist: Report
Dec 6, 2018
Saud al-Qahtani, a close aide to Saudi Crown Prince Mohammed bin Salman, has personally overseen the sexual harassment and torture of a Saudi female rights activist detained by the Al Saud regime earlier this year, two sources say.
Al-Qahtani, who was recently fired for his role in the killing of dissident journalist Jamal Khashoggi, personally oversaw the torture of at least one detained female activist earlier this year, two sources with knowledge of the matter told Reuters.
A royal adviser to bin Salman until his dismissal in October, Qahtani was "in the room" on several occasions when the female activist was subjected to sexual harassment, the sources said.
A group of about six men subjected the woman and at least three others to sexual harassment, electrocution and flogging between May and August at an unofficial holding facility in Jeddah, said the sources who had been briefed on the way the women were treated.
The men were reportedly distinct from the regular interrogators the women saw and belonged to the Saudi Federation for Cyber-Security, Programming and Drones, which Qahtani headed at the time, or to state security.
Qahtani made threats of rape and murder to the woman, the sources said.
The women are among more than a dozen prominent activists arrested since May amid a broader crackdown targeting clerics and intellectuals.
Eleven women are still being held, activists say, including the four alleged to have been tortured. The allegations come as Riyadh tries to get past the Oct. 2 killing of Khashoggi, whose murder is internationally blamed on bin Salman.
Amnesty International and Human Rights Watch said last month that at least three of the activists – most of whom had agitated for the right to drive and an end to a male guardianship system – were tortured.
"Only a few weeks after the ruthless killing of Jamal Khashoggi, these shocking reports of torture, sexual harassment and other forms of ill-treatment, if verified, expose further outrageous human rights violations by the Saudi authorities," Amnesty International's Middle East research director Lynn Maalouf said last month.
"Saudi authorities are directly responsible for the well-being of these women and men in detention. Not only have they been depriving them of their liberty for months now, simply for peacefully expressing their views, they are also subjecting them to horrendous physical suffering," she added.
Torture and various forms of ill-treatment have been routinely and widely reported over the past years in Saudi prisons and detention centers.
Khashoggi, a distinguished commentator on Saudi affairs who wrote for The Washington Post's Global Opinions section, was also tortured, murdered and then dismembered via a bone saw by Saudi operatives at the Saudi consulate in Istanbul on October 2.
https://www.presstv.com/Detail/2018/12/06/582197/Saud-Qahtani-Bin-salman-Saudi-torture-activist
--------
Saudi Women Attend Special Abilities Event
December 06, 2018
CAIRO: Saudi women were among those who took part in the sixth "Bukra Ahla" forum for those with special abilities, held under the auspices of the Cultural Development Fund Sector, an affiliate of the Egyptian Ministry of Culture.
The Bukra Ahla center refers to an informal education center whose name translates to "Tomorrow is more beautiful."
In a statement to mark the event, which took place on Wednesday, the Saudi Embassy in Cairo said that a number of Arab countries including Oman, Morocco, Libya and Egypt, showcased work in the fields of theater, music, singing and poetry.
http://www.arabnews.com/node/1416916/saudi-arabia
--------
Dr Wan Azizah in London: Muslim Women Must Strive To Realise Full Potential
By ZAHARAH OTHMAN
December 6, 2018
LONDON: Deputy Prime Minister Datuk Seri Dr Wan Azizah Wan Ismail urged Muslim women to come forward, develop their skills and realize their full potential, utilise their talents and entrepreneurial abilities if they were to see genuine long term improvement in our societies.
Dr Wan Azizah, who was delivering the keynote address at the 4th World Muslim Leadership Forum at Lambeth Palace in South London, said we can never attain social justice on the basis of skewed and unjust interpretations.
"Human dignity, wellbeing and upliftment of our people irrespective of gender, race, class or ethnicity in peaceful, tolerant and inclusive societies are of utmost importance," she said, emphasising that all of these must include the men.
"Men must change their attitude and be more supportive of women. Muslim men need to dismantle the chauvinistic mentality that is inherent in some of local cultures."
Dr Wan Azizah cited the Prophet Muhammad who used to work for a woman, brought his wife Aisyah to the battlefield and accepted another wife's (Ummu Salamah) counsel during the Hudaibiah agreement.
The deputy prime minister is on a three-day official visit to the United Kingdom. This is her first visit to the UK in her official capacity.
Her keynote address was entitled "The Role of Women and Girls in Achieving Sustainable Development Goals (SDGs) by 2030".
"Sustainable development is necessary not only for survival or securing our economic endeavours but also as an extension of the qualities of rahmah (God's mercy) that is ordained upon us," she said. stressing that this was part of ibadah (worship).
Pursuing the SDGs, she said, has to begin with having the right leader driven by a sense of personal responsibility to that purpose.
However, she argued that the SDGs were inadequate as they are, in that they focus mainly on the social, economic and physical aspects of development only.
"We are hindered by many constraints. The practice of Islam among Muslims continues to be shaped by local traditions and customs. Intolerance and narrow-mindedness still hamper our intellectual growth," she added.
Dr Wan Azizah reminded the audience that many verses of the Quran emphasise the role of both men and women in enjoining good and forbidding evil.
"Islam has long recognised the property rights of women. Protecting the faith, self, intellect, progeny and wealth cannot be done by men alone," she said.
Accompanying Dr Wan Azizah are Deputy Foreign Minister Senator Datuk Marzuki Yahya and officials from the Women, Family and Community Development Ministry, Malaysian Charge de'affaires Mohd Suhaimi Jaafar and heads of department of the Malaysian High Commission here.
https://www.nst.com.my/news/nation/2018/12/437993/dpm-london-muslim-women-must-strive-realise-full-potential
--------
Nadia Murad: From Jihadists' Captive to Nobel Laureate
7 December 2018
Nadia Murad survived the worst of the cruelties and brutality inflicted on her people, the Yazidis of Iraq, by the Islamic State group before becoming a global champion of their cause and a Nobel Peace Prize laureate.
Murad, who was taken hostage by IS in 2014 but escaped, is the first Iraqi to receive the prestigious award.
The 25-year-old won the Nobel in October alongside Congolese doctor Denis Mukwege for their "efforts to end the use of sexual violence as a weapon of war".
"For me, justice doesn't mean killing all of the Daesh members who committed these crimes against us," she said shortly after winning, using an Arabic acronym for IS.
"Justice for me is taking Daesh members to a court of law and seeing them in court admitting to the crimes they committed against Yazidis and being punished for those crimes specifically," she said.
The slender, dark-haired woman once lived a quiet life in her village in the mountainous Yazidi stronghold of Sinjar in northern Iraq, close to the border with Syria.
But when the jihadists stormed across swathes of the two countries in August 2014, her nightmare began.
IS fighters swept into her village, Kojo, killing the men, taking children captive to train them as fighters and condemning thousands of women to a life of forced labour and sexual slavery.
Murad was taken by force to Mosul, the Iraqi "capital" of the IS's self-declared caliphate, where she was held captive and repeatedly gang-raped, tortured and beaten.
IS fighters wanted "to take our honour, but they lost their honour", said Murad, now a United Nations goodwill ambassador for survivors of human trafficking.
- Seen as heretics -
For the jihadists, with their ultra-strict interpretation of Islam, the Yazidis are seen as heretics.
The Kurdish-speaking community follows an ancient religion, revering a single God and the "leader of the angels," represented by a peacock.
Like thousands of Yazidis, Murad was sold and forcibly married to a jihadist, beaten and -- in contrast to the official wives of IS leaders -- forced to wear makeup and tight clothes, an experience she later related in front of the United Nations Security Council.
"The first thing they did was they forced us to convert to Islam," Murad told AFP in 2016.
Shocked by the violence, Murad set about trying to escape, and managed to flee with the help of a Muslim family from Mosul.
Using false identity papers, she managed to cross the few dozen kilometres (miles) to Iraqi Kurdistan, joining crowds of other displaced Yazidis in camps.
There, she learnt that six of her brothers and her mother had been killed.
With the help of an organisation that assists Yazidis, she joined her sister in Germany, where she lives today.
The Yazidis numbered around 550,000 in Iraq before 2014, but some 100,000 have since left the country.
Many others who fled their hometowns to Iraqi Kurdistan remain reluctant to return to their traditional lands.
Since fleeing, Murad has dedicated herself to what she calls "our peoples' fight".
She and her friend Lamia Haji Bashar, joint recipients of the EU's 2016 Sakharov human rights prize, have advocated to reveal the fate of 3,000 Yazidis who remain missing, presumed still in captivity.
She has also campaigned for displaced Yazidis to be taken in by European countries and for the acts committed by IS to be recognised internationally as genocide.
The Yazidi cause has won a high-profile supporter -- Lebanese-British lawyer and rights activist Amal Clooney, who also penned the foreword to Murad's book, "The Last Girl", published in 2017.
That same year, the UN announced it would begin gathering evidence on IS war crimes, crimes against humanity or genocide that would be used to try IS militants in Iraqi courts.
Announcing the Nobel's recipients in October, committee chairwoman Berit Reiss-Andersen said: "A more peaceful world can only be achieved if women and their fundamental rights and security are recognised and protected in war."
Yet in contrast to all the tragedies that have befallen her, recent pictures on Murad's Twitter feed show happier times.
In August, she announced her engagement to fellow Yazidi activist Abid Shamdeen.
"The struggle of our people brought us together & we will continue this path together," she wrote.
Underneath, a photo showed her next to a young man in a bow tie, her face still framed by her long brown hair, but this time, bearing a broad smile.
https://www.dailymail.co.uk/wires/afp/article-6470157/Nadia-Murad-jihadists-captive-Nobel-laureate.html
--------
'I Feel Powerful': Afghan Women Find Freedom in Running
7 December 2018
At the crack of dawn in Kabul, dozens of girls and women bounce along a path leading up a barren, rocky mountain on the edge of the Afghan capital, relishing every step of freedom.
The all-female Free to Run group hits the city's trails and parks several times a week, braving disapproving looks, verbal abuse and even physical violence to enjoy the rare pleasure of exercising outdoors.
"When I run, I feel free," says Zahra, 26, whose family name, like that of other female runners interviewed by AFP, has not been used for security reasons.
"I like to run because it motivates me, it gives me a meaning for living."
But it is not easy.
Running in public is something many in ultra-conservative Afghanistan consider shameful for women, who are largely treated like second-class citizens in the patriarchal Muslim-majority society.
It is not unusual for people to stare and hurl insults, says Zahra, who began running a year ago and has already completed two marathons and a half marathon.
"I just laugh at them," she says dismissively.
The marathons take place in safer cities, such as Bamiyan or Mazar-i-Sharif.
For those in war-torn Kabul, where bombs and suicide attacks are frequent, training sessions start at daybreak -- even through the colder months when temperatures fall below zero and the air thickens with smoke from wood and coal stoves.
Minivans, whose male drivers double as chaperones for the team, collect the girls and women from their homes and drive them to relatively safe running spots.
As the sun peeks over the mountains that surround Kabul, the runners -- wearing tracksuits and headscarves or stretchy bandanas over their hair -- begin their workout with the men in tow.
Running at their own pace, the girls and women smile and giggle even as their noses run and lungs burn from Kabul's cold, dry and dusty air.
"I feel good when I'm running," says Marmar, 17, who has won three races and finished second twice in the two years she has been competing.
"My family wants me to be a professional (runner). I am proud of myself. So is my family."
- 'It changed my life' -
Free to Run started in 2014, the brainchild of Canadian human rights lawyer and ultrarunner Stephanie Case.
The non-profit organisation aims to empower girls and women in conflict zones through sports like running, hiking, skiing, cycling and kayaking.
So far it has more than 380 members in Afghanistan.
Recruiting girls and women to the team is hard.
While the early-morning starts may deter some, the biggest challenge is getting permission from families, says Kubra, Free to Run's country programme manager.
"Families are worried about the security situation and won't let their girls join the team," she explains.
And many think it is not appropriate for girls to run, "especially in an open place".
For that reason, many of the runners are from the Hazara ethnic group, which is widely considered to be the most open and progressive in Afghanistan.
"I feel powerful when I run," says Jamila, 18, whose family is "open-minded" and encourages her to exercise.
"Running gives me a good feeling, I forget all my stress."
Around one-third of the team are serious runners, training for marathons and ultra-marathons in Afghanistan and abroad, including Mongolia and Sri Lanka.
Others turn up to training sessions when they can, appearing to enjoy catching up with their friends as much as the physical exercise.
As well as building fitness, Kubra says running has helped the girls and women manage anxiety and develop self-confidence.
On a recent hike in the mountains, they cheerfully walked or ran as they listened to music, sang, chatted and took selfies.
"It changed my life," says Fatima, 26, who began running seven months ago after sensing "something was missing in my life".
"I feel healthy," she says.
"I want to encourage (other girls) to run. This is the easiest sport -- just run and feel free."
https://www.dailymail.co.uk/wires/afp/article-6470217/I-feel-powerful-Afghan-women-freedom-running.html
--------
Asal Mohammadi, Medina Neasi Arbitrarily Arrested In Tehran and Ahvaz
06 December 2018
A female student named Asal Mohammadi in Tehran and a woman named Medina Neasi from Ahvaz, have been detained for unknown reasons.
Asal Mohammadi, a labor activist and a student at the Department of Pharmaceutical Sciences at Azad University of Tehran, was arrested at her home by security forces on Tuesday, December 4, 2018, and transferred to Branch One of the Prosecutor's Office in Evin Prison.
Asal Mohammadi had published articles on various websites in support of Iranian workers. In recent weeks, Asal Mohammadi had also written articles in support of the ongoing protests of the Ahvaz Steel and Haft Tappeh workers.
In the wake of a wave of arbitrary arrests by the clerical regime in Khuzestan Province, seven residents of Ahvaz and Hamidieh including a woman were detained by security forces and transferred to an unknown location.
Ms. Medina Neasi, a resident of Kouy-e Pastorizeh neighborhood, was arrested in Ahvaz on November 28, 2018, along with her brother.
Previously in spring, Khadijeh Neasi and Ayesheh Neasi had been arrested in the protests in Ahvaz against an offensive program broadcast by the state television network insulting Arab Iranians. At least 15 women are said to be among those arrested and presently detained in the women's ward of the Sepidar Prison of Ahvaz.
The Iranian regime has launched a new crackdown on the populace in and around Ahvaz, making hundreds of arbitrary arrests since September 22, 2018, when the parade of its military forces were attacked by armed men. Around 800 people from Khuzestan province have been detained by security forces and under interrogation. Arab human rights activists have announced that many of the detainees are civil activists.
Ameneh Zaher Sari, a graduate of accounting from Ahvaz, a 20-year-old pregnant woman by the name of Lamya Hemadi from Susangerd, Mrs. Zoudiyeh Afrawi, 55, and Mrs. Ghaisiyeh Afrawi, 60, residents of Albou Afri village in Susangerd, are among those arrested.
The arrests are made arbitrarily and without legal warrants. Intelligence agents and security forces raid houses early morning or after midnight, brutalize the families and take away the family.
https://women.ncr-iran.org/iran-women-news/5620-asal-mohammadi-medina-neasi-arbitrarily-arrested-in-tehran-and-ahvaz
--------
16 Days Of Activism: Safe Digital Spaces For Women And Girls In Pakistan Shrinking
December 7, 2018
While digital technology and social media has the power to connect people and even enable the germination of social movements such as #MeToo which can drive action in the real world, that change is slow and a lot of women either find themselves locked out of these spaces because of harassment or threat of violence.
This was stated by, Department for International Development (DFID) Pakistan Head Joanna Reid and Digital Rights Foundation (DRF) Executive Director Nighat Dad on Thursday.
Reid said that the '16 Days of Activism Against Gender-Based Violence (GBV)' is an international campaign which starts on November 25 (International Day for the Elimination of Violence Against Women and Girls) and ends on December 10 (International Human Rights Day). This year the United Nation (UN) selected the theme #HearMeToo.
The DFID head said that the theme had been selected in recognition of the attention and action which has been galvanised by online social movements and activism around GBV such as #MeToo, #TimesUp and #NotOneMore.
"It is simply not acceptable that 40 per cent of women in Pakistan have experienced online harassment," she said while referring to a research conducted by the DRF in 2017.
"We cannot allow the internet to be a space where misogynistic views and behaviours fester, a place where democratic freedoms are curtailed rather than fostered," Reid said.
She continued by stating that the transformative potential of access to digital technologies can help Pakistan unlock its own potential and strengthen accountability, but only if everyone feels safe in their digital space.
"Government, citizens, civil society, the media and the private sector must come together to make this happen," she said.
"Did you know that 60 per cent of young people in Khyber-Pakhtunkhwa (K-P) have access to the internet? That is an amazing number and we could leave our positive feelings at that," Reid said as she asked, "But what kind of digital space do they find? What kind of digital space should they have?"
Reid continued that she has only dipped her toe into social media; "I tweet, but I don't 'do' Facebook or Instagram, anything which draws attention to my personal life. Why not? I do confess to being a digital dinosaur but to be honest, I'm also a little scared of what's out there."
"I don't tweet anything controversial, but when once I asked a question on an issue related to women and work, I was shocked at some of the responses. I took it personally," she said referring to the hostility women face online.
"Harassment is harassment, whether it takes place online or in the street. However, we need to balance the freedom that the internet gives people to explore new ideas, collaborate and connect with regulation and the right civil education," she said, adding, "Which is why I am glad we have been part of this conversation of exploring how to get that balance right during the 16 Days of Activism."
Dad stated that when she was young, modern technology like mobile phones and the internet were gaining popularity in Pakistan.
"I was not allowed to own one because I was told that mobile phones and technology is the root of all evil, that if I owned a mobile phone I'd make illegitimate relations with men. This is not a rare case, in fact, this still happens with millions of women in Pakistan and other conservative parts of the world," she said and pointed out, "In the recent past, young girls and women have been killed in the name of honour because either they own a mobile phone, or because they were reclaiming online spaces on their own terms without the knowledge of their families or their communities."
The troubles I faced in my life have made me uniquely aware of the lack of access women have to digital spaces, and thus, to meaningful lives in today's world, she said.
The harrowing stories of women and minorities who face severe threats which extend to their physical safety and security are what drove me to found the DRF.
The creation of safe spaces requires the concerted effort of every person and entity in the world – we are all stakeholders here.
https://tribune.com.pk/story/1861825/1-16-days-activism-safe-digital-spaces-women-girls-pakistan-shrinking/
--------
Black Forest sanctuary for IS-abused Yazidi women
07 DEC 2018
After surviving torment and rape at the hands of her Islamic State captors, Nadia Murad rebuilt her life at a trauma centre in Germany's Black Forest which became her sanctuary.
It was here alongside hundreds of other Yazidi victims of IS abuse and terror that Murad found her voice and started the journey that saw her honoured with this year's Nobel Peace Prize.
Thousands of kilometres from their war-battered homes in northern Iraq's Sinjar region, 1,100 women and children of the Kurdish-speaking minority were resettled here.
The psychologically scarred women are escaped IS captives who were chosen for an emergency asylum programme set up in 2014 by the state of Baden-Wuerttemberg.
The women, many of whom were sold as IS slaves, have since received trauma counselling for rape, a taboo subject in the Middle East, under the guidance of Kurdish-German psychologist Jan Ilhan Kizilhan.
"At the beginning here it was very difficult," said one of them, Lewiza, speaking in a monotone voice about her culture shock when she arrived three years ago.
"I was always afraid, I thought I was going to fall back into the hands of Daesh," she said, using the Arabic acronym for the jihadi militant group.
'Everything was new'
The 22-year-old, who declined to reveal her full name, had to rebuild her life from scratch in this picturesque and prosperous corner of Germany near the Swiss border.
"Everything was new to me: undergoing therapy, talking to someone about my condition," she told AFP. "But every time I speak, I feel much better."
Sitting beside her, Kizilhan translated her Kurdish into German, a language Lewiza is studying while also training at a hotel school in the region.
It was this Turkish-born German trauma psychotherapist who has helped the women, including Murad, whom he encouraged in 2015 to address the UN Security Council.
Kizilhan sought out the women who were living in refugee camps in northern Iraq under a 95 million euro ($108 million) state programme.
It has required psychologists, social workers and interpreters with special training to help those from a culture with very different conventions and sensitivities.
"The terms they use are different," said Kizilhan, who is also training a new generation of psychologists in Iraq to address the country's mental health crisis.
"They do not say they were raped, they say they were 'married' ... They do not say they suffer trauma, they say they have 'headaches' or 'stomach aches'."
Banished
In Yazidi culture, as in other Middle Eastern communities, victims of sexual violence can be banished because they and their families are seen to have been dishonoured by rape.
In their desperation, some Yazidi women have committed suicide because of their shame and isolation.
To help them, the psychotherapist turned to the Yazidis' spiritual leader, Baba Sheikh, and asked him to offer a gesture of inclusion to the victims, kissing them on the forehead.
"It is only when one is sure of one's identity that one can begin a therapy," said Kizilhan, speaking in his clinic office decorated with amulets to ward off bad luck and a kilim carpet, testament to his Kurdish origins.
Murad was one of the first women to speak, recalled Kizilhan, who had met her in a refugee camp in Iraq.
Broken by the savage violence she had endured, "she was crying a lot and collapsing on the floor", he recalled.
"But she said to me: I want to talk about what happened to us."
After three years of treatment, Lewiza has also managed to put into words the pain she has endured, even if her gaze is lost in the distance when she speaks.
The jihadists "have done so much harm all around them, I don't know if a legal process will be enough to rectify that", she said.
In his office, also decorated with a green porcelain peacock, one of the most important Yazidi religious symbols, Kizilhan said that although the minority has been battered by violence, it is undergoing a "paradigm shift".
In "this patriarchal society ... it is women like Nadia who have risen up", he said.
"They are the ones who now lead this society." — AFP
https://www.thesundaily.my/world/black-forest-sanctuary-for-is-abused-yazidi-women-AG228200
--------
Yemeni women demand seat at the table as peace talks begin in Stockholm
Aaya Al-Shamahi
6 December 2018
A coalition of Yemeni women are demanding a seat at the negotiating table as UN-sponsored peace talks to end Yemen's war are scheduled to begin in Sweden.
Pictures released of delegates attending the talks showed only one woman present on the negotiating table from both sides of the civil war, which has been going on for nearly four years.
Kawkab Al-Thaibani, a Yemeni woman who works for the Women for Yemen network, told Middle East Eye that Yemen's women had borne the brunt of the country's war.
"Women in Yemen are paying the highest price of war. I believe that no lasting peace will happen... without women [being involved] in the peace negotiations," Thaibani said this week.
"They're facing hunger, poverty, violence, displacement and being uprooted, among many other issues.
"Women are now leading the entire household, domestically and financially alone, often for the first time, in a country where its basic delivery system is collapsing."
In March 2015, Saudi Arabia launched a military campaign in Yemen to root out Houthi rebels, who had taken over the capital, Sanaa, and deposed president Abd Rabbuh Mansour Hadi.
The Saudi-led coalition has been accused of committing war crimes in Yemen, such as the deliberate bombing of hospitals, buses and other civilian infrastructure.
The Houthis have also been accused of taking hostages and arbitrarily detaining and torturing opponents, all potential war crimes.
Over the past three years, the war has killed tens of thousands of people and spawned what the UN has called the world's most dire humanitarian crisis, in what was already one of the world's poorest countries.
Yet peace has remained elusive since the last attempt in September, when the Houthis did not attend negotiations in Geneva after their wounded were refused evacuation.
But on Monday, the UN helped evacuate 50 injured Houthis out of Yemen. The next day, a Houthi delegation touched down in Sweden.
On Thursday, UN mediator Martin Griffiths told reporters in a renovated castle outside Stockholm that just getting the warring sides to the table was an important milestone.
Observers say previous peace talks have seen Yemeni women sidelined from the negotiating table.
Amal Ali, a Yemeni journalist, says that past talks "have had almost no presence of women".
She added: "Those who cross through the siege in Taiz carrying food and medicine on their heads are women, so they must have a place at the negotiating table."
Thaibani said that despite the best efforts of those who want a seat at the table, it's been an uphill battle.
"Many activists are pushing for more inclusion of women, [but] unfortunately, consultations have poor representations of women and negotiations have had almost no presence of women too," she said.
"This is very unfortunate...[and] it has been proven that when women are involved, lasting peace can happen.
"There are many issues that we believe women have to be included if we want to ensure lasting peace."
Diplomats are expected to shuttle between the warring parties to discuss other confidence-building steps and the formation of a transitional governing body, a UN source said.
As negotiations were set to begin on Thursday, Swedish hosts called for constructive talks to end what Foreign Minister Margot Wallstrom called a "catastrophe". Griffiths, flanked by the two delegations, told them not to waiver.
https://www.middleeasteye.net/news/yemeni-women-demand-seat-table-peace-talks-begin-stockholm-1916031264
--------
URL: https://www.newageislam.com/islam-women-feminism/mps-visit-new-brampton-mosque/d/117094
New Age Islam, Islam Online, Islamic Website, African Muslim News, Arab World News, South Asia News, Indian Muslim News, World Muslim News, Women in Islam, Islamic Feminism, Arab Women, Women In Arab, Islamophobia in America, Muslim Women in West, Islam Women and Feminism