New Age Islam News Bureau
8 Dec 2017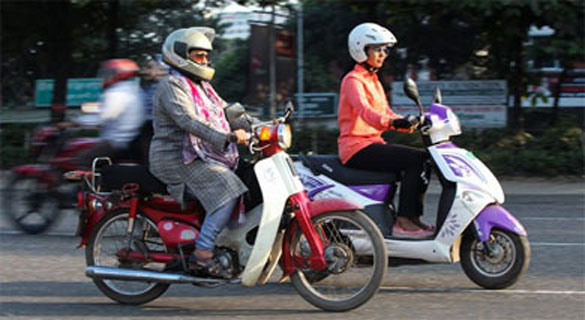 Around 3,646 women have driving licences across Bangladesh, of which 1,680 are based in Dhaka, according to Bangladesh Road Transport Authority (BRTA) data Rajib Dhar/Dhaka Tribune
------
• Pakistan Send Biggest Female Contingent To Singapore
• 'Girls Will Conquer Streets': A Muslim Woman Sends a Strong Message to Kerala's Orthodoxy
• Bahrain Takes New Step Forward To End Domestic Violence
• Iran: Rouhani Counts Peddling As Jobs Created For Women!
Compiled by New Age Islam News Bureau
URL: https://www.newageislam.com/islam-women-feminism/motorbikes-new-symbol-independence-bangladeshi/d/113499
--------
Motorbikes- the new symbol of independence for Bangladeshi women
December 07, 2017
Despite all odds and social taboo, female bikers are riding their bikes not just in Dhaka, but all over the country, a trend which has seen a rise in the last year-and-a-half.
Riding her motorcycle over the past three years has not been easy for ChiniSnigdha, a 25-year-old private university student.
But for many women, riding their own two-wheeler has become a solution to save time by avoiding the hassles of public transport and heavy traffic.
Despite all odds and social taboo, they are riding their bikes not just in Dhaka, but all over the country, a trend which has seen a rise in the last year-and-a-half.
"When a girl is riding a motorcycle, the men on the streets sometimes try to touch them," Snigdha said.
"They hurl abusive words while male motorcyclists ride their bikes closely to scare the female riders. I have even been asked to stop in the middle of the street by male bikers, but kept on going out of fear."
According to the Bangladesh Woman Riders Club (BWRC), over 2,000 women ride motorcycles in the country, of which 80% are working women. The number is rising all the time.
BWRC founder Ishrat Khan Mojlish said she started the club when she came to know about the willingness of other girls to learn and ride bikes, despite the obvious obstacles.
"Seven years ago, when I started riding a motorcycle, people used to throw bricks at me on the streets," she said.
"I learned to ride in the middle of the night so that people could not see me. In the first year, I hid the fact that I had a motorcycle from my family but now, my mother supports me."
Snigdha's father, Alamgir Chowdhury, thinks it is too dangerous for girls to ride motorcycles.
"I am afraid that they will become victims of many things. I hope my daughter does not face any problems," he said while explaining why fathers may object to their daughters riding motorcycles.
Ishrat said that over the past four years, BWRC has trained several thousand girls on how to drive a motorcycle. Even then it remains the sole group dedicated to female riders, compared to the estimated 1,200 groups and organisations which exist for male riders.
"Girls ride motorcycles as the risk of being physically harassed is lesser than on public transport. We can move from one place to another to avoid harassment. It also helps girls to gain self-confidence and fight the inequality that exists in our society," Ishrat said.
Take the example of KashinathpurMohila Degree College in Beraupazila of Pabna where even a year ago many students had walk 10-15km to attend classes. Now, many of the girls commute to the remote college on motorcycles.
Then there is 45-year-old Rozen Mahmud, who has been riding a motorcycle for past 17 years and cited her son and daughter as her inspiration.
"When I started to ride motorcycles, I faced many obstacles. I wore a burqa (veil) and people made rude comments on the streets," said Rozen, who is an area manager at Brac Micro Finance Programme.
BWRC founder Ishrat said the police could go further in the protection they offer women riders. "We still need a friendlier atmosphere and more cooperation from the police to keep moving safely," she said.
Dhaka Metropolitan Police Additional Commissioner (Traffic) Mosleh Uddin Ahmed said police have been able to help the female motorcyclists on the streets whenever they had faced trouble or sought support.
"We provide instant support if there is any complaint. In a case of harassment, we take action based on complaints and proof," he said.
Bangladesh has 29 female traffic sergeants, of which 18 of them already use motorcycles. Female Traffic Sergeant Ishmot Ara told the Dhaka Tribune that she is yet to encounter a difficult situation in her time on the road.
"If a girl asks for help on the streets, we try to help her," she said. "We will take initiatives if female riders come to us with complaints, but we also check that the licences of female drivers are okay."
Niloy Motors Ltd Tejgaon Sales Executive Oliul Islam said of the 100 bikes his company sells each month, around 10% are to female buyers and this number has increased since last year.
He said: "We sell Hero Company's Scooty. There is a lot of demand for it. In fact, the female bankers and journalists, and women who work in buying houses, have bought motorcycles from here."
New Bike Centre proprietor SolaimanDhali said: "In the last six months, sales have risen. We have 8-10 female customers a month. They are buying the Scooty and 125cc motorcycles as well."
Around 3,646 women have driving licences across Bangladesh, of which 1,680 are based in Dhaka, according to Bangladesh Road Transport Authority (BRTA) data.
http://www.dhakatribune.com/opinion/special/2017/12/07/motorbikes-independence-bangladeshi-women/
--------
Pakistan send biggest female contingent to Singapore
December 7, 2017
KARACHI: As Pakistan's weightlifting contingent travels to Singapore for the Oceania Classic Championships and Pacific Invitationals, debutant powerlifter Saniha Ghafoor feels it is high time that the country's women make a mark in the sport.
"To make a successful debut is very important, especially as a female Pakistani power-lifter," said Saniha, who will be competing in the 57kg event. "It's more than what we can ask for at the moment. I'm making my debut and I'm glad I have other female players in the team who have won medals. If I can bench 160kg, I know I can win gold. I'm aiming for nothing less."
Saniha knows better than to be complacent about though. "It is important to train constantly; both powerlifting and weightlifting are challenging sport, I find weightlifting to be easier and of course powerlifting is something which I've just started. However, both are strength sports and require top form," she said.
Along with Saniha, 2015 Asian Championship gold medallist Twinkle Sohail will be representing the country in the 72kg category, Rabia Razzaq will be in the 84kg competition while Sybil Sohail will be showing her talent in 47kg. The four-woman contingent makes it Pakistan's biggest in any powerlifting event.
In the men's categories, Mehmood Hera and teenager Muhammad Ahmed Khan will represent Pakistan in 120kg, Syed Nadeem Hashmi will lift in the 105kg event and Pakistan Powerlifting Federation (PPF) secretary Rashed Malik will be in action in the masters three category for above 60-year-old players.
"We've had this image of Pakistan that we can't produce quality female powerlifters, we feel that this championship will certainly change that image," said Malik.
The championships in Singapore will be featuring 148 athletes from different countries including Australia, New Zealand, Japan, and China among others.
https://tribune.com.pk/story/1578340/7-pakistan-send-biggest-female-contingent-singapore/
--------
'Girls Will Conquer Streets': A Muslim Woman Sends a Strong Message to Kerala's Orthodoxy
December 8, 2017
The video of three Muslim women dancing to Malayalam superstar Mohanlal's hit song 'Entammede Jimikki Kammal' has been giving sleepless nights to a lot of fundamentalists in Kerala.
The students of a dental college in the city are being brutally trolled on social media all because they did an impromptu jig on the streets to raise awareness on World Aids Day. The trolls called it a "disgrace" their religion.
Now, the Kerala Women's Commission has asked the police to take action against the trolls who insulted the girls. Chairperson M C Josephine said that the sexually explicit social media attacks were an insult to the state and that it hurt the dignity of women.
Meanwhile, many are taking to social media to support these three students. One of them is Shamna Kolakkodan, an activist, and a street theatre artist. Kolakkodan recalled an incident that happened two years ago when she staged a street play on friendship between a boy and a girl.
She said that it was eerily similar to what is happening now. She pointed out that even then the crowd couldn't stomach the fact that young women and girls were out on the street acting – especially those wearing a Hijab.
Talking about the flash mob and the attacks that followed, she said, "How beautifully they have danced! And if they will go to hell because of this, let them!"
In the Facebook post, which has gone viral now, Kolakkodan asks a question to the trolls—"Are you going to go back to the jahali period when you are mowing the girl?"
"In all the years that you have been busy trying to send Muslim women to heaven, you deliberately forgot one thing. You forgot about drunkards, sexual offenders, people who resort to violence and those who do not take care of their parents in their old age. What is the logic in ignoring such things and saying that women who get out of their homes and dance will go to hell?" she wrote.
"The girls who you said will land up in hell are the girls who are tomorrow's future," she wrote.
She wrote that there is no greater evil than to create a religion which doesn't allow the women to be, to act in her own desire and choice.
Kolakkodan ended the FB post on a hopeful note, "More women will keep coming back to sing. Girls will conquer streets."
http://www.news18.com/news/buzz/girls-will-conquer-streets-a-muslim-woman-sends-a-strong-message-to-keralas-orthodoxy-1597867.html
--------
Bahrain takes new step forward to end domestic violence
December 7, 2017
Manama: Bahrain has taken a new giant leap in its fight against abuses after the Supreme Council for Women (SCW) launched Takatof, a database and statistics of domestic violence.
"Bahrain is a major contributor to the international efforts to combat violence against women thanks to the growth of relations between the Supreme Council for Women and the UN commission for women," SCW Secretary General Hala Al Ansari, said at the launch on Thursday attended by Phumzile Mlambo-Ngcuka, UN Under-Secretary-General and UN Women Executive Director, Ines Makkawi, head of families and children at the Arab League, lawmakers, officials and diplomats.
The database and statistics of domestic violence aim to monitor and follow up the various cases of domestic violence through a sophisticated electronic platform for a unified data log of violence and changes in the status of abused women, she added.
Al Ansari said that the adoption of standardised definitions and classifications of cases of violence would help access to studies and figures that contribute to consolidate the status of Bahrain in international reports.
It also enables the concerned parties to provide support in cases of violence and facilitate access to health, psychological and social services provided by state institutions.
Al Ansari said that statistics indicate that cases of violence against women in Bahrain are limited.
She attributed successes to the outstanding efforts exerted by the Supreme Council for Women as part of the National Strategy for the Advancement of Bahraini Women 2013-2020 and to the contributions of the interior ministry, official, civil society organisations and media partners in the fight against domestic violence.
The efforts have eventually led to the establishment of a common database linked to all concerned sides, she said.
Mlambo-Ngcuka welcomed Bahrain's cooperation with the UN on all issues related to women and lauded the efforts by Supreme Council for Women in launching the unified database coinciding with the international campaign against violence targeting women.
This year, UN Women and partners around the world are marking the 16 Days of Activism Against Gender-Based Violence (November 25 – December 10) under the theme of "Orange the World: Raise Money to End Violence against Women and Girls".
http://gulfnews.com/news/gulf/bahrain/bahrain-takes-new-step-forward-to-end-domestic-violence-1.2137105
--------
Iran: Rouhani counts peddling as jobs created for women!
07 December 2017
A group of women social activists criticized Rouhani's 100-day record and said the appointment of a few women as governors or deputies does not solve Iranian women's problems.
In an open letter, the women revealed that Rouhani's hollow claim of having created 307,000 jobs for women as his cabinet's success, includes false jobs such as peddling which women do as a last resort.
The letter reads in part, "Indeed, what is seen as the outcome of the government's conduct and policy-making with regards to employment include objectified use of women in expensive auto exhibitions, hiring them as advisors in real estate agents, increasing their presence in the agencies, offering them low income jobs providing services in trains and airplanes, etc. and an increase in the number false jobs such as peddling in the streets and an increased presence in marketing. This process is in contravention of Article 21 of the Constitution." (The state-run Mehr news agency – December 5, 2017)
Women are the first victims of Iran's bankrupt economy in light of the flagrant discrimination institutionalized in the law against women and numerous restrictions imposed on their employment and education, creating harsh conditions for women in earning a living. Many women with college education have to resort to peddling in the streets, working in restaurants or as secretaries in offices and accept salaries as low as one-third of the minimum wage.
http://www.women.ncr-iran.org/iran-women-news/4557-iran-rouhani-counts-peddling-as-jobs-created-for-women
--------
URL:
https://www.newageislam.com/islam-women-feminism/motorbikes-new-symbol-independence-bangladeshi/d/113499
New Age Islam, Islam Online, Islamic Website, African Muslim News, Arab World News, South Asia News, Indian Muslim News, World Muslim News, Women in Islam, Islamic Feminism, Arab Women, Women In Arab, Islamophobia in America, Muslim Women in West, Islam Women and Feminism