New Age Islam News Bureau
15 Feb 2013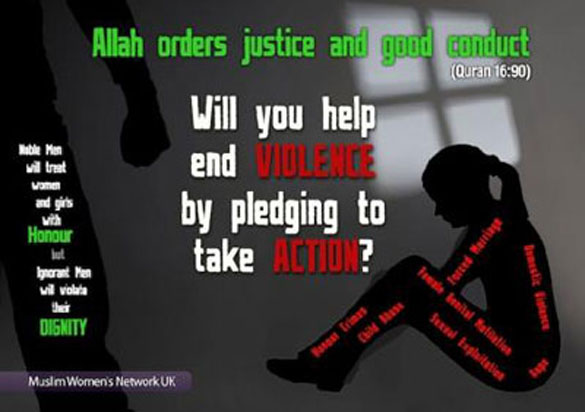 • Pragaash, the All Girl Kashmir Band: Now the Light Went Off
• Malaysian Police: 'Ugly' Children More Prone To Abuse
• Canadian Police Force Alleged To Have Abused Aboriginal Girls
• Madrasa Girl Abducted In Bangladesh As She Refused an Indecent Proposal
• A Middle-East love story seeks a happy ending with NCW help
• Woman Proving That Modest Religious Guidelines Have a Place at New York Fashion Week
• Women's Rights Champion To Lead Human Rights Body of Philippines
• Iraq Holds Its First Fashion Show since the 2003 Invasion
• Women to Join Anti-Riot Police Force in Dubai
• Afghan Army Trains Women for Special Forces
• Iceland May Become First European Country to Ban Web Porn
• His Highness of UAE's Daughter donates Dh500, 000 to Friends of Cancer Patients
• The Female Factor: Bangladesh Protests Break Boundaries
• Pakistan Ladies Club Welcomes New Chairperson
Compiled by New Age Islam News Bureau
Photo: Mosques urged to support Muslim Women's Network postcard campaign
URL: https://www.newageislam.com/islam,-women-and-feminism/new-age-islam-news-bureau/mosques-in-britain-urged-to-support-muslim-women-s-anti-violence-campaign/d/10428
-----------------
Mosques in Britain Urged To Support Muslim Women's Anti-Violence Campaign
By Asian Image reporter
13th February 201
On 14 February, activists across the world will be demanding an end to violence against women and girls through their own local activities and campaigns.
To mark this occasion, MWNUK has launched the 'Muslim Women Rising Against Violence – Mosque Postcard Campaign.' They have posted cards to 100 mosques in Britain calling on them to help end violence against girls and women such as forced marriage, honour crimes, domestic abuse, female genital mutilation, rape, sexual exploitation and child abuse.
Ghair of Muslim Women's Network UK, Shaista Gohir MBE, said: "All forms of violence are vastly under reported in Muslim communities. "Many victims continue to suffer in silence due to fear or shame and some men wrongly use faith to try and justify their behaviour, which acts as a further barrier to seeking help. Such views must be robustly challenged and mosques can reach out to communities, especially men in a way that women's organisations can't."
The postcard that has been sent to each mosque asks them to respond by pledging an action they are willing to take or may already be taking. Some of the choices include: raising awareness by displaying information or through talks and sermons; offering a safe space for women to seek help or hold support groups; providing funding to help victims; and educating community members to teach their sons to respect women and girls. Those mosques that take action will be highlighted on MWNUK website.
Birmingham Central Mosque has already pledged support for the campaign and will make an announcement at the next Friday sermon urging male worshippers to take a postcard and also plan to organize educational talks aimed at men.
Dr. Mohammad Naseem, Chair of Birmingham Central Mosque said: "It is an obligation for mosques to follow in the footsteps of Prophet Muhammad and promote the rights of women and challenge the ignorant attitudes that men hold about women and, which are due to the lack of Islamic knowledge and low educational levels within communities."
Shaista Gohir added: Globally one in three women will be raped or beaten in their lifetime and in Britain 1 in 4 women experience domestic abuse in their lifetime.
"Such levels of violence are indicative of the lack of respect for women and girls across all cultures and faiths.
"Changing attitudes is therefore the first step in reducing violence – men and boys need to be educated that violence is unacceptable and never justifiable while women and girls must be encouraged not continue to accept violence."
MWNUK is an independent network of women across the UK that shares knowledge, connects the voices, and promotes the needs of diverse Muslim women. To find out more about the organisation see www.mwnuk.co.uk
http://www.asianimage.co.uk/news/10223867.Mosques_urged_to_support_Muslim_Women_s_Network_postcard_campaign/
-----------------
Pragaash, the All Girl Kashmir Band: Now the Light Went Off
By Mohd Ishaq Begh
14 February 2013
Kashmir the land of turmoil frequently becomes a soft target of anti Kashmir propaganda. Undersized issues get portrayed in such a manner that they depict Kashmir as the land of conservatives, hardliners, illiterate and separatists. Out of nothing, certain forces are making some issues more sensitive because these relate to the volatile land of Kashmir.
Recently Kashmir's first-ever girls' musical band performed publically at many musical shows. No doubt they got admired with some prizes but fact is that some people eulogised them and some opposed their profession. Even though, music is prohibited in Islam, issuing any sort of threat to those who do right or wrong is itself a crime and evil. Issuing threats to life and property must be condemned at all costs.
No doubt the valley of Kashmir produced so many well known singers and lyricists including Habba Khatoon, Zoona Begum, Shameema Azad, Raj Begum etc in past. DD Kashir also conducted a talent hunt program "Milay Sur" and provided a chance to both male and female singers, then what went wrong with the three girls musical band. Answering this question is difficult as the band faced a hard and harsh response from some people of Kashmir.
First ever all girls musical band got disbanded not only with the threats issued by some local boys but also the decree issued by Mufti Bashir ud din. It is a job of religious profiles to oppose any immorality and evil, but discrimination should be avoided at all costs. Such a decree was neither issued before for any musical band nor for any anti Islamic offence. Is not the liquor sale a threat to Islam and humanity? No doubt instrumental music is prohibited in Islam, not only for the girls but boys also come under the same umbrella and issuing any decree for only a particular gender is unfair.
National media made a lot of noise over the incident, revealing its prejudice. A. Goswami from Times Now in a show tried to dig a bias out of nothing and played the role of unconstructive journalist like many others, in trying to project Kashmir as the land of Taliban. A false and negative image of Kashmir was screened for the world by the Indian media. A small issue was provoked by media and Kashmiris got branded as unjust.
The whole drama screened on televisions portrayed a pessimistic image of Kashmir because what happened here was not a sensitive issue. Local rulers started to pay heeds towards the noisy TV anchors at that juncture when they inflated the Mufti's trifling decree and wildly misconceived it. Despite being innocent, the rock band girls were made the scape goats.
(The author can be contacted at ishaqbeghkullar@gmail.com)
http://www.kashmirtimes.com/newsdet.aspx?q=12373
-----------------
Malaysian Police: 'Ugly' Children More Prone To Abuse
Feb 15, 2013
KUALA LUMPUR, Feb 15 — Police have found that children who do not have good looks are more prone to becoming victims of abuse.
Royal Malaysia Police (PDRM) Crime Investigation Department Principal Assistant Director (Sexual, Abuse and Child Investigation Division), ACP Hamidah Yunos said even among siblings, the child that does not have looks is the black sheep of the family and often the target of parents' ire.
She said the study by PDRM also found that parents who abused their children were victims of abuse themselves where they were young.
"Work pressure can also be a factor where parents can lose their cool and vent their anger on their children," she added.
She said cases of children being abused by maids happened when the latter felt pressured by the parents.
Hamidah said in most cases of child abuse, the parents or guardians would initially make up stories of the child having sustained the injury from a fall.
"After being abused every day, the injuries may be critical and only then will the child be taken to a hospital or clinic for treatment," she added.
She said the doctor attending to the child could lodge a police report if he suspected that the child had been abused.
Police would contact the Social Welfare Department which would provide counselling or shelter to the victim, she added.
She said a total of 285 child abuse cases were reported last year, from 242 cases in 2012.
"This shows that the public, including doctors, are more sensitive to child abuse cases and willing to come forward to report the matter to the police.
"It also shows that the society has realised that child abuse is a crime," she added.
She said statistics showed that most of the child abuse victims in 2010 and 2011 were between the age of one and seven years old, at 136 and 117, respectively.
Based on statistics, most of the child abuse cases reported last year were in Selangor and Johor Baru, totalling 67 in each state, followed by Penang (25), Negeri Sembilan (24), Kuala Lumpur (18), Sarawak (15), Malacca (13), Perak (12), Kelantan (10), Sabah (10), Pahang (9), Kedah (8), Terengganu (4) and Perlis (3).
http://www.themalaysianinsider.com/malaysia/article/police-study-ugly-children-more-prone-to-child-abuse/
-------------
Canadian Police Force Alleged To Have Abused Aboriginal Girls
Feb 14 2013
Ottawa: An international human rights watchdog accused members of Canada's national police force of abusing aboriginal women and girls in British Columbia.
New York-based Human Rights Watch said it uncovered an allegation of rape and others of assault by members of the Royal Canadian Mounted Police against aboriginals in rural areas of northern British Columbia.
The alleged incidents were found through a broader investigation into charges of systemic neglect of missing and murdered aboriginal women along BC's Highway 16, nicknamed the ''Highway of Tears''.
The report details specific allegations of abuse by officers.
RCMP Chief Supt. Janice Armstrong said the force has been unable to investigate because complainants have not come forward since Human Rights Watch approached it about the charges five months ago.
"These allegations must be brought forward for proper investigation,'' Armstrong said in a statement."Unfortunately, five months later and none of these allegations have been brought forward for investigation. It is impossible to deal with such public and serious complaints when we have no method to determine who the victims or the accused are.''
The allegations come amid recent Canada-wide aboriginal protests over living conditions and calls for a national inquiry into the disappearance or killings of many Aboriginal women over the past decades with little police investigation.
Human Rights Watch undertook the investigation last year after a Vancouver-based agency approached it in 2011 complaining that authorities in Canada were not doing enough to address the problem. Researchers spent five weeks in 10 northern B.C. towns last summer and conducted 87 interviews with 42 indigenous women and eight indigenous girls from age 15 to 60.
The most serious allegation involved a woman who told researchers that she was raped and threatened with death by four RCMP officers after she was abused in a remote location.
Other allegations include: young girls being pepper sprayed and shocked with a Taser; a 12-year-old girl being attacked by a police dog; a 17-year-old girl being repeatedly punched by an officer; women strip-searched by male officers; and women injured by excessive force during their arrests.
"In 5 of the 10 towns Human Rights Watch visited in the north, we heard allegations of rape or sexual assault by police officers,'' the report states.
"Human Rights Watch was struck by the level of fear on the part of women we met to talk about sexual abuse inflicted by police officers.''
http://www.indianexpress.com/news/canadian-mounties-alleged-to-have-abused-aboriginal-girls/1074103/
-----------------
Madrasa Girl Abducted In Bangladesh As She Refused an Indecent Proposal
15 February 2013
A girl student of a madrasa was abducted on her way to the institution by a gang at Kashirampur village of Kaliganj Upazila of the district yesterday morning.
The 13-year-old girl is a student of class seven at Karimpir Dakhil Madrasa.
She was abducted as she refused an indecent proposal of a local youth a month ago, police said, quoting the girl's father.
http://www.thedailystar.net/newDesign/news-details.php?nid=269135
-----------------
A Middle-East love story seeks a happy ending with NCW help
Feb 14 2013
New Delhi: Hashna Kareem left her home in Muscat on December 9 last year for love. Now, sitting alone and pregnant in a women's shelter run by the National Commission for Women (NCW) in Delhi, on the eve of the day the world celebrates love, she has little to look forward to in the near future.
"Valentine's Day is just another day in the countdown," says the 23-year-old, who has sought asylum from the NCW against what she fears could be an "honour killing" by her family. The man she wants to get married to, Joney Joseph, is on the run in India, and her family has pulled out all the stops to break them, including accusing her of having stolen money and jewellery, and levelling kidnapping charges against Joney and his family.
Full report at:
http://www.indianexpress.com/news/a-middleeast-love-story-seeks-a-happy-ending-with-ncw-help/1073856/
----------
Woman Proving That Modest Religious Guidelines Have a Place at New York Fashion Week
Yes you CAN be Muslim and model: The woman proving that modest religious guidelines have a place at New York Fashion Week
By MARGOT PEPPERS
14 February 2013
The founder of an agency that represents Muslim models is proving that women can dress modestly and walk the catwalk at New York Fashion Week.
Nailah Lymus launched Underwraps Agency last year, and she is also a designer, stylist and practicing Muslim who merges the world of secular fashion with the sanctity of Islamic customs.
Full report at:
http://www.dailymail.co.uk/femail/article-2278104/Yes-CAN-Muslim-model-The-woman-
-----------------
Women's Rights Champion To Lead Human Rights Body of Philippines
14 February 2013
Acting ARMM Governor Mujiv Hataman of the Autonomous Region in Muslim Mindanao (ARMM)
Human rights lawyer Laisa Masuhud Alamia has formally assumed Tuesday as chairperson of the newly-established Regional Human Rights Commission (RHRC) in the Autonomous Region in Muslim Mindanao (ARMM) after being sworn in by acting ARMM Governor Mujiv Hataman.
Hataman said Alamia's appointment was signed by President Benigno Aquino, III on February 07.
Full report at:
http://www.pia.gov.ph/news/index.php?article=1521360757011
-----------------
Iraq Holds Its First Fashion Show since the 2003 Invasion
By Tim Stanley
February 13th, 2013
We can all agree to disagree about the wisdom of the 2003 Iraq invasion, but that shouldn't stop us celebrating the improvements that have taken place since Saddam Hussein was deposed. The lights are back on, police recruitment is up, large parts of the country are stable and a new, democratic constitution guarantees rights to women and minorities. Best of all, the hairdressers and beauticians are slowly emerging from the shadows.
Full report at:
http://blogs.telegraph.co.uk/news/timstanley/100202733/iraq-holds-its-first-fashion-show-since-the-2003-invasion-lets-celebrate-this-return-to-normality/
-----------------
Women to join anti-riot police force in Dubai
14 February 2013
Women will join Dubai anti-riot police force to deal with women law breakers. The move has been initiated in a bid to preserve women's respect and privacy, the General Department of Organisation Protective Security and Emergency of the law-enforcement authority disclosed.
The announcement was made as part of the participation of the department in the Dubai Police Academy's celebrations of the 25th anniversary of its inception, and the graduation of its cadets.
Full report at:
http://www.khaleejtimes.com/nation/inside.asp?xfile=/data/nationgeneral/2013/February/nationgeneral_February258.xml&section=nationgeneral
-----------------
Afghan army trains women for Special Forces
Feb 15 2013
Kabul: The Afghan army is training female special forces to take part in night raids against insurgents, breaking new ground in an ultraconservative society and filling a vacuum left by departing international forces.
"If men can carry out this duty why not women?'' asks Lena Abdali, a 23-year-old Afghan soldier who was one of the first women to join one of the special units in 2011.
Night raids have long been a divisive issue between Afghan President Hamid Karzai, who doesn't want foreign troops entering Afghan homes, and the U.S.-led coalition that says the raids are essential to capturing Taliban commanders.
Full report at:
http://www.indianexpress.com/news/afghan-army-trains-women-for-special-forces/1074720/
-----------------
Iceland May Become First European Country to Ban Web Porn
Feb 14 2013
London: Iceland is considering banning web pornography in bid to save young children from its damaging effects, and by doing so it would become the first western country to block filth available online.
Fears about the detrimental effects on children have led the government to work on legal measures to try and stop the flood of graphic sexual material reaching the island's shores, the Daily Mail reports. Iceland Interior Minister Ögmundur Jónasson has set up working parties to find the best ways to stem the tide of online images and videos being accessed by young people through computers, games consoles and smart phones, the paper reported.
Full report at:
http://www.indianexpress.com/news/iceland-may-become-first-european-country-to-ban-web-porn/1074057/
-----------------
His Highness of UAE's Daughter donates Dh500, 000 to Friends of Cancer Patients
15 February 2013
The Pink Caravan initiative by the Friends of Cancer Patients came in for praise from its ambassador and daughter of His Highness Shaikh Mohammed bin Rashid Al Maktoum, Vice-President and Prime Minister of the UAE and Ruler of Dubai, Shaikha Futtaim bint Mohammed bin Rashid Al Maktoum, who donated Dh500,000 for the fight against breast cancer.
Full report at:
http://www.khaleejtimes.com/nation/inside.asp?xfile=/data/nationgeneral/2013/February/nationgeneral_February269.xml&section=nationgeneral
-----------------
The Female Factor: Bangladesh Protests Break Boundaries
Anushay Hossain
2/13/2013
It is over a week now that crowds refuse to die down in Shahbagh Square in the heart of Dhaka, Bangladesh.
While most of the "western media" has either ignored the swelling numbers of ordinary Bangladeshis joining the movement, others have wrongly labelled it as a mass demand for capital punishment.
This is perhaps the biggest misconception about what is happening in Bangladesh right now, that these historic protests are somehow a stamp of the public's thirst just for capital punishment. Could anything be more incorrect or insulting?
Full report at:
http://www.forbes.com/sites/worldviews/2013/02/13/the-female-factor-bangladesh-protests-break-boundaries/
-----------------
Pakistan Ladies Club welcomes new chairperson
15 February 2013
The Pakistan Ladies club of Jeddah organized a welcome reception for the newly appointed Pakistan Consul General's wife Afshan Aftab Khokhar at a local restaurant on Wednesday.
The main aim and motive of the reception was to introduce club initiatives, the members and activities of the club to the new chairperson of the club Afshan Aftab Khokhar, wife of the Pakistani Consul General.
Full report at:
http://www.arabnews.com/pakistan-ladies-club-welcomes-new-chairperson
-----------------
URL: https://www.newageislam.com/islam,-women-and-feminism/new-age-islam-news-bureau/mosques-in-britain-urged-to-support-muslim-women-s-anti-violence-campaign/d/10428