New Age Islam News Bureau
18 Sept 2019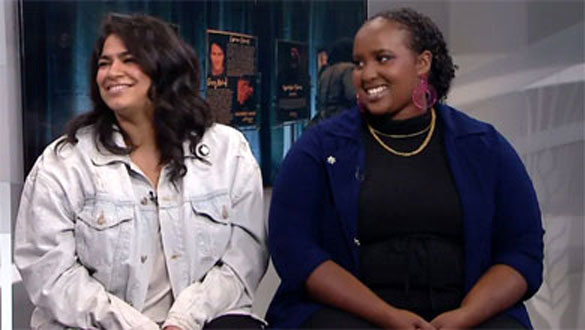 Sofia Alani, external events director of The Mosquers Film Festival and Timiro Mohamed, a spoken word artist performing at the festival at CBC Edmonton on Sunday, Sept. 15, 2019. (CBC)
------
• Iran's Female Fans Find Football Buzz in Cafes and Malls Due To Stadium Bans
• Shaheen Zainab Fathima, Woman, Who Converted To Islam, Allowed Police Protection by Madurai HC
• Senior Google Female Executive to Lead Pakistan's Digitisation Initiative
• Woman in Hijab Launches Racist Attack On Indian Bus Passenger
• Karachi-Based Team of Women Entrepreneurs to Represent Pakistan at Singapore Start-up Weekend
• Police Strip; Torture 3 Assam Sisters, Pregnant Woman Loses Baby after Beating
• The Modest Motivator: Nike's First Hijab Ambassador on Breaking Barriers for Women in Fitness
• Organising Committee of Arab Women Sports Tournament Releases Competition Manifesto
Compiled by New Age Islam News Bureau
URL: https://www.newageislam.com/islam-women-feminism/mosquers-film-fest-shines-spotlight/d/119774
--------
Mosquers Film Fest Shines Spotlight On Muslim Women in Arts
Sep 16, 2019
Timiro Mohamed was 12 when she took the stage for the first time as a spoken word artist at The Mosquers Film Festival.
Now in its 11th run, the unique festival has shone a light on some of the hidden artistic talents in Edmonton since its beginnings at the University of Alberta in 2006.
The event has focused on bringing Muslim artists to centre stage.
Mohamed will be performing again this year at The Mosquers. The festival takes place Saturday night at the Francis Winspear Centre for Music.
"It feels like a very full-circle moment and it just feels nice to know that my community is creating a space where I can share my art and feel highlighted and centred," Mohamed said.
Changing perceptions
The one-day event showcases the diverse Muslim experience through short films in an effort to change how people perceive Muslims in film, said Sofia Alani, the festival's external events director.
"There's so much Islamophobia around, there's so much misunderstanding, and I think when you allow people to kind of share their own narratives there's this dialogue that's been created where you open that space for people to have more understanding and build more connection," Alani said.
The event has grown to include film festival submissions from around the world, drawing international performers and artists.
But there's more to it than just film. Organizers say year after year, the festival pursues new ways to introduce Muslims and non-Muslims to the most original and authentic storytelling.
Scarcity of women
A common everyday struggle the festival tries to address is the relative scarcity of Muslim individuals, especially women, in the creative industry.
This year's event will showcase female Muslim artists.
"There's so many Muslim women that are doing amazing things and holding it down. So I don't think the issue is whether or not there's talent," Mohamed said.
"I think it's about, when are there spaces where we can be present, where we can be centred, and where you can just pass us the microphone and allow us to share our arts? And this is one of those spaces."
Tickets are available on the festival's website. Doors open at 5:30 p.m. and the event starts at 6:30 p.m.
https://www.cbc.ca/news/canada/edmonton/muslim-women-arts-film-edmonton-1.5284828
--------
Iran's Female Fans Find Football Buzz in Cafes and Malls Due To Stadium Bans
September 17, 2019
On match days Iran's young female soccer fans cram Tehran's shopping centres and cafes, their faces painted with the Iranian flag and beaming with excitement, as they follow their national team on giant television screens alongside male fans.
Iranian women have been banned from men's soccer matches at football stadiums in the country since the 1979 Islamic Revolution, but that has done nothing to dampen their determination to enjoy it.
Iranian female fans have long campaigned to be allowed to watch men's soccer and occasionally a limited number of women have been allowed into the stadium.
The death this month of a female fan who set herself on fire in protest at her arrest for attending a match has drawn international attention to women's exclusion. Iran is also under pressure from soccer's governing body FIFA on Iran to change its stance. Following a match in a busy cafe, Iranian fan Somayyeh Rajabpour said "watching like this is more exciting."
Another female fan, Mahsa Alipour said "All the people love it. They love soccer a lot. For me personally, although I may not know much about soccer, I am so excited by the games."
Iranian President Hassan Rouhani's chief of staff said last week that women would be allowed into stadiums if foul language in chants and sporadic violence was curbed.
"We don't see a problem with women attending if the atmosphere in stadiums is convenient... but with so much foul language among fans and violence, this is not advisable," Mahmoud Vaezi told state television.
Government spokesman Ali Rabiei told a news conference, "We believe that women can enter stadiums, but I am sure you agree that a portion of society is worried about their presence."
He said women would be present at Iran's game with Cambodia. "Their presence will increase step by step."
The move is seen as a first step towards opening national games to women.
Vaezi said the sports minister would contact leaders of supporter groups to "improve the atmosphere from a moral standpoint" and special areas for women would be set up in stadiums.
FIFA officials are expected to visit Iran on Wednesday, as part of preparations for Iran's World Cup qualifying games, the semi-official news agency YJC reported.
Sahar Khodayari, dubbed "Blue Girl" after her favourite team's colours, died in hospital just over a week ago after setting herself alight outside a court where she feared being jailed for six months. She had tried to attend a match disguised as a man.
"They do not let us inside the stadiums. But we were so good like this today, inside the shopping centre," said Atieh, who was among a group of men and women watching a soccer game at a cafe in Tehran. "Men did not say anything improper at all, and we were all together, all fine, watching the match."
A female architect, who did not give her name, said however that she objected to women at football stadiums, "because of the cultural problems we have, not just in grounds but even in our normal urban atmosphere."
https://www.indiatoday.in/sports/football/story/iran-s-female-fans-find-football-buzz-in-cafes-and-malls-due-to-stadium-bans-1600210-2019-09-17
--------
Shaheen Zainab Fathima, Woman, Who Converted To Islam, Allowed Police Protection by Madurai HC
18th September 2019
MADURAI: The Madurai Bench of the Madras High Court allowed a petition filed by a 24-year-old woman seeking police protection after she alleged that her parents were threatening to kill her as she converted into another religion.
The petitioner, M Keerthana Devi, who belonged to a caste-Hindu family in Theni, submitted that she converted to Islam of her own volition and also changed his name to Shaheen Zainab Fathima.
She alleged that her parents objected to her decision and threatened to kill her even after she left her home, and sought direction for police protection. When the case came for hearing on Monday before Justice GK Ilanthirayan, the petitioner and her parents appeared before the court and made their submissions.
Hearing both sides, Justice Ilanthirayan observed that the petitioner is not a minor and cannot be forced to go with her parents. He, therefore, allowed the petition, adding that a detailed order would be passed.
http://www.newindianexpress.com/states/tamil-nadu/2019/sep/18/24-year-old-woman-who-converted-to-islam-allowed-police-protection-by-hc-2035188.html
--------
Senior Google Female Executive to Lead Pakistan's Digitisation Initiative
18 September 2019
ISLAMABAD: Government has planned to take on board a female Google executive to put digitisation initiative from the Prime Minister's Office on a fast track.
Pakistan Tehreek-e-Insaf senior leader Jahangir Tareen shared this news in an interview.
He also said that the government has put a lot of effort to make this happen.
"To take her responsibilities in Pakistan she has resigned from her job in Singapore as senior Google executive," he said.
Tareen said that the initiative will be under the Strategic Reform Implementation Unit (SRIU) from the PM's Office.
"She will provide a roadmap for the projects and with her expertise, the tech sector will touch new heights. She will work to modernise databases, aiding digital entrepreneurs and making digital payments much more convenient.
"If we want to compete with the modern world we have to invest in new technologies and digital system. By the grace of God, we will accomplish this task," he concluded.
https://www.pakistantoday.com.pk/2019/09/17/senior-google-female-executive-to-lead-pakistans-digitisation-initiative/
--------
Woman in Hijab Launches Racist Attack On Indian Bus Passenger
Paul Harper
17 Sep 2019
This shocking footage shows a woman in a hijab tell an Indian male bus passenger that he 'stinks of curry'. The woman, who was dressed in a veil worn by Muslim women in public, launched the racist attack on a London bus last weekend. Her mum had clashed with the driver after urging him to not let anymore people on because of overcrowding. When the male passenger tried to calm the mother and daughter, he was met with a torrent of abuse. Referring to an area in London, mobile phone video shows the woman scream at the man: 'You smell of curry, dumb b**tard. Go back to your f**king Southall slum.'
A woman believed to be the aggressor's mother restrains her as she lashes out, shouting 'no let me hit'. The male passenger can be heard taunting the woman by saying 'everyone is on my side'. The altercation happened on the 195 bus from Romney Road in Brentford in West London on Saturday. The Metropolitan Police have been contacted for a comment.
https://metro.co.uk/2019/09/17/woman-in-hijab-launches-racist-attack-on-indian-bus-passenger-10758285/
--------
Karachi-Based Team of Women Entrepreneurs to Represent Pakistan at Singapore Start-up Weekend
September 18, 2019
Last weekend, tech incubator The Nest I/O organised the Startup Weekend Women edition, where more than 200 aspiring women entrepreneurs from various backgrounds participated to work on and develop their own tech companies.
Safe Nest won the competition, with their idea of a safe housing community for women who live alone in the city.
This was the incubator's third edition of Startup Weekend Women in Karachi. The event not only focused on uplifting local women businesses, but will also allow them to showcase their talent globally at Techstars Global Startup Weekend Women which will be held in Singapore in March 2020.
Out of over 200 applications received, 70 women were shortlisted to participate in the event, including designers, developers, marketeers, and startup enthusiasts.
"What inspired me to attend was the entire package that was being offered including workshops, sessions, mentoring, and coaching. Being an IT professional, I wasn't familiar with the business side of things, but here I met a very diverse set of people from multiple disciplines who helped me improve my idea and create something new," commented Nashwa, who was part of the team called Malmal.
Second place was awarded to CalmWalay - an idea to provide a reliable platform to hire household help while at the same time providing vocational training and workshops to its staff members to help them grow.
On third place was Carpoolers - an app to reduce travel cost of university students. Special mentions were also given to Little Rebels, an idea to design fun and cute gender neutral clothes for children under 10, and Decentra Cars, a safe and secure car buying and selling platform using blockchain technology.
"The experience here was amazing! We met some really good mentors from different backgrounds. They taught us how to come up with a practical strategy and an overall sense of how to turn it into a business, how to market it, how to go about the financials, making it a very holistic and comprehensive experience. My team alone had members from various backgrounds including a pharmacist, a chef, a business manager, and they all brought a lot to the table. Everyone should try to be a part of this event because this is one experience you don't want to miss," commented Adeena Ismail, a participant at the event.
A total of 36 ideas were initially pitched of which 12 ideas were selected through crowd voting and pitched at the end of the 54-hour long extravaganza in front of a panel of judges which included Naz Khan, Managing Director at X-Petroleum Limited, Misbah Naqvi, Managing Partner at i2i Ventures, Samra Muslim, Founder at Walnut Communications, and Jehan Ara, President P@SHA and Founder of The Nest I/O.
"It was my first time as a judge at Startup Weekend Women at The Nest I/O, and I really enjoyed the experience. I feel that it's very important for women to have these safe spaces where they can take their ideas forward without the fear of being judged, or adversity, or not having confidence. It's very inspiring to see all these women who spent the entire weekend collaborating, putting their ideas together [...] and the fact that they were able to unlock their minds and were able to network and know that there are so many like-minded people out there, is just amazing," commented Naz Khan, one of the judges at the event.
Over a period of two and a half days, the SWW participants had an opportunity to network with different people, learn about business model canvas and pitching during workshops, get inspired by speaker sessions, and receive one-on-one coaching from successful entrepreneurs from various fields including Nadia Patel Gangjee, Founder Sheops and Femprow, Sahar Habib Ghazi, Senior Newsroom Leader and Multimedia Journalist, Nida Farid, an aerospace engineer and energy efficiency consultant, Madiha Latif, Program Coordinator at Shirkat Gah - Women's Resource Centre, amongst many others.
Popular bloggers like Amtul Baweja of Patangeer and Anika Moiz of Boss Women Pakistan also supported the event.
The speakers who were invited to share their stories included Faiza Yousuf, a technologist and a serial entrepreneur with almost 9 years of experience in building products and teams, Nusrat Hidayatullah, Founder of The Forty Two Day Challenge, Jahan Ara Saleem, project lead for Women Dump Truck Driving Program (WDDP), an initiative of Sindh Engro Coal Mining Company to create employment opportunities for the local women of Tharparkar, and Ghazal Pirzada, Founder Ghazal Pirzada Studios.
"The main focus of Startup Weekend Women is to change the ratio of gender attendance during tech events. We have been hosting Startup Weekend since 2017 and we always make sure that we have a gender balance in all our events, but we still find that hosting Startup Weekend Women is very helpful for women because it gives them that comfort to show up and engage in a more meaningful way, to build and develop ideas with actual output. Safe Nest is the winner of this event and will be representing Pakistan at the Global Startup Weekend Women next year. I'm already so proud of them for coming up with an idea that does not only have the potential to grow into a good business but also empowers women at the same time," commented Jehan Ara, President P@SHA and Founder The Nest I/O.
The Global Startup Weekend Women by Techstars will take place in Singapore in March 2020 where winners of Startup Weekend Women held all across the world will represent their respective countries.
https://www.dawn.com/news/1505904
--------
Police Strip; Torture 3 Assam Sisters, Pregnant Woman Loses Baby after Beating
Hemanta Kumar Nath
September 18, 2019
In a horrific incident, a pregnant Muslim woman and her two sisters were allegedly stripped and tortured inside a police station in Assam's Darrang district. Kicked in her belly by a police officer, the pregnant woman started bleeding and lost her baby due to the torture.
The incident took place on September 8 and came to light only on Tuesday.
After the alleged torture, the pregnant woman was admitted to a hospital where she lost the baby due to miscarriage.
According to reports, Darrang district police picked up three sisters - Minuwara Begum, Sanuwara and Rumela from Sixmile area in Guwahati on September 8 night in connection with a kidnapping case and took them to Burha police outpost.
In a complaint filed with the Darrang district Superintendent of Police on September 10 by Minuwara Begum, she has alleged that the three of them were picked up from their homes by a police team led by the officer-in-charge of Burha police outpost, Mahendra Sarma, on September 8 night.
In the complaint they have said that they were taken to the Burha police outpost where the Mahendra Sarma and a lady constable physically tortured them the whole night. They were also stripped naked.
"We were brutally beaten up and the police officer who also touched our private parts. The police officer threatened us by showing his pistol and warned us from filing any complaint against him," the woman said in her complaint.
The woman had filed a complaint with the Darrang district Superintendent of Police on September 10, but their case was not registered.
Meanwhile, Darrang district Superintendent of Police (SP) Amrit Bhuyan said that he has already initiated a probe into the incident and asked a DSP to look into the case.
Narrating the harrowing experience, the woman said, "On September 8 night a police team of Burha police outpost entered our house but we didn't know why they came. When I asked why they were there, they asked me to not ask any questions. The police officer flashed his pistol at me and my husband said that he will shoot us. They also picked up my elder sister and younger sister."
She added, "At Burha police outpost, they stripped our clothes and beat us up. They also touched our private parts and beat us with sticks and shoes. They told us to bring our elder brother but we didn't reveal his location to them."
The woman also said that she repeatedly pleaded with the officers who ignored the appeals and went on with the torturing. "When the police officer kicked my pregnant sister, she started bleeding and her pregnancy was terminated. My elder sister was two months pregnant. We were also forced to sign our signature in a blank paper at gunpoint," said one of the sisters.
Meanwhile, Assam Chief Minister Sarbananda Sonowal has ordered an inquiry into the incident while the Assam State Commission for Women has also taken up the matter suo motu.
Amrit Bhuyan, SP of Darrang district said, "We received a complaint on September 11 that the woman was tortured when she was at the Burha police outpost. I already directed our DSP to make an inquiry into the incident. If we find that police used additional forces on the women we will register a criminal case. We will also at the medical report."
The Assam CM has directed DIG of Central Western Range, Brajenjit Sinha to conduct an inquiry into the incident.
Assam Police has suspended the accused officer-in-charge of Burha police outpost and the lady constable.
https://www.indiatoday.in/india/story/assam-police-torture-3-sisters-pregnant-woman-loses-baby-1600276-2019-09-18
--------
The Modest Motivator: Nike's First Hijab Ambassador on Breaking Barriers for Women in Fitness
KATIE STRICK
18 September 2019
Shazia Hossen remembers the first time she wore a hijab to the gym — mostly because no one noticed. "I was constantly adjusting my scarf and wondering if anyone was looking at me weirdly," says the Tottenham-based personal trainer and Nike ambassador, who started wearing the Islamic headscarf during Ramadan in 2015.
"The truth was no one cared. In person, people mind their own business. They may do a double-take at first, or glance at me out of curiosity, but the bottom line is that it doesn't matter."
What did matter was the effect Hossen's new image had across the world. Her Instagram following skyrocketed almost overnight and less than two years later, in summer 2017, she was approached by Nike about being the first to wear the Nike Pro Hijab in the UK. "I squealed when I found out," laughs Hossen, 23, who modelled the trailblazing headscarf at Nike's first runway show in Paris earlier this year. As a "covered" woman in the industry, it was the first time she felt "seen".
Today she considers herself one of the lucky ones. Her parents were always supportive of her decision to train as a PT, but she realises that's not the case for all Muslims growing up. "There's a stigma around young Muslim girls in fitness, especially as a career choice," says Hossen, telling me how her followers regularly ask how she marries her faith with going to the gym. "Until relatively recently, I never saw examples of 'successful' BAME Muslim women in media, let alone in sport."
So-called "gym-timidation" is a key barrier — particularly in the weights section, which can be "male-dominated" and "aggressive", says Hossen, who began training at 15, partly to show her brother she could do press-ups. "For hijabi women it can be uncomfortable training in front of men — there aren't many safe spaces."
Her mission is to change that. This month she launched a ladies-only functional training class, Sistarr Circuit, at newly opened Brixton Street Gym, designed specifically to help Muslim and non-Muslim women to "thrive". Founder and friend Terroll Lewis helps her set up beforehand, then "we lock-off the space". Women of all ages, religions, races and sizes can come along for 45 minutes and train undisturbed with battle ropes, tyres and kettlebells.
It's all part of Hossen's wider aim of breaking down barriers for women in sport. Her women-only lifting and self-defence workshops aim to boost female empowerment, and over the summer she teamed up with Wimbledon-based Muslim women's running collective Asra Club to host a special Ramadan class.
She wants the impact to go beyond the capital. In July, Hossen ran fitness sessions for orphans in Gambia with children's charity Spot Project and next month, she'll be among guests at Red Bull's global Amaphiko Academy in Bradford, working with young entrepreneurs to drive social change in their corner of the world.
Hossen is a fitting mentor. At 19, she founded her own clothing brand, SH (Strong Habibti) Athletics, to address a gap in the market for "modest activewear" to pair with a hijab. "I still remember my first sale," she says, recalling how a customer in the US made a purchase just minutes after the site went live. Last year she modelled the collection on the catwalk at London Modest Fashion Week and since then, her longline training tops, Strong Is Beautiful tees and hoodie dresses have been shipped across the world.
The brand is currently in a "research phase" ahead of next year's relaunch, but Hossen wants the new collection to showcase "more colours, more shapes, more sizes" — she knows how central clothing can be to confidence when working out. Back when she started wearing the hijab, "I didn't even know how to dress myself in general — let alone in the gym," she says, seriously.
Part of the problem was a lack of role models. The few she could find — US Olympic fencer Ibtihaj Muhammad and German boxing champ Zeina Nassar — were through Instagram. Hossen met both at Nike's show in Paris this March. "It's the first time I've ever been star-struck," she revealed under a photo of herself with the pair.
Hossen is keen to continue using Instagram as a tool for good — crucially, to inspire other young women to feel a "right to train". The most common fear among clients is being stared at or intimidated into coming off a machine, so Hossen's first step in PT sessions is teaching confidence — asserting their right on a piece of equipment "unapologetically". She starts clients in a traditional "bodybuilding gym" such as Legends in Haringey for this reason. "The view is often that these places are scary, but my work is to flip this around," smiles Hossen, saying she regrets "wasting" that first ever gym session in a hijab by worrying. "People don't care as much as you think they will."
Shazia Hossen hosts workshops at the Red Bull Amaphiko Academy, Bradford — the first Academy to take place in the UK — in October.
https://www.standard.co.uk/fashion/nike-new-muslim-ambassador-hijab-shazia-hossein-a4237701.html
--------
Organising Committee of Arab Women Sports Tournament Releases Competition Manifesto
September 17, 2019
The pan-Arab tournament is held biennially with the aim of furthering women's sports in the Arab region.
The Supreme Organising Committee of the Arab Women Sports Tournament (AWST 2020), has set Feb. 2, 2020, as the launch date of the fifth edition of the sporting event.
The tournament will be held in Sharjah under the patronage of Sheikha Jawaher bint Mohammed Al Qasimi, wife of His Highness the Ruler of Sharjah, Chairperson of Sharjah Women's Sports (SWS). A big number of sports clubs in the region have already signed up to participate in the prestigious event.
A tournament manifesto has been released by the committee, which defines the roles and objectives of all administrative committees, including the Supreme Organising Committee, the Executive Committee and this upcoming edition's administration.
It also highlights the roles of the follow-up and supervision, sportswomen eligibility, doping control, disciplinary and appellate committees, games' technical committees, judges and referees' committees, as well as outlining the roles of the General Secretariat for the union of key committees of the tournament.
The manifesto contains comprehensive details of the eligibility criteria that players and athletes will need to meet to qualify for the tournaments nine competitions: basketball, volleyball, table tennis, archery, fencing, equestrian jumping, karate, shooting and athletics. The document also lays the roles, obligations and required competencies of the entities involved, and sets out the workflow protocol of national sports authorities, the Federation of Committees and the Arab Sports Federations who will be involved in the tournament.
AWST 2020 has approved special prizes for participating clubs, including a 'Club Sports Excellence' trophy for the club that earns maximum medals, a 'Sports Excellence' trophy for the club competing in maximum AWST disciplines, and a 'Fair Play Committee Union' trophy, awarded to the club with the lowest number of violations on administrative or technical levels.
Nada Askar Al Naqbi, Deputy Head of AWST's Supreme Organising Committee, Head of AWST's Executive Committee and Director General of SWS, noted that AWST has grown to become an international competition platform, offers high-caliber Emirati sportswomen to compete with their Arab counterparts, and together, they present a true image of the region's sporting spirit to the world.
The first edition of AWST was held in 2012. The pan-Arab tournament is held biennially with the aim of furthering women's sports in the Arab region. SWS is currently preparing for its fifth edition, which will take place in February 2020. More than 65 women sports clubs from more than 15 Arab countries have competed on the AWST platform since the tournament's inception.
https://www.khaleejtimes.com/sport/local/organising-committee-of-arab-women-sports-tournament-releases-competition-manifesto
--------
URL: https://www.newageislam.com/islam-women-feminism/mosquers-film-fest-shines-spotlight/d/119774
New Age Islam, Islam Online, Islamic Website, African Muslim News, Arab World News, South Asia News, Indian Muslim News, World Muslim News, Women in Islam, Islamic Feminism, Arab Women, Women In Arab, Islamophobia in America, Muslim Women in West, Islam Women and Feminism