12 June 2022
• Afnan Almarglani, First Saudi Woman Obtains Autocross Trainer License
• Malaysian Politician Kasthuri Patto: Living Through Her Father's Lens, While Charting Her Own Course
• Academy For Women Entrepreneurs 2022 Launched In Pakistan
• Experts in Pakistan Call For Immediate Steps To Ensure Women's Inheritance Rights
Compiled by New Age Islam News Bureau
URL: https://newageislam.com/islam-women-feminism/morocco-bans-film-lady-heaven/d/127228
--------
Morocco Bans Film About Daughter Of Prophet Muhammad, 'The Lady of Heaven'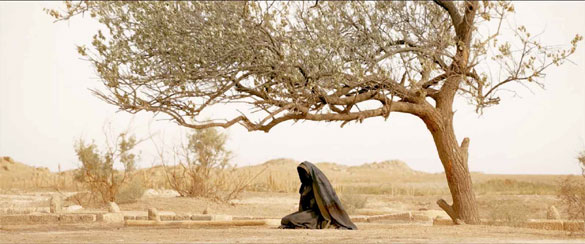 Film, Lady of Heaven Poster
-----
12 Jun 2022
RABAT, June 12 — Morocco announced yesterday it had banned a British film about the daughter of the Prophet Muhammad, which Muslims in a number of countries have denounced as blasphemous.
The Lady of Heaven will not receive a licence to be shown in the country, the Moroccan Cinematographic Centre (CCM) said in a statement issued late Saturday.
The drama is billed as the first film on the life of the Prophet Muhammad's daughter Fatimah, and draws links between the Islamic State group in the 21st century and historical figures in Sunni Islam.
The CCM's ruling comes hours after Morocco's Supreme Ulema Council, the kingdom's highest religious authority, firmly condemned the film in a statement yesterday.
The film was released in Britain on June 3 but after protests outside cinemas, the world's second-largest cinema chain, Cineworld, cancelled all screenings.
Source: Malay Mail
https://www.malaymail.com/news/showbiz/2022/06/12/morocco-bans-film-about-daughter-of-prophet-muhammad/11882
-----
Afnan Almarglani, First Saudi Woman Obtains Autocross Trainer License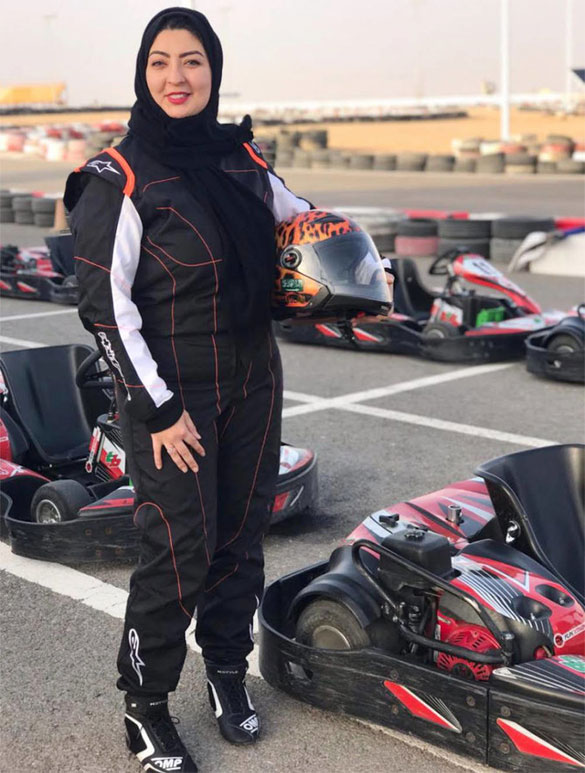 Afnan Almarglani
----
Saleh Fareed
June 11, 2022
JEDDAH: After a number of years of competing in various local autocross competitions, Afnan Almarglani recently became the first Saudi woman to hold an autocross and safe driving skills trainer license.
Her journey in the sport began when her motor sports-mad brother brought home a brand new PlayStation when they were growing up. The two competed in video games such as Gran Turismo 3, a racing title.
"From when I was young, I used to see my older brother Fahd interested in sports cars, modifying them and buying car parts from abroad. We used to race with each other in video games. I was so fascinated by cars, by the shape of the cars, the sound of engines and how they were driven incredibly fast. I played the game every day until it got to the point that I couldn't beat my own fastest lap times," she said.
Almarglani works in biomedical engineering. She previously took part in the first women's race in Saudi Arabia during time off from her work at a project management office at the Ministry of Health.
One of the difficulties which I faced was the criticism of our society, the fact that a girl enters the field of cars which is dominated by men. But now the situation is developing and changing.
Her blending of roles as a biomedical engineer and racer makes her unique, and her talent in both careers has allowed her to take opportunities that most women do not have.
Almarglani, who holds a master's degree in biomedical engineering from a US university, told Arab News that her love and passion led her to work with sports cars, and that she chose to enter the field to gain experience.
She said: "Medical engineering is one of the most beautiful and rare disciplines in the world, because it combines engineering and medicine, which results in solutions to healthcare problems. Because of the amount of pressure and stress that I face in my work, I need to unload my energy, and enjoy and practice my hobby in motorsports.
"Alhamdulillah, we live in a great country with the decision to allow women to drive. So, I participated in the first women's autocross championship and won second place in the qualifying round," she added.
After her first foray into the sport, Almarglani took part in various local autocross championships held in Riyadh, Jeddah and Alkhobar. "After gaining experience and skills, I moved to a higher level in the autocross racing, which enabled me to take part in the Toyota Autocross Championship in Alkhobar, and I was able to win the best time in the women's category."
When asked about the challenges she faces as a woman in motorsports, Almarglani said: "Like any hobby you practice, you need training and knowledge of the basics. In the beginning, it was somehow difficult for me, especially since there were no academies for women, but without the efforts and support of my colleagues in the circuit, I would not have reached this level I am at right now."
She added: "One of the difficulties which I faced also was the criticism of our society, the fact that a girl enters the field of cars which is dominated by men. But now the situation is developing and changing, especially when women are becoming more involved in the sport of auto racing starting at a young age and training determinedly to become professional drivers."
The other biggest challenge for Almarglani is finding sponsorship opportunities. "Motor sports is an expensive sport and finding a sponsor is very difficult, so to maintain that training and to have a good team, and a good car, requires a lot of investment and you need both if you want to do well. The way to find sponsorship is through exposure and by winning races," she said.
Almarglani is often asked how her parents feel about the dangers of her sport. She said: "Of course, at first, they were concerned about me, especially that motor sports has risks, so the level of safety in it is high, and it is expensive in terms of preparing the driver and the car. After I explained to my family all the means of protection and safety, and after they observed my passion and happiness after each race, they supported me and told me to continue, and they were always in the first ranks to encourage me."
Recently, the official account of the Saudi Automobile and Motorcycle Federation, via Twitter, congratulated Almarglani for obtaining a training license.
She said: "I feel indescribably proud that I was able to achieve one of my biggest ambitions, thanks to God, and then thanks to Vision 2030, which empowered Saudi women and made them able to move forward in writing their achievements."
Almarglani's goal is to support every woman who wants to enter motor sports and to build a professional women's motor sports team to represent Saudi Arabia in the world championships. "To achieve this goal, I hope there will be sponsorships offered to me as well as other Saudi female drivers in order to participate locally and regionally, to represent our beloved country."
Source: Arab News
https://www.arabnews.com/node/2101416/saudi-arabia
-----
By Yiswaree Palansamy
12 Jun 2022
KUALA LUMPUR, June 12 — Kasthuriraani Patto may not be your average politician, but she is just like everyone else when life throws her a curveball.
For example, finding herself in a parking pickle after being hemmed in by a narrow lot and desperately attempting to exit her vehicle from the passenger side while in formal attire for an interview with this writer recently.
The newlywed hails from a political dynasty. Her late father, P. Patto, was a teacher who left his job to fight injustice, while her mother, Mary Patto, was a DAP trailblazer.
In his political heyday, the senior Patto was detained under the now defunct Internal Security Act (ISA) twice. Once, in 1978, followed by a second time on October 27, 1987, under Ops Lalang, when he was placed in solitary confinement for 60 days.
During this period, he was the state assemblyman for Gopeng. Later, he would become Sungai Pari assemblyman as well as the MP for Menglembu, Ipoh and Bagan, before his death in 1995.
When she first entered politics, Kasthuri, now in her second term as the DAP MP for Batu Kawan, was invariably compared to her firebrand, multilingual father by constituents and supporters, who questioned if she could measure up to his legacy.
Kasthuri understands that these doubts arose because she was a political newbie, but the ardent abolitionist, women and children's rights advocate and human rights defender is determined to fill her father's shoes one policy at a time.
"I was fortunate to have been exposed to politics from a young age. My father and mother took my sister and I on campaigns, and to protests, rallies and ceramah. We had already seen what political life was about.
"The conversations at home always revolved around politics as well. All sorts of people came over to talk politics with my father and mother. Apart from DAP, we had other coalition members like Semangat 46. We always heard bits and pieces of the conversations.
"I think one of my biggest exposures or understanding of politics was inequality and social justice. We were never a rich family, and I always wondered what it was like to have a house with a swimming pool because we never had that growing up. We were comfortable. We had what we needed. But we did not live a luxurious life.
"Yet, when I followed my father on the campaign trail, I could not understand why some families lived the way they did — in wooden huts with the earth as the floor of their houses, and not cement. Particularly in Sungai Siput," she said, adding that the experience left a deep impression on her.
This was one of the many incidents that eventually led the microbiology graduate into politics, although she originally aspired to be a teacher like her father.
"I am often reminded about this by my primary school teacher, even to this day, on Facebook. I wore a DAP T-shirt for PE one day. I think it was to provoke the teacher. I knew what DAP stood for, but it was also when my father was detained under the ISA.
"I think children, who have experienced seeing their mother or father being detained under the ISA, or any oppressive laws where there is detention without trial, do not know what their parent is in for. Which made me ask the wardens many times when I visited my father in Kamunting: Why is my father in? He didn't steal. He didn't kill. He didn't rob. He didn't cheat. He didn't fight with anyone. Why is he in?
"It wasn't like I was wearing the T-shirt because it had a rocket symbol on it. I knew what DAP stood for, and I also knew the government didn't like the party at that time.
"I felt angry, cheated that the state would take my father away from us for what he stood for. In the movies, the good guys save people, and they get praised for it. Why was my good guy treated that way?" she said.
As a reminder of those dark days, Kasthuri got her father's detention number as her car registration plate, to signify her drive to continue fighting against oppressive laws and marginalisation.
To her, it is also a sharp reminder of the same fate that befell other DAP leaders, including Lim Kit Siang and the late Karpal Singh.
"I am glad that it did not turn into bitterness for us, as the children of circumstances. I am glad that it turned into a lot of hope, a lot of courage to see my mother going through it. Mrs Karpal going through the ordeal, having just birthed their youngest child, Markarpal Singh Deo," she added.
Looking back, however, Kasthuri realises that her father's detention left her traumatised as a child, owing to the 10pm curfew imposed on those who were detained, and then freed.
"It was very real. Very scary. I started looking at my watch. At that age, you imagine a police truck coming and hauling your dad up again, in handcuffs and all," she added.
The Ops Lalang security crackdown took place during former prime minister Tun Dr Mahathir Mohamad's administration. During the 1987 dragnet, 119 people were detained under the ISA, while four newspapers were also suspended.
To this day, Kasthuri said many still ask for her thoughts on how her father might have done things differently in the current political climate, and she understands why: His gargantuan impact on people.
"All the time. All the time. But I must mention that my exposure to politics also came because mum was the first secretary of the Women's wing of DAP when it was formed. I also saw a lot of women coming to the house and working together for campaigns and all, so it was not just dad, but mum too.
"When I was fielded as a candidate for Batu Kawan, as you know, the decision was made very late, and I came in as a new face but carrying my father's name and my party on both shoulders. I was virtually an unknown," Kasthuri, who was then Lim's political secretary, said, adding that she had only emceed DAP events up to that point.
"On the campaign trail, many asked me: Can you speak like your father? My father spoke Cantonese, Mandarin, a fair bit of Hokkien, Tamil, of course, very fluently, and his Bahasa Melayu was very fluent too."
She added that she laughed it off until the realisation hit: Her father was the only one from the Patto clan who had made it to mainstream politics, setting the bar high, and that the same was expected of her.
Kasthuri said it was a challenge to answer such questions being repeatedly thrown at her, but, in the end, something dawned on her.
"Who can speak like Patto? No one. After that, on my campaign trail, when people asked me, 'Can you speak like your father?' I asked them, 'Who can speak like my father?' And they would laugh and say, 'Yes, you are right. Nobody can speak like Patto. Indeed. Can anybody speak like Karpal? No. Can anybody speak like Kit (Lim Kit Siang)? No. Similarly, no one can speak like Patto so I embraced that.
"My father was a hero in his time, in his generation, at that moment, and I consider myself dust under my father's feet. But it was a different era, and politics was different back then. The dissemination of information was different. The government was very heavy-handed. It was ruled by a leader who didn't subscribe to the idea of free speech. I think the media went through one of its bleakest periods in the 80s under this leader too.
"I am privileged today, but it is difficult to compare. There are different issues with more information now. I mean, we didn't even have Google back then!" she added.
"Of course, his principles were intact till the end, but there are times when you must bend backwards to make things happen in this country. You have to manoeuvre, and you have to find ways to realise your dream," she added.
Kasthuri pointed out that during her father's time, the Opposition only worked in one way, which was "to hammer the government, expose and wait for a reaction".
For example, she said issues regarding civil service workers, who are unhappy, must be addressed holistically, with the Opposition working with them to address the problems effectively, instead of merely offering up criticisms.
"What I am doing now is living through papa's lens but adapting to the needs of the current era to address the issues of the day.
"I do ask myself: What would papa have done? I discuss it with my mum too. It is a path that he created. As we walk on it, we discover and branch out to other paths, but always with the same goal for a better Malaysia," she said.
Source: Malay Mail
https://www.malaymail.com/news/malaysia/2022/06/12/kasthuri-patto-living-through-her-fathers-lens-while-charting-her-own-course/9894
-----
Academy For Women Entrepreneurs 2022 Launched In Pakistan
By Mian Abrar
June 11, 2022
ISLAMABAD:US Embassy Islamabad's Counsellor for Commercial Affairs John Coronado on Saturday congratulated more than 115 Pakistani women entrepreneurs on their selection to the Academy for Women Entrepreneurs (AWE) 2022 in a virtual launch event on June 11.
This U.S. training program supports women worldwide in building their own businesses. The move is part of the 75th anniversary celebrations of U.S.-Pakistan bilateral relations and an ongoing effort to empower Pakistani women to realize their economic potential and increase prosperity for all Pakistanis.
"When women are economically empowered, they reinvest in their families and communities, strengthening the social fabric and improving education and skill levels of the workforce.? This multiplier effect spurs economic growth and enhances stability."
With mentoring and guidance from established Pakistani entrepreneurs, the AWE participants will undertake a three month, rigorous online training program developed by Arizona State University's Thunderbird School of Global Management and American natural resource company Freeport McMoran.
Through AWE, participants learn core business skills and will meet weekly to discuss the material with experienced local mentors and U.S. experts. AWE is designed to cultivate entrepreneurial know-how, help women entrepreneurs connect with funding opportunities, enhance opportunities for business expansion, and increase the likelihood of entrepreneurial success.
Four of the U.S. Mission to Pakistan's Lincoln Corners in Multan, Muzaffarabad, Khairpur, and Peshawar will lead AWE Pakistan 2022, with support from the Pakistan American Cultural Center and the DOVE Foundation. Lincoln Corners in Peshawar, Lahore, Rawalpindi, and Larkana took part in AWE Pakistan 2021.
Toward the end of their AWE journey, participants will have the opportunity to compete for seed funding from the U.S. Mission to Pakistan to further grow or establish their enterprises.
Upon completion, the participants will join the global AWE network, which offers further growth opportunities, as well as the community of U.S. exchange program alumni.
Source: Pakistan Today
https://www.pakistantoday.com.pk/2022/06/11/academy-for-women-entrepreneurs-2022-launched/
-----
Experts in Pakistan Call For Immediate Steps To Ensure Women's Inheritance Rights
By Staff Report
June 11, 2022
PESHAWAR: Experts at a provincial conference Saturday called upon the stakeholders to take immediate steps to ensure women's inheritance rights.
The Community Appraisal and Motivation Program (CAMP), in association with the Provincial Ombudsman for Anti-Harassment, organized a one-day provincial conference to protect and promote women's inheritance rights in the newly merged tribal districts of Peshawar and Khyber Pakhtunkhwa.
Addressing the conference, Provincial Ombudsman Ms. Rakhshanda Naz appreciated the role of CAMP in raising awareness among the tribal people for protection of women's inheritance rights. She said the laws should be easy to understand and equal for women.
She emphasized that Khyber Pakhtunkhwa's Investment of Women's Property Rights 2019 ensures women's share in the inheritance of all types of property and property. Can't be deprived Addressing the participants in the conference, Mufti Ghulam Majeed, Senior Research Officer, Islamic Ideological Council, highlighted the hereditary rights of women in accordance with the Qur'an and Sunnah.
Mufti Sahib said that in the Holy Quran, Allah Almighty has given severe punishment to those who usurp the rights of women. She also briefed the participants on the steps taken by the Reform Ideological Council to protect the inherited rights of women.
Dr. Noorin, an assistant professor in the Department of Political Science at the University of Peshawar, called for an end to all forms of discrimination against women in the name of tradition in the tribal districts.
Dr. Noorin further said that women should be given equal rights as human beings. He said that the proportion of women in the newly merged districts is 51% and it is a matter of time before this large section of the population becomes economically stable.
Dr Samina Afridi, another lecturer at the University of Peshawar, said in her address that protection of women's hereditary rights could not be ensured without creating awareness among the people. She said that since the formation of Pakistan, some traditional legal practices in the tribal areas have been termed as 'customs'.
Dr. Samina said that these traditional laws often lead to women's rights or finances. She said that due to lack of legal demarcation of land in the tribal districts and inadequate capacity of state institutions at the district level, it was difficult to determine the share of women in the distribution of land and property.
Union Afridi of the Khadim-ul-Amalq Foundation, representing social organizations, highlighted the ongoing district-level awareness activities under the "Dakhor Surkha" project and also spoke about the interest and positive results of local conferences in these activities.
Other speakers at the conference included CAMP CEO and Naveed Shinwari Director Programs Maryam Khan and Project Manager Asad Ali. The one-day provincial conference was attended by representatives of lawyers forum, media, NCHR, social organizations and education sector.
Source: Pakistan Today
https://www.pakistantoday.com.pk/2022/06/11/experts-call-for-immediate-steps-to-ensure-womens-inheritance-rights/
-----
URL: https://newageislam.com/islam-women-feminism/morocco-bans-film-lady-heaven/d/127228
New Age Islam, Islam Online, Islamic Website, African Muslim News, Arab World News, South Asia News, Indian Muslim News, World Muslim News, Women in Islam, Islamic Feminism, Arab Women, Women In Arab, Islamophobia in America, Muslim Women in West, Islam Women and Feminism