New Age Islam News Bureau
23 Jul 2018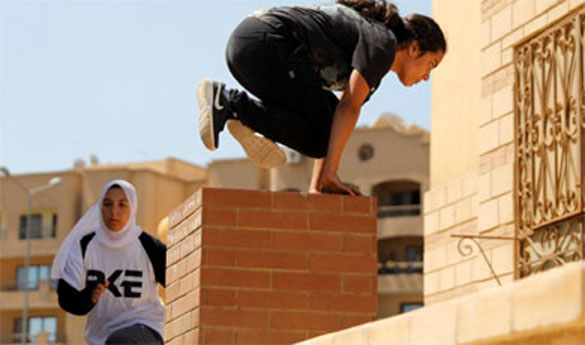 Egyptian women from Parkour Egypt "PKE" practice their parkour skills around buildings on the outskirts of Cairo, Egypt July 20, 2018. REUTERS/Amr Abdallah Dalsh
----
• 'Bikini Is Islamic Veil,' Turkish Televangelist Oktar Tells Police
• Egyptian Women Challenge Social Norms by Practicing Parkour
• Violence against Women at Centre of Debate on Landmark Bill In Iran
• Iranian Women Actively Participated In Protests in Tehran and Borazjan
• Pakistan Elections: 10 Million Women Over 18 to Miss Chance to Vote
• Will Support Triple Talaq Bill If Alimony Provision Added, Says Congress Women's Chief
• Candidates in Khyber Fail To Reach Out To Women Voters
• Rights Activists Call For Stringent Laws to Stop Premature Marriages
Compiled by New Age Islam News Bureau
URL: https://www.newageislam.com/islam-women-feminism/morocco-assigns-women-marriage-notaries/d/115912
--------
Morocco Assigns Women Marriage Notaries for First Time
July 22, 2018
Dubai: The Moroccan Ministry of Justice announced that it is recruiting 299 women as legal marriage notaries for the first time in the country, a profession that has hereto been reserved for men.
Men also typically handle inheritance issues, divorce and guardianship cases in addition to marriage contracts. This was because under Shariah, a woman's testimony is equal to half that of a man.
Morocco's King, Mohammad VI, pronounced a decree this year that allows women across the country to carry out several duties under Shariah such as documenting witness testimony in courts, handling family cases and real estate transactions.
The royal decree, which also opened the position of marriage notaries to women, was a step towards the fight against all laws that discriminate against the gender in Morocco.
Morocco in February criminalised female harassment, and a presidential commission put forward a draft of liberal reforms, which includes equal inheritance rights for women.
In 2004, Morocco removed the legal obligation that called for a male guardian for every woman, and established the minimum age for marriage at eighteen. It also made it easier for women to get a divorce and gain child custody.
In 2007, a royal decree allowed a child to inherit the Moroccan nationality and register them under her name if there was no father in the picture.
Also, Morocco was among the first Arab countries to cancel a rape-marriage law that allowed rapists to escape prosecution if they married their victims.
https://gulfnews.com/news/mena/morocco/morocco-assigns-women-marriage-notaries-for-first-time-1.2255082
--------
'Bikini Is Islamic Veil,' Turkish Televangelist Oktar Tells Police
July 23 2018
The controversial Turkish televangelist Adnan Oktar, who was arrested by an Istanbul court on July 19, told the police that a "bikini is an Islamic veil."
Daily Hürriyet columnist Abdulkadir Selvi published a number of quotes from Oktar's defence in an article on July 23 in which the televangelist denied dozens of criminal charges against him, and instead preaching on his group's peculiar interpretation of Islam.
"Covering where a bikini covers is enough for Islamic veiling. Because this is how it was described in the Quran," Oktar reportedly told the police.
He also claimed that Islam only forbids wine as an alcoholic drink, while permitting others including vodka and whiskey.
The televangelist and his followers reportedly decreased the number of Islamic daily prayers from five to two, while significantly shortening each session as well.
Oktar hosts talk show programs on his television channel, A9, on which he has discussed Islamic values and sometimes danced with young women he calls "kittens" and sang with young men, who he calls his "lions."
Oktar: Coup plotters will hang Erdoğan
During his police interrogation, Oktar stressed he has been supporting the ruling Justice and Development Party (AKP), according to Selvi.
"Oktar told police he instructed his kittens to hit the streets with Turkish flags in the aftermath of the 2016 coup attempt [to show their support for President Recep Tayyip Erdoğan]," the Hürriyet columnist wrote.
"Then a police officer reminded him of his words on the night of the coup attempt, predicting that 'they would hang Tayyip,'" Selvi added.
Turkish police launched an operation on July 11 to detain Oktar and 234 of his followers for over 30 charges, including forming a criminal gang, sexual abuse of children, and fraud.
The televangelist denied all charges, claiming his arrest was "a conspiracy by the British deep state."
In 2006, Oktar wrote the Atlas of Creation under his pen-name Harun Yahya, arguing that Charles Darwin's theory of evolution is at the root of global terrorism. He has written more than 300 books, translated into 73 languages, his channel says on its website.
http://www.hurriyetdailynews.com/bikini-is-islamic-veil-turkish-televangelist-oktar-tells-police-134884
--------
Egyptian Women Challenge Social Norms by Practicing Parkour
July 23, 2018
CAIRO: A group of Egyptian women gather at an abandoned park in a Cairo suburb once a week, climbing walls and jumping around in the strenuous physical discipline known as Parkour, while also challenging the country's conservative social norms.
Founded in France in the 1980s as the Art du Deplacement and later taking its name from the French word 'parcours' (course or route), Parkour involves running, climbing and jumping acrobatically around buildings and over terrain.
The women have trained every week for the past six months with the eventual aim of forming the first professional Parkour team in Egypt.
Ten women took part in last Friday's training, which focused on building upper body strength and different methods of dealing with surroundings.
Curious crowds, accustomed to women taking a low profile in Egypt, often congregate to watch the training, sometimes taking pictures and filming. But the women keep up the training unhindered, insisting that no sport is exclusive for men.
"It is natural that people did not accept it because they were not used to it," said Zayneb Helal, one of the players.
"They did not accept the idea that girls could play sports, let alone on the street," she added.
It is uncommon for women to play such sports on the streets in Egypt. A 2017 Thomson Reuters Foundation survey of experts on how women fared in mega cities rated Cairo as the world's most dangerous megacity for women, while London came out as best.
Guided by coach Mohamed Omran, women train hard on climbing obstacles, landing correctly after jumps and seeing opportunities in buildings around them.
"Women are now training and more women are starting to come," Omran said. "As the sport spreads the acceptance of women training increases and it is not unusual for women to have a team and train," he added.
Parkour is played by men in Egypt but the sport is neglected and has no regulatory body. Parkour Egypt, a group that comprises men and women, has grown exponentially after starting off with a handful of players.
Last year Britain became the first country officially to recognize Parkour as a sport.
"It needs more time to evolve and the sport needs to spread more so that people would learn about it," Helal said.
https://www.pakistantoday.com.pk/2018/07/23/egyptian-women-challenge-social-norms-by-practicing-parkour/
--------
Violence against Women at Centre of Debate on Landmark Bill In Iran
Zahra Alipour
July 22, 2018
"Ever since we started our term, we have been waiting for this bill," said Iranian parliamentarian Tayyebeh Siavoshi of the Provision of Security for Women Bill, which expands the legal definition of violence against women. "Both we and the Vice Presidency for Women and Family Affairs have repeatedly asked the judiciary to send this bill to the parliament. It has been almost three years and we have yet to receive this bill."
Iranian parliamentarians originally discussed the importance of drafting this bill back in December 2012, during President Mahmoud Ahmadinejad's last year in office. After President Hassan Rouhani took office in August 2013, following up on this bill became a priority of the Vice Presidency for Women and Family Affairs.
The Rouhani administration eventually approved the bill in May 2017. Then, due to its judicial nature, the bill was sent to the judiciary for approval. Since then, the bill has been awaiting the signature of judiciary head Sadeq Amoli Larijani.
Now, Siavoshi says the judiciary has omitted 41 of the 92 articles of the bill. According to her, the judiciary finished reviewing the bill four months ago.
An Iranian women's rights activist, going by the alias Leili, told Al-Monitor, "The bill contains extensive definitions of violence: physical violence, mental violence, economic violence, gender violence and social violence. For example, if a man restricts his wife's or daughter's freedom of movement, he will face imprisonment. Even verbal violence, such as insults, are deemed punishable offenses."
Leili added, "Such articles in the bill have been criticized and are being omitted since they question the validity of Islamic law regarding women obeying their husbands. The judiciary has reservations regarding this bill."
The same activist believes that omitting these articles will make the bill ineffective, even if it is approved. "It appears that the text of the bill awaiting approval differs from the one that was suggested by the Vice Presidency for Women and Family Affairs," said Leili. "The text of this bill now only talks about physical violence against women, an offense which is already punishable due to the scattered nature of criminal law in Iran."
The judiciary's deputy for legal affairs, Zabihollah Khodaian, said in an April 18 interview with the Tasnim News Agency that "vast criminalization" is the reason why certain articles were omitted from this bill. He then explained, "Some articles in this bill have come up, on average, with 20 new crimes, and since the terminology and wording are ambiguous and can be interpreted in many different ways, they cover a wide range of cases."
The judiciary's cultural deputy, Hadi Sadeghi, said June 27 that there is extensive usage of imprisonment as punishment in the bill. He said that while the bill claims to support women, "in reality it deals a big blow to women and family life. When a woman sends her husband to jail, the husband will no longer think of himself as her husband and will no doubt divorce her."
Zahra Jafari, a legal expert working for the Iranian judiciary, said four groups of experts have worked for four years to prepare the bill.
It has come under criticism from other women. Zahra Ayatollahi, head of the Women's Cultural and Social Council — a branch of the Supreme Council of the Cultural Revolution — said the bill "defends prostitutes." Ayatollahi said in a December 2017 editorial in the hard-line Kayhan daily that "this bill is clearly gender-biased and unconditionally defends women. It does not at all address the existence of violence by women against men. … Imagine where our society is headed: Islamic Iran is headed for the same gutter that the West has found itself in."
Member of parliament Parvaneh Salahshouri said the bill might be sent to Iran's supreme leader, Ayatollah Ali Khamenei, even though the women's faction in parliament and the vice president for legal affairs are waiting for the judiciary to make a decision on the proposal. "We have heard [of such a possibility] … but we cannot be sure," she told Etemad Online on July 3. "This would be an unprecedented action."
A week before Salahshouri's interview, Khamenei's website published the text of a conversation between the head of the judiciary, other judiciary officials and the supreme leader, during which the latter said that following the 1979 Islamic Revolution, "One of the students asked me about women's issues and asked me how we would defend our position regarding women. I answered that we are not defending anything! We are not defenders, we are attackers! What is there to defend? When it comes to women's issues, we are the plaintiff!"
Vice President for Women's and Family Affairs Masoumeh Ebtekar spoke with the Etemad daily July 7 regarding the possibility that the bill will not advance due to opposition from Islamic jurists. "One of the issues that we talked about during the session we had with the supreme leader was the issue of domestic violence, the importance of paying attention to it, and the importance of drafting law that would prevent domestic violence from taking place," she said. "The supreme leader also emphasized the importance of this issue."
Ebtekar said she has only "heard" that the bill might be sent to Khamenei. "We, nonetheless, expect answers from the head of the judiciary," she said. "The administration is also waiting and is following up on this issue. All I hope is that we are not wasting time."
What is next for the bill? Leili said fellow activists believe that, considering the current trajectory, "this bill might not make it under this term of the parliament."
"On the other hand, we are hoping that the [parliamentary] women's faction will strongly and seriously react to all the changes that are made to this bill. The judiciary should not be the only influential voice regarding this bill; civil society and those whose lives are going to be affected must have a say as well."
Last year, on Nov. 25, the International Day for the Elimination of Violence against Women, a group of activists in Iran launched a campaign titled "Prohibiting Domestic Violence Against Women." This campaign is currently preparing a legal draft to combat domestic violence against women, with the collaboration of civil society activists and lawyers. Leili, who is a member of this campaign, told Al-Monitor, "We want to raise awareness in society so that people will learn how important it is to pass laws that will protect women. According to one survey that was conducted back in the 1980s, 66% of Iranian women have been, at least once, subjected to domestic violence. This is while there are no [current] laws that protect women against such incidents."
https://www.al-monitor.com/pulse/originals/2018/07/iran-domestic-violence-women-bill-rouhani-khamenei-judiciary.html
--------
Iranian Women Actively Participated In Protests in Tehran and Borazjan
23 July 2018
Iranian women actively participated in protests taking place in Tehran, Mashhad, and Borazjan.
On Sunday, July 22, 2018, a large number of Iranian women actively participated in the protest of the retirees outside the mullahs' parliament while another group of retired women and men held their protest outside the Planning and Budget Organization in Tehran.
In another part of the capital, the retired workers of the Steel Industry gathered outside the Steel Industry's Retirement Fund building to demand their non-paid pensions. Retired Steel Industry employees joined the protest in Tehran from Kerman in the south, Mobarake and Isfahan in central Iran, Mashhad and Tabas in the northeast, Semnan and Shahrood in central north of Iran, and Sangrood in northern Iran. Iranian women actively participated in this protest, too.
On the same day, a group of retired personnel of the Education Department, gathered in protest outside the Governor's Office in Mashhad for their unpaid pensions.
In protest to their employment status, a group of teaching assistants of the Literacy Movement held a protest outside the parliament and burned their mission slips. Both women and men participated in the act and then marched towards the Planning and Budget Organization. Again, Iranian women actively participated in this protest.
Following the water crisis in various cities across the country, residents of the southern districts of Borazjan in Bushehr Province, blocked Borazjan-Ahrom road, on Sunday, July 22, 2018. The crisis has made them desperate. A woman showed her empty bottle and said, "It has been 10 days that we have no water in the Valfajr region."
Presently, many villages in southern Iran receive their water by tankers. In the past weeks, the residents of Borazjan have repeatedly taken to the streets to protest against lack of potable water.
In March, April, May and June, Iranian women actively participated in at least 238 protests in various cities across the country.
https://women.ncr-iran.org/iran-women-news/5356-iranian-women-actively-participated-in-protests-in-tehran-and-borazjan
--------
Pakistan Elections: 10 Million Women Over 18 to Miss Chance to Vote
July 20, 2018
Islamabad: Pakistan is going to the polls on July 25, 2018 and the impending vote has stirred not only political workers and candidates into a great frenzy but the general public too appears highly polarised.
The conviction of former prime minister and leader of the Pakistan Muslim League-Nawaz (PML-N) Nawaz Sharif, his daughter Maryam Nawaz, and son-in-law Mohammad Safdar has politicised the masses "for" and "against" the Sharifs. According to independent analysts, the surcharged political scene seems to have pulled the masses into its orbit as never before.
Imran Khan, chairman of the Pakistan Tehreek-e-Insaf (PTI) party, too, is no exception and is being criticised for capitalising on Nawaz Sharif's conviction and failing to project development works in Khyber Pakhtunkhwa where his party remained in power from 2013 to 2018.
Against this backdrop, the upcoming elections are being dubbed as the mother of all elections and a game changer for the future of the country. But at the same time, these elections are no different from 2013 with regard to the participation of women voters. According to one estimate, over 10 million women above 18 years of age are going to miss out on their right to vote in these polls thus leaving a big question mark on the authenticity and veracity of the entire process of electioneering.
According to 2017 census, women make up half of the country's 200 million population but the National Database and Registration Authority (Nadra) statistics show that out of 97 million registered voters, only 43 million are women, while 55.6 million are male voters. Thus the gender electoral gap stands at 12.5 million, which speaks volumes for the government's incompetence in helping bring women into the mainstream. In the 2013 elections, the gender electoral gap was 10.97 million.
The CEO of the Free And Fair Election Network (Fafen), Mudassir Rizvi, says Article 25 of the 1973 constitution of Pakistan guarantees equal rights to all citizens without discrimination between men and women. He was of the view that increasing women's participation in every aspect of Pakistan's elections — as candidates, voters, election officials, polling agents, security officials and in every other role — is essential for meaningful and credible elections that represent the will of the people.
There are a number of factors involved in keeping women out of the election process. One limiting factor is that they often don't possess valid Computerised National Identity Cards (CNIC), a must for casting one's vote. For a woman living in a tribal area or in Balochistan, getting a CNIC can be quite an ordeal.
In Khyber Pakhtunkhwa, particularly in the Dir and Swat regions, there are complaints that women are not being encouraged to register their vote and this decision is often taken by male folk acting by consensus.
Similarly, Balochistan, interior Sindh and southern Punjab's tribal belt also don't provide a conducive environment to women to exercise their right to vote. The feudal system existing in Punjab's southern parts is yet another hindrance to women's participation in the election process.
Speaking to Gulf News, Additional Director General (Gender Affairs) of the Election Commission of Pakistan (ECP), Nighat Siddique, admitted that, as per rough estimates, more than 12.70 million women across the country were not on the electoral rolls.
The ECP, with its limited resources and less than 2,000 staff members all over the country is in no position to do a door-to-door survey.
However, she said that the ECP has, in the last four months, with the help of Nadra and organisations like Pattan, Fafen and civil society groups, launched a campaign in all the 103 districts of the country and sent data of 1.6 to 1.7 million women to Nadra and helped them register as voters. She called upon the public representatives, particularly the suspended lady councillors, to "now convince those voters to exercise their right of vote."
It was pointed out by the lady representatives of Islamabad that awareness was a serious issue even in the federal capital and, in all the 50 Union Councils of Islamabad, a large number of women were not registered as voters despite the fact that they possessed valid CNICs.
https://gulfnews.com/news/asia/pakistan/pakistan-elections-10-million-women-over-18-to-miss-chance-to-vote-1.2254269
--------
Will Support Triple Talaq Bill If Alimony Provision Added, Says Congress Women's Chief
July 22, 2018
The chief of the Congress women's wing has said the party would support the instant triple talaq bill if the Centre includes a provision of alimony. All India Mahila Congress president Sushmita Dev alleged that the Bharatiya Janata Party government was trying to strike a quid pro quo with the passing of the Muslim Women (Protection of Rights on Marriage) Bill and the women's reservation bill.
"We were never against the instant triple talaq bill. But the bill, in its present form, would be harmful to the interests of the Muslim women. It should have a provision of alimony for the victim," Dev said. "I tabled an amendment in the Lok Sabha for the provision of alimony in the bill, but it did not get passed. If the amendment is accepted, then we would definitely support the bill," she said.
Dev said the aim of the bill was to ensure justice for the Muslim women and end the practice of instant triple talaq. "But what will happen to the livelihood of the women if their husbands go to jail?" she asked, adding that this aspect should be kept in mind. The Muslim Women (Protection of Rights on Marriage) Bill, 2017, was passed in the Lok Sabha, but is pending in the Rajya Sabha.
Last Monday, Congress president Rahul Gandhi had written to Prime Minister Narendra Modi, asking him to ensure the passage of the Women's Reservation Bill in the Monsoon Session of Parliament.
A day later, Union Law Minister Ravi Shankar Prasad responded to the letter with a "new deal" of equality and adequate representation by joining hands to pass the bills on women's reservation, instant triple talaq and nikah halala. "The government is indulging in dealings. Did they say in their manifesto that they would pass both the bills together? We didn't have the majority. But they have a clear majority. If the Congress and BJP both support the women's reservation bill, then it can be passed," Dev added.
https://indianexpress.com/article/india/triple-talaq-bill-congress-monsoon-session-5270114/
--------
Candidates in Khyber Fail To Reach Out To Women Voters
Ibrahim Shinwari
July 23, 2018
LANDI KOTAL: With the election campaign coming to a close throughout the country, candidates for the two National Assembly seats in Khyber tribal district have failed to a great extent to convey their message to women voters.
Except for a lone corner meeting within the four walls of a private house in Jamrud organised by women workers of PPP, none of the other candidate in any of the two constituencies -- NA-43 and NA-44 -- could arrange a gathering of female voters in any part of Khyber region during the last few weeks of their election campaign.
All the candidates and their supporters exhausted their energies while organising 'all-male' gatherings and rallies with very little mention of resolving issues confronted by the womenfolk of the region.
Candidates having political affiliations and independents confessed in their conversation with Dawn that they failed in reaching out to the women electorates in both constituencies due to social and cultural taboos.
Some of them said that they urged their male supporters to carry along their campaign messages and election manifestos with them when they went home after attending campaign rallies and gatherings and share the same with their female members of family.
Some had engaged female members of their families to conduct a door-to-door campaign in their respective areas but that too in a restricted manner. Election Commission of Pakistan has made it mandatory to get a minimum of 10 per cent female vote for the successful candidate in any constituency.
"This rule of ECP is discrimination against the people of tribal regions as women participation in election campaigns and polling their votes is considered against the tribal norms and traditions," MMA candidate for NA-43 Mufti Ejaz told this scribe when he was asked about lack of female participation in electioneering process.
He, however, quickly added that his party or MMA was not against women participation in such affairs but women in those areas were not politically aware.
However, unlike the past, none of the candidates, tribal elders or political organisations in Khyber region has openly or clandestinely reached an agreement to bar women voters from exercising their right to vote on July 25.
Maroof Khan, an independent candidate for NA-44, acknowledged the importance of women participation in electoral process but insisted that making direct contacts with the female voters was 'an uphill task' for him and his team.
He said that their only source to convey their message to female voters was their men relatives. "We try our best to educate male voters about conveying our manifesto to the female voters of their families," he said, adding that a two-year long ban on mobile internet was another hurdle to them to reach to female voters.
Shah Faisal of JI and Hazrat Wali of PPP, however, argued that women activists of their parties were engaged in limited capacity to make contacts with female voters by conducting door-to-door campaign.
Laima Shinwari, a medical student, said that she along with her two sisters and other women relatives would cast vote on July 25 despite an 'all-male' election campaign.
Jamima Afridi and Mamanrra Afridi, two activists of a political party, were also not happy with ignoring thousands of female voters by the candidates during their campaign. They said that not only they were deprived of active participation in electioneering, but none of the candidate made the resolution of their problems a part of the election manifesto.
Ali Akbar, a resident of Tirah, told Dawn by telephone that although no restrictions were imposed on women to poll their votes, yet most of their womenfolk would stay away from voting on July 25 due to their complete ignorance about the election process.
https://www.dawn.com/news/1421809/candidates-in-khyber-fail-to-reach-out-to-women-voters
--------
Rights Activists Call For Stringent Laws to Stop Premature Marriages
July 23, 2018
CHILDREN'S RIGHTS defenders are calling for legal actions and a legal amendment to tackle the increasing number of "premature" marriages throughout the country. Such marriages harm the children involved, say the activists.
Many Thais were shocked to hear of a marriage ceremony held in Thailand in mid-June between a 41-year-old Malaysian imam and an 11-year-old Thai girl. "This isn't just a marriage, but may be child abuse," Angkhana Neelapaijit, Commissioner of the National Human Rights Commission of Thailand, said yesterday. An unofficial medical examination report from Malaysia suggested signs of sexual intercourse had taken place "several years" before the marriage, she said.
"Child abuse is a criminal offence. Authorities, along with religious leaders, must come forward to protect the child," she said, and added that Narathiwat's governor as well as police investigators must also intervene. "Thailand has promised the world it will stop child brides," Angkhana said. Thailand is bound by Article 16 of the Convention on the Elimination of All Forms of Discrimination Against Women to outlaw child marriage. Collecting fees "All Malaysian men crossing the border to have their marriages held in Thailand must pay marriage fees," Angkhana said. But the problem is much wider than this one case. Thailand has one of the highest rates of youth marriages in the region, with Unicef figures showing one of every seven Thai teen aged 15 to 19 being married. Premature marriage in Thailand occurs for many reasons, including cultural and economic. While the legal age of marriage is 18, the Thai Civil Code allows parents to approve marriage at age 17, and younger with a court's permission. An exception is made for the four predominantly Muslim provinces of Pattani, Yala, Narathiwat and Satun where girls can get married after menstruation – which usually occurs at around 12 – under Islamic law. "While some progressive Muslim communities want to set a clear standard [for a minimum marriage age], some religious leaders who benefit from organising these marriages don't want to change and they use religious faith as their explanation," Sanphasit said. "This has led to many Malaysian men exploiting the loopholes to marry children," he said. In Malaysia, a religious court must approve a marriage involving a Muslim girl under age 16. Gary Risser, chief of child protection for Unicef Thailand, said he wanted to see the government set a clear standard. He encouraged religious leaders to engage with the issue. "Evidence around the world shows that child marriage is harmful to children in the long run. We need to work together towards finding solutions," he said. Risser said Thailand had the second-highest rate of premature marriage in Southeast Asia, after Laos. He noted that some countries, including Malaysia, do not report marriage data. Also, one in seven (14.1 per cent) of Thai females aged 15-19 were married or in a union, according to Unicef's Multiple Indicator Cluster Survey for 2015-16.
http://www.nationmultimedia.com/detail/national/30350592
--------
URL: https://www.newageislam.com/islam-women-feminism/morocco-assigns-women-marriage-notaries/d/115912
New Age Islam, Islam Online, Islamic Website, African Muslim News, Arab World News, South Asia News, Indian Muslim News, World Muslim News, Women in Islam, Islamic Feminism, Arab Women, Women In Arab, Islamophobia in America, Muslim Women in West, Islam Women and Feminism