New Age Islam News Bureau
14 May 2012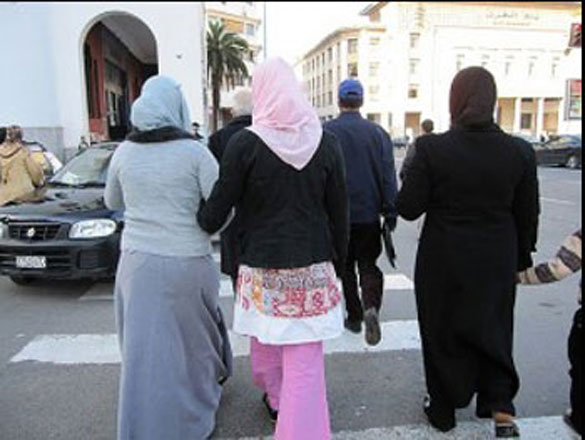 • Fatwa: woman using a cell phone will have acid thrown in her face
• Pakistan: Women's easy access to media, literature urged
• Woman murdered 5 yrs ago appears at Lahore HC
• Hazrat Fatima Zahra (SA), a glowing model for Muslim women
• Women to get their rights, says Imran
Complied by New Age Islam News Bureau
Photo: Women in Morocco worried over spate of assaults
URL: https://newageislam.com/islam-women-feminism/moroc-woman-beaten,-stoned-striped/d/7318
--------
Moroccan Woman Beaten, Stoned and Striped By Salafists over Revealing Dress
By AMBROSIA SABRINA
May 14, 2012
A Moroccan woman was reportedly stripped off her clothes in broad daylight after an ultra-conservative Islamist sect deemed her attire to be "too revealing" and not in line with religious code of conduct in the country.
The young woman, whose name and age remains undisclosed, was said to have been beaten and stoned for wearing a "short dress" at a market place in the city of Rabat, reported North African news website Magharebia. It was not known when the incident had happened.
The assault was reportedly carried out by Salafists, an extremist group who in recent years are believed to have a link with Al-Qaeda. The attack reportedly came on the heels of an announcement made by Quran reciter Abu Zeid, who called for a particular day to be consigned to "chastity and modesty", the report said.
The incident fuelled outrage among several human support organizations, especially women's right groups, who condemned the attack and brought to light the deficit in women's freedom in the country. Many Moroccans even took to Facebook to decry the assault and necessitate the increased protection of
"Though this incident appeared in the media and gained wider attention, that does not mean it is not repeated on an almost regular or semi-daily basis in all the alleys and streets of our cities," activist journalist Nora Al-Fuari from the Al-Sabah daily said, according to the report.
Follow us
"It may not end in stripping the girl off her clothing, but the verbal and physical harassment that women may experience is sometimes more heinous and horrible".
The incident also drew Moroccan Prime Minister Abdelilah Benkirane's attention. Benkirane reportedly said, "Individual liberties are sacred and are not to be touched".
Prior to becoming prime minister, Benkirane had said in statement that he "will never ask if a woman is wearing a short skirt or a long skirt."
Baghdad-based rights organization Beit Al-Hikma cited "a government headed by an Islamic party" as perpetuators of the attack, and that the incident "would block the move towards democracy, freedoms and the rule of law".
With over 98 percent of the population being Muslims, Morocco imposes idealistic concepts of Islam on its women population. These women, however, enjoy far more rights compared to women in other Muslim-dominated countries, and hold positions in several jobs strictly designated for men, according to the Professional Women's Network.
To report problems or to leave feedback about this article, e-mail: a.sabrina@ibtimes.com
To contact the editor, e-mail: editor@ibtimes.com
http://www.ibtimes.com/articles/340410/20120513/moroccan-woman-beaten-stoned-striped-salafists-revealing.htm
--------
Fatwa: woman using a cell phone will have acid thrown in her face
By Fouzia Saeed
May 14, 2012
Fatwas against women are becoming common again. In Noshki, Balochistan, a fatwa was announced in a mosque on May 11, stating that any woman using a cell phone will have acid thrown in her face. Another fatwa was issued in Kohistan about two weeks ago, warning 'NGO women' that they would be forcefully married to their local men if they dared to enter the area. There was a time when such fatwas were more common resulting in serious punishments inflicted on women who dared to venture beyond the four walls of their homes. However, over the last four years there has been a steady improvement in creating space for women to be more visible in public.
After decades of repression, women have turned the cycle in a different direction by building a high level of solidarity among women from many backgrounds. The awareness that one woman's advancement is linked to breaking the shackles of others has gained ground. Not just women, many men are fully in support of this process of change.
Who will tell the "fatwa guys" that they are nearly an extinct species. Who will tell these men that they need to wake up to 2012. Who will tell them that our interest in them is limited to a single news item. Perhaps they should be kept in a museum with the caption "we used to have people like this who thought work for women was 'un-Islamic' but marrying them by force was 'Islamic'. Idiots who thought talking on a cell phone was 'un-Islamic' but throwing acid in women's faces was 'Islamic'!!"
I think it is time for our society to forcefully stop such people who not only violate the dignity and safety of women citizens, but also give a bad name to Islam, a religion which places a priority on the dignity of women.
I am not so worried about these fatwas because I am confident that our society will not let itself regress. I am more worried about those who put on a progressive facade and continue to reinforce myths that imply women are inferior. Our society takes these 'put downs' for granted and use them in a patronising manner.
Putting down a man by calling him a woman, and thus a 'coward', has gone on for generations. These 'humiliations', while being common among the ignorant, do concern me more when they are commonly used by our leaders.
About two weeks ago, a senior minister raised his hands and announced that he was not wearing bangles, implying that he was not a coward but was 'brave' like a 'man' and would handle the violence in Karachi with a 'man's courage'. Ironically, men with their 'bravery' and 'courage' have already given that city enough trouble.
Some of the members of a political party referred to a leader of a rival party as 'baji'. In the past, women leaders from several parties also used such symbolism, when they threw bangles at opposing leaders or a dopatta at him to say he was a 'coward'. Times have changed and women are not going to put up with using their names as a put down any more. Article 25 in our constitution is not good enough. Women demand equal respect, especially when they are the ones who are the nurturers of life while excelling at the universities and bringing medals and Oscars back home.
I am a woman who wears bangles yet feels quite brave. I am also a daughter of a brave woman, a woman who wears bangles and has felt very brave all her life. I salute my Mother today on Mothers' Day and all the mothers who wear bangles while standing bravely and nurturing life.
http://tribune.com.pk/story/378440/fatwas-against-women-from-the-one-who-wears-bangles/
--------
Pakistan: Women's easy access to media, literature urged
May 14, 2012
Islamabad: International conference on 'Representation of Women in Media & Literature' started here at International Islamic University (IIU).
Professor Dr Bob Jenson from the University of Texas presented his opening remarks about the topic via Skype. The two-day conference is organised by the Critical Thinking Forum (CTF) at IIU in collaboration with Iqbal International Institute for Research & Dialogue (IRD) and Department of English, Fatima Jinnah Women University, Rawalpindi.
Fatima Jinnah Women University, Rawalpindi, Vice Chancellor Dr Samina Amin Qadir was the chief guest. IIU female campus Director Dr Zaitoon Begum, Department of English head Dr Munazza Yaqoob and a large number of students attended the conference.
Dr Bob Jenson said during his 25 years work on feminism and women he observed that man has been exploiting women in every society. He suggested that every society should ensure easy access for the women to the media and literature.
He lauded the efforts of gender justice in the societies. He also highlighted the periodical feminism and considered that gender injustice is threatening challenge to naturalise hierarchy.
Dr Samina Qadir said that both media and literature contribute more to the development of the society. There is a need to change the current scenario and to empower women in decision-making, she added. On the contribution of women to society, she said that women contribution as mother, daughter, wife and sister is so vital to all the societies of the world.
Dr Zaitoon Begum said that women rights are indispensable for the development of society. Various research papers were presented on the topic during the first day of the conference by Dr Munazza Yaqoob, Sofia Hussain, Katrina Hussain, Susie Abdou, Jennifer Lee, Maria Kari, Junaid Ahmad, Dr. Humaira Ahmad and Farida Hafeez.
http://www.thenews.com.pk/Todays-News-6-107978-Womens-easy-access-to-media-literature-urged
--------
Woman murdered 5 yrs ago appears at Lahore HC
May 14, 2012
LAHORE: A woman who was allegedly murdered five years ago appeared at the Lahore High Court on Monday.
Shahzia's husband had been serving a life sentence for her murder and had been in prison for the last two years.
Shazia informed the court that she had not been murdered but rather had left her husband following an argument and had then been abducted.
When Shazia found out that her Husband was serving a life sentence for her murder, she appeared before the court.
Shazia's father Dolat Khan who is a resident of Faisalabad had claimed five years ago that his daughter was murdered by her husband.
http://www.thenews.com.pk/article-48968-Woman-murdered-5-yrs-ago-appears-at-LHC
--------
Hazrat Fatima Zahra (SA), a glowing model for Muslim women
May 14, 2012
Tehran – Supreme Leader of the Islamic Revolution Ayatollah Seyed Ali Khamenei said on Saturday that Hazrat-e Fatemeh (SA), the beloved daughter of Prophet Mohammad (Peace Be Upon Him) is a model for Muslim women.
The Supreme Leader addressing a ceremony celebrating birthday anniversary of Hazara-e Fatemeh (SA) said that the first lady of Islam was a model in terms of piety, lifestyle and observance of Hijab. the Islamic dress code.
The Supreme Leader felicitated Iranian women and Muslim women elsewhere in the world on the auspicious occasion of birthday anniversary of Hazarat-e Fatemeh (AS) and birthday anniversary of Imam Khomeini.
Elsewhere in his speech, the Supreme Leader cautioned women against the destructive impacts of ignoring the Islamic dress code on themselves and the ethical values of the society.
Ayatollah Khamenei said that the auspicious birthday of the first lady of Islam has been designated as the 'Women's Day' and it is a religious obligation for Muslim women to follow Hazrat-e Fatemeh in line with Her Eminence's lifestyle, honoring family values and how accurately they must raise children in line with commands of Islam.
Full report at:
http://www.irna.ir/News/Politic/Hazrat-e-Fatemeh-Zahra--SA-,-a-glowing--model-for-Muslim-women,-Supreme-Leader/80127761
--------
Women to get their rights, says Imran
May 14, 2012
ISLAMABAD, May 13: Mother's Day provided Pakistan Tehrik-i-Insaaf an opportune moment to hold a convention of its women members in Islamabad that was as lively and as colourful as its jalsas.
Amid songs and music, Imran Khan, the chairman of PTI, promised his party would ensure that women got their due rights under law and their share in hereditary property.
Political observers noted that this was perhaps the first time that Mr Khan had given some concrete examples of his party's stand on women's rights so publicly. Despite his popularity among women, especially from the upper middle class, Mr Khan has been criticised by some for his conservative views, including his focus on women's rights as defined by the Sharia.
In that context, analysts observed, his statement on Sunday was a step in the right direction even though it was not seen to be enough by many. They pointed out that he did not specifically address contentious issues such as honour killings and domestic violence.
Full report at:
http://dawn.com/2012/05/14/women-to-get-their-rights-says-imran/
--------
URL: https://newageislam.com/islam-women-feminism/moroc-woman-beaten,-stoned-striped/d/7318