New Age Islam News Bureau
13 Oct 2013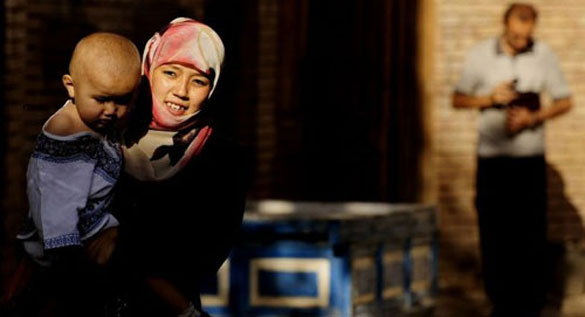 Syrian Child Refugees
------------
• I Want Malala as My Future PM, Says Miss Zardari
• Syrian Child Refugees Face Exploitation, Says UNICEF
• Saudi Wife Files for Divorce over Smoking
• Women Cannot Check Husbands' Marital Records Online, Says Saudi Justice Ministry
• Muzaffarnagar Riots: 27 Women Confirm They Were Raped, Says AMU Lawyers Forum
Compiled by New Age Islam News Bureau
URL: https://newageislam.com/islam-women-feminism/moroc-kiss,-muslim-society-shaken/d/13974
------------
Moroccan Kiss, Muslim Society Shaken By Internet Effect
Oct 12 2013
The trial of three teenagers for posting photos of themselves kissing on Facebook has sparked a storm of online protest in Morocco, where conservative Muslim values are being challenged on the Internet.
The offending couple, a boy and a girl aged 15 and 14, and their 15-year-old male friend who took the photos outside their school in the northern town of Nador, were arrested last week.
The arrests immediately triggered a wave of online support, with activists posting pictures of couples locking lips and calling for protest "kiss-ins", and the judge ordered that the teens be released on bail three days later, ahead of their trial on Friday.
"Social media are playing a more and more important role in monitoring both the authorities and Moroccan society, which remains deeply conservative," said political analyst Mohammed Madani.
"Activists agitating on Facebook are a potent force because they can get media attention, sometimes abroad, and can shake the conservative values both of society and the state," he added.
"As a result, the authorities review judicial decisions and sometimes challenge them, as happened in the case of the Spanish paedophile" mistakenly freed in July by King Mohamed VI.
Faced with public outrage at the decision to free convicted child rapist Daniel Galvan, along with dozens of other Spanish nationals jailed in Morocco, the royal pardon was hastily revoked, with the palace insisting the king had been unaware of the nature of Galvan's crimes.
Underlining the growing power of social media, US NGO Freedom House said last week that 55 percent of the Moroccan population regularly accessed the Internet in 2012, the highest penetration rate in Africa, up from 21 percent in 2007.
On the eve of Friday's trial, hundreds of Moroccan online activists renewed their demands that the charges against the three teenagers, of "violating public decency", be dropped.
More than two thousand people have indicated that they will attend a planned "giant kiss-in" outside parliament in Rabat on Saturday.
The Facebook link for the "kiss-in" is on https://www.facebook.com/#!/events/209127885927276/
The accused were arrested after a Moroccan NGO filed a lawsuit late last month charging that the published photos of them kissing outside their school had a negative affect on society, "and upset people's feelings".
"They are being tried under Article 483 (of Morocco's penal code) which relates to violations of public decency by a minor," their lawyer Monaim Fattahi told AFP.
The offence carries a possible two-year prison sentence.
Morocco has a reputation for religious tolerance and personal liberty, particularly when compared with other Muslim countries.
Women enjoy relatively extensive freedoms and there are plenty of bars in the main cities. But it still remains a deeply religious society.
Human rights campaigners in Morocco, for the most part secular-minded young people who are active online, say society is torn between religious conservatism and the growing importance of Internet communication.
"Weighed down by religion and social taboos, Moroccan society seems to be lost and divided. It has struggled to embrace a modern world characterised by the Internet and global communication," said activist Ibtissam Lachgar.
"It's always the question of personal freedom that is at the heart of this. It's like Moroccan society has been shaken by the Internet effect," added Lachgar, a co-founder of the Alternative Movement for Individual Liberties.
The Moroccan campaign group caused a stir in 2009 when members began boycotting the day-long fast throughout the Muslim holy month of Ramadan, and was arrested for staging a picnic outside a railway station in Rabat.
They have since called for the scrapping of a law criminalising Muslims for publicly flouting the Ramadan fast. But it remains in force.
http://english.ahram.org.eg/NewsContent/2/8/83773/World/Region/Moroccan-kiss,-Muslim-society-shaken-by-Internet-e.aspx
------------
I Want Malala as My Future PM, Says Miss Zardari
October 12, 2013
KARACHI - The daughter of former Prime Minister Benazir Bhutto and former President Asif Ali Zardari, Bakhtawar Bhutto Zardari has shown her support for Malala Yousafzai after the 16-year-old failed to win the Nobel Peace Prize.
Bakhtawar tweeted on Friday, "Forget Nobel, I want Malala as my future PM."
Similarly, Pakistan People's Party (PPP) patron in-chief Bilawal Bhutto Zardari wrote on the social media website, "Wazir-e-azam Malala Yousafzai".
Meanwhile, Aseefa Bhutto Zardari tweeted, "Malala may not have won the Nobel Peace Prize but she won the hearts of millions".
Apart from Bakhtawar, Bilawal and Aseefa, social media has been abuzz following the Nobel Peace Prize announcement.
Politicians and celebrities have tweeted their support for Malala, emphasising that even if she did not win the award, she won the hearts of millions.
http://www.nation.com.pk/pakistan-news-newspaper-daily-english-online/karachi/12-Oct-2013/i-want-malala-as-my-future-pm-says-bakhtawar
------------
Syrian child refugees face exploitation, says UNICEF
October 12, 2013
GENEVA — Child refugees who have fled Syria's civil war are vulnerable to exploitation including early marriage, domestic violence and child labor, despite efforts to keep them in school, the UN Children's Fund (UNICEF) said on Thursday.
More than one million children, some without parents or close relatives, are among 2.1 million refugees who have crossed mainly into Jordan, Iraq, Lebanon and Turkey since March 2011, the agency says.
Jordan hosts 540,000 Syrian refugees, straining health and education services and already scarce water resources, said Michele Servadei, UNICEF's deputy representative in Jordan.
Most Syrians live in host communities in the north, while 120,000 are at the teeming Zaatari camp in the Jordanian desert.
"In host communities they are much more exposed to child labor, to early marriage, to exploitation in general," Servadei told a news briefing in Geneva.
Some 200,000 Syrian refugees in Jordan are school-age, but only 80,000 are enrolled in education, often in classrooms with double shifts. Adolescents aged 14 to 17, many of whom had dropped out of school, were especially at risk, he said.
"The main coping mechanism that these children have in many cases is withdrawal...We noticed that actually many children don't go out of the house," he said.
"But the problem is that the house is not the safest place always. There is a high level of domestic violence among communities, definitely because of the war situation, but also because of the protracted displacement and the sense of frustration that it brings." Jordan lacks enough shelters for battered women, he added.
UNICEF operates 80 child-friendly spaces in Jordan, offering activities and psycho-social support to young Syrian refugees, some of whom suffer from post-traumatic stress disorder.
An estimated 30,000 Syrian child refugees are working in Jordan, Servadei said. A UNICEF assessment in the Jordan Valley in April identified 3,500 child laborers, mainly seasonal.
"They were working mainly on the farms, in many cases also hard labor, let's say 10 hours a day using pesticides," he said. Other children work in family bakeries or as mechanics.
UNICEF is providing cash assistance — 30 Jordanian dinars or about $45 per month - for families to remove a Syrian child from work and return him to school, according to Servadei. "We monitor the attendance, when the attendance is no longer there, the cash assistance gets stopped," he said. "But we are checking if that is going to be enough because actually most of these children are earning much more working, unfortunately."
In 2012, 18 percent of the registered marriages of Syrians in Jordan involved under-18-year-olds, up from 12 percent a year before, he said. Imams have the authority to approve marriages for youths over 16, but these often go unregistered, he said.
Syrian rebels are also alleged to have infiltrated refugee camps in Jordan seeking to recruit young people to fight in their homeland, Servadei said, declining to give specifics.
http://www.saudigazette.com.sa/index.cfm?method=home.regcon&contentid=20131012183473
------------
Saudi wife files for divorce over smoking
October 13, 2013
Manama: A Saudi woman is filing for divorce after she saw her husband smoke "secretly" near their home.
"When we got married four years ago, one of her terms was that I do not smoke," the husband said. "I do smoke, and I managed to hide it from my wife for four years.
Unfortunately, she saw me smoke secretly as I was standing with a neighbour near our home. She became very agitated and insisted on leaving the house and taking the children," the husband said, quoted by local news site Al Weam.
The wife was eventually driven to the family home in the Red Sea resort of Jeddah by her brother.
Online reactions ranged between full support to the wife for upholding her principles and her wish not to be associated with a smoker and sharp criticism for her for wrecking her family over a cigarette.
"It is her right not to have a husband who smoked, but she cannot destroy her family in a moment of anger," Sinam posted. "After all the husband smoked outside and did not bother her at home."
Sarrah, in another online comment, said that the wife had rushed into a decision that would gravely impact the family.
"We understand her anger, but it cannot be grounds for divorce. She should talk with him and remind her of the terms for their marriage," she posted.
Court data published in January indicated that Saudi women added divorce to the risks and dangers associated with smoking.
According to a report, more than 100 women in the Western city of Madinah have filed for divorce after their husbands refused or were unable to quit smoking.
"Courts in other cities in Saudi Arabia have also accepted cases filed by unhappy wives who wanted a divorce over the issue of smoking," Okaz daily said. "Attempts by reconciliation committees to keep the spouses have failed to convince the wives who insisted on smoke-free husbands. The issue is now being addressed before the wedding and several young women in Madinah have rejected marriage proposals from men who smoked," the daily said, citing a report on the status of smoking-related divorces.
The report was prepared based on studies and research on the effects of smoking on marital relations.
The daily said that around 40 per cent of Saudi university graduates flatly rejected to marry husbands who smoked.
The young women attributed their uncompromising decision not to "marry themselves into a smoking home" to health concerns about themselves, their future husbands and their future children.
A Saudi judge last year ruled that women who suffered as a result of their husbands' smoking were allowed to file for divorce.
In October 2012, Saudi judges set a new trend in the country by using cigarette smoking as a factor in child custody cases.
"A parent could now lose the custody case if he or she is proven to be a smoker," a legal official said.
"Under the emerging trend, the smoking factor is now being treated like the drinking factor and can decide the outcome of the custody case," he said.
The court would favour non-smoking parents and would factor smoking into custody cases to protect the child from the negative impact of passive smoking.
According to official figures, Saudi Arabia is home to six million smokers, including around 800,000 teenagers, mainly intermediate and high school students, and 600,000 women.
However, expatriates also account for a significant proportion of cigarette consumption in Saudi Arabia despite the increase in the number of awareness campaigns about health risks related to smoking and passive smoking and the adoption of several legislative restrictions.
http://gulfnews.com/news/gulf/saudi-arabia/saudi-wife-files-for-divorce-over-smoking-1.1242553
------------
Women Cannot Check Husbands' Marital Records Online, Says Saudi Justice Ministry
12 October 2013
The Ministry of Justice has denied rumours that the ministry had included a service on its website that enables women to find out if prospective husbands have been previously married by entering a man's civil registration number.
A source at the Ministry of Justice told local media that these rumors, which were posted on Twitter and Facebook, are false and that the ministry doesn't offer this kind of service on its website.
Twitter and Facebook users posted that women can enter their husband's civil registration number on the ministry's website to find out if they are married to another woman.
Mohammad Al-Babteen, director of the General Administration for Marriages at the Ministry of Justice, said that the ministry had halted this agreement with the National Information Centre because disclosing such information falls solely under the jurisdiction of courts and "mazzouns" (marriage ministers) and will not be made public.
Al-Babteen said submitting inquiries through civil registers before signing the marriage contract requires technical linkage with the Ministry of Justice, Civil Status and the National Information Center, which is still pending approval.
The director said his administration only suggested attaching the husband's details to the actual marriage contract.
http://www.arabnews.com/news/467526
------------
Muzaffarnagar Riots: 27 women confirm they were raped, says AMU Lawyers Forum
October 10, 2013
New Delhi,10 October 2013: During Muzaffarnagar communal riots dozens of Muslim women were raped but rarely they come out to share their agony due to social restraints. They preferred to be silent. But when the Members of AMU Lawyers Forum including some female lawyers visited Muzaffarnagar, 27 rape victims came out to tell their sufferings.
Talking to Muslim Mirror advocate Aslam Khan, the president of the Forum said: 'the Forum has sent five delegations to take stock of the situation, and till now six FIRs have been registered so far in connection with the rape incidents'. The women delegates from different courts of Delhi when visited the riot affected areas like Fugana, and tried to confirm about the rape cases. initially the victims didn't want to share their pain, but when the women lawyers insisted upon and assured them justice and punishment for the culprits then they broke the silence and shared their sufferings with them. Twenty seven rape victims have confirmed before those women lawyers that they have been raped and sexually abused. The women lawyers belonging to the forum say that the number of victims could cross fifty.
Advocate Aslam Khan said that the Forum will organize a meeting on 11 Oct in Ghalib Academy to take stock of the situation, and for the rehabilitation and compensation for the victims. The Delhi-based AMU Lawyers Forum will fight the legal battle of the riot victims especially the rape victims, said Advocate Khan.
http://muslimmirror.com/eng/27-confirmed-rape-cases-in-muzaffarnagar-till-now-amu-lawyers-forum/
------------
URL: https://newageislam.com/islam-women-feminism/moroc-kiss,-muslim-society-shaken/d/13974