New Age Islam News Bureau
16 Oct 2013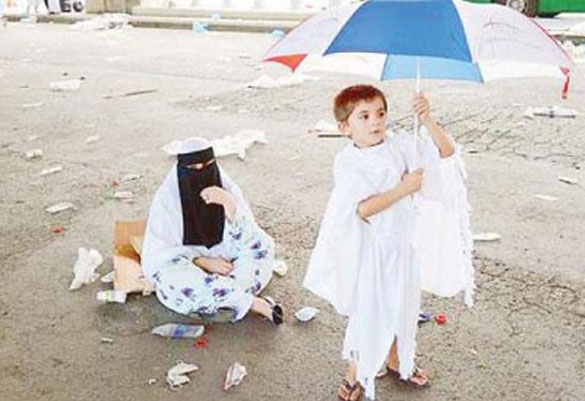 Mehyar, the 6-year-old child, holds out an umbrella for his mother during Haj
------------
• Syrian First Lady Asma Al-Assad Pledges to Stand by Husband
• Himachal Offers Muslim Women Free Bus Ride on Eid
• Algerian Woman Kept Her Dower Half a Century for Haj
• Afghan Women Risk Losing Post-Taliban Gains after Security Transition
• Saudi Women Drivers: Threat to State Religion and Politics
• Pak Beauticians Set to Greet Girls Intending to Doll Themselves Up at Eid ul Azha
• Khyber-Pakhtunkhwa LG Bill Proposes Increase in Reserved Seats for Women To 33%
• Mardan's Sole Orphanage Strives to Keep Its Children
• Haj Meeting Ends Strained Relations between 2 Sisters
• 6-Year-Old Pakistani Serves Mother during Haj
Compiled by New Age Islam News Bureau
URL: https://newageislam.com/islam-women-feminism/moroc-islamists-throw-chairs-kissing/d/14008
------------
Moroccan Islamists Throw Chairs at Kissing Couples
October 16, 2013
The Arab Spring, Thomas Friedman's favourite thing since his moustache and flat earth theories, has brought many benefits to the region. One is the Muslim Brotherhood's political victory in Morocco.
And where there's the Brotherhood… the good times really begin to roll.
A few dozen Moroccans took part in a "kiss-in" Saturday in Rabat to support three teenagers arrested for posting a picture of themselves kissing on Facebook. The protesters were confronted by onlookers as they kissed and chanted "Long live love".
Only around a dozen couples actually locked lips in the gathering outside parliament, but the demonstrators insisted they had defended the right to public displays of affection in Morocco's conservative society.
The kissing case has sparked uproar online, with citizens protesting against what they see as creeping conservatism in the Muslim country long known for being relatively liberal and tolerant.
A small group of counter-protesters shoved some of the couples and threw chairs.
"We are an Islamic country and kissing in public is forbidden. A simple kiss can lead to other things. These are atheists who are acting against Islam," one of them said.
The couple at the heart of the case, a boy and a girl aged 15 and 14, and their 15-year-old male friend who took the photos outside their school in the northern town of Nador, were arrested last week, charged with "violating public decency" and held in a juvenile centre.
Meanwhile marrying little girls for some reason doesn't violate public decency in Islam.
http://frontpagemag.com/2013/dgreenfield/moroccan-islamists-throw-chairs-at-kissing-couples/
------------
Syrian First Lady Asma al-Assad pledges to stand by husband
October 16, 2013
AFP, Damascus
Syria's first lady Asma al-Assad laughed off claims she has fled the war-hit country in footage broadcast on Tuesday, saying she was standing by her embattled husband President Bashar al-Assad.
The British-educated Asma has rarely appeared in public since the beginning of the conflict in Syria, where more than 115,000 people have been killed since March 2011 according to a watchdog.
But on Tuesday, hours after her husband attended prayers to mark the Muslim Eid al-Adha feast in Damascus, Syrian state television broadcast a clip of the first lady.
The mini-feature showed her comforting the bereaved and planting olive trees with children, dressed in black trousers and a grey T-shirt with the Syrian flag on the front.
"I am here, my husband and my children are here in Syria. It's obvious that I'd be here with them," she told reporters, when asked of claims that she had left the country.
"How can I teach my children to love Syria if they don't live here?" she added with a smile.
"I was here yesterday, I'm here today and I will be here tomorrow."
There was no indication of when the footage was recorded or where.
http://english.alarabiya.net/en/variety/2013/10/15/Syria-first-lady-pledges-to-stand-by-husband-.html
------------
Himachal offers Muslim women free bus ride on Eid
October 16, 2013
Muslim women in Himachl Pradesh will be allowed to travel free within the state on state roadways buses on the Eid-ul-Azha festival, the government said Tuesday.
Free traveling facility on Himachal Road Transportation Corporation (HRTC) buses would be extended to Muslim women on Wednesday, Transport Minister G.S. Bali said in a statement.
Earlier, the government has allowed the women to travel free in HRTC buses on Raksha Bandhan and Karva Chauth.
The HRTC has a fleet of over 2,200 buses.
http://newindianexpress.com/nation/Himachal-offers-Muslim-women-free-bus-ride-on-Eid/2013/10/15/article1837052.ece
------------
Algerian woman kept her dower half a century for Haj
October 16, 2013
An Algerian woman preserved her dowry money zealously for decades so she could perform Haj. For Zainab, who has witnessed 80 summers, standing in Arafat is a dream come true.
"This is my greatest joy, my real joy indeed. For years now, I saved my dowry (the money paid by the groom to the bride according to religion and traditions) so that I could perform Haj one day. As I stand here in Arafat, raising my hand to the Almighty asking him for forgiveness, this is the day I have been living for," she exclaimed.
Zainab's wrinkles, which have changed the features of her face, momentarily disappear as she recalls her moments of youth, particularly the day she got married. "That was the day of the birth of my dream to perform the Haj rituals, to stand in Arafat and move between the holy sites, to cry at the Grand Mosque in Makkah and ask the Almighty for forgiveness."
Zainab is more than 80-year-old now, but the joy and contentment she experienced made her restless tongue continue uttering words in praise of the Almighty.
The Algerian Haji kept staring at Mount Al-Rahma Mount in awe, not believing she was actually in the place she dreamt to be all her life, saying: "This is my own special Eid, my real joy."
Tears of joy came running down her cheeks as she stood there in astonishment, satisfaction and peace of mind enjoying the greatest day of her life.
http://www.arabnews.com/news/467884
------------
Afghan Women Risk Losing Post-Taliban Gains After Security Transition
October 16, 2013
Women in Afghanistan have made important legal and political advances since the removal of the Taliban regime after the U.S. led invasion in 2001, yet those gains could be erased after the 2014 security transition from the international coalition to Afghan forces.
In a new report, the International Crisis Group (ICG) sheds light on the precarious legal status of Afghan women — a status far stronger in theory than in practice. Gender equality is ensured by the war-torn country's post-Taliban constitution, and the Elimination of Violence Against Women (EVAW) law criminalizes rape for the first time in the nation's history and compels the government to protect women. Unfortunately, equality on paper hasn't led to security in reality. According to the report, "Years of prioritizing counter-insurgency over community policing have impeded the emergence of a police force able and willing to protect women from violence." Additionally, just 1 percent of the Afghan National Police are women.
There is a growing fear among Afghan women that the withdrawal of the international forces at the end of 2014 might leave them helpless to oppose a rollback of the laws that have helped them slowly gain a more equal stake in Afghan society. As the ICG notes, girls were banned from schools under the Taliban and women largely forbidden from employment. Over a decade after their removal from power, 40 percent of all Afghan schoolchildren are girls, and due to constitutionally mandated quotas, 27 percent of parliament is composed of women.
But the Taliban are far from vanquished, and this year's peace talks between President Hamid Karzai's government and the ultraconservative Islamist group have ignited fears among women. While the Karzai-appointed High Peace Council has stressed that any peace plan "must not jeopardize the rights and freedoms that the citizens of Afghanistan, both men and women, enjoy under the Constitution," the ICG notes with concern that women on the Council have not been included in direct talks with the Taliban.
Afghan women have real reason to be concerned with the coming security transition. Even in the current government, "conservative members of parliament have strongly opposed the EVAW law, calling it un-Islamic," while the Taliban have insisted its decision to endorse the current constitution — and its affirmation of gender equality — will come from its hard-line religious leaders. As recently as August, a new electoral law reduced the 25 percent quota for women's representation in provincial councils to 20 percent. The legal standing of women is eroding, and the return of the Taliban may damage it further. According to the ICG, the Taliban "acknowledges it condones attacks on teachers and students who fail to comply" with their schooling philosophy, which includes the separation of boys and girls, the refusal to teach English to girls, and a greater emphasis on Islam.
The international community has, at least rhetorically, taken steps to solidify the gains made by women in Afghanistan. At a meeting in Tokyo, $16 billion in civilian aid was pledged to the country so long as human rights (including women's rights) were upheld and corruption was reduced.
The ICG certainly holds the international community responsible for ensuring that the progress Afghanistan has made on women's rights does not collapse after the transition. The group recommends that donor countries help fund the development of a true, effective community police force, and use aid to develop education and health service infrastructure, which will in turn provide job opportunities and services for women. The ICG also encourages donor countries to enforce the conditions of the Tokyo agreement by limiting aid if current laws protecting women are weakened.
But most of the responsibility for holding the lines in the fight for women is held by the Afghans themselves. One of the major obstacles for women in Afghanistan is the lack of ability — and lack of will — to prosecute crimes against women under the EVAW law. According to the ICG, building a professional police force with viable career paths for women, as well as fortifying the formal justice system, could ease this problem. Additionally, protecting female journalists, healthcare workers and educators in rural areas could weaken the threat of violence against women and encourage their growing participation in these vital fields.
As the security transition draws nearer and a brokered peace with the Taliban seemingly inevitable, the progress of Afghan women over the last decade is falling under threat. The world must partner with Afghanistan to protect that progress. As the ICG warns, "Women's empowerment cannot be fully achieved without peace, but a sell-out on their rights would undermine prospects for a stable, inclusive, democratic post-transition Afghanistan."
http://thinkprogress.org/security/2013/10/15/2781281/afghan-women-risk-losing-post-taliban-gains-security-transition/
------------
Saudi Women Drivers: Threat to State Religion and Politics
October 16, 2013
As Saudi women's October 26 right to drive campaign accelerates, a novel argument has taken off in favour of the ban on female drivers. Conservative cleric Sheikh Saleh bin Saad al-Lohaidan claims that driving poses a risk to women's ovaries as it pushes up the pelvis, and could cause birth defects in unborn children.
This pronouncement is in keeping with that of Iranian cleric, Hojatoleslam Kazim Sadeghi, who claimed that earthquakes were caused by women's immodest dress, which led to promiscuity. It is also congruous with a society where beheadings are punishment for sorcery and foreign housemaids charged with witchcraft were sentenced by a Saudi court to 10 years in prison and 1,000 lashes.
For many Saudi women, mobility is restricted by inadequate public transport and the cost of chauffeurs. The petition associated with the "October 26 Driving" campaign has reportedly attracted 11,000 followers through Twitter, and urges the government to allow women to drive a car. It also demands an explanation for the legal basis of the ban.
In 2007, Saudi feminist Wajeha Al-Huwaider presented a petition to King Abdullah, noting that in the past, Muslim women had used whatever mode of transport was available to them, without infringing religious doctrine. She collected signatures for the petition in public areas and via an Internet appeal, despite harassment, intimidation, and repeated blocking of the e-mail address. The petition received wide international media coverage but a government promise to rescind the driving ban the following year was never kept. Al-Huwaider has also campaigned against the mahram or guardianship laws that give male kin control over women's daily lives, including permission to travel outside the home. Government commitments in 2009 to end the system of male guardianship, outlaw gender discrimination, and give women full citizenship were never honored.
Women's rights activist Manal al-Sharif, initiated the Women2Drive social media campaign in 2011. She was filmed by Wajeha al-Huwaider while driving in the city of Khobar, and the video was published on YouTube. Al-Sharif's imprisonment for nine days led to an international outcry. In the same year, a woman found guilty of driving in Jeddah was sentenced to 10 lashes by a Saudi court.
For many women who want the driving ban lifted, the issue is a push toward wider reforms, supported by an increasing number of men. However, there are underlying religious and political potholes. No religious law prohibits women driving, yet clerics and conservative Saudis argue that lifting the ban would erode modesty and encourage undesirable Westernization. Women might become independent, leave the house without supervision, and give up Islamic dress.
Transport authorities would be faced with logistical problems. Photo identification on a driver's license requires sinful removal of the niqab or face veil. Under strict rules of gender segregation and criminalization of sexual mixing in public, religiously supervised squads of female traffic officers and women-only transportation centers would be required. Traffic officers and religious police would be obliged to stop women drivers in order to determine if any of their passengers were unrelated men, as mixed seating in a car is a punishable crime.
Loosening of sexual segregation and control of women pose fundamental threats to the social order, which is built on a puritanical Wahhabi version of Islam, and the symbiotic Saudi relationship of mosque and state. Undermining this historic bond could throttle the theo/political balance, already strained by the many reforms King Abdullah has embraced. These include women's right to vote and run as candidates in municipal elections from 2015, a major campaign against domestic violence, and the appointment of 30 women to the Shura Council, which advises the monarch on new legislation. Recently, the council rejected recommendations by three female council members to discuss lifting the driving ban.
Under new rules announced earlier this year, women may ride bicycles or buggies in recreational areas if they are dressed in full Islamic attire and are accompanied by male guardians. Moreover, Saudi female film director Haifaa al-Mansour gained royal approval for Wadjda, a somewhat subversive story of a girl who hopes to ride a bicycle.
The Saudi government has dealt with many crises in the past, and successfully defused the Arab Spring uprising by distributing $37 billion in welfare payments. In the case of women would-be drivers, they could try a new welfare package of free chauffeurs. It might just do the trick.
http://www.huffingtonpost.com/ida-lichter-md/saudi-women-drivers-threa_b_4037153.html
------------
Pak Beauticians Set to Greet Girls Intending to Doll Themselves Up at Eid ul Azha
October 16, 2013
ISLAMABAD: Beauty salons in the twin cities are getting ready for a rush of customers ahead of Eid ul Azha, when women and girls pop in for various treatments.
With the Eid preparations in full swing, salons of the twin cities have geared up to handle the inflow of customers. Women and girls queue up for different treatments at saloons, which includes facials, haircuts and hair dyeing.
Salma, a beautician at the Supermarket, said, "We are always busy on the occasion of Eid, as everyone wants to look better on Eid days." She said all the beauty salons across the twin cities, either in posh areas or in small localities, would be busy ahead of Eid celebrations.
"People of all ages will come to beautify themselves. Everyone's requirements will be different, but the demand for henna designs will be on top of all," another beautician at G7 market told this scribe.
Beauty parlours make special arrangements and hire extra staff to deal with the increasing number of customers coming in during the first week of Zilhaj.
Owners of beauty parlours usually cancel the holidays of staff to cater to the large number of customers. "We bring very experienced and professional beauticians to give distinguished services to our customers without any delay," said Naima, who runs a parlour in F7 market. The rush at beauty salons continues on the first day of Eid as well, and women keep on going there, especially to get their hair done. "Girls like to cut their hair and get a new colour and add some highlights, many come to make their hair look different only for one day," a beautician at the Karachi Company said.
A day or two before 'Chand Raat' brings a lot of customers to the parlours, as ladies throng the parlours to get their hair cut, blow dry and straighten. They also visit the parlours for facials, manicure, pedicure, waxing, bleaching, threading, hair treatment and dyeing done before the big day.
Naila, a customer, said, "It's time to pamper my skin now, and I would take facials to rectify my dehydrated skin for Eid. We go to visit our families and families come home to us so it's a festivity for full three to four days. I would get a new haircut so that everyone likes it," she said.
http://www.dailytimes.com.pk/default.asp?page=2013\10\15\story_15-10-2013_pg11_4
------------
Khyber-Pakhtunkhwa LG Bill Proposes Increase in Reserved Seats for Women To 33%
October 16, 2013
PESHAWAR: The proposed draft of the Khyber-Pakhtunkhwa Local Government (LG) bill for 2013 has increased the proportion of reserved seats for women in Tehsil and district councils from 10 to 33%.
The 33% quota of reserved seats for women in elected bodies was first introduced under the local government system by former president General (retd) Pervez Musharraf in 2001. However, the local government act of 2012 reduced this number to 10% for tehsil and district councils.
The 2001 act retained 5% seats for minorities and peasant workers but allocated the 5% provided to technocrats in 2012 to the youth in the proposed legislation. Section 16 of the K-P Local Government Act, 2012 provided 10% reserved seats for women in district and Tehsil councils and 5% each for peasants/workers, non-Muslims and technocrats.
The draft of the LG bill for 2013 was introduced in the K-P Assembly during last week's session. It has been referred to a select committee for further discussion and changes.
Under the new bill, village and neighbourhood councils will replace union councils. The grassroots level of local government will comprise 5 to 10 members, determined on the basis of population and elected seats. Two seats have been reserved for women and one seat each for peasants/workers, non-Muslims and youth. A reserved seat for youth on village and neighbourhood councils was non-existent in previous laws.
The proposed bill envisages a total of 1,540 seats including seats for women, non-Muslims, peasants/workers and youth across 25 districts of the province. Peshawar will have the largest district council, comprising about 138 members, including 92 general, 31 women and five each for minorities, peasants/workers and youths, laid down in the second schedule of the proposed legislation.
Similarly, the newly-carved Torghar district will have the smallest district assembly comprising a total of 23 councillors, including 15 general seats, five seats for women, and one seat each for non-Muslims, youths and peasants/workers.
The proposed bill also states elections for members of village, neighbourhood, tehsil and district councils shall be held on the basis of adult franchise and joint electorates.
The law further states members on reserved seats in tehsil and district councils shall be elected through proportional representation system of political parties' list of candidates on the basis of total number of general seats secured by each political party in the respective local council. This is similar to the current practice of elections on reserved seats for national and provincial legislatures.
The tehsil and district councils will serve as the electoral college for positions of nazim/naib nazim at district and tehsil levels. However, in the case of village and neighbourhood councils, the candidates securing the highest and second highest number of votes in the elections for general seats shall be elected as nazim or naib nazim, respectively.
http://tribune.com.pk/story/618164/more-representation-lg-bill-proposes-increase-in-reserved-seats-for-women-to-33/
------------
Mardan's sole orphanage strives to keep its children
October 16, 2013
PESHAWAR: The Anjum Sarhadi Orphanage was established in 1938. Seventy-five years later, it remains the only orphanage in Mardan district.
With a growing number of terrorist attacks and inflation, the orphanage has been overburdened in recent years. Located on Shamsi Road, the centre celebrated its platinum jubilee this month with its 10 members and 80 resident students.
The single-storey building with 10 small rooms is one of the few functional centres in the country. The building was established by Qazi Abdul Akbar Khan Ghazi, who was a proud holder of a gold medal for 'Unsung Heroes of Independence' that was awarded to him on August 14, 2001 by the governor.
His orphanage provides lodging for boys only. The departments include Madrassa Taleemul Quran, Darul Atfal and Darul Iqama. A library, clinic and computer laboratory are part of various facilities offered.
The upper storey is used for residential purposes by the president and administrator of the centre, Qazi Muhammad Saqlain. The ground floor is used by students.
"Over the past six years, the government has not provided any funds or support to the orphanage," said Saqlain, adding the government's social welfare department gave them Rs4,000 nearly 13 years ago. "Earlier the district zakat committee would give Rs60 per child, but this too stopped after 2007."
The building cannot accommodate more than 80 students at a time. Each room is shared by eight students. "A large number of children come for admission every week. Their numbers are drastically rising due to an increase in terrorism incidents," he said.
Due to financial constraints, the centre has had to cut down on many of its expenses. Initially they could provide for education until a graduate degree. "Now the situation has changed. We cannot afford to teach them beyond matriculation," he added.
At present, the funds donated are spent on food, clothing, medical expenses, pocket money for the children, and the building's maintenance, among other things.
Vice President and Accounts Manager Haji Fazal Kareem said children are faced with a multitude of problems while the spike in crime has really increased the burden on them.
He also lamented that no one from the government has advanced their cause although they are an apolitical organisation. "It is our strict policy to stay away from politics," he said, adding the institution is in need of help and more donations.
"It is difficult to run an institution like this without proper funding. The donations are insufficient to meet the growing expenses," said Kareem. But despite being overstretched by the lack of funds, pursuing the mission has its own feeling of satisfaction.
"My father died when I was four-years-old so my mother left me here," said Shah Sawar. The child is now in grade 6 and hopes to become a doctor when he grows up. "The administration takes care of us like our parents would. I feel at home."
The centre proudly shares details of the exemplary alumni who graduated from here and are serving the country in different capacities.
Among their 240 graduates, some of the prominent people are lieutenant colonel (retd) Faridullah, Mardan National Bank Manager Behramand, Government Postgraduate College principal (retd) Fazal-e-Azeem and Government High School Saidu Sharif principal (retd) Abdul Kamal, among others.
Qazi Saqlain said the centre needs around Rs5 million to expand the building to cope with the increasing number of children. In his tenure, former chief minister (CM) Ameer Haider Khan Hoti donated Rs1 million from his funds.
The centre has around 150 donors and monthly expenses amount to nearly Rs400,000.
Special Assistant to the CM on Social Welfare Mehr Taj Roghani said they have held meetings to gather data from all non-governmental organisations and social welfare associations, including orphanages, and are working on a strategy to provide support. "The Mardan orphanage is on our priority list. We will visit the institute soon to discuss all their issues."
http://tribune.com.pk/story/618600/guardian-angel-mardans-sole-orphanage-strives-to-keep-its-children/
------------
Haj meeting ends strained relations between 2 sisters
October 16, 2013
HOLY SITES — On Arafat plain, two sisters Ani and Marya from Indonesia met after a break off of relations for over 25 years following a family dispute between Ani and their mother due to her demand for her share in the inheritance after her father's death.
The conflict between them was to the extent that she kept away from her family for all these years after receiving her share of the inheritance. She and her husband left the village in which her family was living. The scene of the reunion was very emotional with continuous embracing and tears flowing unchecked, depicting the harshness of the times and agony of separation.
Ani told Okaz/Saudi Gazette that she used to feel the longing and need for her family and wanted to check on their conditions, but her husband was stubborn, as he forced her to make a choice between remaining with her children and divorce if she communicated with her family.
After several years of break in relations, Ani worked in several Arab and Gulf countries due to her family's economic conditions. This forced her to work as a housekeeper until she got a job with a Gulf family, which came to perform Haj this year and she came with them.
She had the intention of looking for her family when she returned to Indonesia. She stressed that she would never leave them, especially after learning that her husband had relations with another woman during her absence for work abroad.
http://www.saudigazette.com.sa/index.cfm?method=home.regcon&contentid=20131016183751
------------
6-Year-Old Pakistani Serves Mother during Haj
October 16, 2013
MINA — A six-year-old Pakistani child, Mehyar, has been caring for his mother ever since they arrived at Mina.
He holds an umbrella over his mother's head to protect her from the sun, and hands her a piece of cardboard for her to rest when she feels tired. He is seen running around her to cater for her needs, even though she did not ask him to do so.
He said that he is very keen on caring for and honouring his mother, as his Qur'an teacher had stressed on him to do.
Um Mehyar said that she came to Haj a few years ago with her mother who is now deceased.
As she was the only child, she used to care for her mother, whether during Haj or at home.
When Um Mehyar was married, she did not leave her mother's house so that she may care for her.
She infused in her son good manners and goodwill, and is grateful to God that she could perform Haj with her son. She said her son was very eager to see Makkah, Madinah and the two holy mosques.
Mehyar was discussing with his mother various Islam teachings, and that he wanted to go to paradise, which his teacher told him that he will not, unless he honors his mother.
http://www.saudigazette.com.sa/index.cfm?method=home.regcon&contentid=20131016183750
------------
URL: https://newageislam.com/islam-women-feminism/moroc-islamists-throw-chairs-kissing/d/14008