New Age Islam News Bureau
19 Dec 2012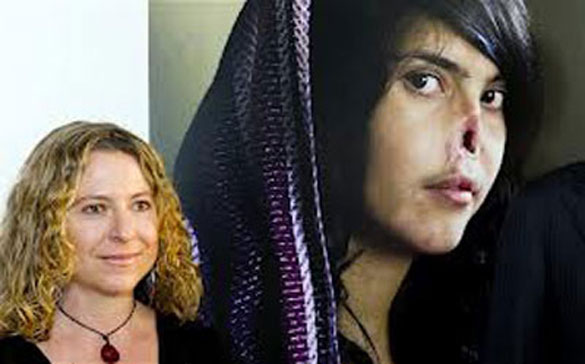 • Afghan woman with no nose to undergo surgery to rebuild face
• Afghan female power lifting athlete wins gold medal
• Turkey's middle-class women mix fashion with Islamic piety
• What future faces Afghan women after U.S. forces depart?
• Savita-effect: Ireland to legalise abortion after horror death of Indian woman
• TV sheikh gets jail sentence for defaming Egyptian actress
• Pakistan: Hindus hold protest for land ownership
• Pakistan: Violence against women rampant'
• Nigeria: Groups Advocate Women Participation in Policies
• Tanzania: Gender Violence Barrier to Zanzibar Development
• Violence Against Women Will Have Negative Impact On National Development - Rosmah
• Bahrain wins UN seat
• Once a symbol of new Afghanistan, can policewomen survive?
• A hundred days of promoting the role of women in peace and security
• Million shekel baby: The story of an Israeli world boxing champion
• Nigeria: Group harp on protection of women's rights
• Depression not uncommon during pregnancy
• Facebook row: Closure report against two girls filed in Palghar court
Compiled by New Age Islam News Bureau
Photo: Afghan woman with no nose to undergo surgery to rebuild face
URL: https://newageislam.com/islam-women-feminism/more-underage-muslim-girls-marrying/d/9737
------------
More underage Muslim girls marrying in Malaysia
Yong Yen Nie, Asia News Network
December 19 2012
In Malaysia, those under 16 years of age cannot drink or drive. But marry? Increasingly, it seems, yes.
Those under 16 can apply, along with their parents, to Islamic courts for consent to marry, and some states are reporting a rising number of such applications.
Recently, Nur Fazira Saad, a 12-year-old Muslim girl in Johor, was allowed to marry her 19- year-old boyfriend Mohd Fahmi Alias, after her parents caught her spending a night at his home. Her parents said the marriage was to prevent her from sinning and having premarital sex.
Their marriage on November 17, widely reported in Malaysian newspapers, sparked an uproar, with activists calling early marriage a threat to a girl's education as well as her mental and physical health.
"It is a contradiction for the government to impose mandatory jail sentencing for statutory rape, but allow underage girls to have sexual relations simply by being married," said Suri Kempe, an activist with Sisters In Islam.
Nur Fazira has quit school to concentrate on becoming a housewife. "We have not thought about having children yet," she said. "What is important now is the love between the two of us."
Her husband says he will support her on his 1,000 ringgit (US$327.97) monthly income from harvesting oil palm fruit.
In Malaysia, the legal age for most people to marry is 18. But non-Muslims between 16 and 18 can marry with the consent of the chief minister of their state.
For Muslim boys under 18 and girls under 16, permission must be sought from the Shariah court.
Islamic court records show that some 1,065 Muslims applied for early marriage in 2010. The procedure is simple and usually approved as long as documents and guardians' consent are given.
Researchers say the figure does not include illegal and undocumented non-Muslim marriages.
"Whether it is 100 or 1,000, it is worrying enough that there are girls - who are supposed to be in school at that age - getting married," said Dr Noraida Endut, a researcher on child marriages, from Universiti Sains Malaysia.
"Young married girls are likely to drop out of school, and are at higher risk of health complications from bearing children at a young age," she said.
Statistics are hard to come by as there is no standard national record of child marriages. Muslim marriages are governed by state laws instead of federal, and so, administrative procedures vary from state to state. However, in some places, there is a rising trend.
In Kedah, statistics from the state Islamic Religious Department show that 75 underage individuals applied to marry in 2008, 99 in 2009 and 101 in 2010. Almost all were girls under 16.
Many of these marriages occur to prevent sex before marriage, or because a girl is already pregnant.
The secretary-general of the Syariah Lawyers Association, Moeis Basri, defended child marriages. He said Islamic courts provide sufficient protection for the couple, especially the bride, as she has to be accompanied by a male guardian when applying for the court's consent to marry.
"There is nothing wrong with child marriages, as long as the couple is prepared for it," Moeis said.
"There are people who got married at the age of 15 and live happily until today, and there are some that marry at ages 30 and 40, but are unhappy."
http://www.thejakartapost.com/news/2012/12/19/more-underage-muslim-girls-marrying-msia.html
------------
Afghan woman with no nose to undergo surgery to rebuild face
Dec 19, 2012
A young Afghan woman mutilated by Taliban militants when they cut off her nose and ears has spoken of her hope for the future as she undergoes surgery to rebuild her face.
Aisha Mohammadzai, or Bibi Aisha, became a symbol of the militants' cruelty and repression of women when she was photographed at a women's shelter two years ago.
She is now undergoing a series of complicated and painful operations to rebuild her nose after being taken to America in late 2010.
Aisha, who says she is 20 or 21, underwent a fourth operation, lasting eight hours, earlier this week at the Walter Reed National Military Medical Centre in Bethesda, Maryland.
Surgeons hope the procedure marks the halfway stage in their work and they can complete the reconstruction next year.
A limp piece of skin, taken from her forearm, has already taken the place of her nose, but she said she was undeterred by her appearance.
"I don't care. Everybody has some kind of problem," she told CNN. "At the beginning, I was very scared. I was scared to look at my face in the mirror ... to think what will happen in the future to me. But now I'm not scared anymore." Doctors will use cartilage from her ribs to rebuilt the structure of her nose and then cover it with skin from her forehead, which has been swollen with painful injections of saline.
Her case came to prominence when Time magazine used a picture of her on its cover, with the suggestion that this was what would happen if the West left Afghanistan.
She was married off as a child bride, and fled her husband, a Taliban fighter, after he and his family beat her and treated her as a slave.
She was captured and returned to her village in the southern province of Uruzgan, where her husband and in-laws mutilated her after a local Taliban mullah judged the case and decided to make an example of her.
Doctors have delayed the surgery until now after they judged she was not emotionally fit for the long, painful procedures when she first arrived in America.
At first she threw violent tantrums and would occasionally hurt herself during what doctors called "faux seizures".
She is now living with an Afghan family in Maryland and says the nightmares that plagued her when she first arrived have stopped.
"What happened, it's part of me, part of my life and it's all the time in my mind and with me," she told CNN. "But I have to live, and I have to love."
http://www.telegraph.co.uk/news/worldnews/asia/afghanistan/9753639/Afghan-woman-with-no-nose-to-undergo-surgery-to-rebuild-face.html
------------
Afghan female power lifting athlete wins gold medal
By SAYED JAWAD
December 18 2012,
A team of 18 Afghan power lifting athletes who attended a competition in India returned back to Afghanistan with major achievements.
The team included 18 athletes including 16 male and 2 females from the national powerlifting, and achieved gold medals in the competition.
The championship was organized at Kambathu city of India where Sadia Ayoubi managed to achieve 3 gold medals competing in 74 kilograms.
The competition was organized between 10 to 14 December by power-lifting federation of India and the other 17 Afghan athletes also achieved medals competing in their respective weights.
However Sadia Ayoubi was the only Afghan female athlete who successfully competed with her rivals from India, Saudi Arabia, South Korea, China and Kazakhstan, and achieved gold medal in women's 74kg power-lifting championship.
Sadia Ayoubi said the championship was organized in a high standard and said she was satisfied from the competition, and urged other Afghan youths to step up efforts for the development and achievement of pride for Afghanistan.
She said, "The Afghan youths in the firs step should prefer to join sports and must be keen and committed to other fields which they prefer for their career in a bid to have a effective role for the development of their country."
She competed against her rivals in women 100kg, 85kg and 150kg. She also achieved gold medal during Asia power lifting championship in Kazakhstan in 2011.
Afghan athletes have managed to have major achievements during the recent years despite having less financial and moral support from the government.
Reporter: Qiam Noor, Kabul
http://www.khaama.com/afghan-female-powerlifting-athlete-wins-gold-medal-2067
------------
Turkey's middle-class women mix fashion with Islamic piety
Constanze Letsch
18 December 2012
Do Coco Chanel and Islam go together? Turkey's Âlâ, a high-fashion magazine and the first to feature models in headscarves, certainly seems to think so. After its first issue hit the newsstands in June 2011, circulation quadrupled to 40,000 in only four months.
It comes down to simple economics. Over the past decade, Turkey has enjoyed an economic boom that has benefited, as before, the secular urban elites, but also conservative supporters of the AKP governing party and former rural entrepreneurs who have enjoyed unprecedented upward mobility, leading to the formation of an Islamic, urban middle class.
This new Islamic bourgeoisie has money to spend and the opportunities to do so are increasingly diverse: luxury gated communities, boutiques, restaurants, hotels and sports clubs catering to a more pious lifestyle are springing up in urban centres.
"The AKP successfully integrated a large, formerly disregarded part of society into the consumer market," said the anthropologist and journalist Ayse Çavdar. "In that sense, market dynamics succeeded where politics have failed: it normalised [a religiously conservative lifestyle]. A magazine like Âlâ is a product and a sign of this normalisation."
Âlâ's fashion editor, Büsra Erdogan, thinks that the magazine filled an important void. "It was a veritable explosion – obviously scores of conservative women had been waiting for a publication like this for a long time. Many readers told us, 'Why did it take so long?'"
While Âlâ adheres to Islamic clothing rules – headscarves and the length of hemlines and sleeves – it does not cater exclusively to women who cover their heads, and Islamic clothing companies feature next to designer brands such as Gucci, Louboutin and Stella McCartney.
Ebru Büyükdag, Âlâ's editor-in-chief, said the magazine was initially criticised as being Islamist by secularists, and for commercialising Islam by some pious Muslims. "But we are not handing out fatwas, and we don't break any Islamic rules," she said. "Why should conservative women not be allowed to wear nice clothes?"
With wealth and visibility comes a new self-confidence among conservative women. "People used to look down on women wearing the headscarf," said 35-year-old Esra Can, owner of a beauty salon in Istanbul's conservative Fatih neighbourhood. She opened her own business after her decision to wear the headscarf put an end to her career as a sales director in the textile industry. "I was put before the choice between my headscarf and my job," she said.
Adile Türkmen, a beautician who had to drop out of university because of her headscarf, said she breathed a sigh of relief at the appearance of Âlâ. "It brought a sense of normality," she said, arguing that Âlâ was a sign things had changed. "When I used to go to the opera, people stared at me like I didn't belong. Now I go everywhere, to restaurants and rock concerts." She laughed. "Headbanging with a headscarf? No problem!"
Esra Can agreed: "With the AKP government and through economic growth people started to look past this piece of fabric. Now people judge me by what I achieve – which is a whole lot." Her beauty salon, nestled between brand name shops, wedding gown boutiques and fancy patisseries, draws clients – with and without headscarves - from the neighbourhood and from all over Istanbul.
Âlâ's editor-in-chief Ebru Büyükdag underlined the importance of featuring articles on professional conservative women who have succeeded – women like Esra Can. "We want to present positive examples and role models to young women."
She admitted that female employment in Turkey was still dismally low – only 28% of women currently participate in the workforce, less than half the European Union average. "We rally for female quotas at the workplace and for an end to the preconception that women wearing headscarves can only work in low-skilled and low-paid jobs, if at all," she said. "Many companies still refuse to employ highly qualified women for executive positions only because they cover their heads."
Büyükdag said that magazines such as Âlâ also helped to bridge the gap between practising Muslims on one hand and secularists who are anxious about an Islamisation of Turkey on the other. "It shows that we like the same things: we like to look good, we like style, we like to eat good food. It's a place to start."
http://www.guardian.co.uk/world/2012/dec/18/turkey-women-fashion-islam
------------
What future faces Afghan women after U.S. forces depart?
By Editorial Board
December 11, 2012
THE SLAYING Monday of a women's advocate in Afghanistan underlined one of the greatest dangers of the approaching withdrawal of U.S. and NATO troops: that the fragile gains of women in the 11 years since the downfall of the Taliban will be reversed. Though the international mission in Afghanistan has fallen short of many of its goals, the lives of the country's women have improved: Some 3 million are now in school, compared to none in 2001; 10 percent of the judiciary and 20 percent of university graduates are female.
Full report at:
http://articles.washingtonpost.com/2012-12-11/opinions/35767687_1_afghan-women-afghan-army-afghan-forces
------------
Savita-effect: Ireland to legalise abortion after horror death of Indian woman
Dec 18 2012
London : Ireland today announced it will legalise abortions when the mother's life is at risk, weeks after the death of Indian dentist Savita Halappanavar who died after being refused an abortion in the European country.
The decision comes after a huge public outcry over the death of 31-year-old Savita, who died on October 28 at Galway University Hospital. She had been 17-week pregnant and was found to be miscarrying.
Full report at:
http://www.indianexpress.com/news/savitaeffect-ireland-to-legalise-abortion-after-horror-death-of-indian-woman/1047195/
----------
TV sheikh gets jail sentence for defaming Egyptian actress
18 December 2012
An Egyptian court sentenced Islamic preacher Abdullah Badr on Monday to one year in prison and set the bail at 20,000 Egyptian pounds (U.S.$3242.48) for defaming prominent Egyptian actress Elham Shaheen, Egyptian's daily Al-Masry Al-Youm reported.
Badr, a professor of Interpretation and Quranic Sciences at Egypt's Al-Azhar Mosque, accused Shaheen of committing indecent acts in her movies and wearing seductive clothes that incite immorality.
Full report at:
http://english.alarabiya.net/articles/2012/12/18/255785.html
------------
Pakistan: Hindus hold protest for land ownership
December 19, 2012
LAHORE: Around 100 Hindu women from Rahim Yar Khan on Tuesday demanded that the government give them ownership rights of their occupied residential land.
The women, along with young girls and children wearing their local traditional dresses and silver jewellery, were holding protest under the banner of Scheduled Caste Rights Movement Pakistan (SCRMP). They were carrying banners and placards and were also chanting slogans in favour of their demands. SCRMP Chairman Ramesh Jay Paal and other leaders, including Preetam Balach and Arjun Mangi were leading the demonstrations.
Full report at:
http://www.dailytimes.com.pk/default.asp?page=2012\12\19\story_19-12-2012_pg13_2
------------
Pakistan: Violence against women rampant'
Dec 19, 2012
ISLAMABAD: Violence against women is a problem of pandemic proportions in Pakistan as the number of women and girls killed in the name of 'honour' in 2011 alone is 2,341, according to figures compiled from reports by the Aurat Foundation.
The reported cases of violence against women so far during 2012 are 2,713 as per a research conducted by the Awaz Foundation Centre for Development. Mufti Abdul Razzaque Naqshbandi, naib, Tanzim-ul-Ihsan, while expressing concern on the rising cases of domestic violence in society, said that the holy Quran enjoins good treatment of women and condemns Muslims who are abusive to women. In a statement, Mufti Abdul Razzaque stated, "Islam has enjoined upon men to treat their women fairly." Advocating better treatment of women Mufti stated, "The holy Quran urges husbands to treat their wives kindly. The Holy Prophet (PBUH) himself was extremely considerate and benevolent towards his wives."
http://www.dailytimes.com.pk/default.asp?page=2012\12\19\story_19-12-2012_pg11_4
------------
Nigeria: Groups Advocate Women Participation in Policies
BY SANDRA NWAIGBA AND MBOTIDEM FRIDAY
18 DECEMBER 2012
The involvement of women in policies and decision-making are fundamental for sustainable development in Nigeria.
This was the focal point at the just conduced 2012 International Human Rights Day celebrations by the West African Women Association (WAWA).
The event, tagged 'My Voice Counts,' which was held at the Economic Community of West African States (ECOWAS) Liaison, Onikan, Lagos, was attended by distinguished guests amongst them was Ifeoma Odemba who represented the Chairman of the Nigerian Bar Association (NBA), Ikeja branch, and some others.
Full report at:
http://allafrica.com/stories/201212180239.html
------------
Tanzania: Gender Violence Barrier to Zanzibar Development
BY ISSA YUSSUF, ZANZIBAR
19 DECEMBER 2012
VIOLENCE against women is partly to blame for the social and economical challenges facing the islands of Zanzibar, with gender activists saying means to remove this obstacle to the island's development is readily available.
Ms Rehema Mwateba, an activist, says that violence against women should not be ignored as it has direct or indirect links to social, political, and economical development of the Muslim dominated islands of Zanzibar.
Full report at:
http://allafrica.com/stories/201212190011.html?viewall=1
------------
Violence Against Women Will Have Negative Impact On National Development – Rosmah
19 December 2012
BANGI-- Violence against women should be stopped as it will not only bring about negative impact to family institution, but will also jeopardise national development agenda, Prime Minister's wife Datin Seri Rosmah Mansor said.
She said this was because any forms of violence against women would not only affect the women's mental and physical health, but also their children and family.
Full report at:
http://www.malaysia-chronicle.com/index.php?option=com_k2&view=item&id=
------------
Bahrain wins UN seat
Dec 19, 2012
NEW YORK: Bahrain's nominee Amal Salman Al Dossary won a seat on the UN Committee on the Rights of the Child for the term 2013-17 during an election at the UN headquarters in New York yesterday. This follows continued efforts by the kingdom to achieve social and child welfare and women's empowerment, which falls within the framework of His Majesty King Hamad's reform project.
Full report at:
http://www.gulf-daily-news.com/NewsDetails.aspx?storyid=344005
------------
Once a symbol of new Afghanistan, can policewomen survive?
By Amie Ferris-Rotman
Dec 19, 2012
(Reuters) - Shortly after Friba joined the Afghan National Police, she gave herself the nickname "dragon" and vowed to bring law and order to her tormented homeland.
Five years later, she is tired of rebuffing the sexual advances of male colleagues, worries the budget for the female force will shrink and fears the government will abandon them.
Women in the police force were held up as a showcase for Afghan-Western efforts to promote rights in the new Afghanistan, born from the optimism that swept the country after the ouster of the Taliban in 2001.
Full report at:
http://in.reuters.com/article/2012/12/19/afghanistan-police-women-idINDEE8BI02R20121219
------------
A hundred days of promoting the role of women in peace and security
18 Dec. 2012
''Throughout my career I have worked on challenging and interesting issues,'' says Mari Skåre, who was recently appointed as the NATO Secretary General's Special Representative for Women, Peace and Security. ''It is with great humility and honour that I have taken on this job, but also with a sense of being very privileged at having the opportunity to promote such an important agenda.''
Appointed 100 days ago on 27 August, Skåre is a Norwegian diplomat and the Alliance's first special representative focusing on the topic of women, peace and security. Her mandate is to reinforce and promote the implementation by NATO of United Nations Security Council Resolution (UNSCR) 1325 and related resolutions.
Full report at:
http://www.nato.int/cps/en/SID-11DF50ED-7C303857/natolive/news_93210.htm
------------
Million shekel baby: The story of an Israeli world boxing champion
Adi Rotem likes to throw punches. In fact, she's so good at it that she's the reigning world Muay Thai (thaiboxing) champ. Haaretz joins her before the big fight and hears about her Muslim coach, lack of government support and the men who run away from her.
By Avshalom Halutz
Dec.18, 2012
The first time Adi Rotem realized she was exceptional was age four. Her mother gave her a pink chiffon leotard and slippers, and sent her off to ballet class along with her nursery-school girlfriends. Adi's parents were thrilled by their little blonde ballerina, and couldn't snap enough pictures of her. But she was far more interested in the raucous tumult being made by the children signed up for the survival course in the next room than by any pirouettes or pliés.
Full report at:
http://www.haaretz.com/weekend/magazine/million-shekel-baby-the-story-of-an-israeli-world-boxing-champion.premium-1.485670
------------
Nigeria: Group harp on protection of women's rights
DECEMBER 17, 2012
The Legal Defence and Assistance Project (LEDAP), a human rights group, on Sunday called for the protection of the rights of Nigerian women. Mrs Adaobi Egboka, Executive Programme Director, LEDAP, made the call in an interview in Lagos. She said the call was necessitated
by the rising cases of domestic violence, rape and other abuses against women in Nigeria.
``Nigerians must be sensitised to the fact that women's rights are also human rights. These rights must be protected and it is our responsibility as an organisation to help put an end to the rising cases of domestic violence against women and rape,'' Egboka said.
Full report at:
http://dailytimes.com.ng/article/group-harp-protection-women%E2%80%99s-rights
------------
Depression not uncommon during pregnancy
Dec 19, 2012
ISLAMABAD: The results of a review of studies involving more than 19,000 patients suggest that rates of depression during pregnancy are high. This might be especially true during the second and third trimesters. "Current estimates of the prevalence of depression during pregnancy vary widely," Dr Thomas R Einarson and colleagues from the University of Toronto, Ontario, report in Obstetrics and Gynecology. "A more precise estimate is required to identify the level of disease burden and develop strategies for managing depressive disorders." To investigate, the researchers identified a number of relevant observational studies and surveys from a variety of databases.
Full report at:
http://www.dailytimes.com.pk/default.asp?page=2012\12\19\story_19-12-2012_pg11_8
------------
Facebook row: Closure report against two girls filed in Palghar court
By Sandhya Nair
Dec 19, 2012
MUMBAI: The Boisar sub-divisional police officer (SDPO) on Tuesday submitted to the Palghar sessions court that the criminal case against Shaheen Dhada and Rinu Srinivasan be closed on the grounds that it was "neither true nor false". But the lawyer for the 21-year-old college students said that if the government and the police had admitted that the law had been wrongly applied on the girls and their arrest was unjustified, the police should have filed a B-summary report instead of a C one.
Full report at:
http://timesofindia.indiatimes.com/india/Facebook-row-Closure-report-against-two-girls-filed-in-Palghar-court/articleshow/17671234.cms
-------------
URL: https://newageislam.com/islam-women-feminism/more-underage-muslim-girls-marrying/d/9737