New Age Islam News Bureau
25 Jun 2015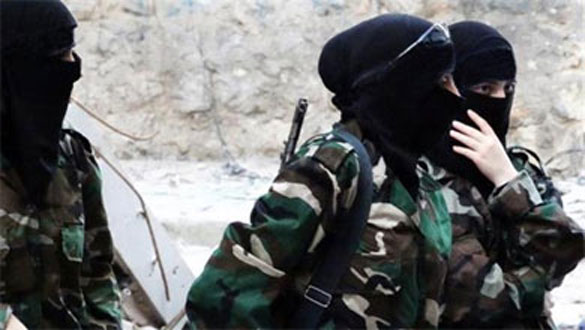 File photo showing female members of the ISIL militant group at an undisclosed location in Syria
------------
• Saudi Woman Held for Swindling 600 Out Of SR500 Million
• Woman Begs Abbott to Help Daughter and Grandkids Flee Daesh
• Bharatiya Muslim Mahila Andolan Hit out at Personal Law Board on Yoga
• Pants To Cover Women's 'Aurat' While Giving Birth
• 10 Totally Badass Female Muslim Politicians You Should Know
• Almost Half of Malaysian Women Are Unemployed
• Indonesian Women Are Ecommerce Target
• Iran: Ratcheting Up Repressive Policy against Women, Gender Discrimination
Compiled by New Age Islam News Bureau
URL: https://www.newageislam.com/islam,-women-and-feminism/new-age-islam-news-bureau/more-german-women,-girls-joining-isil-in-iraq,-syria--official/d/103642
-----------
More German women, girls joining ISIL in Iraq, Syria: Official
Jun 25, 2015
Germany's Federal Office for the Protection of the Constitution, or BfV, has raised serious concerns over the increasing number of German women who have travelled to conflict-ridden Iraq and Syria to join the ranks of the ISIL Takfiri militant group.
Speaking to reporters in the capital, Berlin, on Wednesday, President of the BfV Hans-Georg Maassen pointed to the growing trend of women under the age of 25 joining ISIL.
He added that an estimated 100 of the 700 Germans now fighting alongside ISIL terrorists are women, and nearly half of them are below 25.
"We've seen a rise in the number of women who fall for the increased appeal of the recruiting activities both on the Internet and through direct personal contacts," Maassen said.
The BfV chief said that the number of ISIL sympathizers in Germany has soared to about 7,500. "The threat is becoming increasingly complex," he warned.
President of Germany's Federal Office for the Protection of the Constitution, or BfV, Hans-Georg Maassen (© AFP)
Maassen also said that about 100 German citizens, who had joined ISIL, died while committing acts of terror either in Iraq or Syria. He further stressed that there are indications the number of German ISIL members killed in fighting has increased considerably since the start of 2015.
Nearly one-third of those who left Germany for Iraq and Syria have returned home, and more than 50 of them went through combat training in their time in the Middle East, the senior German intelligence official said.
In late March, the BfV warned that ISIL lures German girls and women into the group through romantic means, and then marries them off to its militants and, in rare cases, gives the educated ones managerial positions to keep them permanently attached as members of the group.
Maassen said back then that women and girls tempted into joining the Takfiris most often lose their freedom after joining the group, and their passports and phones are confiscated, making them totally lose contact with their friends and families.
Another file photo showing female members of the ISIL militant group at an undisclosed location in Syria
The German women who join the terrorist group are psychologically ill, and come from impoverished families with very little formal education, he commented at the time.
European countries have repeatedly expressed concern over the ISIL's influence across the continent. Authorities fear that the European militants will use their combat skills against their countries upon homecoming.
The Western powers and their regional allies – especially Qatar, Saudi Arabia and Turkey – are arming and funding militants to fight against the Damascus government.
The ISIL militants, who were initially trained by the US in Jordan in 2012 to overthrow the Syrian government, control swathes of land in Iraq and Syria. The terrorists have been carrying out horrific acts of violence, including public decapitations, against all Iraqi and Syrian communities such as Shias, Sunnis, Kurds and Christians.
http://www.presstv.in/Detail/2015/06/25/417401/German-women-join-ISIL-Iraq-Syria--BfV
-----------
Saudi Woman Held for Swindling 600 Out Of SR500 Million
25 June 2015
JEDDAH: Jeddah police have referred the case of a 25-year-old Saudi woman accused of swindling 600 residents and citizens out of nearly SR500 million to the Department of Economic Crimes at the Bureau of Investigation and Public Prosecution for investigation.
Sources at the Bureau said investigations are ongoing, after the woman was questioned and held at the Women's Social House in Makkah, while the statements of the victims of her fraudulent activities were being recorded.
The defendant is expected to provide her statements and information on how she managed to collect the large sum of money from various citizens, said sources, noting charges will be formally be leveled against her before she is summoned to the special legislative court. At the court, all evidence collected by the police, including blank checks with various forged signatures, will be presented.
Jeddah police have been investigating the case over the past few months, after receiving hundreds of complaints of fraud from citizens and residents against the woman.
A special police squad had been gathering information and looking into the circumstances and evidence of the case, while victims of the defendant's fraudulent activities have filed a lawsuit against her in the General Court in Jeddah demanding she be arrested, prevented from fleeing the country, and made to pay back outstanding funds.
إعلان
Jeddah police arrested the woman after she was accused of theft and fraud by using blank checks to swindle people out of millions of riyals, and transferring funds to her personal account.
http://www.arabnews.com/saudi-arabia/news/767086
-----------
Woman Begs Abbott to Help Daughter and Grandkids Flee Daesh
25 June 2015
SYDNEY: The mother-in-law of one of Australia's most notorious Daesh fighters has pleaded to the government to help her "desperate" daughter and five grandchildren flee the Middle East, saying she made "the mistake of a lifetime."
Karen Nettleton's emotional appeal for help came after reports that her son-in-law Khaled Sharrouf and his friend Mohamed Elomar were killed in fighting in the Iraqi city of Mosul in the past week, although officials Wednesday suggested they may have died in Syria .
Sharrouf gained global infamy last year when he posted pictures on his Twitter account showing himself and his seven-year-old, Sydney-raised son holding up the severed heads of slain soldiers in Syria.
One of his other children married Elomar, who was also pictured with severed heads, when she was aged just 13. They all left for Syria in 2013.
"With the deaths of Mohamed Elomar and likely Khaled Sharrouf, my daughter and grandchildren more than ever need the love and care of their family to help them recover from the trauma, abuse and terrors of war they have experienced," Nettleton said in a statement late Tuesday.
إعلان
"Unlike millions of displaced people in Iraq and Syria, they have a place to come home to."
She added that "my daughter made the mistake of a lifetime."
"Today she is a parent alone in a foreign and vicious land looking after a widowed 14-year-old and four other young children."
She implored Prime Minister Tony Abbott to help bring them home.
"Mr Abbott, I beg you, please help bring my child and grandchildren home."
While the deaths of the two men have not been confirmed, Canberra on Wednesday said there "is a high level of certainty in relation to Elomar" but that there was "less certainty in relation to Sharrouf."
Abbott, whose government on Wednesday introduced new laws to Parliament to strip dual nationals linked to terrorism of their citizenship, said he felt for the children.
But he also warned that if Nettleton, who converted to Islam and married Sharrouf 10 years ago, returned home she would face "significant consequences," while not offering any help for her to do so.
"You can't convict the kids on the basis of the crimes of the parents but nevertheless, they will be dealt with in exactly the same way as the families of criminals are normally dealt with," he said.
http://www.arabnews.com/middle-east/news/766971
-----------
Bharatiya Muslim Mahila Andolan Hit out at Personal Law Board on Yoga
25th June 2015
CUTTACK: Bharatiya Muslim Mahila Andolan (BMMA), a movement of Muslim women, has hit out at All India Muslim Personal Law Board (AIMPLB) for its opposition to yoga.
Taking on the powerful Muslim body and also the VHP, which are sparring over the recent Yoga Day celebrations, the organisation fighting for rights of Muslim women asked them to quit positioning themselves as spokespersons of either Hindus or Muslims.
Coming out firmly in support of yoga, the BMMA stated that it is a historical system that finds favour with people not just in India but all over the world. The BMMA believes that as long as any system is voluntary, it should not be opposed on any grounds including religious.
The AIMPLB and the likes of Sadhvi Prachi, Yogi Adityanath or Sakshi Maharaj have no right to speak on behalf of any community as both have no acceptance or validity in the larger society. They have nothing to contribute constructively to society and have only mastered the art of spreading hatred and dividing society on religious lines, BMMA co-founder Noorjehan Safia Niaz alleged.
They have taken fanatical, illiberal and antiquated positions whenever any issue concerning woman's position in society has arisen. Be it marriage between persons of different faiths, woman's right to divorce, woman's right to work and rights of gay persons, these groups have opposed social change in unison.
"Our Constitution has enough safeguards against imposition of beliefs on those unwilling to accept it. Indian citizens have their own way of making their own preferences without help from both these groups. Indian society should be spared of the tyranny of self-styled religious leaders both of Hindu and Muslim variety," Odisha convenor Farhat Amin said.
http://www.newindianexpress.com/states/odisha/Muslim-Women-Hit-out-at-Personal-Law-Board-on-Yoga/2015/06/25/article2884960.ece
-----------
For Sale: Pants To Cover Women's 'Aurat' While Giving Birth
BY YISWAREE PALANSAMY
June 25, 2015
KUALA LUMPUR, June 25 ― The Muslim observance of modesty has reached a new level here with the introduction of maternity pants that ensure a woman's Aurat or intimate parts remain covered throughout childbirth.
The distributor "MamaPride", an online store specialising in the pants advertised as the first of its kind in the world describes the garment as one that "covers thighs, ankles and knees while in labour."
The firm sells through Facebook, with the product, available in three sizes ― L, XL and XXL ― priced at RM119 each. The product is also available at select pharmacies, according to its Facebook page.
In the advertisement, the pants appear similar to an athletics track bottom, with only an opening at the crotch to enable delivery.
A check of the firm's Facebook page also revealed lists of hospitals that are receptive or otherwise towards the product.
In a March 20 Facebook post promoting the product, one administrator wrote that Muslim women's modesty was often disregarded during childbirth.
"How embarrassed would your wife be. How embarrassed would the mother of your child be.
The maternity pants appear similar to an athletics track bottom, with only an opening at the crotch to enable delivery.
The maternity pants appear similar to an athletics track bottom, with only an opening at the crotch to enable delivery.
"Are we to just ignore the honour and Aurat of our wives just like that? Where is the honour of Muslim women?" the post read.
Aurat refers to the parts of a Muslim woman's body that must be covered, but the extent of which varies in interpretation according to schools of Islam.
The promotion then described the pants as one that covers the aforementioned body parts, with enough space just for the "baby to make its way out."
"For your information, this exclusive pant is limited to only those who are keen," the post said, and asked Muslims who are concerned about their Aurat and honour to help spread the message about the product.
Malay Mail Online's attempts to contact the distributor for comment were not successful at the time of writing.
http://www.themalaymailonline.com/malaysia/article/for-sale-pants-to-cover-womens-aurat-while-giving-birth
-----------
10 Totally Badass Female Muslim Politicians You Should Know
24/06/2015
Given the rise of hate crimes and misunderstandings that the general public has towards Muslims, it is important to take a moment to reflect on the mammoth diversity contained within the term "Muslim." While the fascination towards Muslim women has taken on a life of its own in recent years, portrayals of us have ranged from "oppressed lady" to "even more oppressed lady."
The truth is, there are some Muslim women, just like any religion, who may fit into these stereotypes. But what may come as a surprise is that every once in a while, Muslim females take a break from being "oppressed and/or more oppressed" to rule a country or two.
One of the most recent Muslims to join this roster is Ameenah Gurib-Fakim, who became the president of Mauritius this month.
In honour of her recent election, here's a list of 10 badass female Muslim leaders you should know.
1. Benazir Bhutto
Bhutto was the 11th Prime Minister of Pakistan. She was the first and only female Head of State in Pakistan thus far, serving two non-consecutive terms in 1988–90 and then in 1993–96.
2. Megawati Sukarnoputri
Sukarnoputri was the president of Indonesia from 2001 to 2004.
3. Sheikh Hasina
Sheikh Hasina is the current Prime Minister of Bangladesh. She has been in office since January 2009. She also served as Prime Minister from 1996 to 2001.
4. Khaleda Zia
She was the Prime Minister of Bangladesh from 1991 to 1996 and again from 2001 to 2006. She was the first woman in Bangladesh's history and second in the Muslim world (after Benazir Bhutto) to head a democratic government.
5. Atifete Jahjaga
Not only is she the current President of Kosovo, she is also the first female President, the first female head of state in the modern Balkans and the youngest to be elected to the office.
6. Tansu Çiller
Turkey's first and only female prime minister to date, this academician and economist served as the Prime Minister of Turkey from 1993 to 1996.
7. Mame Madior Boye
She was the Prime Minister of Senegal from 2001 to 2002.
8. Aminata Touré
Following Boye, Aminata Touré was yet another female to occupy the Prime Minister's seat of Senegal from 2013 to 2014.
Cissé Mariam Kaïdama Sidibé
A professor-turned-politician, Sidibé was the Prime Minister of Mali from 2011 to 2012, the first woman to be appointed to the position in the country's history.
10. Ameenah Gurib-Fakim
The recently appointed president of Mauritius. She is the Head of State and Commander in Chief as well.
http://www.huffingtonpost.com/2015/06/24/female-muslim-politicians_n_7621754.html?ir=India&adsSiteOverride=in
-----------
Almost Half Of Malaysian Women Are Unemployed
June 24, 2015
Employers in Malaysia are losing out on critical talent – found mainly in its female workforce – as the nation's female labour participation rate is at 56%, Talentcorp chief executive officer Johan Mahmood Merican said today.
"Our female workforce ratio is among the lowest in the region as other countries surrounding us have more than 60% female labour participation rate. For every 100 females, only about half are employed."
He said that the main cause of the low female labour participation rate here was due to the lack in work and life balance offered by employers in Malaysia.
"Only a third of Malaysian companies offer flexible work time schedules to their employees. This is a problem as most females have to then leave the working world at their late 20s due to family obligations.
"We're talking about new mothers or maybe some who want to send their kids to work as well as other familial responsibilities.
"These people do not mind sacrificing a few hours of their personal schedule to work in the weekend for a few hours to attend to personal matters during the workday."
Despite a portion of female workforce leaving, Johan said there is a sizeable portion who intend to return to the workforce but find it hard to integrate back due to clashing schedules.
"Companies can look to integrate these female workforce, maybe on a project by project or part time basis, to help move them into the workforce."
According to the Cisco Connected World Technology Report 2015, 65.6% of Malaysian generation X employees and 61% of Malaysian generation Y employees do not believe in the traditional work schedules and prefer the freedom to work from anywhere, at any time.
"The global average is actually at about 40%, which is much lower compared to what the Malaysian workforce expects when it comes to work schedules," noted Johan.
"Businesses need to respond and stay ahead of the evolving workplace trends and demands to successfully attract and retain a big chunk of the Malaysian female workforce talent."
http://www.therakyatpost.com/business/2015/06/24/almost-half-of-malaysian-women-are-unemployed/
-----------
Indonesian Women Are Ecommerce Target
24 June 2015
JAKARTA: Indonesia is the launch pad for a new website which is aiming to be the first ecommerce service dedicated to women across Southeast Asia.
Announcing its expansion into this market, Thailand-based venture capitalist Ardent Capital described it as a strategic move, the Jakarta Globe reported.
"We realised that the single largest market in Southeast Asia would be Indonesia by the end of 2015," said Adrian Vanzyl, Ardent chief executive officer. Ardent's own research indicates that the B2C ecommerce market in Indonesia is worth $2.6bn and the total female consumer market some $2.4 trillion.
Other research suggests that 40m women are now online in Indonesia and that, on average, they control two thirds of all purchasing decisions.
The move will see Ardent expand its existing e-commerce business into Indonesia under the brand MOXY, while the Thai business currently operating under the WhatsNew banner will be rebranded under the same name.
Shannon Kalayanamitr, chief marketing officer at WhatsNew Group, said the company wanted to build the first online "everything store" for the female consumer.
"As more women join the workforce in Southeast Asia and increase their purchasing power, MOXY will be there to serve their daily lives," she said. "Each consumer can grow with us, from the teenager putting on lipstick for the first time, to the young adult furnishing their first apartment and raising a child."
To that end, it will offer tips and products related to beauty, fashion, mothers and babies, living, gadgets and 'Muslim style' under the tagline Have It All.
The issue of Muslim style was highlighted at a recent Flamingo breakfast, where director of global insight Harriet Robertson outlined how more Indonesian women have taken to wearing a hijab which has now become a fashion item, attracting a festival to showcase Islamic fashion brands.
Data sourced from Jakarta Globe, Tech in Asia; additional content by Warc staff
http://www.warc.com/LatestNews/News/Indonesian_women_are_ecommerce_target.news?ID=34974
-----------
Iran: Ratcheting Up Repressive Policy against Women, Gender Discrimination
24 June 2015
Women's Committee of the National Council of Resistance of Iran urges women and freedom-loving youth of Iran to protest regime's suppressive policies
NCRI - In the past week, the Iranian regime has ratcheted up repression of women. Hassan Rouhani's Interior Ministry has issued a directive for forced veiling. On the advice of the regime's leaders, the directive was first issued to government and private businesses. The agency dubbed "Headquarters to safeguard public security sanctum and citizens' rights" issued a 10-point directive to all governorships and provincial executive departments in this regard (Tasnim News Agency, affiliated with the Qods Force – June 20).
According to this directive, women's veil should be a "chador or loose under-knee long dress with long sleeves without any marks, cloth trousers, and a large scarf that covers the head, hair and neck with conventional colors. Unconventional jewelry should not be used. No makeup is allowed." Male employees should also "refrain from wearing T-shirts, tight or short-sleeve shirts, tight trousers or jeans, clothing with Western marks, ornaments, wide belts with unconventional buckles, and unsuitable hair and beard designs".
The state radio and television has also resorted to extensive measures for gender segregation of its employees. According to this plan, in state propaganda agencies, including radio "Warzesh [sports]", "Economy" and "Javan", female staff and secretaries have been removed from offices managed by men. Moreover, a number of employees, especially female contract employees, have been fired under the pretext of regulating the workforce.
The repressive scheme for gender segregation was ordered last year by Mohammad Bagher Qalibaf, Mayor of Tehran and a former senior Revolutionary Guards (IRGC) commander, and was implemented in municipalities of Tehran before being extended to other state agencies. The regime's officials have praised this repressive measure dubbing it "cleaning women's workplace" and "special attention to and honoring of women" and a plan "coherent with the regime's values that leads to higher production" (NCRI Women's Committee statement – 1 August 2014). That plan led to the firing of many female employees.
Ms. Sarvnaz Chitsaz, Chair of the NCRI Women's Committee, expressed deep abhorrence for the intensification of repression of women under the mullah-fabricated pretext of combating "mal-veiling" and the implementation of gender segregation. "The increase in the dimensions of repression of women and the youth, who are the force of change in society, and the regime's reuse of the outdated excuse of 'mal-veiling' is simply the reaction of a moribund regime that is facing growing social protests and is unable to respond to the most fundamental needs of a fed up people due to its anti-democratic and medieval nature," she said.
She called on Iranian women and freedom-loving youth, who during years of the mullahs' rule have constantly confronted all oppressive measures and pressures, to expand their protests against these suppressive policies. Ms. Chitsaz added: "Doubtless, this misogynistic and medieval regime that Iranian people call 'the Godfather of ISIS' shall be toppled by these very valiant women and youth."
http://www.ncr-iran.org/en/ncri-statements/women/18574-iran-ratcheting-up-repressive-policy-against-women-gender-discrimination
-----------
URL: https://www.newageislam.com/islam,-women-and-feminism/new-age-islam-news-bureau/more-german-women,-girls-joining-isil-in-iraq,-syria--official/d/103642