New Age Islam News Bureau
27 Jun 2012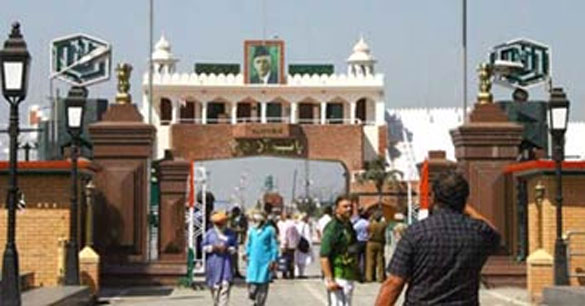 • Jerusalem police detain woman for wearing prayer shawl 'incorrectly'
• Women Soldiers of India and Pakistan for Border Drill
• Post-war Tajik Fatwa of Marriage in Accordance with Islam, Helped Women Start New Lives
• Bangladesh's Hindu Women Fight for Divorce Rights
• Bangladeshi Woman on Trial over Human Trafficking
• My mother, the patriarch: Women opposing gender equality
• Indonesia: Woman nabbed for posing as police officer
• Cases of Violence against Women and Children in Greater Jakarta Increased Over Time
• Ecological Women's group from Tajikistan to attend Rio summit
• British woman tells court how she was kidnapped by pirates in Kenya
• The Fes Festival of World Sacred Music resonates in the real world
• East Jakarta girl kills self on bad grades
• Saudi show jumper Dalma Rushdi Malhas to Miss Olympics
• Pre Ramadan Offer at MyBatua.com - Modest Islamic Clothing Shop
Complied by New Age Islam News Bureau
Photo: Women Soldiers of India and Pakistan for Border Drill
URL: https://newageislam.com/islam-women-feminism/mohamed-morsi-pick-woman-christian/d/7751
------------
Mohamed Morsi to pick woman and Christian as Egypt's vice-presidents
Abdel-Rahman Hussein
26 June 2012
New leader will make appointments once people chosen to fill the roles have been selected, says president-elect's office
Mohamed Morsi's first appointments as president-elect of Egypt will be a woman and a Coptic Christian, his spokesman has told the Guardian, as he moves to allay fears of the Muslim Brotherhood.
Sameh el-Essawy said that although the names of the two choices had not been finalised, they would be Morsi's two vice-presidents.
When the appointments go through, they will constitute the first time in Egypt's history that either a woman or a Coptic Christian has occupied such an elevated position in the executive branch.
The Muslim Brotherhood is at pains to calm fears of what an Islamist president might mean for Egypt and the region at large. Appointing both a woman and a Coptic Christian is an attempt at a show of unity, and a rule by consensus.
Meanwhile, defeated presidential candidate Ahmed Shafik – Mubarak's last prime minister and Morsi's rival in the runoff election – flew to Abu Dhabi on Tuesday morning with his two daughters. His camp denied that he had fled as investigations begin into allegations of corruption against him while minister of civil aviation. He was in Abu Dhabi for "tourism" purposes, they said.
Essawy also said that Morsi had no objection to swearing the presidential oath in front of the supreme constitutional court (SCC), widely seen as a controversial move after the dissolution of the Muslim Brotherhood-majority parliament by that very court a day before the run-off elections earlier this month. But, "that does not mean he [Morsi] acknowledges the dissolution of parliament", said Essawy, a member of Morsi's former party, Freedom and Justice (FJP).
Morsi's decisions come on a day that saw a flurry of court decisions and delays regarding several contentious issues, including the status of parliament.
The Muslim Brotherhood's FJP has a 45% majority in the dissolved parliament and is furiously contesting the SCC decision, taking the matter to the supreme administrative court. On Tuesday that court delayed its ruling on the dissolution of parliament until 7 July.
The court also delayed another decision, filed by the former presidential candidate Khaled Ali, against the recent constitutional declaration issued by Scaf, the ruling military junta, which limits presidential authority on a number of matters regarding national security. The court delayed its ruling on this case until 10 July.
The constitutional declaration had stated that in the absence of parliament, the president would swear the oath in front of the SCC. The vice-president of the SCC, Tahani el-Gibali, told the Guardian that the constitutional declaration was "the highest law in the land", though the court "had not yet been notified of any confirmation that this would take place".
An important ruling was handed down on Tuesday when an administrative court overturned a ministry of justice decree two weeks ago that allowed military authorities to arrest and detain civilians. Human rights groups had been furious about the decree, calling it a gross transgression of authority, and immediately filed a complaint to the Cairo administrative court.
To add to the legal frenzy, the administrative court delayed a ruling regarding the constitutionality of the constituent assembly – tasked with drafting Egypt's future and permanent constitution – to 1 September. This case rests on the fact that the assembly was elected by parliament, which is now dissolved, therefore the assembly could have the same fate.
Morsi filled his second day as president-elect with meeting a number of state officials, including the current interior minister, in an attempt to build bridges with a police force that was the initial spark of the 25 January 2011 revolt leading to the fall of Hosni Mubarak. Morsi also met the sheikh of al-Azhar, Egypt's highest religious institution.
The president-elect continues to deliberate with the military and other political forces over the formation of his cabinet, which is expected to be led by an independent national figure and would not have an FJP majority.
In a populist move, Morsi's camp has announced that 750,000 government employees hired on temporary contracts – their status remaining that way for years – would be handed permanent contracts from the beginning of July. This has been a long-standing complaint of government workers, including ambulance service staff who have been intermittently protesting over the past year.
One of Morsi's first directives was to ban the tradition of hanging presidential portraits in all government buildings.
http://www.guardian.co.uk/world/2012/jun/26/mohamed-morsi-christian-woman-egypt
------------
Jerusalem police detain woman for wearing prayer shawl 'incorrectly'
By Aliyana Traison
Jun.21, 2012
Deb Houben was taken aside by police after concluding a prayer service celebrating the beginning of the Hebrew month.
Jerusalem Police detained a woman for nearly four hours on Thursday for wearing a tallit, or prayer shawl, "incorrectly" at the Western Wall.
Deb Houben, a native of Boston, was taken aside by police after concluding a prayer service celebrating the beginning of the Hebrew month with 65 other people from Women of the Wall, an organization that campaigns for the equal right to pray publicly at Judaism's most holy site.
Many of the women participating in the service were also wearing prayer shawls, but Houben was detained for wearing hers "incorrectly" – meaning wrapped around her shoulders, rather than draped across her neck like a scarf.
Houben said that police officers approached her during the prayer session and told her to readjust the shawl, to which she complied.
Following the prayer session, as the women made their way through security down to Robinson's Arch to read from the Torah, she put the prayer shawl back around her shoulders, at which point police pulled her back through the security gate and detained her for disturbing the peace.
"I was wearing it incorrectly. I was wearing my tallit like a tallit, not like a scarf," said Houben. At no point was she told to remove the shawl completely, she said.
Houben was released with a 7-day restraining order from the Western Wall.
"The kotel belongs to everyone," Houben told Haaretz. "I understand that I might have incited a riot, but I think there's a greater issue at stake here. Why is it always the women? Because they're going to incite something by their very being."
Women of the Wall have been gathering at the holy site at the beginning of every new month since 1988, when an international group of Orthodox Jewish women decided to hold a public prayer service there.
The services are held according to Orthodox practice, meaning they do not read the sections that require the presence of a minyan (10 men). They do read out loud from the Torah, but away from the wall itself, and many of the women wear prayer shawls. The group says the only of its practices that should be seen as controversial in terms of Jewish law is 'kol isha', which forbids men from hearing the sound of a single woman singing.
The prayer sessions have garnered fierce opposition from other worshipers, culminating in physical or verbal violence on occasion, and members of the group have been arrested in the past for various infractions.
The leader of the group, Anat Hoffman, was arrested in 2010 for carrying a torah scroll around the compound. In 2009, another member of the group was arrested for wearing a prayer shawl.
Jerusalem Police released a statement in the wake of the event, saying that Houben was detained after she entered the Western Wall area dressed in violation of regulations.
http://www.haaretz.com/news/national/jerusalem-police-detain-woman-at-western-wall-for-wearing-prayer-shawl-incorrectly-1.440258
------------
Women Soldiers of India and Pakistan for Border Drill
Yudhvir Rana
Jun 26, 2012
AMRITSAR: Women soldiers of India and Pakistan will soon perform the ceremonial beating retreat held every evening at the Attari-Wagah border of the two countries.
Border security forces of the neighbours - India's Border Security Force (BSF) and Pakistan Rangers - agreed to have women platoon commanders for the daily flag-lowering ceremony held simultaneously by the two forces at the Attari-Wagah border.
BSF Inspector-General (Frontier) Aditya Mishra told TOI on Monday that Pakistan has also agreed to women platoon commanders for the beating retreat ceremony.
The platoon commander seeks the permission of the company commander to conduct the parade and then shakes hands with their Pakistani counterpart at zero line.
Initially, Indian women platoon commanders would conduct the drill and Pakistan Rangers followed.
After shaking hands, the platoon commander informs the company commander that flag-lowering ceremony was over and again shakes hand with the Pakistani counterpart as a goodwill gesture.
Though both sides have decide to have female platoon commanders, they are likely to begin conducting the parade after they develop perfect coordination.
Three years ago, for the first time, the BSF posted women at the India-Pakistan border. The women personnel of the BSF guard the force's border outposts and are also posted along the barbed wire fencing at the international border.
http://articles.timesofindia.indiatimes.com/2012-06-26/chandigarh/32424362_1_border-outposts-pakistan-rangers-commanders
------------
Post-war Tajik Fatwa of Marriage in Accordance with Islam, Helped Women Start New Lives
June 27, 2012
By Farangis Najibullah
It was the onset of winter, still in the early stages of a bloody civil war, and Aziza Saidova couldn't imagine things getting any worse.
"It was like my world was falling apart," Saidova recalls of those dark days in 1992, seven months into a Tajik civil war that would end up lasting five years. "My town was devastated by war, my husband had been shot dead, and at the age of 26 I was a widow with a 2-month-old baby."
By war's end Saidova's situation was hardly unique for women, with more than 25,000 widowed in Tajikistan's southern and eastern regions, and the spouses of thousands more missing.
Many, like Saidova, were still of child-bearing age; her newborn was among 55,000 children left fatherless by the war. Many, including Saidova, would consider ways to move on with their lives once fighting officially ended on June 27, 1997. And many, recalls Mullah Khomurad Rajavov, imam of a mosque in the southern town of Kulob, turned to religious authorities for guidance.
"After the civil war there was complete chaos. Many women didn't know their husbands' whereabouts; they didn't know if their husbands were dead or alive," Rajavov says. "They would seek advice from us. There were many discussions."
Seeking Guidance
Widows received some assistance from local governments and international organizations in the form of humanitarian aid and job-training programs, alleviating some of the strain of being thrust into the role of family breadwinner.
However, according to women's rights activist Huriniso Ghafurova, there was a feeling within Tajik society that more had to be done to restore a sense of normalcy to the young widows' lives.
Some contemplated their prospects for remarriage. But while that option was often pushed by family members, it was frowned on by some traditionalists in the majority-Muslim country.
"I was not sure whether it was acceptable to marry another man when my husband had lost his life at such a young age," recalls Saidova, whose journalist husband Ahrori Sharif was killed at the age of 28.
Fatwa Praised
Clarity on that and other questions came when the Islamic Centre of Tajikistan, then the country's highest religious authority, met in the capital in search of "ways within Islam for our women to rebuild their lives," according to Mullah Rajavov.
In a fatwa issued in 1997, the Islamic Centre outlined softened restrictions that freed up many women to pursue new lives.
In the event of the death of a woman's husband, whereas she would normally be expected to mourn for one year, the widow would be required to mourn for a period of four months and 10 days under the new fatwa. After that time, sufficient to ensure that the woman was not pregnant with her late husband's child, she would be free to marry again.
If pregnant, Rajavov explains, "she should wait until delivering the child, and after that she can remarry if she so wishes."
The fatwa also affected women whose husbands were missing. "In some Islamic traditions, a woman whose husband is missing is required to wait until her missing husband's age reaches 99," Mullah Rajavov explains.
"The situation prompted the Islamic Centre of Tajikistan to issue a fatwa ruling that women whose husbands were missing should wait for four years," he adds. "And after four years, if they had not heard anything from their husbands, the women would be allowed to remarry."
Life Goes On
Mullahs also spelled out that there would be no requirement that the new husband be a relative of the deceased, and that widows would be free to choose their new husband.
Many women, of course, did not opt to remarry. Many are still waiting for missing husbands to return home; some are lauded for sticking to tradition by mourning their husband and dedicating their lives to their children.
But for thousands of young widows like Saidova, who went on to remarry at the age of 32 and have two children with her new husband, the involvement of religious leaders was vital in helping them make choices that would reshape their lives.
"[Mullahs] would explain what is expected from us. They would tell us life should go on, and that the mourning period is only four months and 10 days; and that after the death of her husband a wife should obey the mourning period and then try to find a suitable man to remarry."
http://www.rferl.org/content/tajik-fatwa-after-civil-war-helps-widows/24626841.html
------------
Bangladesh's Hindu women fight for divorce rights
June 27, 2012
DHAKA: Unlike her Muslim compatriots, Tarulata Rani is unable to inherit anything from her family, cannot divorce and cannot claim maintenance from her absent husband—all because she is a Bangladeshi Hindu.
Unlike Bangladeshi Muslims or Hindus in neighbouring India and Nepal, Bangladeshi Hindu women can't divorce as the legal provisions do not exist and their marriages have not been allowed to be officially registered.
"Is it a crime to be born a Hindu girl?" Rani, 22, who was married two years ago, told AFP.
"I can't inherit any property. I can't divorce my husband and remarry even though he left me for another woman and beat me all the time."
Last month Prime Minister Sheikh Hasina approved a new law that will introduce official marriage registration for Hindus in Muslim-majority Bangladesh in a move designed to protect the rights of women like Rani.
The legislation, expected to be passed shortly in parliament, has been welcomed by civil rights activists and many Hindu women.
But critics say it is a token gesture that does not go far enough amid opposition from the religion's hardliners, who see it as unnecessary political interference in their cultural traditions.
Full report at:
http://dawn.com/2012/06/27/bangladeshs-hindu-women-fight-for-divorce-rights/
------------
Bangladeshi Woman on Trial over Human Trafficking
Marie Nammour / 27 June 2012
A 20-year-old Bangladeshi woman visitor stood trial in the Court of First Instance on Sunday on the charge of human trafficking as she allegedly forced a compatriot woman into prostitution.
The court adjourned the hearing until mid-July to assign a defence lawyer.
According to the prosecution records, the defendant, who is also accused of indulging in prostitution, deceived the alleged victim to come to the UAE with the promise to help her find a job. But she forced her under coercion, beating, and intimidation to have sex with men for money. She also took away the victim's passport.
The alleged victim, aged 30, said during investigation that she was brought here with the help of the defendant's relative. They allegedly had a deal that she would pay the defendant's kin 250,000 Bangladeshi takas after she started working in the UAE.
She was promised a maid's job on a monthly salary of Dh2,000.
However, since she got here in March, the defendant confined her to her room in a shared flat and beat her up to force her into prostitution.
Full report at:
http://www.khaleejtimes.com/nation/inside.asp?xfile=/data/courtroundup/2012/June/courtroundup_June86.xml&section=courtroundup
------------
My mother, the patriarch: Women opposing gender equality
Julia Suryakusuma
06/27/2012
When I was a small child, I adored my mother. I thought she was the most beautiful woman I ever knew, and loved her more than anything in the world.
As I got older, my love did not diminish, but I became more critical of her, especially after my brother was born and her focus naturally shifted to him. Apart from being a baby, he was also a boy — the preferred sex.
And when she saw a man cry, she would mock him and say that he was cengeng (a crybaby), kawas awewe ("like a woman", in Sundanese). If he gossiped, she would also put him down for being "like a woman", unaware that she was belittling herself and her own kind.
When my dad treated her unfairly, and I asked her why she took it, she said, "It's the fate of a woman". She was the ultimate konco wingking (backseat companion), firmly believing in being the "second sex".
She embodied all the patriarchal values prescribed by tradition. If I confronted her about her attitude, she would only say in her defense, "I am not you".
It's 2012 now, but it seems there are many women in Indonesia who still embrace these profoundly patriarchal values. They've demonstrated this by voicing opposition to the gender equality bill currently being drafted (see "Gender Equality Bill Opposed by Women", The Jakarta Post, June 19).
Full report at:
http://www.thejakartapost.com/news/2012/06/27/view-point-my-mother-patriarch-women-opposing-gender-equality.html
------------
Indonesia: Woman nabbed for posing as police officer
Iman Mahditama and Multa Fidru
06/27/2012
The police say that they have arrested a 55-year-old widow at Soe karno-Hatta International Airport earlier for allegedly impersonating a police officer.
Airport police chief Sr. Comr. Reynhard Silitonga said that the woman, identified as Sandra Susan, was arrested at the airport's international terminal after officers grew wary.
"Her conduct did not reflect that of a woman police officer. After facing interrogation from suspicious officers, she finally admitted that she was not a real officer," Reynhard told reporters on Tuesday.
Sandra's arrest came seven days after airport police detained trash executive Yudha Tandijaya, 38, for allegedly wearing a Singapore Airlines pilot uniform to con a cell phone seller.
Airport police spokesman Comr. Agus Tri said that Susan, a mother of four from Bandung, West Java, told officers that she graduated from the National Police Academy in Semarang, Central Java, in 1983.
Full report at:
http://www.thejakartapost.com/news/2012/06/27/woman-nabbed-posing-police-officer.html
------------
Cases of Violence against Women and Children in Greater Jakarta Increased Over Time
Lutfi Rakhmawati
06/26/2012
As cases of violence against women and children in Greater Jakarta have increased over time, the Women's Empowerment and Child Protection Ministry has called on all city agencies to strengthen coordination and facilitate the victims.
Deputy minister Luly Altruiswati said on Monday that the lack of coordination among the ministry's crisis centers for women and children (P2TP2As) in Jakarta, Bekasi, Tangerang, Depok and Bogor had resulted in slow responses to the cases.
Each city hosts and manages a crisis center, which not only receives public reports on violence against women and children but also provides a safe house, counseling and legal aid for the victims.
"Coordination among the crisis centers is weak. The crisis center in Jakarta is often overwhelmed with cases while centers in other cities, where the victims handled by Jakarta actually reside or live near, handle fewer cases," Luly said.
From 2006 to 2011, the crisis centers handled 7,312 cases of violence against women and children in Greater Jakarta. More than 70 percent of the cases were handled in Jakarta while the Bekasi, Tangerang, Depok and Bogor centers handled the rest.
In 2011 alone, the crisis centers received 1,381 reports, up from 935 in 2010. As of April this year, the crisis centers have handled 333 cases, of which more than 60 percent were linked to domestic violence.
Full report at:
http://www.thejakartapost.com/news/2012/06/26/coordination-mulled-issue-violence-against-women-children.html
------------
Ecological Women's group from Tajikistan to attend Rio summit
June 8th, 2012
Later this month more than 100 heads of State, along with some 50,000 representatives from businesses, NGOs, trade unions, local governments and others will gather in Rio de Janeiro for the 2012 UN Earth Summit.
Among them will be Muhabbat Mahmaladiyeva, a passionate advocate for biodiversity and women's rights in Tajikistan who is to receive an award from the UN Development Programme on behalf of the organisation she set up, Zan va Zamin – a Christian Aid partner.
The Equator Prize is awarded to local community groups around the world in recognition of their outstanding contributions to sustainable development.
Muhabbat founded Zan va Zamin – which means 'Women and Land' – with other female activists to give a voice to the rural poor in Tajikistan and help them overcome the social and economic challenges after a civil war following the collapse of the Soviet Union.
''The civil war which followed the end of the Soviet era meant that people were not hopeful about their future. I worked as a biology teacher in the capital of Dushanbe for 18 months without a salary. This was common at the time and worse for poorer women in rural areas – they were working like slaves in farms.
Full report at:
http://religiousintelligence.org/churchnewspaper/?p=26024
------------
British woman tells court how she was kidnapped by pirates in Kenya
26 June 2012
Judith Tebbutt, whose husband was killed, describes her ordeal at trial of man charged over attack
A British woman snatched by pirates from an east African island and held hostage for more than six months has given evidence about her ordeal.
Judith Tebbutt, whose husband was murdered after a gang of intruders stormed their beachfront resort, spoke for the first time in detail about her kidnap during the trial of a man charged over the attack.
The social worker, 57, appeared in a Kenyan court via video link from the UK and relived the moment she was taken from the remote Kiwayu safari village, close to the African country's border with Somalia.
Tebbutt had arrived at the safari village with her husband, David, 58, after visiting the Masai Mara game reserve last September. They were the resort's only guests.
It was reported that the Briton told the court she woke on the night of the raid to find several intruders armed with rifles inside the grass-woven hut where she was sleeping.
Full report at:
http://www.guardian.co.uk/world/2012/jun/26/british-woman-court-pirates-kenya
------------
The Fes Festival of World Sacred Music resonates in the real world
Mary Finnigan
26 June 2012
Faouzi Skali founded Morocco's spiritual music festival, a haven of peace among the bloodshed across the Arab world
The Moroccan philanthropist Faouzi Skali founded the Fes Festival of World Sacred Music in 1994. For the past 12 years the programme has included an annual colloquium under the rubric Giving Soul to Globalisation. Every year philosophers, social activists, clerics, economists and academics from many nations gather in Fes to debate the headline issues of our time. They assemble under the branches of a giant Barbary oak, in the gardens of the Batha Museum, to swap information and promote radical solutions to intractable problems, in an atmosphere of candid and at times provocative free exchange.
This year, under the impact of the upheavals generated by the Arab spring, there was a fresh sense of urgency in their discussions – and an impetus to move on from talk about spiritual values towards putting them into action. Skali contends that in global economics, a new paradigm is needed: "There will be no change for the better until this happens," he says.
Full report at:
http://www.guardian.co.uk/commentisfree/belief/2012/jun/26/fes-festival-morocco-spiritual-music
------------
East Jakarta girl kills self on bad grades
06/27/2012
JAKARTA: A 16-year-old girl hanged herself in her school uniform on Monday, reportedly on fears of a bad report card, tribunnews.com is reporting.
The girl, identified as SA, was found dead at her home in Kampung Tengah, in Kramat Jati Timur, East Jakarta.
SA's older brother, Komaruddin, 22, found his sister's body hanging from the ceiling of their home's second floor. She apparently used a tie and a belt to hang herself.
"I was so shocked to see her body. I instantly screamed and asked for help from my neighbors," Komaruddin said as quoted by tribunnews.com.
Komaruddin rushed his sister to Al Fauzan Hospital, where doctors told him that she had died.
SA's mother, Jaroh, said that her daughter was a student at SMK Pertiwi vocational high school in East Jakarta and performed very well during tests last semester.
Jaroh said her daughters's grades were declining in this semester, which may have led to her suicide. "Her friends told me that my daughter was scolded by her teacher because of her failing grades," Jaroh said.
http://www.thejakartapost.com/news/2012/06/27/east-jakarta-girl-kills-self-bad-grades.html
------------
Saudi show jumper Dalma Rushdi Malhas to miss Olympics
Stephen Moss
25 June 2012
Saudi Arabia allows women athletes to compete in London Games, but its likely representative won't come after horse injury
The 20-year-old showjumper who has been touted to become Saudi Arabia's first female competitor in the Olympic Games, will not be coming to London after all.
Under pressure from the International Olympic Committee (IOC), which insists that every country should field female athletes, the Saudi government announced on Sunday its willingness to let women athletes compete.
Dalma Rushdi Malhas, who won bronze in the Youth Olympic Games in Singapore in 2010, was seen as the country's most likely representative. But her mother, Arwa Mutabagani, told the Guardian she would not be able to compete because her horse, Caramell KS, was injured.
"Unfortunately her horse got injured, and there is no chance of her getting to the Olympics this time," said Mutabagani, herself a former showjumper. "You have to have the combination. It would be like a Formula One driver going to the track without their car." Caramell was bought from Sweden for a substantial sum at the end of last year to help Malhas's Olympic bid, but an injury to its back was diagnosed six weeks ago and it will not have recovered in time for the Games.
Full report at:
http://www.guardian.co.uk/world/2012/jun/25/saudi-dalma-rushdi-malhas-showjumper-london-olympics
------------
Pre Ramadan Offer at MyBatua.com - Modest Islamic Clothing Shop
June 27, 2012
MyBatua.com is a popular online store catering to traditional and modern Islamic women's clothing needs with wide range of styles and designs. It has more than 25 years of experience in manufacturing handmade, embroidered clothing and accessories for fashion Industry. MyBatua brings the ultimate trends to your door and allows you to enjoy them without spending a fortune. The store has always strived to offer great value to our customers for their money.
The Leading International Online Shopping website for Islamic clothing MyBatua.com announces "Pre Ramadan" shopping offer on Special Abayas, Jilbabs, Hijabs and much more of Islamic clothing collections online. All type modern, trendy, stylish and designer collections, available in hundreds of designs, textures and fabrics with multiple colors, embroideries and sizes. All the shoppers are offered 10% discount on their shopping.
Full report at:
http://www.equities.com/news/news-headline-story?dt=2012-06-
------------
URL: https://newageislam.com/islam-women-feminism/mohamed-morsi-pick-woman-christian/d/7751