New Age Islam News Bureau
4 Feb 2017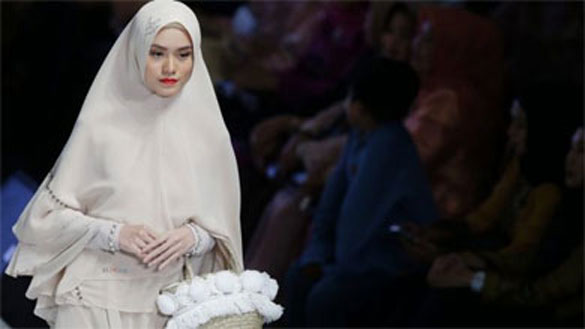 Modest-wear is the new black: a model shows a creation by SI.SE.SA during Indonesia Fashion Week. Photo: AP
----
• Saudi Women Artists Make Their Mark At 21, 39 Festival In Jeddah
• Syrian Woman Files Terror Charges against Assad in Spanish Court
• Peshawar to Get New 500-Bed Women Healthcare Hospital
• Helpline for Muslim Women Flooded With Calls Following Trump Ban, Quebec Shooting
• Muslim Women from Preston Join North West Charity Fundraiser
Compiled by New Age Islam News Bureau
URL: https://newageislam.com/islam-women-feminism/modest-wear-highlight-indonesia-fashion/d/109959
--------
Modest-Wear a Highlight at Indonesia Fashion Week as Hijab Grows In Popularity
4 Feb 2017
akarta: Exquisite head coverings were a highlight of this week's Indonesia Fashion Week in Jakarta amid the hijab's growing popularity in the country.
Last year Indonesian Anniesa Hasibuan made history as the first ever designer to feature hijabs in every outfit on a New York Fashion Week catwalk.
"Even some people who are not Muslim, are interested in wearing Muslim fashion," she told Fairfax Media.
Just 30 years ago it was relatively rare to see an Indonesian woman wearing a hijab or veil, says Dr Ariane Utomo, a social demographer at the Australian National University, in the 2015 paper Who wears a hijab?
Dr Utomo said the hijab wasn't very popular when she was growing up.
However today it has become relatively common, particularly among middle-class Muslim women living in urban areas.
"I was in a public junior high school from 1990-1992 and in that time, there was only one girl in my entire year, probably out of 500 students, who wore a hijab," she said.
Dr Utomo believes the hijab's rise in popularity is part of Islam's growing influence.
"I think it's got a lot to do with the revival of Islam in Indonesia," she said. "I think there is an increase in the consumption of religion in society."
Muslim consumers spent around $US266 billion ($347 billion) on clothing worldwide in 2013, a figure that is estimated to almost double by 2019, according to a report by Thomson Reuters and Muslim research firm DinarStandard.
This growth overlaps with the boom in the Muslim population which is estimated to increase from 1.6 billion in 2010 to nearly 3 billion by 2050, based on statistics by Pew Research Centre.
Fashion household names, such as Dolce and Gabbana, have already taken advantage of the modest clothing market, releasing a line of hijabs and abayas last year.
Bonar Tigor Naipospos, vice chairman of the Setara Institute, which advocates for political freedom and human rights, said there is social pressure for women to "look Muslim" in Indonesia.
"Some women are pressured to put on [the] hijab otherwise they will be bullied by their families, friends and social environment," he said. "So they wear [the] hijab in order to be 'in the group' rather than 'outside the group'."
For 44-year-old Indonesian Lenita Sulthani, her choice not to cover her head, even after a pilgrimage to Mecca, has exposed her to questioning from family and strangers.
In her workplace all the women wear hijabs and Ms Sulthani said she constantly gets asked why she doesn't wear one.
"My mother keeps asking me why, she is old and I don't want to hurt her," she said. "[But] this is about my choice, I don't want to cover my head just because I was forced to do so."
However Shelvy Afrin, vice president of Muslim fashion brand Shafira, a sponsor of Indonesia Fashion Week, said there is no pressure for women in Indonesia to wear the hijab and more women are doing so because designs are now more fashionable.
"It was not a really common thing to wear a hijab [in the past], now more and more people are wearing a hijab and it has become a trend," she said. "They can be fashionable but at the same time they can fulfil the requirements of their religion."
Ms Afrin said the rise in popularity for modest wear is part of the brand's success and there is great potential for it in the global market.
Australian designer Jaimie Sortino, whose whimsical gowns inspired by the sky blue hydrangeas close to his Adelaide home featured in the opening ceremony of Indonesia Fashion Week, said he had noticed a global revival of modest clothing.
"I have noticed that there is that kind of revival in modest clothing," he said.
http://www.thecourier.com.au/story/4446698/modest-wear-a-highlight-at-indonesia-fashion-week-as-hijab-grows-in-popularity/?cs=12
--------
Saudi Women Artists Make Their Mark At 21, 39 Festival In Jeddah
3 February 2017
Works by women artists are making waves at the fourth edition of 21,39, the non-profit art initiative in Jeddah, Saudi Arabia, which opens this week (until 6 May). The annual event, which has made a major contribution to the burgeoning Middle Eastern art scene, includes exhibitions in five venues, educational workshops, visits to artists' studios and commercial gallery openings. Princess Jawaher bint Majed bin Abdulaziz, who founded the Saudi Art Council in 2013, is the driving force behind 21,39 (the geographic coordinates for Jeddah).
This year's programme, organised by the independent curators Sam Bardaouil and Till Fellrath, is entitled Safar, the word for travel or journey in Arabic. The curatorial framework "highlights this edition's focus on education and discovery", the curators say. "We have conceived it as both a public forum for creative exchange as well as a visual arts exhibition."
New commissions by 17 emerging Saudi artists are on view at The Mall space located in the Gold Moor Centre, a shopping centre in the Al Shate'a district. Jeddah-born Dana Awartani has covered the floor with patterns using locally sourced coloured sands. The exquisite piece recalls the decorative motifs on traditional Islamic tiles (many visitors initially think that the floor is made of real tiling).
A video shows Awartani destroying an earlier version of the work, created in an abandoned house in the old part of Jeddah. "The two components together are intended as a symbolic commentary on the modern-day destruction of our cultural identity and heritage," she writes in the exhibition catalogue.
Manal Al-Dowayan's multi-media installation Crash explores the controversial topic of female teachers who have died in car crashes across Saudi Arabia, the only country that bans women from driving. The media never mention the victims' names, says Al-Dowayan, who has included a news report and photographs in her piece. "These [press] images are an erasure and dismissal of the last remaining traces of a teacher, a woman, a human," the artist says.
Bardaouil and Fellrath took six of the participating artists on study trips to museums and biennials in Berlin and South Korea last summer. Marwah Al-Mugait, a Riyadh-based artist who is showing the video We Were (2017), says: "It is hard for me to say which place inspired me the most. I feel like a child walking out of Disneyland being asked: 'What was your favourite ride?'" The artists "soaked up the experience", Fellrath says. "It is all about taking a journey, and taking risks on that journey. What they have created shows what they are capable of."
Aaron Cezar, the director of the London-based Delfina Foundation, attended the exhibition preview. "It's clear that Safar has been a transformational experience for the artists who have produced new works through mentoring and curatorial support," Cezar says. "I think that the significance of this particular format will be how the artists continue to develop beyond the process."
http://theartnewspaper.com/news/saudi-women-artists-make-their-mark-at-21-39-festival-in-jeddah/
--------
Syrian woman files terror charges against Assad in Spanish court
3 February 2017
A group of international lawyers representing a Syrian woman have filed a criminal complaint against Syrian president Bashar al-Assad in the National Spanish court, accusing him of terrorism against civilians.
According to a press statement issued by the office of the lawyers, the plaintiff is a Syrian origin woman who moved to Spain and became a Spanish citizen. Her brother was unlawfully arrested and tortured before being executed by forces loyal to the al-Assad regime.
The criminal complaint accuses the al-Assad regime of atrocities and terrorism against civilians committed through his intelligence and security services.
https://english.alarabiya.net/en/News/middle-east/2017/02/03/Syrian-woman-files-terror-charges-against-Assad-in-Spanish-court.html
--------
Peshawar to get new 500-bed Women Healthcare Hospital
04-Feb-17
PESHAWAR: Pakistan Tehreek-e-Insaf (PTI) Chairman Imran Khan has announced Women Health Care Hospital with the capacity of 500 beds at Peshawar to decrease the ratio of maternity health care in the province.
He announce while addressing International Obstetricians and Gynecologist Conference here in a local hotel at Peshawar on Friday.
Chairman PTI said mostly women die during pregnancy in Pakistan and the ratio of MMR and NMR are very high in Khyber Pakhtunkhwa, adding that there is a dire need of gyne separate hospital for women where all facility will be available for the patients.
He informed that 93 % revenue of KP were from federal government although fund issue for the hospital will be face by the KP government but he will try his best to generate all fund for this hospital as the people of the province has dire need of it.
He added and appreciate the KP Government for legislation and Health Insaf Card , adding that 51% population will take benefit from it and all health facilities they will provided free of cost in hospitals, adding that in the next year hopefully the KP Government will extend this project across the province to cover all populations.
He informed that PTI first priority is to merit and reforms in institution and make good governance, adding that a doctor will not work until he is not provided good governance and good environment of work.
Imran Khan said that KP Government made MTI act for the first time in the history of Pakistan and all hospitals were made autonomous , adding that now there will be no political recruitment in any government department in KP.
"Around 34000 children were shifted from Private Schools to government schools which are big achievements of the KP government and it was call change", PTI Chairman added. About the Panama Case in Supreme Court he added that soon the case result will be in favor of Pakistani people and the corrupt mafia will face the action, adding and claim that the next government PTI will be in the government.
Earlier Khyber Pakhtunkhwa Chief Minister Perveez Khattak said and criticized the previous government, adding that after PTI government they were passed more than 200 legislations from the Khyber Pakhtunkhwa Assembly.
He further said that according to the survey of KP government around 30 to 40 % senior professor and doctors were given only one hour duty in the hospital and same was the case with the teachers but now after check and balance all the department were performing their duties well.
He further said that now the doctors are bound to spend at least seven hours duties in the hospital, adding that the PTI government recruited around 9464 doctors and nurses staff in the hospital and those working in remote and district areas their salaries will be made according to the international standard.
He informed that earlier the equipment were non-functional in all government hospital but now the provincial government made all equipment functional and has made revolutionary steps in health care system, adding and announce that 500 bed hospital for women healthcare will be established soon as in the next budget it will be announce.
Khyber Pakhtunkhwa Senior Minister for Health Shahram Khan Tarkai said in the Insaf Health Card around 51 % people will get free treatment while eighteen lack families will get free treatment from public and private hospitals.
He informed that around ten thousand people get their treatment from the card while around 9000 doctors were recruited in last three years in different hospitals of Khyber Pakhtunkhwa, adding that around 14000 people in health sector were made regularized.
http://dailytimes.com.pk/khyber-pakhtunkhwa/04-Feb-17/peshawar-to-get-new-500-bed-women-healthcare-hospital
--------
Helpline for Muslim women flooded with calls following Trump ban, Quebec shooting
Feb 03, 2017
A Surrey, B.C.-based helpline for Muslim women has been flooded with calls following President Trump's executive order on immigration, and a shooting in a Quebec city mosque.
Nisa, an Arabic word for women, is a free, confidential helpline offering counseling services to Muslim women all across Canada and the U.S.
Director Tanweer Ebrahim said this week has been particularly difficult for the Muslim community.
"People are scared of the repercussions the ban will bring, and also after the Quebec shooting, people are frightened," she said.
She said Muslim women can feel particularly vulnerable in public places.
"Muslim women can easily be identified by their hijab, so they were asking what 'what should we do to protect ourselves and our children, should we remove our hijab?'" she said.
"We tell them don't remove it ... embrace your identity."
A difficult start to 2017
Apart from this week, calls to the helpline also spiked in the days before and after U.S. President Donald Trump's inauguration. It averages around 500 calls a month and received more than 6,000 in all of 2016, according to Nisa's website.
Ebrahim said the expressions of support coming from the community have been uplifting despite the challenges of the past two months.
"It's been amazing to see other communities and religions standing in solidarity, not just nationally but also internationally, with leaders coming out and supporting the Muslim community," she said.
"February 1st was World Hijab Day, and non-Muslim women were coming out and saying, we have your back."
The helpline commonly receives calls from people experiencing domestic abuse and mental health challenges. They also answer common questions about religion practices and taboos.
"Our purpose is to offer that first-hand help to the caller," explained Ebrahim. "If we feel that this person needs additional professional help, we will then ask where they are so we can provide the resources that can better help them."
http://www.cbc.ca/news/canada/british-columbia/helpline-for-muslim-women-flooded-with-calls-following-trump-ban-quebec-shooting-1.3966598
--------
Muslim women from Preston join North West charity fundraiser
3rd February, 2017
Dozens of Muslim women from Preston joined an annual peace gathering in Manchester last weekend.
The women visited the Dar-ul Aman mosque to celebrate the Ahmadiyya Women's North West Charity Peace Fair.
Six different charities were showcasing what they do at the event which raised £1,400 for the Make a Wish Foundation, East Lancashire Hospice, NSPCC and the Women's Aid.
Guest speakers included Kate Green, the MP for Stretford and Urmston.
She said: "It's a very happy event, it's lovely to have so many children in the room.
"I know as a Member of Parliament that my own constituency has had support from the local ladies and the charity work they have done.
"We're very proud to have you as our friends, neighbours and sisters; it's a great privilege to be with everyone."
A cheque of £2,000 was presented to Rebecca Bainton, a regional representative of Macmillan Cancer support, from money raised at previous charity events.
http://www.blogpreston.co.uk/2017/02/muslim-women-from-preston-join-north-west-charity-fundraiser/
--------
URL: https://newageislam.com/islam-women-feminism/modest-wear-highlight-indonesia-fashion/d/109959
New Age Islam, Islam Online, Islamic Website, African Muslim News, Arab World News, South Asia News, Indian Muslim News, World Muslim News, Womens in Islam, Islamic Feminism, Arab Women, Womens In Arab, Islamphobia in America, Muslim Women in West, Islam Women and Feminism, Moderate Islam, Moderate Muslims, Progressive Islam, Progressive Muslims, Liberal Islam