New Age Islam News Bureau
28 Sept 2018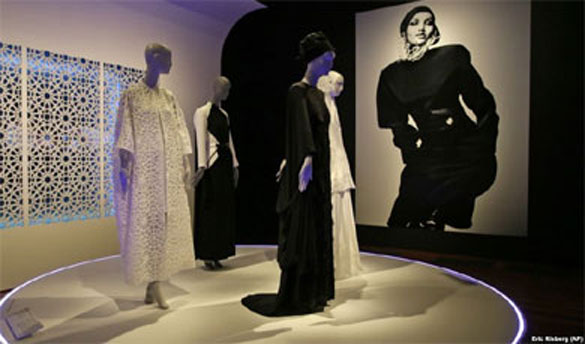 In this photo taken Thursday, Sept. 20, 2018, praying ensembles and dresses are displayed in the exhibit Contemporary Muslim Fashions at the M. H. de Young Memorial Museum in San Francisco.
------
• 'I'm A Muslim Woman, I'm Visually-Impaired and I'm A Boxer'
• Malaysian Woman to Be Caned, Jailed For Prostitution under Islamic Law
• Dubai Women's Run Adds New Platform for Empowerment
• Woman in Afghan 'Mullah' Sex Tapes Arrested
• Iraqi Women Push For Cafes of Their Own
• Amid Growing Repression, Turkey's Women Graffiti Artists Shine
• How FRSC 'deliberately excluded' Muslim women from recruitment exercise – MURIC
• Adultery Case: How Indian Supreme Court Underlined Women's Autonomy as Facet of Human Dignity
• Female Pashto Singer Arrested for 'Uploading Girl's Personal Pictures Online'
• Iraqi Model Shot Dead In Baghdad, In the Latest Murder of Women
Compiled by New Age Islam News Bureau
URL: https://www.newageislam.com/islam-women-feminism/modern-muslim-womens-fashion-debuts/d/116513
--------
Modern Muslim Women's Fashion Debuts at San Francisco Museum
September 27, 2018
The head covering is among the most identifiable parts of Muslim women's clothing.
Their choice of dress is often thought of as uncreative and restrictive to many Westerners.
A new exhibit in California shows that the covering used by some Muslim women can be very colorful.
The show, called "Contemporary Muslim Fashions," opened September 22 at the M.H. de Young Memorial Museum in San Francisco. Visitors can see fashion products from nearly 60 designers from around the world, including the Middle East and Southeast Asia.
The clothes are colorful, beautiful and playful. They include high-priced, made-to-order fashions and bright, lively streetwear.
Creating a deeper understanding of fashion
The show is said to be the first major museum exhibition of its kind. Organizers say they hope to create a deeper understanding of the women who are part of the second-largest religion in the world.
Gisue Hariri is one of two Iranian-born sisters whose company designed the exhibit. She told the Associated Press that "Muslim women are being increasingly targeted for using their fashion choices to assert their independence and identity. We hope that this exhibition will allow a positive review and examination of a community that's often talked about, but rarely given the chance to speak and present itself," she said.
The exhibit comes at a time of conflicts in Western countries over Muslim clothing.
Denmark's government recently barred women from wearing face veils in public. It said the move was needed to ensure public safety and to support Danish values. Austria, Belgium and France have similar laws.
Jill D'Alessandro is the curator for costume and textile arts for the Fine Arts Museums of San Francisco, which includes the de Young Museum.
D'Alessandro said ideas for the exhibit started to develop before the election of Donald Trump as president of the United States. She said the issue was raised in 2016, when people in France protested a ban on "burkini" swimwear worn by some Muslim women. At the same time, D'Alessandro said she was seeing examples of stylish "modest fashion" by young Muslim women who also wanted to show their religious beliefs.
Now, modest fashion has become a $44 billion industry, with more Western fashion houses creating products for Muslim people.
Last year, Nike began selling a headscarf made of high-technology fabric. A Max Mara fashion show in 2017 had a model wearing a hijab and a long coat, which is a common look among wealthier Muslim women.
The Institute for Social Policy and Understanding studies American Muslims. The group released a study that showed most women said they wear a hijab for religious reasons. Only one percent said they were required to do so by family.
Dalia Mogahed, the institute's research director, is happy the de Young Museum agreed to the exhibit. Mogahed is not allied with the show. She says she objects to governments that force Muslim women to cover themselves in a certain way and those that won't let women cover up as they wish.
One of D'Alessandro's favourite finds is a 2012 "Hoody Dress" by British designer Sarah Elenany. She created long-sleeve, knee-length dresses for the Scout Association in the United Kingdom so Muslim girls could play sports and climb. The dresses were worn over leggings.
Also among the pieces is a traditional Pakistani wedding dress by Saba Ali, a San Francisco-area stylist who served as an adviser to the exhibition.
"I feel it's so important in this day and age and the climate we live in. A lot of people don't know Muslims," Ali said. "Art is a means to a conversation for people to get to know a culture or people better."
https://learningenglish.voanews.com/a/modern-muslim-womens-fashion-debuts-at-san-francisco-museum/4585439.html
--------
'I'm A Muslim Woman, I'm Visually-Impaired and I'm A Boxer'
September 28, 2018
Fit, strong, and with a steely determination behind her eyes, Sannah Hussain has many of the traits you need to be successful in the boxing ring.
But she is very different to your average amateur boxer.
Sannah is a Scottish Muslim who wears a headscarf and dresses modestly and also lives with a series of debilitating health conditions
The 25-year-old was born with Albinism, a condition which affects the colour of her hair, the pigment in her skin and has caused a serious visual impairment.
She also has an autoimmune condition, called Myasthenia Gravis, which causes muscle weakness and fatigue.
But the Glasgow-based charity worker is adamant her health conditions will not prevent her from stepping into the ring for her first exhibition fight this weekend.
"I've always been an active person regardless of my vision, regardless of my muscles," she told BBC Scotland.
"I've always been a go-getter, I've always wanted to be up and about, doing things."
Her passion for the sport developed after she set up a class for women from minority groups as part of her job with the Human Appeal charity earlier this year.
She wanted to provide safe, friendly, and empowering fitness sessions for women who might normally wear the hijab.
The Saturday morning sessions at the Kynoch Boxing gym in Glasgow's Kinning Park have been popular with women uneasy in a "normal" Lycra-dominant gym environment.
"We arranged to have the gym closed off to anybody else at that time of day, so the girls could come in, take their hijabs off and feel comfortable with what they're wearing and focus purely on the working out and not feel self-conscious," Sannah said.
"It's really helped break that barrier that women can't do this, or women of this community can't do this, because they certainly can.
"Like everything in life, it's just about finding a way around the things that are challenging."
But the project has had an unexpected effect on Sannah herself.
"I didn't realise how much I would fall in love with it," she said.
"Even though it makes me tired and sometimes sick of being here, overall I love doing something that makes me feel independent.
"This isn't about being part of a team, it's about what you put into it is what you'll get out of it.
"Although I may never be as successful as other people, I can certainly see an improvement in myself, in my own happiness."
Sannah says she has lost weight, gained confidence and seen her overall fitness improve since setting up the classes in February.
It's been a remarkable journey for a woman whose sight is so bad she struggles to catch the right bus or train because she can't see the signs.
Her ability to see detail or read small writing is limited and it took her an additional two years to complete her degree.
And she takes strong daily medication for a muscle condition which can cause extreme fatigue in her arms and legs, and even slurred speech.
Exhibition fight
But she says her new training regime has given her confidence to push herself further, despite the limitations of her medical conditions.
"Coming in here, you're training so hard sometimes that you really just want to stop," she said.
"But the coaches, they're not going to let you stop, they know that there's more in you and there's more that they're going to get out of you and they'll keep pushing you.
"When you overcome that barrier, it makes you realise that there's so much more you can probably do that you didn't realise and you want to discover those things."
Now she has signed up to fight at Judgement Night, a boxing event in Glasgow which includes a series of exhibition clashes featuring beginners like Sannah.
She has been training hard for the clash against an as-yet unknown opponent and she is determined to give her best performance.
But she admitted: "I am really nervous, I am really scared, but if I let that stuff stop me then I'd never leave the house."
Sannah wants to use the fight to break down barriers to the sport and raise money for children who don't get similar opportunities.
Organisers SK Promotions are allowing her flexibility in everything from the length of the rounds, to what she wears in the ring.
"If I want to wear leggings and a long-sleeved t-shirt they'll let me do that," she said.
"If I'm going to wear my sports hijab, they'll let me do that because they understand from speaking to me how important this is to show to other people there's no limits, there's always a way round something."
The cash she raises by taking part in the fight will help child welfare around the world.
"I'm literally fighting for their right for survival," she said.
"If it wasn't for me being in this country, having the healthcare system that we have, having the family that I have, and the opportunities that I have, I wouldn't be who I am today. "
https://www.bbc.com/news/uk-scotland-glasgow-west-45550555
--------
Malaysian Woman to Be Caned, Jailed For Prostitution under Islamic Law
September 27, 2018
KUALA TERENGGAN: A Malaysian woman was today sentenced to be caned and jailed for six months for prostitution in violation of Islamic laws, weeks after the flogging of two lesbians sparked outrage.
The 30-year-old single mother of one admitted to offering sexual services in a hotel in the conservative northern state of Terengganu this month after being caught by religious enforcement officers.
Multi-ethnic Malaysia has a dual-track legal system, with Muslims subject to Islamic laws in certain areas. Critics say a traditionally tolerant brand of Islam in the Muslim-majority country is being eroded as more conservative attitudes gain ground.
Sentencing the divorcee to six strokes of the cane and jail time, judge Rosdi Harun told an Islamic court that he was "very disappointed" the woman had not shown any remorse.
"Your punishment will give you time to reflect on your mistakes and repent," he said.
The woman, who was not identified, has 14 days to appeal against the sentence. If the caning goes ahead it will take place in the prison where she is serving her sentence.
Rozana Isa, executive director of women's rights group Sisters in Islam, criticised the sentence: "There really is no compassion in these kinds of punishment. Is this really where we want the country to go?"
Two women were caned in Terengganu on September 3 after admitting breaking Islamic laws that prohibit lesbian sex, sparking a storm of criticism from politicians and rights groups.
Campaigners said it was the first time women had been caned for same-sex relations in Malaysia, and that the case highlights the worsening climate for the country's gay community.
Caning under Islamic laws is carried out with a thin rattan cane on a person who is fully clothed. It is also a punishment for many crimes under civil law in Malaysia.
About 60 percent of Malaysia's 32 million people are Muslim, and the country is also home to substantial ethnic Indian and Chinese communities.
https://www.ndtv.com/world-news/malaysian-woman-to-be-caned-jailed-for-prostitution-under-islamic-law-1923089
--------
Dubai Women's Run Adds New Platform for Empowerment
September 26, 2018
Saman Haziq
This year, eight chosen women will champion and motivate others to lead an active lifestyle while inspiring wellbeing, self-appreciation and happiness in the long run.
A new platform 'Women of Substance' will be added to the eighth edition of the Dubai Women's Run that will take place on November 16 at the Festival Bay in Dubai Festival City.
Plan b, organiser of the Dubai Women's Run, said the new platform will facilitate a network of chosen inspirational women who will be the guiding force. This year, eight chosen women will champion and motivate others to lead an active lifestyle while inspiring wellbeing, self-appreciation and happiness in the long run.
Harmeek Singh, race chairman of the Dubai Women's Run and founding chairman of Plan b Group, said: "The key to the platform will be an ongoing interaction of inspiring women who will not just focus on their individual networks but will come forward to reach out to the larger society. Their stories and engagements will help in raising awareness of the greater importance of taking control of one's life for an empowered future."
Each year the Women of Substance will epitomise their passion to transform their ideas into realities while also striving to give back to society. "These women are all from different fields and different nationalities and they were picked on the basis of how they are making a difference in the society by giving back to the society in many ways. As women of substance, they will create workshops, webinars, mentorship programmes throughout the year," said Singh.
Ahmed Al Kamali, president of the UAE Athletics Federation, said: "A collective effort in promoting fitness and wellbeing especially among women is the way forward. The initiative will build a stronger community of girls and women who are an integral part of our society."
How to take part
Registrations to the event are open online at www.dubaiwomensrun.com and on-ground registrations are available at selected Liali and Lorna Jane stores. Scheduled to take off from Festival Bay, Dubai Festival City Mall, there are two options of 5k and 10k with an entrance fee of Dh150.
https://www.khaleejtimes.com/nation/dubai/dubai-womens-run-adds-new-platform-for-empowerment
--------
Woman in Afghan 'Mullah' Sex Tapes Arrested
September 27, 2018
Kabul (AFP) - Afghan police have arrested a married woman who allegedly appeared in a viral video having sex with a self-proclaimed mullah, an official said Thursday, as a nationwide search for the man continues.
The woman, a police officer in the northwestern province of Faryab, was detained after she was identified by her colleagues from the videos that have been widely shared on social media, attorney general spokesman Jamshid Rasooli told AFP.
She faces charges under the moral crimes section of Afghan law, which prohibits adultery. The offence carries a jail sentence.
Another female police officer also has been arrested for allegedly encouraging the woman to see Mullah Rasool, a traditional healer, for her fertility problems.
The officer allegedly helped Rasool film the illicit sexual encounters and use the videos to blackmail the woman into having sex with "multiple men", including a traffic police officer, who also has been detained, Rasooli said.
The woman said she was "not in a normal condition" when she had sex with Rasool, suggesting she may have been drugged.
She also said that she did not know she was being filmed.
Other women who appeared in the videos, which have been viewed hundreds of thousands of times on Facebook and YouTube, have not been found, according to local officials.
Rasool, who wrote amulets for clients, is accused of sexually exploiting and raping several women who had gone to him for help. He is on the run.
Traditional healers are much-revered in the countryside, where illiteracy remains rampant and conventional health services are scarce.
Muslim religious leaders in Faryab have ordered Rasool's death by stoning, while the provincial governor has offered his own car as a reward for information leading to his arrest.
While the identities of the other women are not yet known, their faces are clearly visible in the videos, raising fears they could be murdered by relatives in so-called "honour killings".
Provincial women's affairs department head Sharifa Azimi told AFP earlier the women had been "tricked" and has urged religious leaders to tell their worshippers that they are "innocent victims, not bad women".
The videos have become a hot topic of conversation in Afghanistan where sex is usually a taboo subject and women are treated as second class citizens.
While Afghanistan has witnessed a sea change in women's rights since the 2001 US-led invasion toppled the misogynistic Taliban, many men still believe that women should be hidden from public view to protect their honour.
https://www.yahoo.com/news/woman-afghan-mullah-sex-tapes-arrested-163023330.html
--------
Iraqi Women Push For Cafes of Their Own
Mustafa Saadoun
September 27, 2018
As all-women cafes mushroom in Baghdad and the rest of Iraq, women's views are divided whether these are pockets of freedom from sexual harassment or the embodiment of segregation.
"It is important for us to sit at ease in a calm place, away from the guys' [unwelcome] looks and indirect harassment. I am pleased that I can frequently visit such a cafe," Zahraa Saad, one of the patrons of Viola Cafe in Baghdad, told Al-Monitor.
Saad, 29, works for an investment company in Baghdad. She sees Viola Cafe, which opened in July, as a place where she and her friends can enjoy some freedom and privacy. "Although I do not agree 100% with the idea of segregation as it will further deepen the gender gap, I believe that there should be women-only cafes and restaurants," she said. "Choosing to go to such a cafe or restaurant does not mean that I do not want to communicate with my male friends and colleagues. It is however a chance for me to stay away from men and their problems."
Women-only cafes and restaurants in Iraq have come at a time when increasingly more women-led cultural activities, such as book clubs, are organized around the country. Women's integration into the society and economic life and women's empowerment are also encouraged through international programs, such as preventing early marriage or securing legal aid for women subjected to domestic violence.
Women-only cafes and restaurants have only recently sprung up in various cities in Iraq. Besides Baghdad, various women-only cafes and restaurants opened in Nasiriyah, Erbil and Halabja in the last few years. In fall 2009, an all-women internet cafe, Ishtar Internet Center, opened in Baghdad. However, it closed after several months as the demand proved to be low.
Viola Cafe suffered a setback when its owner and manager Rasha al-Hassan, also a well-known beautician, was found dead in her home on Aug. 23. The cafe is still open, but its employees are reluctant to talk to the press.
"I am happy to have worked at this cafe for over a month. But I have been hesitant [to continue] ever since the owner died," an employee who asked not to be named told Al-Monitor. It seems that for customers like Saad, the owner's death is no reason to stop going to the cafe.
The employee recounted the first days following the cafe's opening in July, describing the place as "cosy" and customers "very responsive." She said, "The cafe is hosting an increasing number of female customers and they all welcome its opening."
Hassan, the owner of the cafe, had told the press of the niche for women-only cafes and her plans a few months before her death. "I love being the person to bring this experiment [of an all-women cafe] to Iraq, as I have seen them in a number of Arab countries," she said. "Iraqi families are mostly conservative and not all women are able to go out to mixed-gender places. That's the reason we opened a place where customers can find privacy."
Sexual harassment of women in public places is also a motive behind the all-women cafes and restaurants. This is what prompted Tara Mohammed to open on Aug. 28 the first women-only restaurant, Luxury Time, in Erbil.
Mohammed herself has been the victim of sexual harassment in the past. She told Al-Monitor that men have attempted to enter the restaurant and that she is planning to hire a security guard. "I [wanted to open] a place where women can be at ease without being harassed. This will allow them to have a good time and feel comfortable away from [social] restraints and stares."
She added, "I hope it is the start for future projects of this kind so that women can enjoy themselves and relax."
Saeed Kareem, a researcher for the Iraqi Ministry of Labor and Social Affairs, told Al-Monitor, "Sexual harassment of women and girls is a reason for women to launch these kinds of projects. This is the right way of thinking — it does not restrict the freedom of women and it fends off sexual harassment."
He said, "Yet eventually we must end sexual harassment; segregation is not a solution to curb sexual harassment. Ongoing dialogue between the sexes in the workplace and in society is a must."
Iraqi women are not just patrons of all-women cafes; they actively participate in the restaurant business. In the city of Hilla in Babil province, a group of women currently manages Abjad Center, a family cafe, which also organizes cultural activities. Similarly, Finjan Restaurant that overlooks the Tigris River in Baghdad has employed all-female staff since 2010.
https://www.al-monitor.com/pulse/originals/2018/09/iraq-women-only-restaurants-cafes-mushroom.html
--------
Amid Growing Repression, Turkey's Women Graffiti Artists Shine
September 27, 2018
ISTANBUL —
Istanbul is seeing an explosion of creative graffiti, with women artists largely behind the blast of color that is sweeping Turkey's main city in the face of what critics say have been mounting restrictions on expression.
"More and more, the new generation are very into painting on the streets, but for me it is still very much at the beginning," said Gamze Yalcin, who has been putting her art on the city's public places.
"As we are having more and more limits for our street life from what we used to have," she said, "people want to see colors, they want to see art. Whatever you do on the street is a gift for everyone."
Yalcin speaks to VOA as she applies the finishing touches to her latest work, on the wall of a derelict building in Istanbul's trendy Tophane district.
The latest work spanning 10 meters is a myriad of images and symbols in pastel colors with an abstract depiction of a woman at the center, encompassing a range of themes found throughout Yalcin's work.
"We have very limited parks, so green areas is always a subject I like to include with symbols of plants and greens," she said explaining her work, a myriad of surreal colors.
For Yalcin, featuring women as a central theme represents female empowerment, she says, and "a symbol, for all the women, that they could do whatever they want. They can do their dreams, they can make it true."
Painting Istanbul's walls for the past six years, Yalcin - a classically trained artist - is a veteran of Istanbul's fledgling graffiti world. She is also one of a growing number of women graffiti artists, a trend she is busy building on.
"I organize workshops, [which] women, girls are very much into, and they always come and attend to learn," she said.
"I feel very lucky that as a female artist painting on the street wherever I go, that brings so much power and so much inspiration," she adds. "Whatever you do on the street is a gift for everyone, so they [people] are really taking as a gift, and they feel connected."
While graffiti in many parts of the world is generally seen as vandalism and a nuisance, here, for this genre of it, there is appreciation.
People regularly stop, to offer Yalcin encouragement as she paints, while others take photos of her work.
"These are not ordinary doodling, but something that makes the places more beautiful," said Ulas a local restaurant manager, "coloring the walls and shop fronts is beautiful rather than having shutters down or derelict walls bare. This is much more colorful. When you wake up in the morning streets, look much different. I think this is super."
Despite a heavy police presence in central Istanbul as part of an ongoing crackdown on political dissent, the graffiti wave sweeping parts of the city has met little resistance from authorities.
"I didn't have trouble yet, and I hope it goes like this," Yalcin said. "Sometimes they [police] see me, they say actually it is forbidden, but that is fine. And they say 'thank you, thank you for creating art for our places,'" she adds, laughing.
Observers say such police tolerance can in part be explained by the fact that most graffiti artists stay away from overt political themes. Although the recent jailing of Ezel, a Turkish rap star, on charges of encouraging drug use, saw some graffiti artists pushing back with images of support.
On the Asian side of Istanbul, the Kadikoy municipality invites local and international graffiti artists to decorate neighborhood.
Walking around Kadikoy, a traditional center of opposition to the government, one is regularly struck by huge murals adorning the sides of the buildings. The images range from psychedelic colored tigers or huge robots to abstract pictures of utopian worlds.
Graffiti art is becoming an integral part of the city's popular culture. At an art and cartoon festival in Istanbul this month, the graffiti section made up of women artists is among the most popular.
Graffiti artist Fulya Fu creates a surreal image of a woman whose hair is decorated with eyes; many watching Fu are young teenagers.
"[A] majority [of graffiti artists] are youngsters who started at a very early age, around 12-13," said Fu, and they start from the street, inside the street culture, perhaps going out at night. They start from scratch and pursue graffiti. Also, there are also lots of people coming from the art scene, fine arts. Many artists try this once in a while," she said.
Fu is among a growing number of artists making a living from graffiti. Decorating cafes and doing corporate work for companies seeking to catch the halo effect of the coolness of street art, is becoming increasingly lucrative. None of the artists interviewed was willing to say how much each of their works fetches.
Despite the commercialization of graffiti it still retains a cutting edge as one of few remaining outlets for public expression.
"The art is constantly evolving with what we are experiencing," said Fu.
"Since the space of freedom we experienced 10 years ago has become more restricted," she continued, "and graffiti is already seen as an illegal, so what people express, tell, even scream with their work will likely be a reaction and reflection of these changes."
"In the past, we perhaps saw more simple writings ideas,' but now it's evolving. People are trying to form new sentences, new ideas, to express more," she said.
https://www.voanews.com/a/amid-growing-repression-turkey-s-women-graffiti-artists-shine/4589609.html
--------
How FRSC 'deliberately excluded' Muslim women from recruitment exercise – MURIC
September 27, 2018
By John Owen Nwachukwu
The Muslim Rights Concern, MURIC, has alleged that the Federal Road Safety Corps, FRSC, deliberately excluded Muslim women in the ongoing nationwide recruitment exercise of the corps.
The rights group claimed that by requesting applicants to appear in white shorts, white round neck T-shirts, canvass and socks, the FRSC deliberately did not want women of the Muslim faith to take part in the exercise.
MURIC, in a statement signed by its Director, Professor Ishaq Akintola and made available to DAILY POST on Thursday morning, described the requirement as a deliberate religious marginalization, economic deprivation and undisguised discrimination against Muslim women.
The Islamic rights organization wondered why FRSC would issue a directive which was allegedly designed to exclude a section of Nigerian citizens.
The statement continued, "The whole world knows that Muslim women do not wear shorts. It is therefore strange to hear the FRSC requesting applicants of both sexes to appear in shorts. FRSC is a federal road safety concern and its recruitment exercise should be inclusive
"Or is FRSC telling us that it only recognizes Christian women alone? Is FRSC telling us that it cannot tolerate the sight of Muslim women? Is this federal agency only interested in giving jobs to Christian women to the disadvantage of their Muslim counterparts?
"Is FRSC unaware of the economic implication of this among the Nigerian Muslim population? Is this not a deliberate attempt to empower Christians and continuously impoverish Muslims?
"We believe it is a deliberate attempt to exclude Muslims. We are disappointed that FRSC has joined the clique of anti-Muslim institutions that claim secularism in order to shortchange Muslims. Muslims are being shut out of the economy of this country. Muslims are being dragged to the bottom of the pyramid of poverty in Nigeria. Instructions which make it impossible for Muslims to participate in nation-building are being rolled out on a daily basis in public and private sectors.
"We remind FRSC that the marginalization of any section of the Nigerian population by any agency is a violation of Section 14(4) of the 1999 Constitution of the Federal Republic of Nigeria which stipulates that "The composition of the Government of the Federation, a State, a local government council, or any of the agencies of such Government or council, and the conduct of the affairs of the Government or council or such agencies shall be carried out in such manner as to recognise the diversity of the people within its area of authority and the need to promote a sense of belonging and loyalty among all the people of the Federation"
"MURIC therefore rejects the FRSC recruitment exercise for failing to recognize the diversity of our population. It is illegal, unlawful and unconstitutional to issue directives which are designed to exclude any section of the country. The exercise can best be described as incomplete, sectional and discriminatory.
"To complete the exercise, FRSC authorities must give Muslim women their own opportunity to participate. A new date must be fixed for the recruitment of Muslim women in the next few weeks. Nigeria belongs to us all. MURIC will not fold its hands while our common patrimony is shared out among Christians alone.
"We advise FRSC and all uniformed formations to take note of this observation in order to correct the anomaly in future exercises. Marginalisation is the oil which lubricates the engines of bitterness, animosity and rancour in any heterougeneous community like Nigeria. Part of the problems facing Nigeria today is the failure of public institutions and agencies to accept and fully integrate Muslims into the system. Most institutions assume that the anti-Muslim system bequeathed by the colonial master is the ideal thing. They never bother to look around to know if it is all-inclusive".
In a message for Muslim women, MURIC called on them to demand "your Allah-given fundamental human rights and that includes the right to employment, right to decent living and right to the dignity of your human person. Nobody under the sun has the right to ask you to expose your body. The Glorious Qur'an affirms that Allah Himself created mankind with dignity. (Qur'an 17:70). Why then should you allow anyone to deprive you of your Allah-endowed dignity?
"We urge the Federation of Muslim Women Associations in Nigeria (FOMWAN) to sensitise and mobilize Muslim women across the country for the coming struggle which is aimed at emancipating Nigerian Muslim women from the clutches of neo-imperialists. Freedom is never offered on a platter of gold. It is no longer fashionable to be docile.
"The Qur'an asserts, 'Why should you not rise in the cause of Allah to defend men, women and children who are oppressed due to their weakness? The weak ones cry out, "Our Lord! rescue us from this city (Nigeria?) whose people are oppressors; and raise for us from Thee one who will protect us, and send to us a helper!" (Qur'an 4:75-76).
"If you dare to struggle, you will dare to win. Muslim women in Nigeria must keep their eyes open. They must adopt 'discrimination against one is discrimination against all' as a motto. The Nigerian Muslim woman has become an endangered specie and this is the only way she can be defended because the authorities never show any concern for their freedom. Eternal vigilance is the price of liberty."
The statement ended by calling for a special recruitment exercise for Muslim women to be conducted by FRSC in the next few weeks, adding that, "We advise the federal agency to consult FOMWAN on the modalities."
http://dailypost.ng/2018/09/27/frsc-deliberately-excluded-muslim-women-recruitment-exercise-muric/
--------
Adultery Case: How Indian Supreme Court Underlined Women's Autonomy as Facet of Human Dignity
by Faizan Mustafa
September 28, 2018
The "beauty" of the Constitution is that it includes "I, you and me", Chief Justice of India Dipak Misra observed in a landmark judgment that decriminalised adultery. In a unanimous verdict through four concurring opinions on a five-judge Bench — CJI Misra and Justice A M Khanwilkar; Justice R F Nariman; Justice D Y Chandrachud; Justice Indu Malhotra — the Supreme Court struck down the archaic Section 497 of the Indian Penal Code (IPC) due to its "manifest arbitrariness" in punishing only men for adultery and for treating a woman as her husband's property.
In his judgment, the CJI declared that the husband is neither master of his wife, nor does he have legal sovereignty over her. He observed that "any system treating a woman with indignity… invites the wrath of the Constitution".
Justice Chandrachud overruled the judgment of his father. In 1985, former CJI Y V Chandrachud had upheld Section 497 (Sowmithri Vishnu vs Union Of India & Anr); on Thursday, Justice D Y Chandrachud called the provision a relic of Victorian morality and observed that it "proceeds on the notion that the woman is but a chattel; the property of her husband". Justice Chandrachud emphasised the ability to make choices as a fundamental facet of human liberty and dignity, and observed: "Autonomy in matters of sexuality is intrinsic to a dignified human existence… Section 497 denudes the woman of the ability to make these fundamental choices."
Justice Nariman termed Section 497 violative of Article 14 (equality) and Article 15 as it discriminated on grounds of sex and punishes just men. Referring to "ancient notions" of the man being the seducer and the woman being the victim, he said this is is no longer the case today.
Justice Malhotra observed that Section 497 institutionialised discrimination and was "replete with anomalies and incongruities", such as an adulterous relationship not constituting an offence if a married woman had her husband's consent.
'Theft' & 'adultery'
The court noted striking similarities between the offences of 'theft' and 'adultery' under the IPC. Under Section 497, a wife could not prosecute her husband or his lover for violating the so-called sanctity of the matrimonial home, as the husband was not her exclusive property but a husband. Under Section 198(2) of Code of Criminal Procedure, 1973 — also struck down — only a husband could prosecute the man with whom his wife had a sexual relationship. Moreover, if the husband had an affair with an unmarried woman, divorcee or widow, no offence of adultery is made out against anybody.
Why did the British-era law exempt women? In fact, the First Law Commission of 1837, under Lord Macaulay, had not included adultery as a crime in the original IPC it had drafted, counting it only as a civil wrong. The Second Law Commission in 1860, headed by Sir John Romilly, made adultery a crime but spared women from punishment for adultery due to the conditions in which they lived — child marriage, age gap between spouses, and polygamy. The drafters of the IPC looked at this as being sympathetic to women, and also viewed men as the real perpetrators.
Read | Wife is not property of husband: Supreme Court
In 1954, the Supreme Court too treated Section 497 as a special provision made in favour of women in exercise of the state's powers under Article 15(3) of the Constitution (Yusuf Abdul Aziz vs State of Bombay). In 1988, the court upheld Section 497 by saying only an "outsider" is liable and this exemption is basically a "reverse discrimination in favour of women" (Revathi vs Union of India). The Supreme Court held that breaking a matrimonial home is no less serious a crime than breaking open a house, and refused to strike down Section 497 as this was a question of policy, not constitutionality. These judgments now stand overruled.
Across countries, cultures
Not just the IPC, most legal systems used to treat adultery as a serious crime. The Encyclopedia of Diderot & d'Alembert, Vol. 1 (1751) too equated adultery with theft: "Adultery is, after homicide, the most punishable of all crimes, because it is the most cruel of all thefts." In 1707, English Lord Chief Justice John Holt stated that a man having sexual relations with another man's wife was "the highest invasion of property".
Hindu and Islamic laws prescribed punishment for both men and women, and also for relations with an unmarried woman.
Manu's treatise gave adultery an extremely broad definition — "offering presents to a woman, roaming with her, touching her ornaments and dress and sitting with her on bed, all these acts are adulterous" — and prescribed death as punishment for adultery, provided the offender was not a Brahmin. For wives involved in marital fidelity, Yajnavalkya's treatise declared: "An adulterous wife should be deprived of her authority over the servants, should be made to wear dirty clothes, should be given food just sufficient to enable her to live, should be treated with scorn and be made to lie on the ground: she becomes pure when she has her monthly period, but if she conceives during the adulterous intercourse, she should be abandoned."
Islamic law, which prescribed 100 lashes for adultery, defined the offence in narrow terms — intercourse outside marriage — but made it almost impossible to prove, by insisting on the testimony of four witnesses to the actual sexual act. If four witnesses do not testify, then a punishment of 80 lashes was to be given to the person making the allegation, as well as to those witnesses who did testify — and their evidence would never be accepted in the future.
On Wednesday, the court took note of global decriminalisation of adultery. Today, it is no more a crime in most European countries. In the US, some 10 states retain various criminal statutes outlawing adultery. Some prohibit only "open and notorious" adultery, others prohibit "habitual" adultery, with penalties varying from fine (ranging from $10 to $1000) to imprisonment up to three years. Doubts have been expressed about the continued validity of these adultery laws since 2003, when the US Supreme Court (Lawrence vs Texas) struck down laws penalising sodomy.
In countries such as Saudi Arabia, Yemen and Pakistan, adultery continues to be treated as a capital offence. In India, the judgment is set to face criticism from diverse groups such as the RSS, the All India Muslim Personal Law Board and Christian fundamentalists. The BJP-led government too had opposed decriminalisation of adultery.
Adultery will continue as a ground of divorce and, therefore, remain in civil law. Thursday's verdict will be welcomed by those who believe there should be less use of criminal law in matrimonial matters.
https://indianexpress.com/article/explained/adultery-case-how-supreme-court-underlined-womens-autonomy-as-facet-of-human-dignity-5377469/
--------
Female Pashto Singer Arrested for 'Uploading Girl's Personal Pictures Online'
September 28, 2018
PESHAWAR: Pashto singer and dancer Muneeba Shah on Thursday was arrested in Peshawar for being allegedly involved in posting private pictures of a girl via a fake social media account.
The victim, who has been identified as Sana, claimed that the singer was uploading her photos on a fake Facebook account in her name.
Sana had lodged a complaint with the Federal Investigation Agency (FIA) Cybercrime Wing, which conducted a probe into the matter.
The FIA also carried out a raid on Muneeba's residence in which she was also taken into custody by the authorities.
According to authorities, the Facebook account was created on a mobile SIM card and was being used via a wireless internet connection.
The FIA has now registered a case against the accused singer.
Moreover, Zubair, another accused, had confessed to posting the images at the behest of the singer.
On Wednesday, a passenger was offloaded from a Denmark-bound flight and taken into custody by FIA at the Islamabad airport.
When airport authorities verified the identification of Nigel Brian Rabellow, a Pakistani citizen, it was found that he was implicated in a cybercrime case.
https://www.pakistantoday.com.pk/2018/09/28/female-pashto-singer-arrested-for-uploading-girls-personal-pictures-online/
--------
Iraqi Model Shot Dead In Baghdad, In the Latest Murder of Women
28 September, 2018
An Iraqi social media star became the latest woman victim of a spate of murders across the country this week by unknown gunmen.
Tara Fares was shot dead in her car in the capital Baghdad on Thursday, just a day after she was voted one of Iraq's most popular social media stars.
She was murdered by unknown gunmen in the Kam Sara neighbourhood of Baghdad, with the ministry of interior saying they are investigating the killing
The model and journalist had a huge following on Istagram, with over 2 million followers.
Her final post on the social media platform displayed a black-and-white photo of Fares with a message mourning her passing.
Fans and friends of Fares turned to social media to remember the social media star, who spent much of her time abroad, and in the more liberal Kurdistan region of Iraq.
Recently, Fares reportedly began to spend more time in the Iraqi capital where she met her demise.
"Really shocked at the tragic murder of Iraqi model Tara Fares. I knew her through a friend. Tara began her journey when she competed in Miss Baghdad contest in 2014," wrote one person on Twitter.
"Iraqi model and blogger Tara Fares was shot in killed in Baghdad today, RIP," an Iraqi radio station tweeted.
Two women involved in the beauty industry have also been reportedly murdered in Iraq in recent months.
This week, a prominent women's right activist, Soad al-Ali, was shot dead in in her car in Basra.
Despite the military defeat of the Islamic State group, other militias still continue to dominate much of the country, some of whom strongly oppose liberal elements within Iraqi society.
https://www.alaraby.co.uk/english/news/2018/9/28/model-murdered-in-baghdad-in-latest-iraqi-woman-killing
--------
URL: https://www.newageislam.com/islam-women-feminism/modern-muslim-womens-fashion-debuts/d/116513
New Age Islam, Islam Online, Islamic Website, African Muslim News, Arab World News, South Asia News, Indian Muslim News, World Muslim News, Women in Islam, Islamic Feminism, Arab Women, Women In Arab, Islamophobia in America, Muslim Women in West, Islam Women and Feminism