New Age Islam News Bureau
28 February 2022
• Pakistan: Aurat March to Focus on Wages, Security, Peace for Women
• Arab Gulf States Stress Women's Rights during Aid Talks with Taliban
• Pakistani Women's Contribution for Country's Development Must Be Acknowledged At All Levels
• Iranian Ambassador to UK Removed From Post over Hijab Incident
• New Bill May Deter Acts of Domestic Violence, Femicide in Turkey
Compiled by New Age Islam News Bureau
URL: https://www.newageislam.com/islam-women-feminism/misogynist-ideology-iran-women/d/126478
--------
Misogynist Ideology: Iran Women Banned From Riding Motorcycles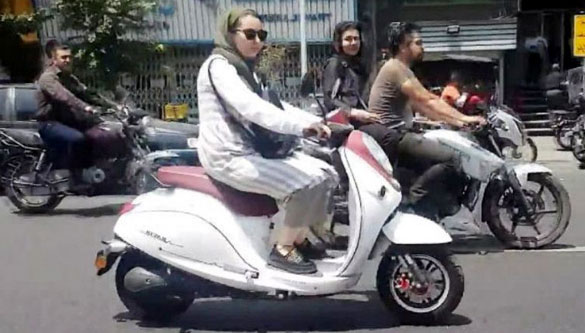 Iran bans women from riding motorcycles. Photo Credit: Eurasia Diary
-----
February 28, 2022
The regime of the ayatollahs is known for its misogynist ideology, policies and laws against Iranian women. It did not take long after the first few days of the revolution for the regime to start systematically violating women's rights. The first round of such policies was the obligatory hijab for women.
To ensure that women obey the obligatory hijab and the laws of the theocratic government, the regime mobilized several groups of repressive forces to the streets, set up units in schools, universities, and government and private offices tasked with controlling women and girls, and by granting special privileges to men, forced women to obey the laws that stifled their basic rights.
Throughout the past forty-three years, the Iranian regime has worked tirelessly to expand misogynist laws in a variety of forms, spreading a culture of "zeal" and supremacy among men. It has allocated large amounts of funds and resources to control Iranian women and violate their rights. The regime's anti-women policies have stifled women, both socially and economically. The common denominator of these barbaric policies against women is an attempt to force them to believe that they are not equal to their male counterparts, are less important, and as a result, should expect less and settle for an inferior role in society.
During the years of the mullahs' misogynistic dictatorship, women's sports and outdoor activities have always been subject to numerous limitations and obstacles. By politicizing women's sports and turning it into a national security issue, the mullahs continue to deprive women of these healthy social possibilities. The regime has gone so far as to make riding pillion on a motorcycle illegal for women according to a report by the state-run Asr-e Iran website on June 14, 2020.
The banning of Iranian women from riding motorcycles has made headlines recently. On Sunday, February 15, Hossein Rahimi, the police commander of Greater Tehran, while explaining the police's plan to deal with motorcyclists, reiterated that since women are not given motorcycle licenses, they are not allowed to ride one.
This is while during the recent presidential elections campaign, the campaign headquarters of current president Ibrahim Raisi published photos of women riding motorcycles brandishing pictures of Raisi to garner support for him.
In the regime's judicial laws, there is no law prohibiting women from cycling. However, religious scholars in the religious dictatorship enforce this ban every year and routinely prevent women from using bicycles in urban public spaces. The last example is from 2021. The Prosecutor of Torghabeh and Shandiz in northeastern Iran announced that "In accordance with the decree of the Headquarters to Promote Virtue and Prohibit Vice, and according to the fatwa of some religious leaders who forbid women's bicycling in public, women cyclists have been banned in the city. The head of the Cycling Board of Khorasan Razavi in northeastern Iran also announced the ban on women's cycling in public spaces in the province, indicating that the Headquarters to Promote Virtue and Prohibit Vice was responsible for this decision.
In Iran, there is no gender requirement to obtain a driving license for automobiles, buses and trucks, but there is one for motorcycles. This means that a woman can drive a heavy truck but is not allowed to ride a motorcycle. Because according to clerics, women's bodies, despite being covered from head to toe, will be exposed or the sight of a woman riding a bike or motorcycle will entice men.
For more than four decades, the mullahs propaganda machine and the network of its Friday prayer leaders, all representatives of the regime's Supreme Leader, have wasted no time in demonizing Iranian women to find ways to limit their rights and capabilities. In the regime of ayatollahs, women do not have the right to ride a horse, women do not have the right to ride a bicycle, women do not have the right to ride a motorcycle, women do not have the right to file for divorce or receive the custody of their children in case of a divorce, women do not have the right to become judges or presidents, and women are not allowed to choose certain fields of university studies, to name just a few.
Iranian women, for the past forty-three years, have begun a vigorous struggle against the forced veil, which has spread across the borders of the world. Their role in everyday protests by teachers, workers, pensioners, and in nationwide protests such as the last one in November 2019 is very prominent. Because despite decades of suppression, the regime has never been able to force Iranian women to submit to its theocracy.
Source: Eurasia Review
https://www.eurasiareview.com/28022022-iran-women-banned-from-riding-motorcycles/
--------
Pakistan: Aurat March To Focus On Wages, Security, Peace For Women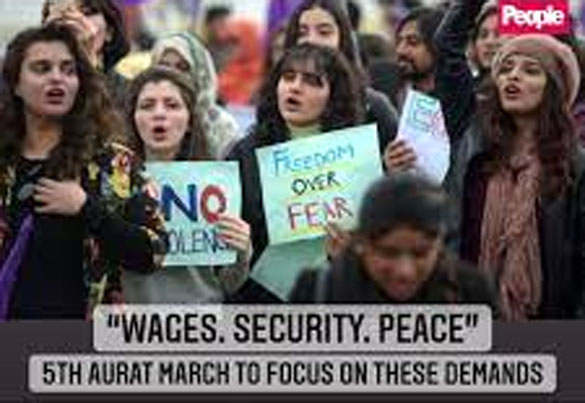 26 February, 2022
Islamabad [Pakistan], February 26 (ANI): Pakistan's Aurat March, scheduled to be held on International Women's Day on March 8, will focus on wages, security and peace for women, local media reported.
The slogan for this year's Aurat March on International Women's Day is Ujrat, Tahaffuz Aur Sukoon, said social worker Sheema Kermani at a press conference at the Karachi Press Club (KPC) on Thursday. She said this year, it will be the fifth Aurat March, Dawn newspaper reported.
After her speech, an organiser of the march put forward the three central demands saying that the march is dedicated to the labour and hard work of women and khawajasira.
The three demands include that "all workers, whether they're working in factories, on farms and homesteads, in homes as domestic workers or as sanitation workers be given a living wage based on access to safe housing, quality education and affordable healthcare for themselves and their families. As a first step immediate reinforcement of the minimum wage across all sectors, and for all actors who refuse this to be fined under the law," the Pakistani newspaper reported.
"The provision of social security and protection through monthly stipends for all women and khawajasira community in view of the care labour they perform and economic violence they are subjected to," Dawn newspaper reported.
"The state prioritise the welfare of the child by putting an end to child labour, trafficking for work, and bonded labour. The government should provide childcare and protection centres and child support services in every district of Karachi and in the rest of Sindh," the Pakistani newspaper reported. (ANI)
Source: The Print
https://theprint.in/world/pakistan-aurat-march-to-focus-on-wages-security-peace-for-women/848556/
--------
Arab Gulf states stress women's rights during aid talks with Taliban
15/02/2022
DOHA-
Arab Gulf envoys stressed Monday that women must be able to work and go to school, in talks with the Taliban foreign minister as Afghanistan's hardline Islamic rulers made a new bid to unblock foreign aid.
Amir Khan Muttaqi, acting foreign minister and a key member of the Taliban leadership which took over Kabul six months ago, met ambassadors from the six-nation Gulf Cooperation Council (GCC) in Doha on the first full day of his latest mission, where he is also to hold talks with European envoys.
The Taliban have been struggling to unfreeze billions of dollars of assets abroad and get sanctions lifted as they face pressure over their treatment of women and supporters of the Western-backed government toppled last year.
The Taliban Tweeted pictures of the smiling foreign minister entering Monday's meeting with representatives from Bahrain, Kuwait, Oman, Qatar, Saudi Arabia and the United Arab Emirates. But diplomats said no promises were made by Afghan officials inside.
Arab envoys emphasised the need to help Afghanistan's "urgent humanitarian needs" as the country confronts widespread hunger caused by drought as well as an economic crisis that has driven up chronic unemployment, said a GCC statement.
While highlighting that there should be "non-interference" in Afghanistan's affairs, they "stressed" the importance of a national reconciliation plan that "takes into consideration the interests of all components of society and respects basic freedoms and rights, including women's right to work and education".
The ambassadors also raised fears that "terrorist groups may be able to launch attacks from Afghanistan's territory against other countries".
They insisted that the country must not be exploited to fuel the illegal drugs trade.
Muttaqi, who is to hold a key meeting with European nations and other international representatives on Wednesday, made no comment after the meeting.
No country has yet recognised the Taliban government and the latest talks came only days after President Joe Biden said that $7 billion held in US banks would be split between a fund to aid Afghanistan and to compensate victims of the September 11, 2001 attacks.
European governments and international finance institutions are also holding back billions in aid.
Source: The Arab Weekly
https://thearabweekly.com/arab-gulf-states-stress-womens-rights-during-aid-talks-taliban
--------
Pakistani women's contribution for country's development must be acknowledged at all levels
28 Feb 2022
LAHORE, Feb 28 (APP):Samina Alvi, wife of President Dr Arif Alvi has said that Pakistani women's valuable role and contribution for the development of the country must be acknowledged at all levels.
She said this while addressing a ceremony held here on Monday to commend the contribution of some prominent women belonging to various fields of life. The programme was organized by Unique Group of Institutions (UGI).
Samina Alvi said, "Since the creation of Pakistan our women have proved their mettle in different fields of life."
She added that unfortunately Pakistani women face difficulties in getting their rights, adding that our religion Islam has strongly advocated giving due rights to women in the society.
First Lady said that incumbent government has given special attention to women rights and has taken solid measures and steps to protect women and address their problems. She appreciated the "dedicated efforts" being made to ensure rights of inheritance of women.
Referring to social issues faced by women she said that besides legislation, the male segment of society should realize their responsibility to weed out the menace of harassment of women .
In this context she stressed the need for socio-economic empowerment of women and added that their self reliance and confidence play important role in the upbringing of new generations.
Samina Alvi called upon the women to continue their hard work and struggle in order to grow and prosper in life while giving due time and attention to their families also.
She urged young students present on the occasion to excel in various fields of life,earn good name for themselves and their families while upholding precious human values.
Referring to the high incidence of breast cancer she said concerted efforts were required to create optimum awareness on the matter so as to prevent the disease as much as possible.
First Lady on the occasion sought attention to the needs of special persons, saying that differently-abled
people should not be neglected ,rather given maximum facilities and opportunities.
Samina Alvi said that President Dr Arif Alvi and she, herself ,were making efforts to start "inclusive education" in government schools.
She also said that efforts were being made to include facilities for special persons and senior citizens
in the plans for new buildings infrastructure.
"There is a dire need to sustain our art, crafts,culture and maintain heritage, besides promoting the artisans", she concluded.
Earlier, the First Lady awarded commemorative shields to Justice (R) Nasira Javed Iqbal, Iqbal Academy Director Dr Baseera Ambreen, PILAC Director General Dr Sughra Sadaf, Power Lifter Neelum Riaz, Rowing Athlete Nighat Kausar, some female parliamentarians and teachers.
Later, UGI Chairman Abdul Mannan Khurram presented a souvenir to the First Lady.
Source: APP
https://www.app.com.pk/national/pakistani-womens-contribution-for-countrys-development-must-be-acknowledged-at-all-levels/
--------
Iranian ambassador to UK removed from post over hijab incident
Patrick Wintour
27 Feb 2022
The Iranian ambassador to the UK has been ordered back to Tehran and is to be removed from his post after a video circulated showing an embassy reception at which some women did not have their heads covered.
News of Mohsen Baharvand's return to Tehran was reported by the ILNA news agency in Iran.
At the event commemorating the 43rd Iranian Revolution, a woman playing a piano alongside a violinist was not wearing a hijab. Another video of the event showed a more conventional gathering at which speeches were given.
An Iranian in London tweeted a video of the event, attended largely by diplomats, asking whether the party would "with the presence of these people have the slightest benefit for the Iranian people?". He later tweeted: "It is gratifying that our voice was heard in Iran. Please send an ambassador to London who is pragmatic and worthy of serving Iran and working only for the benefit of the Iranian people."
The news circulated first in pro-regime newspapers, and some claimed it was part of a wider reorganisation of the Iranian diplomatic service being carried out by the new more hardline government led by Ebrahim Raisi, elected last June.
Baharvand was appointed by the foreign ministry before the presidential elections, but took up his London posting in July after the change in leadership of the department. He was previously the deputy head of the legal department in Iran under Mohammad Javad Zarif, the former foreign minister.
In his dealings with reporters in the UK, the ambassador did not stray from the official government position on the Iran nuclear talks, but tried to explain the context of Iranian thinking.
His departure comes at a critical time in British-Iranian relations. Iran is on the cusp of deciding whether to accept Washington's terms for a US return to the Iran nuclear deal, including the lifting of many sanctions. Alongside the nuclear talks, Britain is seeking to secure the release of three British-Iranian dual nationals detained in Iran.
The Islamic Consultative Assembly, Iran's parliament, met in private session on Sunday to review the state of the talks that many say could finally reach a conclusion this week. Ali Bagheri, the Iranian chief negotiator, is due to return on Sunday to Vienna, where the Iran talks are taking place, with fresh final instructions. Hossein Amir-Abdollahian, Iran's foreign minister, is to meet Iran's supreme national security council on Monday, and there is talk of a special session of Iran's parliament on Tuesday.
The foreign minister said the talks were continuing, stressing nothing was agreed until everything was agreed. Issues remain around assurances on the US's long-term commitment to the deal, and the extent of sanction suspension.
Both sides seem to be trying to prevent the fallout from Russia's invasion of Ukraine to spill into the critical last days of the Vienna talks.
Russia has, as a signatory to the Joint Comprehensive Plan of Action – the technical term for the 2015 deal – acted as a key mediator in the months-long talks in Vienna between European powers, the US and Iran. The Russian ambassador in Vienna, Mikhail Ulyanov, has been a passionate defender of the invasion.
Opponents of the deal, not necessarily party to the negotiations, fear an agreement will give Iran leeway to become a nuclear power relatively quickly and argue that the west's experience with Russia shows that appeasement of fundamentally hostile powers does not work, and only emboldens them.
Some Iranian political scientists have urged Iran not to be too outspoken in its support of Russia, fearing it will make it more difficult for the Biden administration to win political support for the deal. But Ali Shamkhani, the secretary of Iran's supreme national security council, said the war was the direct responsibility of the west's drive to threaten the security of other countries.
Amir-Abdollahian has also criticised Nato provocations without endorsing the violence. Iran takes the view that the era of cold war blocs is over, and America is in long-term decline, but that it is important for Iran to steer an independent course and not become a client of China.
Source: The Guardian
https://www.theguardian.com/world/2022/feb/27/iranian-ambassador-to-uk-removed-from-post-over-hijab-incident
--------
New bill may deter acts of domestic violence, femicide in Turkey
FEB 27, 2022
The government is working on a new draft bill that aims to address domestic violence and femicides, two complex issues plaguing women in Turkey. The bill, whose details will be made public by President Recep Tayyip Erdoğan on March 8 International Women's Day, will focus on severe sentences for perpetrators.
The Ministry of Justice is putting the final touches on the bill before it is submitted to Parliament for approval. The bill will particularly address the issue of "release with judiciary control," a common verdict in most domestic violence cases and sometimes, even in homicides targeting women. Such court verdicts often stir up public outrage while legal experts say verdicts stem from a loose interpretation of existing laws. Judiciary control, in different cases, may involve a ban on travel abroad and in its harshest form, means house arrest. The new bill will increase prison terms and end the practice of release with judiciary control in such cases.
Bekir Bozdağ, appointed as Justice Minister in January, has signaled harsher sentences for perpetrators of domestic violence and femicides. The minister recently held meetings with female lawmakers from the ruling Justice and Development Party (AK Party) and Nationalist Movement Party (MHP) to hear their opinions and suggestions on a new bill. The deputies had called upon the ministry to take new steps, especially on the need for a new legal definition for stalking, to revise the rules on "good conduct" and interpretation of laws. Courts can issue more lenient sentences in domestic violence cases based on "good" behavior of the defendant throughout the trial and even based on the outfit they wore to the hearings.
The draft bill will handle all legal aspects of crimes targeting spouses and femicides and cover protection for victims as well as punishment of perpetrators. No exception will be provided to defendants in cases of violence against women, in terms of judiciary control, while prison terms will be more severe. Under current laws, perpetrators in most homicide cases can be eligible for parole after serving 24 years of their term, if they are sentenced to life imprisonment. This period decreases further if they are sentenced to any term below life imprisonment.
Source: Daily Sabah
https://www.dailysabah.com/turkey/new-bill-may-deter-acts-of-domestic-violence-femicide-in-turkey/news
--------
URL: https://www.newageislam.com/islam-women-feminism/misogynist-ideology-iran-women/d/126478
New Age Islam, Islam Online, Islamic Website, African Muslim News, Arab World News, South Asia News, Indian Muslim News, World Muslim News, Women in Islam, Islamic Feminism, Arab Women, Women In Arab, Islamophobia in America, Muslim Women in West, Islam Women and Feminism