New Age Islam News Bureau
2 March 2018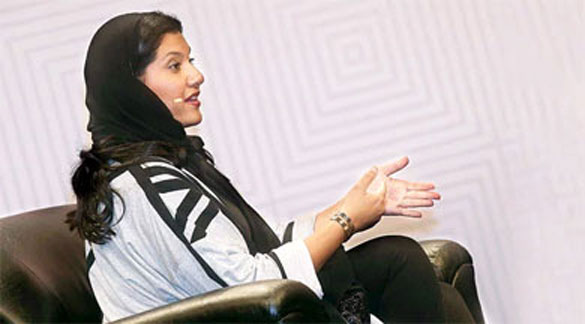 Princess Reema said the abaya will be no hindrance to Saudi women's exercise.(AN photo)
-----
• Societal Barriers Discourage Women's Representation in Civil Service: UN Study
• Driving Not 'Be All' Of Saudi Women's Rights, Says Princess Reema
• Iran Detains 35 Women for Going to Football Match
• Female Islamic Clerics across Indonesia Call for Unity Ahead Of Elections
• FIFA Boss Giannia Infantino Says Women Will 'Soon' Be Allowed At Games In Iran
Compiled by New Age Islam News Bureau
URL: https://www.newageislam.com/islam-women-feminism/misinterpreting-islamic-law-robs-muslim/d/114459
--------
Misinterpreting Islamic Law Robs Muslim Women of Land in Muslim Countries: Experts
MARCH 1, 2018
DUBAI (Thomson Reuters Foundation) - The misinterpretation of Islamic law and a lack of knowledge about inheritance rights are major hurdles in improving women's access to land in Muslim countries, experts said.
Traditional leaders or judges often exclude women from inheriting land and property based on discriminatory cultural practices, wrongly believing these are Islamic principles, the experts told a conference on land rights in the Arab world.
Inheritance is the main avenue through which Muslim women acquire independent ownership of land and housing.
"Inheritance rights are often misinterpreted, leading to women being excluded from inheriting land," said Rafic Khouri, co-author of a new report on women and land in the Muslim world.
In Islamic law, a woman's inheritance share is generally half that of a man, although in some rare cases they might get an equal or larger share than a male relative, the report said.
Unequal access to land is a global issue, and evidence from a broad base of research has shown that boosting women's chances to own property helps economic and social development.
In the Middle East and North Africa just 4 percent of women are believed to have land titles, according to the Organisation for Economic Co-operation and Development, a think tank.
Although more than 100 countries recognize equal land rights for women and men, implementation is a major challenge, according to the World Bank.
Even where national and Islamic laws recognize women's land rights, the report said, cultural norms restrict their access to property, work and education.
And when women do assert their inheritance rights, they risk being cut off from their families or creating friction.
"Unequal access to land for women remains a serious problem in many parts of the (Arab) region," Wael Zakout, a global land policy expert at the World Bank, told the Thomson Reuters Foundation.
Even when national laws allow title deeds to include husband and wife, men often refuse to add women's names, he said.
If a woman's husband dies or she divorces, she then lacks formal proof of ownership - a growing problem for thousands of widows in conflicts in Iraq and Syria, he said.
Sound knowledge of Islamic inheritance rules is key for religious leaders, tribal chiefs and judges in formal and religious courts - and for women themselves, experts said.
The report highlighted Niger, where training of religious leaders involved in distributing inherited land helped women to increase their access to land.
In Afghanistan, where only 2 percent of women are estimated to own land, women used Islamic principles to resolve disputes over property, the report said.
https://www.reuters.com/article/us-women-landrights-inheritance/misinterpreting-islamic-law-robs-muslim-women-of-land-experts-idUSKCN1GD56W
--------
Societal barriers discourage women's representation in civil service: UN study
March 02, 2018
ISLAMABAD: The United Nations Development Programme (UNDP) and United Nations Entity for Gender Equality and the Empowerment of Women (UN Women) jointly released a study of women's representation and access to decision-making roles in the civil service under UNDP's global Gender Equality in Public Administration (GEPA) initiative at a launch event today. The study found that societal barriers remain to women's representation and advancement in the civil service. The recommendations of the study will support the Government of Pakistan and its development partners to develop evidence-based programming to address barriers to gender equality in public administration.
The case study found that while civil service promotions are based on years in service, gender stereotyping and social norms affect civil service postings and women tend to be concentrated at entry-level positions. It also found that women in Pakistan face entrenched societal attitudes and a multi-faceted approach that accounts for socioeconomic realities must be devised to increase women's access to decision-making positions in public administration.
"It is commendable that women's labour force participation in Pakistan has increased by 50% in the past 15 years. However, only one in four women currently participates in the labour force, meaning that there is a vast treasure trove of talent unutilised. As one of the largest wage employers in the country, the public sector is an important entry point for women. Enhancing women's role in leadership and decision-making will thus have an immense impact on gender equality and on Pakistan's successful achievement of the Sustainable Development Goals," said Naoko Takasu, Deputy Country Director, UNDP Pakistan.
"In taking forward the Beijing Platform of Action, Pakistan is committed to achieving 30 percent representation of women in leadership positions. This case study shows that to achieve meaningful representation of women at all levels of decision-making requires concentrated action that acknowledges and addresses the barriers they face," said UN Women Country Representative, Jamshed Kazi.
To enhance women's access to decision-making in public administration, the case study recommends the development of a strong evidence base on women's representation in the civil service using systematic real-time reporting to inform future policy decisions; capacity building to achieve gender mainstreaming in government institutions through gender-responsive budgeting; and the establishment of a supportive environment for women in the civil service by fostering women's networks and South-South engagement.
The Gender Equality in Public Administration Pakistan Case Study 2017 is one of 15 in-depth case studies conducted around the world with UNDP support. The Pakistan case study was conducted using a new methodology developed in collaboration with the OECD and explores the development of women's representation and access to decision-making roles in the civil service, surveys women's perceptions of barriers and opportunities, and proposes policy and programmatic interventions.
https://www.pakistantoday.com.pk/2018/03/02/societal-barriers-discourage-womens-representation-in-civil-service-un-study/
--------
Driving not 'be all' of Saudi women's rights, says Princess Reema
March 02, 2018
Saudi Arabia is working to address deeper issues on the path to women's rights after allowing them to drive and attend soccer matches, one of the Kingdom's top female officials has said.
"These are things that are quick wins, we know we can do them, women in stadium, women driving , that's great, but women driving is not the end all, be all of women's rights," Princess Reema bint Bandar Al-Saud told the Atlantic Council in Washington.
As part of a wide-ranging social and economic reform initiative in the face of falling oil revenue, King Salman announced in September that Saudi women would be allowed to drive from June this year.
Saudi Arabia then tackled the male bastion of soccer, letting women into stadiums to watch matches for the first time in January.
Princess Reema , a vice president at the General Sports Authority of Saudi Arabia, said deeper issues are still being worked on including "a woman feeling safe in her home" and having any career path open to her in a traditionally male-dominated society.
"Those are things that will be more dynamic in moving the conversation for women's rights than just getting her driving ," said the princess, who in 2016 became the first woman named to a senior post in the authority, which is the equivalent of a ministry.
"Domestic violence is so critical. I promise you we really are working on it." The Sports Authority is trying to get more Saudis exercising as part of efforts to build a healthier population.
Saudi women traditionally cover themselves from head-to-toe in black robes, known as abayas, but Princess Reema said the attire will be no hindrance to women's exercise.
She said she knows of three companies making abayas for running and two more that have robes designed for cycling.
"Innovation will come. It has to come," she said. "Guess what, I'm wearing trousers today," added the princess, also dressed in sparkling silver shoes, purple, black and grey flowing sleeves, and with a blue scarf around her head.
The Kingdom sent four women as "wild cards" to the 2016 Olympics, but Princess Reema told AFP on the sidelines of the Atlantic Council event that she will be happy when one gets to a future Olympics "on her own merit ... however long it takes."
https://nation.com.pk/02-Mar-2018/driving-not-be-all-of-saudi-women-s-rights-says-princess-reema
--------
Iran detains 35 women for going to football match
1 March 2018
ran has detained 35 women for trying to attend a football match.
They tried to go to a game between Tehran teams Esteqlal and Persepolis. Iran said they were temporarily held and would be released after the match.
Fifa's president, Gianni Infantino, was also in attendance, along with Iranian Sport Minister Masoud Soltanifar.
A live broadcast was taken off the air when a journalist asked Mr Soltanifar when women would be allowed to attend football matches.
According to the semi-official ISNA news agency, Iranian interior ministry spokesman Seyyed Salman Samani said the female football fans were not arrested - but transferred to a "proper place" by police.
Earlier reports said two women were held.
Iran has barred women from attending football games since the Iranian Revolution in 1979.
'Break the taboo'
There were calls on social media before the match for women to protest against the ban outside the Azadi stadium today.
Women's rights activist Masih Alinejad on Wednesday called on women to attend Thursday's match.
"The Fifa president will be in the stadium tomorrow (1 March)," she wrote.
"I wish women would gather outside the stadium to ask men not to enter without them."
Another user said it was a "basic right" for women to enter stadiums with men, and said this match was "the best chance to break the 35-year-old taboo".
Azadi means "freedom" stadium in Persian, and one Twitter user pointed out the hypocrisy of "naming a stadium freedom but banning half the population from entering".
Why this game?
By Alan Johnston, World Service Middle East regional editor
The women caught sneaking into the stadium were trying to attend a particularly significant game, one being watched by the most powerful man in world football, Fifa's boss.
It seems they wanted to attract Mr Infantino's attention to the ban on women attending games.
And the sensitivity of the issue was apparent as Mr Infantino stood beside the country's sports minister during a live TV interview.
A journalist asked this awkward question about when the ban might be lifted. The sound was faded down, and the interview abruptly taken off the air.
'Politics should stay out of football'
Mr Infantino had been speaking to reporters about a two-year dispute between Saudi Arabia and Iran.
Since 2016, when Saudi Arabia broke off relations with Iran, Saudi clubs have refused to play there, forcing Iranian teams to play home games in Oman.
"It's very clear that politics should stay out of football and football should stay out of politics," Mr Infantino said the news conference.
"There are of course political issues between countries all over the world but this should not have an impact," he said.
Later on, the head of Fifa met with Iranian President Hassan Rouhani.
Mr Rouhani asked Fifa to make sure that "people are not deprived of watching competitions in their own stadiums".
http://www.bbc.com/news/world-middle-east-43243414
--------
Female Islamic Clerics across Indonesia Call for Unity Ahead Of Elections
March 1, 2018
Women Ulema from across Indonesia are calling on all parties to uphold unity ahead of the elections.
In a five-point statement, female Islamic clerics urged the country to maintain plurality by avoiding poor practices in this year's political contests, such as politicizing identity differences and using hate speech, which could damage social cohesion of the nation.
Two female Islamic leaders, Yulianti Muthmainnah of Aisyiyah, the women's wing of Indonesia's second-largest Muslim organization Muhammadiyah, and Hindun Annisah of the Hasyim Asy'ari pesantren (Islamic boarding school) in Jepara, Central Java, read out the statement, which was signed by 137 women ulema, after their meeting at Istiqlal Grand Mosque on Thursday.
Badriyah Fayumi, leader of Pesantren Mahasina in Bekasi, West Java, said the moral calls represented concerns of female clerics who worked actively in pesantren, majelis taklim (Quran study congregations) and other religious education forums.
"The Women Ulema Network shares a similar concern; hence, this moral call will be followed up on simultaneously by all female cleric networks, which have been solidifying since the first Indonesian Women Ulema Congress in Cirebon, West Java, in April 2017," said Fayumi.
Participants of the meeting said women ulema had characteristics useful for spreading the religion, as they could convey their messages in calm words while uniting followers and upholding Islamic principles. (ebf)
http://www.thejakartapost.com/news/2018/03/01/female-islamic-clerics-call-for-unity-ahead-of-elections.html
--------
FIFA boss Giannia Infantino says women will 'soon' be allowed at games in Iran
2 March 2018
ZURICH: FIFA President Gianni Infantino says Iran has assured him female fans will "soon" be allowed into soccer stadiums after they were blocked from getting into a game he attended in Tehran.
Women's rights activist Masih Alinejad on Wednesday called on women to attend Thursday's match between Esteqlal and Persepolis because the most powerful man in world football would be there.
"The Fifa president will be in the stadium tomorrow (1 March)," she wrote. "I wish women would gather outside the stadium to ask men not to enter without them."
Iran's state-run IRNA news agency cited the interior ministry as saying about 35 women were stopped from entering the Azadi Stadium and "were instructed to a proper place by police."
Iran has barred women from attending football games since the Iranian Revolution in 1979.
With Article 4 of FIFA statutes saying discrimination of any kind against gender is strictly prohibited, Infantino was criticized for attending a match that was limited to men only, but he opened a FIFA equality conference on Friday by claiming the trip could help "many women around the world."
Infantino says "I hope, I am confident, I was promised that women in Iran will have access to football stadiums soon."
He did not specify who made the pledge, while saying he was reluctant to be heard "criticizing anyone."
http://www.arabnews.com/node/1257641/sports
--------
URL: https://www.newageislam.com/islam-women-feminism/misinterpreting-islamic-law-robs-muslim/d/114459
New Age Islam, Islam Online, Islamic Website, African Muslim News, Arab World News, South Asia News, Indian Muslim News, World Muslim News, Women in Islam, Islamic Feminism, Arab Women, Women In Arab, Islamophobia in America, Muslim Women in West, Islam Women and Feminism