New Age Islam News Bureau
26 Jan 2020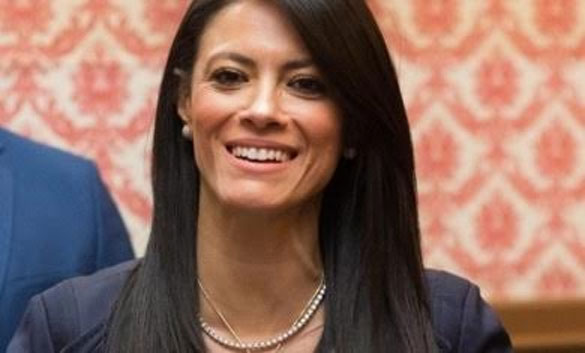 Minister of International Cooperation Rania al-Mashat
----
• 'Women's Empowerment Is Happening and Heartfelt,' Says Saudi University Head Einas Al-Eisa
• MoU Signed Between Punjab Women Protection Authority and OXFAM for Prevention of • Violence Against Women
• Breaking Down Walls, Iranian Women Fight Patriarchy
• Two Rohingya women killed in Myanmar shelling
• Bid to Begin Shaheen Bagh Like Anti-CAA Protest By Muslim Women Foiled In Varanasi
• 2 Muslim women died and 7 wounded in midnight artillery shall explosion in Buthidaung
• Local Muslim couple removed from Delta flight: 'Humiliating'
Compiled By New Age Islam News Bureau
URL: https://www.newageislam.com/islam-women-feminism/minister-international-cooperation-rania-al/d/120894
--------
Minister of International Cooperation Rania al-Mashat Prioritizes Women, Food Security In Davos Meetings
Jan. 25, 2020
CAIRO - 25 January 2020: On the sidelines of Davos 2020, Minister of International Cooperation Rania al-Mashat held meetings with heads of UN organizations to discuss plans on women empowerment and food security.
Mashat conferred with UN Women Head Phumzile Mlambo-Ngcuka about furthering cooperation with regard to increasing women employment in the agricultural sector, promoting decent work, and accomplishing the 2019-2024 women empowerment program in Egypt.
The project is aimed at contributing to "increased productivity and job opportunities generated by women entrepreneurs; increased employment of women by businesses; and reduced gender-specific barriers to women's entrepreneurship and to women entering into and remaining in the workforce."
Minister Mashat also met Head of World Food Program (WFP) David Beasley as the organization is working with Egypt to achieve food security, support small farmers, and accomplish the National School Feeding Programme providing 12.5 million pupils with meals that fulfill 25 percent of their daily needs of food. The programme's annual budget is $110 million funded by the Egyptian government.
Finally, the minister held talks with Head of International Fund For Agricultural Development (IFAD) Gilbert Houngbo in light of the recent inauguration of a regional bureau for the organization in Egypt. The IFAD new regional office covers Djibouti, Egypt, Iraq, Jordan, Sudan, Syria and Yemen.
IFAD and Egypt have executed 14 projects worth around $1.11 billion reaching over 7 million rural people. Those helped to promote land reclamation, improve the productivity of agricultural lands in the Nile Valley and Delta, reinforce smart strategies in face of climate change, and expand the role of private investors in the agricultural sector.
https://www.egypttoday.com/Article/2/79968/Mashat-prioritizes-women-food-security-in-Davos-meetings
--------
'Women's Empowerment Is Happening and Heartfelt,' Says Saudi University Head Einas Al-Eisa
January 26, 2020
If any of the aspirational young women of Saudi Arabia need a role model, they should look no further than Einas Al-Eisa, the rector of the Princess Nourah Bint Abdulrahman University in Riyadh.
I caught up with her at Davos last week, at the annual meeting of the World Economic Forum (WEF), where she told me one of the most inspiring and heartwarming stories I have ever heard. She was reluctant at first to go "on the record" about her family history, but finally agreed, not least because I insisted. It was too good a story to leave untold.
"Let me tell you something personal. I'm a second-generation female doctor of philosophy. My mum went to the first school ever to open for girls in Saudi Arabia, and she continued to go all the way to be a university professor. She was able to pursue her dream in Saudi Arabia, and became a history scholar. I'm 15 years on from my PhD, in anatomy and neurobiology, in Canada," she said.
"Now my daughter is doing engineering. That just tells you all the evidence of the amount of empowerment and accelerating change in the Kingdom. Change is real, happening and heartfelt. We really have a good story to tell the world," she said while in Saudi Arabia's headquarters overlooking the snowy Congress Hall of the WEF.
Princess Nourah University — or PNU as Al-Eisa calls it — is the biggest female academic institution in the world, with 35,000 students spread across
8 million square meters in the Saudi capital in 600 buildings. It grew out of the College of Education opened in 1970, and is named after the sister of King Abdul Aziz Ibn Saud, the founder of the Kingdom.
Her job carries a huge responsibility. "It's a big challenge, not just for me, but globally. Empowering women is a challenge worldwide," she said.
She, and the Kingdom, are rising to that challenge. Recently the World Bank rated Saudi Arabia as the leading country in the world in terms of fostering female equality, after a raft of measures to give women essential rights to education, employment and mobility. A new generation of women — like her daughter — is growing up in the Kingdom, increasingly self-confident of their place in Saudi Arabia and in the world, under the Vision 2030 strategy to transform the country.
Al-Eisa is an enthusiastic supporter of the changes, and dismisses suggestions that some of the more conservative parts of the Saudi demographic oppose them.
"Let me take a step back, and talk about the transformation. It's about opening new sectors that will build the capacity of society as a whole — the quality of life, health, education, job opportunity, economic development — so that we can develop sectors like entertainment, culture, and technology.
"These are all perfect opportunities for the whole of society to engage in, and now with the rate of enrolment of women in the private sector increasing from 19 percent to 23 percent in just one year, that reflects the engagement of the whole of society. As a university, we study this progress, the implementation of the policies, and the impact of the reforms," she said.
Perhaps the most encouraging aspect of the big changes underway in the Kingdom is the trend for women to study what have traditionally been regarded as exclusively male domains — science, technology, engineering and mathematics, the STEM disciplines. Of the 5,200 who graduated from PNU last year, 1,400 came from STEM faculties.
"I predict a huge contribution from women in that sector in the very near future. One good story that comes from Saudi Arabia is the increased number of women engaging in the technology sectors, for example, versus the drop we see worldwide. Elsewhere women are moving away from these fields, whereas in the Kingdom, the number is going up constantly," she said.
Education in the Kingdom remains segregated in terms of gender, but she does not think that is a significant or fundamental issue. In the West and in other parts of the world, co-education is the norm, but there have been many serious academic studies that have questioned the benefits of mixed-sex education. She is in no hurry to push for co-education in Saudi Arabia, on grounds of academic pragmatism, rather than any moral or ethical issues.
"If you go back to the literature and look at the assessment of the value of women studying in a campus of only women, there is enough global evidence to support the value of women-only education, in a women's environment. There is enough evidence out there, but still it is a source of debate," she said.
"Women are less intimidated in the fields of technology and engineering when they are taught in a safe environment. The way we are tackling that is to ensure that women have the best educators, the best learning opportunities, the best curricula, irrespective of gender," she said.
Many of the faculty staff are male, she pointed out, so the young women studying at the university are not completely segregated. "We have male and female teachers in PNU, and we will continue to support more women in academia, in engineering especially, as faculty staff, and as engineers in the field. We will continue to empower women and I guarantee they are not isolated," she said.
The crucial issue is what young women do after graduation. The Vision 2030 reform strategy envisages a big increase in the female workforce, rising to as much as 30 percent over the next decade. Recent statistics show that the Kingdom is well on the way to reaching that target, with 23.5 percent of the private sector workforce being female, according to official figures.
But for Al-Eisa, it is not just a simple matter of meeting official quotas. Again, she takes an academically pragmatic view.
"Just like it should be everywhere else in the world, it's the competency of the graduates that dictates where they go. We have a very good story in the health sector — nearly 40 percent of people working in health are female, reflecting the parity and the power we have achieved after investing so much in health and education," she said.
PNU works closely with INSEAD, the French management institute, to ensure that young women graduating from the university are equipped with the skills to get them jobs in increasingly competitive managerial professions.
She also works with the Ministry of Education in its "Women Leaders 2030" program that nurtures young women to become business leaders in the private sector. The ministry's work is closely coordinated with the UN's sustainable development goals which also align with Vision 2030.
"It's very important to produce holistic leaders, women who understand the challenges and bigger issues in the wider world," she said.
Her visit to the WEF has certainly opened her eyes to the bigger picture. All the issues that concerned her back in Saudi Arabia were also on the WEF agenda, she said, and she was "pleasantly surprised" that Davos was not all about money and economics.
"I come from the education sector, and I thought there will not be much for me in Davos, but there is so much going on, in investment, in education, in new opportunities, in skills development, science, science breakthroughs. I was impressed by the wide array of topics discussed and the caliber of discussions," she said.
She will leave Switzerland with a new set of ideas to further promote the role of women in Saudi Arabia.
"The session on Education 4.0 was a very good exchange of ideas, and made me think how Saudi Arabia must invest even more in the infrastructure of education, curriculum development, teachers' preparation programs and the rest.
"It's time now to experiment with more disruptions in education. I've learned new ideas about education and I'm going home with the conviction that we're heading in the right direction. Now when we talk about concepts like artificial intelligence, cybersecurity and data science, these are new programs that are opening up for all women. This is the language of the world, not just for Saudi Arabia," she said.
https://www.arabnews.com/node/1618216/business-economy
--------
MoU Signed Between Punjab Women Protection Authority and OXFAM for Prevention of Violence Against Women
January 26, 2020
LAHORE: Director General OXFAM called on Chairperson Punjab Women Protection Authority Kaneez Fatima Chader, in her office and reviewed measures regarding prevention of violence against women.
During the meeting, an MoU was signed regarding the prevention of violence against women. Punjab Women Protection Authority and OXFAM will mutually take preventing measures for coping with violence against women.
The male staff of women based institutes/organizations will be trained that how they can provide legal and moral help to the afflicted women besides arranging sessions for increasing the capabilities and abilities of these employees. Kaneez Fatima said all out measures were being taken for safeguarding the rights of women.
https://www.thenews.com.pk/print/604464-mou-signed-for-prevention-of-violence-against-women
--------
Breaking Down Walls, Iranian Women Fight Patriarchy
Jan 26, 2020
From breaking down kitchen walls designed to separate women from men to ornately decorating domestic spaces, an architect has been mapping "signs of resistance" of Iranian women in their own homes.
On display at the United Arab Emirates' Sharjah Architecture Triennial until February 8, the work of Iranian-Australian architect Samaneh Moafi explores how Iranian women have carved out lives for themselves within the patriarchal structures around them.
One example, the architect said, was how several women she worked with for her project "Parable of Mehr" ("compassion" in Farsi) had removed a wall in their apartments that was designed to separate women in the kitchen from men in the living area.
"They showed their desire for a better life," Moafi told the Thomson Reuters Foundation as she walked through the installation. She also viewed the women elaborately decorating their homes – particularly practical, domestic spaces such as kitchens – as "signs of resistance."
Moafi's work takes its name from one of Iran's largest public housing initiatives, built under former President Mahmoud Ahmadinejad.
The ambitious Mehr project was initiated in 2007 and sought to build 4 million housing units across the country, according to the Iranian Ministry of Roads and Urban Development. But priority for the units was given to married men who were supporting a family and couldn't afford property otherwise, Moafi said.
The architect pointed out that the Mehr buildings have few communal spaces, giving the women who live in them – often coming from disparate communities – little chance to interact.
That's why the custom-made household objects in her installation – displayed under green lighting typically used in Shi'ite Islam – are associated with particular rituals that cannot be performed alone, she explained.
They are designed to create kinship between women who live in the same buildings but "rarely speak to their neighbors or know what is going on outside," Moafi said, adding that originally, the Mehr units were very affordable for those who qualified.
Applicants could get a loan of up to 250 million rials ($6,000) without a deposit, covering more than half the total price of the average Mehr apartment, she said.
Since President Hassan Rohani came to power in August 2013, he has heavily criticized the initiative, said Kevan Harris, an assistant professor of sociology at the University of California, Los Angeles.
Rohani's administration saw the project as a "big expense" and a key reason for inflation being pushed up to 40%, said Harris, author of a book on politics and the welfare state in Iran.
Today still, housing pressures add to the cost of living, one of the main grievances behind ongoing protests in the country, he added in emailed comments.
Hundreds of young and working-class Iranians took to the streets in November to protest fuel-price rises, which Moafi said have a "really serious effect" on residents of Mehr townships, which tend to be poorly connected to public transport.
A spokesman for the Ministry of Roads and Urban Development was not available to comment.
In December, Iran's Planning and Housing Economy Office reported that residential property in Tehran cost more than 134 million rials per square meter. That puts housing out of reach for many in a country where the average monthly household income is less than 27 million rials, according to government figures.
Rohani's new National Housing Project, which opened for enrollment in November, aims to incentivize the private sector to supply 400,000 affordable homes to the market by 2021, according to local media reports.
The plan is to avoid Mehr's perceived mistakes by building each new home only when a willing and able buyer is ready to buy the property, and by locating the homes in more accessible areas, reports said.
As for the Mehr housing project, the units that were completed are no longer subsidized and can be privately sold or rented.
Legally, the units are now available to anyone with the means to pay for them. But the patriarchal system on which the housing units were founded is still at work, Moafi said.
At the start of her project, the architect and her collaborators split into groups and asked estate agents about renting a unit in one of the Mehr apartment blocks in Pardis, a township near Tehran.
"The guy was, like, 'Three single girls? I don't think I can find anything for you,'" Moafi laughed.
When she started her project and spoke to women who live in the Mehr homes today, Moafi noticed a lack of communication and solidarity between them.
Part of the reason for their isolation, she said, was that the women tended to stay inside their homes while men represented their families outside.
"The women are all working class, but some are urban, some are from rural backgrounds, and they don't really gel together," the architect said.
So, as a test for her prototype "assembly of objects," Moafi gathered some of the women in a Mehr parking lot in Isfahan to take part in a ritual known as nazri – a devotional practice that is carried out to solve a problem. In this case, it involved cooking a labor-intensive dish called sholeh zard, a traditional Iranian saffron rice pudding.
It took the group 11 hours to make the dish, which Moafi says "is impossible to make alone in a large quantity," as is done for a nazri. There were initially four women involved, with more joining in as they went.
The women all lived in the same area but most of them did not know each other, Moafi noted.
Still, while cooking the women worked together and spoke about their problems to the group.
"It doesn't mean that they're all happy friends living together now," Moafi said. "[But] a ritual is a break from day-to-day life."
https://www.haaretz.com/middle-east-news/iran/.premium-breaking-down-walls-iranian-women-fight-patriarchy-1.8443591
--------
Two Rohingya women killed in Myanmar shelling
26 January 2020
Two Rohingya women were killed and seven others injured in shelling the Myanmar military and insurgents blamed on each other, days after the UN's top court ordered the country to protect the beleaguered Muslim minority.
Military spokesperson Zaw Min Tun told AFP said that one woman was killed on the spot by "heavy weapons" while another died after arriving at hospital in conflict-torn northern Rakhine state.
He blamed the deaths on incursions by the Arakan Army, rebels fighting for more autonomy for ethnic Rakhine Buddhists in the same area where the Rohingya crisis unfolded.
But a spokesperson for the Arakan Army said there had been no fighting with the military in that area and they are "accusing and faking it."
The conflict has seen scores of civilians killed, hundreds wounded and some 100,000 displaced in the past year.
Earlier this month four Rohingya children were killed and five others injured alongside their teacher after an explosion hit while they collected firewood.
https://english.alarabiya.net/en/News/world/2020/01/26/Two-Rohingya-women-killed-in-Myanmar-shelling.html
--------
Bid to begin Shaheen Bagh like anti-CAA protest by Muslim women foiled in Varanasi
Jan 23, 2020
VARANASI: Bid to begin Delhi's Shaheen Bagh and Lucknow's Ghantaghar like anti-CAA protest by a group of Muslim women and men at Benia Bagh ground here on Thursday was foiled by police.
Police took 10 men protesters under custody while women protesters managed to escape. Some anti-social elements also tried to create panic by indulging in brick batting outside the ground.
Around 12 noon over a dozen Muslim women gathered near Gandhi Chaura inside Benia Bagh ground and started anti-CAA sit-in stir. Within few minutes some men of adjoining Muslim dominated localities also reached there to join them.
On getting information heavy police force reached there from Chetganj, Chowk and Dashaswamedh police stations. Later, district magistrate Kaushal Raj Sharma, SSP Prabhakar Chawdhary and other senior officers also reached there with police, PAC and RAF.
Police asked the protesters to show district administration permission letter for holding protest. When the protesters made it clear that they had not taken permission for their protest police started taking them under custody. It led to a scuffle between the cops and protesters. In the meantime some anti-social elements pelted stones from outside the ground and fled the scene.
Taking advantage of the chaos created by such brick batting the women protesters fled the scene. SSP said that 10 men protesters had been taken under custody and sent to police lines. The women protesters had managed to escape, he added.
The DM said that district administration had already made it clear that as prohibitory order under section 144 is promulgating in the district any peaceful protest or agitation can take place with permission of district administration only. In recent weeks permissions had also been issued for the protests of Congress and Communist party, he said adding, but on Thursday some anti-social elements tried to disturb law and order by staging sit-in at Benia Bagh ground without any permission from district administration.
DM said that this bid of protest had been foiled and many have been taken under custody to initiate legal action against them.
Apart from Delhi's Shaheen Bagh, Lucknow's Ghantaghar and other major cities the Muslim women had also staged a day-long protest at Karbala ground of Azamgarh district in east UP region on Tuesday in protest against CAA, NRC and NPR.
https://timesofindia.indiatimes.com/city/varanasi/bid-to-begin-shaheen-bagh-like-anti-caa-protest-by-muslim-women-foiled-in-varanasi/articleshow/73550381.cms
--------
2 Muslim women died and 7 wounded in midnight artillery shall explosion in Buthidaung
25 Jan, 2020
Two Muslim women were killed and seven received injuries in midnight artillery shall explosion in Kin Daung village under Buthidaung Township in northern Arakan state close to Bangladesh's south eastern border.
A Muslim Leader of the village informed that one woman died in the spot and another woman died in Buthidaung hospital while she was sent to the hospital along with other 7 wounded people for better treatment.
"The artillery shell fell in a bed of a house and exploded there when they were sleeping. In the incident, two women killed and 7 other have been hospitalized in Buthidaung hospital," he said.
Parliamentarian U Maung Kyaw Zan, lawmaker of the township in upper house , confirmed the incident and told Narinjara over phone that two women, age around 18 and 25, died in the incident and 7 are injuries.
" One woman died in the spot and another woman died in Buthidaung Hospital. 7 injury patients are being treatment in Buthidaung hospital," he said.
Myanmar Army spokesman Brigadier General Zaw Min Tun said that the artillery shell was come from Arakan Army during it midnight attacked an outpost of security force near Kyar Nyo Byint village in Buthidaug Township.
" The artillery shell was fired by AA during the attack on our outpost. It is not concerned with our troops," said Brigadier General Zaw Min Tun.
However AA spokesman Khaing Thuka denied it and there was not any clash between AA and Myanmar troops in the last night.
" I have to know the artillery shell was fired by Myanmar army . Villagers told me that LIB 551 and out post nearby Kyar Nyo Byint village fired many artillery shellies to the area at night. The local people know exactly which group the shells in last night. It would be better if journalists inside and outside are to be allowed to cover stories in Arakan. At that the truth story will be coming out from the area," Khaing Thuka said.
https://www.narinjara.com/news/detail/5e2c3303049682041f925760
--------
Local Muslim couple removed from Delta flight: 'Humiliating'
Jan. 25, 2020
Nazia Ali had removed her sneakers, finished sending a text message to her parents and was putting on headphones and settling into her seat for the nine-hour flight from Paris to Cincinnati when a Delta Air Lines crew member approached her and her husband, Faisal.
They were excited to come home July 26 to West Chester Township to see their three young sons following a 10th-anniversary trip to London and Paris, "the city of romance and love," he said.
What happened next would overshadow the good times they'd enjoyed: A flight crew member had complained to the pilot that she was uncomfortable with the Muslim couple in the second row of economy class. The woman was wearing a head scarf and using a phone, and the man was sweating, she allegedly told the pilot.
The pilot contacted the ground crew. He would not take off until couple was removed.
"We had been in our seats for 45 minutes," Nazia Ali, 34, said Thursday from the Cincinnati area office of the Council on American-Islamic Relations in suburban Blue Ash. "The ground agent said, `Can you step out with me? We'd like to ask you a few questions.' So I said, `Do you want us to get our things?' And he said, `Yes, please grab all of your personal belongings. You're not going to be on this flight.' "
In the wake of the couple's removal from the flight, the Muslim advocacy group announced Thursday it was filing a religious profiling complaint against Delta Air Lines to the U.S. Department of Transportation.
In a letter to be submitted to the department's Aviation Consumer Protection Division, the Council on American-Islamic Relations (CAIR-Cincinnati) alleges that two Muslim passengers were singled out for removal from a Delta flight from Paris after a flight attendant said she was not comfortable with them being on the plane.
The flight's destination was the Cincinnati/Northern Kentucky International Airport. It's not clear where the flight crew was based.
"We call on the U.S. Department of Transportation to conduct a thorough examination into the prevailing practices of major American air carriers, including Delta Air Lines, and to develop policy guidelines on the objective factors that are to be considered when determining that a passenger may legally be removed from a flight," CAIR-Cincinnati attorney Sana Hassan said.
Faisal and Nazia Ali, Hassan and Karen Dabdoub, executive director of CAIR-Cincinnati, spoke at a 1 p.m. news conference.
Shortly thereafter, Delta Air Lines released its second statement of the day to the media.
The Delta statement reads: "Delta condemns discrimination toward our customers in regards to age, race, nationality, religion, sexual orientation or gender. As a global airline that brings hundreds of thousands of people together every day, Delta is deeply committed to treating all of our customers with respect. Delta continues its investigation into this matter and will issue a full refund of these customers' airfare."
The flight attendant claimed that Faisal Ali tried to hide his cell phone and that she had heard the couple use the word "Allah." Allah is the Arabic word for God.
In CAIR's letter to federal transportation officials, attorney Hassan wrote that Delta discriminated against the couple in violation of federal law. The organization wants the Department of Transportation to create guidelines for U.S.-based airlines on the removal of passengers for safety.
Dabdoub said that her organization nationally sees spikes in anti-Muslim behavior and examples of Islamophobia during election seasons — this year being no exception.
"There are some politicians who will try to climb that ladder of success on the backs of American-Muslims," she said. "Of course, we're not alone. These types of incidents are happening all across the country all too frequently. It is another symptom of the anti-Muslim behavior we see during the election season."
Two American Muslim women who work for the federal government were removed Wednesday night from an American Airlines flight at Miami International Airport. A flight attendant felt threatened by their presence, according to reports.
Faisal and Nazia Ali, both of whom emigrated to the United States with their respective families from Pakistan, became U.S. citizens 16 years ago. They are parents of three sons, ages 5, 4 and 2. He is 36 and works as director of operations for Healing Touch, a home health care company that he owns with his father and brother. He has a degree from the University of Cincinnati. She attended Wright State University. They worship at the Islamic Center of Greater Cincinnati in West Chester Township.
Once they were led off the flight — they said they saw other Muslim women wearing head scarves seated toward the rear of the plane — they were questioned in a "rough manner" by a French security official.
"He said, `How long were you here?' We said, `Two days,' " Nazia Ali said. He asked where they stayed. They showed him the address of the hotel. He took cell phone photographs of their passports. The couple insisted they be allowed back on their flight but noticed that it was pushing back from the gate.
"He said to us, `You did nothing wrong. That's the way the world is right now,' " Faisal Ali said.
Delta paid for their room that night at a hotel near the airport.
They flew back to Cincinnati the next day. Nazia Ali said she had briefly considered not wearing her head scarf, but anger overtook her and she refused to alter her appearance, "because I did nothing wrong.
"It was humiliating. We were treated like criminals. I thought, `We are American citizens. You can't do this to us.' "
Asked, finally, what she would like to see come of their experience, Nazia Ali said, "I want people to be educated. This was an international flight crew. They should be more educated than to make assumptions based on appearance."
https://www.cincinnati.com/story/news/2020/01/25/local-muslim-couple-removed-delta-flight-humiliating/4574314002/
--------
URL: https://www.newageislam.com/islam-women-feminism/minister-international-cooperation-rania-al/d/120894
New Age Islam, Islam Online, Islamic Website, African Muslim News, Arab World News, South Asia News, Indian Muslim News, World Muslim News, Women in Islam, Islamic Feminism, Arab Women, Women In Arab, Islamophobia in America, Muslim Women in West, Islam Women and Feminism