New Age Islam News Bureau
30 May 2018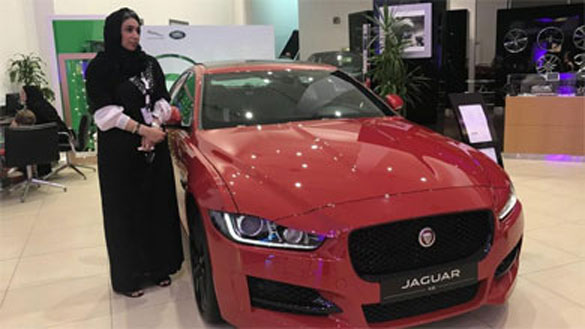 Several car companies have employed female staff in their sales teams to attract female customers. (SG)
-----
• Beyond Purdah: 20th Century Indian Muslim Women Who Broke Societal Barriers
• Women Staff Fill Saudi Car Showrooms Ahead Of Driving Ban Lift
• Iran: Woman MP Admits the Existence of 24,000 Widows Fewer than 18
• Saudi Arabia Approves Measure Criminalizing Sexual Harassment
• Meet the Saudi Woman Who Criticized the System through Poetry on Reality TV
• Treatment of Women in Iran's Brutal Prison System
• Violence against Afghan Women Carried Out With Impunity: UN
• Iran: Performance of Deaf Girls' Choir Prevented In a Tehran Ceremony
Compiled by New Age Islam News Bureau
URL: https://www.newageislam.com/islam-women-feminism/millions-muslim-women-join-workforce/d/115398
--------
Millions of Muslim Women Join Workforce in 'Quiet' Revolution
May 29, 2018
An unprecedented number of Muslim women have joined the workforce over the last 15 years, according to the World Economic Forum.
More women work across the Muslim world than in the United States or the European Union, according to Saadia Zahidi. Zahidi, who has penned a book on the 'quiet' revolution points out how the number of Muslim working women have swelled from 100 million in 2000 to 155 million, a 50% increase.
Elucidating on the transformation sweeping across the Muslim world (no unitary black box), Zahidi mentions how women have acquired hitherto untapped economic opportunities and role models with the proliferation of globalisation and technology. Dual- income households have increasingly become common with the urban middle class breaking traditional breadwinner, caregiver stereotypes.
Local and multinational businesses have realized that working women are more than a niche market. They now invest in strategies to recruit women and enable practices that fit the local context in order to appeal to women.
No country for working women
The market is recognised as an untapped territory. Ladyjek in Indonesia sells motorcycle rides exclusively to women. Egyptian Mumm foods connects female cooks with office workers who want home-cooked meals. Saudi Arabia's Careem is training women drivers with the kingdom scrapping a driving ban soon. Egypt's Samira Negm has solved traffic congestion and transport safety through Raye7. DoctHERS in Pakistan has connected those living in rural areas to housewives who are qualified doctors. Hijup in Indonesia caters to devout women as the largest online retailer of "modest fashion".
Businesses recognize nuances in consumer segments of working women and women who are traditional caregivers. The former has direct agency over earnings while the latter has secondary access to consumption. Products and services are designed for this current market.
Women's earnings have risen to approximately $1 trillion. Economies have started to benefit from their investment in women's education. However, there is more to be gained from further investment. Muslim countries could increase their national income by $5.7 trillion if they ensured equal workforce participation. According to McKinsey, if the UAE increased its female labour force particpation to its full potential by 2025, its GDP would rise by 47%.
Law governing home-based workers yet to be passed
Women also outrank men in education. In Indonesia, the number of women in universities has increased from 2% in 1970 to 33%. The corresponding figure for men at university has increased from 4% to 29%. The number of Saudi Arabian woman at university has increased from 30% ten years ago to 50%. The registered increase is higher than in countries like Mexico, China, Brazil and India.
While comparitively less women are enrolled in science, technology, engineering and mathematics (STEM) courses the world over, Muslim majority Brunei and Kuwait are two of five countries bucking the trend.
Across another 18 countries, women make up 40% or more of STEM students. Over half of these also Muslim-majority countries including Tunisia, Qatar, Algeria, Oman, Malaysia, Jordan, Bahrain, Azerbaijan and the UAE. In Saudi Arabia, 38% of STEM students are women. In Iran, 34%. Corresponding figures for the United Kingdom and the US stand at 36% and 30% respectively.
As the number of working Muslim women continues to rise, its ramifications will be felt internationally. "Their economic fortunes will determine the prosperity and stability of their own countries, and, by consequence, of the global economy," Zahidi concludes.
https://tribune.com.pk/story/1721520/9-millions-muslim-women-join-workforce-quiet-revolution/
--------
Beyond Purdah: 20th Century Indian Muslim Women Who Broke Societal Barriers
May 29, 2018
Far from the commonly held impression of silenced, cloistered and acquiescent Muslim women, an exhibition reminds Indians of the post-Independence contribution of some women who became role models for new generations.
Titled "Pathbreakers", the exhibition was organised by Muslim Women's Forum in partnership with UN Women at India Habitat Centre to celebrate the struggles of those women who broke barriers and became partners in the project to build a new India.
"A multiplicity of stereotypes are constructed by diverse actors regarding Muslim women. But the fact is there is no undifferentiated 'mass' of Muslim Women. Like women of all socio-cultural groups, they too are a divergent, shifting composition of individuals, often dumped in popular parlance into one single heap. This homogenisation has to be rejected," Syeda Hameed, President, Muslim Women's Forum said.
Shedding their Purdah, the Muslim women became writers, teachers, artists, scientists, lawyers, educators, political workers, trade unionists. A few even went to become MP's, MLA's and some represented India in international fora.
However, with a few exceptions, most of them have been forgotten in time.
"There is more to Muslim women than triple talaq, polygamy halala and purdah, and that this project hopes to bring a different image of Muslim women to the public consciousness. For the commonly held impression of silenced, cloistered and acquiescent women, Pathbreakers narrates the stories of strong, determined and engaged women," Hameed added.
The exhibition highlighted these women who were at the forefront of nationalist and feminist struggles. The main body of their work spanned from 1947 until the end of their lives who believed in equal rights for women and projected through their work and their social engagements.
From featuring writer activist from Uttar Pradesh Anis Kidwai to Sharifa Hamid Ali from Gujarat who was one of the founding members of All India Women's Conference (AIWC) and appointed as the Indian representative to the UN Commission on the status of women.
Other women who were featured in the exhibition are Atiya Fyzee, Atia Hossain, Aziza Imam, Fathema Ismail, Hamida Habibullah, Hajira Begum, Mofida Ahmed, Masuma Begum, Mumtaz Jahan Haider, Qudsia Aizaz Rasul, Qudsia Zaidi, Razia Sajjad Zaheer, Saleha Abid Hussain, Saeeda Khurshid, Safia Jan Nisar Akhtar, Siddiqa Kidwai, Surayya Tyabji, Zehra Ali Yavar Jung and Tyeba Khedive Jung.
http://www.business-standard.com/article/news-ians/beyond-purdah-20th-century-muslim-women-who-broke-societal-barriers-118052901110_1.html
--------
Women Staff Fill Saudi Car Showrooms Ahead Of Driving Ban Lift
29 May 2018
Saleswomen have started filling car showrooms to facilitate the decision-making process for potential female buyers as the royal decree allowing women to drive will come into effect in less than a month from now.
Several car companies have employed female staff in their sales teams to attract female customers.
The Mohamed Yousuf Naghi Motors' dealership trained a team of saleswomen during the past three months and deployed saleswomen in all their branches in the Kingdom. Professional instructors introduced the trainees to cars and taught them how to market the products.
"Saleswomen and executives would be working with all customers, not just women," said the dealership's head of marketing Mahmoud Mirza.
There are also dedicated lounges and rest areas for female visitors.
An initiative under the slogan "Her Car Her Choice" showcased the latest models in Jaguar and Land Rover lifestyle cars guiding visitors to take the right steps in choosing a car by checking safety features, performance and practicality.
The one-day event that took place Sunday at the showroom branch at Automall aimed at helping visitors to learn about what to consider when purchasing a vehicle.
Asked about visitors in recent months, Mirza said, "Since the decree was announced, we have found an increase in traffic in our showrooms. Some even showed up the day following the announcement of the decree out of curiosity. Since last month we have found more women coming in. They are more serious about buying a car. You can tell this time they're doing their research."
Ohoud Al-Zahrani, a saleswoman who joined the dealership about three months ago, said she was excited about the new experience although it is not related to her undergraduate degree in human resources.
She recounts her early experience with cars when she helped her son choose one when he turned 18.
"It was then when I started learning a lot about cars. He also had a car accident and we had to get car parts and I learned about that as well," she said.
"I feel this is a chance for us to prove ourselves not just in our ability to drive but also to work in the auto industry. There are now opportunities in managerial, administrative, marketing and so many other fields for women."
Sahar Alshareef, another saleswoman, said she gained knowledge about cars from the training program. "It's a new work experience and it's nice dealing with female customers. It's new for us and for them."
For Manal Alawaji, it is her first time to work in car sales.
"Most of the visitors have been asking about safety features. Fuel consumption is also a main concern," she said.
Women will be allowed to do test drives after the implementation of the royal decree next month.
Nearly 8,000 applicants have obtained driving licenses in the Kingdom so far.
Several marketing executives told Saudi Gazette that small SUVs and medium-sized sedans are the vehicles in demand.
https://english.alarabiya.net/en/variety/2018/05/29/Women-staff-fill-car-showrooms-in-Saudi-Arabia.html
--------
Iran: Woman MP Admits the Existence of 24,000 Widows Fewer than 18
29 May 2018
A woman member of the mullahs' parliament admitted that there are 24,000 young widows under 18 years of age in Iran.
Citing remarks by Massoumeh Agha-Alishahi the state-run media wrote on Monday, May 28, 2018, "The harms caused by early marriage of girl children are so much that now Agha-Alishahi has announced that the existence of 24,000 child widows under 18 years of age.
It is not clear what the fate of these many children is going to be, those who have lost their childhood and have no perspective for a bright future."
Massoumeh Agha-Alishahi also warned against the increasing trend of this phenomenon and added, "Unfortunately, rural girls have to drop out of school due to an absence of high schools. Then their parents force them to get married after finishing the elementary school. Poverty also does have an impact on child marriages. There are families who force girls as young as 9 or 10 years old to get married with old men just to obtain some money to provide for the rest of the family's needs." (The state-run ROKNA news agency – May 28, 2018)
https://women.ncr-iran.org/iran-women-news/5212-iran-woman-mp-admits-the-existene-of-24-000-widows-under-18
--------
Saudi Arabia Approves Measure Criminalizing Sexual Harassment
30 May 2018
Saudi Arabia's Cabinet on Tuesday approved a measure criminalizing sexual harassment, the state news agency SPA reported.
The anti-harassment measure was approved on Monday by the Shura Council advisory body.
It introduces a jail sentence of up to five years and a 300,000 riyals ($80,000) fine.
"(The legislation) aims at combating the crime of harassment, preventing it, applying punishment against perpetrators and protecting the victims in order to safeguard the individual's privacy, dignity and personal freedom which are guaranteed by Islamic law and regulations," a statement from the Shura Council said.
The legislation, which awaits an expected royal decree to become law, is the latest in a series of reforms in the kingdom.
It comes weeks before a decades-old ban on women driving is set to be lifted.
Further details regarding the legislation can be found here.
https://english.alarabiya.net/en/News/gulf/2018/05/30/Saudi-Arabia-approves-measure-criminalizing-sexual-harassment-.html
--------
Meet the Saudi Woman Who Criticized the System through Poetry on Reality TV
29.05.2018
Hissa Hilal, mother of four children and officially a housewife, is a very brave woman — and the heart of the documentary, The Poetess.
Originally from Saudi Arabia, Hilal took her poetry to a United Arab Emirates a popular reality TV show called Million's Poet. Her lyrical efforts were broadcast across the Arab world.
In The Poetess, German filmmakers Stefanie Brockhaus and Andreas Wolff capture Hilal's story. Her poems speak out against religious extremism and fatwa culture — lyrics which resonated with global media. But along with support, Hilal also received death threats afterward.
DW spoke to Andreas Wolff about the film covering these events and the difficulty of filming in the arch-conservative country.
DW: Mr. Wolff, how did you and Stefanie Brockhaus come across the story of Hissa Hilal?
Andreas Wolff: In 2010, we were in the US at a film festival to present a different film and at the time, there was intense reporting on Hissa in media outlets like The New York Times and The Washington Post. We saw this photograph of her on a stage in a television studio — this totally veiled woman, of whom only the eyes could be seen — and the scroll on the screen read, "Saudi housewife criticizes the most important Saudi cleric."
It was such a stark image. It was clear then that it would make for a great documentary — if she was willing to work with us.
We got her telephone number relatively quickly. And she said we could meet with her to discuss while she was in Abu Dhabi, but she was only there for three more weeks. We flew there straightaway. There was so much commotion there — with the competition and the media uproar surrounding it that we just ran after her with our cameras.
You were at her side from the beginning?
Not the beginning exactly, but right away we knew we weren't just going to interview her and move on — that we were more deeply interested in her story. And that made her curious. She didn't know exactly what that would mean but it was a first step. At the end of the show, we were all sitting with her in the hotel and she showed me her face. I was so happy that she did so, as showing her face was a sign of how much she trusted us. That was wild.
That's how it all began. Afterward we wanted to visit her at home in Saudi Arabia but that took a very long time. Just getting the visa took a year, because the country is so closed off. Then the filming had to be pushed back due to the difficult requirements. The film sat there for four years because we couldn't get into the country, because it took forever to get permission from officials to film there.
How tough was the actual filming there on location? What did you need to be aware of?
The law has it that all women need to wear an Abaya and a Hiqab [ed. note: the black robe and face veil, respectively] and Stefanie, the co-director, had to as well. Our head of production, Amr Alkahtani[who co-produced the German-Saudi movie Wadjda] , thanks to whom we were allowed to film, was present at all times. He could read the situation.
At the beginning of our filming, it was difficult with Hissa, who comes from a very strict, traditional Bedouin family. But there are other women in Saudi Arabia who had been active, who studied in the US and are engaged. So we considered the possibility of having other women step in front of the camera and show their face. There are so many exciting things happening in the country.
Normally, filming brings you quite close to the protagonist but in this case, your protagonist has everything but her eyes hidden. How did you overcome that?
One step at a time and with a lot of experimentation. We decided at some point that we would film a long interview with Hissa in which she told her own story. And we wanted to film it in such a way that we can see her eyes well, that she looks directly into the camera. That worked relatively well.
Did you experience any of the current sentiments about a reform taking place under Prince Mohammed bin Salman while you were there?
That process has been in development for years and there continue to be these little openings. A few years ago, there were plans for the King Abdullah University for Science and Technology (KAUST) in the works, a modern university in which men and women would study in mixed-gender classes. In order to accomplish that, King Abdullah had to make an unbelievably large number of concessions to the religious leaders. And it was said that it was as a result of this university that the discontinuation of the ban on women driving was pushed back.
There's always this back and forth, this negotiating with the religious heads. They are responsible for education and they influence the opinions and beliefs of children from elementary school on — an extreme form of brainwashing. This element in the society is not being modernized in any way at the moment, something which has been completely missed by our media. It may be that they discontinue the ban on driving yet at the same time, most women wouldn't trust themselves to drive because they don't know what consequences might come as a result of their doing so.
Was Hissa not permanently filled with fear after her television appearance?
She did not name extremists or concretely use the cleric Abdurrahman al-Barrack's name but rather in her poems she fundamentally railed against the radical separation of the sexes. She said that this idea of separation is un-Islamic and does not correspond to the Koran. She may not have named names but everyone knew who she was referring to, and in 2010, he called for a fatwa. He said that the mixing of genders was un-Islamic and that if men and women were to be together, they were not conforming to Islamic law and that it was okay to kill those who did so.
Hissa said afterward that someone who says something like that, stirring up hate, is responsible for the fact that Muslims are so feared in the rest of the world. She was so clear in her thinking and came across as firm in that belief and then realized in her interviews that a majority of the citizenry is behind her. For the religious it became difficult to attack her because she knew that she had so many people behind her. She knew exactly that she was hitting a nerve and was confident that she was in the right. That gave her courage.
How has Hissa reacted to the film?
She was in Locarno at the premiere and thought it was great. It was her first time in Europe. And to stand there in the front of the cinema, filled with people and respond to their questions was something she really enjoyed. She also liked the film – she saw it ahead of time and it pleased her.
Read more: Saudi blogger Raif Badawi marks five years in prison
What was especially impressive to you about the people in Saudi Arabia?
I really liked how the Saudis we met there were really hospitable and ready to help. It is really easy to get them to come out of the hard shells imposed onto them by society and into conversation. It feels like everything there is so strict and yet there are many encounters if you just dare to look people in the eye.
Why did you want to make this movie despite all the difficulties?
With our film, we wanted to bring the veiled woman to the people of the West. Even if someone wears a veil, she can be very personable. Veiled women are repeatedly associated with extremism. Yet the Saudi people often disagree with the religious. The vast majority of people there would hope to have a greater exchange with the West.
http://www.dw.com/en/meet-the-saudi-woman-who-criticized-the-system-through-poetry-on-reality-tv/a-43972076
--------
Treatment of Women in Iran's Brutal Prison System
30 May 2018
Thousands of women had taken to the streets during the 1979 Iranian Revolution, many who like their male counterparts, were determined to bring an end to Mohammad Reza Pahlavi's despotic rule.
But once the dust had settled, with Ayatollah Ruhollah Khomeini winning full control of the country, many who fought for freedom, soon came to realize that their newly appointed Supreme Leader, was offering much the same as Reza Pahlavi as far as autocracy was concerned, and women's rights were almost immediately curtailed.
So, disillusioned with the newly installed religious dictatorship, droves of women joined political opposition groups, soon finding themselves back on the streets demonstrating against Khomeini, and with a crackdown fast put in place to counteract the ever-increasing disturbances, many women were arrested, finding themselves languishing in one or other of the regime's brutal prisons.
From those very early days, the regime has despised political prisoners with such rancour, thousands have been slaughtered within the prison system, and many detainees, whatever their gender, have been tortured, physically beaten or raped. Due to the vast number of arrests, the majority of female activists abandoned any form of dissention, and in desperation to seek freedom, many of their number had fled the country.
Where Iran is concerned, treatment of women in its prison system closely reflects the dark days of the Nazis, when those watching over the dismal, fetid jails of that tyrannical regime, operated under their own volition, and inmates were tortured as daily routine and all forms of abuse was rife.
No sooner had Ruhollah Khomeini established his autocratic rule, any laws that were put in place by Mohammad Reza Pahlavi to protect women, under his Family Protection Law of 1967 and 1973, which the new ruling clergy scorned as Pahlavi modernist ideology, were repealed within hours of the founding of Iran's Islamic Republic.
One in particular, which had been put in place by the Shah to ensure that girls could not be wed until the age of 15-years, was lowered by Khomeini to the age of 9-years. In these modern times, where Iranian women have access to the outside world through the internet, they see the way women have much more freedom in the outside world.
With many younger women in Iran openly defying authority, through street demonstrations, if they don't end up with acid thrown in their faces by the morality police within the Basij militia, they find themselves thrown in prison.
Rights defenders
Women's rights defenders often find themselves arrested, many women who have campaigned for redress of human rights violations end up in prison, most have taken part in peaceful gatherings, some just standing together in silent protest in parks, and although many are released after a short period in custody, others are sentenced to lashes, or substantial prison sentences.
With women's rights at an all-time low in Iran, a place where a woman can be hung for fighting off a rapist, every form of abuse can be found within the country's prison system. As far as rape and sexual abuse of both men and women are concerned, in Iran's notorious penal establishments, nothing is out of bounds.
With most female victims that have suffered rape at the hands of prison guards, having ended up at the end of a hangman's rope straight after such violations, the likelihood of witness statements from victims is quite sparse. Most statements that have been taken concerning sexual abuse, come mainly from the victim's cellmates who survived their sentence, and related them to human rights organizations.
In the light of British dual-national Nazanin Zaghari-Ratcliffe, being imprisoned in Iran's notorious Evin Prison, the facility has come under Western scrutiny. To a woman, the first sighting of an institution like Evin Prison, can be a mortifying experience.
Its formidable structure stands in the shadow of the bleak Alborz mountain range, covering a large area north of Iran. A grim place, with towering walls topped with barbed wire, and dotted with watchtowers, Evin is surrounded by armed guards.
After the softening up process, the next step is often solitary confinement, where the prisoner can find herself being dragged from her cell on a daily basis to be interrogated, where torture is often applied, while questions and verbal abuse are thrown at the prisoner in torrents.
During the sweltering heat of summer months, these prisons reek more than usual, and in the overcrowded cells, bugs and cockroaches run rampant, adding to the misery of those incarcerated. Within the confines of some 20-square-metre cells, as many as 28 prisoners can be crammed, and with personal hygiene at its worst, due to just one shower available for up to 200 prisoners, with finding a place to sleep virtually impossible.
Many forms of torture
In Iran's prison system, torture comes in many forms, it can be physical through severe beatings, or applied through the use of various implements such as whips or batons, or in the form of mental torture, such as being forced to watch mock executions, sleep deprivation, prolonged periods of solitary confinement.
Sometimes they take the form of threats of arrest and harm to family members, denial of visits and telephone calls, prolonged periods of solitary confinement, and pouring of iced cold water on prisoners with heart conditions after being exposed to long periods of intense heat. As in the case of most prisons, the deprivation of health care, with basic necessities such as toilets and showers at a minimum.
Sexual torture has become the norm in the Iranian prison system, it is casually used as like any other form of torture, and it takes place in both jails and detention centres, where helpless women stand no chance of defending themselves.
In Iran, girls as young as 13 have been executed. Young girls that are imprisoned, who end up in in the "respectable" sounding "Residential Units", which in reality sadistic guards denote as "rape camps" or a "place of no return", often end up horrendously tortured, hung, or are so despicably sexually abused, many who survive end up mentally deranged.
When women have suffered the terrible trauma of rape, those who survive the gallows often won't speak out due to the shame and humiliation it would cause them. While many others have remained silent, due to the fact of threats being made against their families by the perpetrators, who warn them that if they should decide to speak out, members of their family could suffer the same fate, or their entire family would be murdered.
In the opposite to men, whose time in prison is more socially acceptable, many female prisoners or rape victims that are eventually released, find themselves facing the social pressures which come about through being imprisoned.
So, as far as a woman is concerned, being in jail can destroy her reputation, and any mention of rape can result in the victim being murdered, often as a result of honour killings by family members. So, for women victims of imprisonment or rape, their ordeal never ends.
https://english.alarabiya.net/en/features/2018/05/30/Treatment-of-women-in-Iran-s-brutal-prison-system.html
--------
Violence against Afghan Women Carried Out With Impunity: UN
May 29, 2018
Kabul: The United Nations issued a blistering report on Tuesday accusing the Afghan state of violating women's rights by failing to prosecute criminal violence against them, underscoring widespread gender brutality nearly 17 years after the Taliban's fall.
A law protecting women from violence has been in place since 2009, but instead of enforcing it authorities are allowing and sometimes overseeing informal mediation to resolve criminal cases, the United Nations Assistance Mission in Afghanistan (UNAMA) said in the report.
In a country where women are often confined to the home and seen as subordinate to men, access to justice remains "severely inadequate" and promotes impunity for perpetrators, UNAMA added.
The report — titled "Injustice and Impunity" — documents the experiences of women who survived violence and tried to bring criminal complaints against their male attackers in 237 cases across Afghanistan from August 2015 until December 2017.
Of them, 145 were resolved by mediation, the report said, adding that it documented a "consistent pattern" of women being pressured by authorities as well as their families to withdraw their complaints.
The report also examined 280 cases of murder, including many carried out in the name of so-called "honour", in which women are killed — often by male relatives — for bringing what is described as "shame" on the family under an outdated, patriarchal social code.
Only 50 of them — or 18 per cent — resulted in the perpetrators being punished under the law.
The landmark 2009 Elimination of Violence Against Women (EVAW) law criminalises child marriage, forced marriage, forced self-immolation, rape and other violence against women.
There is no provision in Afghan law that allows for mediation in such criminal cases.
Pressuring a woman to accept mediation therefore "amounted to a direct breach of the EVAW Law, the Penal Code, and constituted a human rights violation on the part of the State," the report said.
"Once mediated, incidents of violence against women are essentially transformed from 'criminal acts' into mere 'family disputes'," Danielle Bell, UNAMA's human rights chief, told AFP.
Women "are encouraged to reconcile with the perpetrator as if no actual crime occurred, or to seek a divorce if the parties cannot reach an agreement. Such outcomes directly contradict the spirit and letter of the EVAW Law."
It also means that once a complaint is made, the risk of seeing the violence repeated is "quite high", Bell said.
The Afghan government had made "concrete" efforts, however, and agreed that "there is no room for forced mediation and informal justice in criminal offences", according to the report.
But it said the frequent failures to investigate and prosecute such crimes contributed to "the existing high rate of impunity and strengthened the normalisation of violence against women in the Afghan society".
https://gulfnews.com/news/asia/afghanistan/violence-against-afghan-women-carried-out-with-impunity-un-1.2228596
--------
Iran: Performance of Deaf Girls' Choir Prevented In a Tehran Ceremony
29 May 2018
The choir of girls with hearing impairment was prevented from going on stage in Tehran because their moves were said to resemble dancing.
The performance was due on Monday, May 28, 2018, in a ceremony at Tehran's great mosque but was cancelled moments before going on stage because officials said it resembled harmonic moves, i.e. dancing.
Mahmoud Kari, chairman of the Voice of Disabled Association (Neday-e Ma'loulan), told ILNA news agency that the officials in charge of Tehran's mosque were not well aware of the method of performance by the deaf choir and "this caused the cancellation which had an adverse impact on the girls."
https://women.ncr-iran.org/iran-women-news/5210-iran-performance-of-deaf-girls-choir-prevented-in-a-tehran-ceremony
--------
URL: https://www.newageislam.com/islam-women-feminism/millions-muslim-women-join-workforce/d/115398
New Age Islam, Islam Online, Islamic Website, African Muslim News, Arab World News, South Asia News, Indian Muslim News, World Muslim News, Women in Islam, Islamic Feminism, Arab Women, Women In Arab, Islamophobia in America, Muslim Women in West, Islam Women and Feminism