New Age Islam News Bureau
5 Jan 2014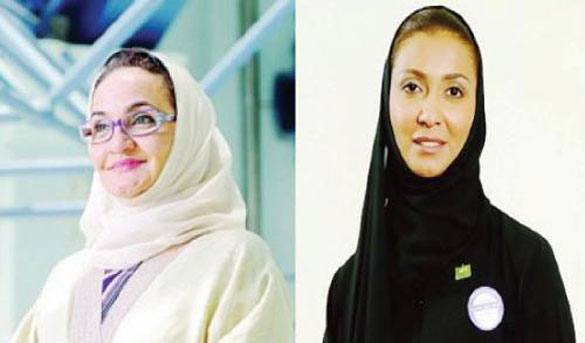 Faten Bundugji (L); Sarah Al-Ayed Women in JCCI Fray
--------------
• Premarital Sex 'Immoral', No Religion Permits It: Court
• Crisis In South Africa: The Shocking Practice Of 'Corrective Rape' - Aimed At 'Curing' Lesbians
• Hijab Fights Malawi Sexual Harassment
• Saudi Landlords Reluctant To Rent Apartments to Single Women
• Turkey's Changemakers: Women weave their future with silk
• Appeal Likely In Saudi Man's Colorado Sex Offense
• Saudi Woman's Animated Cartoon Adopted in Dubai
• Women in JCCI Fray Utilize Social Media for Campaign
• Violence against Afghan Women More Frequent, Brutal In 2013-Official
• Tourist Train Takes a Women-Only Spin through K-P's Historical Sites
Compiled by New Age Islam News Bureau
URL: https://newageislam.com/islam-women-feminism/militants-blow-up-girls-school/d/35147
------------
Militants Blow Up Girls School in Jamrud, Pakistan
January 5, 2014
LANDI KOTAL: Militants blew up a primary school in Jamrud late evening, officials said.
Armed men planted the explosives inside the two-room building of Said Akbar Kali Girls School in Bakarabad locality of Ghundi area and blew it up at around 9pm, they added.
No one was present inside the school at the time of the explosion.
Not long ago militants blew up three schools in the same area.
However, the local administration is still clueless about the whereabouts of the militants who claimed responsibility for the attacks.
http://www.dawn.com/news/1078075/militants-blow-up-girls-school-in-jamrud/print
------------
Premarital sex 'immoral', no religion permits it: Court
PTI | Jan 5, 2014
NEW DELHI: Premarital sex is "immoral" and against the "tenets of every religion", a Delhi court has said while holding that every act of sexual intercourse between two adults on the promise of marriage does not become rape.
Additional sessions judge Virender Bhat also held that a woman, especially grown up, educated and office-going, who has sexual intercourse on the assurance of marriage does so "at her own peril".
"In my opinion, every act of sexual intercourse between two adults on the assurance of promise of marriage does not become rape, if the assurance or promise is not fulfilled later on by the boy," the judge said.
"When a grown up, educated and office-going woman subjects herself to sexual intercourse with a friend or colleague on the latter's promise that he would marry her, she does so at her own peril. She must be taken to understand the consequences of her act and must know that there is no guarantee that the boy would fulfil his promise.
"He may or may not do so. She must understand that she is engaging in an act which not only is immoral but also against the tenets of every religion. No religion in the world allows premarital sex," the court said while acquitting an employee of a multinational company of the charges of rape.
The 29-year-old man, a resident of Punjab, was arrested when a woman, doing a secretarial and administrative job at a private company in Delhi, lodged a complaint of rape against him in May 2011.
In her complaint, the woman had alleged that the man, whom she had met through a chat website in July 2006, used to have physical relations with her on several occasions by promising to marry her.
http://timesofindia.indiatimes.com/india/Premarital-sex-immoral-no-religion-permits-it-Court/articleshow/28424592.cms
------------
Crisis in South Africa: The shocking practice of 'corrective rape' - aimed at 'curing' lesbians
Patrick Strudwick,The Independent | Jan 5, 2014
Mvuleni Fana was walking down a quiet alleyway in Springs - 30 miles east of Johannesburg - on her way home from football practice one evening when four men surrounded her and dragged her back to the football stadium. She recognised her attackers. One by one, the men raped her, beating her unconscious and leaving her for dead.
The next morning, Mvuleni came round, bleeding, battered, in shock, and taunted by one overriding memory - the last thing they said to her before she passed out: "After everything we're going to do to you, you're going to be a real woman, and you're never going to act like this again".
Corrective rape is a hate crime wielded to convert lesbians to heterosexuality - an attempt to 'cure' them of being gay. The term was coined in South Africa in the early 2000s when charity workers first noticed an influx of such attacks. But despite recognition and international coverage, corrective rape in the region is escalating in severity, according to Clare Carter, the photographer behind these images. This is amid a backdrop of parts of the country "becoming more homophobic", as one recent victim asserts.
Compared to many of South Africa's victims, Mvuleni was lucky: she survived. At least 31 women in the past 15 years did not. In 2007, to cite one incident, Sizakele Sigasa, a women's and gay rights activist, and her friend Salone Massooa, were outside a bar when a group of men started heckling and calling them tomboys. The women were gang raped, tortured, tied up with their underwear and shot in the head. Executed. No one was ever convicted.
Mvuleni's case was also unusual as, unlike 24 out of 25 rapes that even reach trial in South Africa, two of her attackers were convicted and imprisoned for 25 years. The others remain at large.
Ever since a 1998-2000 report by the United Nations Office on Crime and Drugs ranked South Africa as highest for rapes per capita, it has repeatedly been described as the rape capital of the world: 500,000 rapes a year; one every 17 seconds; one in every two women will be raped in her lifetime. Twenty per cent of men say the victim "asked for it", according to a survey by the anti-violence NGO, CIET. A quarter of men in the Eastern Cape Provinces, when asked anonymously by the Medical Research Council, admitted to raping at least once - three quarters of whom said their victim was under 20, a tenth said under 10. A quarter of schoolboys in Soweto described "jackrolling" - the local term for gang rape - as "fun".
Although statistics for corrective rape have not been compiled nationally, one support group in Cape Town told ActionAid researchers in 2009 they deal with 10 new cases every week.
Clare Carter left her home in New York City in 2011 to photograph South Africa's corrective rape victims. Horrified at the magnitude of the problem, she spent two years there, finding those affected and gaining their trust. In total, Carter photographed 45 survivors, hearing their stories and piecing together the mosaic forces fuelling the crime by interviewing priests and NGO workers, gay rights activists and family members. She also met with rapists. Carter's investigation - the most comprehensive of its kind - brought her right across the country, zigzagging from Durban and Johannesburg to Cape Town and Port Elizabeth, from some of the smartened-up townships replete with tourist-pleasing government housing, to shack-stuffed rural sprawls.
"Even in the two years I was there the stories I was hearing were getting worse," she says. "Corrective rape is getting more violent."
Indeed, when we meet in London, Carter produces transcripts of interviews with the survivors she photographed, which more often than not refer to knives, stones and sticks being used. One woman describes being anally raped by a gang brandishing a broom handle.
There is one testimony in particular that stands out, from a young woman called Pearl Mali. Carter was introduced to her by Funeka Soldaat, who runs Free Gender, an LGBT rights organisation that specialises in helping victims of corrective rapes. Free Gender have "no phone, no computer, no money, no counsellors, nothing, except Funeka's house". Pearl is now 21 and volunteers there. She was 12 when it happened.
Her mother suspected Pearl might be a lesbian as she was a "tomboy" and so one day her mother returned home from church with an "old man". Pearl doesn't know what conversation had taken place, only that "there was money involved". Her mother told her to go to her room.
"She said if I don't do what is right I won't get my lunch tomorrow."
The man entered her bedroom.
"He locked my door and I was in my pyjamas about to get in bed and he told me how beautiful I was, how fast I am growing."
He said he was going to sleep there with her, and started slapping Pearl, who screamed, bringing her mother to the door.
"She said, 'Pearl you are making noise, shut up'. He told me to take off my clothes and I refused. He beat me - I was fighting him but he overpowered me and raped me."
The next morning, Pearl's mother acted normally, and soon after asked him to move in. For the next four years he regularly raped Pearl, as her de-facto husband, to make her straight. She tried going to the police, but they started "laughing" when she said the most recent rape was last week. They expect women to come immediately.
Pearl became pregnant by him at 16, prompting her to go to the police again, who this time imposed a restraining order against the man. But days after giving birth, her abuser came to the house while she was alone with the baby.
"He wanted to touch me again so I was fighting and fighting [him]. He kicked me on my waist and all the stitches got loose." Though she successfully fought him off, Pearl's troubles soon spiralled.
"My mum and this guy took the baby away when he was seven months old because I was still a lesbian."
Her mother believed that if Pearl touched and fed the boy "it will make him gay". Pearl moved out and went to court to gain access, but three years later, she is still trying to win custody and is currently only allowed to visit her son at weekends.
"I used to sleep under a bridge, not eat, just cry. I hanged myself; it was on a Monday. I took pills, took alcohol, drank cleaning appliances and then hanged myself. But God said, 'It is not your time'."
Familial collusion in corrective rape is common, according to Carter. Simphiwe Thandeka, from Pietermaritzburg (the capital city of the conservative, fervently Christian province of KwaZulu-Natal) was 13, and a "tomboy", when a male relation started asking, "Why do you dress like this?". He raped her in bed one night, putting a pillowcase over her mouth.
"He told me to keep quiet. At the time I didn't know it was rape."
When she told her mother the next day - because she was bleeding heavily - her mother replied that it is a "family matter", and neglected to tell Simphiwe that the man is HIV positive. Simphiwe only discovered she had contracted the virus - a common outcome for such victims - three years later when she became pregnant by the man's friend, whom he had tried to marry her off to in a final attempt to "correct" her sexuality. After repeatedly raping and beating her with a coat hanger, the friend sent Simphiwe back to her uncle, realising she would never be heterosexual and they would therefore never "get on".
Soon, however, she was pregnant. She called her baby Happiness.
Now a mother, a local man told a friend of Simphiwe's that he was attracted to her, but the friend informed him that she liked women.
"He told her, 'I'll prove this girl is not a man, but is a girl'. I was scared. He came to my home, he said he wanted to apologise for what he told my friend, but then he blocked me with his hand. He raped me in the dining room."
This time she went to the police but "they take his side... so nothing I can say or do". She called her second child Blessing.
Of all the countries in the continent, South Africa should be the least likely to be tarnished by homophobic hate crimes. Its 1997 constitution was the first in the world to secure the equal rights of LGBT people and a flurry of laws followed preventing workplace discrimination and, in 2005, allowing gay marriage.
"The constitution is there but it doesn't mean anything to anyone," says Funeka, who founded Free Gender after being correctively gang raped and stabbed multiple times ("My body was there, but I was far, far away," she says).
"Even if you know how the constitution works, you don't know how to use it to protect yourself. If you don't have money you don't have access to the justice system. Violence in the townships is normal. Homosexuality is [seen as] un-African. Patriarchy is everywhere. The way religious leaders read scripture is painful. Children start raping at 14, 15 and take pictures. We're sitting on a time bomb."
One such religious leader is Reverend Oscar Peter Bougardt, a senior pastor in the Mitchell's Plain township, 20 miles from Cape Town. "Homosexuals can change," he told Carter. "Homosexuality is a curse... a wicked influence... they come after our young people. Any clergy or priest that approves [of] homosexuality is from the pit of hell."
David Hessey, who works for the Gay and Lesbian Association, also blames the courts for failing to deal with corrective rape cases.
"It is not treated as a serious offence. We are awaiting the sentencing of a corrective rape case - a father raped his daughter's girlfriend to 'cure' her and he has been convicted - but it took two years to get the case to court and this is fast for South Africa. Most take six years which is why most people don't report it."
Witnesses are often disregarded in court, as even seeing and hearing a victim screaming is deemed "hearsay, as the woman may be screaming in pleasure and this may be the way they like having sex".
The police routinely have neither the resources nor inclination to investigate. Leonie Spalding, aged 37, says when she came out to her husband he correctively raped her, but the police officer on duty was a friend of her husband's who took her home, asked the husband what happened, to which he replied he was "just doing what any man should do and show me my place as a woman". No charge was brought. In the testimonies collected by Carter, the most common reaction from police to corrective rape is laughter. But she cites a litany of causes for the phenomenon.
"A lot of people are outraged that gay people have equal rights, and are becoming more angry as gay people become more visible," she says. "It's a deeply patriarchal country - men are numero uno in the townships - and use corrective rape as a tool to assert their masculinity, all while egging each other on. Combine that with a lack of education, high unemployment leading to mass boredom, frustration and problems with drink and drugs and you have a perfect storm for patriarchal sadism. And because the police and courts do nothing there's no consequence to corrective rape, which normalises it. It's not seen as a big thing."
Many have argued that the shadow cast by apartheid has a part to play, but it would be wrong to suggest that corrective rape is only South Africa's scourge. I also speak to three women seeking asylum in Britain to hear their stories.
Patricia, aged 40, fled Nigeria after "one of the guys in my area raped me to make me straight. I told my family, and he admitted it, but they didn't do anything because they didn't want to bring any shame on the family".
Belinda, aged 48, left Jamaica after being targeted for her sexuality.
"My brother belonged to a gang and he heard that they were going to rape me," she tells me. "One morning I was on my way to work and a guy tried to hold on to me and rape me. I managed to fight my way off knowing full well I couldn't report it to the police."
Lillian, aged 26, from the Republic of Cabinda (formerly a province of Angola) says: "The men will rape you so you can taste how good it is to sleep with a man. They gonna really rape you badly to teach you a lesson - they think if they do that you will forget who you are."
Before leaving South Africa, Carter went to a taxi rank near Pietermaritzburg where she was told there were men who admit to corrective rape. She filmed them.
"If we want to finish lesbians and gays they must be forcefully raped," says one, grinning at the camera. "A man must go back to his manhood. Women must be women. She must be ready and willing to have sex."
"They must be raped so that their gay and lesbian behaviour can come out," adds another.
The third raises his voice, points two fingers at his temple and concludes: "This gay and lesbian thing must end. I say bang bang bang!"
All South African interviews by Clare Carter.
http://timesofindia.indiatimes.com/world/rest-of-world/Crisis-in-South-Africa-The-shocking-practice-of-corrective-rape--aimed-at-curing-lesbians/articleshow/28431262.cms
------------
Hijab Fights Malawi Sexual Harassment
January 5, 2014
LILONGWE – For Malawi Muslim women, Hijab came as a perfect answer to their woes from increasing sexual harassment targeting women in the southern African nation.
"While women of other faith groups are going through the pain of sexual violence due to improper dressing, it's been observed that there are low cases of sexual violence among Muslim women," Fatima Ndaila, National Chairperson of Muslim Women Organization (MWO), told OnIslam.net.
"It is rare for women who put on Hijab to be sexually molested."
Over the past few years, sexual harassment targeting women has increased remarkably in Malawi.
The worrying phenomenon was less reported among Muslim women who chose to don the Islamic headscarf, or Hijab.
"It is on the basis of this observation that we have intensified our fight against sexual violence by sensitizing Muslim women and girls to be putting on Hijab while in public on in work places," Ndaila said.
"Hijab is a symbol of decency among Muslim women. It's therefore becoming hard for women in Hijab to be sexually harassed.
"But this is not the case with women who are not in Hijab. The Hijab has become an effective protective measure against sexual violence in Malawi, it is for this reason that we are advocating for its use as we fight sexual violence."
Identifying the problem, MWO leaders found that it was easier to first address Muslim women who would accept their message easily.
"We have discovered that improper dressing among women has significantly contributed to the rising levels of sexual violence, because it attracts men. It's not easy to change people's mindset," she said.
"However, we have adopted this approach to reach out to only those within the Muslim community, because they can easily understand our message."
Ndaila said her organization was sensitizing the women and girls through mosques and other social gatherings on the need to put on Hijab and follow teachings of the Noble Qur'an which advocate for among others, women to lower their gaze and at the same time dress modestly.
"This is the message we are passing on to the whole Muslim community in Malawi in the face of the rising incidences of sexual violence towards women," she added.
Applaud
The modesty initiative and religious approach to the problem was applauded by women's rights activists, describing it as a "landmark development" in efforts to minimize rising devastating effects of sexual violence.
"The religious community in the country has not been vigorous enough in the fight against sexual harassment," Emma Kaliya, renowned women's rights activist, told OnIslam.net.
"This approach therefore is quite commendable and it is likely to leave a mark in our joint struggle to fight sexual violence.
"This is a wonderful approach without any elements of emotions or confrontations. It is a slow process but with a huge impact," she added.
Mariam Khan, HIV and AIDS activist disclosed that sexual violence was among factors fueling the spread of HIV and AIDS pandemic among women in the country.
"There is need for all faith groups in the country to join hands to fight the escalating levels of sexual violence," Khan told OnIslam.net.
"Women's lives are being put at risk of contacting the pandemic due to sexual violence. Figures to this effect are quite harrowing," she added.
Islam sees Hijab as an obligatory code of dress, not a religious symbol displaying one's affiliations.
The Hijab has become a common feature among Muslim women in Malawi in recent years. Muslim women are free to put on Hijab in all public places and learning institutions.
The National Chairperson of the country's Muslim body, Sheikh Idrissa Mohummad said there was need for faith groups in the country to adopt a religious approach in the fight against sexual violence other than confrontational ways.
"We have to admit that we have a serious crisis. We need to find ways that would help to minimize the surging numbers of sexual violence," Sheikh Muhammad told OnIslam.net.
"In the Muslim community, we believe that only a religious approach could help to address matters. We therefore appeal to all faith groups to adopt this approach."
Since the adoption of pluralistic politics in Malawi 20 years ago, the country has seen a rise in various forms of violence against women and children.
http://www.onislam.net/english/news/africa/467427-hijab-fights-malawi-sexual-harassment.html
------------
Saudi Landlords Reluctant To Rent Apartments to Single Women
January 5, 2014
JEDDAH — Many property owners are refusing to rent apartments to divorced or widowed women to avoid possible problems, Al-Watan daily reported.
Sameerah Hanyah, a Saudi engineer, said her ex-husband regularly threatens to have her evicted from her apartment since the rental agreement is in his name.
Sameerah wants to live in Jeddah to be close to her children. Her only brother is in the US on a government scholarship and her mother lives in Riyadh with her elder sister.
"I am unable to rent an apartment using my identity card and face being kicked out onto the street," she said.
Saleh Al-Ghamdi owns a real estate office and he believes buildings owners are reluctant to rent to women due to social and legal reasons. "It is difficult to identify women when they have their faces covered and it is also socially difficult for a man to ask a woman to pay rent. This may lead some women to exploit the situation and not pay their rent," he said.
http://www.saudigazette.com.sa/index.cfm?method=home.regcon&contentid=20140105191571
------------
Turkey's Changemakers: Women weave their future with silk
Jan 5, 2014
Sabancı Foundation Turkey's Changemakers Program continues in its 5th season to share the unique stories of extraordinary people who contribute to the social development. The sixth Changemaker of the 5th season is İzmir Ödemiş Women's Cooperative who started the "Weave Your Future with Silk" project.
The project, supported by Sabancı Foundation Social Development Grant Program, is taking place both in Ödemiş and Birgi provinces of İzmir. The aim of the project is to revive the long-forgotten Ödemiş silk and also to provide employment opportunities for women.
The project, run by the Ödemiş Women's Cooperative, first reached out to women, who might want to be part of it, with the help of the headmen, local NGOs and by making house visits. After that, they provided training for volunteers, set up a weaving atelier and then gave a start to threading. After working for 3 months, Ödemiş silk handkerchiefs and Odemis bed sheets were produced.
The building where the atelier was set up was assigned by the Ödemiş Municipality. The instructors were provided by the Ödemiş Public Education Center. And the final products were put up for sale in the Ödemiş Yildiz Kent Archive Museum.
With the "Weave Your Future with Silk" project, women get together and participate in social life while also getting empowered economically through the products they produce. Furthermore, they keep a traditional local art alive. Women take part in every step of the project which also includes providing trainings to participants on topics such as leadership and gender equality.
http://www.hurriyetdailynews.com/turkeys-changemakers-women-weave-their-future-with-silk.aspx?pageID=238&nID=60562&NewsCatID=445
------------
Appeal likely in Saudi man's Colorado sex offense
January 5, 2014
A Saudi man convicted in Colorado of sexually abusing his Indonesian housekeeper and keeping her as a virtual slave will probably appeal after a judge denied his request to be released and sent home, a defense lawyer said Friday.
Another lawyer said he is considering a new legal challenge on separate grounds.
Denver attorney Hal Haddon said he has not been allowed to speak to Homaidan al-Turki since a state judge ruled Thursday he had no authority to grant his release, but Haddon said he expects his client will want to appeal.
The judge didn't rule that it was inappropriate for al-Turki to be released on probation, only that the judge did not have the power to do so, Haddon said.
He said the ruling was devastating for al-Turki's wife and children in Saudi Arabia.
Al-Turki, a linguist who was living and working in Colorado, was convicted in 2006 of unlawful sexual contact by use of force, false imprisonment and other counts. He was sentenced to eight years to life in prison.
He denied the allegations, saying he was a victim of anti-Muslim sentiment.
Probation would have allowed him to serve the rest of his sentence in Saudi Arabia. Saudi officials promised to enforce whatever terms Colorado imposed.
Colorado prosecutors said there was no way to ensure Saudi Arabia would carry out the sentence. They also said al-Turki was not eligible for release because he refused to participate in a required prison program for sex offenders.
Al-Turki's lawyers said his religion prevented him from participating in the program because it would require him to look at photos of women in bathing suits or undergarments. They also said he would have to confess to the crimes, which they say he cannot do because he is challenging his conviction.
Another attorney for al-Turki, John Portman of Denver, said he is considering another challenge based on court rules that allow people whose appeals have been denied to contest convictions on several grounds, including newly discovered evidence.
Portman declined to say what grounds were being considered and when a challenge might be filed.
Last year, state prison officials denied al-Turki's request to be transferred to Saudi custody under an international treaty.
The prisons director at the time, Tom Clements, was ready to approve the transfer but denied it after an FBI agent contacted prison officials, according to testimony during court hearings last year. The officials haven't said why Clements changed his mind or what the FBI agent said.
About a week after the treaty transfer was denied, Clements was shot and killed. Prison officials said they investigated but found nothing linking al-Turki to the crime.
Still, prosecutors said in November that al-Turki remained a person of interest in the Clements investigation.
http://english.ahram.org.eg/NewsContent/2/8/90760/World/Region/Appeal-likely-in-Saudi-mans-Colorado-sex-offense.aspx
------------
Saudi Woman's Animated Cartoon Adopted in Dubai
January 5, 2014
JEDDAH – A Saudi PhD student has created an animated cartoon called the "Silent Harp" based on local heritage and culture. Basma Al-Sinari's work has been adopted by the Creative Arab Studio in Abu Dhabi, United Arab Emirates. Her trailer has scored 220,000 views on YouTube so far. The cartoon tells the story of a princess who tries to help three female prisoners sentenced to life escape from prison. The girls were cursed and turned into silent harps with broken strings. The Princess spends a great deal of her life trying to free them.
http://www.saudigazette.com.sa/index.cfm?method=home.regcon&contentid=20140105191563
------------
Women in JCCI fray utilize social media for campaign
January 5, 2014
JEDDAH — Women candidates for Jeddah's Chamber of Commerce and Industry (JCCI) Board membership are utilizing social networking websites to promote their campaigns, Al-Madinah daily reported.
Faten Bundugji, president of TLC Management Consulting and Development, said she utilized Facebook, micro-blogging site Twitter, photo-sharing site Instagram and video-sharing site YouTube in her promotional campaign. She also conducted a number of meetings with businessmen.
"These sites have become very important for candidates, especially since regulations do not allow for paid promotions. This is a good step as some candidates may have enough financial resources to promote their campaigns, while others may not," she said.
Candidate Sarah Al-Ayed, general manager of Abjadyat for Communications, said she has to choose the audience she wants to reach through social networking sites.
"I also utilize traditional promotional means, such as brochures and meetings with the targeted audience. Each vote is a vote of confidence and the audience needs to know who they are voting for and that their candidate will indeed realize his or her promises," she explained.
Other female candidates in the fray Ranyah Salamah, Areej Alwan, Dalya Al-Shareef and Maymoonah Balfaqeeh.
Commenting on the campaign, Abdulrahman Al-Attas said, "The public interest is everyone's goal, men or women."
Mazen Batterjee, Abdullah Bin Mahfouz, Abdulrahman Al-Attas, Saeed Bin Zagr, Dr. Yaser Tarrad, Fayez Al-Harbi and Husain Al-Meshait are among prominent businessmen contesting the elections.
http://www.saudigazette.com.sa/index.cfm?method=home.regcon&contentid=20140105191566
------------
Violence against Afghan women more frequent, brutal in 2013-official
January 5, 2014
KABUL, Jan 4 (Reuters) - Violent crime against womn in Afghanistan hit record levels and became increasingly brutal in 2013, the head of the country's human rights commission said on Saturday, a sign that hard won rights are being rolled back as foreign troops prepare to withdraw.
Restoring women's rights after the Taliban was ousted by a U.S.-led coalition of troops in 2001 was cited as one of the main objectives of the war.
Under Taliban rule, women were required to wear the head-to-toe covering burqa and barred from leaving their homes without being escorted by a male relative. Schools for girls were shut down.
Sima Samar, chair of the Afghanistan Independent Human Rights Commission (AIHRC), told Reuters in a telephone interview that the brutality of attacks on women had greatly intensified last year.
"The brutality of the cases is really bad. Cutting the nose, lips and ears. Committing public rape," she said. "Mass rape... It's against dignity, against humanity."
She attributed the increase in crime to a culture of impunity and the imminent departure of international troops and aid workers, leaving women more exposed to attack. In addition, more cases were reported as women became aware of their rights.
"The presence of the international community and provincial reconstruction teams in most of the provinces was giving people confidence," Samar said.
"There were people there trying to protect women. And that is not there anymore, unfortunately."
Most foreign forces are due to leave Afghanistan by the end of the year and it is unclear whether any will remain beyond 2014 as relations deteriorate between Afghan authorities and their U.S. backers.
An AIHRC spokesman said the latest figures for 2013 showed a 25 percent increase in cases of violence against women for March through September.
Samar said a deteriorating economy and growing insecurity had also contributed to the rise in reported incidents.
A leading advocate of women's rights said improving the situation would be difficult as laws aimed at protecting women were notoriously hard to implement.
"Killing women in Afghanistan is an easy thing. There's no punishment," Suraya Pakzad, who runs women's shelters in several provinces, told Reuters in her office in the western city of Herat.
She cited recent cases in which women had been publicly stoned as Afghan troops looked on.
"Laws are improved, but implementation of those laws are in the hands of warlords... I think we are going backwards."
WORRYING INDICATORS
Another sign that rights for women have been rolled back in recent years is a rise in cases of self-immolation, a desperate last resort for women in abusive situations.
The burn unit of Herat hospital, one of two in Afghanistan, admitted a record number of women who had attempted to set themselves on fire in 2012. The head of the ward said he was reluctant to speak out because of threats from relatives.
"If they come with a high percentage of body surface burns... we cannot save them," Dr Ghafar Bawar told Reuters during a recent visit to his ward. "After disfigurement, they have a very hard life."
Bawar also treated patients who had suffered burns in attacks. He agreed there was a culture of impunity and that some assaults were not reported to officials for fear of reprisal.
For instance, a neighbour had brought in a woman and her four-year old child the night before. The father had thrown a burning blanket over them as they slept, setting them alight.
Both died of their injuries, but the neighbour was too afraid to report the case to the authorities. (Editing by Ron Popeski and Rosalind Russell)
http://www.trust.org/item/20140104132834-pjkcf/?source=hpeditorial
------------
Tourist train takes a women-only spin through K-P's historical sites
January 5, 2014
PESHAWAR: A 'women-only' tourist train ride from Peshawar to Attock Khurd was arranged on Saturday by the Tourism Corporation of Khyber-Pakhtunkhwa (TCKP) and Pakistan Railways.
The tour was initiated last year by the Ministry of Tourism and Culture to provide an opportunity to women to visit and learn about the region's heritage sites.
The train passes through several historically significant cities, including Akora Khattak and Khairabad.
Marking monuments
The journey also takes passengers over Old Attock Bridge, an iron girder bridge built over the Indus River in 1883 and originally designed by Sir Guilford Lindsey Molesworth.
photo 5_zpsd8ae366d.jpg
Attock Khurd, located in Attock district of Punjab, houses the historical Attock Fort built by the Mughal king Akbar in 1581. Bahram ki Baradari is another Mughal-era monument situated at the ridge of mountains on the southern side of the Grand Trunk Road near Attock Khurd.
Akora Khattak, which the train also traverses, is the birth and burial place of famous Pukhtun poet, warrior, scholar and chief of the Khattak tribe, Khushal Khan Khattak.
As part of the joy ride, the women participating also visited Kund Rest House where they enjoyed a boat ride.
The tour train included students and civil society members. "We have provided women a unique opportunity to avail an outing while simultaneously becoming aware of the rich heritage of the country," said TCKP Managing Director Mushtaq Ahmad Khan.
photo 6_zps1a3420df.jpg
The director termed the journey a landmark initiative of the corporation. "From next month, the train journey will be open to all on weekends at very affordable tickets".
"The ride helped students, especially those from government schools, to travel to historical areas of the region and learn about them," said Mahwish, a student who enjoyed the trip with her friends.
http://tribune.com.pk/story/654887/hop-on-the-heritage-trip-tourist-train-takes-a-women-only-spin-through-regions-historical-sites/
------------
URL: https://newageislam.com/islam-women-feminism/militants-blow-up-girls-school/d/35147