New Age Islam News Bureau
3 Feb 2016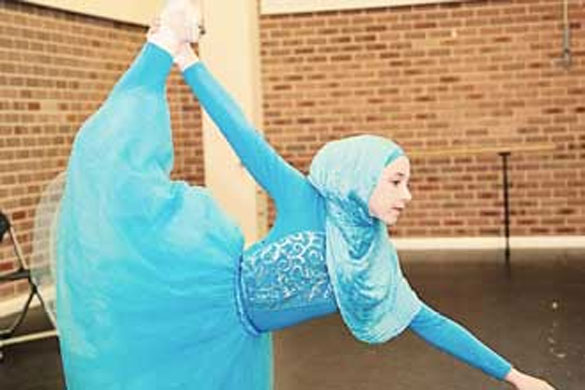 Photo: Kurlow wants to be the first professional ballerina to dance in a hijab.
------------
• Fourteen Year-Old Australian Muslim Girl Dreams to Be the First Hijabi Ballet Dancer
• Twelve-Year-Old Pakistani Female Child Saved From Suitor Thrice Her Age
• UK Muslim Women Want to Learn English, but Are Being Forced To Wait Because Of Government Cuts
• Rhetoric Spurs Self-Defence Class For Tennessean Muslim Women
• West Bengal CM, Muslim Women and Triple Talaq
Compiled by New Age Islam News Bureau
URL: https://newageislam.com/islam,-women-and-feminism/new-age-islam-news-bureau/men-can-visit-graveyards,-why-not-us?-ask-indian-muslim-women/d/106219
-----------
Men Can Visit Graveyards, Why Not Us? Ask Indian Muslim Women
Feb 2, 2016
New Delhi: Even as the debate over access to women in the inner sanctum of Haji Ali Dargah rages, several members of the Muslim community have started questioning the practice of disallowing women in graves and graveyards.
"No religious scripture bars women from visiting graves. Prophet Muhammad himself regularly visited the graveyard and recommended people to do it without any gender discrimination. There is no caste or gender bias in Islam and both men and women have the right to participate in all walks of life equally," said Zeenat Shaukat Ali, professor of Islamic Studies at St Xavier's College, Mumbai. She is also the founder-director general of The World Institute of Islamic Studies for Dialogue, Organisation of Mediation and Gender Justice.
The graves, she said quoting Prophet Muhammad, should be frequented by men and women for two reasons: one, it reminds them of death and two, they can pray for the people buried there.
Citing instances, she said, "Prophet Muhammad's wife Hazrat Ayesha Siddiqua used to visit the grave of her brother Abd ar-Rahman. Also, Hazrat Fatima Zehra, the Prophet's daughter, used to visit the grave of her uncle Hazrat Hamza regularly.
There is no authentic version Islam, according to her, that proves women are not allowed to visit graveyards. "Yes, Prophet Muhammad had earlier forbidden women from visiting graves because attachment to the dead was widespread those days. But later he encouraged everyone to visit the graves and pray for those lying there," she said.
To prove her points, she quoted a hadith from Hazrat Ayesha who once asked the Prophet what she should say while visiting graves and he replied, 'Greetings to you, the people of the abodes among the men and women believers! May Allàh grant mercy to those of you and us who went ahead and those who tarried back! Truly we shall – if Allah wills – join up with you.'
Noted columnist Sadia Dehlvi, who has authored of Sufism: The Heart of Islam and The Sufi Courtyard: Dargahs of Delhi believes that all Dargahs are generally inclusive.
"You see men, women and children in the courtyards. However, in some Dargahs women are not allowed inside the inner chamber which contains the actual grave. The Dargah of Khwaja Moinuddin Chisti Gharib Nawaz in Ajmer, Rajasthan, is the most famous and most important Dargah in Asia. Men and women of all faiths are allowed entry in the inner chamber. However, some Dargahs like that of Hazrat Nizamuddin Auliya in Delhi do not allow women inside the room that contains the burial chamber. Haji Ali Dargah had previously allowed women to go right inside and should allow it once again. What is interesting is that at some Dargahs of women Sufis, men are not allowed inside," she said.
On the issue of taking the Haji Ali management to court, Dehlvi says, "This should have been best resolved through dialogue and not through confrontation. Muslims in charge of sacred spaces should do a rethink and be more welcoming of women. Nothing is more sacred to Muslims than the Kaaba in Mecca, which men and women have circled together for centuries. At Prophet Muhammad's mosque in Medina, there are vast spaces for women to pray."
But Islamic feminist writer Sheeba Aslam Fehmi has a completely different view on the topic. According to her, Dargahs are the places where common man's sufferings are "exploited".
"They are the centre of corruption, filth, dirt and all sorts of pervert practices. Instead of demanding the rights to enter, women should stop visiting such shrines as it would not empower them in anyway. Every fight for equality is not emancipation," she said.
Zakia Soman, co-petitioner of the PIL filed in the Bombay High Court against the restriction at Haji Ali Dargah, blamed the patriarchal mindset of the shrine committee. "Islam allows women to enter and pray inside the Dargah (Sufi shrine) but its trustees discourage women and prevent them to enter the inner sanctorum. It is simply caste discrimination," she alleged. Interestingly, she said, some of the trustees of the Haji Ali Dargah are also the trustees of the Mahim Dargah, where women are allowed.
Asked why only Dargahs, women are not allowed to visit graveyards, she said, "We do not want any place in the world where women's entry is barred. Our religion is universal. It is not restricted to a particular gender. It is for everyone. Such restrictions are being imposed on us by some self-proclaimed clerics whom we refuse to accept."
The Bombay High Court, which is hearing Soman's petition, said it would wait for Supreme Court's ruling on entry of women in Sabarimala temple of Kerala before deciding on the plea related to the Dargah.
A bench of Justices VM Kanade and Reveti Mohite-Dere had said both matters involved entry of women in the religious shrines, and hence they would like to see what view the apex court would take on the issue before deciding on the PIL pending before them.
The next HC hearing will take place on 3 February.
firstpost.com/living/men-can-visit-graveyards-why-not-us-ask-muslim-women-2606368.html
---------
Fourteen Year-Old Australian Muslim Girl Dreams to Be the First Hijabi Ballet Dancer
February 3rd, 2016
A young Muslim ballerina wants other girls like her to know they can make a change — no matter their beliefs or the clothes they choose to wear.
Stephanie Kurlow, 14, converted to Islam with her Australian father, Russian-born mother and two brothers in 2010. Sadly, her conversion led to her feeling the need to give up ballet. She wanted to wear her Hijab to dance classes in the southwest suburbs of Sydney, Australia, where she lives with her family, but she couldn't find a school who would accept her.
"The Hijab is so important to me because it's a part of who I am and represents the beautiful religion that I love," Kurlow told Mashable Australia. "If people have the right to dress down then I have the right to dress up and my Hijab is my expression of love to my creator and I believe it covers my body but not my mind, heart and talent."
The young entrepreneur was not to be deterred by the discrimination she felt. Inspired by Muslim women pushing through boundaries across the world — such as Noor Tagouri, the first American news anchor to wear a Hijab — Kurlow decided she had to take a stand if she was ever going to fulfill her childhood dream.
"All I want is to share the beauty of the amazing ballet art form and inspire other young people who maybe don't feel so confident to follow their dreams due to the outfits they wear, religious beliefs or lack of opportunities," Kurlow said. "I want these young people to have opportunities, young people who think it's not possible to make their dream a reality because of the pressure from the many phobias and racism in our society."
Ballet
Kurlow wants to be the first professional ballerina to dance in a hijab.
Kurlow has been dancing since she was 2 years old, and desperately wanted to be a professional ballerina. She started a crowd-funding campaign to try to make her dream a reality — and to help other young people who feel like they can't pursue their endeavors without discrimination.
"In this day and age there is a lack of facilitation for youth who are disengaged or of a different religion or race," Kurlow wrote in the campaign description. "I plan on bringing the world together by becoming the very first Muslim ballerina so that I can inspire so many other people to believe in themselves and pursue their dreams."
Kurlow is trying to raise $10,000, which she states is to cover her tuition, supplies and competition entry for one year. She believes if she receives the right training she can pass on her knowledge and skills to girls who have the same aspiration. Once she trains, she hopes to open a ballet school to cater to a diverse group of ballerinas.
"I want to become a professional ballet dancer and receive my qualifications so that I can open a performing arts school that caters to children and young people of different faiths, races and backgrounds," she said. "I believe that one day all children and young people will have an opportunity to perform and create, without sacrificing their values, beliefs or looks and my campaign is one step closer to achieving this."
They are big plans for a 14-year-old, but she says the project is also to raise awareness about issues many people in our society still face. Her initiative follows in the footsteps of her mum, Alsu, who opened a performing arts academy in the Sydney suburb of Bankstown that teaches ballet, martial arts and aboriginal art classes to the local community.
"My mum has been extraordinary in helping me achieve my dreams. When there was no where for me to study ballet due to my outfit, she opened a performing arts academy ... where no one questions children why they dress or look a certain way," Kurlow said.
No matter if she achieves her goal, Kurlow is happy to add her voice to the discussion. "I don't want people to be seen for the clothes they wear, I want them to be seen as the person they are and how they want to change the world," she said.
[h/t Sydney Morning Herald]
Have something to add to this story? Share it in the comments.
http://mashable.com/2016/02/03/first-hijabi-ballerina/#wURvvfVlQuqK
------
Twelve-Year-Old Pakistani Female Child Saved From Suitor Thrice Her Age
Mohammad Asghar — February 3rd, 2016
RAWALPINDI: Pirwadhai police saved 12-year-old girl from being married off to a 35-year-old married man by her brother on Monday evening in the outlawed tribal custom of vani.
A magistrate reunited Reshma of Mardan with her mother on Tuesday and sent her brother Jilal Hussain, the would-be groom Sher Gul, and three others associated with the forced Nikah proceedings, to jail on 15-day judicial remand.
"It was the first case of vani in Rawalpindi district and we are glad we saved Reshma in the nick of time," City Police Officer Israr Ahmed Khan Abbasi told Dawn.
Read: Legislating to protect a child's innocence
Though outlawed, conservative tribal communities still practice vani in which elopement of a girl is punished by the eloper's family giving in marriage a young girl of its own to the hurt family.
Police said a 15-year-old daughter of Sher Gul had eloped with and married Jilal last year. Though she returned to the family later, the feud continued to simmer, with Sher Gul demanding Reshma's hand in Vani.
Jilal is said to have brought her, without telling her mother, from Mardan to Rawalpindi where Sher Gul has been residing in Ziaul Haq Colony in Pirwadhai for 21 years.
Good luck, however, saved her in the nick of time as alarmed neighbours of Sher Gul alerted the area police.
Police raided the house, rescued the12-year-old sobbing 'bride' and arrested 'groom' Sher Gul, Jilal Hussain and three other men who were there to solemnise the betrothal - Qari Mohammad Khan and witnesses Bilal Hussain and Feroz Khan.
Reshma was also arrested but only to be reunited with her distressed mother after recording her statement with the magistrate before whom all accused were produced the next morning.
dawn.com/news/1237100/12-year-old-female-child-saved-from-suitor-thrice-her-age
------
UK Muslim Women Want to Learn English, but Are Being Forced To Wait Because Of Government Cuts
Feb 2, 2016
TRADE unionists in Bolton have hit back at Prime Minister David Cameron's threat to deport Muslim women who fail to improve their language skills.
They claim woman are actually queuing up to learn the language but are being forced to wait because of Government cuts.
The PM warned that not speaking English adequately could make people 'more susceptible' to the recruitment messages of groups like the so called Islamic State.
Members of Bolton TUC said they were 'astonished' by the comments saying the link between terrorism and the ability to speak English was invalid.
Tom Hanley, of Bolton TUC said: "If the the PM was serious about standards of spoken English amongst immigrants — not just Muslim women — why have there been massive cuts in funding over the last four years?
"The £20 million pounds offered now is less than half the amount cut in this time, which has resulted in cuts to staffing and course provision. Rather than there being a lack of demand for English lessons amongst Muslim women, there is an increasing unmet demand which has grown as cuts have been implemented.
"The reasons women give for studying English are to help them get a job; help children with homework; to make everyday life easier. Clearly the picture on the ground regarding learning English is very different from the one painted by David Cameron."
Mr Hanley said that ESOL — English for Speakers of Other Languages — courses had a waiting list.
He said: "Bolton College has a waiting list of over 1,000 who can wait up to two years to get on – the majority of those waiting are Muslim."
Mr Hanley, a qualified teacher, added: "Bolton TUC would like to see all nationalities given the chance to learn English when needed, and be enabled to be productive and settled members of our community.
"We are therefore dismayed that the Jobcentre contract with Bolton College ESOL has been cut — national policy; and changes in the rules about asylum seekers and new spouses — usually women— mean they aren't allowed to access English language courses."
"A further twist of the knife comes in the form of the cut in grants to charities.
"Bolton Language School is a voluntary organisation reliant on grants and voluntary teachers. "Whilst it is seeing its meagre income cut, it is simultaneously experiencing an increase in demand for lessons from job centre referrals, as well as the constant demand from refugees desperate to escape the traumas of their past with the help that a sure grasp of English can provide.
"It is more important than ever that trade unions attempt to present facts that would otherwise be airbrushed from history."
theboltonnews.co.uk/news/14249322.Muslim_women_want_to_learn_English__say_unionists_who_have_hit_back_at_Prime_Minister_for_cutting_language_classes_funding/
----------
Rhetoric Spurs Self-Defence Class For Tennessean Muslim Women
February 2, 2016
Aisha Lbhalla's attire sends a powerful message about her Islamic faith, but she fears it makes her vulnerable to physical attacks and disparaging remarks.
She's not alone. With the recent rise of anti-Islamic rhetoric across the U.S., Lbhalla says she and other Muslim women in Nashville who wear a scarf or veil in public feel they are at a point where they need to know how to protect themselves if ever attacked. So the Muslim Women's Council is offering a self-defence class Sunday afternoon.
The program will be taught by a female instructor at the Islamic Centre of Tennessee in Antioch and will cover self-defence training as well as discussions on Islamophobia, harassment and school bullying, said Lbhalla, the chairwoman of the Muslim Women's Council, a Nashville-based organization that supports Muslim women.
"We felt that it was really necessary for women to be active and take this self-defence class," Lbhalla said. "It will give hopefully a sense of confidence and security, and they will get a chance to learn some of the basic techniques of surviving or escaping an attack."
Last year's attacks on Paris and San Bernadino, Calif., by Islamic militants spurred a wave of anti-Muslim rhetoric in the U.S., including from some Republican leaders in Tennessee as well as presidential candidate Donald Trump.
The national conversation prompted debates among Muslim women about the safety of wearing a hijab or covering, as well as safety tips, including a crisis safety manual released by MuslimGirl.net in December. Self-defence classes, such as the one planned in Nashville on Sunday, have popped up across the country.
Lbhalla sees her own covering as a religious obligation and a form of worship, and similar to the attire of a Roman Catholic nun, it sends a message that she is a woman of faith.
"It's not as easy for us to just say we have to take it off," Lbhalla said. "It would be giving up a part of what you believe and a part of your faith in order to make it a little easier for you."
The Council on American-Islamic Relations, the nation's largest Muslim civil rights and advocacy organization, encourages self-defence classes for Muslim women because their religious attire can make them an easy target, said Ibrahim Hooper, spokesman for CAIR. The organization tracks bias against Muslims and has noted a spike in anti-Muslim incidents in the U.S. following last year's attacks, he said.
THE TENNESSEAN
'Islamophobia' threatens TN tradition of accepting refugees
"With the heightened and unprecedented rise in anti-Muslim sentiment in our society, which Muslim women are often the first targets, it's even more important," Hooper said. "It's just unfortunate that there's a need for this now more than ever."
Lbhalla, who also serves on the Metro Human Relations Commission, isn't aware of any incidents of violence against Muslim women in Middle Tennessee, but she has heard several stories from women who have been shouted at by strangers, given angry looks and middle fingers and told to "go back home."
She has her own story. Lbhalla was at a gas station in Murfreesboro in late 2014 when strangers shouted at her not to blow up any buildings and then laughed.
"Overall, I feel that we are a diverse, tolerant state and a diverse, tolerant city, but, unfortunately, there are those elements, so we are giving this course to be safe, not sorry," Lbhalla said.
tennessean.com/story/news/2016/02/02/rhetoric-spurs-self-defense-class-muslim-women/79643004/
------
West Bengal CM, Muslim Women and Triple Talaq
February 2, 2016
The photograph of a woman tied to a tree with a gaggle of policemen and onlookers gawking at her may have shocked some newspaper readers in the state. But it did not evoke any condemnation or public outrage. Neither political parties nor the state Government reacted to the report of the woman punished ostensibly by village elders for daring to return to her own village to attend a family wedding. She had been driven out of the village after she had complained to the police against the theft of construction material and named some villagers. Ostracised by the orders of village elders, even the police appeared helpless and failed to intervene.
She was lucky. The state has been witness to much worse and women, especially women belonging to the minority community, have often been stripped, belted and lynched by the orders of community leaders. The lady's eight year old son has reportedly lapsed into a state of shock while her brother, a resident of the village in Malda, was quoted as saying that he was in no position to go against the village elders. But even the top brass of the state police are yet to seek an explanation from the policemen who remained mute spectators.
Chief Minister Mamata Banerjee and ruling Trinamool Congress have been criticised for "appeasement" of Muslim priests, notably her decision to pay a monthly stipend of Rs 2,500 to the state's Muslim clerics (Imams). But Muslim women feel let down. "This move had actually saddened Muslim women," claims Khadija Banu, founder-director of the Rokeya Nari Unnayan Samiti.
"When Mamata came to power the Muslim women were overjoyed. They wept with happiness saying 'finally we have a woman as chief minister and also someone who does not hate Muslims, so now our needs will be taken care of.' These very women felt let down when the CM announced the stipend for the Imams. Some of them came to me and said, 'How could she do this? She can pay the Moulavis who don't need so much money and yet do nothing for us?'
Research scholar Hasnara Khatun agrees. "Muslim women were really taken in with Didi. We all were. She seemed to genuinely care for us, our community. But after she came to power things have changed. Now the women of our community merely smile sadly when she wears a hijab and offers Namaaz and Iftari after Ramzan. Because we can see through it."
Ruksana Begum, a 60-year-old Calcutta tailor's husband brought home another wife one fine day 30 years ago and then gave her an on-the-spot divorce when she demanded an explanation. Recalling the incident, she says, "It made my blood boil when I saw her face and how she was clinging to my husband. I went into a fit of rage. And then suddenly he was shouting 'Talaq' at me. And it was all over. I went back to my parents' home and took training in sewing and stitching and brought up my son single handedly."
She endorses the NDA Government's plan to evolve a uniform civil code but with a caveat. "Yes, it would be good if they do away with this harsh law against us, though it no longer matters to me. Maybe it will save other unfortunate Muslim women in the future," she says. But she also hastens to add that her blood boils even more when she thinks of the Gujarat riots. So for her voting for the BJP is not an option.
It's unrealistic for Muslim women to expect political parties to solve their problems, says Hasnara Khatun(27), a research scholar at Jadavpur University. "Political parties do not have the will or inclination to 'solve' problems. Gaining power by winning elections and then retaining power at all costs is the primary goal of most parties," she points out dispassionately.
While political parties and Mamata Banerjee in West Bengal are accused of appeasing Muslims, appeasing Muslim women has never been an issue. Not even in West Bengal where the Muslim voters constitute 28 per cent of all voters and half of whom are women. Why is that?
"In most Muslim communities, especially amongst the poor, illiterate, uneducated and downtrodden, women don't have any decision-making power," observes Farzana Choudhury, former CPI-M Mayor-in-Council at the Calcutta Municipal Corporation. "Sure, they do exercise their franchise and cast their ballot but only in name. In most cases they are told by the male members of the family whom to vote for. 'Put the stamp beside this and that symbol,' they are ordered and they comply. They don't really make personal choices or deliberate on candidates and issues before making a choice."
Choudhury, who is head of a Muslim women's welfare organisation in Calcutta's Muslim-dominated Park Circus feels that "the predicament of Indian Muslim women — that is, those who belong to the lower economic strata — is damning because no political party stands to gain anything by catering to her needs."
"Appeasement of the Muslim votebank' is actually appeasing the Moulavis — who are traditionally fundamentalists and hardliners and they do control the way the community will vote," says Khadija Banu. "They decide whom, which party, which candidate, the community would vote for. It is also they who are in charge of issuing fatwas, doling out punishments and since most often it is the Muslim women who are at the receiving end of such fatwas and punishment, the political parties, by appeasing hardliners and fundamentalists are actually working to the detriment of Muslim women voters."
There is consensus, cutting across political parties, about the sorry plight of Muslim women. "It is unfortunate but it is a fact that it (the Muslim community) is a male-dominated society," admits Adhir Ranjan Choudhury, former union minister of state for Railways and Congress MP from Murshidabad, one of the three Muslim-majority districts in the state. "It is a fact that political parties don't pay too much attention to their specific needs because they focus more on the community as a whole. But there really is a need to look at the different set of problems and demands and these should be addressed more conscientiously."
CPI-M member of Parliament and Politburo member Mohammad Salim said "Though the Left Front had brought in a number of reforms as far as gender equality is concerned including 33 percent reservation for women which has also positively impacted the participation of Muslim women in the electoral process, by and large the decision-making and how a family will vote is ultimately left up to the head of the family, who is more often than not a male member." However, Salim points out that in comparison to other, namely north Indian states, West Bengal is more progressive. He claims that as much as 85 percent of the Muslim vote is cast by women.
Agreeing that West Bengal is perhaps a notch better than the situation of Muslim women in other states, research scholar Hasnara Khatoon says that in her village in Arambagh district, polygamy is looked down upon and even talaq is frowned upon and a man can only divorce his wife if the community feels he has a legitimate reason like childlessness or promiscuity of his first wife.
Yet, political parties do not want to rub the hardliners, or political decisions makers the wrong way, even in West Bengal and in spite of its tag as a more progressive state.
During the CPI-M reign, author Taslima Nasrin's permission to stay in Calcutta was cut short and she was hounded out. It was seen as a sign by the then government of attempting to appease the Moulavis who had issued a series of fatwas against her for the "anti-Islamic" content of her books. Not much has changed for the Muslim woman since then, feel a significant number of them.
outlookindia.com/article/mamata-muslim-women--triple-talaq/296575
URL: https://newageislam.com/islam,-women-and-feminism/new-age-islam-news-bureau/men-can-visit-graveyards,-why-not-us?-ask-indian-muslim-women/d/106219
New Age Islam, Islam Online, Islamic Website, African Muslim News, Arab World News, South Asia News, Indian Muslim News, World Muslim News, Womens in Islam, Islamic Feminism, Arab Women, Womens In Arab, Islamphobia in America, Muslim Women in West, Islam Women and Feminism