New Age Islam News Bureau
29 Dec 2014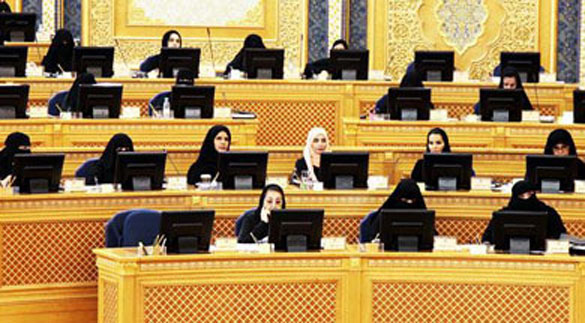 The Shoura Council in session is shown in this file photo. (SPA)
--------------
• Detained 'Religious Extremists' Mostly Uyghur Women and Children
• Hindu Girl Marries Muslim Boy, Gwalior Police Say Marriage Not Valid
• IS Fighters Tag Wives, Children in 1-Way Ticket to Heaven
• Pre-Marital Sex Not Shocking, Every Breach Of Promise to Marry Is Not Rape: Bombay HC
• New Cabinet Contains 4 Afghan Female Members
• Kurdish Female Fighters Named 'Most Inspiring Women' Of 2014
• Female Suicide Attacker Arrested In Afghanistan
• Saudi Govt Takes Action to Ensure Safe Journey for Female Teachers
• Women's Inclusion in Shoura King's 'Historic Decision'
Compiled by New Age Islam News Bureau
URL: https://newageislam.com/islam,-women-and-feminism/new-age-islam-news-bureau/melbourne-woman-marries-jihadi-playboy/d/100748
-----------
Melbourne Woman Marries Jihadi Playboy
29 Dec, 2014
A young Melbourne woman has become the latest Australian to sneak overseas and into the arms of an Islamic State fighter, reportedly marrying a former playboy turned ISIS extremist.
Zehra Duman's parents said the 21-year-old has been 'brainwashed' and they are desperately working with authorities to bring her home, News Corp reports.
She had declared she would burn her Australian passport as she traveled to meet Mahmoud Abdullatif, a former Melbourne party boy-turned Muslim extremist, who joined IS terrorist fighters in the Middle East earlier this year.
The pair reportedly announced their marriage online on December 11.
Zehra's father Davut Duman said her behaviour was out of character and he feared for his daughter's safety.
"She's been brainwashed, she wasn't like this three or four months ago," Mr Duman told News Corp.
"We're trying desperately; trying to bring our daughter home... we've got the police involved.
"It's very difficult for us to cope."
While family said they do not know how the couple met, it is reported that young Australian women are being seduced via social media to travel to Syria for marriage.
She had been described as a 'normal Turkish Melbourne girl', but then in November she flew to Syria without her parents' knowledge.
Earlier this month, Foreign Minister Julie Bishop described reports Australian women were heading to Syria to join Islamic State terrorists were 'deeply concerning'.
In that instance, intelligence agencies believed a teenager and her 20-year-old friend had become the first Australian women to go it alone to join Islamic State terrorists in Syria and offer themselves as potential jihadi brides.
https://au.news.yahoo.com/world/a/25869299/melbourne-woman-marries-jihadi-playboy/
----------
Detained 'Religious Extremists' Mostly Uyghur Women and Children
29 Dec, 2014
Nearly all the members of a group of people detained by authorities in south-western China near the border with Vietnam over the weekend are ethnic Uyghur women and children from China's restive Xinjiang region, a source said Thursday.
According to state media, police in China's Guangxi province on Sunday shot dead one person and detained 21 other "religious extremists" seeking to cross into neighbouring Vietnam.
The report, carried by the official Xinhua news agency, did not identify the members of the group or say where they were from, but authorities in China frequently blame religious extremism for violence involving Uyghur Muslims from Xinjiang in the country's northwest.
On Thursday, a staff member of a detention centre in Guangxi's border town of Pingxiang told RFA's Uyghur Service that 17 women and children from the group had been taken into custody on Sunday—all of whom were Uyghurs.
"The detained Uyghurs are housed here in our facility," said the staff member, surnamed Huang.
"All of the [adults] are females, no males at all. [Most have] kids ranging from one to eight years of age. Public security personnel from the Pingxiang police station are currently interrogating them," he said.
Huang said he was unsure whether the detainees were religious extremists or not, adding that it was the first time Uyghurs had been held at his facility.
"I don't know where the males are. There are usually two places—one for women and the other for men," he said.
"The kids are fine. None are suffering from illness, but I'm not allowed to let the Uyghurs speak to you on the phone. All I can say is that they are eating the food that we provide them and occupying two cells—large enough to accommodate them."
Huang said he had not heard anything about a male member of the group being shot dead by police, but added that he was unaware of how the Uyghurs were detained.
He said he knew of Uyghurs "doing business" in Pingxiang, but said he was unfamiliar with them or their culture.
Xinhua said Wednesday that police had received a tip the group would attempt to cross into Vietnam through Pingxiang and sent a team to intercept them.
Other state media reports said one member of the group had stabbed a police officer as they were detained on Sunday night and was shot dead by authorities.
The Associated Press cited a statement by the official website for Guangxi's Chongzuo city as saying that police reinforcements helped detain the 21 others, adding that the policeman who was attacked was recovering at a local hospital.
'Excessive force'
Rights groups and exile Uyghur groups have questioned reports that members of the group were religious extremists and said Chinese authorities may have used excessive force in detaining them.
On Thursday, exiled Uyghur leader Rebiya Kadeer said the group included women and children, which indicated they were "escaping persecution to resettle in a third country."
"China labeled these people as extremists even before investigating their situation," she said.
"This is not something a country governed by rule of law would do."
Reports that one of the members of the group had been shot to death by police officers "suggests that Chinese security personnel used excessive force" in detaining them, Kadeer said.
She questioned why state media reports did not include information about women and children among the group of detainees.
"The government is saying that these people are religious extremists, but they are using this kind of tactic to justify police brutality against Uyghurs and discourage sympathy for them," she said.
Recent violence
The Xinjiang region, which is home to millions of Turkic-speaking Uyghurs, has seen an upsurge in violence that has left hundreds dead since 2012, and which China has blamed on terrorists and Islamist insurgents seeking to establish an independent state.
But rights groups accuse the Chinese authorities of heavy-handed rule in Xinjiang, including violent police raids on Uyghur households, restrictions on Islamic practices, and curbs on the culture and language of the Uyghur people.
Chinese president Xi Jinping announced a harsh, one-year antiterrorist campaign in May, following a bombing in the regional capital Urumqi that killed 31 people and injured 90.
Reported by Jilil Musha for RFA's Uyghur Service. Translated by Mamatjan Juma. Written in English by Joshua Lipes.
http://www.uyghurcongress.org/en/?p=24935%20Detained%20%E2%80%98Religious%20Extremists%E2%80%99%20Mostly%20Uyghur%20Women%20And%20Children
----------
Hindu Girl Marries Muslim Boy, Gwalior Police Say Marriage Not Valid
29 Dec, 2014
A marriage between a Hindu girl and a Muslim boy in Gwalior lasted only for a few days after the Bajrang Dal called it a case of "love jihad" and the administration declared that the marriage was not valid.
Eleven days after her parents said she was missing and filed a police case, the 19-year-old girl appeared in Kotwali police station Saturday with a notarised document saying that she had married one Tauhid Khan and had converted to Islam.
While submitting a proof of her being major, the Second Year BCom student told the police that she was in love with Tauhid, in early 20s, and married of her own volition and that she had not been kidnapped as was being alleged.
After they were informed by the police, her parents turned up and alerted Bajrang Dal volunteers whose help they had sought in tracing their daughter. Tauhid's elder brother Ahmedulla and his wife also arrived at the station to take her home.
The girl refused to go with her parents and wanted to return to Tauhid, a mechanic. Kotwali police station in-charge Satish Chaturvedi said the affidavit was dated December 27 and did not count because conversion required a procedure that she had not followed.
The girl was then produced before sub-divisional magistrate (Lashkar) Mahip Tejaswee. After the girl refused to return to her parents, the administration was preparing to send her to Nari Niketan when she agreed to live with a female relative who lives separately.
The SDM told The Indian Express that he had asked the girl to be produced before a competent magistrate but it was not required after she agreed to live with a female relative in Gwalior. He said both the girl and the boy are majors.
The Bajrang Dal activists gheraoed the police station and picked up a fight with Chaturvedi when he asked them to leave because he did not want to talk to the girl in their presence.
http://indianexpress.com/article/india/india-others/hindu-girl-marries-muslim-boy-police-say-marriage-not-valid/
----------
IS Fighters Tag Wives, Children in 1-Way Ticket to Heaven
December 29 2014
Sitting slightly slouched on a worn-out leather couch, Muhammad Amin Mude smiled confidently as he explained why he helped parents and their children travel from Indonesia to war-torn Syria to join the outlawed Islamic State (IS) movement, known also as ISIS or ISIL.
"Everyone knows that IS is forming a caliphate in Syria and I am just helping people to go there so that they can be better Muslims," he told The Jakarta Post on Sunday at the Jakarta Police headquarters in Central Jakarta.
But unlike in previous jihads, such as the one in the 1980s when many Indonesians travelled to Afghanistan to wage war against the invading Soviet Union, Amin's recipe for "better Muslims" in time of war also includes this time around the participation of wives and children.
Amin encouraged bringing families to Syria to fight with IS as it would provide good jobs and education.
"The IS is different from the movement in Afghanistan that just waged jihad and the people returned to Indonesia. Those going to Syria now are performing jihad and Hijrah. They do not expect to come back here, dead or alive," he said.
In the Koran, Hijrah is the migration of the Prophet Muhammad and his followers from Mecca to Medina in Saudi Arabia.
Amin likened the journey of Indonesians to Syria or Iraq as Hijrah, as they were seeking ways to heaven based on the adoption of strict Islamic law and far from worldly sins.
"I will also take my two wives and 10 children there when I'm financially and physically ready. I want to wage jihad too and raise my children to be devout," Amin said, chuckling slightly while glancing quickly at his bulging belly concealed under a T-shirt.
According to the Jakarta Police, Amin was allegedly behind the recruitment and facilitation of six people from Makassar in South Sulawesi, who were arrested for trying to use fake documents for their travel to Syria to join the IS.
Of the six, three were a family, comprising a father, mother and a 10-year-old girl.
The father has been identified as 36-year-old Muhammad Imran, alias Abdul Jabbar Rauf Sutarman, and the mother as 34-year-old Nurleli, alias Ratna Pratiwi Sulaiman.
The family was planning to permanently relocate to Syria after selling their house and had bought one-way tickets.
They were caught shortly before departing from Soekarno-Hatta International Airport in Tangerang, Banten, on Saturday. The arrest led the police to Amin's role as the six people had stayed at his house in Cibubur, East Jakarta, after transiting in from Makassar.
Amin claimed he had dispatched 10 people to Syria in September, one of whom had died.
The arrest came after Malaysian authorities deported 12 Indonesians — three men, four women and five children — for attempting to travel to Syria from Kuala Lumpur, Malaysia, earlier this month.
Muhammad Imran argued that he had been tempted to go to Syria for the abundant job opportunities there as he did not make much as a fish trader in Makassar.
"I wanted to take my family somewhere I could get a good job and we could live peacefully under pure Sharia law. I wasn't going to join the fight," he said.
Muslim extremists worldwide have long dreamed of reviving the caliphate that ruled the Middle East and surrounding areas over the course of Islam's 1,400-year history.
Amin said those travelling to Syria did not expect to return because most Indonesians assumed IS was a terrorist group.
"The media has misconstrued so many things; IS hasn't slaughtered anyone. The Syrian and Iraqi governments, who are largely Shiite, have been slaughtering Sunni women and children. IS is only protecting its Sunni brethren," Amin claimed.
A UN report published in November stated that IS had brutally killed hundreds of prisoners of war and thousands of civilians. Furthermore, the UN accused the group of the sexual enslavement of Yazidi women, the use of child soldiers and basing themselves in civilian houses and farms in response to US-led air strikes.
By Sunday, Imran was the only one named a suspect for making and travelling with counterfeit passports. Meanwhile, the others remained witnesses in the case.
Jakarta Police violent crimes detective (Jatanras) chief Sr. Comr. Herry Heryawan said that Amin had yet to be named a suspect despite his alleged confession as a recruiter.
Unlike in Malaysia and Singapore, where IS supporters can be charged and detained upon their departure to the combat zone, local authorities still have no legal basis to do so, despite the government's vocal prohibition of IS.
http://www.thejakartapost.com/news/2014/12/29/is-fighters-tag-wives-children-1-way-ticket-heaven.html#sthash.Xo9E5epX.dpuf
----------
Pre-Marital Sex Not Shocking, Every Breach Of Promise to Marry Is Not Rape: Bombay HC
29 Dec, 2014
MUMBAI: In one of the most significant verdicts delivered in 2014 on an issue that reveals a society in transition, the Bombay high court has ruled that every breach of promise to marry is not rape and pre-marital sex between couples is no longer shocking in India's big cities.
The observations came earlier this year during the hearing of an anticipatory bail application filed by a Nashik resident, Rahul Patil, who was booked on charges of cheating and rape following a complaint filed by his former girlfriend Seema Deshmukh.
Seema, who claimed she was pregnant with Rahul's child, said despite promising to marry her, he had married another girl. Rahul claimed the relationship was consensual, and they could not marry as they belonged to different religions. Rahul and Seema, both lawyers, knew each other since 1999 and had a physical relationship since 2006. Seema claimed he had promised to marry her. In 2009, when he said he could not, she had tried to commit suicide. They continued physical relations even after that.
"Nowadays keeping (a) sexual relationship while having an affair or before marriage is not shocking as it was earlier. A couple may decide to experience sex. Today especially in metros like Mumbai and Pune, society is becoming more and more permissive," said Justice Mridula Bhatkar, adding, "Though unlike western countries, we have social taboo and are hesitant to accept free sexual relationship between unmarried couples or youngsters as their basic biological need; the court cannot be oblivious to a fact of changing behavioural norms and patterns between man and woman relationship in society."
The court said a major and educated girl was expected to know the demands of her body and the consequences of sexual relationships, and in a case it would have to be tested independently if her decision to have sex with a man was a conscious one or not.
"Today the law acknowledges live-in relationship(s). The law also acknowledges a woman's right to have sex, a woman's right to be a mother or a woman's right to say no to motherhood. Thus, having sexual relationship with a man whether is her conscious decision or not is to be tested independently depending on the facts and circumstances of each and every case and no straightjacket formula or any kind of labelling can be adopted," the judge said.
The HC gave examples of what could be an offence under Section 376 of Indian Penal Code relating to rape -- an uneducated poor girl being induced into a sexual relationship after promise of marriage or a man suppressing his first marriage to have sexual relations with a girl.
The court also pointed out that a couple may fall out of love and questioned if the physical relationship they had before could be termed as rape. "A couple in love may be having sexual relationship and realize they are not compatible, and sometimes love between the parties is lost and their relationship dries gradually, then earlier physical contacts cannot be said as rape. A marriage cannot be imposed," said the judge.
The HC said both Rahul and Seema were educated. In 2011, Rahul had filed an affidavit with police that Seema was forcing him to get married and was threatening to commit suicide. They had sexual relations even after this. Seema lodged a complaint of cheating and rape in 2013. "The complainant is an educated girl and it shows it was her conscious decision to keep sexual relations. Prima facie at this stage, possibility of non-committal, consensual relationship cannot be denied," the judge said, while granting anticipatory bail to Rahul.
The HC said if Seema chooses to have the baby, she could adopt legal proceedings against Rahul to secure the child's rights.
(Names of the couple have been changed to protect identity)
http://timesofindia.indiatimes.com/india/Pre-marital-sex-not-shocking-every-breach-of-promise-to-marry-is-not-rape-Bombay-HC/articleshow/45663907.cms
----------
New Cabinet Contains 4 Afghan Female Members
29 Dec, 2014
Afghan president Mohammad Ashraf Ghani has decided that the new cabinet will have four female members.
Afghan president's spokesman Nazifullah Salarzai says president declared this decision in a meeting with female representatives of Herat province.
However, the introduction of the cabinet to the House of Representatives is delayed for unknown reasons.
The House of Representatives on Saturday decided to send a delegation to ask President Mohammad Ashraf Ghani and Chief Executive Officer Abdullah Abdullah the causes that delays the introduction of the new cabinet to the house.
House of Representatives had given one week deadline to the government for the introduction of the cabinet to the House which expired on Saturday.
Afghan President Mohammad Ashraf Ghani in his presidential campaigns had said that after reaching the presidential palace in first two months he will have a cabinet.
Now it is over three months and the government does not have a cabinet.
http://www.khaama.com/43465-2617
----------
Kurdish female fighters named 'most inspiring women' of 2014
29 Dec, 2014
WASHINGTON DC—The women fighters of the Peoples Protection Units (YPG) and a Kurdish Yezidi parliamentarian were chosen by CNN this week as the most inspiring women of 2014.
"The female fighters have trained for many years but this year have become notable for their courageous role in the war against the Islamic State of Iraq and Syria (ISIS)," reads the CNN posting on the Kurdish fighters.
The Kurdish female fighters who operate under their own unit (YPJ) have been recognized for their brave fight against the Islamic State and their role in defending the besieged Kurdish town of Kobane gained them worldwide respect.
The second woman on CNN's list is the Kurdish Yezidi lawmaker Vian Dakhil whose emotional plea to world leaders last summer to protect her community against ISIS's onslaught prompted an international relief effort to tends of thousands of Yezidis on Mount Shingal.
"Vian Dakhil -- Current member of the Iraqi Parliament and the only member of Yazidi origin. Dakhil won the 2014 Anna Politkovskaya Awardrun by human rights organization Reach All Women in War (RAW in WAR), for her campaigns to protect the Yazidi people from the terror of Islamic State," said CNN.
Every year CNN asks readers, writers, and organizations to nominate and vote for women they believe deserve recognition and the winners are named the "most inspiring women" of the year.
http://rudaw.net/english/world/26122014
----------
Female Suicide Attacker Arrested In Afghanistan
29 Dec, 2014
Police in southern Helmand province have arrested a female suicide attacker.
Farid Ahmad Obaid, spokesman for the provincial police headquarters say the girl who ages around twenty planed to attack a police check post in the Danai area of Nawzad district late Saturday.
He said before she could manage to carry out the attack she was distinguished and arrested by the police
He added that the girl is further questioning.
Taliban militants who usually take responsibility for attacks at security forces are yet to comment on the report.
In the beginning of this year Spogmay a 10 year old girl who was provoked by her brother for a suicide attack at Afghan forces was arrested in Helmand's Khanashin district.
Female suicide attackers are not very famous in Afghanistan but most of the times they are emotionalized by their family members who have joined Taliban.
http://www.khaama.com/female-suicide-attacker-arrested-in-helmand-2617
----------
Saudi Govt takes action to ensure safe journey for female teachers
29 Dec, 2014
The Tatweer Transport Company has been instructed to provide safe and secure transport to female teachers in the wake of the increasing number of road accidents involving teaching staff and students.
Education Minister Prince Khaled Al-Faisal has urged the company to provide the service by the start of the next academic year. The program's first phase will cover 24,872 teachers in various regions.
The directive calls for integrating various solutions related to the transportation of teachers and their safety, such as reducing the number of trips per week and cutting down travel distances.
Prince Khaled said his ministry seeks efficient implementation of the program, not only to reduce traffic accidents, but also to provide better care to teachers who have been playing a significant role in educating generations.
The ministry has spent SR35 million to build 2,000 staff rooms for teachers.
In a related development, police in Al-Jouf seized 115 substandard vehicles that were used to transport female teachers in the region.
Col. Mohammed bin Naif Al-Otaibi, director of traffic in Al-Jouf, said the vehicles were seized on the directive of Al-Jouf Gov. Prince Fahd bin Badr, adding that they had violated safety regulations.
http://www.arabnews.com/saudi-arabia/news/681421
----------
Women's inclusion in Shoura king's 'historic decision'
29 Dec, 2014
Saudi citizens and Shoura members have pinned great hopes on Custodian of the Two Holy Mosques King Abdullah's annual address to the Shoura Council on Jan. 6, 2015. They expect announcement of key decisions.
Crown Prince Salman, deputy premier and minister of defense, will deliver the king's speech, said Abdullah Al-Asheikh, president of the 150-member consultative body.
In a previous address to the Shoura in 2011, King Abdullah announced the government's decision to appoint women to the consultative council and giving women right to vote and run in municipal elections.
In January 2013, King Abdullah appointed 30 highly qualified women to the council, which was described by Al-Asheikh as historic. "Year after year, we reap the fruits of this historic decision," the president said.
He said women have proved their excellence through their immense contributions to different policy-making legislations.
"We consider the king's annual speech as a working document and as a guideline for our discussions," he said. "It sets out the objectives the government wants to realize next year and highlights its domestic and foreign policies," he said.
Al-Asheikh commended Saudi Arabia's achievements during King Abdullah's golden era, urging citizens to rise up to the leadership's expectations. "The Shoura has now become a fundamental partner in the national decision-making process," the president said, adding that most the Cabinet decisions are first approved by the Shoura.
Abdelelah Saaty, dean of the College of Business in Rabigh, emphasized the significance of the king's speech.
"Saudis are looking forward to it in the hope that it would contain major policy decisions that will further lead the Kingdom to greater prosperity," he told Arab News.
Saaty called upon the Shoura to discuss matters that concern citizens. He backed the current system of appointing Shoura members instead of election to ensure the presence of right people.
http://www.arabnews.com/featured/news/681406
----------
URL: https://newageislam.com/islam,-women-and-feminism/new-age-islam-news-bureau/melbourne-woman-marries-jihadi-playboy/d/100748