New Age Islam News Bureau
17 Jul 2018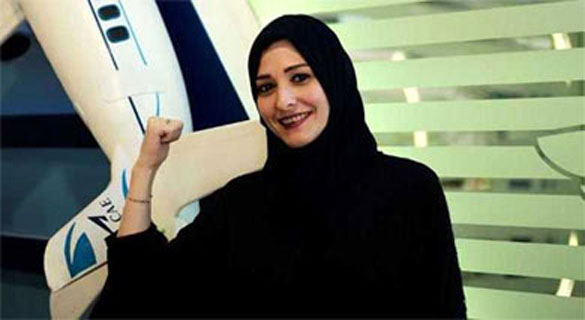 Dalia Yashar, one of the first Saudi students who registered to become a commercial pilot, stands in front of the registration centre, CAE Oxford ATC, where Saudi women can pursue their carrier as a commercial pilots, at King Fahd International Airport in Dammam, Saudi Arabia, July 15, 2018. REUTERS/Hamad I Mohammed
------
• Saudi Aviation Academy to Train First Women Pilots
• Justice Tahira Safdar Likely To Become First Woman Chief Justice of Balochistan High Court
• Given Triple Talaq for Giving Birth to Girl, UP Woman Files FIR
• UAE Women Students Complete Multiculturalism Programme In Scotland
• Woman Forced to Sleep With Father-in-law under Nikah Halala, Faces Death Threats for Speaking Out
• Bangladesh Starts Grooming Female Drivers for KSA
• Headscarf Women Taught to Ride Bikes in Germany
Compiled by New Age Islam News Bureau
URL: https://www.newageislam.com/islam-women-feminism/mehendi-applied-womens-hand-unknown/d/115858
--------
Mehendi Applied on Women's Hand by Unknown Men Is Un-Islamic: Darul Uloom
Jul 16, 2018
Meerut: In a fresh fatwa, Darul Uloom's fatwa department has stated that "application of Mehendi on women's hands by unknown men is not accepted in the eyes of Sharia law".
Known for delivering controversial diktats, the Deoband-based Islamic seminary said, "Giving one's hand to an unknown man for application of Mehendi is un-Islamic and it doesn't show the woman in good light. Women should steer clear of such a possibility."
The instruction came in the form of a reply to a query raised by a Deoband-based man who had asked whether it was all right if a woman goes to the market and gets mehendi applied on her hands by professional Mehendi artists.
Clerics of Deoband-based Islamic institutions have supported the statement. "There is a special importance of the Purdah system in Islam, and if any woman allows an unknown man to touch her on the pretext of applying Mehendi, then it is not right in the light of Hadees. Woman must remain within Purdah," said Mufti Athar Qazmi, senior cleric at Madrasa Asharfia.
Since the advent of 2018, several Fatwas have been issued by the Deoband Ulema. Earlier, one fatwa issued by them stated that women wearing designer and body-hugging burqa are 'Haraam' and this is not allowed in Islam.
A bench of muftis had after religious celebrations issued a fatwa on the issue stating, "The veil and Burqa are supposed to protect a woman from prying eyes. So, a women wearing a designer Burqa or body-hugging outfit is strictly not allowed in In yet another development, Deoband Ulema had criticized 15-year-old Alia Khan of Meerut for reciting Bhagwad Gita 'slokas' at a contest organized by the state government in Lucknow. She won a prize at the contest.
After that, they issued another controversial fatwa, in which it had asked Muslim families to avoid marrying men or women working in banks as the money earned through interest is illegitimate in the eyes of Islam. Recently, they had even termed installation of CCTV cameras as un-Islamic.
https://timesofindia.indiatimes.com/city/meerut/mehendi-applied-on-womens-hand-by-unknown-men-is-un-islamic-darul/articleshow/65014737.cms
--------
Saudi Aviation Academy to Train First Women Pilots
July 17, 2018
DAMMAM: A flight school in Saudi Arabia is opening its doors for women, following the end of a decades-long driving ban in the deeply conservative Muslim country where many social restrictions are easing.
Oxford Aviation Academy, a leading trainer and crew recruiter, has already received applications from hundreds of women hoping to start lessons in September at a new branch in the eastern city of Dammam.
"People used to travel abroad (to study aviation), which was difficult for women more than men," said applicant Dalal Yashar, who aspires to work as a civil pilot.
"We are no longer living in the era where women were allowed (to work) in limited arenas. All avenues are now opened for women. If you have the appetite, you have the ability," she said.
The academy is part of a $300 million project that includes a school for aircraft maintenance and an international centre for flight simulators at the airport.
Students receive three years of academic and practical training, said executive director Othman al-Moutairy.
A decades-long ban on women driving, long seen as an emblem of women's repression in the country, was lifted last month, as part of sweeping reforms pushed by powerful young Crown Prince Mohammed bin Salman aimed at transforming the economy and opening up its cloistered society.
The lifting of the prohibition was welcomed by Western allies as proof of a new progressive trend in Saudi Arabia, but it has been accompanied by a crackdown on dissent, including against some of the very activists who previously campaigned against the ban.
http://www.freemalaysiatoday.com/category/world/2018/07/17/saudi-aviation-academy-to-train-first-women-pilots/
--------
Justice Tahira Safdar Likely To Become First Woman Chief Justice of Balochistan High Court
Nasir Iqbal
July 17, 2018
The Balochistan High Court (BHC) may have its first woman chief justice following the retirement of incumbent BHC Chief Justice Mohammad Noor Muskanzai, who is reaching superannuation on August 31.
The Dawn Newspaper has learned that the Judicial Commission, which is expected to meet on July 30 under the chairmanship of Chief Justice Mian Saqib Nisar, may consider the elevation of Justice Syeda Tahira Safdar as BHC chief justice.
Justice Tahira Safdar, born on Oct 5, 1957 in Quetta, is the daughter of renowned lawyer Syed Imtiaz Hussain Baqri Hanafi. She made history in 1982 when she became the first woman civil judge in Balochistan.
If elevated to the top post of the provincial high court, she will make it to the history books for the second time.
Justice Tahira Safdar is also a member of the three-judge special court which is conducting a trial of former president retired Gen Pervez Musharraf for committing treason by proclaiming the state of emergency on Nov 3, 2007. The special court was constituted under Section 4 Criminal Law Amendment (Special Court) Act 1976 for trial of offence of high treason.
She received her basic education from Cantonment Public School, Quetta, and went on to complete her Bachelors' Degree from the Government Girls College, Quetta.
Justice Tahira Safdar did her Masters in Urdu Literature from the University of Balochistan and completed her degree in Law from the University Law College, Quetta, in 1980.
Justice Safdar was successful in the competitive examination held by Balochistan Public Service Commission. Subsequently, she was promoted to the rank of Senior Civil Judge on June 29, 1987, and as Additional District and Sessions Judge on Feb 27, 1991.
On March 1, 1996, she was promoted as District and Sessions Judge. Justice Tahira Safdar also worked as a presiding officer in the Labour Court. She was appointed as a member of the Balochistan Services Tribunal on Oct 22, 1998, and worked as such until she was appointed the chairperson of the Balochistan Services Tribunal on July 10, 2009.
While working as chairperson, Justice Tahira Safdar was elevated to the position of Additional Judge of the high court on Sept 7, 2009, and confirmed as BHC judge on May 11, 2011.
https://www.dawn.com/news/1420449/justice-tahira-safdar-likely-to-become-first-woman-chief-justice-of-balochistan-high-court
--------
Given Triple Talaq for Giving Birth to Girl, UP Woman Files FIR
July 17, 2018
AN FIR has been lodged against a Kairana resident on the basis of a police complaint filed by his wife, accusing him of harassing her and giving her triple talaq after she gave birth to a girl child.
The woman's in-laws, who have also been booked, allegedly started harassing her and demanded a motorcycle and cash after she gave delivered the child 10 days ago. The FIR was registered at Kairana police station on Friday against the husband Zulfikar, mother-in-law, sister-in-law and brother-in-law of the complainant, Shadima, under several IPC sections, police said.
Additional SP, Shamli, Shlok Kumar, said, "The woman came to the police station three days ago with her child and filed a complaint against her husband and in-laws.
https://indianexpress.com/article/india/given-triple-talaq-for-giving-birth-to-girl-up-woman-files-fir-5262504/
--------
UAE Women Students Complete Multiculturalism Programme In Scotland
July 16, 2018
Dubai: A group of female university students representing the UAE recently completed a multiculturalism and leadership skills programme in Scotland organised by Al Maktoum College of Higher Education.
The Hamdan Bin Mohammad Smart University (HBMSU) students were among 72 female students from 17 universities, colleges and institutions who participated in the Academic Training Programme organised under the patronage of Shaikh Hamdan Bin Rashid Al Maktoum, Deputy Ruler of Dubai and Minister of Finance.
They were the first batch of students from the university to participate in the 26th session of the programme called 'History, Culture and the Contemporary World,' which aims to promote dialogues with global cultures.
Attending the graduation, Dr Mansour Al Awar, chancellor of HBMSU, said he is proud of the HBMSU female students' skills and abilities to enhance the interaction between the UAE and international cultures, pointing out that they succeeded in representing the country in Scotland.
'They have provided a model for understanding, coexistence, and tolerance, the UAE's main pillars inspired by the wisdom of Shaikh Zayed Bin Sultan Al Nahyan," he said.
The student's participation falls under the framework of a memorandum of understanding between the two sides signed to instil the values of mutual understanding and multiculturalism among students and professors of the university.
It comes in line with the vision of the wise leadership to promote openness, understanding, and peaceful co-existence to boost the UAE's leadership on the international stage. The programme provided the HBMSU female students with a unique cultural and civilizational experience that paved the way for an in-depth understanding of Scotland's long history and its role in contemporary world.
"Our female students' participation in the programme is a step forward in providing them with extensive educational experiences in the areas of cultural pluralism and civilisational participation and providing them with the skills of effective leadership in the 21st century," he said.
He added that this is in line with the directives of Shaikh Hamdan, who is the president of the university, to invest in young people "as they are considered to bring 'hope, optimism, positive energy, creative thinking, openness to the world, and the ability to develop for the better."
Apart from HBMSU, the programme also attracted the its largest participation ever from other universities and colleges including the UAE University, Abu Dhabi University, American University in Dubai, University of Sharjah, Zayed University and Paris-Sorbonne Abu Dhabi University among others.
The programme featured a series of lectures, visits, seminars and discussions.
https://gulfnews.com/news/uae/society/uae-women-students-complete-multiculturalism-programme-in-scotland-1.2252299
--------
Woman Forced to Sleep With Father-in-law under Nikah Halala, Faces Death Threats for Speaking Out
July 16, 2018
Qazi Faraz Ahmad
Lucknow: Just when the Supreme Court is gearing up to hear arguments on Nikah Halala, another victim has come forward saying she was given divorce multiple times and was forced to consummate marriages with several men.
Shabina, who lives in Bareilly, said she received threats that she would be declared an outcast and also threats to her life from "members of her community" after she revolted against the practice.
Narrating her ordeal, she said that her husband had first given her instant talaq. Thereafter, she was forced to marry her father-in-law and consummate the marriage as part of Nikah Halala as she had to marry her first husband again after getting a divorce from her father-in-law.
However, her ordeal did not end there. After marrying her first husband again, Shabina was again given divorce and this time she was being forced to marry her brother-in-law. But this time, she decided enough is enough.
She approached Nida Khan, who had married into the influential Dargah Aala Hazrat family, and the two went to the media to highlight their plight. Nida Khan had also met the same fate as that of Shabina. She was also a victim of triple talaq and has been fighting against it for quite some time.
Both Nida and Shabina have now lodged a case in the local police station against five individuals after receiving death threats.
The two alleged that the local clerics have said that "people who do not follow Shariat are automatically considered out of the Islam" and those who raise their voice against Shariat will face ""dire consequences".
SP (City) Abhinandan Singh said that a case has been registered. "The orders for investigation have been given," he said.
Bareilly's Shekhar Imam Mufti Khurshid Alam said people opining against Shariat and critiquing Halala are doing so to gain media attention.
"Some people are giving statements against Talaq and Halala just to gain media attention. We do not need to throw anyone out of Islam, people who speak against Shariat are automatically considered out of Islam," said the cleric.
The Supreme Court will hear a batch of petitions challenging Nikah Halala and Polygamy from July 20.
https://www.news18.com/news/india/woman-forced-to-sleep-with-father-in-law-under-nikah-halala-faces-death-threats-for-speaking-out-1813621.html
--------
Bangladesh Starts Grooming Female Drivers for KSA
Jul 17, 2018
Bangladesh has begun grooming female drivers for sending them to the Kingdom of Saudi Arabia.
The KSA has conveyed its interest to Bangladesh to recruit its drivers, both males and females, Expatriate Welfare and Overseas Employment Ministry officials told New Age.
The KSA by lifting ban on female drivers created a huge opportunity for them.
The EWOE Ministry began imparting four months intensive driving training to females and males at its Technical Training Centres, said officials.
Sheikh Fazilatunnessa Mujib Women TTC principal Fouzia Shahnaz told New Age on Monday that the 1st batch of 40 drivers, three of them females already passed out from her centre.
'We encourage young girls aged 20and more to take driving training at government expenses,' she said.
Fouzia Shahnaz called for launching nationwide campaigns to sensitize young girls to avail of the driving training opportunities.
Bangladeshi Ovhibashi Mohila Sramik Association director Sumiaya Islam told New Age that women's natural instincts would make them better automobile drivers both at home and abroad.'
She said that driving skill would qualify them to work in the KSA and the other countries in the Middle East.
She said that driving would a better profession from them than the work of housemaid.
Sumaiya called for launching nationwide campaigns to motivate young
and educated girls to take driving as their profession.
Bureau of Manpower, Employment and Training officials said that the first batch of about 800 drivers already passed out of 20 Technical Training Centres on completion of four-month resident training courses.
They said that each trainee driver was given monthly stipend of Tk 2,200 by the government to meet their expenses at the institute with free boarding facilities.
EWOE ministry additional secretary Aminul Islam told New Age that from January, driving training course would be introduced at 41 more TTCs for rapidly grooming drivers.
He said that the government was encouraging females to work as drivers at home and abroad.
He called it a happy development that young girls in Bangladesh were taking automobile driving as a profession.
Aminul Islam said that at the training stage the learners would be taught to be proficient in spoken Arabic and English.
BMET director general Md Salim Reza said that the KSA had expressed its interest to recruit one lakh drivers from Bangladesh.
BMET officials said that the government surveyed 52 countries' demand for expatriate workers.
They said that the government was keen to groom skilled workers to meet their growing demand abroad.
BMET data shows that over 1.15 crore Bangladeshis took overseas jobs since 1976 and 43 per cent of them were skilled workers.
The KSA alone recruited over 34 lakh workers from Bangladesh during the period.
Migrants' rights campaigner and WARBE Development Foundation's secretary general Faruque Ahmed said that qualified driving instructors should be engaged for grooming drivers for overseas jobs.
Provide training in name only would be undesirable, he said.
http://www.newagebd.net/article/46210/bangladesh-starts-grooming-female-drivers-for-ksa
--------
Headscarf Women Taught to Ride Bikes in Germany
July 16th, 2018
Fatien Hayajneh can still remember exactly how she taught herself to ride a bike as a little girl.
It was in the attic of her parents' home in a small village in Jordan, propping herself up on the wall with one hand and gripping the handlebars with the other. "The wall still helps me sometimes," she says with a laugh.
The 35-year-old works for the Arab club Al Tariq in the eastern German town of Fuerstenwalde. Today she's with around 20 other women at the town's traffic training area. Together with other volunteers, she's going to teach refugee women how to ride bicycles.
In preparation, Joerg Raue, chair of the local road safety council, has built a course, including wooden blocks set up to lead the cyclists in an S-bend and then a left-hand curve around a bush.
Raue says: "At the end there's a slalom and a brake-test."
He's never seen women with headscarves at the training ground before. "It's usually fourth-graders practicing for their bicycle test."
According to the German News Agency, it's the first time the course for Arab women has taken place in Fuerstenwalde.
Co-organizer Gabi Moser, who got the idea in 2015 at a bicycle workshop in Berlin with a high refugee turnout, has boned up for the session with the help of videos and training manuals.
Moser told Hayajneh about her idea, who was immediately enthused.
She had already attempted on other occasions to teach women how to ride bicycles. "There were a few bruises," she remembers.
It didn't take long for her to find enough women who wanted to take part in the course. "Many discover cycling as a piece of personal freedom," says Moser. In the relatively rural Fuerstenwalde, it's a long way to the shops or to take the children to school or nursery.
"In many Muslim countries, women are discouraged form riding bikes," says volunteer Ayse, including in her home country, Syria.
The pharmacist fled the war in Syria and has been living in Fuerstenwalde for two years. "In Syria's cities, you mostly can't cycle anyway," she adds; the roads aren't suitable for cyclists.
"The most difficult thing for adult women is the balance," she continues. While kids tend to have more problems with coordination, it's harder for adults to keep themselves on two wheels.
https://www.albawaba.com/editorchoice/headscarf-women-taught-ride-bikes-germany-1159720
--------
URL: https://www.newageislam.com/islam-women-feminism/mehendi-applied-womens-hand-unknown/d/115858
New Age Islam, Islam Online, Islamic Website, African Muslim News, Arab World News, South Asia News, Indian Muslim News, World Muslim News, Women in Islam, Islamic Feminism, Arab Women, Women In Arab, Islamophobia in America, Muslim Women in West, Islam Women and Feminism