New Age Islam News Bureau
03 August 2022
• Doha Abualsaud, Saudi Female Academic Chairs International Education Research Conference Session
• Change in the Stereotypical Picture of Women: Lebanese Female Cadets Graduate from Military Academy
• Women Complain About Discrimination for Wearing Hijab in Europe
• Manal Massalha Behind The Lens: 'I Find Solace In The Sea. I Feel Awash With Relief'
• Meet the Muslim World's Forgotten Female Explorers
• Investigation Ordered Into Alleged Sex Abuse of Prison Guards In Israel
• NGO Bountiis to Host Muslim Women Impact Conference, Exhibitions at Lagos
Compiled by New Age Islam News Bureau
URL: https://newageislam.com/islam-women-feminism/meerab-kfc-pakistan-fashion-designing/d/127638
--------
Meerab, a Woman Food Delivery Agent in Pakistan; Does Her Night Duty as A KFC Rider to Cover Her Fees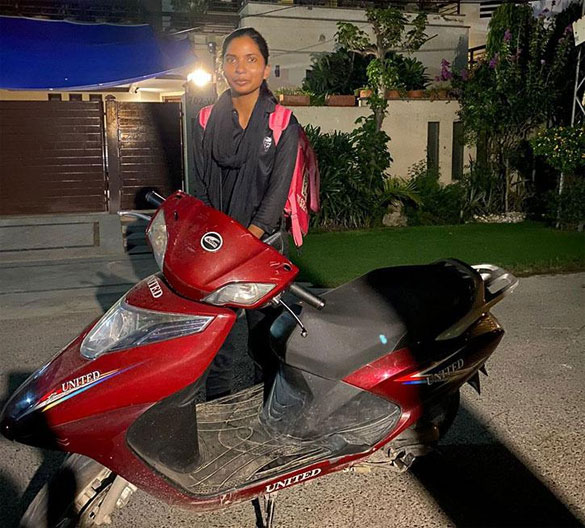 Meerab, a Woman Food Delivery Agent in Pakistan
-----
August 2, 2022
Even in 2022, many professions are almost wholly monopolised by men. However, many women are marking their presence in male-dominated workspaces.
Last week, the story of a Pakistani woman who works as a food delivery driver for fast food chain KFC went viral.
Fizza Ijaz, who as per her LinkedIn profile works as a marketing manager at Unilever, was in for a surprise when she ordered from KFC in Lahore and was greeted by a female delivery agent on the call.
Ijaz was surprised to find out that her order will be delivered by a woman, as opposed to a delivery boy. Soon Ijaz met the woman driver and shared her story on a LinkedIn post that went viral with over 52,000 likes.
In her now-viral post, Ijaz wrote, "Meet Meerab from Youhanabad, Lahore. She is pursuing an undergraduate degree in Fashion Designing and does her night duty as a KFC rider to cover her fees. She intends to remain a rider for another 3 years until she graduates post which she plans to launch her own Fashion Brand! More power to her! May we see more Pakistani girls riding off to adventures their hearts desire?"
In her post, Ijaz later added that Meerab's college fee is funded by a foundation but she needs more money to support her family and her mother's medical expenses.
Meerab's story has touched thousands of netizens who offered her academic and professional guidance in addition to financial help.
Source: Indian Express
https://indianexpress.com/article/trending/trending-globally/pakistani-kfc-delivery-woman-8064397/
--------
Doha Abualsaud, Saudi Female Academic Chairs International Education Research Conference Session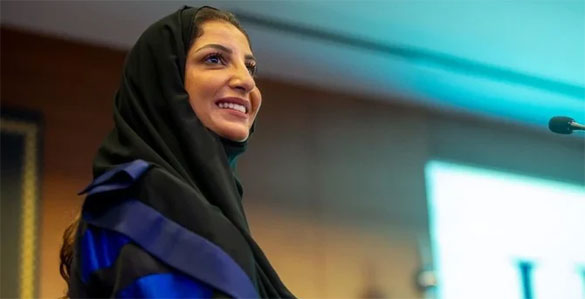 Doha Abu Alsaud, vice dean of Student Affairs at the University of Business and Technology. (Supplied)
-----
Hebshi Alshammari
August 02, 2022
RIYADH: A leading female Saudi academic recently chaired an international higher education research session held at University College London.
Doha Abualsaud, vice dean of student affairs at Jeddah's University of Business and Technology, helped preside over discussions at the European Conference on Education.
She presented a working paper titled, "Harnessing the indescribable: The impact of using creative methodological tools to talk about emotions in higher education."
Abualsaud's paper focused on the university's vision of developing modern and innovative non-traditional approaches to support higher education. She told Arab News that scientific conferences were an integral part of the professional development of an academic researcher, allowing them to present their work, and network.
She said: "The study of emotions is not only complicated but also a very messy field. I chose to specialize in the social constructivist approach based on a subjectivist epistemology and a relativist ontology which simply suggest that the expression of emotions is a collective learned principle that differs from one culture to another.
"The topic is rather crucial in professional settings due to the stigma associated with the concept of emotion and many professionals are expected to swallow their feelings in the workplace and only show positive emotions.
"For example, men who cry are often considered weak, a professional worker who gets angry can be considered impolite, and an employee who complains may be seen as ungrateful. Ultimately, the notion of unspeakable emotions is unconsciously immersed into their practice," she added.
Abualsaud was chosen to chair the conference because of her significant scientific research in higher education.
She said: "I haven't ever experienced the absence of Saudi females from significant and crucial contexts especially in science and high-profile intellectual events.
"What is rather significant is the golden era in every sense of the word today for Saudi women in general and for the youth group in particular, as we are achieving the vision of our leader Crown Prince Mohammed bin Salman.
"This era requires different skills than previous times. The electronic digital transformation we are experiencing requires us to master different technologies and women's involvement in various practical fields requires distinct capabilities and competencies that contribute to supporting women's presence and holding leadership positions," she added.
Abualsaud expressed her pride at having been part chair of the session and noted that her participation highlighted the increasing involvement of Saudi women in international and scientific forums.
Source: Arab News
https://www.arabnews.com/node/2134276/saudi-arabia
--------
Change in the Stereotypical Picture of Women: Lebanese Female Cadets Graduate from Military Academy
Najia Houssari
August 02, 2022
BEIRUT: The celebration of the 77th Lebanese Army Day on Monday witnessed over 40 female officers graduating from the Lebanese Army Military Academy.
Female officer Lt. Angie Khoury was the top cadet in this year's graduating class. She read out the oath and all graduates repeated it after her.
The gender split reflects "the progress of Lebanese society and the change in the stereotypical picture of women," said the National Commission for Lebanese Women in a statement.
"It also shows that the Lebanese Army appreciates women's capabilities and qualifications, and opens the door for them to reach decision-making positions in the fields of security and defense," the commission added.
Women's access to senior positions in state security is one of the envisaged objectives in the national plan to implement the UN Security Council decision 1325 on women, peace and security.
A ministerial decree was issued in 1989 including applicable provisions related to the recruitment and service of Lebanese women in the army, in line with women's rights to equality, in addition to a defense law that grants all Lebanese the right to volunteer to serve in their country's military.
Over time, women's roles were no longer limited to administrative work. According to the Lebanese Army's Orientation Directorate, today "women occupy many positions in combat units and they proved their success in all tasks assigned to them."
The total number of women who graduated from the academy reached 46 out of 121 graduates — 40 from the ground forces, four from the air forces, and two from the maritime forces.
The Lebanese parliament witnessed last May a relative increase in the number of female members as a result of the parliamentary elections, bringing their number to eight compared to six in 2018.
However, the stances of these women, be it in parliament, on TV channels or on social media platforms, have often been mocked, especially by their male colleagues or male activists and politicians on social media.
Last week, the Lebanese people witnessed a sample of this treatment targeting female MPs. Tensions arose in parliament during the legislative session between MP Halima Kaakour from the Forces of Change bloc and speaker Nabih Berri. She asked Berri to speak while voting, but the latter refused and responded by saying: "Sit down and shut up." Kaakour said: "What is this patriarchal behavior?"
Kaakour's comment provoked one of the Christian MPs during the session, who objected to the use of the term "patriarchy," which was expunged from the minutes later. MP Paula Yaacoubian intervened to explain the meaning of the term to the MPs, stating that it refers to "the condescending patriarchal system and has nothing to do with any religious figure in Lebanon."
Tensions flared up again when MP Kabalan Kabalan mocked the family name of MP Cynthia Zarazir from the Forces of Change bloc. Yaacoubian defended her colleague by telling Berri that "one of his bloc's MPs is bullying our colleague."
A former female minister, who spoke to Arab News on condition of anonymity, took a more critical view: "If some women are seeking populism and demagoguery in parliament, it is their problem.
"We worked as ministers and MPs and were never subjected to bullying and mockery. Berri deals with all the MPs in his way but this doesn't mean that he targets women alone."
But feminist Hayat Mershad believes that "the ruling class in Lebanon has a patriarchal tendency toward women."
The said the presence of women in public affairs is still limited, as the number of current female MPs constitutes 6.5 percent of the total number of MPs, adding that "this achievement came after years of struggle and violence targeting women trying to work in politics."
Mershad said: "Women are always criticized for being women, not for their ideas and proposals. This attitude exists and is linked to the existing political parties. The head of the party is seen as everyone's leader and father and rules those beneath him. Women and young people don't have the chance to assume a serious role in these parties."
Mershad described women's participation in the military as "a very important step that we weren't seeing before."
She added: "We don't know whether it is because the number of male members in the army is decreasing as a result of their low salaries, or because of men's migration from Lebanon to work abroad."
In a recent Carnegie Foundation research paper, Joumana Zabaneh, a programme management specialist at UN Women Lebanon, said that "women's participation in the Lebanese Army has had a significant impact on maintaining the Lebanese people's confidence and reducing the risk of sexual harassment of women in vulnerable groups. The more the number of female members in the army, the more responsive, inclusive and aware of gender-related issues the institution becomes."
The army said female recruits will be assigned "combat missions and combat support missions. As they gain frontline leadership experience, they will gradually become eligible for leadership positions over the next 30 years, and thus may succeed in bringing about major strategic transformations from within the force."
It added: "Who knows, probably by 2050, a woman might become the chief for the first time."
Source: Arab News
https://www.arabnews.com/node/2134766/middle-east
--------
Women complain about discrimination for wearing hijab in Europe
AUG 02, 2022
Turkish-Muslim women living in Europe complain about discrimination against them in their job applications.
A recent research study revealed the discrimination experienced by headscarved women in job applications in Europe. Utrecht University in the Netherlands, Oxford University in the United Kingdom, and the German Center for Integration and Migration Research recently conducted a joint field survey on the discrimination faced by religious minorities seeking jobs in the three European labor markets: Germany, the Netherlands, and Spain.
The study revealed that women wearing headscarves in Germany and the Netherlands face serious discrimination in job applications. Women wearing headscarves, who were able to overcome prejudices and get a job, told that the real discrimination is on the street and gave examples of the racism they went through.
"I encounter racist and discriminatory treatment in my daily life rather than in my business life. Sometimes this is a bad and sarcastic look, sometimes a verbal insult. I was born in Germany, grew up, studied, and took up my profession. Yet, we are still not accepted. My headscarved cousins wanted to work as sales reps but were asked to take off their headscarves. This shouldn't happen anymore," said Elif Yurtten, a nurse.
Pedagogue Gülbeyaz Kılıç also said: "The vice principal of my first school thought I was a cleaner. I can never forget the expression on his face when I say that I am a pedagogue. They look at your appearance and question your language ability and identity. Especially the glances on public transport vehicles and the insults you hear from some people while passing by them are very disturbing."
"I work with children with disabilities in German schools and nurseries. As I was driving with my six-year-old daughter and the little boy in a stroller, a German pointed at me and said, 'Did you have these stupid children?' He insulted everyone publicly. For some people, if your name, skin, or hair color is different, this can cause racism," according to Hatice Demirtaş who is a teacher.
"I applied to many training centers for jobs. Either there was no response or I was getting a negative response. One day I sent my resume without a photo and was quickly contacted. When I went to the interview, the facial expression of the woman who greeted me changed. In the interview, I was told that my features are suitable for the job, I was asked if I could take off my hijab. I wasn't hired when I said I couldn't take it off," said Meliha Bayrak, a social pedagogue.
The findings of the experiment were shared in an article published by Oxford Academic this month titled "Discrimination Unveiled: A Field Experiment on the Barriers Faced by Muslim Women in Germany, the Netherlands, and Spain."
The study was conducted with the same people's curriculum vitae (CV) by using the same content and information with both veiled and unveiled photos.
As the photos on CVs show whether that person wears a hijab or not, the "cross-nationally harmonized" experiment aimed to demonstrate to what extent the responses these people receive from employers differ.
The results in the Netherlands proved that 35% of women with headscarves got responses from employers, while this rate rose to 70% among those not wearing them.
The experiment claimed a similar scenario in Germany, showing that 25% of the veiled candidates and 53% of the unveiled ones received responses.
"Muslims are perceived by the public at large as a difficult-to-integrate group, mainly due to their conservative gender role attitudes and high levels of religiosity, which are seemingly at odds with European values and the secular lifestyles of Western societies," the article stressed.
"Robust evidence that veiled Muslim women are discriminated against in Germany and the Netherlands, but only when applying for jobs that require a high level of customer contact," it presented
"In Spain, however, the level of discrimination against veiled Muslim women is much smaller than in the other two countries," it stated.
To give statistical data, the research underscored that 48.5% of unveiled Muslim women received responses from employers in the Dutch labor market, while this number decreased to 34.5% among veiled Muslim women.
In Germany, even though employers responded to the job applications of half of the unveiled Muslim women, they did not give any response to 75% of the Muslim women with headscarves.
Source: Daily Sabah
https://www.dailysabah.com/politics/eu-affairs/women-complain-about-discrimination-for-wearing-hijab-in-europe
--------
Manal Massalha Behind The Lens: 'I Find Solace In The Sea. I Feel Awash With Relief'
Manal Massalha
2 Aug 2022
This image is of a woman called Ifaf in the shallow waters of the Mediterranean. She can't swim and fears deep water, but the sea is where she wants to be when feeling overwhelmed. It's her refuge from life's pressures.
"The second I see the sea I feel awash with a great sense of relief. Submerging myself washes away anything that bothers me. Almost instantly. The sea is where I find solace. I feel at one with it."
She drives there from her home town, about 14 miles away. I saw her submerging herself one hot August day last year and was intrigued. Was it an act of cleansing? Healing? Was she hot and bothered?
Now in her early 60s, the mother of five was always motivated and independent. She had big career dreams. She wanted to join the medical profession. As a Palestinian, her opportunities were limited.
At secondary school, the subject she wanted to specialise in wasn't available so she decided to study in the neighbouring Jewish town where learning opportunities were wider. She was one of the first female Palestinian students to join the Hebrew school. On graduating at 18, she worked in a textile factory in Tel Aviv to support her family and fund further studies.
She would leave her home six mornings a week at 4.30am to travel 50 miles (80km) each way. She went to college after work to complete her bookkeeping diploma. She is still working, enhancing her skills and learning new things.
Learning about her life and how important the sea is for her peace of mind, I couldn't help but think of the Muslim woman in France being fined for wearing long-sleeved top on a beach, the controversy around the burkini ban and the debate it evokes around secularism, individual freedoms, Islamophobia and exclusion.
Ifaf made me question our ability to live with difference. Whether we have the right to judge anyone on the basis of what they wear. And how rewarding and calming the sea is for her.
Manal Massalha is a freelance researcher, ethnographer and self-taught social documentary photographer. To view her work visit manalmassalha.com
Source: The Guardian
https://www.theguardian.com/global-development/2022/aug/02/women-behind-the-lens-manal-massalha-sea-palestine-muslim-women
--------
Meet the Muslim World's Forgotten Female Explorers
Fehmida Zakeer
Aug 02, 2022
"I will write books and compose poetry for as long as I live," writes Nur Begum, who embarked on a three-month pilgrimage to Makkah with her mother and husband in 1931.
"No matter how much they gossip and reproach me, I will never regret it. I have no offspring in this world, but I do have this divine calling; people are remembered by their children, but my legacy shall be this!"
Hers is only one of many female voices included in the book, Three Centuries of Travel Writing by Muslim Women, released on Tuesday. It is a collection of lesser-known writings of Muslim women, who travelled far from their homelands for pilgrimage, education, politics or pleasure.
Until now, historic travelogues have been dominated by men, such as the legendary 14th-century Moroccan traveller Ibn Battuta, whose writings made him famous the world over. Similarly, the few women whose names have been immortalised tend to be those with European heritage — Margery Kempe, Lady Mary Wortley Montagu and Mary Kingsley.
Compiled by Editors Siobhan Lambert-Hurley, Daniel Majchrowicz and Sunil Sharma, Three Centuries of Travel Writing by Muslim Women showcases writings from 45 Muslim women — acquired through an extensive selection of writings in 10 languages, including Arabic, Turkish, Urdu, Punjabi, Indonesian, English and others.
The editors initially received funding from the Leverhulme Trust for a project on Muslim women travellers from Asia and the Middle East, which paved the way for the extensive research that went into finding the writings in the collection.
Lambert-Hurley says the idea for the book emerged from an earlier project she completed with Sharma on Atiya Fyzee's 1906 travel diary. "We realised that there were many more travelogues by women and envisaged a large translation project," she says.
Before joining the team, Majchrowicz had already compiled several travel accounts by Muslim women, as part of his research into the history of travel writing in South Asia.
With writings spanning the 17th to 20th centuries, the team spent seven years producing the anthology, piecing together work by royal family members, women from influential families, and even a few from modest backgrounds.
The very first traveller we are introduced to in the collection is a woman known only as the "Lady of Esfahan". Originally writing in verse form in Persian, she details a pilgrimage to Makkah after the death of her husband.
She writes: "Since wily fate made me suffer separation from my dear beloved, repose in bed was forbidden to me. I saw no recourse other than travel. I could neither sleep at night nor rest during the day until I would be able to circumambulate the sanctuary of the Kaaba. I prepared myself and set off with a resolve in my step."
Some excerpts included in the anthology were part of private collections and had never been published, while others, such as the Lady of Esfahan's, were buried inside collections in their original languages.
Others were discovered through earlier work on lost manuscripts and published in journals, such as an excerpt by the Mughal Princess Jahanara Begum. The princess's contribution, documenting an initiation into a Sufi order in Lahore, is the second of the two pieces from the 17th century.
Several writings were sourced by the editors from autobiographical accounts, essays, lectures, poems, magazine articles, letters to family and private diary entries. Some letters and diary entries, such as those by Begum Sarguland Jang, Ummat Al Ghani, Nur al Nisa and Muhammadi Begum, were meant only for circulation among family members.
Lambert-Hurly says finding sources involved quite a bit of detective work. Sharma adds: "Some of the works were published for private circulation and we were able to find the rare copy from various individuals."
For many of the women, travel enabled them to reflect on people and places that differed from their own. Their writings offered an intimate glimpse into the inner lives of women who were otherwise not seen or written about. Through their work, they could compare the landscapes of their own worlds with those of others.
However, several excerpts in the anthology go against the trope of women's writing being centred on private spaces.
Dilshad — a poet, historian and teacher from Tajikistan, who was captured and forced to migrate to Uzbekistan when her hometown was invaded — weaves her personal history around the political and cultural upheavals surrounding her.
In another excerpt from Egyptian journalist Amina Said's travelogue on India, we read about her observations about Indian cities, and how she set about correcting misinformed perceptions she encountered in the country regarding the Palestinian crisis.
Muhammadi Begum, meanwhile, writes about colonialism, while Zeyneb Hanoum ponders whether the women of "the Orient" require saving.
Several of the writings detail women's experiences of the Hajj, the pilgrimage to Makkah. Nawab Sikandar Begum describes pilgrims having to undergo quarantine on Kamran island, off the coast of Yemen, a reminder that travel restrictions date back far longer than the Covid-19 crisis.
Meanwhile, as Rahil Begum Shervaniya takes issue with the lack of privacy in the communal women's showers, Nur Begum's rhyming verses portray it as a space where women are drawn together in their shared quest to cleanse themselves before Hajj.
Over the centuries, the writings depict how the arduous road travel by the Lady of Esfahan evolved into a journey by sea, preceding the far easier journey by plane completed by Lady Evelyn Cobbold, who claimed to be the first European woman to complete Hajj.
Each of the chapters opens with biographical details of the women, and contains an analysis and context of their writing. Many additional excerpts, not appearing in the book, have been compiled on the website Assessing Muslim Lives.
Majchrowicz says: "Some of the additional translation that did not fit in the book can now be found on the website. We also felt it was important to give access to the original texts, in their original languages, to the greatest extent possible.
"Readers who are able to read the original languages can go to the website and hear their words directly, without a translator's mediation. Finally, the website offers a space for us to include the works of new authors as we find them."
Reading through the book, readers are immersed in the cyclical nature of global disturbances, be it in the form of disease, war, forced immigration, or the fight for the right to live peacefully.
What emerges is a group of women writers who were not afraid to voice their thoughts in the presence of authority figures and unfavourable circumstances. Three Centuries of Travel Writing by Muslim Women Writers is an enduring testament to just a few of the countless fascinating stories documented by women travellers throughout the ages.
Source: The National News
https://www.thenationalnews.com/arts-culture/books/2022/08/02/meet-the-muslim-worlds-forgotten-female-explorers/
--------
Investigation ordered into alleged sex abuse of prison guards in Israel
August 02, 2022
JERUSALEM: Israeli President Isaac Herzog called on Tuesday for an investigation into allegations of sexual abuse of female guards by prisoners at a maximum security prison with the encouragement of their superiors.
"Hearing the testimonies of the female prison wardens in recent days, I am filled with shock and pain, and I feel sick," Herzog said in a statement. "We must investigate these cases in depth, so that everyone responsible is held accountable with the fullest severity. That is our obligation."
Last week, a former soldier who served as a prison guard in the Gilboa Prison in northern Israel wrote an online post under a pseudonym accusing her superior of repeatedly "handing her over" to be raped and sexually assaulted by a Palestinian inmate a few years ago.
On Monday, an Israel Prison Service officer was questioned under caution over the former soldier's allegations.
Several women have since come forward with allegations that female guards were "pimped out" to be raped or sexually abused by political prisoners at the same prison, according to Israeli media reports.
In a response to a request for comment, an IPS spokesperson said the "serious allegations" refer to an incident from a few years ago.
"The information is under a gag order and we will wait for the results of the police investigation and act accordingly with zero tolerance," the spokesperson added.
The Gilboa Prison case surfaced amid a wave of sexual abuse allegations against men in Israel's security forces.
Source: Arab News
https://www.arabnews.com/node/2134776/middle-east
--------
NGO Bountiis to Host Muslim Women Impact Conference, Exhibitions at Lagos
August 2, 2022
The leading Muslim women focused nongovernmental organisation, Bounties Charity Initiative (Bountiis) has announced concluded arrangements to hold the maiden edition of Muslimah IMPACT Conference and Exhibitions tagged #muslimah_impact.
The event scheduled to hold on Sunday, 7th of August, 2022 at The Vantage Point, Ikeja, Lagos with the theme 'Rising Beyond Challenges and Distractions in Today's World Socials' is designed as a platform to showcase innovative ideas from Muslim women in different professions.
A statement signed by Bountiis, Head of Media and Compaign, hajia Nahimah Ajikanle-Nurudeen indicates that the Muslim woman IMPACT conference and Exhibitions will feature Interactive Sessions with line of over 25 speakers in three panel discussions, keynotes and motivational messages to address the theme of the event.
According to her, the exhibitions will showcase and celebrate striving Muslimahs, creating solutions with the display of their intelligence, creativity and resilience in sustaining a successful brand.
She noted that the event will also provide an avenue for Mentor/Mentee where participants will have the opportunity to hangout with experts in their field of business and profession.
Also, as part of the event, she said master classes will be held for participants to learn from seasoned experts and get questions answered in real time.
She explained that the IMPACT conference, supported by over 10 charity organisations and companies, is again a demonstration of Bountiis commitment to uplifting Muslim women with various programmes targeted at addressing their needs.
With 1000 expected participants, 40 exhibitors and over 25 speakers, Bountiis will be connecting Muslim women in various professions to brainstorm on self development and empowerment that will drive social-economic development of women in Nigeria communities and beyond.
The event is expected to commence with a red carpet by 9am while Sessions and other activities will run between 10am to 5pm.
Source: Vanguardngr
https://www.vanguardngr.com/2022/08/bountiis-to-host-muslim-women-impact-conference-exhibitions/
--------
URL: https://newageislam.com/islam-women-feminism/meerab-kfc-pakistan-fashion-designing/d/127638
New Age Islam, Islam Online, Islamic Website, African Muslim News, Arab World News, South Asia News, Indian Muslim News, World Muslim News, Women in Islam, Islamic Feminism, Arab Women, Women In Arab, Islamophobia in America, Muslim Women in West, Islam Women and Feminism