New Age Islam News Bureau
3 Dec 2017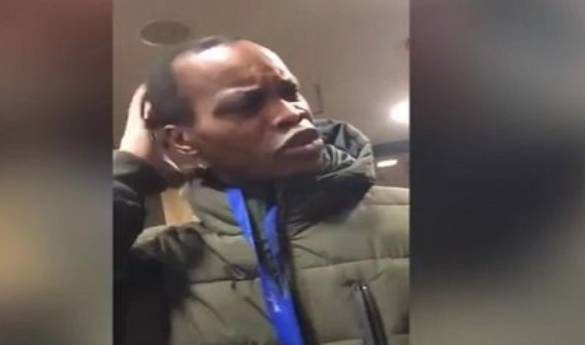 Photo: The security guard said the 19-year-old must remove her hijab before entering the restaurant in North London
------
• Swiss Woman to Face Trial for 'Promoting Jihad'
• Iranian Child Bride Slams Harsh Iranian Muslim Regime
• 15 Arab Female MPs Walked Out of Women's Forum when Israeli Female MK Got Up to Speak
• 600 Expected To Take Part in Women Investors' Exhibition in Riyadh
• UAE-Born Expatriate Women Recall Emotional Connection with 'Home' Country
• Sarah Jessica Parker Coming to Meet UAE's 'Gorgeous Women'
Compiled by New Age Islam News Bureau
URL: https://www.newageislam.com/islam-women-feminism/mcdonalds-refuses-serve-woman-muslim/d/113436
---------
McDonald's Refuses to Serve Woman Because She Is a Muslim
12/03/17
A 19-year-old woman claimed she was refused entry at a McDonald's restaurant in London because she was wearing a hijab.
The woman said she had visited the McDonald's restaurant on Seven Sister's road in Holloway, North London.
The woman recorded the entire incident on her camera and uploaded it to social media. In the footage, the woman can be heard arguing with the security guard of the restaurant when he stops her from standing in the queue.
The woman can be heard asking the security guard as to why she cannot stand in the queue, to which he replies: "It's just a matter of taking it off.
We will be contacting the relevant authorities to ensure this is dealt with. It is disgusting that hate crimes and discrimination are so prevalent in this country, especially in such a diverse city like London. We cannot be silent bystanders to this hate.
Sabrina
@south_sab
Here is the video of the incident, occurring at McDonald's on Seven Sister's Road in Holloway, London. pic.twitter.com/07acmBYdjB
4:01 PM - Dec 1, 2017
The woman then responds saying: "It's not just a matter of taking it off. I wear this for religious reasons and I'm not ashamed of it, and I will stand in line and I will get the food I want because this isn't okay."
As the woman and the security guard argue, another woman standing in the queue intervenes and comes to the victim's rescue. However, the guard tells her: "It's none of your business."
The woman then loses her temper and tells the guard "this is f------ ridiculous." At the same time, a staff member asks the woman to stop filming and asks her not to be rude.
Eventually, the McDonald's staff agrees to serve the woman when she snaps at them saying "I don't want anything anymore."
The Independent had contacted McDonald's regarding the incident to which they responded via email.
"McDonald's has no policy which restricts or prevents anyone wearing a hijab, or any other religious attire, from entering our restaurants. We welcome customers of all faiths and sincerely apologize for this situation. We are taking this matter very seriously and are addressing the situation with the individuals involved; the security guard, from a third party company, has been suspended," it read.
The woman, who refused to be named, told the Guardian: "I thought, it's finally happening to me like it has to so many hijabis. It didn't feel real because I had seen so many videos like this and it was finally happening to me in real life. I was in so much disbelief."
ibtimes.com/watch-mcdonalds-refuses-serve-woman-because-she-muslim-2623018
---------
Swiss woman to face trial for 'promoting jihad'
DECEMBER 1, 2017
A suspect Swiss jihadist is to face trial accused of involvement in the Islamic State (IS) terrorist group after she converted to Islam and rejected her life in Switzerland. The 31-year-old woman is accused of inciting others to wage holy war and promoting suicide bombings in Western cities.
The woman converted to Islam in 2009 and was radicalised over the internet when she was living in the Swiss city of Winterthur in the north east of the country. She then took her then four-year-old son to Egypt and Syria, via Turkey, where she allegedly enrolled with IS.
She was later arrested in Turkey and sent back to Switzerland where her travel documents were confiscated. According to prosecution documents seen by the Swiss news agency, she promoted Jihad to others once she was back in Switzerland. She wanted to "set an example to potential imitators", prosecutors claim, and said martyrs would earn a place in heaven if they blew themselves up in Western cities.
Because Swiss law outlaws membership of IS and other terrorist groups, she was convinced that Switzerland was at war with IS, according to the indictment.
In recent years Winterthur has become associated with Islamic radicalisation and young people going abroad on jihad, resulting in a controversial mosque being shut down in the summer.
The woman will face a trial in Bellinzona starting on December 15 charged with belonging to banned radical groups.
swissinfo.ch/mga and agencies
swissinfo.ch/eng/radicalised-online_swiss-woman-to-face-trial-for--promoting-jihad-/43722144
---------
Iranian Child Bride Slams Harsh Iranian Muslim Regime
DECEMBER 3, 2017
A Muslim child bride who fled to Australia has told how she was beaten and abused by her husband, claiming her religion caused her 'nothing but pain'.
At the age of just 16 the Iranian woman was forced by her father to marry a man who was a decade older. She says she didn't want to, but Islam left her with 'no rights'.
More than two decades since her wedding day, the 39-year-old is living on the Gold Coast, Queensland, her new home after initially fleeing Iran for the safety of Europe.
Telling the Gold Coast Bulletin her story of discrimination and how she was forced to give up seeing her children, the woman revealed she has converted to Christianity.
Growing up in Rasht, in the north-west of Iran, the woman said she was forced into following Islam and had no option to convert to anything else.
'A person who does that in Iran will be deemed an apostate and the punishment is death,' she said.
Growing up in the Middle East, her childhood was at times incredibly difficult.
Her father had two wives and there were stages where she and her family would go hungry as he provided more to the others. Then there was February 17, 1994.
Despite pleading with her father not to let it go ahead, she was forced to marry the cousin of his second wife. He was 26, but she was just 16.
She was pregnant at the age of 17 and gave birth to a son in 1995. In 2000 they had a second child, a girl.
Throughout their relationship she says she was beaten by her husband, who was also having affairs with multiple women.
'I hated Islam and its regressive laws in Iran more than ever — a religion with no value or respect for women,' she said.
Footage of Imam marrying underage girl to 34-year-old man
'It recognises women as only a means of sexual pleasure for men.'
Eventually her father agreed to push for a divorce, but under Islamic law she had to give up her children.
While their divorce was still being finalised she fell in love with someone else, a travel agent with who she traveled the world and for the first time discovered Christianity.
Now living on the Gold Coast she says her life is completely different, having joined a small local church and being granted a bridging visa.
'Islam had brought me nothing by suffering and hardships,' she said.
dailymail.co.uk/news/article-5140283/Muslim-woman-tells-story-child-bride-Iran.html#ixzz50CQU2ca7
---------
15 Arab Female MPs Walked Out of Women's Forum when Israeli Female MK Got Up to Speak
By David Israel - 15 Kislev 5778 – December 3, 2017
At a Thursday panel of the Women Political Leaders Global Forum (WPL) annual global summit 2017 in Reykjavik, Iceland, some 15 representatives from Arab countries stood up and left the hall when MK Aliza Lavie (YeshAtid) stood up to speak.
The mission statement of WPL sets the international group's goal as increasing both the number and the influence of women in political leadership positions, stressing that "to accelerate, women need three things: communication, connection, community." Also, as their pink-dominated website states: "WPL believes that progress happens by convening women political leaders who have the drive and the influence to create positive change."
Just not when the Israelis are talking.
MK Lavie presented a law she had authored, compelling government ministries to submit a gender analysis of their budget to the Committee on the Status of Women in the Knesset, which should be a useful thing for male-dominated Arab societies. But, alas, the Arab representatives stood up and left the hall before the Israeli MK started to speak.
MK Lavie cracked a smile and said, "There's no need to go out, it'll only take two minutes." Then she continued her speech undisturbed.
"I am sorry they boycotted my speech," she said on Friday, adding, "We have so much to learn from each other."
C'estLavie?
Earlier last week, MK AyeletNahmias-Verbin (Zionist camp) was interrupted during her speech by an Algerian MP during a panel on the integration of women in high-tech. The MP asked whether "Palestinian women" are also encouraged to be integrated into Israeli industry. MK Nahmias-Verbin responded that Israel is making great efforts to integrate Arab women into high-tech, and that the state appeals for regional and international cooperation in the field of innovation.
jewishpress.com/news/global/15-arab-female-mps-walked-out-of-womens-forum-when-israeli-female-mk-got-up-to-speak/2017/12/03/
---------
600 expected to take part in women investors' exhibition in Riyadh
RODOLFO C. ESTIMO JR. | Published — Sunday 3 December 2017
RIYADH: Six hundred exhibitors are expected to participate in a women investors' exhibition that begins in the Saudi capital on Dec. 21 under the sponsorship of Riyadh Gov. Prince Faisal bin Bandar.
Huda Al-Jeraisy, head of the organizing committee, said that more than 1,000 women have expressed an interest in participating but the venue could accommodate only 600.
The Riyadh Chamber of Commerce and Industry is the organizer of the event, which will be held for six days at the Riyadh International Exhibition and Convention Center. Al-Jeraisy added that the women's committee has seen the various products or services of the exhibitors who should not be less than 18 years of age.
The exhibition includes items connected with national heritage, handicrafts, fashion and beauty, folk cuisine, design and printing, arts, entertainment, concert planning, decoration, perfumes and incense as well as marketing, technical and consulting services.
Al-Jeraisy said: "This kind of women's investment, which is characterized by production from home, is encouraged and supported by government and private entities."
She said the support the exhibition draws is based on the fact that a large number of Saudi women are able to produce creative and heritage products from their homes.
arabnews.com/node/1202961/saudi-arabia
---------
UAE-born expatriate women recall emotional connection with 'home' country
AMNA EHTESHAM KHAISHGI | Published — Sunday 3 December 2017
DUBAI: On the eve of the UAE's 46th National Day, Arab News spoke to expatriate women born and raised in the Emirates about why they believe it is the best place to live and raise their children.
Faeza Dawood, a 30-year-old Pakistani broadcast journalist and mother of three, said the efficiency of law enforcement in the UAE makes it a safe place to raise families.
"The beauty of my childhood was that we grew up with children belonging to diverse cultures around us," she said. "And as Pakistani children born and raised in Dubai, we grew up having a unique perspective on life — one that combined the learning of local UAE culture, affirmation of our traditional Pakistani roots, and acceptance of the diversity of other nationalities living around us."
KulsoomZakir, a 30-year-old Pakistani national who works in Abu Dhabi as a mechanical engineer in the oil and gas sector, said, "I love how the UAE is the land of opportunity for anyone willing to work hard enough. People come here from all walks of life and find a purpose. I am always amused at how expats observe the rules here more strictly in comparison to their own homelands. The lifestyle in the UAE forces you to understand that no one is above the law and that our differences should unite us to work towards a common goal."
For Sanober Sabah, a 35-year-old-Indian, no country can provide safety for women the way the UAE does. "The UAE is the best place when it comes to safety of women," she told Arab News. "I couldn't think of moving around back home late at night on my own. But in the UAE, it's quite completely normal for women to socialize and mingle after dark."
Religious tolerance is another reason Dawood feels the UAE is such a good place to live. "There is a beautiful atmosphere of tolerance and peace in the society," she said. "In a beautiful way there has always been this feeling of being at home here. One can always hear the azaan (call for prayer). Ramadan is always a festive occasion with iftar meals in all the mosques."
She adds that Eid is celebrated in a big way too, stressing how — as a Muslim —the celebration of Islamic festivals is important to her and her children's upbringing. But she enjoys the fact that the UAE allows other religious festivals to be celebrated. "Apart from Islamic festivities, we see religious tolerance too. Other occasions like Christmas are also made festive for those who celebrate. So, we grew up respecting other faiths as well," she explained.
Zakir believes her father made the right decision by choosing to settle down in the UAE. "I was born in Abu Dhabi and that has made a huge difference in my upbringing. We were sheltered from many of the negatives and grew up surrounded by diversity, respect and love for all of God's creations. Everything I cherish most in this life — a happy family, good friends, a sound education and a fulfilling livelihood," she said.
For both Sabah and her two children, the UAE is their home country. "Whenever they asked where they are from, they always say they are from the UAE. This is the only identity they believe in," she said.
Zakire does have one thing she would like to change, however. "I would love to call the UAE my forever home, but visa rules don't really allow for that. Buying property is also not the answer. Unfortunately, one thing most of us learn early on is that regardless of how much you would like to call the UAE home, it remains a place where you're only staying temporarily, even if that can mean as long as 30 years," she said. "Not everyone makes enough cash to invest in a business or property. Still, home is where the heart is and by that measure, my home is UAE at the moment."
Zakir added that the late Sheikh Zayed bin Sultan Al Nahyan, regarded as the UAE's founder, has always had a special place in the hearts of her family: "Whenever we moved into a new home dad always insisted on carrying two things into the new space before everything else. First was the Holy Qur'an, for obvious reasons, and second was a picture of Baba Zayed. Dad would not let us move in furniture till he found a proper place to hang up his portrait. No other picture was allowed on the same wall. Plus the portrait had to be the first thing people saw when they stepped into the space. He said expatriates owe a lot to this man. He said leaders with a great vision for their nations can truly change the destiny of their people. Baba Zayed was such a leader."
Dawood believes that expatriates have to show commitment to enjoy this country of love and peace. "The only thing I would like to see more here is (greater) commitment from expatriates who come here for brief periods," she said. "The UAE has a beating heart and a rich soul. Anybody who comes here for a job opportunity should try to win that heart through respect and touch the soul through commitment."
arabnews.com/node/1202711/middle-east
---------
Sarah Jessica Parker coming to meet UAE's 'gorgeous women'
ARAB NEWS | Published — Sunday 3 December 2017
JEDDAH: Shoe lovers in the UAE are in for a treat as popular actress-turned-designer Sarah Jessica Parker hosts two pop-up shops in the country this month, selling her SJP Collection of high heels.
The star will be in Abu Dhabi, signing shoes at Yas Mall from 12.15 p.m. to 2.15 p.m. on Dec. 7.
On Dec. 8, she will appear in Dubai at the Nojoom Ballroom, Shangri-La Hotel, between 3 p.m. and 5.30 p.m.
Parker will reportedly also attend the opening night gala of this year's Dubai International Film Festival on Dec. 6, alongside a multitude of stars from Hollywood, Bollywood and beyond, including Cate Blanchett, Patrick Stewart, Morgan Spurlock, Alesha Dixon, Irrfan Khan, Rob Reiner and Sonam Kapoor.
"The UAE was the first international market to welcome the SJP Collection three years ago, and it's a real privilege and treat to finally be heading back for our second visit," PopSugar quoted Parker as saying.
"Launching in this particular territory was, and still is, such a massive opportunity for us to reach a completely new customer, and we've had a lot of fun dreaming up and creating shoes with these gorgeous women in mind."
arabnews.com/node/1202796/offbeat
URL: https://www.newageislam.com/islam-women-feminism/mcdonalds-refuses-serve-woman-muslim/d/113436