New Age Islam News Bureau
7 Jan 2020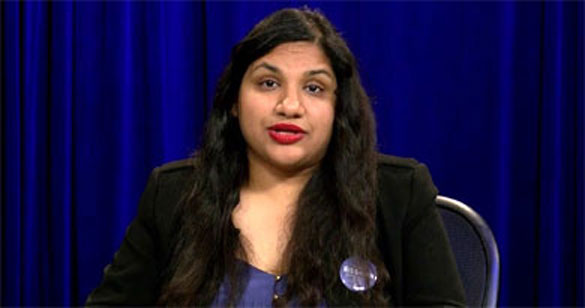 Sumbul Siddiqui, Mayor of Cambridge, MA Photo Credit: Kyle Klein Photography
-----
• Massachusetts' First Muslim Mayor Elected In Cambridge on Monday
• Actress Yasmine Sabri: First Arab Woman In Cartier Campaign
• Cyprus Court to Sentence Briton over 'Imaginary' Gang-Rape
• On My App and At the Mosque, I Want To Hear Women Recite The Quran
• Women Lawmakers Stage Walkout From Khyber Pakhtunkhwa Assembly
• Portland Woman Accused of Snatching Hijab Is Charged With Hate Crimes
• Nine-judge SC bench to hear issue of allowing entry of women of all age group into Sabarimala
• Two Anti-Radical Islam Women Slam Critics Of Trump's Airstrike On Soleimani
• Under Fire, Mumbai Girl Says Sorry For 'Free Kashmir' Placard
• 2,514 Working Women Benefit From Saudi Human Resources Development Fund Program
Compiled By New Age Islam News Bureau
URL: https://www.newageislam.com/islam-women-feminism/massachusetts-first-muslim-mayor-elected/d/120730
------
Massachusetts' first Muslim mayor elected in Cambridge on Monday
January 6, 2020
By RICK SOBEY
Sumbul Siddiqui became the first Muslim mayor in the state on Monday, getting elected in Cambridge — where her family moved decades ago after emigrating from Pakistan.
Siddiqui, 31, was elected unanimously on the first ballot by her fellow councilors. Following the vote, the packed chamber stood and showered her with applause.
"The more and more different representation there is, the better it is for everyone," she told the Herald after the inauguration, noting Cambridge's diversity.
"It's very important for people to see themselves in folks they elect," she added.
Siddiqui, in her second term on the council, became Massachusetts' first Muslim mayor, according to Jetpac Inc. — a nonprofit that works on getting American Muslims elected.
"Mayor Siddiqui is the first American Muslim Mayor in Massachusetts, and in her opening address has emphasized the importance of service and how it has been such a foundational part of her life since moving to America from Pakistan as a child," Jetpac wrote on Facebook.
As a 2-year-old, Siddiqui moved with her parents and twin brother to the U.S. from Karachi, Pakistan. Her family won a lottery to enter Cambridge's affordable housing system, which placed them in Rindge Towers in North Cambridge and then in Roosevelt Towers in East Cambridge.
As a Cambridge Rindge and Latin student, Siddiqui co-founded the Cambridge Youth Involvement Subcommittee, now the Cambridge Youth Council in its 15th year. She holds a bachelor's degree from Brown University and a law degree from Northwestern Pritzker School of Law.
Between college and law school, Siddiqui served as an AmeriCorps fellow at New Profit, a Boston nonprofit that works on improving social mobility for children, families and their communities.
As mayor, her top priority will be "creating more affordable housing," she told the Herald.
https://www.bostonherald.com/2020/01/06/massachusetts-first-muslim-mayor-elected-in-cambridge-on-monday/
------
Actress Yasmine Sabri: First Arab woman in Cartier campaign
January 07, 2020
DUBAI: Egyptian actress Yasmine Sabri just became the first Middle Eastern woman to star in French luxury jeweler Cartier's campaign for its Panthere De Cartier collection.
In the video the star shared on her Instagram, Sabri stars alongside Italian model Mariacarla Boscono and British actors Ella Balinska and Annabelle Wallis.
In the "Into the Wild" video, Sabri wore a black jumpsuit, which she accessorized with a gold and diamond Panthere de Cartier timepiece and pendant earrings.
The 32-year-old actress is known for promoting campaigns that support women empowerment.
During the 2013 Arab African Conference on Women's Empowerment, Sabri received the title of "Ambassador of African Women." The global recognition she received celebrated the support she offered for the "Enti Al-Aham" (You come first) campaign for women empowerment.
Sabri's acting career started in 2013 when she started in the series "Khatawat al-Shaytan."
She is best known for her roles in several TV series such as "Hekayti," "Al-Ostoora," "Tareeky," and more.
https://www.arabnews.com/node/1609541/lifestyle
------
Cyprus court to sentence Briton over 'imaginary' gang-rape
7 January, 2020
A Cypriot court is due Tuesday to sentence a British teenager convicted of falsely accusing a group of Israelis of gang-rape, in a case that has stirred protests in the UK.
The 19-year-old was found guilty last week and could face up to a year in jail, after what her defence team blasted as a litany of rights failings by Cypriot authorities.
Her lawyers are to lodge an appeal in the island's supreme court, while Britain's Foreign Secretary Dominic Raab has said he has "firmly and categorically registered" concerns with Cypriot officials.
Judge Michalis Papathanasiou told the young woman "statements you have given were false", as he convicted her on December 30.
He said earlier in the trial that her account was beset by "contradictions, confusion, lack of logic and exaggeration".
Lawyers for the woman, whom AFP is not naming, say she was raped in the seaside resort of Ayia Napa by several Israeli teenagers in their hotel room on July 17.
She fled in distress to her own hotel and was examined by an in-house doctor, who called the police.
A group of Israeli teenagers were arrested and appeared in court, but 10 days after making a complaint of rape she was interviewed again by police and signed a retraction.
The boys were allowed to return to Israel and not called as witnesses.
Her Cypriot counsel, Nicoletta Charalambidou, told AFP that the woman had been called in on July 27 by a policewoman who had taken her initial complaint.
Male police officers "picked her up, locking the doors of the car".
She was then interrogated from early evening until the early hours of the next morning, when she signed the retraction.
The process was carried out in the absence of a translator or lawyer acting on her behalf, according to her legal team.
Police called in a female "welfare officer, who was there for some time... but the girl said she was not there during the retraction", Charalambidou said.
The woman was then arrested on charges of "making a false statement about an imaginary crime".
'Minimum we can do'
Over 50 Israelis have flown to Cyprus to stand by the woman at the sentencing, partly out of disgust that the "boys returned to Israel as heroes", an activist told AFP.
"The minimum we can do is to be there to offer support, to show her that we believe her," said Orit Sulitzeanu, executive director of the Association of Rape Crisis Centers in Israel.
Dozens of people demonstrated in London on Monday to call on the British government to help the young woman.
The protesters, most of them women, gathered in front of the Cyprus High Commission before marching towards Downing Street and Parliament Square.
They held signs reading "We believe her" and "Boycott Cyprus".
Michael Polak, acting for the woman through British group Justice Abroad, told AFP by email that "the case has been littered with both investigatory and legal mistakes".
If the supreme court bid fails, appeals will be made to the European Court of Human Rights and the European Court of Justice, he said.
The convicted British woman's mother and legal team say she has been suffering Post Traumatic Stress Disorder.
An expert pathologist gave evidence that the state pathologist had omitted to note a number of injuries suffered by the woman, whose bruises he said were consistent with rape.
https://www.alaraby.co.uk/english/news/2020/1/7/cyprus-court-to-sentence-briton-over-imaginary-gang-rape
------
On my app and at the mosque, I want to hear women recite the Quran
7 January, 2020
A few months ago, I heard Madinah Javed recite 'The Morning Brightness' from the Quran, on BBC Radio 4.
I was moved to tears.
I had never heard a female reciter of the Quran before. I didn't realise how much I had waited my whole life to hear it. I didn't realise before that moment how much I needed to hear it. For 30 years I had only heard the Quran recited by men, and never thought to even demand anything else.
My experience of recitations growing up were the Islamic cable channels in the background at my grandparents' house, recitations on the radio during Ramadan, or more recently on Quran apps and at the local mosque, hearing the always male Imam through a partition from the women's area.
Although, as an adult I'd chafed for years at the size of women's spaces in the mosque; an afterthought compared to the men's, it never even occurred to me to ask why I had never heard a female recitation of the Quran. I had just subconsciously accepted it as something that was not meant for me. But there was an unspoken and heavy guilt that I rarely - if ever - felt any connection with the recitations.
The familiar warm sound of my mother murmuring the Quran, or the girls recitation at study circles as a child seemed the closest I would get to a female voice reading the Quran, until Javed's recitation made me realise I should have been looking for more.
After hearing her on the radio, I scoured the internet for more recitations by women and found the then mezzo soprano trainee, Mai Kamal's, Adhan. The call to prayer was something else I had heard frequently throughout my life, but never by a woman.
Deemed one of the most beautiful sounds in the world for Muslims, the Adhan has often left me unmoved, a shocking and almost blasphemous thought, to me. But Kamal's voice made me realise it wasn't the Adhan itself I had trouble with, but the acceptance that it would never be a woman calling it.
Although I've only recently come to realise we should be pushing for female reciters, others have been campaigning for many years. Back in 2015, Jerusha Lamptey, associate professor of Islam and interreligious engagement at Union Theological Seminary, started the hashtag camapign #AddAFemaleReciter to protest the lack of women reciters on all of the Quran apps.
Despite this, it was only last year that the Quran-Afrilang app launched on Android as the first app to include female reciters, and since then there has not been much improvement.
In the West and specifically in the UK, female recitation of the Quran in public is extremely rare, which perhaps explains why I and others are unaware of it. In Indonesia and Malaysia, however, it's far more commonplace. A Malaysian reality TV show was even launched back in 2011 for women to compete as the best female preacher.
But here in the UK, it's almost unheard of for a woman to lead a call to prayer, or recite the Quran for men and women in British Mosques.
Madinah Javed has often spoken about this issue and called for the normalisation of more female reciters. Apart from on the BBC, she has also recited at events such as the opening of the British Museum's Albukhary Foundation Gallery of the Islamic world, and at St Mary's Cathedral in Glasgow which not only platforms female recitation of the Quran, but also brings recitation to a wider audience.
This has been met with the expected Islamaphobic backlash, but it's important to note that female recitation can face stigma within the Muslim community, too. It is telling that the first time I heard a female reciter wasn't on one of the many Islamic channels, at a local mosque or on a Quran app, but through the BBC.
Many people I spoke to remarked that they would like to have more female reciters but didn't see how it was possible. Discovering reciters such as Javed, Tahera Ahmad who was the first woman to recite the Quran at the Islamic Society of North America Convention, Egypt's Sumaya Abdul Aziz Eddeeb, and Zahra Hani of Algeria who won the Dubai World contest of the Quran, illustrates that it isn't that we lack female reciters, it is that they are not platformed even a fraction as much as their male counterparts.
During the month of Ramadan, Muslims all over the country will be listening to the Quran through many different mediums, and many in the UK will not have the option of listening to a female reciter.
How important is this? For me personally, hearing Javed's recitation was revolutionary. I can't go back to listening to male recitations and questioning why I don't feel spiritually connected to the sound. I'm now very much aware of the needless lack of representation and inclusivity.
As Omid Safi, professor of Asian and Middle Eastern Studies at Duke University put it: "The recitation of the Quran is to be celebrated in every voice. When we exclude the voice of women, we are depriving all of us of half the possibility of experiencing God."
https://www.alaraby.co.uk/english/comment/2020/1/6/the-day-i-heard-a-woman-recite-the-quran
------
Women Lawmakers Stage Walkout From Khyber Pakhtunkhwa Assembly
January 7, 2020
PESHAWAR: Female members from the opposition staged a walkout from the Khyber Pakhtunkhwa Assembly on Monday over incomplete answers by different departments. During question- hour, Sobia Shahid of the Pakistan Muslim League-Nawaz (PML-N) staged a walkout from the House over sharing of the incomplete answer to her question about the wheat purchase when the speaker did not allow her to speak on the issue.
Other women lawmakers from the opposition also joined the walkout. However, they returned to the House after the treasury members' assurance. The opposition faced defeat in its demand for referring the questions about change of secretary energy department and purchase of wheat. In his reply to Sobia Shahid's question about a wheat purchase, Food Minister Qalandar Lodhi said that wheat purchase was made transparently and all receipts were available with the department, which saved Rs10 billion. The question by Inayatullah Khan of the Jamaat-e-Islami (JI) about the constant transfer of secretaries in the energy department as well as Naeema Kishwar's question about energy projects could not be referred to the committee as the treasury refused to send them to the committees.
The speaker also referred to the committee concerned the privilege motions of MPA Abdul Salam about the sub-divisional officer (SDO) and district health officer (DHO) Mardan, and Pakistan People's Party (PPP) Sahibzada Sanaullah's privilege motion about district education officer (DEO), Upper Dir.
Minister for Information Shaukat Yousafzai, while supporting referring the motions to the committee, said there were complaints that government officers were not giving importance to the elected public representatives.
Minorities' member Ranjeet Singh raised the issue of the murder of a Sikh youth in Peshawar the other day and demanded the killers should be arrested at the earliest.
He also condemned the recent incident at Nankana. However, Information Minister Shaukat Yousafzai assured that the police were investigating the murder of the Sikh youth and the situation would get clear soon.
https://www.thenews.com.pk/print/594855-women-lawmakers-stage-walkout-from-kp-assembly
------
Portland Woman Accused of Snatching Hijab Is Charged With Hate Crimes
By Aimee Ortiz
Jan. 6, 2020
Authorities in Oregon charged a woman with hate crimes for pulling off another woman's hijab, trying to strangle her with it and "intentionally desecrating" it, prosecutors said on Friday.
Jasmine Renee Campbell, 23, of Portland faces several charges, including two counts of bias crime in the second degree and one count of attempted strangulation, the Multnomah County District Attorney's Office said in a statement. All of the charges Ms. Campbell faces are misdemeanors.
Prosecutors said Ms. Campbell snatched the hijab of the woman, a 24-year-old foreign exchange student from Saudi Arabia, while at a transit stop in Portland in November.
https://www.nytimes.com/2020/01/06/us/hijab-hate-crime-portland.html
------
Nine-judge SC bench to hear issue of allowing entry of women of all age group into Sabarimala
Jan 06, 2020
A nine-judge Constitution bench of Supreme Court will hear from January 13, the issue of allowing women and girls of all ages to enter Kerala's Sabarimala temple along with other contentious issues of alleged discrimination against Muslim and Parsi women. The top court on Monday issued a notice informing listing of petition filed by Indian Young Lawyers Association seeking review of its historic 2018 judgement allowing women and girls of all ages to enter Sabarimala temple
"Take notice that the following matters will be listed for hearing before a Nine Judges Constitution Bench commencing from Monday the 13th January, 2020", the notice said.
On November 14, last year, a five-judge constitution bench in a 3:2 majority verdict had referred to a larger 7-judge bench, the pleas seeking review of its historic 2018 judgement allowing women and girls of all ages to enter Sabarimala temple.
It had however said that the debate about the constitutional validity of religious practices like bar on entry of women and girls into a place of worship was not limited to the Sabarimala case.
The top court said such restrictions are there with regard to entry of Muslim women into mosques and 'dargah' and Parsi women, married to non-Parsi men, being barred from the holy fire place of an Agyari.
https://economictimes.indiatimes.com/news/politics-and-nation/nine-judge-sc-bench-to-hear-issue-of-allowing-entry-of-women-of-all-age-group-into-sabarimala/articleshow/73125542.cms
------
Two Anti-Radical Islam Women Slam Critics Of Trump's Airstrike On Soleimani
ALICIA F. LUKE
JANUARY 6, 2020
Following a U.S. airstrike at Baghdad International Airport that killed Iranian Maj. Gen. Qassem Soleimani, considered one of Iran's most powerful military leaders, many media outlets and Democrats are slamming the mission as reckless and a knee-jerk reaction. Muslim scholar and Independent Women's Forum visiting fellow Dr. Qanta Ahmed joins Fox & Friends Weekend to discuss why this was a strategic and tactical mission that should be celebrated.
"I have been speaking to all of my friends and contacts in Iran where Soleimani had a tremendous grip through his leadership and plans with PMF and they're celebrating; they're exchanging cakes with each other; they're congratulating each other. To see the United States criticizing the president for this emphatic, long overdue, much indicated rebuke, is disgraceful and it makes you question what their interests really are."
"Soleimani was the mastermind of Iranian hegemony over the region, responsible for hundreds of deaths, thousands of deaths in many many nations," she added. "There's no criticism that legitimate for this targeting."
Good for these two ladies. Happy to hear their perspectives, and first-hand accounts of relatives, friends, and colleagues in Iran. A completely different picture than our MSM would have us believe.
https://godfatherpolitics.com/two-anti-radical-islam-women-slam-critics-of-trumps-airstrike-on-soleimani/?__cf_chl_captcha_tk__=da1e985654e9628b44616314a8715ae97df33c8d-1578390806-0-Adz-w8Yd-K_4hwFVdbu_oq1ydB9iAbXpsfis5U2JHvUZZVAfd9nTdr9ZBGXon7miucULEhrte12xv-HTUroaDOqN_YTcqpNnC3I8uosQ0BQVIK-bqdSjrFhkTJQTRLZ1MtVbOnE-bd4E4WJ8sxPcinCGiES32jU6ytsSMmPK3zYlMnkxqjOlPxZhmhUi-p6PyJ0rAhNf8jsRCekUJl_bZYSjibLdIwWWsOSCMclOOkoUqZ1u7MBLZi19ECoS3QMgyM4asxiD8aG381DpXYWvve8BZvIL2S1F0P6a_CzjmZ26GOWkUpJyrwYnrkvJP-xfl0eE1YJv2fS0XzSGDYb-xV60rTlMRrdxh9OqdDyqlKYa1LBJzG0hwmnooYbnpZ9BRLYeEZUeESGlyVfZ53rAiXeDJuiPfpbbz2p6kO6OJsHpyA_Br2yP546oaueaKk1-D-kMRvry9gzlPiPql3Pnt18
------
Under fire, Mumbai girl says sorry for 'Free Kashmir' placard
Jan 7, 2020
MUMBAI: Facing flak from various right-wing groups and activists for carrying a placard "Free Kashmir" at a protest near the Gateway of India, a Mumbai woman claimed it was "intended for peace in Jammu & Kashmir", and apologised for the misunderstanding it created, here on Tuesday.
The placard was seen in her hand on Monday evening during the protests in Mumbai to condemn the violence on the Jawaharlal Nehru University campus two days ago, triggered a political controversy.
'Free Kashmir' poster in Mumbai kicks up storm
Bharatiya Janata Party (BJP) leader of opposition Devendra Fadnavis demanded to know what the protest was exactly about and why slogans of 'Free Kashmir' were raised there.
Mumbai protest: Won't tolerate if anyone talks of freedom of Kashmir from India, says Shiv Sena
"How can we tolerate such separatist elements in Mumbai? 'Free Kashmir' slogan by Azadi gang at 2 kms from the CMO? Uddhavji (Thackeray) are you going to tolerate this 'Free Kashmir' anti-India campaign right under your nose???" Fadnavis tweeted on Tuesday.
Protest is for what exactly? Why slogans of "Free Kashmir"? How can we tolerate such separatist elements in Mumbai?… https://t.co/byvNGVxRm5
Responding to the BJP charges, Shiv Sena Rajya Sabha MP Sanjay Raut made it clear that it would not tolerate if anyone talks of freedom of Kashmir from India.
"I read that those who held the 'Free Kashmir' poster clarified that they want to be free of restrictions on Internet services, mobile services and other issues. It doesn't mean that they advocate freedom from India," Raut told mediapersons.
Nationalist Congress Party Minister Jayant Patil retorted to Fadnavis that the 'Free Kashmir' poster was intended for freedom from all restrictions and discrimination.
On her part, the woman was identified as Mehak Mirza Prabhu, a Mumbai-born who works as a 'story-teller', said that though she had no agenda or motive, she was taken aback by the reactions on social media to the 'Free Kashmir' poster she carried on Monday night.
"The picture created by entire social media came as an absolute shock to me. The placard meant 'freedom to express themselves, freedom from the Internet lockdown which many people have been voicing for'. I was voicing my solidarity for basic Constitutional right. No other agenda or motive whatsoever," said Prabhu.
Reiterating that she was a Maharashtrian, born and bred up in Mumbai, she said: "I am (an) artist who believes in basic human compassion. If by being naive in understanding the impact it would have, and in the process create this stir, I apologise."
Prabhu urged all to let the 'power of love overcome hate', even as a Mumbai BJP-activist lawyer Vivekanand Gupta shot off a message to the Commissioner of Police demanding her arrest.
https://timesofindia.indiatimes.com/city/mumbai/under-fire-mumbai-girl-says-sorry-for-free-kashmir-placard/articleshow/73135435.cms
------
2,514 working women benefit from Saudi Human Resources Development Fund program
January 07, 2020
RIYADH: The Saudi Human Resources Development Fund (Hadaf) announced that 2,514 Saudi female employees benefited from accredited centers for nurseries and daycare for children in various regions of the Kingdom.
Hadaf also amended the conditions of enrollment and support mechanisms in the Qurrah program, in order to contribute to the empowerment and stability of women in the labor market.
The program covers all regions of the Kingdom, and the support period can cover up to two children until they reach the age of six years old.The fund now contributes to covering part of the cost of daycare as follows: During the first year, the fund contributes to covering a maximum of SR800 ($213) of the cost of daycare per child, SR600 for the second year, SR500 for the third and SR400 for the fourth.
The Qurrah program aims to increase the percentage of Saudi women working in the private sector, and contribute to the stability of Saudi women in their jobs. It seeks simple solutions for working Saudi mothers to improve and develop their lives and those of their families.
Women working in the private sector can check the details of the program and apply to benefit from its services.
https://www.arabnews.com/node/1609306/saudi-arabia
------
URL: https://www.newageislam.com/islam-women-feminism/massachusetts-first-muslim-mayor-elected/d/120730
New Age Islam, Islam Online, Islamic Website, African Muslim News, Arab World News, South Asia News, Indian Muslim News, World Muslim News, Women in Islam, Islamic Feminism, Arab Women, Women In Arab, Islamophobia in America, Muslim Women in West, Islam Women and Feminism