New Age Islam News Bureau
21 Dec 2013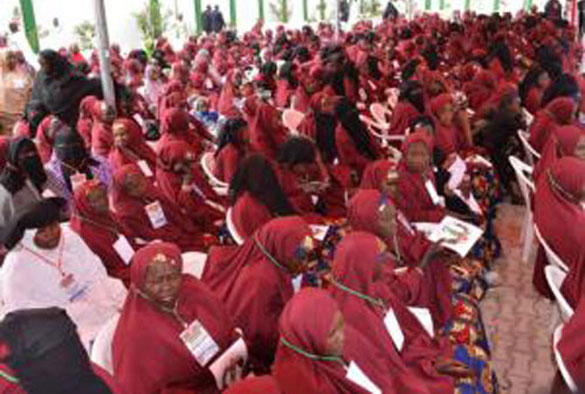 December 19, 2013, Nigerian Muslim brides attend a mass wedding in Kano. Picture: Muhammad Giginyu
------------
• Nigerian Police Bust 'Baby Factory' With 19 Pregnant Women; Plans To Sell Infants
• Supporting Afghanistan's Female Soldiers
• Venda Women 'Show Respect' - President Jacob Zuma
• Pakistani Women Join Hands to Serve the Needy
• Most Female Graduates of Community Colleges in Saudi Kingdom Are Jobless
• Saga of a Saudi Girl Who Braved All Odds to Pursue Her Studies
• Saudi Women Continuing To Fight For the Right to Drive
• Canada Supreme Court Strikes Down Prostitution Laws
• Wife of U.S. Teacher Killed In Libya Says She Forgives Gunmen
• Egyptian Women Beat Men's Team At Football In Luxor
Compiled by New Age Islam News Bureau
URL: https://newageislam.com/islam-women-feminism/mass-wedding-promote-islamic-society/d/34951
----------
Mass Wedding to Promote Islamic Society in Nigeria
Dec 21, 2013
KANO, Nigeria — Islamic religious authorities married 1,111 couples at a mass wedding aimed at combating rising rates of divorce, births out of wedlock, and the number of impoverished widows and divorcees forced to make a living on the streets in Muslim northern Nigeria.
Thursday's wedding in Kano city comes as the Hisbah Board responsible for Shariah law has been clamping down. Thousands have been arrested in recent months for improper dress, selling alcohol, prostitution and indecent mixing of the sexes. At one recent ceremony, a bulldozer crushed 240,000 bottles of beer.
"The high rate of divorce is a worrisome situation resulting in adultery, prostitution and the births of children out of wedlock, and has become dangerous to society," Deputy Gov. Abdullahi Umar Ganduje said at the ceremony at the main mosque of Kano, Nigeria's second city.
It is not clear if the stronger implementation of Shariah is connected to charges by extremists waging an Islamic uprising centered in north-eastern Nigeria that northern governments are failing to enforce the law.
Kano has had several terrorist attacks, most recently multiple bombings planted around bars serving alcohol in the city's Christian quarter that killed at least 24 people in July (before alcohol sales were banned). Last year, an assassination attempt on the emir of Kano, a revered Muslim leader who has spoken out against extremism, killed his driver and three bodyguards. And nine women in a polio vaccination drive were executed in drive-by shootings.
The mass marriages also are seen as a way of wedding bachelors who cannot afford the cost of an individual marriage and may resort to prostitutes. Millions of young Nigerians cannot afford the dowries required by customs for both Christians and Muslims, as well as the costs of many gifts and ceremonies leading up to a marriage.
"Poverty is the major setback to people getting married, while divorce is becoming rampant," said Aminu Ibrahim Daurawa, commandant general of Kano's Hisbah board. There are no figures on divorces, but some analysts say as many as 50 percent of marriages in northern Nigeria end in divorce.
There were calls at the ceremony for laws to make divorce more difficult, though it was unclear how that would line up with Shariah law that allows a man to divorce his wife simply by saying three times "I divorce you."
Grooms married at the mass ceremonies are not allowed to divorce without the permission of the Hisbah, and then they can be subjected to a fine of 50,000 naira ($313).
While, most marry happily and officials match-make with a choice of partners for those who don't already have one, some are given little choice.
Arrested prostitutes are given a choice of joining in a mass wedding or going to jail.
"If our operatives (the religious police) arrest prostitutes, we normally give them an option to marry," said Aisha Atiku, planning director of the Hisbah board. "If they agree, we will include them. But if they disagree, we cannot force them (into marriage)."
Thirty-five willing participants were barred from Thursday's ceremony because they were found to be pregnant or infected with the HIV/AIDS virus, officials said.
Divorced or widowed women in northern Nigeria often are left destitute, thrown out of their homes by the husband or his family members, and sometimes even lose custody of their children, according to Dorothy Aken'Ova, a human rights advocate in Minna, in central Nigeria.
Her International Centre for Reproductive Health and Sexual Rights has gone to court to help widows reclaim their children and goods. But she said that most women do not know their rights, and often Islamic law is adulterated with traditional practices that favour men.
Many of the destitute women are forced to prostitute themselves or beg on the street. Also Thursday, Kano's government banned street-begging.
For the mass wedding, the state government paid a token dowry of 10,000 naira (about $65) for each bride and gave them household utensils. Grooms were given white brocade robes for the ceremony topped by scarlet hats, with brides in matching red outfits.
Some 4,461 couples have been wedded en masse in the past 18 months, Ganduje said.
http://www.washingtonpost.com/world/africa/mass-wedding-to-promote-islamic-society-in-nigeria/2013/12/20/7a53e550-6958-11e3-997b-9213b17dac97_story.html
----------
Nigerian Police Bust 'Baby Factory' With 19 Pregnant Women; Plans To Sell Infants
Dec 21, 2013
LAGOS: Nigeria's police said on Friday they had raided a home where 19 pregnant women were staying with plans to sell their newborns, in the latest discovery of a so-called baby factory.
The owner of the property, suspected of being a broker in a child trafficking ring, is on the run, said Geoffrey Ogbonna, police spokesman in southeastern Abia state.
Police "rescued 19 expectant mothers in different stages of pregnancy", he told AFP.
Southeast Nigeria is grappling with a human trafficking epidemic, with a series of black market maternity homes discovered in the last year.
In most cases, young women have run to such homes to avoid the stigma attached to pregnancies conceived outside of marriage.
They take a portion of the money earned from selling the baby. There have also been reports of young women kidnapped and forcibly impregnated by human traffickers, but such cases are thought to be extremely rare.
Ogbonna said the details of the latest baby factory found in Abia's capital Umuahia were not immediately clear.
"The proprietress fled before our men got to the place. We met her son and his wife. They are in custody," he said.
Some of the pregnant women, aged between 15 and 23, told police they "ran from home to escape the stigma of having unwanted pregnancies they cannot take care of", the police spokesman said.
The buyers are most often couples who have been unable to conceive and male children typically earn a much higher price than baby girls.
"It's a crime to sell or buy babies. Couples looking for children should go through legal adoption process," he said.
Human trafficking, including the selling of children, is the third most common crime in Nigeria behind fraud and drug trafficking, according to the United Nations.
Nigeria is Africa's biggest oil producer, but poverty is widespread across the country and most of the estimated 170 million people still live on less than two dollars a day.
http://timesofindia.indiatimes.com/world/rest-of-world/Pregnant-girls-freed-in-Nigeria-baby-factory-raid/articleshow/27687274.cms
----------
Supporting Afghanistan's Female Soldiers
DEC 21, 2013
Fifty-three billion and change. That's how much the U.S. has spent to build, train, equip, and sustain the Afghan National Security Forces. Still, this support hasn't resulted in a military that is inclusive, representative, or capable of addressing the security needs of all Afghans—men and women alike.
On Thursday, Congress took an unprecedented step to ensure women's meaningful participation in the stability and democratization of their nation. In passing the 52nd National Defense Authorization Act, they authorized funds specifically for women in the Afghan forces, designating a minimum of $25 million to bolster their ranks. With women comprising only one percent of the Afghan National Police and 0.3 percent of the Afghan National Army, the consequences of not doing so would be dire.
Without female security officers, Afghan women will not be allowed to vote. Most voter registration and polling stations are sex-segregated. Female security personnel are needed to staff women-only polling stations, which remain closed if there are no women to fill the role. There's a lot riding on the April 2014 presidential election—not least, protections for women's rights. The best way to maintain the hard-earned gains of Afghan women is to elect a president who will uphold them. And the best way to elect a president of that profile is to enable women to vote.
To effectively counter terrorism and violent extremism, there must be women in the police and military. Last year in Afghanistan, there were at least 13 recorded accounts of male insurgents dressed as women entering restricted areas from which they launched attacks. There were no female body searchers to stop them. Beyond circumventing targeted attacks, women expand the capability of security forces to engage populations affected by insecurity and natural disasters. Expanded engagement means better collection of information and stronger understanding of context, which ultimately results in more effective operations.
The overall goal is to establish national forces that can provide security for all Afghans—inclusive of men, women, boys, and girls. To realize this goal, security forces must equally address the security threats experienced by each of these groups. Consider, for example, sexual and gender-based violence targeting women. As many as 87 percent of Afghan women experience domestic violence or forced marriage in their lifetime. Women are more likely to report these crimes to female police officers, who are more likely than male officers to register and investigate the offenses.
It took the better part of a decade, but Congress has finally undertaken legislative action to increase support for women who want to serve in the Afghan National Security Forces. In addition to the NDAA, both the House and Senate defense appropriations bills have similar provisions addressing women's recruitment and retention. Senators have sent letters to military officials on the subject and civil society groups have signed statements of support with the shared objective of reducing institutional barriers to women's participation in the forces and increasing the recruitment of women as a result.
The U.S. is struggling with President Karzai to finalize the Bilateral Security Agreement. And the future of the U.S. military presence in Afghanistan remains unclear. But this week, Congress gave us cause for hope. For women's security to be assured, protections for women's rights upheld, and the political transition to be inclusive of all Afghans, women must participate in the political and security institutions mandated to safeguard progress. Billions later, Congress is finally realizing that peace and stability are, in fact, contingent on it.
http://www.thedailybeast.com/witw/articles/2013/12/21/congress-finally-delivers-for-women-in-the-afghan-national-security-forces.html
--------------
Venda Women 'Show Respect' - President Jacob Zuma
Dec 21, 2013
President Jacob Zuma has said he would marry a Venda woman if he was not already married to his four wives because they "even lie down to show respect for other people", The Star newspaper reported on Friday.
According to the report, he was addressing hundreds of people at Impendle in the KwaZulu-Natal midlands earlier this week, where he emphasised the importance of respect.
Zuma said young women and men must exercise self-respect and respect for others.
"When I was in Venda recently, I was so impressed to see how people there express respect for other people," Zuma reportedly said.
"A woman would clap her hands and even lie down to show respect."
The president said he was impressed, and added to laughter that were he not already married, he would go to Venda to look for a woman.
His comments were reportedly criticised by the Eastern Cape-based Support Centre, which deals with women's rights.
Centre co-ordinator Phumla Ndende said that before he "appreciated" a culture, Zuma should first assess if that culture was oppressing women.
The Star could not immediately get comment from presidency spokesman Mac Maharaj.
http://allafrica.com/stories/201312200914.html
----------
Pakistani women join hands to serve the needy
Dec 21, 2013
"Helping Hands," a charitable organization involved in helping needy students and people of the community, celebrated its annual ceremony in the presence of a number of members, dignitaries, and the media with the message "Join hands to help needy."
The organization was founded by Rakshanda Masood Puri a year ago under the supervision of Fouzia Salik, wife of former Pakistan consul general in Jeddah. The main goal of the organization is to help deserving students pay their fees, help students who can't afford their board exam fees, and help girls who can't afford marriage expenses.
Rakshanda welcomed Chairperson Afshan A. Khokher, wife of the present Pakistan consul general; Imrana Siddiqui, wife of deputy consul general, and other dignitaries who always helped the charity group.
Explaining the activities of the organization, she said the group was paying annual fees of 26 students.
It also organized a program to honor deserving students who excelled in 2012.
"Your support and unity have always helped the organization, and whatever is donated is always spent on good work," said Rakshanda. "The continued support of community ladies have been a major source of strength in doing good work. Helping Hands requests everyone to come forward and help by joining hands together."
Afshan Khokhar, commending the organization for its efforts, said she was proud to be the chairperson of an organization where everyone was helping each other without discrimination. She praised the efforts and continued support of Bintul Hassan, a teacher of Pakistan International School-Jeddah.
http://www.arabnews.com/news/495581
----------
Most Female Graduates of Community Colleges in Saudi Kingdom Are Jobless
Dec 21, 2013
HAIL – The hope of finding a job is fading for many female graduates of community colleges across the Kingdom. Although some graduates received job offers while studying, the vast majority of them have yet to land a decent job and remain unemployed several years after graduation.
Speaking to Okaz/Saudi Gazette, several of these graduates said that they have begun to realize that finding gainful employment is now a vanishing dream.
F. Al-Anzi, a computer science graduate, dreamed of finding a job immediately after completing her studies. "However, it was an utter shock to me to realize that nobody wanted to give me a job despite my outstanding performance in my specialized discipline. It is not that there are no vacancies. The authorities, for some strange reason, are not ready to employ female graduates," she said.
Another young woman, who graduated three years ago, said that even though she and other graduates have specialized in administrative and secretarial work, they are still not being considered for jobs. "Several teachers have been appointed in such posts in schools and other educational institutions, and we have been left out," she claimed.
Asma Al-Hudaifi, who graduated with a degree in English nearly 10 years ago, is still unemployed. "I want to ask the concerned authorities: Why are they marginalizing us even though they had promised to appoint us as teachers of English language in class 4 immediately after our graduation? Up to this day, we haven't seen any move to translate these words into action. We have wasted all these years, pinning our hopes on getting a job but to no avail."
Another female graduate, who specialized in medical inventory, said: "Although I got admission to a college of education, I preferred to join the community college after learning of the difficulties graduate teachers face in getting a job. I also passed the Saudi Commission for Health Specialties exam. However, I was denied a job while those from my senior batch have been employed."
Another female graduate said that she graduated in the first batch of computer science from a community college nearly 10 years ago. "I left my husband in Taif to join the college after realizing that there was a very good opportunity to get jobs if I specialized in this discipline. After completing the course, I applied for a post at an adult education school in our neighborhood but to no avail." She continued: "The strange thing is that no one from our batch has been employed anywhere. All our dreams have been shattered, and we don't know what to do with our certificates."
An official source at the Ministry of Higher Education said that community college graduates are part and parcel of Saudi society and their grievances shall be addressed promptly. "As far as their specializations are concerned, some of them were classified by the Ministry of Civil Service for appointment after considering their seniority while others are classified under the social service sector," he said. The source even tried to pass the buck. "Giving employment to them is not the responsibility of our ministry. It is that of the Ministry of Civil Service," he argued.
http://www.saudigazette.com.sa/index.cfm?method=home.regcon&contentid=20131220190067
----------
Saga of a Saudi girl who braved all odds to pursue her studies
Dec 21, 2013
"Where there is a will there is a way," goes an old adage. Hard work, strong will power, sincerity of purpose, courage of conviction and dogged determination helped a Saudi female realize her dream of going for higher studies by using the hard earned money she saved by stitching clothes for others.
After her father's death, Farah Saeed was forced to terminate her studies to support her mother in taking care of her 12 children. After 20 years spent in sewing clothes for other women, Farah decided to pursue her dream of enrolling in a university where she is is now doing a major in psychology.
Farah Saeed opened her heart as she spoke to Okaz/Saudi Gazette about her struggle in life. "Opportunities to learn can never be lost, they can only be delayed. A strong will is what you need," she said.
Farah had an ordinary childhood. She did not always get what she wanted from her parents because of her dozen siblings and the meagre income of her father. "But I was happy then. We had a complete family," she said.
Farah was in fifth grade when her father died in a traffic accident. "We didn't get the necessary financial support from our three maternal uncles. My only paternal uncle was not living in our region. My grandmother used to stitch clothes and she taught my mother the basic skills in stitching. Soon she became very skilled. With the passage of time, she became well-known and her customers increased. She made a lot of sacrifices for the family," Farah said.
When asked why she and her siblings did not try to help their mother, Farah said: "Our financial circumstances did not help us to get a housemaid. My mother used to work silently and stay up the night until dawn. Many times, I used to wake up at night only to find her stitching clothes. It was then that I decided to suspend my education and help her earn something extra."
Farah also shouldered some of her mother's household chores and spent her leisure time in learning the art of stitching. During that period, her siblings were growing and scaling the ladder at their respective schools.
Any regrets on terminating her studies at such a young age? "No," comes the prompt reply. "For me, helping my mother was more important than any certificate." "The success of my siblings was my success," she said.
Some of her brothers have now completed university education and two of her sisters are now married. This has considerably reduced the burden on the family.
"I will not forget the day my eldest brother returned home and told me about a learning institute for adults. I told him mockingly that anti-illiteracy campaign has been in existence since decades. But, I realized later that he was dead serious."
On his prompting, Farah got her papers ready to be enrolled as an intermediate student. "My mother was even happier than me. She encouraged me a lot."
Her mother's words of encouragement still ring in Farah's ears. She said, "You were the cane that I used to walk with for 20 years and I didn't hear a single word of complaint. I am satisfied with you. Now your turn has come to complete your studies."
With encouragement from her family, she continued her secondary education and graduated with excellent grades. She is now studying psychology in university. She said she chose psychology to help every person who needs her assistance.
http://www.saudigazette.com.sa/index.cfm?method=home.regcon&contentid=20131220190066
----------
Saudi Women Continuing To Fight For the Right to Drive
Dec 21, 2013
JEDDAH – An online campaign launched in October that urged the government to lift a ban on women driving in the Kingdom still appears to be going strong, with many women continuing to drive on Jeddah and Riyadh streets.
The October 26th movement received more than 12,000 signatures before it was blocked back then, but campaigners managed to put it back up again and received more than 800 signatures.
After gathering people on social media, many women have begun posting videos driving cars. However, the campaign was extended to the Dec. 28. Several women were caught by police recently but have only signed pledges not to drive again.
On Dec. 11, two women were caught in Riyadh driving and refused to call their male guardians, saying that they were guardians of themselves. They were finally released at 1 a.m.
The Twitter hashtag changed from Oct. 26 to Dec. 28, with people expressing their opinions on women driving as well as sharing stories.
Most of the arguments against the campaign describe women driving as "demonic", "Masonic", "Westernization" and an attempt to "liberalize" Saudi society.
One of the comments said the campaign is defying the country's laws and regulations and those behind it should be ashamed of themselves. Despite those who are against women driving, the campaign is receiving a lot of support, with women sharing their bad experiences with drivers and how costly hiring them has become.
The campaign aims to revive the demand to lift the ban on women driving while stressing that the initiative has no anti-Islamic or political agenda. It said neither Islam nor the official laws of Saudi prohibit women from driving.
Islam and the Basic Law of Saudi Arabia both ensure that all, regardless of gender, have the right to freedom of movement, said the campaign.
"Since there is no law to prohibit adult women citizens who are capable of driving cars from doing so, we urge the state to provide appropriate means for women seeking the issuance of permits and licenses to apply for and obtain them," said a petition statement.
The statement also said deferring an issue such as women driving until a "societal consensus" has been reached has only increased divisions.
"We as a Saudi people are diverse and accepting of all views that are not prohibited in the Qur'an or by the Prophet (peace be upon him)."
http://www.saudigazette.com.sa/index.cfm?method=home.regcon&contentid=20131220190077
----------
Canada Supreme Court strikes down prostitution laws
Dec 21, 2013
The Supreme Court of Canada has unanimously struck down the nation's anti-prostitution laws.
The high court deemed laws prohibiting brothels, communicating in public with clients and living on the profits of prostitution to be too sweeping.
The ruling follows a court challenge filed by former and current sex workers.
The justices' decision gives the Canadian government one year to craft new legislation.
All nine of the court's judges ruled in favour of striking the laws down, finding they were "grossly disproportionate".
Community 'nuisance'
"It is not a crime in Canada to sell sex for money," Chief Justice Beverley McLachlin wrote in Friday's decision.
Canada's criminal code currently makes it illegal to keep a brothel, communicate in public about acts of prostitution or live off its proceeds.
But Justice McLachlin wrote: "Parliament has the power to regulate against nuisances, but not at the cost of the health, safety and lives of prostitutes.
"The prohibitions at issue do not merely impose conditions on how prostitutes operate.
"They go a critical step further, by imposing dangerous conditions on prostitution; they prevent people engaged in a risky - but legal - activity from taking steps to protect themselves from the risks."
Under the ruling, the Canadian parliament has 12 months to rewrite the legislation or it will be withdrawn.
Anti-prostitution laws will continue to be enforced in the meantime.
Canadian Justice Minister Peter MacKay said the government would reflect on "this very complex matter".
"We are reviewing the decision and are exploring all possible options to ensure the criminal law continues to address the significant harms that flow from prostitution to communities, those engaged in prostitution and vulnerable persons," his statement said.
A Canadian women's rights group condemned the court's decision, saying it was a "sad day".
"We've now had confirmed that it's OK to buy and sell women and girls in this country," Kim Pate, executive director of the Canadian Association of Elizabeth Fry Societies, told the Canadian Broadcasting Corporation.
"I think generations to come - our daughters, their granddaughters and on - will look back and say, 'What were they thinking?'"
'Compulsion from pimps'
A constitutional challenge by three women with experience in the sex trade, Terri-Jean Bedford, Amy Lebovitch and Valerie Scott, prompted the case.
In March, the Ontario Court of Appeal upheld a ban on communicating for the purpose of prostitution, a decision which Ms Bedford challenged.
The federal and Ontario governments appealed against two other parts of that decision: striking down the law against brothels; and limiting the ban on living off the avails of prostitution.
The Canadian authorities argued that they should be entitled to legislate against prostitution as they "see fit".
Lawyers for the Ottawa government reportedly claimed "if the conditions imposed by the law prejudice [sex workers'] security, it is their choice to engage in the activity, not the law, that is the cause".
But the Supreme Court ruled it was not a choice for many.
"Whether because of financial desperation, drug addictions, mental illness, or compulsion from pimps, they often have little choice but to sell their bodies for money," Justice McLachlin wrote.
http://www.bbc.co.uk/news/world-us-canada-25468587
----------
Wife of U.S. teacher killed in Libya says she forgives gunmen
Dec 21, 2013
The widow of an American teacher shot dead by gunmen in Libya two weeks ago said on Friday that she forgave the men who attacked her husband, whom she described as a devout Christian.
Ronnie Smith was gunned down on Dec. 5 as he was exercising in the eastern Libyan city of Benghazi where he had worked as a chemistry teacher for a year and a half, security sources and school officials said. It has not been clear who was responsible for the attack.
"I just envision the black Jeep driving up to him and I don't know their faces," Anita Smith, her voice quivering with emotion, told CNN in an interview on Friday.
"I just really want them to know that I do love them and I forgive them," she said, adding Ronnie would want the same.
Smith was described by friends and students at the international school in the eastern Libyan city as caring and helpful.
Libya's fragile government has struggled to contain former fighters and militants who, two years after the fall of Muammar Gaddafi, are challenging a state that is still building up a national army with Western aid.
In the CNN interview, Anita Smith cast her husband's purpose in the North African country in religious terms.
"I just want them to know that God loves them and can forgive them for this ... I don't know them. That's how I honestly feel," she said.
"What I want people to know about him ... he wanted to shine the light and the love of Jesus to the Libyan people ... he really did," she said.
Smith attended Woods-Tower High School in the Detroit area of the U.S. state of Michigan. He earned a master's degree in chemistry from the University of Texas in 2006 and belonged to a church in Austin, Texas. (Reporting by Eric M. Johnson; Editing by Andrew Heavens)
http://www.trust.org/item/20131221070742-994jc/?source=hpbreaking
----------
Egyptian women beat men's team at football in Luxor
Dec 21, 2013
The Egyptian women's youth team has defeated a men's team in a friendly match in Luxor.
The women beat Al-Madina Al-Monawara, an under-17 team, 5-3 on Wednesday.
Egyptian Football Association (EFA) member Sahar El-Hawary, responsible for women's football in Egypt, hopes similar games will help boost the sport in all Egyptian governorates as well as tourism.
"The 27 players in the women's U-17 national squad, currently in Luxor, aim to promote tourism as well as popularise the game in Upper Egypt," El-Hawary told reporters after the match.
Luxor is marketing this friendly game as evidence of its readiness to host any sports tournament, according to Adel Mahran of the governor's office.
"Luxor is prepared to host the Egyptian international marathon which starts off on 21 January," Mahran declared.
(For more sports news and updates, follow Ahram Online Sports on Twitter at @AO_Sports and on Facebook at AhramOnlineSports.)
http://english.ahram.org.eg/NewsContent/6/52/89539/Sports/National-Teams/Egyptian-women-beat-mens-team-at-football-in-Luxor.aspx
----------
URL: https://newageislam.com/islam-women-feminism/mass-wedding-promote-islamic-society/d/34951