New Age Islam News Bureau
16 Sept 2018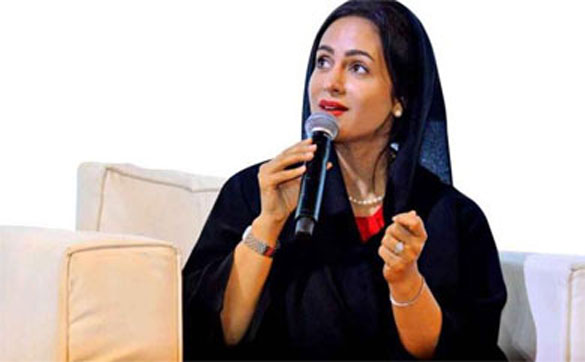 Source of inspiration. Dr Maryam Matar, founder and chairwoman of the UAE Genetic Diseases Association. (Twitter)
-----
• Unmuting the Tabooed: FGM and Muslim Women's Rights
• When a Bohri Muslim Girl Married a Buddhist
• 'Covered: Celebrating Muslim Women' Opens At Art Sanctuary at Philadelphia
• Predicament Persists For Women Students at Jazan University
• PTF Council Includes Female Duo to Promote Tennis among Women
• Why Do Some Yazidi Girls Held Captive By ISIS Choose Not To Return Home?
Compiled by New Age Islam News Bureau
URL: https://www.newageislam.com/islam-women-feminism/maryam-matar-aims-be-first/d/116392
--------
Maryam Matar aims to be the first Arab woman to be awarded Nobel Prize in medicine
16/09/2018
BUCHAREST - Thanks to her tireless and successful work in medicine, Dr Maryam Matar for two years in a row was ranked fourth in the Arab world of active researchers and the most powerful Emirati female researcher in science.
Matar is an enthusiastic and dedicated medical researcher who is a source of inspiration to everyone. She is a tireless advocate of public education and awareness about genetic disorders. With her team of researchers, she has worked on charting the genetic map of UAE inhabitants. Matar is the founder and chairwoman of the UAE Genetic Diseases Association, which educates people about the dangers of genetic diseases.
Matar was the first woman in the United Arab Emirates to hold the position of director general of public health. In that position and being a fervent advocate of public and community health, she almost doubled the number of community health centres in the UAE to 97.
Matar has an impressive number of academic degrees, diplomas and certificates in medical sciences from reputed universities in Dubai, the United Kingdom, the United States and Japan. She is the first Arab woman doctor to be certified in genetic diseases by Japan's medical authorities.
Matar comes from a modest home in Dubai. Her parents were illiterate but encouraged their daughter to pursue the highest degrees possible. Her maternal grandmother was a popular healer.
Matar likes to tell how her grandmother had a great influence on what she wanted to be when she grew up: "When my grandmother died, many people came to offer their condolences and they were crying. I asked my mother who they were and she said that they were patients of my grandmother's. So I asked my mother, 'If I become a doctor, will people love me like they loved my grandmother?' and she said yes. From that moment, I wanted to become a doctor and I studied very hard for it."
Matar began studying medicine in Dubai and then finished her graduate studies in the United Kingdom. She did research in the United States and went to the Far East to specialise in genetic disorders and diseases.
Matar founded UAE Down Syndrome Association and the UAE Genetic Diseases Association, non-profit civil society associations she runs. Both provide care and support to many and collaborate with some ministries and were instrumental in pushing for instituting pre-marital medical examinations.
The associations introduced numerous social awareness campaigns about Down syndrome, including the 2012 "UAE Free of Trisomy" campaign, in addition to establishing primary care centres in Emirati engineering schools and Dubai Ladies Club.
In 2012, Matar was named by the Arabian Business magazine as the most powerful Emirati Female Scientist and Researcher. The Arab League enlisted her as a goodwill ambassador for women and children.
Her pioneering work garnered numerous prizes and awards. She is the recipient of Sheikh Rashid Award for Scientific Outstanding in the School of Medicine, and of the best health project award at the level of the Higher Colleges of Technology in the United Arab Emirates, the award for best employee in the health sector in Dubai Government Excellence Programme and an award from the Mohammed Bin Rashid Leaders Programme in the category of Best Social Programme.
Matar has been recognised as one of the most influential Muslim female scientists by the Islamic Sciences Journal published in the United Kingdom.
"I look at every title and appointment as a heavy responsibility that motivates me to give more," said Matar. "I'm very honoured by the trust put in me by our government. The best recognition that one can get is the one that comes from one's home country. Still, being in the service of people and giving generously are for me better than any award."
In the Arab world, Western doctors are looked at in a better light than Arab doctors. Matar said the phenomenon was because of a lack of self-confidence by Arab doctors.
"As Emirati and Arab doctors, we must become self-confident through our constant work and through keeping up with every development in our field," she said. "We have to talk with our patients and explain their ailments to them. This nourishes our self-confidence since we become aware that we have the right knowledge and we are capable of communicating it to our patients in simple language.
"The society will come to trust us through the care we provide and through the dialogues and connections we establish with our patients."
Matar said treatments are the same everywhere and the main differences lie in the health-care systems adopted by each country. She said health-care systems in most Western countries reached maturity through a long process of experimentation and learning from mistakes.
She said there is no harm in learning from the West's experiences in health care, provided it is done in carefully paced steps so health-care managers have a chance to experiment and evaluate, given that the health and social contexts in the Arab world are different from the West.
Matar said there must be patience with health-care systems in the Arab world because a phase of distrust in those systems is a sign of the health of the system. People need to accept that it is part of progressing towards a better system.
"Some critics might ask if we are experimentation fields. The answer is, of course, 'No', but this is exactly what had happened in America or Britain," Matar said. "They, too, have gone through a phase of experimentation and learning from their mistakes.
"We must show patience. No doctor wants to harm his or her patients. The system must create the right conditions for doctors to do their jobs without having to worry about side issues."
In formal meetings, Matar stresses the importance of doctors staying up-to-date in their fields through international medical conferences. She said, no matter how knowledgeable doctors become, there are others with more experience.
By listening to those experts and learning from their experience, Arab physicians can reach the right comprehensive health-care systems that protect both patients and care providers.
Matar said her dream is to go as far as she can in scientific knowledge and experience. She is not alone there. Many scientists from around the world dream of being awarded the Nobel Prize in Medicine.
Many people may see this dream is out of reach for an Arab woman who has dedicated her life and knowledge to serving her community but Matar said it is within her reach. She strives for it every day of her life and is keeping her hopes high.
https://thearabweekly.com/maryam-matar-aims-be-first-arab-woman-be-awarded-nobel-prize-medicine
--------
Unmuting the Tabooed: FGM and Muslim Women's Rights
16 September, 2018
One of the most important principles of Islam is that you have to speak up for any form of injustice. If you do not, that is considered a sin.
In many countries, laws governing Muslim families stem from verses in the Qur'an, which guarantees gender equality. But the guarantors of justice are not just. Very often, such laws ensure that beneficiaries are, overwhelmingly, Muslim men. Whether it be divorce laws or laws on inheritance, men are generally the faction that Islamic jurists greatly favour, over women and children.
Inequality, in this regard, is a form of injustice.
The Qur'an asserts in many verses[i]that women and men are equal:
"I shall not lose sight of the labour of any of you who labours in My way, be it man or woman; each of you is equal to the other."(Chapter 3: verse 195);
"The believing men and believing women are allies of one another." (Chapter 9: verse 71);
This equality is echoed throughout the Qur'an, with 'men and women' emphasised multiple times:
"Verily for all men and women who have surrendered themselves unto God, and all believing men and believing women, and all truly devout men and truly devout women, and all men and women who are true to their word, and all men and women who are patient in adversity, and all men and women who humble themselves before God, and all men and women who give in charity, and all self-denying men and self-denying women, and all men and women who are mindful of their chastity, and all men and women who remember God unceasingly: for all of them has God readied forgiveness of sins and a mighty reward."(Chapter 33: verse 35).
Islam and Feminism
Islamic feminism is the active engagement of Muslim feminists, be they scholars, activists or artists, in reviving Islam's egalitarian nature by articulating a feminist middle path, where one does not have to choose between religion and universal human rights, between critiquing the west and being servile to local conservatives—a more holistic framework that also considers the lived realities of Muslim women.[ii]
Muslim feminists re-read the Qur'an and interpret it for themselves[iii]. They say women can be religious authorities too. This is a strong gesture of agency and one of self-empowerment. It demonstrates that Muslim women do not need to be saved nor do they need to wait for permission to be the navigators of their own lives. This act of reclamation is not applauded enough. Patriarchs fear this, because they do not want to give up their power. Instead, they offer up the uninformed view that feminism is immoral, and a foreign import.
But, their fear is baseless, because in fact, there is enough power to go around. It is just that power is concentrated to a privileged few. Obtaining equal rights for women thus rests on how particular countries interpret Qur'anic verses and transfer them into laws. Islamic law consists of a broad range of legal aspects and is implemented in varying degrees across the world. In Malaysia, Tunisia, Egypt or Morocco, among others, Islamic law has undergone multiple reformations to address contemporary issues facing Muslim communities.
In Sri Lanka, the Muslim Marriage and Divorce Act (MMDA)[v] is currently undergoing a review process, which activists hope will lead to the removal of unjust provisions that violate the rights of women and children. We also want to see changes in how laws are administered by mostly male Quazi courts, who cannot know what it is to be a woman stripped of all her inheritance and made destitute.
Reforms have been delayed for far too long because of the actions of a privileged few, mostly Muslim male politicians, who attempt to derail much needed change for Muslim women and children. Such detractors, who stand in the way of feminist activism, demonstrate qualities that can only be seen as the behaviour of scared children.
In a polarised environment such as this, it is very easy to mount blame and guilt on the Muslim community by saying Islam is oppressive towards women. Such stereotypes do not help foster a harmonious and peaceful society in our multi-ethnic nation, where Muslim communities continue to contribute colouring that diversity.
One way of not succumbing to this is to learn more about Islam from a variety of authentic sources. In some cases, testimonies by Muslim women would be quite sufficient simply because their stories and voices matter.
Man-made myths about female circumcision
Last week, social media spaces brought to light that gross misinformation was being shared by those who claimed to be guardians of true Islam. The fliers and articles shared by a minority group within the Sri Lankan Muslim community, namely Wahhabi-Salafis[vi], a puritan strain of Islam, attempted to illustrate that female circumcision (FC) is obligatory in Islam. They carried false information on Prophetic traditions based on unverifiable hadiths (sayings of the Prophet) to support their claims. It is very difficult to think of the Prophet as a woman-hater. There are more hadiths that praise women asking men to respect them. Islam should not be regarded by considering only a few weak hadiths.
Online engagements with members of this faction revealed that they intend for medicalised khithan or khatna, the Arabic terms for circumcision. One of the proponents of this practice claim they rather like the term 'hoodectomy', the act of removing a girl child's clitoral hood, and think it is "nice"[vii]. Justifications for this procedure, apart from it being touted as obligatory, range from better health, cleanliness, decreased incidence of sexually transmitted diseases (STDs), and enhanced sexual pleasure. They also cite a number of unverified doctors and researchers, particularly elevating American ones, and claim unsubstantiated testimonies of increased sexual pleasure by American women.
A 2013 research study conducted by Islamic Relief[viii], a non-governmental organisation, in West Sumatra and Lombok, Indonesia, found that respondents believed that FC was important for "controlling female sexual libido" so that "girls could become good Muslims". The study also found that there was no theological basis for the practice as they could not refer to any Qur'anic verse or verifiable hadith that advocated for it.
News reports of a visitation to the Parliament by this above-mentioned faction of Muslims, and indeed by their own social media advertising, highlight that the 'sisters' are proud of each other's efforts in lobbying Parliament. It is no surprise that some of the chief instigators of patriarchy are women.
Muslims are not a homogenous race. We consist of diverse ethnicities. We are not monolithic nor do we share the same ancestral lineages. This request for the medicalisation of FC in Sri Lanka by a minority faction within the Muslim community, therefore, raises grave concerns for all. The deciders should ultimately be all Muslims, and this means considering the views of Muslims of all walks of life, including the less privileged.
Largely a taboo topic, female circumcision among Muslims in Sri Lanka, specifically among Moor, Malay and Dawoodi Bohra women, is widely prevalent[ix]. The practice has taken place more as a cultural ritual, passed down generationally. Although many women have opposed this imposition on their bodily integrity and denounced it in brave testimonies, the rise of FC touted as an obligatory practice is a modern phenomenon, running parallel to the upsurge of global Islamophobia.
Activists and women's rights defenders in Indonesia, over the years, have taken their worries about medicalised FC or female genital cutting to universal human rights mechanisms. International covenants such as the Convention on the Rights of the Child (CRC), and the Convention on the Elimination of All Forms of Discrimination Against Women (CEDAW) specifically obligate governments to respect the rights of girls and women by upholding that female genital mutilation (FGM) violates those rights.
Indonesia reconsidered re-banning FGM[x], after it was initially banned in 2006 and reinstated in 2008, following an Islamic fatwa (decree) issued by the Majelis Ulama Indonesia (Council of Religious Leaders). It allows only medical professionals, such as doctors, midwives and nurses, to carry out the procedure "properly".
FGM is un-Islamic
In Malaysia, although it is widely prevalent[xi], FC or FGM is still shrouded in secrecy. It is still being contested as to whether it is mutilation that occurs because it usually involves a slight pricking or slitting of the clitoral hood—as if that is not already a violation. A 2009 fatwa issued by the National Fatwa Committee turned it into a religious matter and as in neighbouring Indonesia, medicalised it.
It should be noted that the World Health Organisation (WHO) has produced a list of health risks[xii] for FGM, including psychological consequences, urinary tract infections, menstrual problems, obstetric complications and sexual problems, among others.
Recently, Dar al-Ifta al-Misriyyah[xiii], a government-run educational and Islamic legal research institute in Egypt, a high ranking body that derives its research from Qur'anic and Prophetic literature, confirmed in a press statement that the practice "… has no religious origin, it only dates back to inherited traditions and customs, the biggest evidence of it not being a religious duty for women is that the Prophet Muhammad had not circumcised his daughters"[xiv]. The institution expressed that FGM is religiously forbidden due to its negative impacts on the mental and physical well-being of women and girls. The statement was supported by scientific research issued by accredited medical institutions and objective international health organisations.
Wahhabi-Salafis who insist on enforcing FC or FGM on Muslim girls and women in Sri Lanka maintain that it is for enhanced sexual pleasure—the question that then arises is who are the recipients of this sexual pleasure? Given the reality of already unequal relations between Muslim women and men, it is very hard to imagine that medicalised female circumcision is genuinely for the well-being of women and girls.
"…A work of God, who has ordered all things to perfection." (Chapter 27: verse 88)
If the creations of the Divine are perfect, who are we to tamper with them?
Information on Bodily Rights
Religious clergy are the last font of sexual knowledge any reasonable individual would go to, for all the reasons stated in this article. Muslim women are not all victims. They have agency. They do not need self-serving men to speak for them. Least of all, to speak on behalf of their bodies, or even be told how to feel.
There is no confusion here. FC or FGM is a harmful traditional practice that has proven to be a violation of women's and girls' bodily autonomies. It should be banned. And more attention should be paid to empowering young women with tools and resources that inform them of their bodies. They should be encouraged to talk openly about issues that affect their health and well-being. Sri Lanka's Family Planning Association and Women & Media Collective are safe spaces that facilitate such conversations among youth and the LGBTIQ community.
If women's and girls' full emotional, mental, physical, and spiritual well-being is prioritised by the State, discussing sexual health should not be shameful if it means it will help prevent future trauma. Initiatives like Instagram's the Vulva Gallery[xv] and TARSHI[xvi], an Indian non-governmental organisation working on sexual and reproductive health and rights, are other channels of accessing diverse information.
The Sri Lankan Ministries of Health and Education should ensure that voices of women are prioritised when raising awareness about women's and girls' bodily rights. These voices can be a good mix of the young and old, secular and religious, that represent every ethnic group. A culture of healthy, public debate on sexual and reproductive health and rights to demystify the myths and misconceptions surrounding these, is the way forward.
The writer, Meghana Bahar is a Sri Lankan gender and media activist, who began her career as a development journalist and documentary film producer at age 19. She has 19 years of experience working as a communications specialist for women's and human rights transnational movements on access to essential medicines, Muslim family law reform, indigenous resistance, LGBTQIA rights, and digital literacy. She has also briefly been on the editorial board and served as a media advisor for New Ceylon Writing. She is currently an independent consultant for video for change pioneers, WITNESS.
Meghana's academic journey has been steered towards a focus on women's bodily integrity and bodily autonomy, including sex, sexualities, sexual and reproductive health and rights, and healing woman-woman relationships, specifically mother-daughter relationships. Her passion lies in ancestral lineage healing.
http://www.sundayobserver.lk/2018/09/16/opinion/unmuting-tabooed-fgm-and-muslim-women%E2%80%99s-rights
--------
When A Bohri Muslim Girl Married A Buddhist
15 SEPTEMBER 2018 Both Shabana Diler and Vijay Wavare had solid progressive and socially conscious backgrounds. However, nothing really prepares you when you have planned an inter-caste and an inter-class wedding and that too, a community wedding (mass marriage) where you are part of several other couples getting married in a common ceremony to cut costs and to send a social message.
Shabana, a Bohri Muslim, and Vijay, a Buddhist, met at the Tata Institute of Social Sciences (TISS), when they were studying for their postgraduate degrees. Currently they work in non-prot sector. After knowing each other for ve years, they decided to marry. While at Shabana's house her father was worried about whether the groom was marrying her for money, at Vijay's house his father was skeptical about having a Muslim daughter-in-law.
"Our family and in general Buddhists have been exposed to the thoughts and teachings of Mahatma Phule and Dr.
Babasaheb Ambedkar, still marrying a Muslim is neither common nor is it accepted. I had told my family and friends that if they attend our wedding, I would be very happy but if they choose not to, I will not be sad," remembers Vijay about how he got everyone on board. Soon after the wedding in 2001, the couple was warmly welcomed by both families.
"My father had been excommunicated from the Bohri community long back because of his progressive views. My mother was a practising Muslim but my sisters and I gured out how we wanted to really live over a period of time. No one in the family pushed us to follow one of the two paths. We married under the Special Marriage Act but we also took vows in the Satyashodhak Samaj manner because Vijay was very keen on that and he had explained to me the relevance of it. Since we were working for the community we also decided to marry in a common wedding," says Shabana.
Vijay's father who had been a corporator in Pune came around just after the wedding and in fact Vijay fondly remembers him as the one who distributed sweets when his daughter was born. Today they have two daughters who are being raised with social values from both the religions Rather than rituals or prescribed norms.
It's not always been easy for them. Like in Mumbai, even in Pune getting a house on rent for Muslims isn't easy. Vijay is vocal about it. "There were times when people would ask why she isn't changing her name. Or there were areas where we couldn't get houses. We were very sure about Shabana simply points out various areas such as Kothrud, which are dominated by upper caste Maharashtrians. At the same time areas such as Camp and Kondva, which are now Muslim pockets. They have managed to avoid both, and live in a relatively cosmopolitan area.
The problems or the challenges are two-fold when you are trying to set alternative living example. Vijay points out that it's not just bias against religion but also deeply rooted patriarchal values that get challenged. "One of the reasons we were able to do what we've done is because we were both economically independent. It is that much harder when you're trying to change system and yet dependent on it." In the past few years things have changed for worse but the couple is focused on teaching their daughters values from various schools of thought. Shabana says, "I am attracted to the Buddhist philosophy and I'm trying to inculcate that in my children. They will gure out what they will want to pursue."
Vijay notices changes such as their names on family invitations, and loves the fact his daughter can ask him questions about caste, religion and voice her opinions freely. "I am happy because she is free from the burden of carrying somebody's identity (mostly father's). I feel our daughters are privileged that they have ground and weapons to make Dr. Ambedkar's dream true and become casteless."
"Although we haven't really faced any personal attacks I know of friends, who are also in interfaith marriages and are getting unfriendly messages from family and friends on their WhatsApp groups and so on. Falling in love is such a wonderful thing and anyone should be able to do that. At present there are efforts to stop that even before anything can start. It is terrible." Shabana adds that because of their education, professions and upbringing social and personal have not really been separate.
https://www.outlookindia.com/website/story/when-a-bohri-muslim-girl-married-a-budhist/316594
--------
'Covered: Celebrating Muslim Women' Opens At Art Sanctuary at Philadelphia
September 16, 2018
"Covered: Celebrating Muslim Women" is a series of brightly colored graphic designs depicting various Muslim women around the world showing the variety and beauty of coverings.
African-American digital media artist Yusef Abdul Jaleel (Jerrard Scott Joseph) uses digital art to explore Muslim women's clothing and modesty as an extension of faith as a positive representation of Islam. With over 20 years of experience in digital print production, he has created media and clothing geared toward the Muslim experience in America.
Philadelphia is home to an estimated 150,000 to 200,000 Muslims, or about 10 to 15 percent of the total population. Billy Penn reports that "in 2011, Greater Philadelphia's mosque count of 63 was fourth in the country, behind Southern California, New York City and Chicago."
"[The exhibit] was created to combat the negative stereotypes associated with modesty and covering," Jaleel said in a statement. "Muslim women are the most recognizable symbol of Islam today, and have been ridiculed and deemed 'oppressed' for following guidelines mandated by their religion. It is my hope to counter these negative stereotypes by showing the variety and beauty of those who cover."
Jaleel holds a bachelor of fine arts in electronic design and multimedia from the City College of New York and resides in Yonkers, N.Y. This is his first solo exhibition.
"Covered: Celebrating Muslim Women" will run from Sept. 15 to Nov. 15 at the Art Sanctuary, 628 S. 16th St., Philadelphia. For exhibit information, visit artsanctuary.org.
http://www.phillytrib.com/lifestyle/covered-celebrating-muslim-women-opens-at-art-sanctuary/article_8bf975bb-1415-56fe-847b-03c2731ed426.html
--------
Predicament persists for women students at Jazan University
By Muhammad Al-Kadomi
September 16, 2018
JAZAN — With the start of the new academic year, female students at Jazan University found themselves again in rented buildings.
These buildings, in addition to being small and narrow, witnessed many accidents. These buildings suffered from poor services, which include waiting areas and cafeterias, according to the students.
The students told Okaz/Saudi Gazette that the problem of space in rented buildings negatively affected their education. They called on officials to find better buildings with big halls that are fully equipped. Most of the students said the university opened the door for distant learning because there was no space for more students.
Remas, a student at Jazan University, said her schedule includes only one day at the university while the rest of the days she was forced to do distant learning, which is negatively affecting her studies.
She said a number of students expressed their anger at the condition of some of the ageing buildings. There are cracks on the walls while the buildings lacked major safety elements. These buildings witnessed many accidents including short circuits and elevator malfunctioning. The buildings are badly wired and some of the cables are exposed.
Another female student, Maram Sulieman, said, "We have contacted the university administration many times to improve the condition of these buildings, but nothing has changed. This is negatively affecting our education at the university. Some of our scientific labs need urgent improvement as we need specially designed labs. Because there are no space available, the labs are located inside very small and narrow rooms."
Okaz/Saudi Gazette tried to contact the head of public relations at Jazan University but was unable to receive any response with regard to the students' complaints.
http://saudigazette.com.sa/article/543498/SAUDI-ARABIA/Predicament-persists-for-women-students-at-Jazan-University
--------
PTF Council includes female duo to promote tennis among women
September 16, 2018
ISLAMABAD: Pakistan Tennis Federation (PTF) General Council that met in Islamabad Saturday has decided to include two female council members for the uplift of women tennis in the country.
The meeting that was chaired by Salim Saifullah Khan, President PTF, has approved names of Maj-Gen Shahida Badshah (retd) and Mrs. Mahwish Chishti as the council members. "The decision is aimed at promoting women tennis in the country. With the help of the two we would try to further promote women tennis in the country," Salim Saifullah Khan said.
The house also unanimously elected Syed Abu Ahmad Akif as Secretary PTF. Though he was announced as the secretary PTF almost couple of months back, his election to the office received vote of confidence from the members. The Council assured the Secretary PTF of their complete support for promotion of tennis. The council approved the events schedule for the remaining months of 2018. That includes junior, ladies and men national and international events. Pakistan is to hold junior international and International Future events in 2018. These tournaments have already been allotted to the PTF by international body.
The President apprised the council members about the International Tennis Federation (ITF) AGM held in August, 2018 at Florida, USA. The major decisions taken by the ITF at the ITF AGM were presented and the council was informed about different resolutions passed by the ITF, such as Davis Cup Reforms and induction of new sponsors. The conversion of clay courts to synthetic courts' project at the PTF Complex was also discussed. The council approved the project and appreciated the President for his efforts towards infrastructure development.
"The high standard hard courts at the PTF are yet another effort by the PTF to strengthen the infrastructure in the country. Every time our Davis Cup or junior team go abroad they have to play against best of teams on hard courts. In Pakistan especially in Islamabad it is difficult to find quality hard courts. These courts would help juniors and senior players train for international event," Salim Saifullah said.
https://www.thenews.com.pk/print/369181-ptf-council-includes-female-duo-to-promote-tennis-among-women
--------
Why Do Some Yazidi Girls Held Captive By ISIS Choose Not To Return Home?
16 September 2018
Aileen was only nine years old when she was kidnapped by ISIS from her small town in northern Iraq, and taken to Raqqa in Syria.
"They killed some of our village men in front of me on that day, while my mother, two of my younger brothers and myself were imprisoned. We remained together until we parted in the organization's base in Syria," Aileen said.
Aileen's role during her four years of captivity was to clean the house of an ISIS warlord who fought on the frontlines with ISIS.
Aileen's mother revealed that her son is still being held captive by ISIS. "I wish I could see him one more time," she said.
Another Yazidi woman, Mayasa Abbas, told Al Arabiya English that although she was now freed from ISIS captivity, her experience is still very much alive in her mind.
"I am happy that I am rid of ISIS, but the cruel moments do not leave my mind, and my happiness will never be complete," she said.
"When I remember the first hours when the fighters entered our village, I felt fear, and that feeling never left me until I was finally able to escape them," Abbas added.
Abbas, 35, said that the organization forced the captives to convert to Islam, which many did out of fear.
"Many Yazidi women committed suicide from being treated so badly. We all lived in different areas around Syria, where the women were placed according to their age and social status. Some of us tried to escape but failed which gave them more reason to torture us," Abbas said.
She added that ISIS members would force the girls to drink alcohol and take unknown pills.
Fear of going home
The Directorate General for Yazidi Affairs in the Ministry of Awqaf of the Kurdistan government of Iraq said that the latest statistics show that more than 3,500 Yazidi girls are still being held captive by ISIS.
Syrian journalist Jaber Jindo who is specialized in Yazidi affairs told Al Arabiya English that many survivors expressed to him their fear of going back to their hometowns.
"So many of them fear how their families will react as a result of the girls going through repeated rape and physical violence. Many of them have also bared children from the organization's fighters, so many of them now live in scattered camps in Syria," Jindo said.
He added that many families of the captives pay large sums of money to middlemen to find them and bring them home, however, many of the girls hide their identities and choose not to return out of shame.
Because of this, the Supreme Spiritual Yazidi Council has announced the "need to allow the return of female survivors from ISIS to their parents, and for them to be accepted in their societies without pressure or conditions."
The Yazidis adhere to a faith that emerged in Mesopotamia more than 4,000 years ago but that has over time integrated elements of Islam and Christianity.
Of the world's 1.5 million Yazidis, about 550,000 lived in Iraqi Kurdistan but some 400,000 have been displaced by fighting due to ISIS.
Around 1,500 have been killed and more than 3,000 are believed to remain in captivity, the UN Assistance Mission to Iraq (UNAMI) and the UN rights office said in an August report.
In areas controlled by ISIS, thousands of women and girls from the Yazidi minority were used as sex slaves and suffered horrific abuse, including rape, abduction, slavery and cruel, inhumane and degrading treatment.
https://english.alarabiya.net/en/News/middle-east/2018/09/16/Why-do-some-Yazidi-girls-held-captive-by-ISIS-choose-not-to-return-home-.html
--------
URL: https://www.newageislam.com/islam-women-feminism/maryam-matar-aims-be-first/d/116392
New Age Islam, Islam Online, Islamic Website, African Muslim News, Arab World News, South Asia News, Indian Muslim News, World Muslim News, Women in Islam, Islamic Feminism, Arab Women, Women In Arab, Islamophobia in America, Muslim Women in West, Islam Women and Feminism